San Bernardino National Forest
Greater Palm Springs is known for its beautiful scenery and warm weather, but just a few miles to the south is a scenic drive that offers high mountain wilderness and serpentine roads—all under two hours, provided you don't stop at some of the gorgeous sights along the way.
The drive? The Palms to Pines Scenic Byway, an officially designated scenic drive by the Bureau of Land Management.
Here's a guide to traveling this picturesque route.
National Monument Visitor Center
Begin your trip at the Santa Rosa and San Jacinto Mountains Visitor Center, located on Highway 74 in Palm Desert. Pick up a map and some visitor information but take note: the Visitor Center is closed Tuesdays and Wednesdays.
Highway 74 Switchbacks
As you depart the Visitor Center heading south on Highway 74, you'll almost immediately begin winding your way up the mountain in a series of switchbacks. There are beautiful views spanning the Greater Palm Springs area and ample opportunity to take them in.
Coachella Valley Vista Point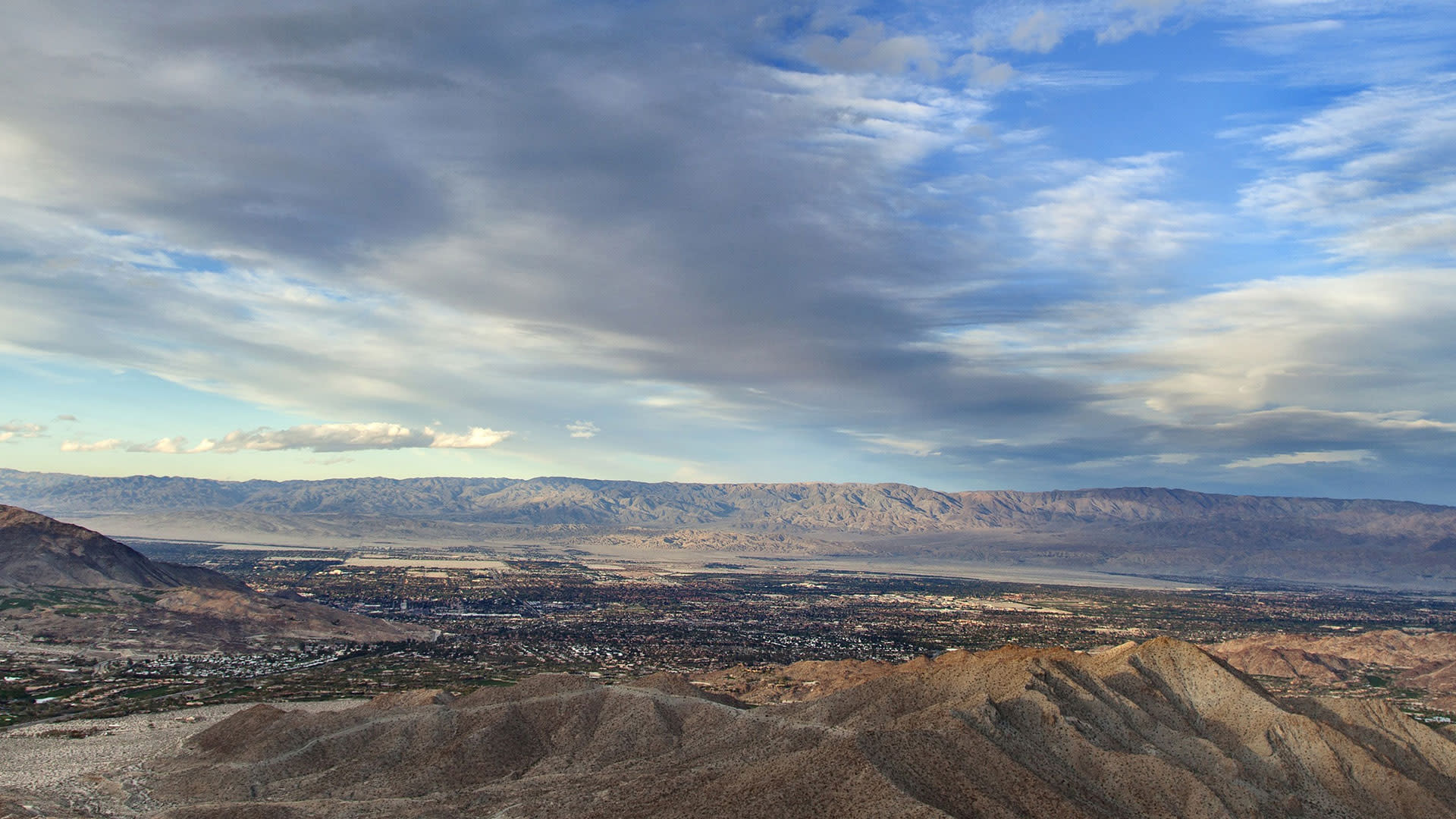 Part way up the mountain is this large viewpoint with plenty of parking. Definitely plan on a stop here to take in the sights and snap a few photos.
As you continue up the mountain, the road begins to unwind itself and you'll start to notice a change in vegetation. Short gangly pinyon pine trees begin to emerge from out of the rocks, so as the highway unfurls through the small towns of Pinyon Pines and Pinyon Crest, you'll see how these places got their names.
Pinyon Pines to Ribbonwood
The highway through this region begins to unfold like a roller coaster with a series of wide ripples. Again, the vegetation changes and you'll notice more pine trees as the land becomes less rocky. 
Paradise Valley - Highway 74 & Highway 371
Where these two highways meet is a good spot to stop for a break. The Paradise Valley Cafe is a popular place for travelers, and you'll almost certainly see motorcyclists and families lunching here. Hikers with massive packs abound here too, since the Pacific Crest Trail passes nearby. 
When you're ready to move on, stay on Highway 74 south.
Lake Hemet
One of the few water stops on this scenic drive, Lake Hemet is a tiny lake surrounded by campgrounds, picnic areas and RV parks. While it's a bit swampy around some of the edges, it's an ideal spot to fish, and there are gravelly beaches to splash around in. 
Mountain Center - Highway 74 & Highway 243
The perfect spot for a fill-up, whether you need a bite or a tank full of gas, Mountain Center is a busy little town with some shops and services located in the crook of these highways.
As you head out, make sure you choose to go west on Highway 243 towards Idyllwild.
Idyllwild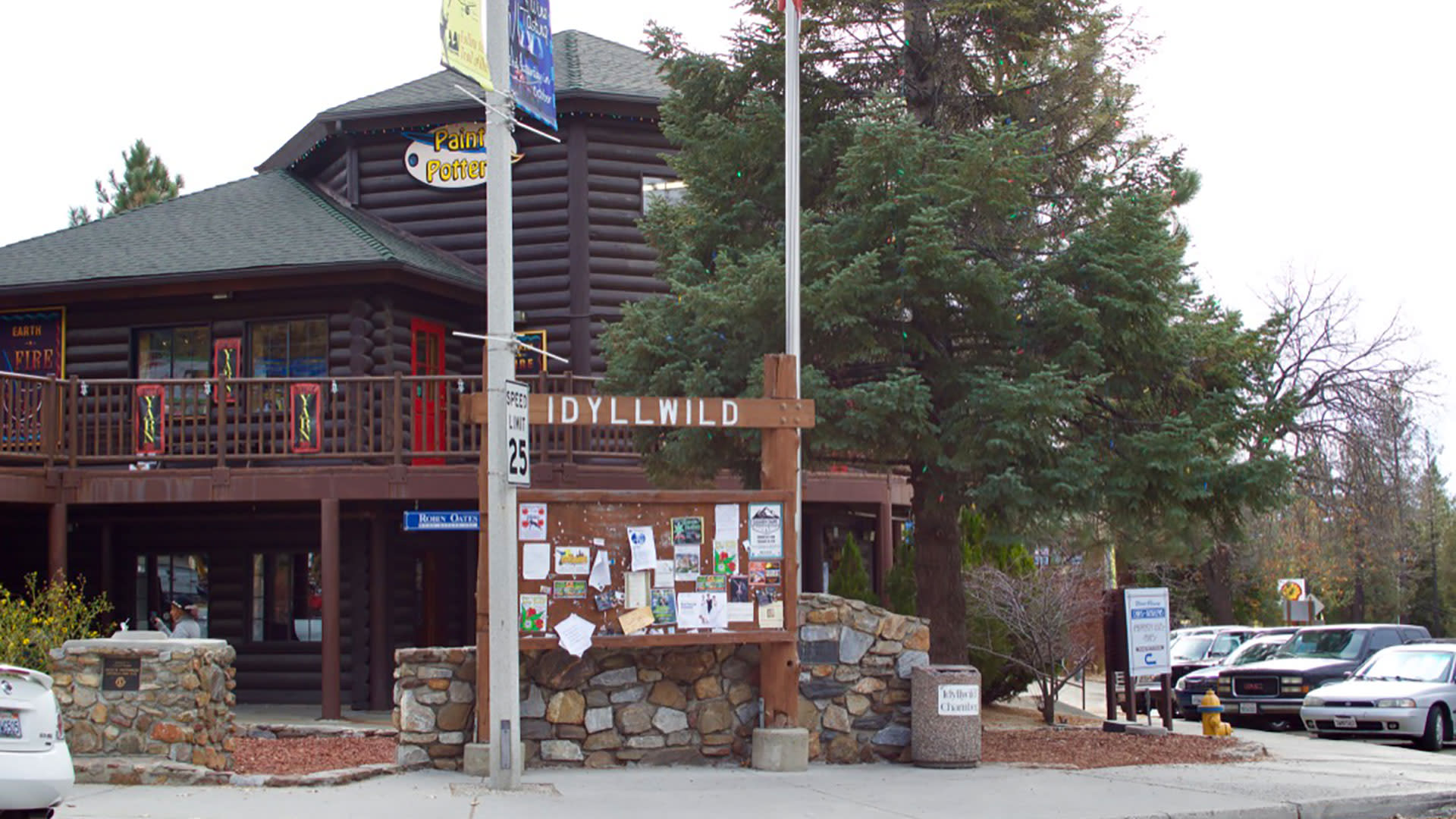 A few miles on from Mountain Center is the larger town of Idyllwild. This well-known mountain mecca is a popular stop for day-trippers, since it's got plenty of restaurants, cafes, and loads of small local shops. You won't find chain stores here, and the town is easily walkable. Park the car and explore!
Find lunch at the small homey Red Kettle, or try the chunky corned beef hash at The Mile High Cafe. If you're craving something sweet, head for Idyllwild Ice Cream and Jerky.
Hunt for local treasures at Mountain Mike's leather goods shop, where Mike himself tends to your needs.
There's also an array of antique and curio shops selling everything from vintage books to mismatched chairs.
Look out for mule deer meandering through the neighborhoods here, and you'll likely see an array of birds from blue jays to Stellar's jays and woodpeckers overhead.
Indian Vista Viewpoint
Indian Vista Viewpoint is built around a giant boulder and has sweeping views to the south over the green valleys. There's plenty of parking here but as you begin to descend again, you'll also find many other turnouts along the highway if you want to stop for photos.
Somewhat quickly, the forest appears to end. The trees thin out rapidly, and there's a splash of greenery on the mountains as they become less sharp and more rounded. Just as quickly, the desert starts to reclaim the landscape and the edges get steeper and the road starts to wind again.
Banning
As you approach Banning, the road knots itself back up in a series of switchbacks, and if you can take your eyes off the drops, you'll see the Morongo Casino in the distance.
The highway eventually deposits you onto Interstate 10. Take the interstate east to return to Greater Palm Springs.
This beautiful scenic drive is dubbed Palms to Pines for good reason. You can enjoy several different ecosystems all in just a few hours. Take your time and linger along the way or put the pedal to the metal and just enjoy the drive.