CONVENTION SALES
The Visit Greater Palm Springs' sales team performance for the summer months of June, July, and August were impressive—specifically booked groups and lead volume—surpassing 2019 levels. The year-to-date room night and lead production continue in an upward trend. August month-end production was 137% for total lead distribution, 138% for new leads, 123% for booked groups, and 108% for booked room nights. 
Booking volume comparison June, July, and August: 
• 2022: 89 Bookings / 53,566 Room Nights
• 2021: 54 Bookings / 34,271 Room Nights
• 2020: 5 Bookings / 2,274 Room Nights
• 2019: 73 Bookings / 41,318 Room Nights
Lead volume comparison June, July, and August: 
• 2022: 418 Leads / 399,619 Room Nights
• 2021: 301 Leads / 210,366 Room Nights
• 2020: 67 Leads / 60,765 Room Nights
• 2019: 296 Leads / 264,643 Room Nights
For the second year, VGPS launched our Meeting Oasis to attract mid-week summer group business for 2023, 2024, and 2025. This incentive is being promoted to meetings trade publications, strategic partnerships, and our client database and through our meetings media plan. 
In the May U.S. Hotels State of the Union report, CBRE highlighted that the Coachella Valley was in the top-five markets for recovery as a percentage of 2019. As of September, the Coachella Valley is in the No. 2 spot, behind Saint Petersburg. Some additional highlights to share from a national perspective:
• Despite downward pressure on economic growth and inflation headwinds, RevPAR exceeds 2019 levels for the fifth consecutive month.
• CBRE Hotels Research forecasts a full recovery in ADR and RevPAR in 2022, a recovery in demand in 2023, and a recovery in occupancy in 2025. To date, the recovery has been led by lower priced hotels and those outside of city centers. However, those categories are showing improvement.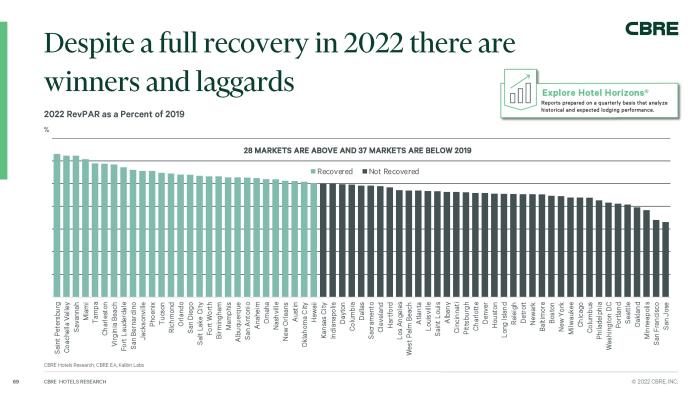 National Celebrate Services Week
Over the course of National Celebrate Services Week (August 1-5), we recognized 10 local event service professionals nominated by their peers with ads in the Desert Sun as well as LinkedIn posts. Each ad and post included the professional's photo; their name, job title, and place of work; and quotes from their peers highlighting their outstanding accomplishments. In addition, we held a local event on August 3 at Margaritaville for National Celebrate Services Day and also sent out a press release. Those celebrated were:
Wenddy Cobian - Hyatt Regency Indian Wells Resort & Spa
Elise Colson - Indian Ridge Country Club
Chris Cotugno - Eventis Destination Services
Armida Covvarubias - The Westin Rancho Mirage Golf Resort & Spa
Kristi Dore - Palm Springs Convention Center
Ruben Guillen - The Ritz Carlton, Rancho Mirage
Daryl Johnson - Margaritaville Resort Palm Springs
Maiya Kiest - Hyatt Regency Indian Wells Resort & Spa
Dawn O'Malley - ACCESS Destination Management Company
Darin Roper - ACCESS Destination Management Company
​
Site Inspection FAM Trips & Travel
In June, July, and August, the Destination Experiences team conducted 22 in-market site inspections equaling 34,314 room nights. Three of those site inspections have thus far contracted 3,337 room nights.
The VGPS sales team had a robust summer of travel. Our events included ConferenceDirect-West Coast, Midwest Sales Mission, MPI-WEC, HPN Client Rock Your Heart Event (a first-time event), SmartMeeting Client One on One Program, Meetings & Incentive Trade Show, Prestige Client Showcase, Canadian Meeting & Exposition, Strategic Site Selection Toronto "Re-Launch," ASAE Annual Conference, Destination California, and Maritz NEXT.
Below are dashboards showing our year-to-date non-legacy team production and open tentative leads. An arrow in the upper right-hand corner of a box indicates additional information is available.
If you have any questions about Convention Sales, please contact:
Colleen Pace, Chief Sales & Marketing Officer​
colleen@visitgreaterps.com | 760.969.1347