CONVENTION SALES
The sales team has continued to have a strong performance in driving new leads and booked room nights. Team production for March and April is as follows:
Booking volume comparison March/April: 
• 2022: 57 Bookings / 26,022 Room Nights
• 2021: 17 Bookings / 5,522 Room Nights
• 2020: 12 Bookings / 10,831 Room Nights
• 2019: 41 Bookings / 29,304 Room Nights
Lead volume comparison March/April: 
• 2022: 274 Leads / 199,723 Room Nights
• 2021: 164 Leads / 121,114 Room Nights
• 2020: 109 Leads / 90,287 Room Nights
• 2019: 191 Leads / 178,789 Room Nights
2022 year-to-date production through April:
Year-to-date leads through April are surpassing 2019 levels at 507 total leads vs. 372 in 2019. Year-to-date bookings is at 95% of 2019 levels at 51,646 room nights compared to 54,369 in 2019 with the number of groups bookings up at 103 compared to 81 in 2019.
From a national perspective, data shared by Tourism Economics shows that future group demand and pace continues to be strong, with February and March future contracted room nights being close to 2019 levels.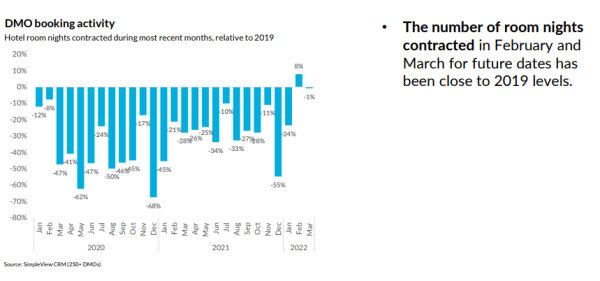 Site Inspection FAM Trips & Upcoming Travel:
Nineteen in-market site inspections equaling 15,547 room nights were hosted in March and April, of which 4,764; room nights have converted. 
As site inspections and travel has increased, we have had additional promotions in the Destination Experience Team. Elizabeth Jamison has been promoted to Destination Experience Manager, and Alex Mercado has now been promoted to Destination Experience Specialist.
The Visit GPS Convention Sales Team hosted a familiarization trip for meeting professionals to our destination in conjunction with the BNP Paribas Tennis Tournament. Nine planners joined the festivities, with a potential of 11 groups and 8,200 room nights. The clients also conducted site experiences at Margaritaville Resort Palm Springs, Hyatt Regency Indian Wells, La Quinta Resort & Club, Renaissance Esmeralda Resort & Spa Indian Wells, Miramonte Indian Wells Resort & Spa, and The Ritz-Carlton, Rancho Mirage along with various attractions, venues and restaurants. Additionally, two of the clients were NEW to the destination and seven were repeat customers.
For May and June, team travel plans include: Midwest sales mission; MPI/ WEC in San Francisco; Texas sales mission; DMO destination event in Ohio; Visit California Road show in Philadelphia, NYC, and New Jersey; Southern California sales mission; and ConferenceDirect – Annual Partner Meeting.
Carolina Viazcan, VP of Sales, has been on-boarding, visiting downtown properties for familiarization tours, and assisting in the hiring of a National Sales Manager for the D.C. market.
Below are dashboards showing our year-to-date non-legacy team production and open tentative leads. An arrow in the upper right-hand corner of a box indicates additional information is available.
If you have any questions about Convention Sales, please contact:
Colleen Pace, Chief Sales & Marketing Officer​
colleen@visitgreaterps.com | 760.969.1347