Air Service
Despite many headwinds, the global aviation industry remained resilient as industry losses continue to significantly reduce. While aviation suffered a $9.7 billion loss in 2022, that was down from $42.1 billion in 2021 and $137.7 billion loss in 2020.
Ticket prices jumped sharply in 2022 and could stay high due to strong demand and constrained seat capacity.
Airlines sharpened their schedules last year to reflect the continued challenges more accurately with staffing and delivery of new aircraft.
Even though new flight announcements tapered last year at PSP, the airport still managed to set a record, welcoming just short of 3 million total passengers with seat capacity also increasing 22% year-over year. 
Visit Greater Palm Springs continues to retain the air service consulting firm Ailevon Pacific, a leading airline development consulting company with extensive expertise in aviation and tourism. Working collaboratively with Ailevon Pacific and the leadership at Palm Springs International Airport, resources remain focused on:
growing summer and fall capacity,
maintaining current levels of service,
supporting new and existing service with marketing campaigns, and
holding personal meetings with airlines at industry events and headquarter visits along with travel trade missions to our direct flight markets.
We will also be supporting the Palm Springs International Airport's upcoming capital improvement projects to enhance the guest experience as well as the efforts underway now to establish a Customs and Border facility. 
Click the image below or view the multipage PDF for overview data for PSP.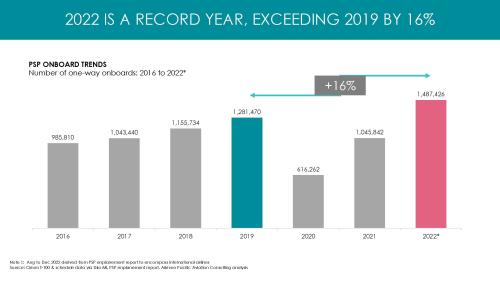 Key 2022 Air Service Stats
DATA ABOVE IS FOR CY 2022 AND INCLUDES INBOUND & OUTBOUND AIR SERVICE
---
If you have any questions about Air Service please contact:
Gary Orfield, Director of Tourism Development​
gary@visitgreaterps.com | 760.969.1335