---
Destination Marketing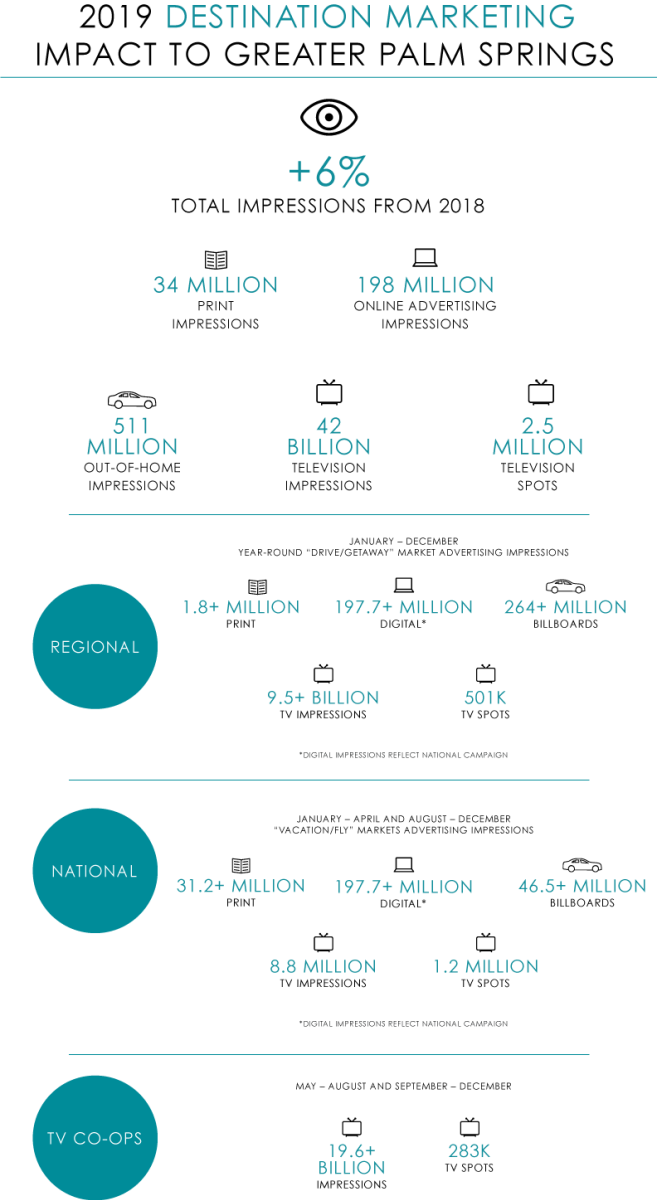 Destination Marketing department encompasses advertising, brand development, web development, content creation, communications/public relations, destination plan implementation, film/entertainment and cultural tourism. 
The objective of Visit GPS' 2019 advertising campaign was to build awareness of the Greater Palm Springs brand as a travel destination.
Awareness-building media included television, out-of-home and print tactics. 

Television included Spectrum Cable, Canadian Broadcast Network and KTLA.  

Print media included in-flight publications like Alaska Airlines Magazine, WestJet Magazine, and American Airline's American Way, with special advertising sections targeting business and leisure travelers in key fly/vacation markets. Print publications like Westways and Via as well as Palm Springs Life targeted the drive/getaway and local markets. 

Out-of-home media allowed the destination to reach large populations through outdoor digital billboard advertising in busy metropolitan areas in both the drive/getaway and fly/vacation markets. 

Regional Marketing Campaign
Year-Round January - December
"Drive / Getaway" Markets

Based on visitor research, the "Drive/Getaway" markets remain top markets throughout the entire year in terms of visitation. As a result, marketing initiatives in these areas were implemented year-round. 

Markets: Los Angeles, Orange County, San Diego, San Francisco, Las Vegas and Phoenix

Print
1.8+ Million Impressions

Palm Springs Life – Summer Chill Guide | Palm Springs Life – The Guide | Locale |
VIA (AAA – Northern California | Westways (AAA – Southern California)

Digital Media*
197.7+ Million Impressions

Expedia | TripAdvisor | Travelzoo | Dogtrekker | Weather Channel |
Edge Media | SpaFinder | Pandora | Locale | USA Today | Paid Search 
*Digital impressions are reflective of national campaign

 

Billboards
264+ Million Impressions

Los Angeles | Orange County | San Diego | San Francisco 



Television
9.5+ Billion Impressions | 501K Television Spots

Los Angeles |Orange County | Phoenix | San Diego | Las Vegas | San Francisco

Summer Co-Op Campaign
May–August
206K+ TV Spots / 13.5+ Billion Impressions

The CVB's successful "Summer Chill" television co-op program continued in 2019 for its fifth year. This program was designed to leverage Partner advertising budgets while increasing exposure in our destination's drive market during the summer season. 

Summer Chill co-op television spots aired in Spectrum Cable and KTLA. Spectrum markets included Los Angeles, Orange County, San Diego, San Francisco, Las Vegas and Phoenix. KTLA aired in Los Angeles. 

12 Co-Op Partners

La Quinta Resort & Club | Miramonte Resort & Spa Indian Wells | DoubleTree by Hilton Palm Springs | Palm Springs Bureau of Tourism | Riviera Palm Springs | Omni Rancho Las Palmas | The Westin Mission Hills Golf Resort & Spa | The Ritz-Carlton, Rancho Mirage | Agua Caliente Resort Casino Spa Rancho Mirage | Hotel Paseo | Hyatt Regency Indian Wells | City of La Quinta


Fall & Winter Co-Op Campaign
September - December
Television Spots / 6.1+ Billion Impressions

In an effort to impact the fall and winter seasons and continue to have a presence across television, the "Fall Chill" television co-op program continued in 2019. 

5 Co-Op Partners

Palm Springs Preferred Small Hotels | BNP Paribas Open | City of La Quinta 
Palm Springs Bureau of Tourism | The American Express Golf Tournament (2020)


National Marketing Campaign
January–April & September–December
"Vacation / Fly" Markets

Initiatives for "vacation/fly" markets are implemented during the destination's peak and shoulder season months in the winter/spring and fall/winter to encourage travel planning during colder-weather months, utilizing sunshine-focused messaging. 

Markets: Seattle, Portland, Chicago, Denver, Minneapolis, New York, Dallas, Atlanta, Boston, Vancouver, Calgary, Edmonton, Toronto and Winnipeg

Print
32.1+ Million Impressions

Alaska Airlines In-Flight Magazine | WestJet In-Flight Magazine
American Airlines In-Flight Magazine | The Knot

Digital*
197.7+ Million Impressions

Expedia | TripAdvisor | Travelzoo | Dogtrekker | Weather Channel | Edge Media | SpaFinder
Pandora | Locale | USA Today | Paid Search 
*Digital impressions are reflective of national campaign

Billboards
46.5+ Million Impressions
Chicago | New York | Minneapolis

Television
8.8+ Billion Impressions | 1.2M Television Spots

Vancouver, Edmonton, Calgary, Toronto, Winnipeg, Seattle, Portland, Chicago, Minneapolis, New York, Dallas, Denver, Atlanta, Boston

Airline Marketing Campaign
Alaska Airlines
Print

In-Flight Magazine | Advertorials in February, March and November Issues | 11.4 Million Impressions

American Airlines
Print

In-Flight Magazine | Full Page Ad in January Issue | 17.5 Million Impressions

Contour Airlines
Print |Television | Out-of-Home

Flair Air
Digital | Out-of-Home (Edmonton Airport)



WestJet Magazine
In-Flight Magazine | Advertorials in February, March and November Issue | Newsletter & Digital Content 
3 Million Impressions

JetBlue Co-Op (Boston)
January – February | Digital & Social Media Advertisements
31.8 Million Impressions

JetBlue Co-Op (New York)
March – April | Digital & Social Advertisements

Airline Industry Marketing
185K+ Impressions
Airline Weekly | ANNA.Aero Routes International

Convention Sales Marketing
3.6+ Million Total Impressions

Association Forum | ASAE | California Meetings & Events | CalSAE | Conference Direct | Connect | Convention PlanIt | CVENT | IGLTA | MPI | Meetings Today | Northstar | PCMA | Smart Meetings | USAE

Travel Industry Sales Marketing

Brand USA Inspiration Guide | Brand USA & Visit California Road Trip | Brand USA Mexico Co-Op Expedia Canada & UK Co-Ops | Visit California International Guide | Signature Travel | Virtuoso

For more information about Destination Marketing contact:

Colleen Pace | Chief Sales & Marketing Officer
cpace@gpscvb.com

Dana Fury | Marketing Manager
dfury@gpscvb.com

In 2019, the CVB continued to work with two travel data partners—Adara and Arrivalist—to better track the effectiveness of our digital media plan and website. These findings help to inform the digital media strategy on an ongoing basis. 

Adara tracks users exposed to paid media, paid social media or the CVB website, tracking hotel bookings, hotel revenue and air bookings through a 60-day pixel. Cookies must be enabled.

Arrivalist tracks users exposed to TripAdvisor campaigns or the CVB website, tracking a visitor's actual arrival into the destination through geolocation or their mobile device. Cookies and geolocation on the mobile device must be enabled.

 

 

In 2019, the Visit GPS website traffic increased by 11%. The website was also responsible for 103,376 referrals to Partner websites throughout the year. More than 40% of website traffic was organic, which indicates that the CVB website is a useful tool for those searching for destination and trip planning information. 

For the first time, a majority of website visitors accessed the Visit GPS site through a mobile device in 2019, accounting for nearly two-thirds of all traffic. This was nearly 20% growth in mobile traffic compared to 2018. Users on a mobile device tend to spend less time on a website, view fewer pages and bounce off of a page more quickly, resulting in engagement metrics that were lower than expected. Due to this shift, Visit GPS kicked off a website redesign in August 2019 that will result in a mobile-first design that marries Visit GPS branding with best practices for mobile user experience.

For more information about the website, contact:
Marissa Willman | Director of Digital Marketing
mwillman@gpscvb.com

Working alongside Sparkloft, a contracted social media agency, the CVB focused on delivering a mix of branded, authentic and influencer content across all social channels in 2019. Engaging videos, user-generated content and experiences were distributed to targeted social media users through organic and paid social media. A number of campaigns were also supported on social channels throughout 2019, including messaging for Summer Chill, Live Your Wellest, nonstop flights and Greater Palm Springs Restaurant Week.

Campaigns

The summer CHILLspiration campaign was created with three new influencers to build awareness and inspire summer travel to Greater Palm Springs. Another accompanying summer campaign called Chill Deals featured two influencers with cinemagraphs that linked to Partner deals. (A cinemagraph is a still photograph in which minor repeated movement occurs, forming a video clip published as an animated GIF.) Ten Chill Deals were featured in the campaign. The CVB retargeted the engaged audience with landing page view ads reminding them to get the deals while they last. The Chill Deals campaign resulted in 2.7 million impressions, 764,930 video views, 16,730 engagements and over 15,000 clicks. These results far surpassed expectations: It was the highest-performing social media campaign to date for the Greater Palm Springs CVB.

 

In August, the CVB hosted a gpsNEXT social media session focused on the use of Instagram stories. With nearly 30 attendees, the CVB and social media agency Sparkloft presented how Partners can best utilize this feature for their business.

In the fall, the CVB implemented fun, interactive components of the Live Your Wellest campaign throughout social media. These elements included a custom quiz, sweepstakes and Instagram stories. The Live Your Wellest social campaign resulted in 5.9M impressions and over 4,000 clicks.

 

To promote the increase in flights during the fall, the CVB targeted nonstop destinations via social channels with airline-specific messaging resulting in over 11,000 landing page views.

dineGPS

In 2019, the CVB further developed its dineGPS social channels to have consistent, timely content that inspires travelers to explore the destination's food culture. The focus was on delivering food culture and culinary inspiration in Greater Palm Springs across all social channels through paid and organic posts. Highlighting everything from food preparation and Greater Palm Springs Restaurant Week to farms, specific restaurants and the people that make them amazing has enriched the dineGPS channels and excited our audience to visit and eat in the destination. 

Greater Palm Springs Restaurant Week was a success on social media. A thorough strategy across channels led to a boost in numbers. Social media promotion of Greater Palm Springs Restaurant Week garnered over 730,000 impressions, 130,000 of those coming from the three influencers (@archela, @whatrobineats and @foodieonfleek) that we welcomed in destination. The CVB pre-promoted Restaurant Week in May to excite the audience for the event. The three influencers promoted this on their Instagram channels two weeks prior to Restaurant Week, as well. In May, we also saw an increase of nearly 300 followers on Instagram, which is attributed to the sweepstakes and influencer takeovers.

Throughout the year, the CVB also continued to share content across other platforms, including Instagram and Twitter channels for @VisitCADeserts as well as a meetings awareness campaign on LinkedIn, Instagram, Twitter and Facebook.

Outreach in China

In 2019, the CVB continued to grow its Weibo account for the Chinese market. In June and July, the CVB launched a Weibo account with the "What is your Greater Palm Springs Color?" campaign that resulted in an impressive 19,000 new followers, 13.7 million impressions and nearly 15,000 engagements.

 
 

For more information on Social Media contact:
Krystal Kusmieruk | Digital Marketing Manager
kkusmieruk@gpscvb.com

 

As an extension of the CVB Brand department, the content creation team produced a variety of videos tailored to varying social audiences. Our mission is to drive both awareness and engagement by creating entertaining, inspiring and educational video content that builds relationships with consumers. 

Our video content promotes the destination's unique geography, incredible experiences and diversity. Our style of storytelling showcases CVB Partners in a unique light, and supports the Greater Palm Springs Destination Development Plan pillars of Outdoor Adventure, Health & Wellness and Art & Culture.

Co-Op Broadcast Commercials 2019: 21 segments

Winter - Desert Classic (now the American Express)

Winter - BNP Paribas Open

Winter - Fashion Week El Paseo
 

Winter - Palm Desert Food & Wine
Winter - ANA Inspiration
 

​Summer - City of La Quinta
Summer - La Quinta Resort & Club
Summer - Omni Rancho Las Palmas Resort & Spa
Summer - Miramonte Indian Wells Resort & Spa
Summer - Riviera Palm Springs
Summer - The Westin Mission Hills Golf Resort & Spa
Summer - Hyatt Regency Indian Wells Resort & Spa
Summer - Hotel Paseo
Summer - The Ritz-Carlton, Rancho Mirage - NEW
Summer – DoubleTree by Hilton - NEW
Summer - Agua Caliente Casino Resort Spa Rancho Mirage - edit w/pickup shots
Summer -  Palm Springs Bureau of Tourism/Uniquely Palm Springs - NEW
 

Click here for full Summer Co-Op Playlist.

Fall - Palm Springs Preferred Small Hotels
 

Fall/Winter - BNP Paribas Open
Fall/Winter - The American Express 
 

Brand Broadcast Commercials 2019: 10 Segments

Fall - Wellness :30
Fall - Alaska
Fall - Delta
Fall - United
Fall - JetBlue
Fall - American
Fall - Contour: PSP to SMF
Fall - Contour: SMF to PSP
Fall - Air Canada
Fall - WestJet

CraftGPS 2019: 32 videos

11 Full Segments 2019

Morgans in the desert
The Pink Cabana
The Edge Steakhouse
Lavender Bistro
Truss & Twine
Pívot Cigar Lounge
Tack Room Tavern
El Jefe
Vicky's of Santa Fe
Seymour's
Acqua California Bistro

craftGPS Recipes 2019

AC3 Restaurant + Bar
Bootlegger Tiki
The Edge Steakhouse
Lavender Bistro
Morgan's in the desert
Paul Bar
Pink Cabana
Truss & Twine
Pívot Cigar Lounge
Tack Room Tavern

Dine GPS 2019 

Solanos
Wally's Desert Turtle
Peaks Restaurant
Kitchen 86 + Bar
The Café at Shields

Wander List 2019

Vintage Shopping (9)​
Unique Vacation Rentals (7)
Historic Boutique Hotels (6)
Desert Harvest (1)
Coachella Valley History Museum (1)
Season 4 Trailer (1)
Bouldering (2)

The Chill Chaser 2019

Rancho Mirage Observatory
Modernism (4)
Shots in the Night
Pet Friendly Getaways (5)
Art of El Paseo (6)

Find Your Meeting Oasis  2019

Arrive Inspired In GPS
Think Outside the Walls (3 Locations Each)
Create A Meeting Masterpiece
Become the Main Event In Downtown
Find the Perfect Venue Space For Any Size Event
Mix Business with Pleasure In GPS
Savor Sustainable Regional Culinary Experiences In GPS
Take Meetings and Events Outside
Give Back and Make an Impact
Spice Up Your Meeting with Unique Venue Spaces
Year-Round Sunshine for Meetings
Inspire Attendees with Breathtaking Views

Find Your Oasis Shorts 2019

Windmills
Palm Oasis
Sunrise
Thanksgiving
Puppies
Holiday Lights

Original Series 2018 YouTube Video Views

Chill Chaser: 1,588,540 YouTube Views

Wander List: 774,640 YouTube Views

Chef Series: 796,718 YouTube Views

craftGPS: 35,493 YouTube Views

Communications & Public Relations

 

Throughout 2019, the Communications team maintained an "always-on" press strategy showcasing the nine cities to a diverse media audience. Through public relations campaign efforts, the CVB received a steady stream of earned media throughout the year. Efforts included proactive outreach based on Greater Palm Springs destination pillars and building an ongoing dialogue with travel writers, bloggers and social media influencers. The CVB participated in national and international travel conferences and trade shows across the world including IPW, IMEX, International Media Marketplace, Society of American Travel Writers and ILTM. Earned media relations amplified the presence at each event.

Top 5 Communications Highlights

Hosted Society of American Travel Writers Eastern Chapter Conference.
Activation at Lennox Mall in Atlanta to promote new air service ATL to PSP.
Interactive cooking class for Los Angeles based media promoting Greater Palm Springs Restaurant Week.
Meeting Planners and Media event for launch of Contour Airlines SAC to PSP.
Co-hosted 3rd annual Greater Palm Springs James Beard House dinner and hosted an interactive media event in New York City.

For more information about Communications, contact:
Greater Palm Springs Communications Team | media@gpscvb.com 
For more information about Destination Marketing contact:
Colleen Pace | Chief Marketing Officer
cpace@gpscvb.com
---
Convention Sales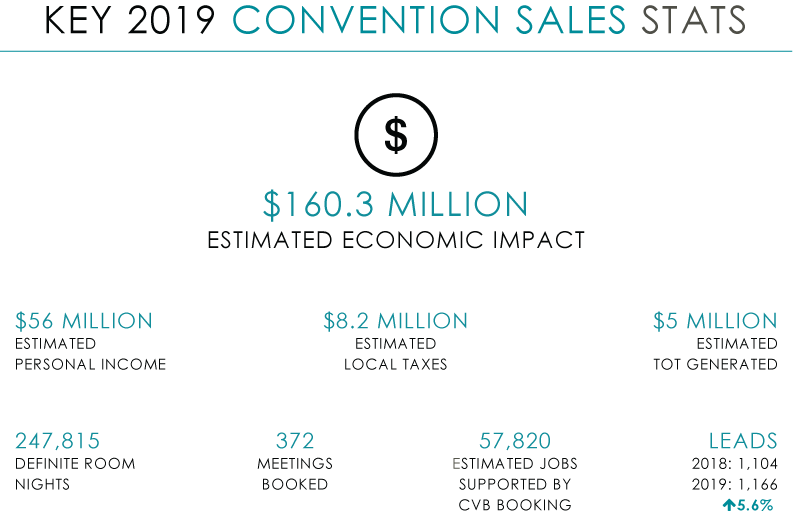 In 2019, the Convention Sales team exceeded their lead and new lead distribution goals and reached 98% of their room night goal. 
Results of STR group data for Greater Palm Springs based on end-of-year 2019 reflect a small growth in occupancy (0.3%) and healthier growth in ADR (4.3%) as well as RevPar (4.6%). Additionally, Cvent—a company that specializes in meetings, events, and hospitality lead management—has forecast that future growth will be in smaller, short-term meeting opportunities. As an example, growth over the last two years for groups of 50 rooms peak or less has grown 42%. Lead time 1 to 90 days prior to the meeting date has grown 5.3%. We believe this trend will give our sales team more opportunities to book additional short-term group business, which would likely result in smaller total room nights than in the past. 
To increase awareness of the destination to meeting professionals, Visit GPS' Brand team has created 24 videos focusing on individual properties, unique venues, culinary experiences, group outdoor activities and the ambiance of our eight unique cities. These videos, along with destination photography, have been the centerpiece of our social media and advertising and awareness campaigns.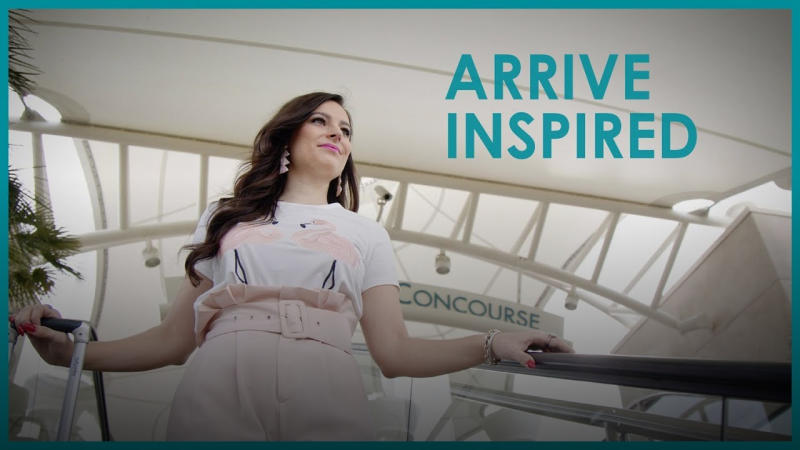 Click for full Find Your Meeting Oasis video playlist.
For more information about Convention Sales, contact:
Colleen Pace | Chief Sales & Marketing Officer
cpace@gpscvb.com
 

In 2019, Destination Services supported the sales teams and CVB initiatives through creative event planning, client servicing and client-in-destination experiences. Out-of-market events were planned and built around the pillars of the Destination Development Plan. In-market client engagement reinforced the ease of access, Partner collaboration and destination attributes. As a result, Greater Palm Springs was brought to more than 25 cities and introduced to hundreds of clients.

For more information about Destination Services contact:
Danae Sheehan, CMP | Associate Director of Destination Services
dsheehan@gpscvb.com
---
Destination Development
The Destination Development team, working in close collaboration with our Partners, seeks to align the priorities of Visit GPS' Destination Development Plan—all aimed at growing our tourism industry in a competitive global environment and reaching more than 16 million visitors by 2026. Visit GPS Partners include local, regional and national governments; economic development, hospitality and tourism industries; business sectors; and stakeholders.
Research is a vital tool that informs all aspects of the CVB's work. In 2019 the CVB embarked on an important assessment of Greater Palm Springs as a tourist destination and contracted the expertise of Destinations International and MMGY NextFactor for their diagnostic tool called DestinationNEXT. 

2019 DestinationNEXT: Greater Palm Springs Destination Assessment

This study surveyed our tourism, government, education and business Partners to measure destination strength and community support for tourism development to ensure the destination and nine cities are aligned and moving in the right direction, and to identify any gaps, key issues and opportunities for potential products, amenities, education, programming and experiences that would benefit the Greater Palm Springs tourism industry and grow the local economy. MMGY NextFactor also began the second phase of this study, a Destination Experience Plan for each of the nine cities, scheduled to be released in 2020.

Read the full study HERE, or click the image below.

VisaVue and Advertising Effectiveness Studies

The VisaVue and Advertising Effectiveness studies guide the Marketing and Brand teams' strategies for targeting, messaging and delivery method to reach travelers and increase visitation.

● VisaVue: Domestic Market Research 2019
In Partnership with Visit California

● VisaVue: International Market Research 2019
In Partnership with Visit California

Strategic Marketing & Research Insights (SMARInsights)

In order to guide advertising efforts, the CVB partnered with Strategic Marketing & Research Insights (SMARInsights). Throughout the year, SMARI surveys pre-qualified travelers to measure the awareness of advertising, effectiveness of media plan and overall return on investment. These studies continue to be invaluable resources for formulating advertising strategy.

● Advertising Effectiveness: Getaway/Drive Markets 2019
Strategic Marketing and Research Insights

● Advertising Effectiveness: Vacation Markets 2019
Strategic Marketing and Research Insights

By targeting marketing efforts and new product development on the unique assets that speak to the positive, authentic experiences available in all nine cities, the assets are leveraged in a coordinated way. New events, conferences, programs and marketing efforts based on these assets benefit both the resident and the visitor, and the destination brand is strengthened.

Health & Wellness

 

In October 2019, the CVB launched the Fall Live Your Wellest campaign in collaboration with our Partners to promote fall travel and drive midweek visitation to the destination by highlighting the sweeping array of wellness offerings available in Greater Palm Springs.

The CVB collaborated with the fitness- and wellness-oriented brand Wanderlust in an online co-op called the 10-Day Wellest Challenge, which also achieved impressive metrics: 5.9M impressions, more than 25K views and over 4K link clicks. Wanderlust's Wellspring will return to Greater Palm Springs in 2020.

Outdoor Adventure

In 2019, the CVB and its Partners made distinct strides in developing and creating awareness of the destination's comprehensive natural assets and activities. The "outdoor adventure" lifestyle section on the CVB website, YouTube videos, social media and new content in the form of Partner listings are among the communications channels used to promote the wide spectrum of opportunities for outdoor adventure enthusiasts.


   

Collaborating with Friends of the Desert Mountains, CVAG, Bureau of Land Management and Santa Rosa and San Jacinto Mountains National Monument, the CVB developed a hiking section on the CVB website. The content, found at HikingInGPS.com, features an established list of authorized trails to be utilized by all organizations as the official list of trails in the destination.

 

Greater Palm Springs also served as the host destination for the second year for two major sporting events: the 2019 Margaritaville USA Pickleball National Championships, held at the Indian Wells Tennis Garden in November, and the inaugural Ironman 70.3 in La Quinta/Indian Wells held in December. The Ironman race is set to return to Greater Palm Springs in December 2020. Additionally, Greater Palm Springs continued to host its legacy sporting events: the BNP Paribas Tennis Open, the CareerBuilder Desert Classic Golf Challenge and the ANA Inspiration Golf Tournament.

Arts & Culture

The CVB provided marketing support for signature events on social media, including the second year of Desert X, which attracted more than 400,000 visitors from around the world.

These are some of the signature Arts and Culture events the CVB supports:

American Documentary Film Festival
Art Palm Springs
Arthur Lyons Film Noir Festival
Indian Wells Art Festival
La Quinta Arts Festival (2019 was its last year)
Modernism Week
Native FilmFest
Palm Springs International Film Festival
Rancho Mirage Writers Festival
ShortFest
Southwest Arts Festival


The opening of the Agua Caliente Band of Cahuilla Indians' Cultural Museum and Spa at Séc-he in 2020 is a great addition for the growth of the arts and culture community in Greater Palm Springs.

The CVB published 18 arts & culture-related articles on CVB website​ and 58 blogs that included arts & culture-related events. Here is the CVB landing page for arts and culture.

Culinary

 


Restaurant Week

 
 

The CVB marked its third year of managing and executing Greater Palm Springs Restaurant Week, a 10-day dining event from May 31 to June 9 that showcased a variety of eateries throughout the Coachella Valley, providing a perfect opportunity for the CVB to support the local economy and grow visitation during what is typically a slower time of year.

 

Guided by the dineGPS Advisory Committee, the CVB continued an extensive in-market and out-of-market media campaign, a dining guide and map, in-restaurant collateral, a website landing page, social media channels, materials in English and Spanish, media visits and a media preview event, as well as many more resources and tools.

Transportation: Air Service, Rail, Car Air Service

 

For Greater Palm Springs to become a year-round destination, it must provide year-round air service. The CVB's efforts in 2019 to fund additional air service with key airlines have effectively increased service for both meetings and leisure visitors, making 2019 a strong year for air service development in Greater Palm Springs.

The CVB has continued its commitment to crucial air service expansion by again retaining the consulting firm Ailevon Pacific Aviation Consulting in 2019. Ailevon is a leading airline development consulting company with extensive expertise in aviation and tourism. Working collaboratively with Ailevon, the goal is to expand existing air service while targeting new airlines and create both a short-term and long-term plan for future expansion.

In 2019, there was an 11% increase in seat capacity, thanks to the majority of PSP's airlines for their investment. Leading the way from a percentage basis was JetBlue (+47%) and from a nominal basis was United (~1,500 additional daily seats). Contour Airlines was an addition to 2019's Greater Palm Springs' market with service to Sacramento, California.

In addition, four new seasonal destinations were added to PSP's route map: Atlanta on Delta Air Lines, Boston on JetBlue Airways, Newark on United Airlines and Everett, Washington on Alaska Airlines. Palm Springs not only had a record year in terms of total seats but also a record year in regard to total enplanements. In 2019, PSP saw a 10% increase in passengers (reaching 2.6 million) that flew to/from PSP. Nearly every airline that operates from PSP saw an increase in passenger activity from 2018.

In 2019, annual flights into Palm Springs International Airport (PSP) equated to a capacity of 3,274,729 annual passenger seats in and out of PSP, a 9.5% increase in seats from the previous year. The number of passengers increased by 10.2% in 2019 over 2018, with 2,563,955 passengers in 2019, creating a load factor of 80.49%.  

 

Source: Diio Mi by Cirium (2019 Calendar Year)

Air Service Marketing

The CVB continued its airline marketing efforts throughout the year with airline co-ops in digital, print, out-of-home, social media and TV tactics. In addition, the CVB ran an air-service campaign to reach and influence travelers in over 20 nonstop destinations including New York, Boston and Chicago. 

For more information on marketing efforts for each airline, see the Destination Marketing section of the report.


Automobile

The CVB supports decreasing road congestion from the drive market through infrastructure enhancements, such as Riverside County Transportation Commission's continued work to support the enhancements of Highway 60 and I-10 freeway.

Rail

Access from Southern California will continue to be an issue. Adding daily Amtrak service would enhance the accessibility of the destination to in-state and international travelers tremendously. In 2019, the CVB also continued its commitment to the 2013 State Rail Plan as one of the priorities in the Destination Development Plan implementation. The CVB recognizes the positive impact that increased passenger rail service from Los Angeles to Greater Palm Springs will have on the destination and tourism industry. The CVB has taken an active role in pursuit of this vision and continues to participate in regional rail plan forums.

The Riverside County Transportation Commission is coordinating the effort to address all of the requirements to help make this a reality. The proposed intercity passenger rail service between Los Angeles and Indio is considered a long-term initiative that is slated for 2020 or beyond.

In 2019, the CVB:
• Served as a sponsor for April 2019 California Passenger Rail Summit in Oakland.
• Supported the establishment of an Amtrak Music Festival Train to run in April 2020.
For more information about Destination Development initiatives contact:
Bob Thibault | Chief Development Officer
bthibault@gpscvb.com
---
Tourism Development
  
Tourism Development met with a record number of travel professionals across the world in 2019, providing destination training, implementing marketing campaigns and creating inspiration to impact occupancy in summer and fall as well as grow market share in peak season. Exposing key clients to the destination remained a core activity for Tourism Development along with developing creative booking options such as partnering with other Southern California destinations to promote multi-center fly/drive holidays.
For more information about Tourism Development, contact:
Gary Orfield | Director of Tourism Development
gorfield@gpscvb.com
---
Partnership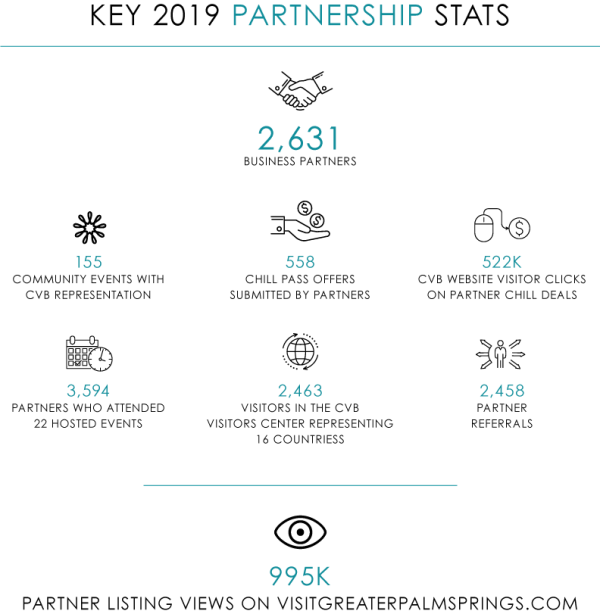 In 2019, Partnership engagement grew with the addition of new partner events including a partner education series offering hands on experience with topics like posting Instagram Stories and pitching your tourism business to media. Visit GPS' largest partnership event of the year, the Oasis Awards, saw record breaking attendance at the Palm Springs Convention Center in June 2019, with over 800 attendees honoring our local tourism and hospitality stars. The Partnership was able to prioritize attendance at community events and connecting with new partners to increase Visit GPS' reach and partner awareness of Visit GPS sales and marketing initiatives, like Chill Deals.
Certified Tourism Ambassador

 

The Greater Palm Springs Tourism Ambassador program launched in 2019, with the goal of giving our local workforce additional opportunities for career growth and elevating the visitor experience in the destination. 

In 2019, the program accredited 438 Certified Tourism Ambassadors (CTAs). In addition to offering certification classes, in 2019 the CVB developed a monthly e-newsletter for the program, held monthly networking events, and created special offers and discounts for CTAs that provide an ongoing opportunity for our Tourism Ambassadors to continue to learn more about the destination's local attractions and businesses.
For more information about Partnership contact:
Davis Meyer | Director of Partnership
dmeyer@gpscvb.com