Borrego Springs
Borrego's Hidden Grandeur
Some people will tell you that the tiny town of Borrego Springs reminds them of Palm Springs decades ago—small, open, embraced by the quiet of pristine desert and the darkest, starriest skies imaginable. It is unquestionably the home of some of nature's finest desert beauty, as the starting point for exploring the 650,000-acre Anza-Borrego Desert State Park. What any desert lover will tell you after visiting is that Borrego Springs is a serene getaway that promises a multitude of outdoor recreation among the cacti and palm oases, crystal clear air and a handful of quaint inns, as well as some surprising resorts.
Roadside Explorations on the Way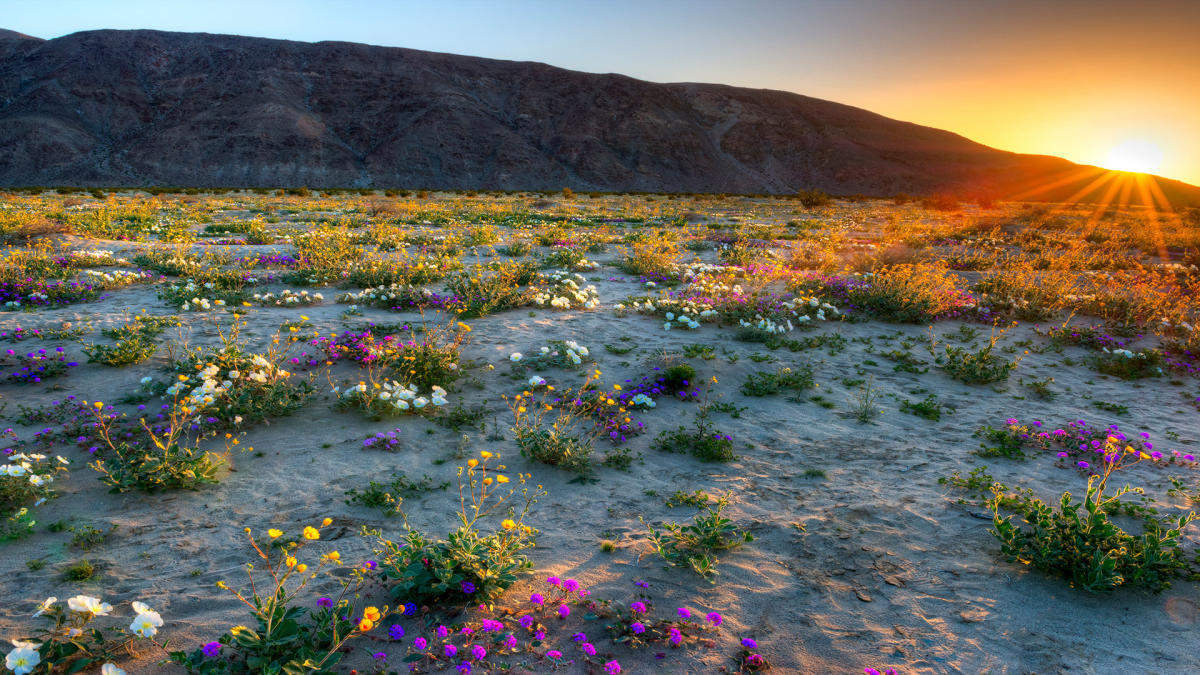 South of Indio on Highway 86, date palms and citrus groves fill the open desert—a glimpse of how the entire Coachella Valley may have looked in the early 1900s. Views of green, bushy citrus trees, limbs dripping in oranges and lemons, and palms silhouetted against the hills dominate the pastoral drive.
The arrival of the first date palm from the Middle East in the 1890s brought about large-scale date farming in California. No place does it better than the Coachella Valley, where date farms line the agricultural byways. Thermal is home to the valley's largest Medjool date crop, with informal fruit and produce stands dotting the stretch of highway between Thermal and the Salton Sea. Plan time to stop for a date shake, a whipped ice cream and chopped date concoction that will set the stage for desert adventures ahead.
Destination Borrego
A turn on Route S22 near the Salton Sea leads you on a 21-mile trek to Borrego Springs on what is also called Erosion Road. The first scenery along this roadway is riddled by fractures and faults, dramatic evidence of earthquake motion. The twisted sedimentary layers resemble a miniature Grand Canyon of washed-out, rainbow-colored hills.
Along this route, you enter the vast confines of Anza-Borrego Desert State Park, the largest desert state park in the continental United States. Encompassing nearly 650,000 acres and containing more than 500 miles of dirt roads, much of the park area is untouched true wilderness. Its name originates from its historic roots going back to Spaniard Juan Bautista de Anza who, while crossing the park, found the first land route to California. Borrego, Spanish for lamb, represents the endangered Peninsula bighorn sheep.
Exploring the Desert Park
Exploring the park presents a plethora of cultural, ecological and natural beauty amazements. A stop at the visitor's center will get you on your way to discovering these desert wildlands with guided tours and structured programs, as well as self-guided expedition suggestions. An off-road meandering may bring about a spectacular sunrise vista or a moonlight appearance of a kit fox. In the spring, the parkland becomes ablaze with purple verbena, red-blossoming ocotillo and yellow brittlebush.
Ghost Mountain Pictographs Trail
Take a free self-guided hike along the trail, encountering historical "forgotten artist" rock paintings created by Native Americans and the ruins of a Depression-era mountaintop homestead, Yaquitepec.
Font's Point
The Wind Caves and the Anza-Borrego Mud Caves are phenomenal natural wonders for visitors to view and explore. The Anza-Borrego Desert has one of the most extensive mud cave systems in the world, containing approximately 22 known caves and 9 slot canyons. Some extend over 1,000 feet, varying in width, with ceilings as high as 80 feet.
Coyote Canyon & Shell Reef
Coyote Canyon and Shell Reef are top destinations for viewing wildlife. Coyote Canyon is one of the few places in the desert that contains a year-round running stream, making it a prime location for watching wildlife. Visitors can view the fossilized remains of prehistoric oysters at Shell Reef, which was formed nearly four million years ago.
Galleta Meadows Estate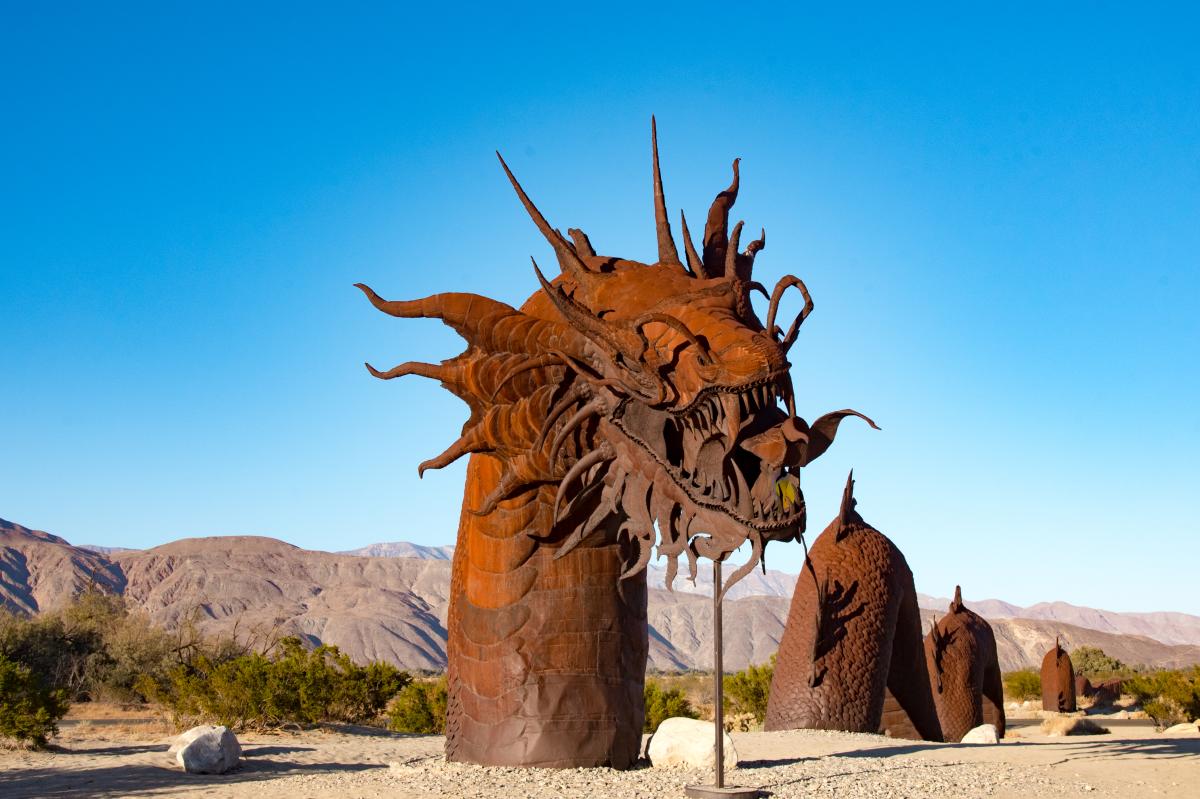 Visitors will encounter more than a dozen large free-standing metal sculptures of prehistoric animals such as mammoths, giant birds and saber-toothed cats at the Galleta Meadows Estate.  The heavy-duty sculptures, created by Ricardo Breceda, weigh about 800 to 1,000 pounds each and were commissioned by the late millionaire Dennis Avery. Visitors are allowed to "trespass" to admire the open desert art museum.
Catch a Falling Star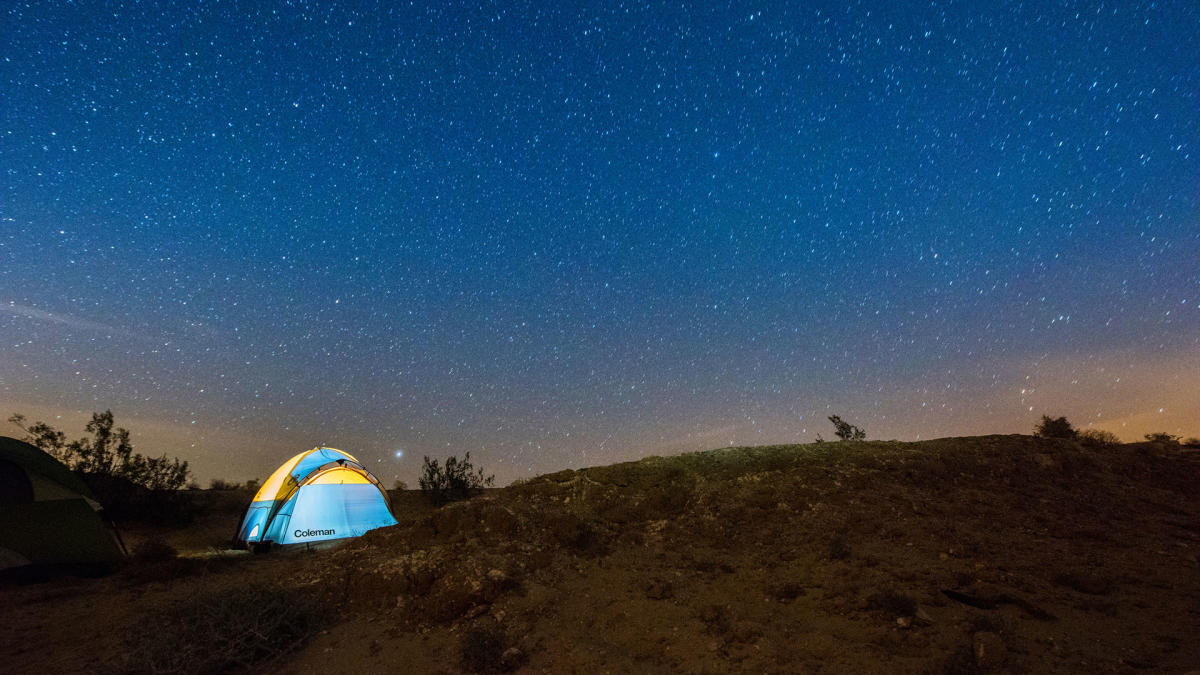 There is something magical about nighttime in Borrego. The stars nearly "fall" from the sky around you, twinkling jewels set in black velvet that envelop everything. It's no wonder that camping and stargazing are popular activities in the Anza-Borrego Desert due to this amazing combination of minimal light pollution, clear skies and wide-open space. In fact, the town of Borrego Springs, surrounded by the desert parkland, was designated in 2009 one of only two International Dark Sky communities in the world and the first in California.
Staying in the "Springs"
If camping under the stars is not your idea of a vacation getaway, then enjoy the best of two worlds by playing all day and relaxing at night in one of the tiny town's inns or resorts. Borrego Springs, population hovering around 3,000, is a laid-back, quiet community with a handful of cafes, a few shops of interest and little nightlife, other than the star displays and dramatic sunsets. Most of the businesses line Christmas Circle, and most everything is within walking distance. And, don't worry about traffic—you won't find a stoplight anywhere in town.
Welcoming Inns
A couple of noteworthy inns are located not far from the Anza-Borrego Desert Visitor Center. The Borrego Valley Inn, built within the natural desert scape with open views of the valley and a hike-able canyon behind, offers French-doored rooms with private patios, fireplaces for chilly fall nights and some efficiency kitchens. Two swimming pools with the same open vistas, and a healthy breakfast buffet that fortifies hikers are added perks.
Another small spot to overnight is often referred to as one of the oldest and newest resorts in Borrego Springs. The Palms Indian Head will be remembered by old-time visitors as the Old Hoberg Resort, in its heyday a hideaway for celebrities who flew in to the resort's landing strip. Redone today, the inn sits in the shadow of Indian Head Mountain and offers ten simple rooms, an Olympic-size pool and a popular local café, the Krazy Coyote/Red Ocotillo.
An Unlikely Stay in Luxury
In this wide open, desolate desert the most unlikely four-star resort emerges, in surprisingly beautiful symphony with its open desert surroundings. La Casa del Zorro lies a few miles out of downtown on the back route to the Gold Rush town of Julian. Behind a stately line of tamarisk trees along County Road 3, you'll find this luxury resort, spread on 42 desert-planted acres, replete with white adobe-type architecture with clay-tile roofs and oases of pools, fountains and ponds. A good deal of the history of the Borrego Valley can be found within the walls of the resort. The 1937 adobe ranch house of the old Burks Ranch built on the site became its beginnings as a lodge. The lodge grew through the years from its humble beginnings to a luxury getaway today.