RESEARCH
During the months of June through September, the Destination Development team focused on research, working with Tourism Economics to track where our destination's hospitality/tourism industry employees live. In addition, we arranged to have Paul Ouimet, President/CEO of NextFactor, visit Greater Palm Springs for a familiarization tour through each of Greater Palm Springs' nine cities.
The team also held a dineGPS advisory committee meeting to review the 2019 Restaurant Week outcomes and look forward to the 2020 event.
In continued support of air service development, the team announced a 2020 Airport Roundtable Conference, to be held at the Hyatt Regency Indian Wells in January.
TOURISM INDUSTRY EMPLOYEES
Approximately 40,609 direct tourism industry employees work in Greater Palm Springs. Of those, 92% live in the destination, with the remaining 8% commuting into the region.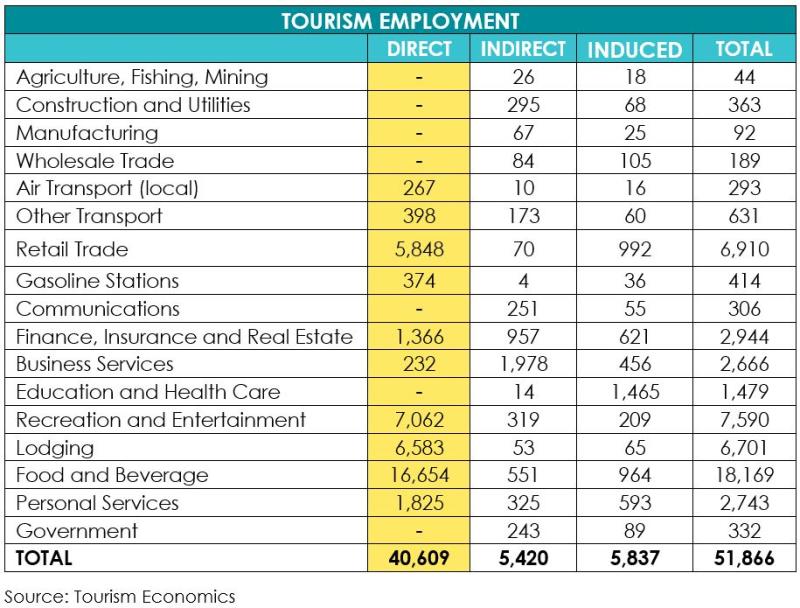 Here's a look at the breakdown of numbers and percentage by city: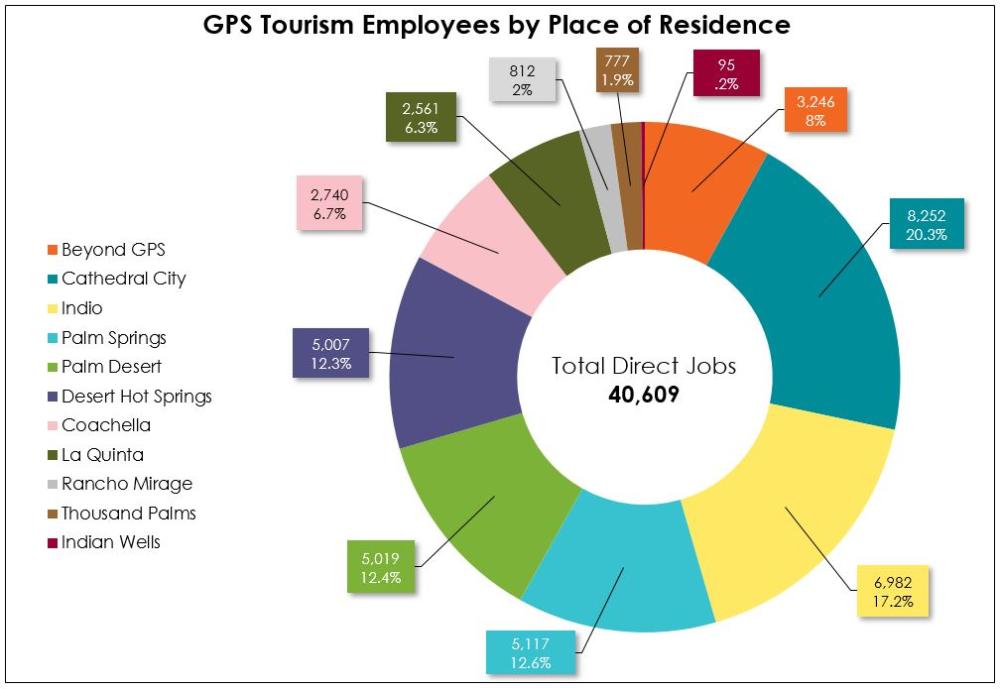 DESTINATION NEXT – GREATER PALM SPRINGS DESTINATION EXPERIENCE PLAN
The CVB is continuing to work with NextFactor on the second phase of Destination NEXT, creating a Destination Experience Plan for each city. The goals of the Destination Experience Plan are to:
Develop and create product development/guest experience strategies (long- and short-term) for each city.
Prepare recommendations for new visitor experience/engagement, and improve existing ones that fit the city. (This could include attractions, events, wayfinding, infrastructure, policy, etc.)
Inspire and educate the cities with examples/case studies provided by NextFactor.
To achieve these goals, Paul Ouimet, President/CEO of NextFactor, visited Greater Palm Springs September 2-12, 2019. During these dates, CVB team members, along with representatives from each city, took Paul on a familiarization (FAM) trip of each of the cities within the destination.
Next, Paul will be conducting interviews October 7-11 and October 30–November 6 with key stakeholders from each city in order to gain more insight and prepare recommendations for new visitor experiences. As of now, Paul has conducted interviews with about 5 to 12 key stakeholders from each of these cities: Cathedral City, Indian Wells, La Quinta and Palm Springs. 
Final reports will be presented to each city in January/February 2020.
COACHELLA VALLEY LODGING FORECAST
The 2020 Lodging Forecast Report has been released. Here are the highlights to help you plan for 2020.
Coachella Valley Hotel Market Analysis
While there are over 5 million annual room nights available in the Coachella Valley, the following analysis represents the sum of the selected hotels in our submarkets that we believe best represent the overall lodging market.
Our representative sample set comprises approximately 64 percent of the total room nights in this market. The historical and estimated performance of our sampling of the overall Coachella Valley lodging market is presented in the following table.

For our representative sample in 2019, we estimate an increase in rooms supply of 1.3% due to the anticipated opening of the SpringHill Suites Palm Desert, and an increase in occupied rooms of 2.5% for a resulting occupancy of 64.7%. Average Daily Rate (ADR) is estimated to increase by 2.4% to $188.47 for 2019, and as a result, RevPAR is expected to increase by 3.6% to $121.85.
In 2020, we anticipate that leisure and group travel will continue to show improvement. Annual supply within the market is anticipated to increase by 1.8% in 2020 with the anticipated opening of the Andaz Palm Springs, and Hampton Inn and Suites Indio, as well as the annualized addition to supply of the SpringHill Suites Palm Desert. As such, we have projected growth in demand of 1.6%, and a 2.2% increase in ADR, resulting in year-end occupancy of 64.6% at an ADR of $192.56. As a result, RevPAR is projected to increase to $124.34 in 2020, an increase of 2.0%.
Source for text and tables: CBRE Hotels, 2020 Southern California Lodging Forecast
VISAVUE TREND CARDS
VisaVue tracks non-local cardholder spend in the Coachella Valley. Below are the second-quarter results for both domestic and international visitors.

For more information about Destination Development, please contact:
Bob Thibault
Chief Development Officer
bthibault@gpscvb.com | (760) 969-1339