SOCIAL MEDIA
June through August 2019 saw the launch of the Chill Deals and CHILLspiration summer campaigns. The campaigns boosted our reach and viewership and engaged both current and new fans.
During this time, we also A/B tested copy and imagery and found that followers engaged with iconic images of Greater Palm Springs as well as unique experiences found here, including a visit to Cabot's Pueblo Museum. We continue to test how effective posting questions to our social media channels were and call to actions in order to optimize for engagement.
September brought the kickoff of Wellest season and the continuation of airline ads targeted to our nonstop destinations. As the season changes to fall, the CVB has shifted content to include more outdoor adventure and wellness activities.

Top posts during this time period included images, videos and GIFs. The variety of content types provides a more interesting experience for CVB followers, showing them new ways to engage with the accounts. GIFs created by the CVB have been uploaded to our GIPHY page. The 29 uploads have 3.9 million views with our top GIF at 847,000+ views.
 
The CVB also hosted a gpsNEXT Social Media session in August focused on the use of Instagram stories. With nearly 30 attendees, the CVB and social media agency Sparkloft presented how partners can best utilize this feature for their business.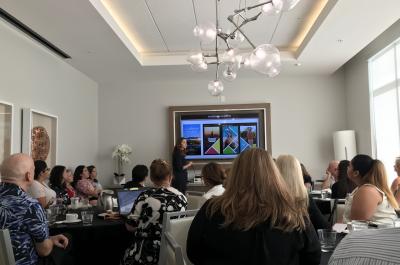 The overall strategy was to inspire millennial travelers in our drive markets to come to Greater Palm Springs in the summer while increasing brand awareness of the location as a year-round destination. We kicked off two campaigns, one focused on Chill Deals and the other on aspirational awareness of the destination.

CHILLspiration
With CHILLspiration, we wanted to inspire people to find their chill in Greater Palm Springs using our content pillars as our guide. The senses are a powerful way to make connections and we love how Greater Palm Springs looks, feels, and sounds so we worked with influencers to craft content, working with them as talent to create branded, sensory content for our channels. To create an extension of our sensory content and supplement our reach, our influencers also created content for their channels. We created one long-form video to garner awareness of the campaign and then retargeted custom audiences with shorter bits of content across channels. We created wallpapers and stickers so fans could continue spreading the summer inspiration.

The CHILLspiration campaign resulted in 1.7 million impressions, 862,098 video views, 1,150 engagements and over 300 clicks.

 


Chill Deals
For Chill Deals, we wanted our creative to inspire fans to experience the "CHILLest"deals and book their vacations. Our goal was awareness (impressions/views) and action (website clicks). Each cinemagraph deal was targeted to a specific market and then later, retargeted to the engaged audience with landing page view ads to remind fans to get the deals while they last. We created content in tandem with two influencers. The goal was to use creators as talent, so millennials saw themselves in the cinemagraphs. Additionally, we had the creators share content with their audience to cast a wider reach and make a bigger impact in terms of millennials trusting ambassadors.

The Chill Deals campaign resulted in 2.7 million impressions, 764,930 video views, 16,730 engagements and over 15,000 clicks.


    

June through September, dineGPS continued to promote the year-round culinary season in Greater Palm Springs following Restaurant Week.

This summer rolled out Season 2 of the dineGPS video series on Facebook, Instagram and YouTube with four videos totaling over 250,000 video views.

October will see the release of the next season of the craftGPS video series.

The CVB found those posts with a human element result in higher engagement. Using strong call-to-actions and polls will help increase the audience engagement as well with content moving forward.

Social Media Outreach in China

In June and July, the CVB launched a Weibo account with the "What is your Greater Palm Springs Color?" campaign that resulted in an impressive 19,000 new followers, 13.7 million impressions and nearly 15,000 engagements.

The campaign post, published on June 25, promoted the unique aspects of Greater Palm Springs with different color themes while calling for user participation of why each potential Chinese visitor would want to visit the destination.  By July 4, a total of 2,592 social audience participated via repost or comment. The post accounted for 63% of total impressions. The campaign post was endorsed by 4 influencers across lifestyle, travel, and photography and their posts totaled 5 million impressions and 10,225 engagements were generated.

Our key takeaways are that our followers are active. The user engagement is more active than expected, indicating the account has fans who can support the long-term organic growth on Sina Weibo. The second learning was that "experience is important." From golf and pool to colorful architecture, the travel offerings are appealing particularly to millennial travelers. And lastly, it has helped us determine our next steps. We now have a verified WeChat account and will be driving traffic and awareness between both channels.
If you have any questions about CVB Social Media, please contact:
Krystal Kusmieruk, Digital Marketing Manager | kkusmieruk@gpscvb.com | 760.969.1337