No matter where you look in Greater Palm Springs, you'll find the perfect backdrop for romance. If you want to make it unforgettable, though, grab your date and hold on—we're going to show you five unique spots that are completely up to kiss and tell caliber!
1. Romantic Time Capsule  
Also known as the House of Tomorrow, this midcentury beauty of a home was Elvis and Priscilla's Honeymoon Hideaway. The iconic home sits on Ladera Circle in Palm Springs. Take a tour and hear the lore of the lovebirds who rented the home for a year in the 60s—oh, be sure to get a selfie.
Insider's tidbit: The famous couple reportedly ditched paparazzi though the backyard on their wedding day. Frank Sinatra's limo driver was waiting to whisk them to the airport. After getting hitched in Vegas, they returned to this house for their honeymoon.
2. A Sweet, "Chewy" Date
For our next sweet spot we recommend at a vintage jewel, Shields Date Garden in Indio. Since 1924, the front sign has pointed travelers in the direction of a memorable date. If you're trying to determine your favorite kind of date, you'll have thousands of dates to choose from—though it goes without saying your favorite date is the one you brought! Treat yourselves to a thick and sinfully delicious date shake before taking a stroll in the gardens, grabbing a bite to eat in the café, and sitting down for a screening of their classic film, "Romance and Sex Life of the Date."
3. You, Romeo and the Indian Canyons
Blaze your next trail to romance on horseback through the ancient Indian Canyons in Palm Springs. These sacred canyons are the ancestral home of the Agua Caliente Band of Cahuilla Indians and are open to the public. This magical place waits to be explored, and you won't find a more romantic experience than a tour from Smoke Tree Stables in Palm Springs. Your guide and horses (ask for Romeo!) will lead you through lush palm oases, running streams and open desert, before taking you above the canyon walls to forever views.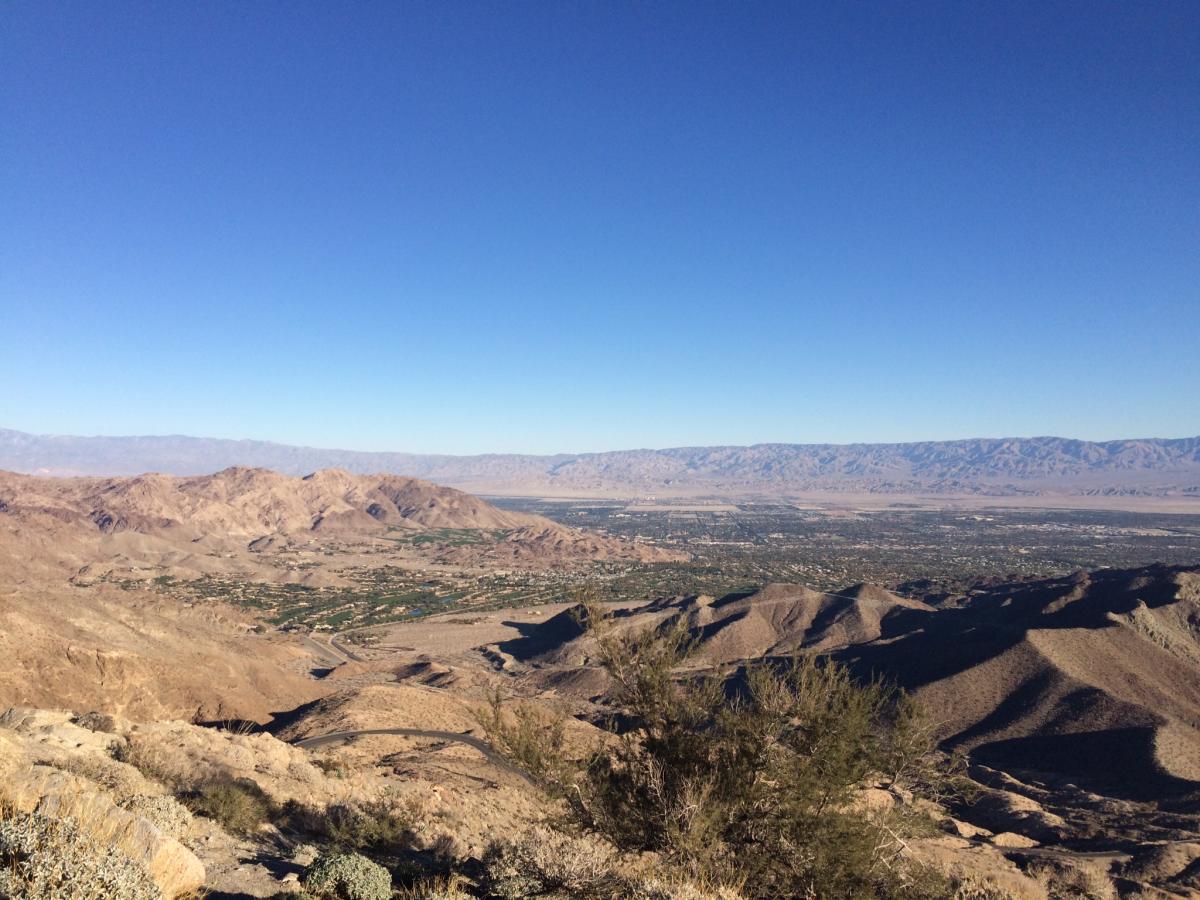 4. Vista of All Vistas
For romantic inspiration, head up Highway 74 in Palm Desert to Vista Point. Here, you'll set your sights on unending views of the desert below as you snuggle close. It's an extraordinary spot to throw cares to the wind and say I heart you. Plan ahead and pack some snacks, then sit back in the front seat and stay awhile. 
5. Speakeasy, Speak Softly
We suggest one last stop before the night is through, the historic Colony Palms Hotel in Palm Springs. Belly up to the bar at the Purple Palm—their cocktails are on fire! Try the smoking 1805 Old Fashion infused with burning rosemary…or the bold flavored Purple Gang, named after the alleged mobster, Al Wertheimer, who opened the hotel in 1936. The hotel basement, once a casino and speakeasy, is now simply storage but makes for great cocktail convo. While the walls in here scream sexy in purple and red, they don't talk…that is up to your imagination!