In Partnership with Kaiser Grille Palm Springs
The exceptional and delicious food. The professional staff. The ambiance. That festive, colorfully lit bistro and outdoor seating is ideal for people-watching. What's not to love about  Kaiser Grille Palm Springs? The iconic American food bistro has long been a go-to in its Palm Canyon Drive enclave in downtown Palm Springs. Discover the 6 reasons why you'll want to snag a reservation. 
New Portions to Love
Owner Lee Morcus' menus are inspired by the meals from his childhood kitchen. It helps that his grandfather had a Colorado farm and a grocery store, and his grandmother's homemade food was thoughtfully curated. It all shows up at the table at Kaiser Grille in some way. Here, California cuisine with USDA primes steaks, wood-fired pizzas, seafood, and pasta, all compete for our attention.
But, as the popular venue heads deeper into fall and into 2023, some changes are afoot. All of them, says Morcus, are designed with providing guests with one of the best dining experiences around. One new feature includes offering reduced or half portions at diner's request. 
"That's what some of our guests have been telling us—that the food is great but oftentimes there's just too much," Morcus says—basically, paying for stellar food that may not be eaten. As such, many menu items will have the option of smaller portions at a lower price.
Unique Details are Key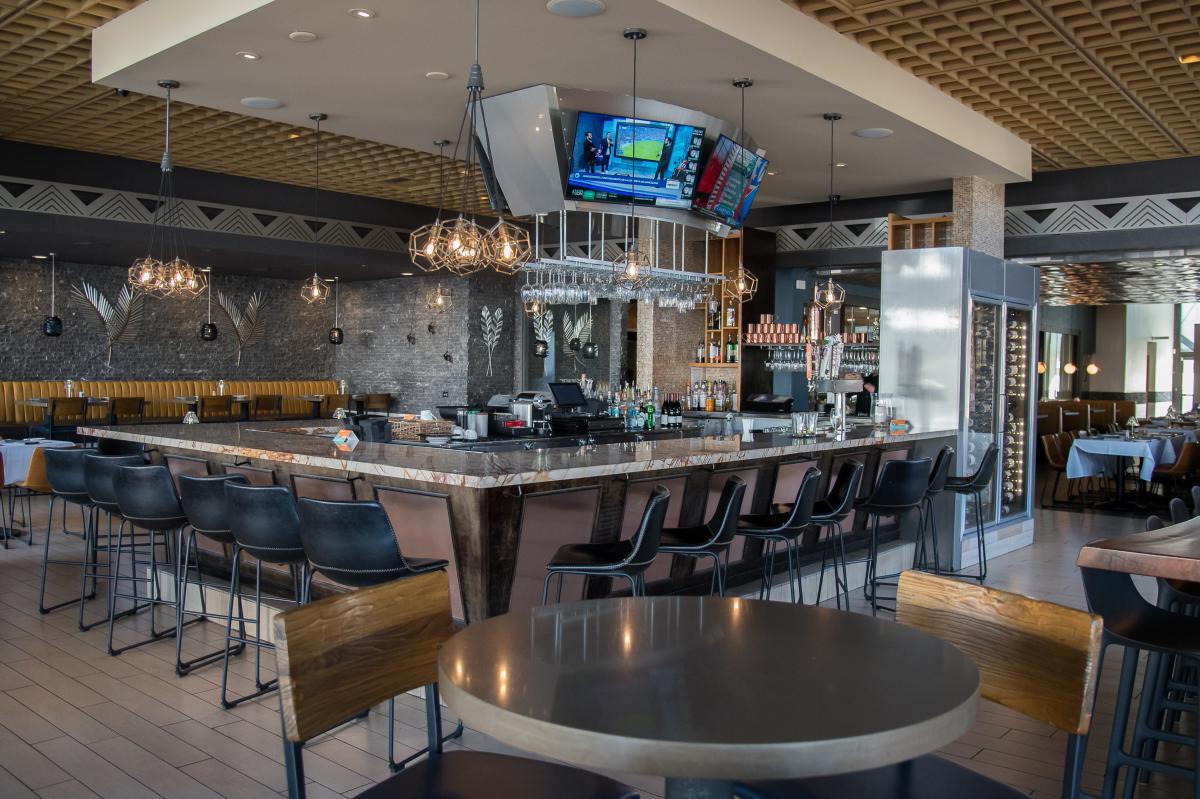 Dining at Kaiser Grille Palm Springs is a true foodie experience. "Everything at Kaiser Grille starts with the guests," Morcus proudly declares. Quality sourcing is key at this restaurant - the pasta is true Italian authentic pasta from Italy. "It's made from grains that are big and have been grown in Italy for hundreds of years or more. It's a different quality," Morcus points out. Additionally, special firewood is used in its wood ovens, rotisseries and grills—almond, cherry, pear, apple, mesquite, and oak, for instance.
"The wood comes from trees that are no longer viable. And it's seasoned properly and aged so it's dry. It's not green and wet, full of creosote or bitter. There are many small details that go into our place."
All that "little" stuff adds up to something big. At Kaiser Grille Palm Springs, the dining experience is truly grand.
Only the Best Ingredients 
"Humane, regenerative agriculture is a big thing now and we're trying to be not just carbon neutral but to put things back into the earth that are being taken out through the process of agriculture, whether it's growing or breeding or feeding," Morcus explains. 'It's more environmentally responsible and conscious, but it also produces healthier livestock because of how they're raised and bred. And it produces healthier crops because the soils and the ecosystems are being revitalized, and so on—not using pesticides and herbicides, and all those things. It's getting back to farming, whether it's crops, produce, or livestock in the way that nature really intended. And it's the right thing to do."
He points out that it also creates healthier and better-tasting products. Overall, the food itself is of the utmost quality. Beef, lamb, pork, chickens and duck are hormone and antibiotic-free, humanely, and sustainably raised, with traceable bloodlines to small ranches or small ranch provinces. "No hormones, no statins, regenerative agriculture practices—all of those things are still going to be in play, but some people want to eat less and I'm going to give guests they want," Morcus notes. For true food lovers, Kaiser Grille Palm Springs is reason enough to plan a trip to SoCal oasis. 
New Menu Items, More Choices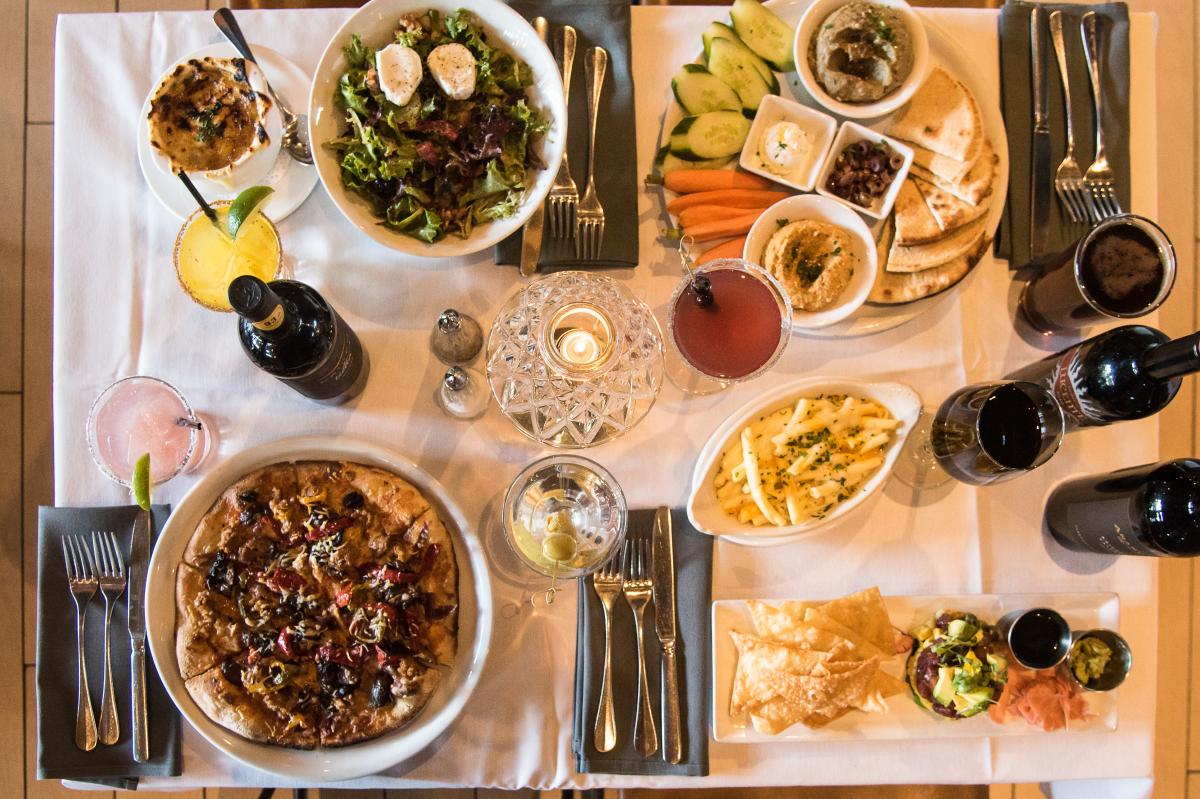 "First and foremost, I cannot compromise our product because it's just not in my ethos," Morcus says. "So, we can use that as a backdrop, guests can choose small orders or half orders, such as our ribs, and maybe a couple of seafood items, and a pasta or two."
Kaiser Grille Palm Springs will also add several entrée salads to its dinner menu, which can include a protein base. Burgers? You'll find them on the menu in the future as well as perhaps a sandwich or two, as Morcus says, "give people more options to feel they can join us on a more frequent basis. Or, if they have somebody in the party who just doesn't want to have that high-end, eight-ounce piece of salmon or 16-ounce ribeye steak because they just can't eat it, we want to give them options that will fit their needs." 
In some ways, Kaiser Grille has already begun implementing some changes. It reintroduced its Sunset Dinner, for instance, which includes smaller portions and two courses, allowing guests to pick their first course and their entree. 
Dinner is Served Amidst Mountain Views
Kaiser Grille Palm Springs is known for its location, location, location. With stunning palm tree views and perfect weather, it is easy to see why dining Al Fresco is always the first choice. Additionally, Morcus says the back patio, currently getting a facelift, will reopen shortly. The goal is for it to be suited for regular a la carte dining. "It has a fabulous view of the mountains and I'll probably call it the Mountain View patio," he says. "It's also got a huge two-sided fireplace and retractable Roman shades over the top—glass walls so people can look at Palm Canyon Drive from the rear and then towards the back half of the patio." Wood slat walls are featured, too, allowing guests privacy, however, they'll still be able to see through the wood. And Tivoli lighting, the gold standard of outdoor lighting, filters into the mix and is designed by top designers.
Events & Memorable Occasions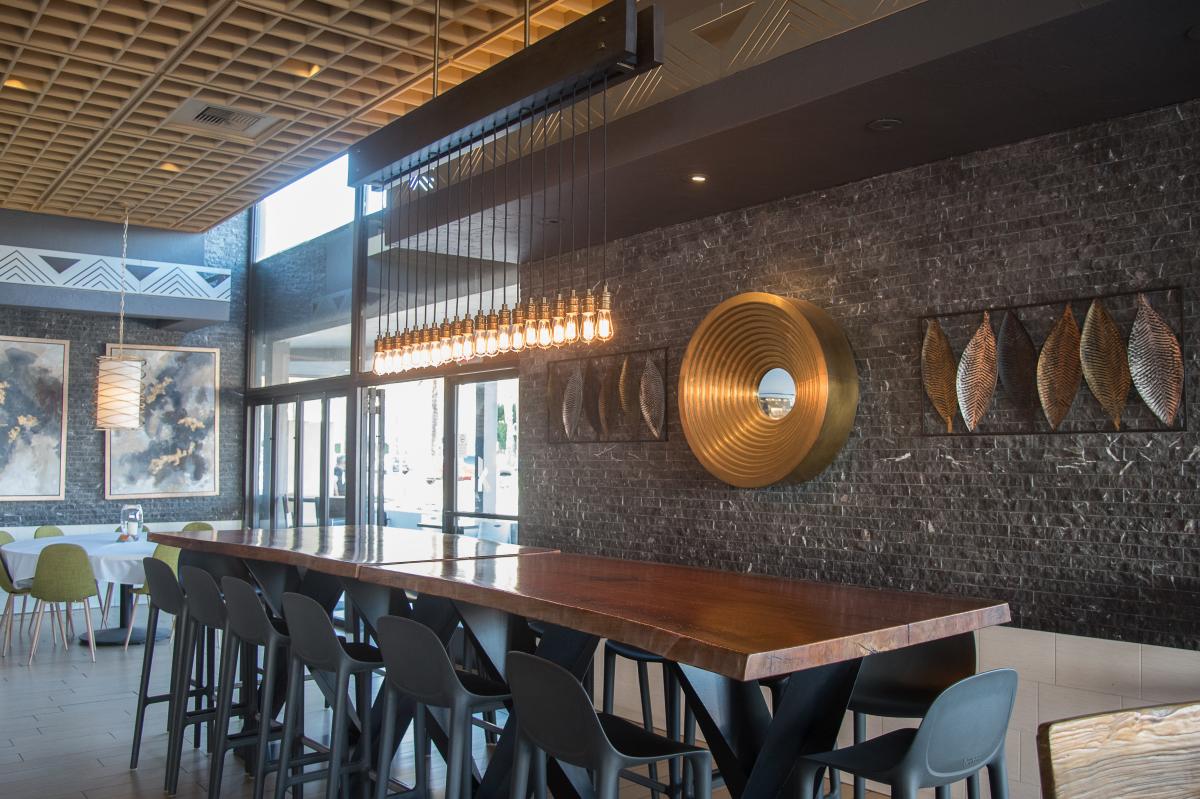 At Kaiser Grille Palm Springs, they host a wide variety of special events in their historical space and they aim to coordinate your event with ease.  The venue's boardroom, for instance, includes large French doors that open to the back patio—perfect for private events with up to 150 guests. It offers great flexibility to host cocktail parties and receptions in one area and dinners and buffets in another area—ideal for corporate events, associations, conferences, trade shows, weddings, graduations, live celebrations, and such. 
When it comes to events, it is truly all about the details. Morcus states "we work with our guests to find out what their event vision is. Then we craft something based on those conversations for their review. We review it and keep refining it until we get it just right."
"This patio was strategically designed to give the group business guest an authentic Palm Springs/ al fresco experience," Morcus explains. "It seamlessly blends with the interior. It won't be the typical hotel banquet room or what you see in a lot of restaurants, which is kind of static, staid, and homogenized. We designed this to give somebody a true, highly crafted, and personalized group experience—right down to the menus.
Experience Kaiser Grille at 205 S Palm Canyon Drive, Palm Springs, 760-323-1003. Visit kaisergrille.com for more information.
Kaiser Grille Palm Springs is one of many delicious favorites in Greater Palm Springs. If you are looking for more restaurants with mouthwatering finds, visit Restaurants and Nightlife.