As the season heats up, so do the desert festivities—making for the perfect time to polish your look for whatever events may be in store. Whether you're in town for a big event, are looking to revamp your look or just want to look your best this season, read on below for our best of beauty roundup for the Greater Palm Springs Area.
Forget the Uber: Services That Will Come to You
Why run from appointment to appointment when you could pamper yourself in the comfort of your own home or hotel? This is the concept behind Desert Mobile Spa, which brings luxury and results right to your home, hotel, office or any other place of choice. From mani pedis to facials and massages, this in-home/in-hotel spa does it all. They also offer makeup application, reflexology and scalp massages. And if you feel too relaxed to figure out how to feed yourself, Desert Mobile Spa works with All Things Fabulous Catering to provide personal chef and bartending services for the most luxurious in-home spa experience yet. Plus, for every party of four or more people, you can take 10% off all beauty treatments for the day. Desert Mobile Spa caters to anywhere within Palm Springs, Rancho Mirage, Cathedral City, Palm Desert, Indian Wells, La Quinta, Indio and Coachella.
While Be Glammed is only available during Coachella weekends this year, this mobile hair and makeup service plans to officially launch in the Palm Springs area sometime within the year. Until then, expect creative braids and colorful, 'festival' eye makeup and nail services, as well as more traditional hair and makeup services that come right to your location of choice.
For the high desert, the Pointed Pearl offers holistic, customized skincare in the comfort of your home or hotel. Also offered are hard and soft waxing and extended facial services that include massage.
One-Stop Shops for Every Type of Beauty Service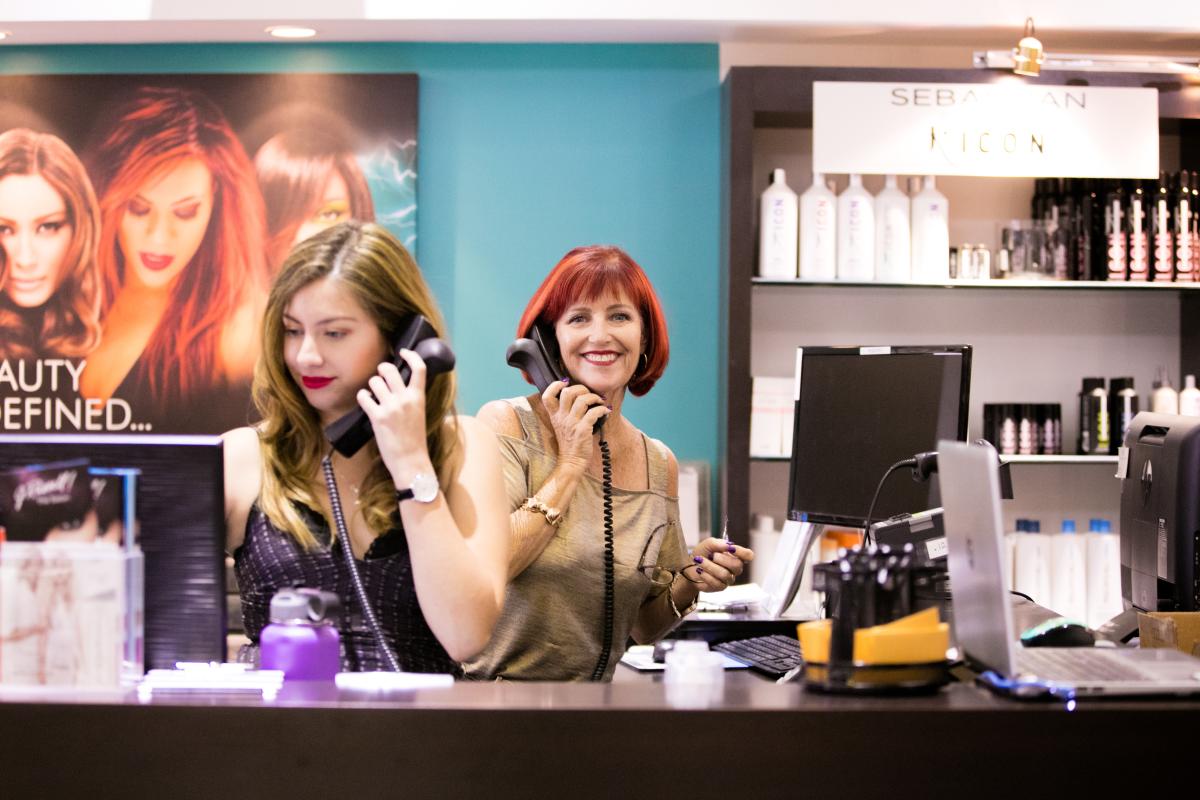 J Russell! The Salon | Palm Desert
If in-home services aren't up your alley, get the same experience at a one-stop shop, such as J Russell! The Salon in Palm Desert, which offers nearly every type of service and a friendly, experienced staff to boot. Located on El Paseo in a stunning building with high ceilings and gorgeous views, the salon boasts 50 hair stylists and 10 spa experts who are ready and willing to cater to your every need. Services include hair color, extensions, cuts, treatments and styling for both men and women, pedicures and every kind of manicure you can imagine.
They also offer luxury and medical grade facials, waxings, microdermabrasion, microblading, permanent makeup, makeup application, lashes and more. As well they have services designed for weddings for both men and women, with the option to travel to the destination of your choice on your big day.
Karl Vasquez Salon | Indian Wells
If you prefer to leave the planning to someone else, Karl Vasquez Salon offers several Inspirational Packages to get you ready for your big event, including makeover and special event packages as well as bride, bridesmaid, mother-of-the-bride and even father-of-the-bride and groom packages. You can also work with the staff to customize your own package from their range of extensive services including spray tans, eyelash extensions, and more.
Grounded Body Works | Palm Springs
Beauty isn't just skin deep, however, and Grounded Body Works incorporates this concept into nearly every one of their services for a completely unique approach, focusing on the mind as well as the body. From a nail care and meditation service that uses non-toxic, vegan products to their Chakra Whitewater massage that utilizes heated stones from the Coachella riverbed to relax your muscles and align your chakras (reiki and dry brushing are optional add-ons), the salon takes a personalized, mindful approach to each and every service. Don't overlook their organic spray tans, waxings, lash services or their professional makeup artist and skincare specialist, Chantal Moore, whose client list includes the likes of Rachael Leigh Cook, Sara Paxton and Robin Thicke.
Specialized Beauty Spots Worth the Visit
Sometimes we don't have the luxury of a full day for beautification, but that doesn't mean we can't polish up our look! Below are a few of the top specialized places that are more than worth the visit.
Hair:
The rave reviews for Tiny Bubbles Salon set expectations high, but this hair salon meets the bar every time. Expect the works - from cuts and color to smoothing treatments and extensions.
Med Spa:
Owned in part by Dr. Ordon, esteemed plastic surgeon and emmy-nominated co-host of the award-winning show, The Doctors, Ordon Chopra Plastic Surgery will cater to your every need—from injectables to peels to facial treatments such as microneedling and dermaplaning. They also offer lash services, waxing services, microcurrent technology and more.
Nails:
Prepare to be overwhelmed by nail color options and a multi-tiered range of manicure and pedicure types at Top Nails and Spa La Quinta. They also offer creative choices such as 3D nail design, and basic services for children.
Spray Tan:
Organic spray tans are the specialty for Organic Glow Skin Studio, available in single sessions or in packages of three or more. Select a customized tan based on skintone and drying speed for your best glow yet.