Ready for an adventure? Prepare to get dusty – pack a hat, load up on plenty of water and SPF 50 – you're headed south to the Salton Sea. The large body of water, accidentally created by a breached dike in 1905, was once a major vacation destination and in the 1950s and 1960s attracted more visitors than Yosemite. Often depicted as barren and post-apocalyptic, the sites near the Salton Sea are more of a metaphor for the desert in general. What appears on the surface to be vacant and vacuous is actually rich and inspiring if you take a closer look. Start in Indio and work your way down Highway 111 and embrace every weird and wacky moment.
A large armored knight points the way to this nostalgic date farm. Time travel back to the 1950s in the store, where you can sample a variety of dates grown here since 1924 and browse the unique retro-themed gift items. At the rear of the building is a cafe but the real stars here are the date shakes. Take a seat at the original soda fountain counter or take a shake to go – you'll need some sustenance for the rest of the journey.
Yes, really, a banana museum! It's easy to miss this stop so keep your eyes open for this former bar next to a liquor store. The owner, Fred, whose family has owned the liquor store for a couple of generations, opened the museum as a way to attract customers to the liquor store. Filled to the brim with everything banana-related this quirky little gem just wants to make you smile, and it will. Admission is a dollar per person, but that's refunded with a purchase and well worth the opportunity to impress your friends with a photo of yourself wearing one of many banana hats. And if you're lucky the owner's wife, Kym, will send you off with a sincere quip like, "You're appealing. Sorry to see you split."
Salton Sea State Recreation Area Visitor Center
With the Santa Rosa mountains as a backdrop, views of the Salton Sea can be spectacular, especially in early morning and later afternoon. From October to March the area is popular for bird watching enthusiasts. If history or nature interest you, the park rangers in the visitor center can answer any questions about local wildlife and how the Salton Sea was created. Bonus tip: Take a walk towards the waterfront and take a closer look and you'll see that the sand is actually tiny fragments of fish skeletons.
Bombay Beach
At first glance Bombay Beach looks completely abandoned, a modern-day ghost town and the perfect set for a gory zombie movie. The former waterfront resort has always had a certain allure to those who enjoy urban decay but in more recent years the town has been the home of the Bombay Beach Biennale, which despite the name, occurs yearly. Among the dilapidated homes and abandoned trailers, you will find true artistic treasures. Wander around, take some photos, while soaking in the local creative energy. One of the highlights is the Bombay Beach Drive-In on Avenue E. Look for the turquoise sign with the yellow arrow. Next head over to The Bombay Beach Institute of Particle Physics, Metaphysics & International Relations – part museum/gallery, part performance space and home to a new Community Garden – located at 9535 Avenue H. Chickens share this space with various murals, statues and other installations, so take some time to explore all the vignettes. Just down the street on Avenue H and Fourth Street is Angler Grove, created by artist Randy Pulombo. It's like a trippy, modernistic tribute to the trance-inducing effects of intergalactic disco balls. Bonus points if you can find the Banksy wall!
Ski Inn
Neil Young said it perfectly: "Meet the losers in the best bars meet the winners in the dives…" The Ski Inn greets you near the entrance to Bombay Beach and doesn't look terribly inviting but stop, go inside, enjoy a cold beverage and relax. The bartenders and the locals are friendly, welcoming and happy to chat about life in Bombay Beach. It's the perfect place to cool off, grab a bite (the patty melt is popular) and recharge for the next stop. Bonus tip: If you want to dig deeper into Bombay Beach's art installations talk to Steve about the two sites that require a guide – the Hermitage Museum and the Bombay Beach Opera House.
A colorful testament to one man's passion for sharing his message of love, Salvation Mountain is a giant man-made mound of adobe and hay, layered with what is estimated to be over 100,000 gallons of paint. It's a vivid mirage in an otherwise dry and barren landscape. Although there is a clear religious tone to Salvation Mountain many view the site as a valued example of American folk art. Wander freely, take photos and don't forget to check out the funky art cars. Bonus tip: Slab City. If an off-the-grid bohemian lifestyle is your thing you've just found nirvana. Located on former WWII military site, Slab City is a squatter's paradise best described as an anti-Burning Man, Burning Man-like enclave way off the beaten path. And if you happen to be in Slab City on a Saturday evening during the fall or winter stick around for open mic night at The Range. Trust me, you won't be sorry. Open 365 days a year from dawn to dusk.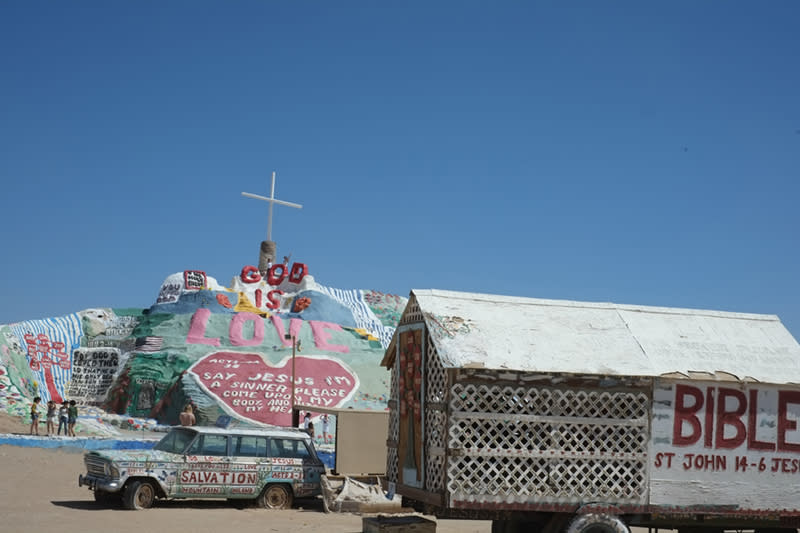 Want to see the complete nine-site tour with an interactive map? Visit artpatronmagazine.com.
Written and Photographed by Deanna Fainelli