Las Vegas is the perfect gateway city from which to explore the vast and beautiful California Desert. Whether you are flying into Sin City for an extended vacation and want to carve out a four- day getaway in between the bling and clang of casino slots or you are a Las Vegas resident looking to escape the city for some much needed days of solitude in nature, we have the perfect loop trip for you.
Day One
Morning at Red Rock
Head out early to spend a morning in glorious Red Rock Canyon, where even professional geologists find awe in the rock formations, natural beauty and vivid rusted red colored strata created over time by forces of nature. A one-hour drive will bring you to the Visitor's Center where you can choose from a plethora of scenic drives and more than 19 hikes.
An Afternoon at Mojave National Preserve
Proceed an hour and half to Mojave National Preserve to discover the many distinguishing highlights of the preserve that include the Kelso Dunes, a stunning Hole in the Wall canyon and the eerily magnificent Cinder Cone Lava Beds where you will feel as if you are entering another world.
Amboy Crater at Dusk
After a few hours of exploration, make your way south across the preserve to Kelbaker Road and take it down to the historic Route 66. From there, head west to Amboy for a drive by the Amboy Crater. The crater is a symmetrical volcanic cinder cone that sits isolated in the middle of vast and sprawling desert, a black mammoth rising from the sand. The inside of the high crater contains two lava dams behind which have formed small lava lakes.
There's a breach on the west side of the crater where basaltic lava poured out over a massive area resulting in 24 square miles of lava flow containing such features as lava lakes, collapsed lava tubes and sinks, spatter cones and  immense flows of basalt. A walk up to the rim as the sun starts to set will reveal a breathtaking 360-degree view of the surrounding desert, shattered into golden hues.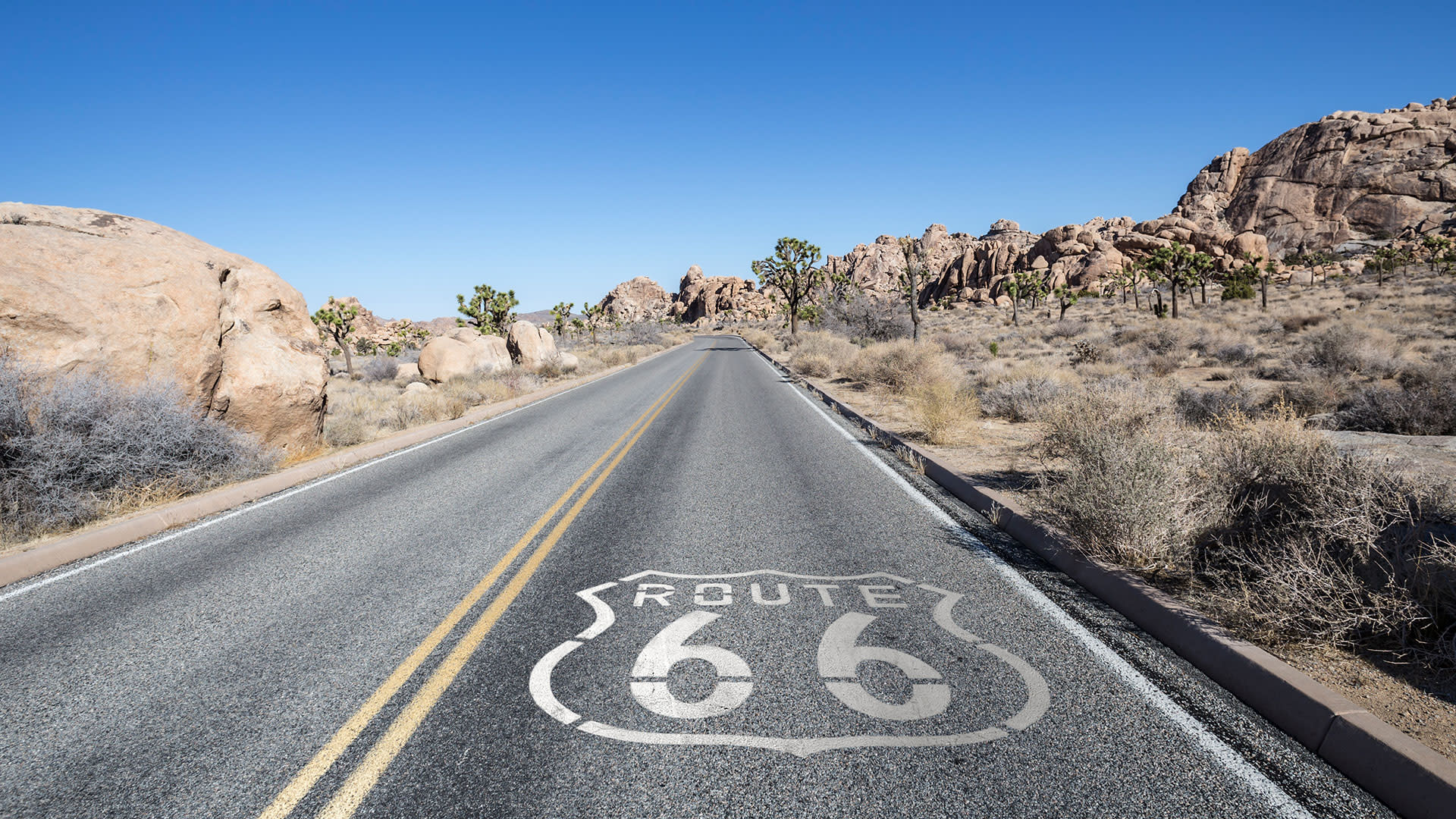 A High Desert Evening
From there, head to the high desert area of Joshua Tree an hour away. Stop at Pie for the People for some hearty pizza after the long day. This funky joint offers New York style pizzas known for creative versions like the Barry White strewn with pesto and strawberries or the Johnny Popper with cream cheese and jalapenos.
Spend a soothing night at the famous Harmony Motel where the band U2 stayed while working on their Joshua Tree album. You might opt to stay in the Jack Kerouac room and soak under the stars in the Jacuzzi with the hospitable owner Ash who's known to whip up one of her native curry dishes on a whim for hungry guests.
Day Two
A Scenic Drive through Joshua Tree
Chow down on some leftover pizza then spend the morning driving through Joshua Tree National Park. The park is a vast protected area characterized by rugged rock formations and stark desert landscape. It is named for the twisted Joshua Trees that dot the land like ancient sentinels, and you can stop along the way to walk a variety of nature trails throughout the area, perhaps catching a glimpse of many indigenous animals and plants.
Dabble in Downtown Palm Springs
After a few hours, head down Highway 62 back through the high desert cities and into the famous resort town of Palm Springs. When you arrive downtown, grab lunch to go from Jake's. Their deli counter is renowned for gourmet choices like roast lamb or pork tenderloin sandwiches and interesting sides and salads.
Check into a room at the Coral Sands owned by the eclectic Ruby Montana. The pink 1952 hotel in the famous Las Palmas neighborhood was once a getaway for the Rat Pack. Today, each room is decorated in themes like the Roy Rogers and Dale Evans suite or the Liberace Room. It's small, funky and charming and guests are known to mingle around the intimate pool or to visit the small room with walls stacked to bursting with Ruby's museum quality collection of kitsch items like salt and pepper shakers and folk art.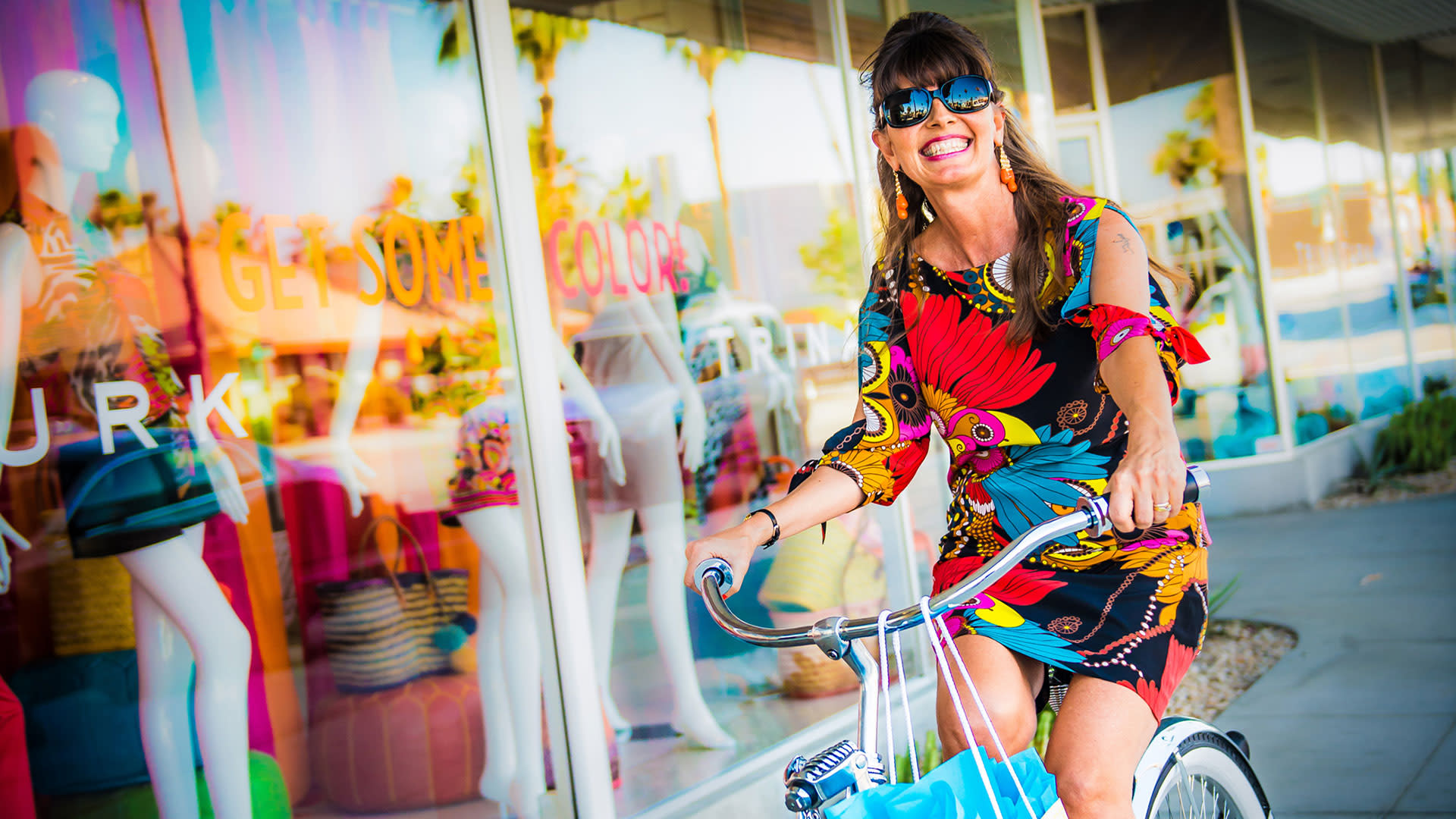 Spend the afternoon experiencing the downtown corridor on bike with a rental from Bike Palm Springs Rentals. Stop along your ride for cocktails or snacks or simply shop in the many noted stores along the way like Trina Turk, Wil Stiles or SHAG the Store for decidedly midcentury modern fashions, art, housewares or souvenirs.
For dinner, try the exceptionally fun Eight4Nine. The restaurant is in a building once home to the original 1954 post office and now features a striking white dining room accentuated with dazzling hot pinks. The menu emphasizes West Coast Modern Cuisine such as mushroom and Brussels sprouts toast or lobster mac and cheese. Don't forget to grab a slice of the mouth puckering Coachella lime pie.
For a nightcap, head to the swanky lounge at the Riviera Palm Springs or opt for cocktails near the pool around a roaring personal fire pit.
Day Three
A Morning Stroll at Sand to Sea National Monument & Whitewater Preserve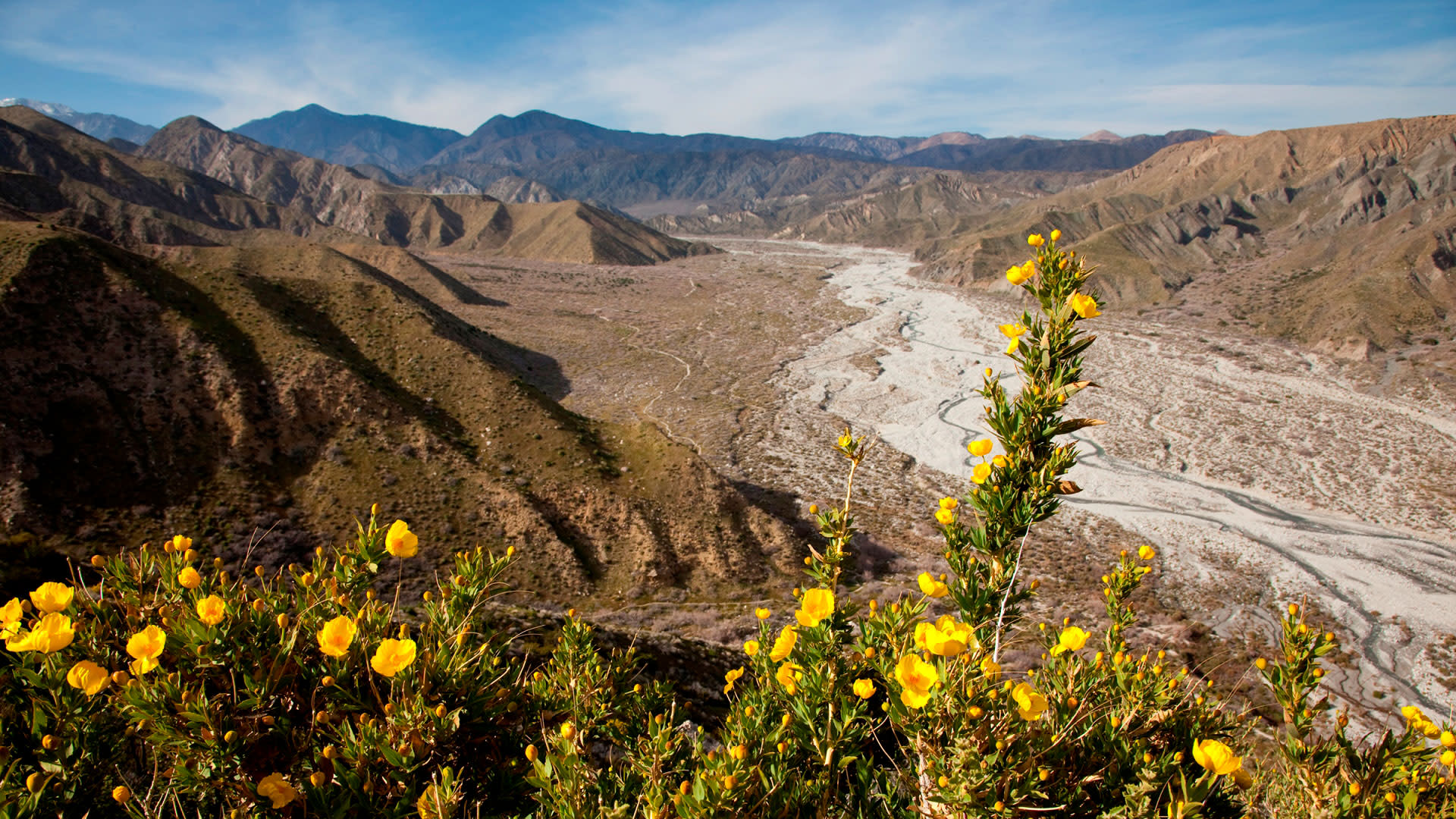 After a fresh breakfast of chilaquiles and cheddar scones at the popular Cheeky's head out of town to the San to Sea National Monument and the Whitewater Preserve. The preserve lies over 2,851 acres of San Gorgonio wilderness, host to the endangered willow flycatcher and Bell's vireo as well as a robust population of Bighorn sheep, deer and bear and is a corridor between the San Bernardino and San Jacinto Mountains. You can explore the area on foot for a few hours at the coolest part of day before staking out for some lesser-known back road bits of desert history.
Visit Oak Glen Preserve
Travel northwest for about an hour to the 5,024 square feet of Oak Glen Preserve, situated adjacent to the steep escarpments of Yucaipa Ridge in the San Bernardino National Forest. A walk along the main trail will provide views of Wilshire and Galena Peak, both lambing grounds for Bighorn sheep. Other habitats encountered along the trail include ponds, streams, wetlands, oak and pine forests, chaparral and willow woodland. The preserve headquarters is located on a 106-year-old apple ranch where you might want to pick apples for an impromptu picnic.
Discover Barstow's Unique History
A little after noon drive an hour and a half north via the 215 and 15 freeways to the historic Barstow Station where you will find three distinctive experiences that harken to the old days of the desert when the sleepy little town was a major railway hub of California.
First check out the Route 66 "Mother Road" Museum, which was dedicated in 2000 in the historic Casa del Desierto Harvey House. The museum displays a collection of historic photographs and artifacts related to Route 66 and the Mojave Desert communities including a look at the development of the local pioneer trails, railroads, automotive industry, businesses and sites. Then walk through the house that was started by Fred Harvey which was staffed by the infamous Harvey Girls to offer hospitality, food and lodging to travelers and workers along the route.
Finish off with a wander through the Western America Railroad Museum which houses displays in an authentic railroad depot featuring railroad artifacts, artwork timetables, uniforms and tools. Outdoor displays offer up close and personal glimpses of rolling stock, locomotives and general railroad operating equipment.
Dine at Lola's Kitchen before staking out for Death Valley. A three and a half hour drive will land you at Furnace Creek Resort for a good night's sleep.
Day Four
A Day at Death Valley
Death Valley is the hottest, driest and lowest National Park in America and features a great concentration of diverse topographical splendor. Extreme climate and conditions have carved the area into a land of bizarre wonder where you'll see land formations, geological absurdities and wild juxtapositions of panoramic views that you will not find anywhere else in the world. With one whole day to spare, you'll be able to sample a little bit of all the park has to offer, but make sure to add some of the following experiences to your "not to be missed" list before heading back to Las Vegas.
Visit Father Crowley Visit
Hike Darwin Falls
Hike Mesquite Flat Sand Dunes
Walk Salt Creek Trail
Hike Mosaic Canyon
Walk Rhyolite Ghost Town
Walk the Goldwell Open Air Museum
Hike Ubehebe Crater
Tour Scotty's Castle
Visit Dante's View
Drive Twenty Mule Canyon
Trina Turk Storefront photo courtesy of Chris Miller.