Greater Palm Springs is one of the best places to travel on a budget. With the combination of ideal weather and low prices, traveling to the Southern California oasis during value season is a must! Plan an exciting vacation without spending a fortune on places to stay. Take note of our passionate round-up of the most reasonably priced stays all year round.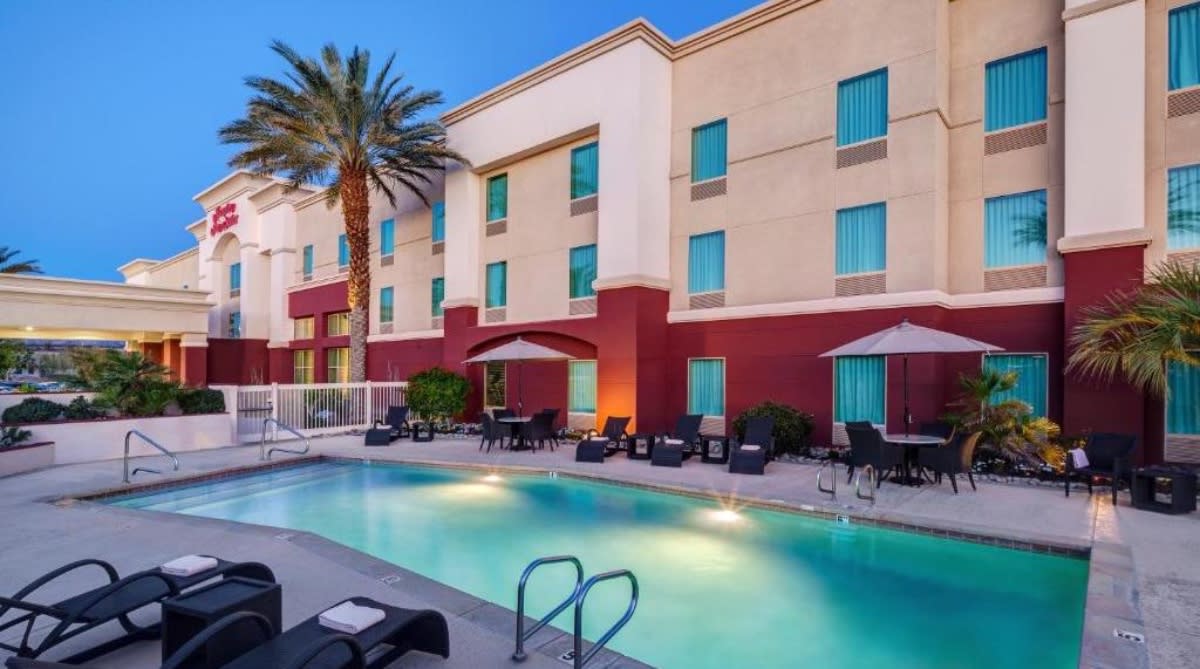 There's a bevy of online deals to be had at two great Hampton properties: Palm Desert and Indio. The Palm Desert locale is within seconds—literally—from retail stores and restaurants that make up The University Village and Shops. Thinking about a scenic hike in and around the Santa Rosa and San Jacinto Mountains National Park. Fear not: they are a short drive away. Better yet, head to the Living Desert Zoo and Gardens, an entire-family experience. The location is wonderful. At the Indio portal, you'd find yourself in the home of the world's only date museum. You'd also be near the Coachella Valley History Museum and the Riverside County Fairgrounds, which hosts a variety of activities throughout the year, and, of course, the Empire Polo Grounds and nearby casinos. Both properties stand out for their stellar customer service and numerous perks: hot breakfast, well-designed outdoor pools to soak up the sun and desert views, spacious and meticulously cleaned rooms, a business center that doesn't feel cramped, and a welcoming lobby that simply pops with color. The destinations are ideal places to bring the entire family and not have your pocketbook drained. Best of all: there's free parking. 
Info: 74900 Gerald Ford Drive, Palm Desert; 42261 Spectrum St, Indio.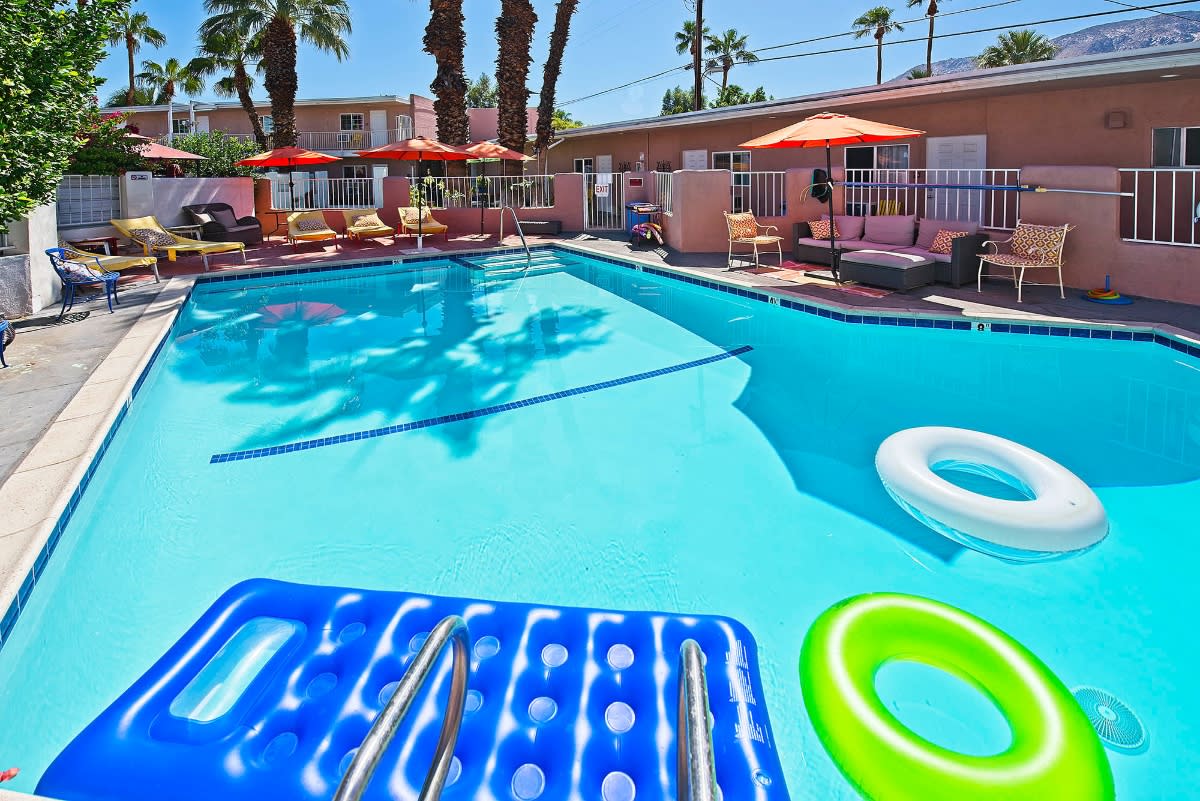 Fun, fabulous, and full of charm and pops of color. Inn at Palm Springs is ideally perched between Little Tuscany, the Uptown Design District, and the Palm Springs Aerial Tramway. It's also dog-friendly, so feel free to bring your fur baby. Mostly, Inn at Palm Springs is everything you'll want—mid-century modern delights, desert landscapes, mountain views, and relaxation. Rooms are vibrant and quaint, plus, you're so very close to downtown Palm Springs, and a variety of nightclubs, fine dining, and shopping.
Info: 2525 North Palm Canyon Drive, Palm Springs, 888-788-8466.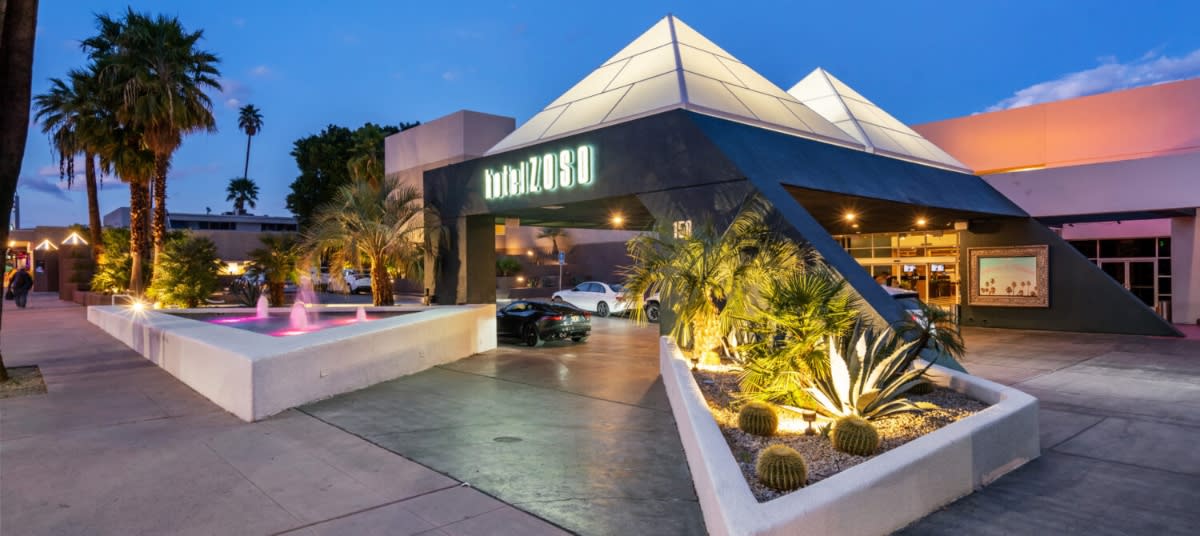 You can't beat the location—or the price. Perched idyllically in the heart of downtown Palm Springs, you'd be staying in Greater Palm Springs' creative hotspot, a haven filled with shops, museums, restaurants, clubs, a weekly street fair, and so much more. With a courtyard pool as one of its centerpieces, you tend to feel like you're in a protected cocoon here. Rest and relaxation make for a fine couple here as you're right by those stunning San Jacinto Mountains. Take note of the destination's special events, such as the Zocial Pool Party, affordable daily food and beverage credits and stellar deals on multiple-night stays. Basically, these folks want to spoil you here. For some unforgettable fun, enjoy karaoke on Wednesday nights, trivia with Miss Rusty Waters on Thursday evenings and eclectic cocktails and dance music at the destination's unique nightclub. Have at it.
Info: 150 South Indian Canyon Drive, Palm Springs, 760-325-9676.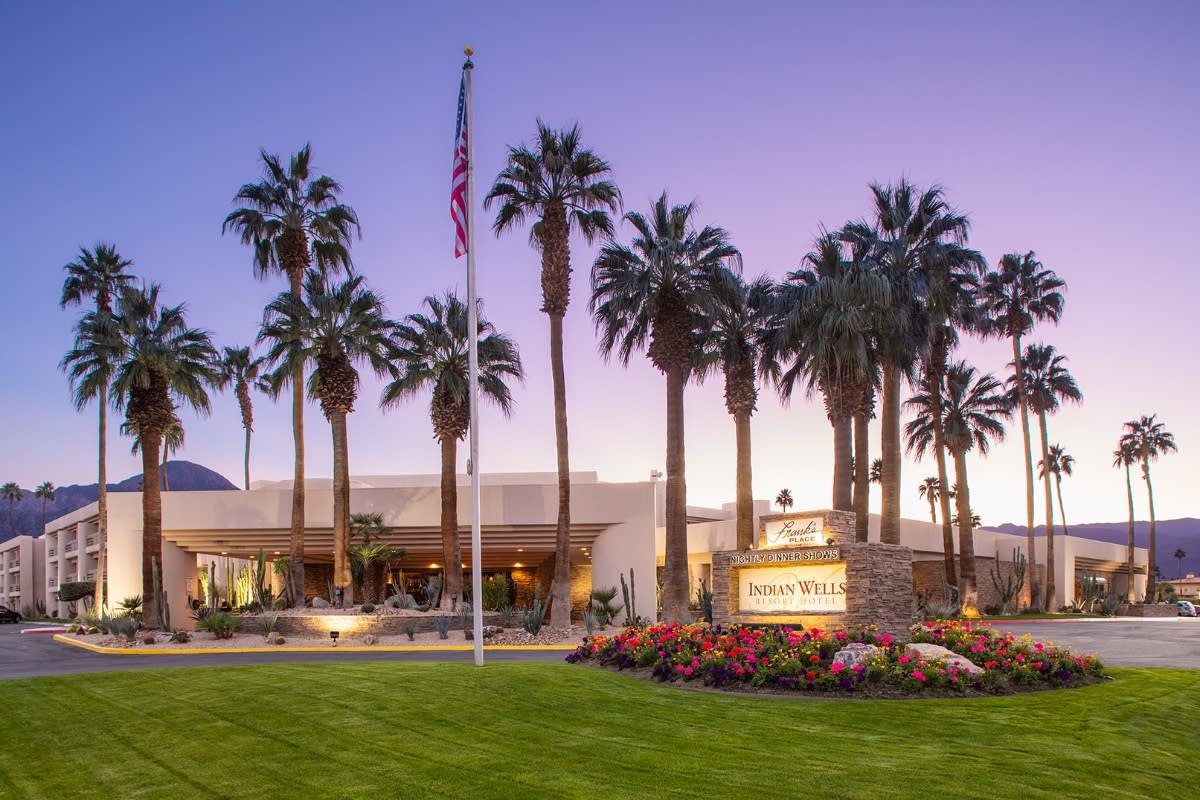 This Indian Wells Resort Hotel has its own unique history. Founded in 1957 by Hollywood legends Lucille Ball and Desi Arnaz, it quickly attracted  A-listers from Hollywood who craved a real getaway. Spa comforts, poolside bliss, mountain majesty. Hard to beat, frankly. Today, the hotel is known for all that and more. Affordability year-round is key, of course, and while posh perks abound, the cost of those perks remain somewhat grounded. Rooms and suites are plenty—walk down the halls and marvel at some of the showbiz photos. Meanwhile, the vast swimming pool and hot therapy pool are great draws. As are the site's two outdoor Tennis Courts and 36 holes of golf. Dining is exceptional here with Frank's Place Restaurant & Lounge. Even the Palm Terrace Poolside Bar stands out. Really want to unwind: book a massage. This is one truly unforgettable destination. 
Info: 76661 Palmeras Road, CA-111, Indian Wells, 760-345-6466.Cut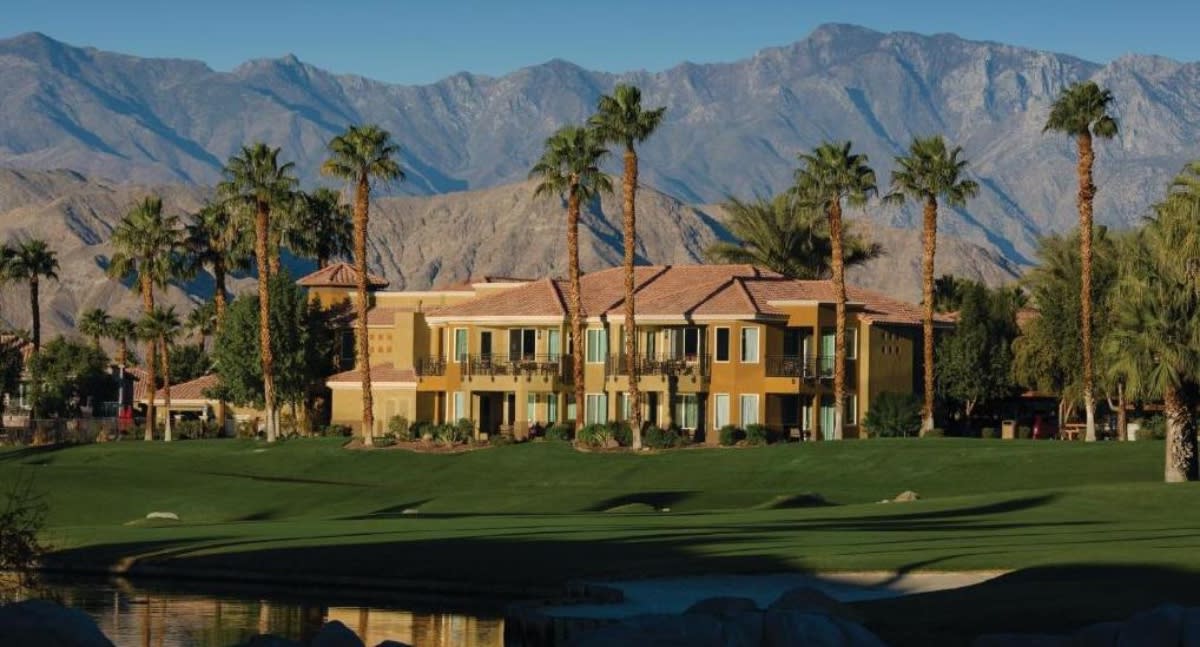 Upgraded amenities and proximity to The Living Desert Zoo is great for family vacations, and the desert views here are stunning. What truly stands out, however, is how well this destination knows how to deliver luxury without forcing travelers, particularly families or wedding parties, to pay the price tag. Think of this place as "posh affordability," a destination that delivers the best Marriott has to offer—spacious rooms, lounge-worthy pools, exceptional dining—but ups the ante with other perks like vast swimming choices, nighttime firepits, golf, and spaciousness. Always a good thing when you need to just get away from "life" and… breathe.
Info: 1091 Pinehurst Lane, Palm Desert, 800-845-5279.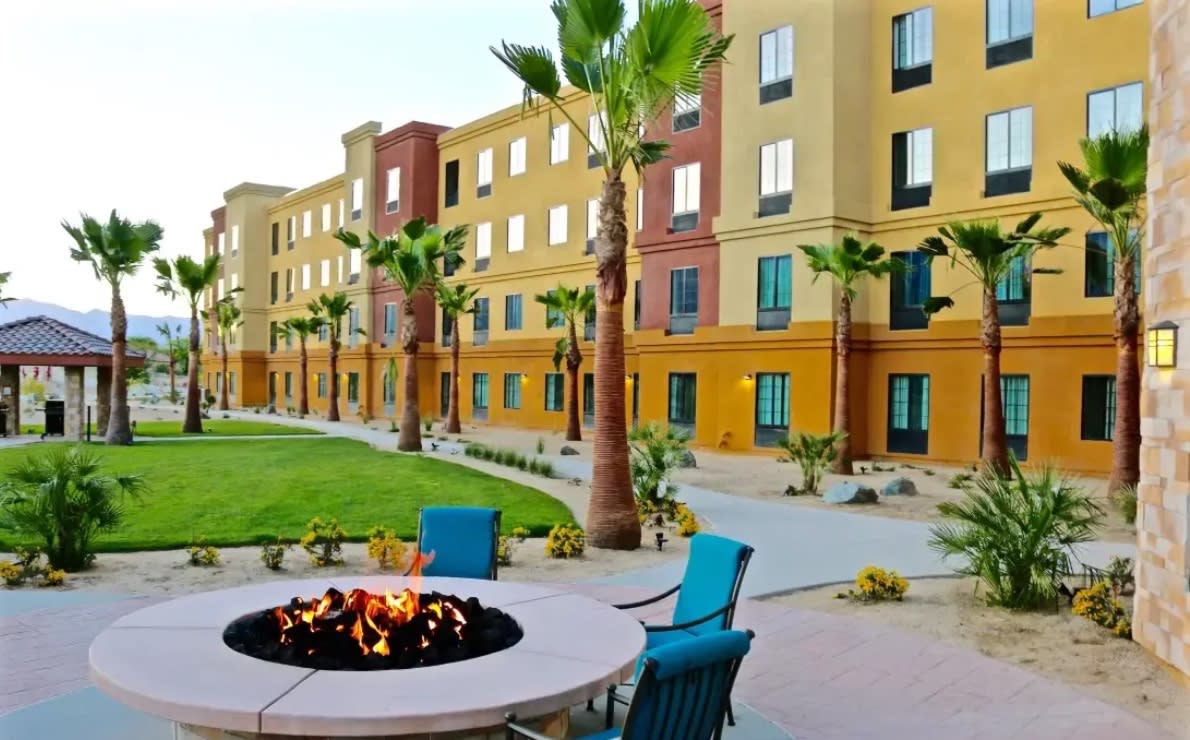 Most everybody loves to lounge poolside, and you can do it here without it having it deplete that wallet. Honors discounts, AAA, AARP, and military discounts stand out here, as do this locale's online deals. From its attention to guest comfort—the room designs here simply pop—and architecture—those mountain views are memorable, especially at sunset—place this ideal Cathedral City location on your must-stay list.
Info: 67711 30th Avenue, Cathedral City, 760-980-7070.
Just book it now. It's affordable and we're talking mineral water spas—truly the epitome of comfort and renewal. This spacious hotel stands out for many reasons, but it simply knows how to create memorable guest experiences. Like most of the places on this list, color themes abound here, with rooms and halls popping with purple, lime, or cheery bright yellow tones. But each suite here features an in-ground, jetted mineral water pool. Then there are poolside movies on the big screen every Friday and Saturday starting at sundown, weather and hotel events permitting. 
Info: 14500 Palm Dr, Desert Hot Springs, 760-329-4481.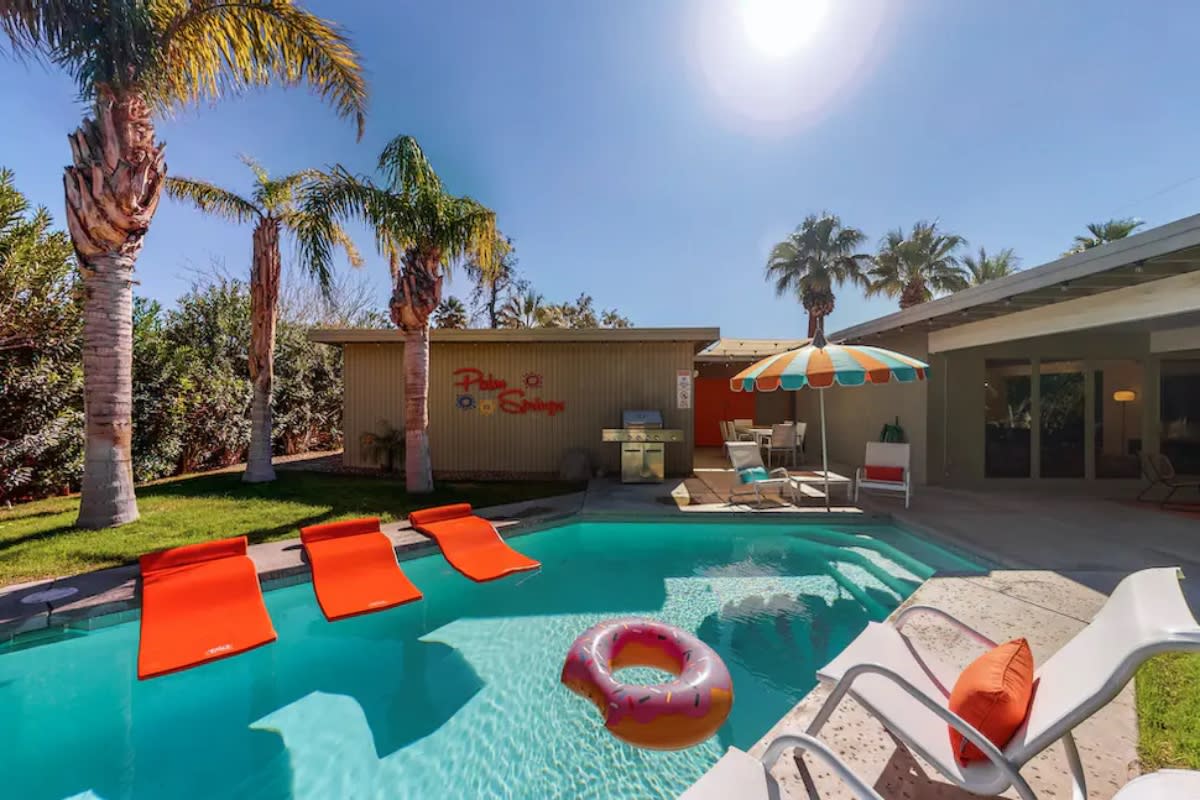 Vacasa leaps to the top of the list this season. The online destination is easy to maneuver, and the listings deliver a bit more nuance than what you'd find on other booking sites. Affordability is key, of course, and here, a two-bedroom home rental won't make you spit out that coffee you just took a sip of when browsing prices. Consider many locales—from Palm Springs, Rancho Mirage, and Indio to Palm Desert, where a large variety of mid-century modern marvels abound. A stellar option for travelers who prefer a bit more intimacy. Basically, your home away from, well, home.
Info: www.vacasa.com.
Start planning your stay in Greater Palm Springs and discover many more unique finds! The question now is what will you find?