Yoga is fun. At times, it may look like a serious practice requiring concentration and calm, but that isn't really what yoga is all about. Connecting mind, body and soul is at the heart of this ancient practice and when you find that place, it can be pure bliss. For some that may take concentration and calm, but for others, it may require a new challenge, a step beyond your imagined capabilities or even a good, deep belly laugh.
The popularity of yoga today now offers something for everyone, and when it comes to the Coachella Valley, your choices are extraordinary.
To Ease into Your Yoga Practice
Traditional Yoga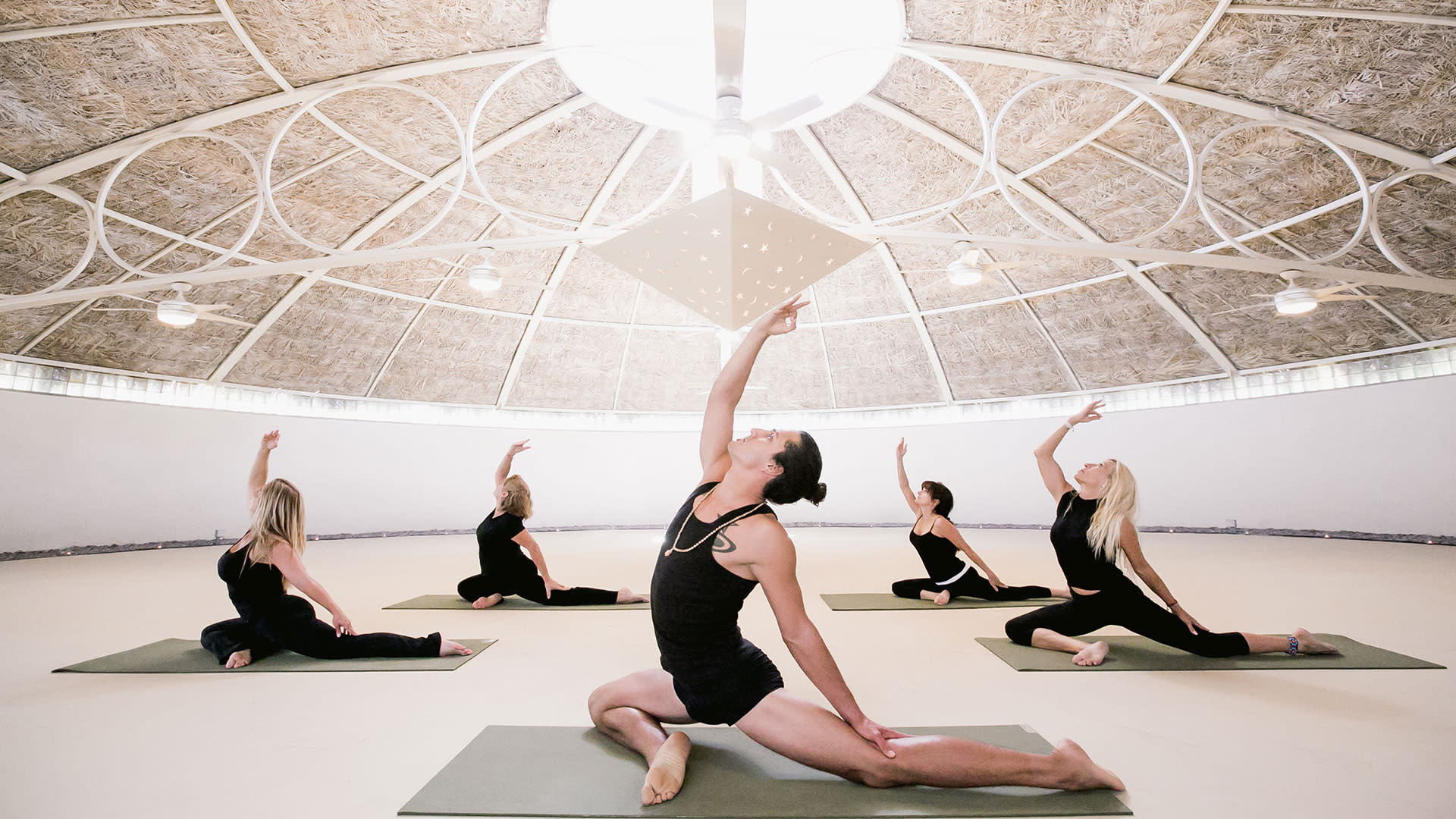 Those who may be looking for what is considered traditional yoga (on a comfortable mat in a bright studio with beautiful wooden floors) don't have to look far, as a variety of classes are offered at most major hotels, many boutique hotels, and at numerous yoga studios throughout the valley.
For Newbies
If you are just starting out, you may consider gentle yoga or hatha style for slow, thoughtful movements and transitions. Looking for a good workout? Try vinyasa flow or ashtanga yoga to get your heart beating and muscles moving.
Some Like It Hot
If you really want to turn up the desert heat, try Bikram yoga at one of the valley's two heated studios: Bikram Yoga Plus and Bikram Palm Desert. At 104 degrees and 40 percent humidity, you are sure to break a satisfying sweat. Some studios also offer hot yoga throughout the year (similar to Bikram, but with a different series of poses each class) including Evolve Yoga in La Quinta.
Therapeutic Practice
Maybe you've recently read that yoga is scientifically proven to reduce stress and aid in healing and are looking to simply relax or rejuvenate. Restorative, yin, Iyengar, therapeutic or chair yoga may be just right for you. Check out the class schedules at Two Bunch Palms, Urban Yoga Center in Palm Springs, Desert Yoga Therapy in Rancho Mirage and Evolve and Yoga Central in La Quinta, to name a few.
To Get Adventurous with Your Yoga
Now, if you're looking for a more adventurous yoga experience, here's where the fun really begins…
Elevate with Aerial and Trapeze Yoga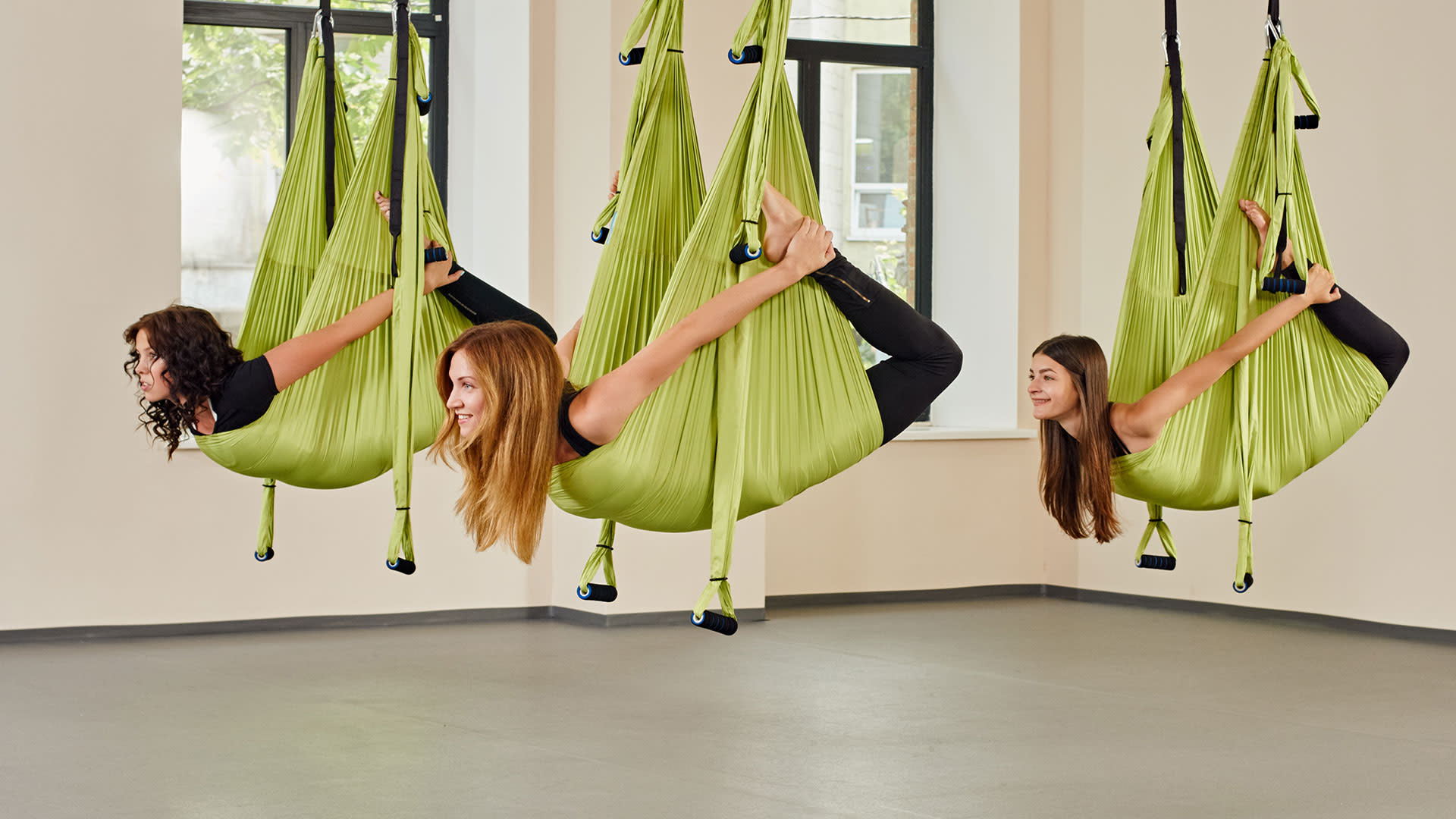 Does the thought of doing yoga while suspended in mid-air interest you? This new experience uses silk hammocks or straps and adds the benefit of gravity to traditional yoga poses for strength and flexibility. The playful practice is recommended for all levels as you can move at your own pace and is offered at Bikram Yoga Plus in Palm Desert or Yoga Bliss in Palm Springs.
Family Fun at the Spa at Mission Hills
If the entire family enjoys the practice or you've wanted to introduce the kids, consider a stay at the Westin Mission Hills in Rancho Mirage where classes are offered to both hotel guests ($10) and locals ($15) on Saturdays and Sundays, and kids are free with a paying adult. The hatha-style class is good for all levels.
Water Yoga
The Coachella Valley is known for its hot mineral springs, which have been compared to the famous healing waters of Baden-Baden, Vichy and Evian. At the newly renovated and historic Two Bunch Palms, you can relax in their hot mineral spring grotto before and after their cool pool water yoga, which focuses on balance, range of motion, healing and rejuvenating.
Paddle Board Postures at Palm Desert Aquatic Center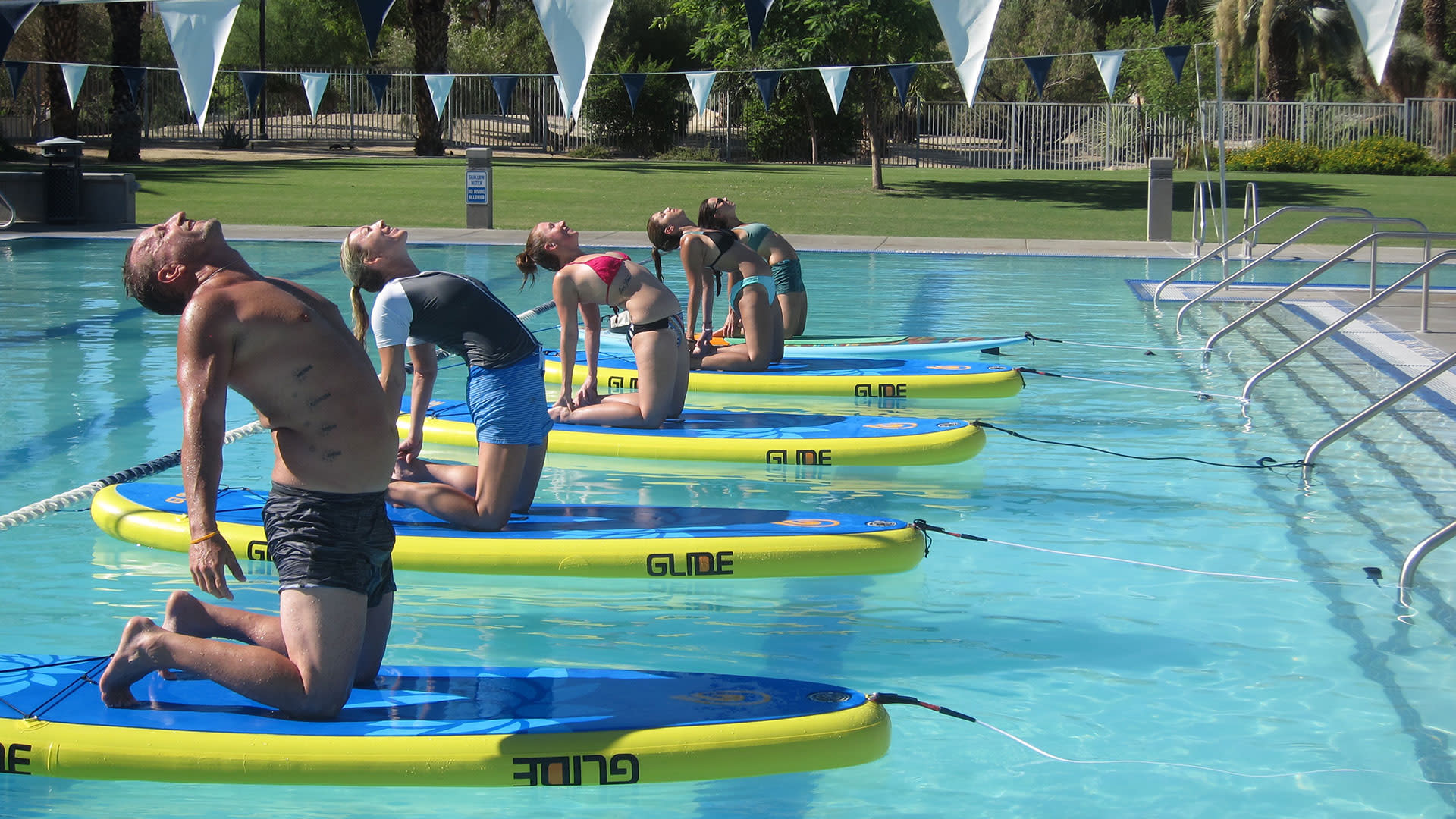 Looking for a cool outdoor option to beat the heat? Join April Jones for SUP Central on a tethered board at the Palm Desert Aquatic Center. Classes for up to five people are held on yoga specific boards (provided). Classes for private groups are also available. Contact April at Yoga Central for details.
Inspiring Environments
If you want to be inspired by unique surroundings, try the free yoga classes offered during the season at the beautiful Sunnylands Center & Gardens in Rancho Mirage (vinyasa) or the empowering yoga dome at Two Bunch Palms (gentle and restorative yoga classes offered). For an out-of-this-world sound bath experience, visit the historic Integratron in Landers described as "a resonant tabernacle and energy machine sited on a powerful geomagnetic vortex in the magical Mojave Desert."
Sunrise Hiking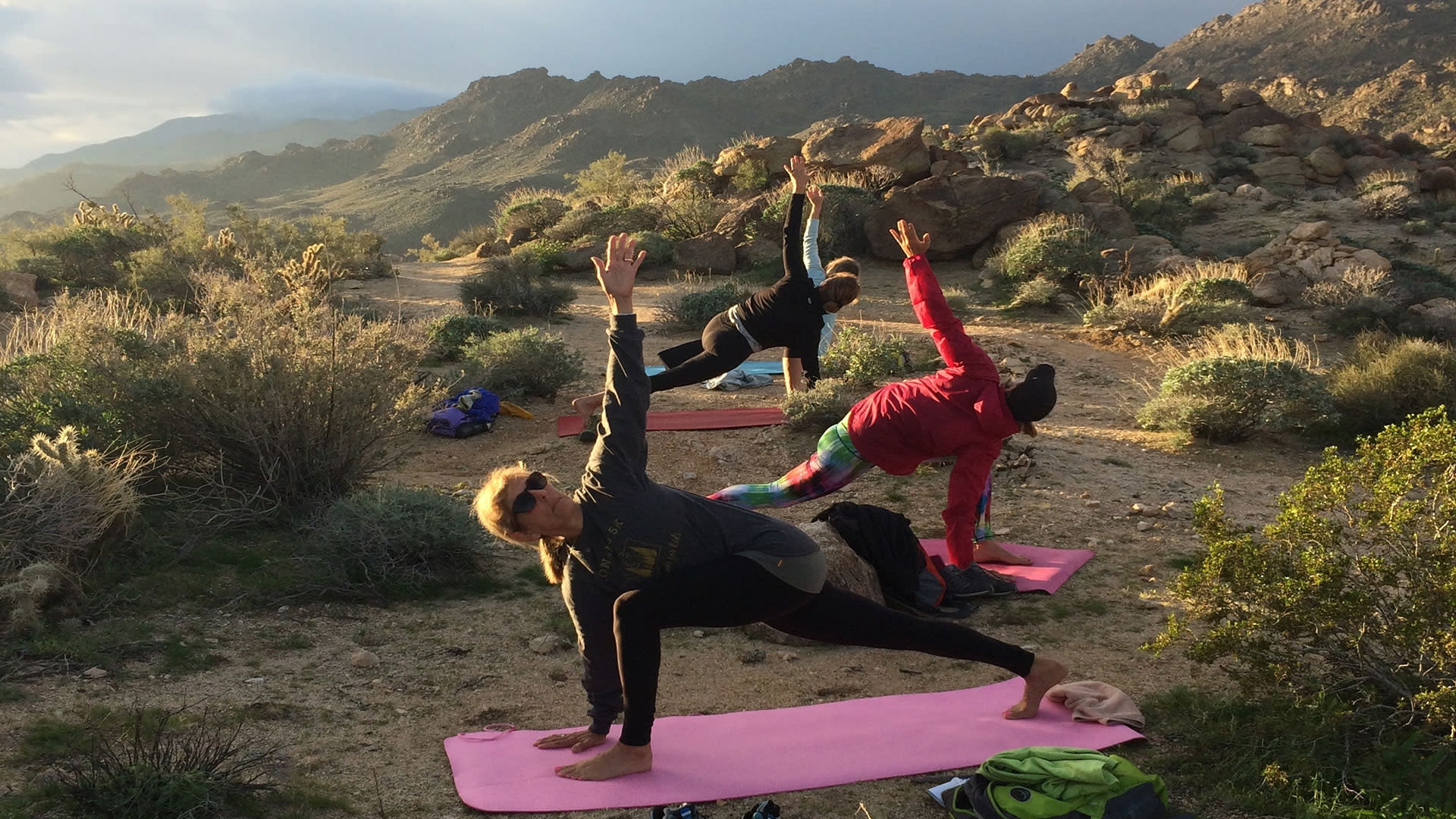 Pack your mat and join Yoga Central on their early morning hikes up local trails such as the Art Smith, Pushwalla, and Cross trails to enjoy yoga with the sunrise high above the desert floor.
Vino & Vinyasa
The Agua Serena Spa at the Hyatt Regency Indian Wells offers a unique class for the senses combining vinyasa flow and wine tasting. The thoughtful yoga sequence heightens the senses and prepares your palate for wine tasting in between poses. Private classes are available for groups of two or more and scheduled drop-in classes are offered during the holidays.
Community Karma
If seya (or service) is part of your practice, participate in the donation-based Yoga in the Park offered by Power Yoga in Palm Springs at Ruth Hardy Park. Each Saturday at 8a.m. (June through September) and 10a.m. (October through May), instructors guide an hourlong power yoga class with donations benefiting various nonprofit organizations throughout the valley.
The Laughing Yogi
A far cry from the quiet and calm of many classes, this "celebration of life with laughter" is offered in Palm Springs by Yogi Ramesh Pandey, a Himalayan yoga master who has been practicing for 45 years. Aimed at self-healing through oxygen and laughter therapy, this light-hearted practice induces mood-enhancing endorphins good for the heart, mind and body, and is certain to leave you with sore cheeks and a smile on your face.