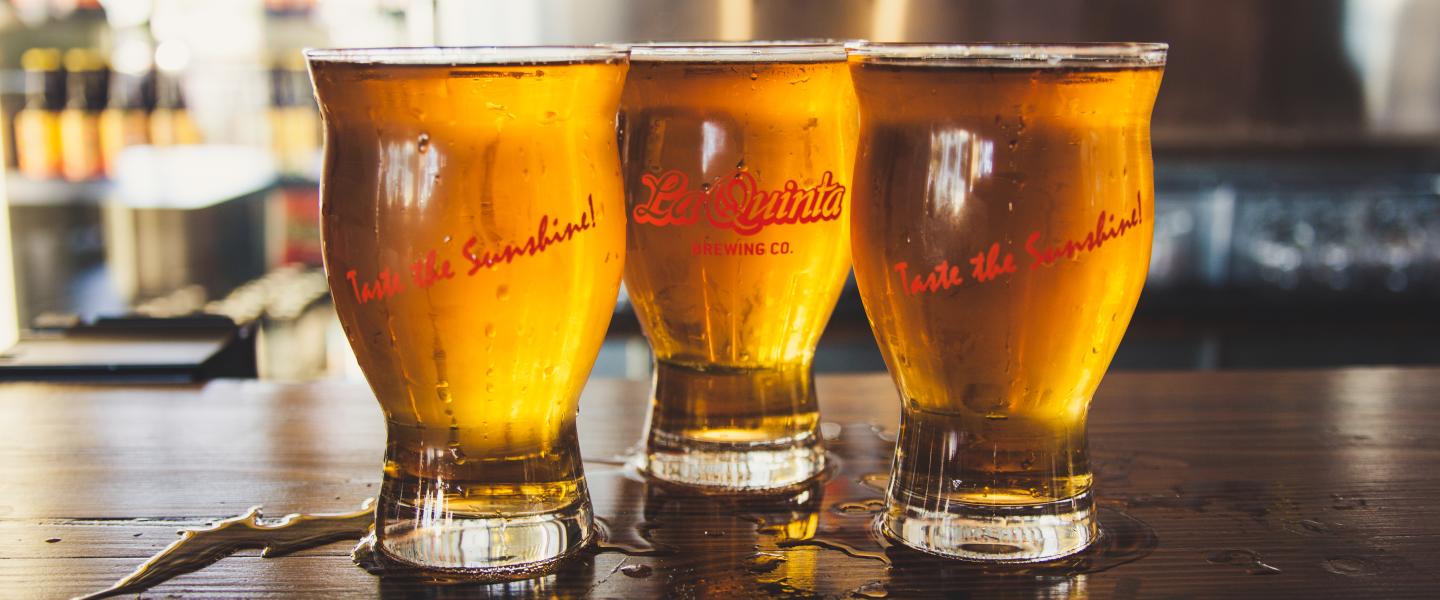 While Greater Palm Springs is probably best known for golf and modernism, there's a burgeoning craft beer scene that is emerging. Numerous craft breweries, brewpubs, and beer halls mean there are many ways to have fun tasting all the great flavors the region has to offer.
Rent a bus or a limo, take an Uber, Lyft or a taxi and enjoy a few of these in a small day trip, or appoint a designated driver and cruise these brews on your own.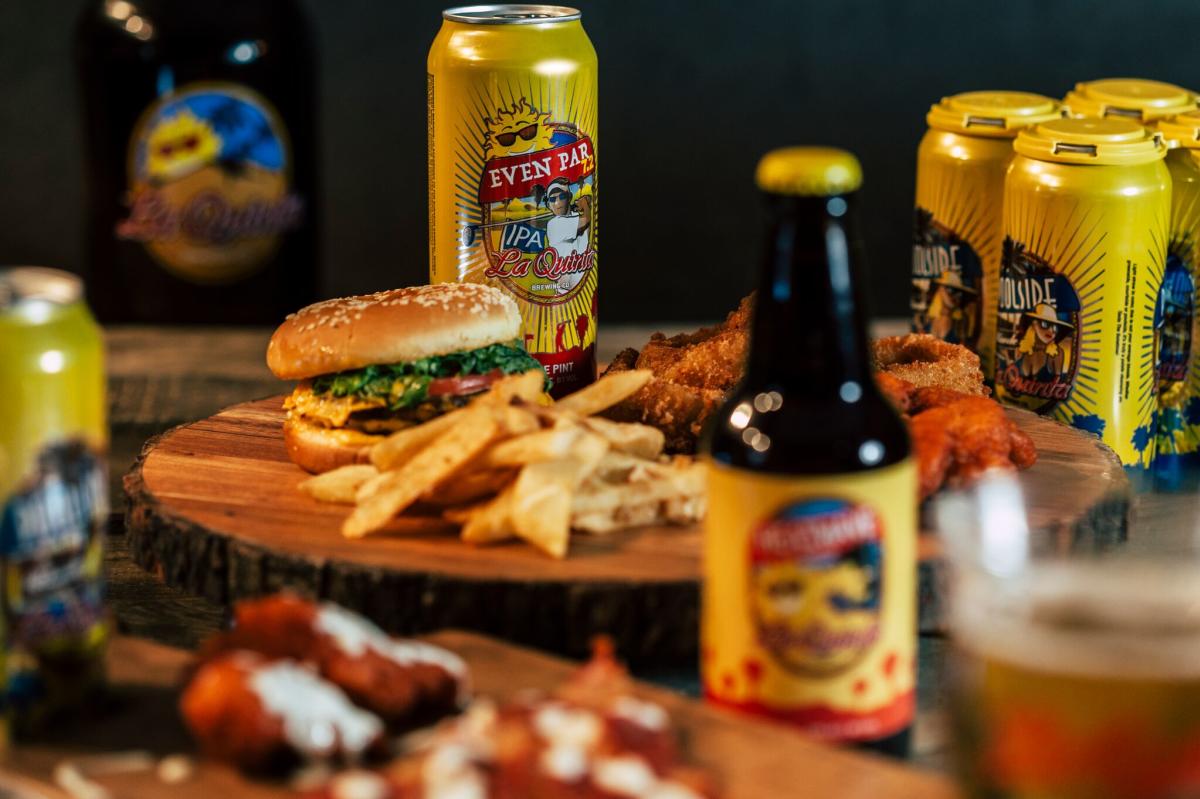 With three locations (La Quinta, Palm Springs, and Palm Desert), La Quinta Brewing Co. is perhaps the best-known brewpub in the valley. The brewery opened its doors in 2013 and has quickly become a favorite of both locals and visitors.
The taprooms serve La Quinta's full line up of beer as well as limited releases and on some days you'll find special food offerings too. If you want an excuse (not that you need one!) Wednesdays are known as "Half Off Hump Day" (4 pm to close at the brewery in Palm Desert) where sippers get 50% off draft beers and $10 growler fills.
Don't miss sampling La Quinta's Poolside Blonde, Heatwave Amber Ale, or the Desertfest Autumn Seasonal. The Koffi Porter is made with locally roasted Koffi coffee and is popular with locals. It makes a great souvenir to share with friends back home too.
With a huge lineup of beers, there's bound to be a brew for every beer drinker to fall in love with at this Thousand Palms brewery.
Coachella Valley Brewing was also born in 2013 and has morphed from small purveyor to a popular spot known for quality locally-grown ingredients and expertly crafted beer.
Coachella Valley Brewing is a great stop because it focuses on farm-to-table brewing, and finds inspiration in the environment; their beers combine "the luxury of the Palm Springs west valley with the agricultural excellence of the east valley to produce truly unique and flavorful beer," using local citrus, herbs, honey, and spices. There's also tours of the brewery available for the brew-curious.
Grab some sampler sizes of the cleverly named Kolschella or try the I-10 Session IPA. Another can't miss pint is the Dubbel Date Belgian-style Abbey Dubbel, made with dates grown right here in the Coachella Valley.
Babe's | Rancho Mirage
This iconic resto-bar and brewery is one of Greater Palm Springs' stalwarts when it comes to grabbing a cold one. With an expansive patio and moody interior complete with touches of 'pig' decor, it's a refreshing spot to beat the heat.
Babe's has been brewing its own beer and serving up tasty food options since 2002 in its location along Highway 111 in The River.
Another huge draw for customers is the barbecue. Serving barbecue styles from every part of the U.S. and all over the globe, Babe's has won Palm Springs Life's "Best of the Best" bar-b-que numerous times.
Sample Babe's proprietary Blackfin Lager, Palm Springs IPA or try the Belgian Vanilla Blonde Ale if you're looking for something with a sweeter edge.
There are plenty of other beer-focused hangouts across Greater Palm Springs. Many of them offer full restaurant menus and fresh food, making for a memorable night out or afternoon lunch.

Draughtsman combines a strong list of local and international draft beers with stunning architecture and design. The open concept wood and metal building is industrial chic at its finest, plus the array of games on the back patio ensures visitors won't ever be bored.
Not feeling like beer? There's an extensive cocktail menu and even beer cocktails to experiment with.
Yardhouse may be a chain, but they know their stuff. With a huge offering of beer options from around California and all over the world, you can also expect an array of seasonal brews, plus selections from what Yardhouse calls the Chalkboard Series; a rotating selection of draft beers offering some of the most unique and complex beers from local, domestic and imported brewers.

Eureka | Indian Wells
This vibrant American-Focused restaurant serves up fresh food and craft beer daily at its Indian Wells location. Expect a boisterous crowd, plenty of action on the TVs and a huge selection of beer on tap.
An unexpected choice for grabbing a quick brew, the Whole Foods Taproom is bright and sunny and has an unexpectedly great selection of craft beer. Load up on your organic groceries, then stop for a pint and a snack.
Known across the valley for its chef-driven sports pub food with a twist, Beer Hunter has an outstanding selection of bottled beer plus on-tap offerings so choosing what to try might take some time.
Stop in at one of these local haunts and sip or sample all that Greater Palm Springs has to offer. Looking for more local hotspots? Check out what's new in Greater Palm Springs.