Love is in the air - Plan your romantic micro-wedding under the swaying palm trees and stunning mountain backdrop of Greater Palm Springs. Whether you're looking to host a quick and intimate ceremony or a sit-down dinner with some of your closest friends and family, this SoCal oasis is the perfect destination for your big day. 
La Serena Villas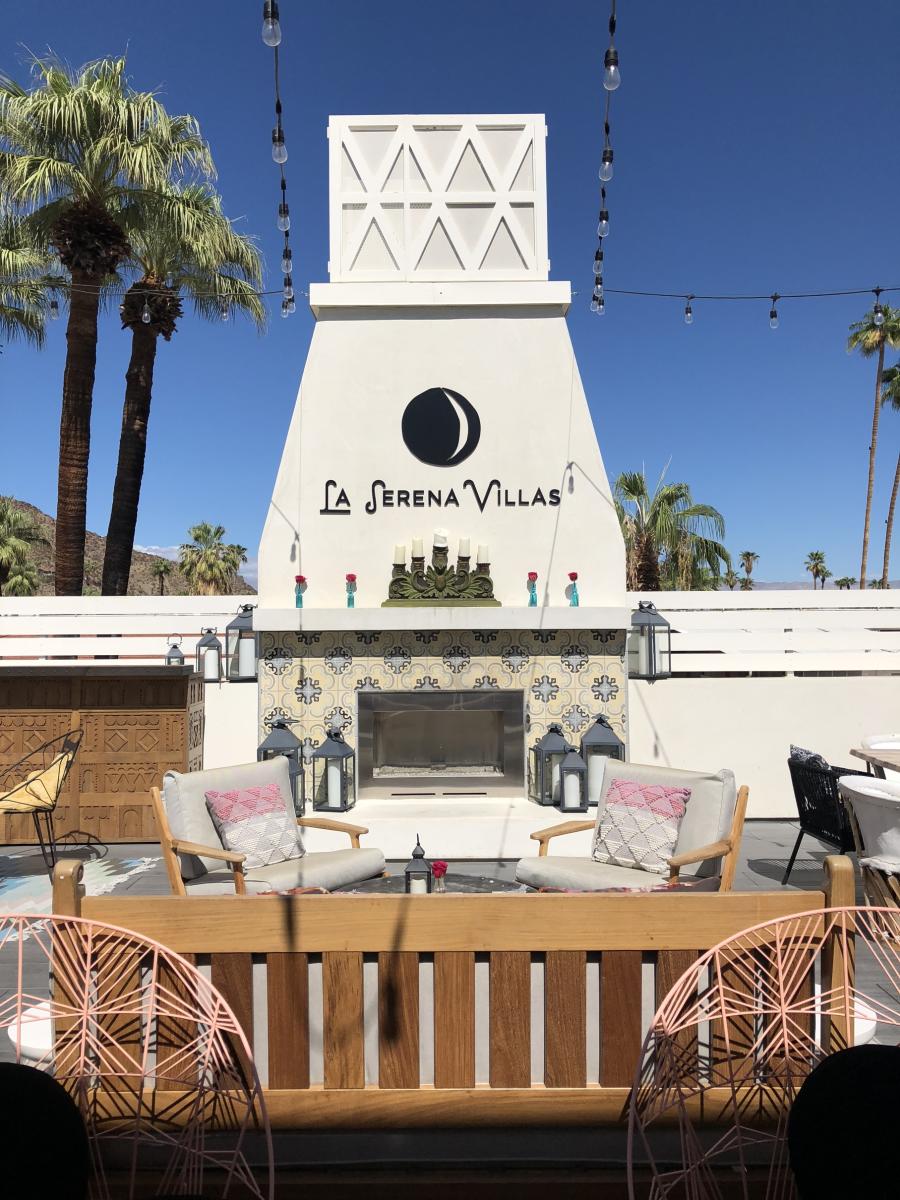 Begin your happily ever after by hosting your micro-wedding on a charming rooftop deck with breathtaking views. La Serena Villas, centrally located in downtown Palm Springs, is a historic hotel featuring beautiful landscaping, a pampering spa, restaurant, bar, and fabulous Spanish-style rooftop lounge. 
The lounge comes fully equipped with chic outdoor furniture and features on-site restaurant  Azúcar, including access to a full bar and delicious craft cocktails. Most importantly, the expansive views of the San Jacinto Mountains are unparalleled, making it the perfect setting to celebrate your new journey. 
To plan your micro-wedding at La Serena Villas and create your custom package, you can call 760-832-8044 or email info@laserenavillas.com.
Sparrows Lodge
Tie the knot amidst the rustic beauty of Sparrows Lodge in Palm Springs. The property features a desert ranch aesthetic, amazing views of the surrounding mountains, and a special charm that makes it a great location for your intimate wedding celebration. 
Ceremonies are hosted by their dramatic barn doors which create a one-of-a-kind backdrop for photos. Treat your guests to cocktails from their on-site restaurant, The Barn, after the ceremony, followed by a family-style dinner served at their gorgeous garden patio. Sweeten the deal by booking a stay for your guests at any of their cozy poolside or garden rooms. Their cabin is perfect for the newlyweds, offering a secluded setting with a private patio, rain shower, and more. 
Make your special day one to remember by hosting your micro-wedding at this stunning property. For more information on rates and services, call 760-327-2300 or fill out an Event Inquiry Form on their website here.
Kimpton Rowan Palm Springs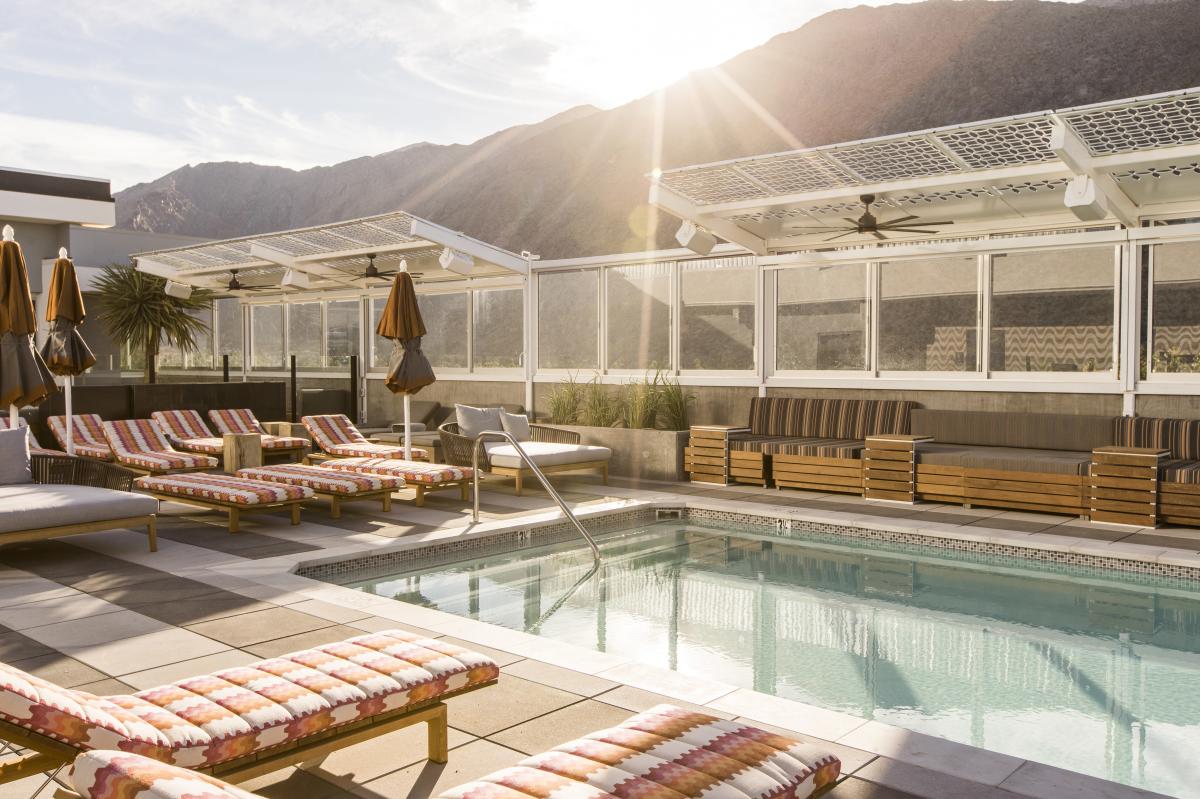 Celebrate love and create long-lasting memories at the Kimpton Rowan Palm Springs, which has quickly become one of the destination's most iconic hotels due to its central location in downtown Palm Springs, magnificent accommodations and luxe rooftop pool and bar (the only of its kind in Greater Palm Springs!) This romantic oasis has also become the ultimate spot for small weddings and intimate ceremonies. 
Their rooftop event space features stunning views of the surrounding mountains and landscape, while their Jacinto room, with floor-to-ceiling windows, creates a bright setting for a remarkable event. Their "Rowan Run Away" elopement package includes the ceremony space, an officiant, one-night stay in a King Spa Suite and more at a price that won't break the bank. For more information, you can inquire directly through their website here.
Frederick Loewe Estate
Add a splash of midcentury modern glamour to your wedding by hosting your ceremony at the legendary Frederick Loewe Estate in Palm Springs. Originally built in 1956 and once home to renowned composer Frederick Loewe, this property has since been updated to a chic and modern estate. With 2.5 acres of breathtaking and secluded space, the Frederick Loewe Estate is one of the best spots to get hitched in Greater Palm Springs.
Now through December 18, 2020, WE Studios, the Frederick Loewe Estate and Stacey Jones Events are partnering to offer a special elopement package for any love birds looking to tie the knot this year. Their package includes two-hour private use of the luxury estate, an officiant, photography, an event planner, decor and more for a great rate. Learn more about their Luxury Micromonies here, or call 888-253-0381 for more information. 
The Saguaro Palm Springs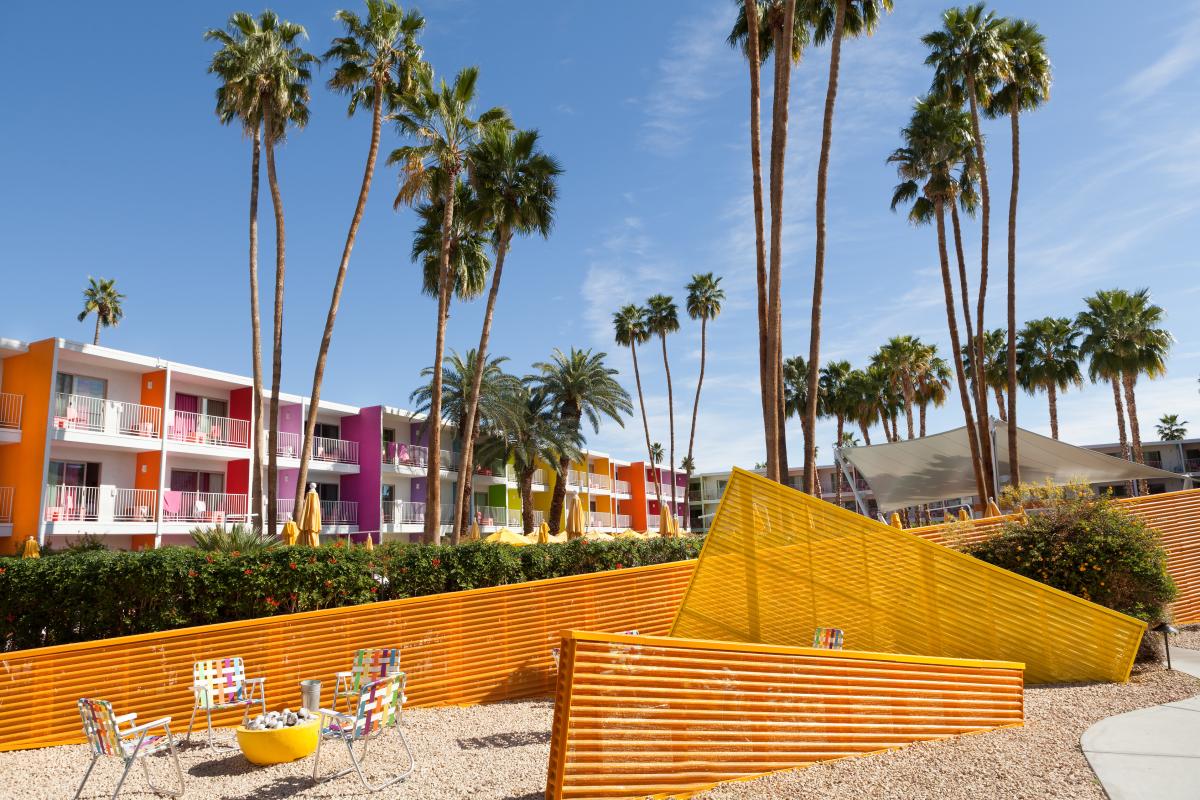 Host a bright and colorful micro-wedding at the popular Saguaro Hotel & Spa in Palm Springs. The Saguaro features an outstanding ballroom and elegant patio perfect for an intimate ceremony under the swaying palms.
Their Elopement package offers the ultimate getaway for both the bride and groom, as well as their guests. It includes 5 guest rooms for a two-night stay, a poolside cabana, a location for your ceremony and more. For more information, call the Saguaro sales team at 760-969-6481 or email any inquiries to palmspringsevents@thesaguaro.com.
Lautner Compound
Take the stress out of wedding planning by hosting your elopement or micro-wedding at the Lautner Compound in Desert Hot Springs. Plan your fairy-tale ceremony at this amazingly designed collection of boutique properties, featuring The Park, their 10,000-square-foot open-air event space. Say "I do" in front of a dazzling midcentury modern breezeway and capture your special day with the scenic desert landscape as a background. 
The Lautner Compound is currently offering all-inclusive elopement and micro-wedding packages, ideal for couples who want to minimize planning time. Their packages include an officiant, photographer, florals, mini cake and more. For more information on their elopement packages, you can view their brochure here, or email events@thelautner.com for inquiries. 
Sands Hotel & Spa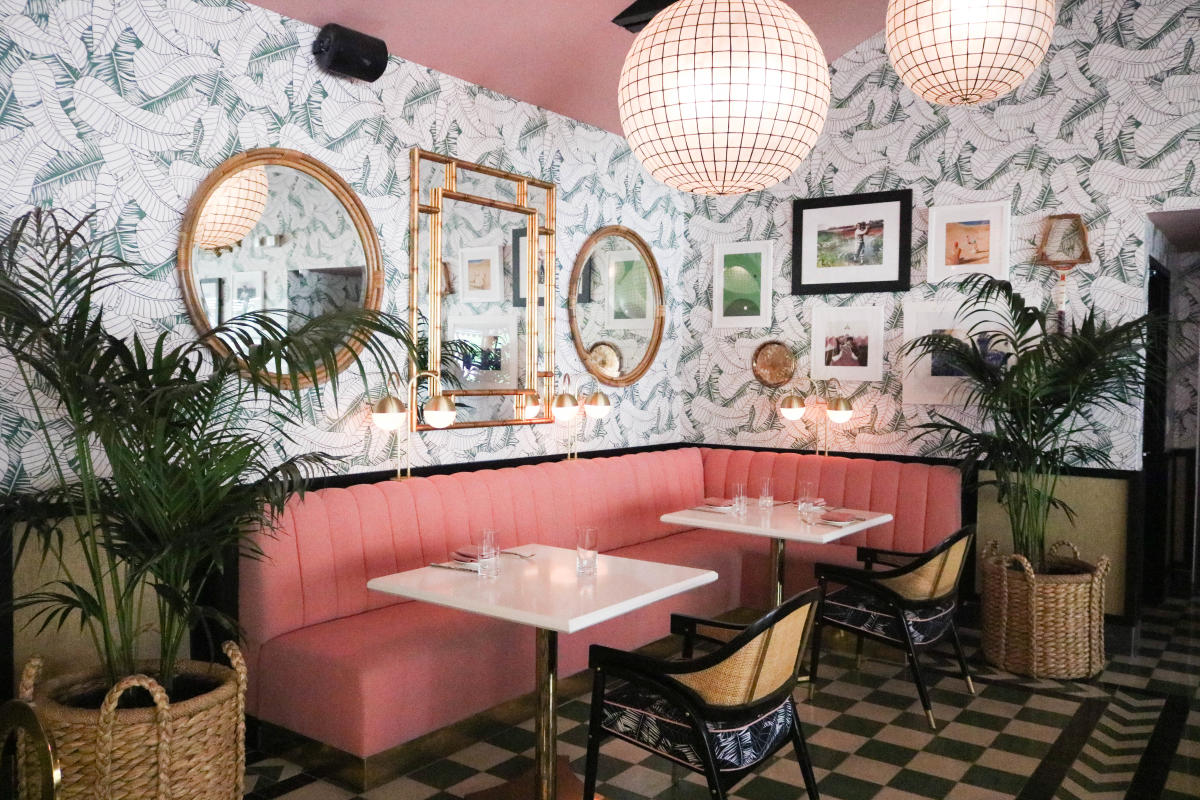 The Sands Hotel & Spa in Indian Wells is known for its blend of Moroccan-inspired and mid-century modern design. This hip resort makes for a fabulous location for both private ceremonies and elopements. Their charming Olive Grove is the optimal location to walk down the aisle, featuring ancient olive trees and a stunning rose-colored backdrop.
Their on-site restaurant, Pink Cabana, adds personality to any event with ingredient-driven cuisine and creative craft cocktails. Dine with your guests at the Olive Grove, or create a more relaxed atmosphere by dining poolside.
Ready to take the plunge at the Sands? Start planning your big day by submitting an Event Request, or calling 760-321-3771. 
Renaissance Esmeralda Resort & Spa, Indian Wells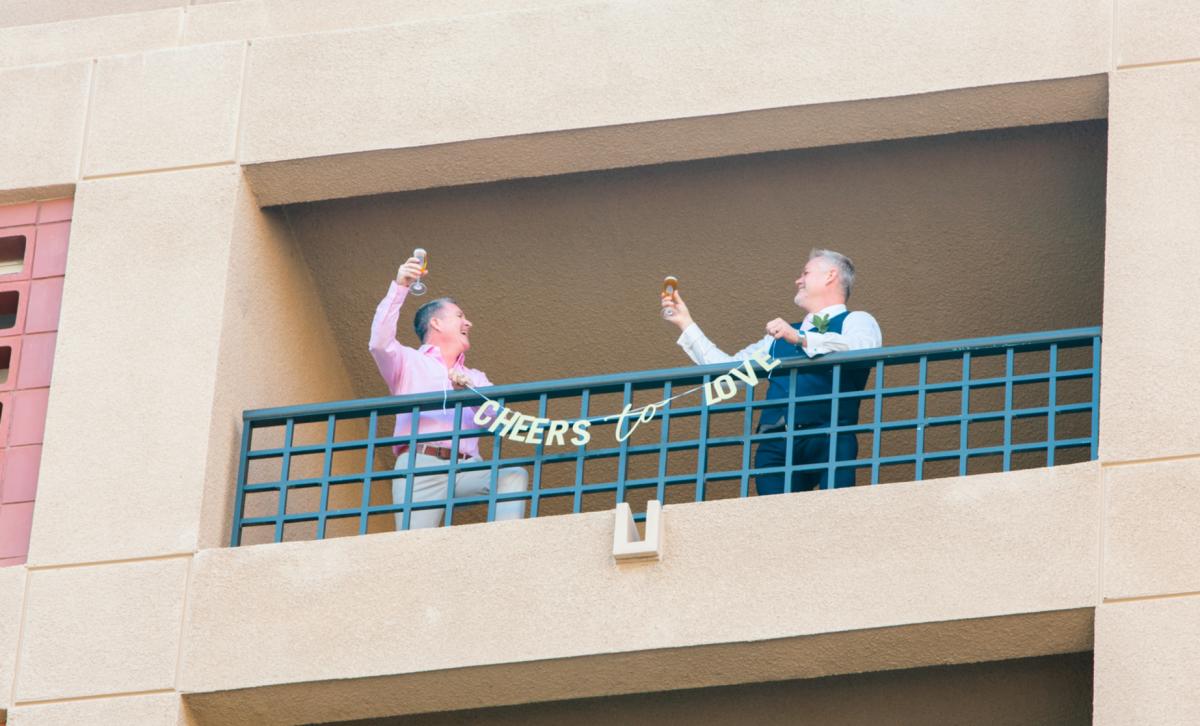 Find your happily ever after at this luxurious property nestled amid lush gardens and set against the beautiful Santa Rosa Mountains. Featuring a sandy beach pool, award-winning dining, a state-of-the-art spa, championship golf and oversized guest rooms with breathtaking views, the Renaissance Esmeralda Resort & Spa makes a big impression on couples looking to tie the knot—even if their dream wedding is more intimate than extravagant. y. 
To learn more about the resort's wedding packages, email esmeraldasales@renhotels.com, or visit their website here. 
Villa Royale
At Villa Royale, they believe love conquers all. This free-spirited boutique has a cheeky and glam charm with its unique decor. At the center of the property lies a beautiful pool surrounded by palm trees. For your special day, choose among five event options for your ceremony and reception. Villa Royale offers full package services upon request including a wedding coordinator, photographer, florals and cocktail hour service by their on-property restaurant, Del Rey. If you choose to have a weekday ceremony, there may be discounts for on-site fees. For more information on their elopement packages, you can view their offerings here, or email  sales@villaroyale.com for inquiries.
Desert Willow Golf Resort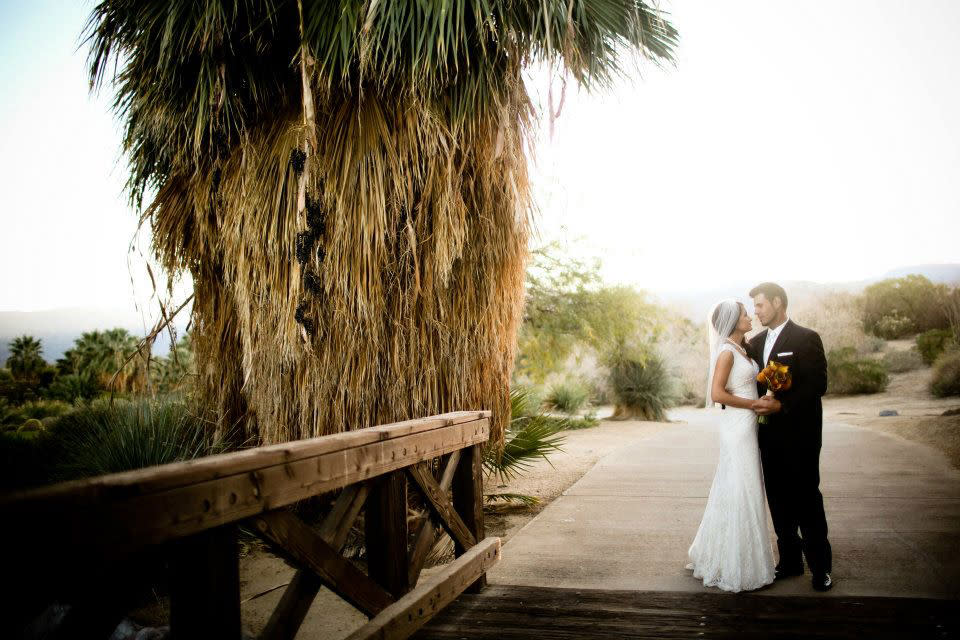 Get your picture-perfect happy ending by tying the knot at the state of the art Desert Willow Golf Resort in Palm Desert. This stunning property features expansive views of this SoCal oasis, dazzling ceremony and reception sites and knowledgeable staff that will help make your special day unforgettable. With on-site catering and a curated list of local wedding vendors, this gorgeous resort is truly a one-stop-shop for couples looking to streamline wedding planning. 
Ready to book your micro-wedding at Desert Willow? Start planning by reaching out to their Director of Catering at (760) 346-7060 Ext. 103 or fill out their Wedding Request Form to receive more information.
Ace Hotel & Swim Club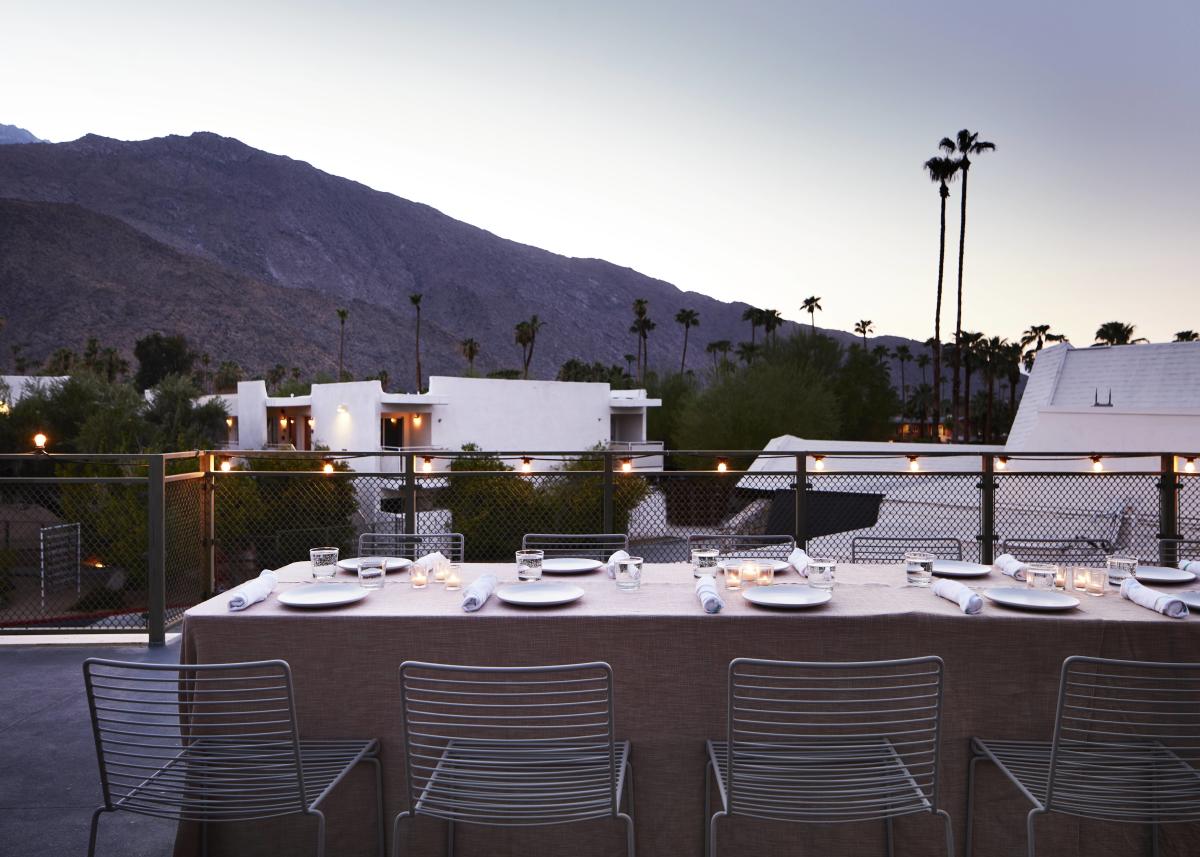 Get micro-married in style at Ace Hotel & Swim Club in Palm Springs. Share your special day with those closest to you at this hip hotel. Start your happily ever after and make your wedding a remarkable, fun and unique event by hosting at one of Palm Springs' most chic hotels. For more information, check out the weddings page of their website or email weddings.psp@acehotel.com. 
Make your big day in Greater Palm Springs unforgettable – Looking for an event planner, wedding cake or floral shop? These wedding vendors make it easy to plan the perfect wedding in this SoCal oasis.