Indian Wells Golf Resort (IWGR) isn't content with simply starring during the daytime in Greater Palm Springs.
Rather, with its inventive new concept of "Shots in the Night," the premier, dual course golf facility is ready to entertain all level of player once the sun goes down.
With impressive new technology, combined with the foresight of making use of its popular grounds during evening hours, the scene of food, fun, drink and drives (and putt) may well make IWGR the place to be, no matter the hour.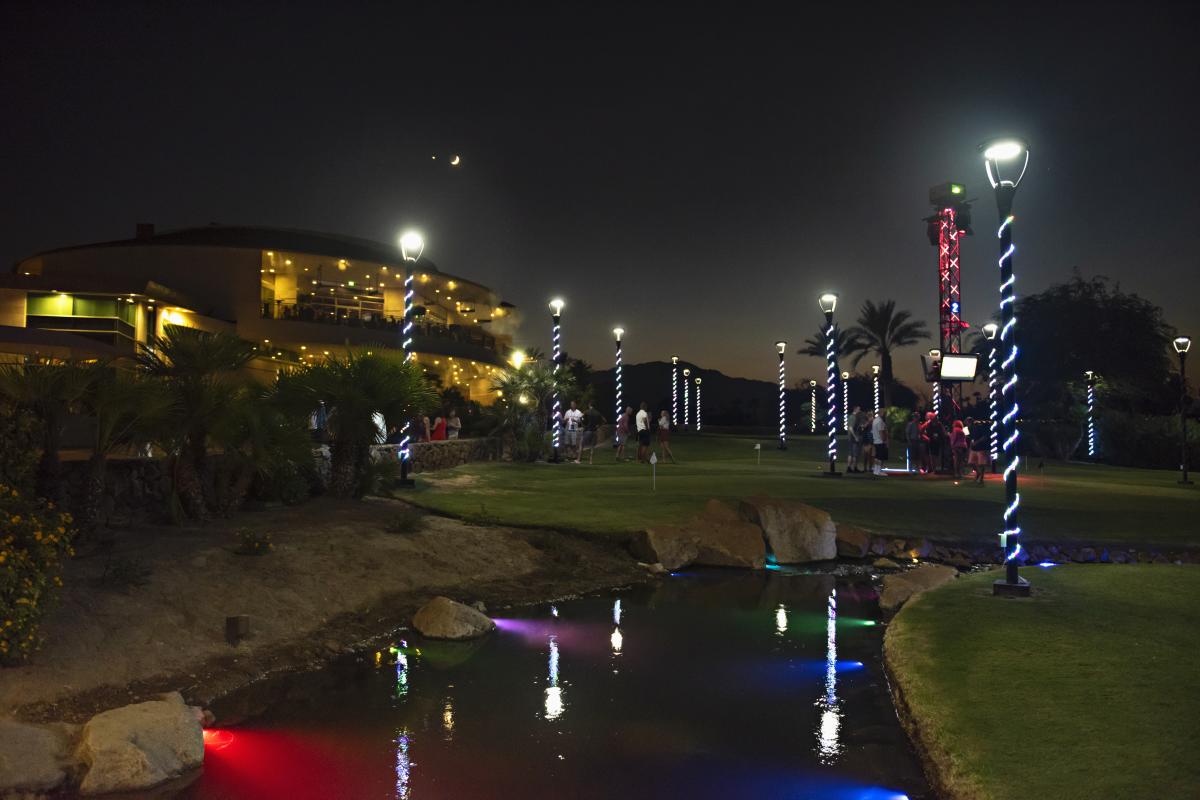 Debuting in mid-October of 2018, the nighttime fun will start on the half-hour after sunset, and will be available for private group gatherings, online daily reservations (made up to seven days in advance; 14 days for Indian Wells' residents and Campus Hotel guests) and walk-up play.  
Appearing ideal for date evenings, family fun, a night out with pals or a new way for area guests to further explore Greater Palm Springs, Shots is swinging to appeal to desert locals and valley visitors alike.
Putting Green Experience
Working with Santa Ana-based NextLinks, the tech company and IWGR have teamed to create a never-before-seen brand of putting experience.
Set on IWGR's real grass putting course adjacent to the clubhouse, seven of the course's nine greens are now empowered for Shots' evening play.  Each individual green serves as a game setting, providing players with an iPad and employing laser technology to stage a host of different putting game options.
Alit by overhead spotlights and encompassed by high-def televisions and music, the scene proves a casual, fun and sporting time.
With well-known putting versions of popular, recognized games such as "Golf Darts," "Shuffleboard," and "Corn Hole," all level of players – even those can't tell a putter from a driver – will be easily enabled to get in the action and grasp the rules in short time.   
Seeking a tougher test?  Check out the "9-Hole Challenge," which creates a real golf score via simulated tee boxes.  Just follow the prompts and the iPad directs your play.
Glow Golf on the Range
On IWGR's driving range located next to the putting course, those looking to get deeper into the golf bag beyond the putter will want to explore some Glow Golf, where a dozen bay stalls are at-the-ready for nighttime fun.
Sporting huge, inflatable targets spread across the range (in the form of leviathan bowling pins and beach balls), the game uses black lit golf balls and LED sensors on the targets to create a rapid blink when ball and target connect (so, yeah, everybody will surely see your well-struck shot.)
Akin to the Putting Course, a wide selection of games are in play for Glow Golf, including "21," "Cricket," "Lights-Out," and "High Score."
Seeking a tougher test? Check out "Around the World," where players aim for targets left-to-right across the range, and a miss gives up your turn.  First players to hit all the targets in order wins the game.
Food Truck, Service and Refreshments
The Shots experience wouldn't be a full-on scorecard without some drink and dine to round-out the night.
On-site, IWGR now has its own food truck designed specifically to compliment your Shots, and the menu is far more than just an arcade-style offering of corn dogs and fries.
Catered by the clubhouse's popular VUE Grille & Bar restaurant, initial (and eclectic) options include Chili Cheese Tater Tots, a Chicken & Waffle Cone, Reuben Sliders, the Short Rib Grilled Cheese and a Thai Noodle Salad Bowl.
Paired with the truck are drink selections, replete with soft drinks and adult options. Beer, wine and liquor choices are served across a full bar menu, and the bold ball-striker in your group may want to roll into the specialty "Three Putt," made with lemon vodka, ginger liqueur, lemon juice, simply syrup and lavender bitters.
Rounding out the scene, table and cocktailing service are also in play.
Ready to roll with your own "Shots in the Night"? Swing over here to inquire about groups and parties or to make nightly reservations.