The nation's fastest-growing sport returns to Greater Palm Springs for its annual championship culmination this autumn at the Indian Wells Tennis Garden (IWGR), home of the BNP Paribas Open.
Held from November 5 – 13, 2022, the Margaritaville USA Pickleball National Championships feature the burgeoning game's brightest names at a befitting title venue.
First held at the Indian Wells in 2018, IWGR's sophomore hosting in '19 resulted in nearly 28,000 fans and won the Racquet Sports Industry Magazine award for "Pickleball Tournament of the Year."
Continually budding in popularity, the sport of pickleball now counts nearly 5 million domestic players, a number, according to research from the Sports & Fitness Industry Association, which tracks at nearly double the number of American players from just five years ago.
It's anticipated that the Championships at IWGR will feature more than 2,500 players having earned their respective "Golden Tickets" to appear, with participants ranging from Junior levels to Senior Professionals in singles, doubles and mixed doubles draws; as an attest to pickleball's popularity, players at the Championships may well feature an age range from 8-to-80-years old.
Ready to watch some premier paddling? Here is everything you need to know for the Margaritaville USA Pickleball National Championships.
Fan Guide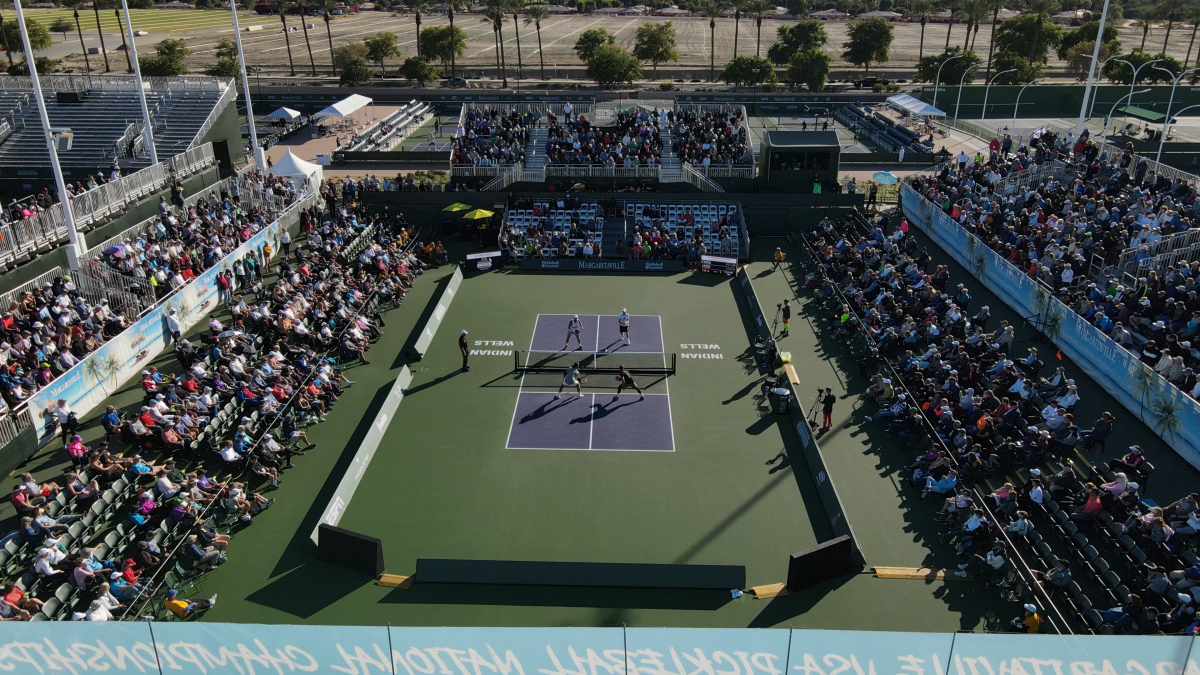 For the Championships, IWGR transforms its world-renowned tennis venue into a pickleball nexus.  The modification results in 48 fully painted Plexipave courts, along with one fully painted Plexipave Championship court.
(And, for the esoteric pickleball fan: The event will use Franklin X-Performance 40 balls, and, according to the tournament, will feature, "High quality, above ground Douglas semi-permanent nets designed specifically for this event.")
On the men's side, the competition will feature stars such as Ben Johns, JW Johnson, Tyson McGuffin and Riley Newman; for the women's draw, fans can enjoy a marquee featuring Lea Jansen, Catherine Parenteau, Anna Leigh Waters, Irina Tereschenko and Callie Smith.
For the ardent, check out the "Margaritaville License To Chill VIP Package," which includes access to the Margaritaville License to Chill Lounge," entry to on-court seating, lunch served daily, two complimentary drinks per day and a VIP parking pass daily.
Those wanting to watch a few days of action should paddle over to the "Mini Package" option, which presents the same amenities as the VIP package, save for the parking pass.
The "Pro Package" includes match dates from Nov. 10-13, while the "Pro Split Package" is designed for those attending on Nov. 8 and 9; additionally, the "Senior Pro Package" provides entrance from Nov. 5-7.
General Admission Flex and Daily ticketing options may be found here.
Whatever the chosen option of ticketing, once inside the venue, guests are welcomed with an array of vending and drink & dine opportunities – all of which are cashless, as IWGR accepts only digital or card payments.
Cocktails, refreshments, and snacks may be found at the Boathouse venue, while the Tiki Hut concession presents ice cream, adult beverages, and quick-go eating options.  The 5 o'clock Somewhere Bar is a perfect place to unwind with a specialty drink, while the Grab 'N Go stand offers beer, wine, canned cocktails, and fast snacks.
And for those seeking to follow the Championships at home or via mobile devices, the tournament is broadcast live via ESPN's family of networks and streaming services; in '21, over 100 hours of event coverage was broadcast.
Places to Play in Greater Palm Springs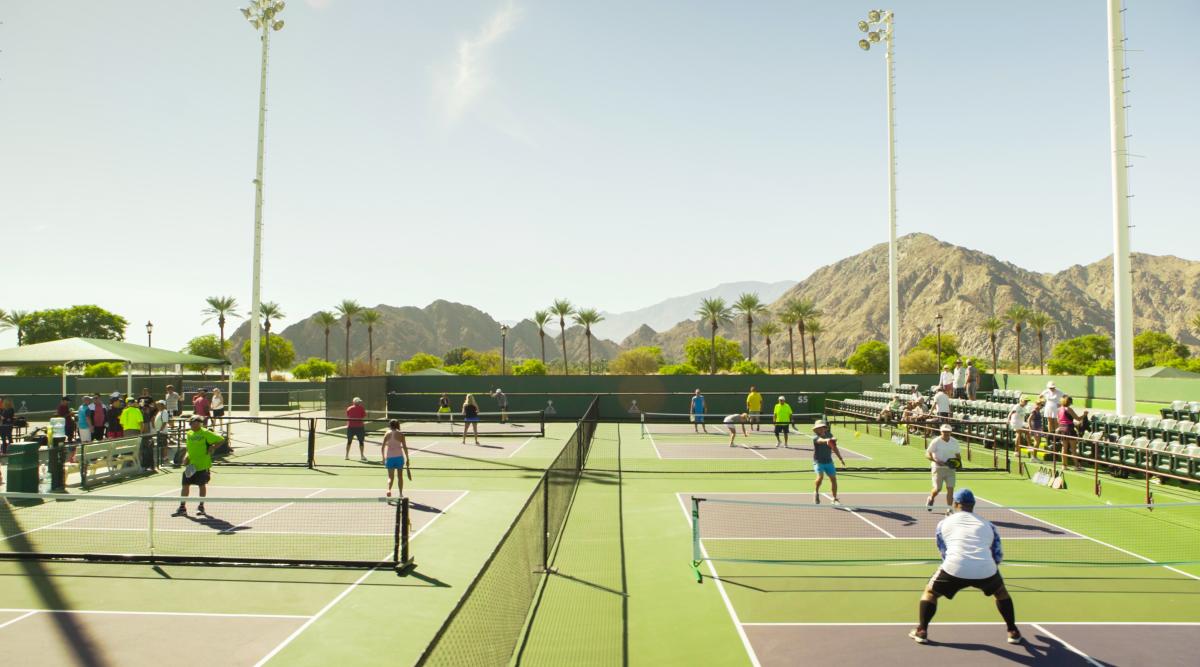 While not all players may (yet) be ready to play in the Championships, this SoCal oasis offers a myriad of pickleball opportunities at venues accessible to the general public. 
In concert with a host of pickleball venues at area resorts, here's a list (presented alphabetically, by city) of courts open to the public:
Coachella
Bagdouma Park (construction in-process; likely to open in Spring of 2023)
Desert Hot Springs
Wardman Park
Indian Wells
Indian Wells Tennis Garden 
Indio
Indio Community Center
La Quinta
Fritz Burns Park
Palm Desert
Cahuilla Hills Park
Civic Center Park
Desert Sports Center
Palm Desert Community Center (indoor)
Freedom Park
Palm Springs
Demuth Park
James O. Jesse Desert Highland Unity Center (indoor play)
Rancho Mirage
Rancho Mirage Community Park
Greater Palm Springs is already tennis heaven, so why not pickleball paradise, too? This fast-growing sport, played on a modified court with a short racquet, combines elements of badminton, ping-pong and tennis. Curious? Check out our Chill Chaser's first try at...