With riverside relaxation and plenty of history to explore, Needles is a California city that keeps the entire family entertained. Whether boating on the Colorado River, camping or discovering the railroad history of the region, visitors will find plenty to explore in Needles. Start planning your next trip with this guide to the Colorado River and local landmarks.
Explore the Colorado River
There are areas on the Colorado River where palatial houses offer weekend getaways for visitors seeking a riverside escape. Today, you can find RV sites and campsites that serve as the perfect home base for a weekend on the Colorado River.
Fender's River Road Resort
If you want to stay in the original section of Route 66 and play on the Colorado River, this is the place to make your motel reservation. Visitors return year after year to this RV Park for access to swimming and boating on the river.
There are camping sites, and the public is invited to use the grills and picnic tables. Keep in mind that the stargazing here is outstanding, thanks to a lack of city lights. If you want to have a meal on the river and watch boaters, you will appreciate the patio restaurant, which encourages one to linger.
Pirates Cove Resort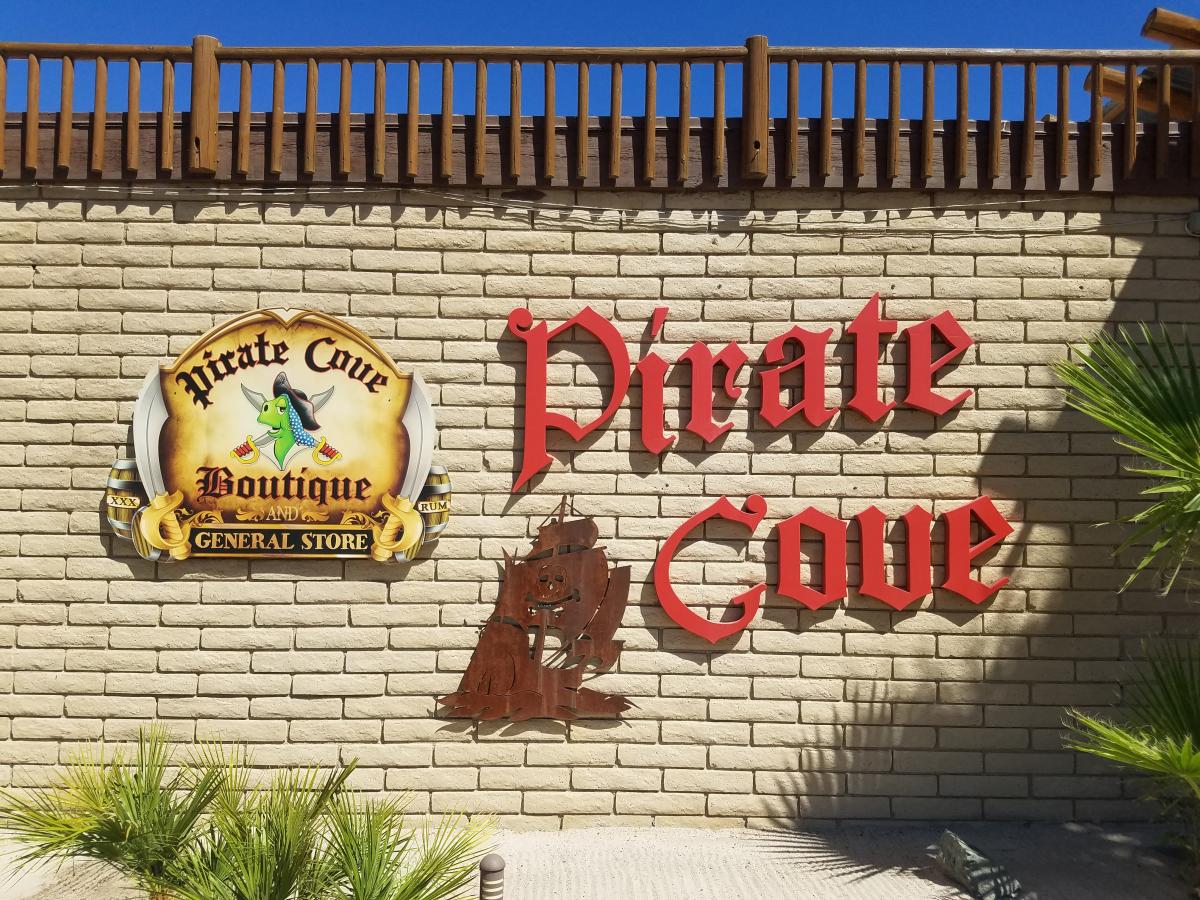 Pirates Cove Resort in Needles, California
Looking for a place secluded from the rest of the world? Located in Moabi Regional Park on Route 66, 11 miles southeast of Needles, Pirates Cove Resort is a first-class family destination. Luxury beachfront cabins and marina cabins with ramps are sure to please even the most discriminating traveler.
This riverside resort includes beautiful swimming beaches, an award-winning restaurant, an expansive gift shop, and trails that encourage visitors to lace up their hiking shoes and explore.
RV parking is located on the river, and boats are available to rent. Children can enjoy the water park, while large playgrounds are the perfect place to meet new friends.
Palms River Resort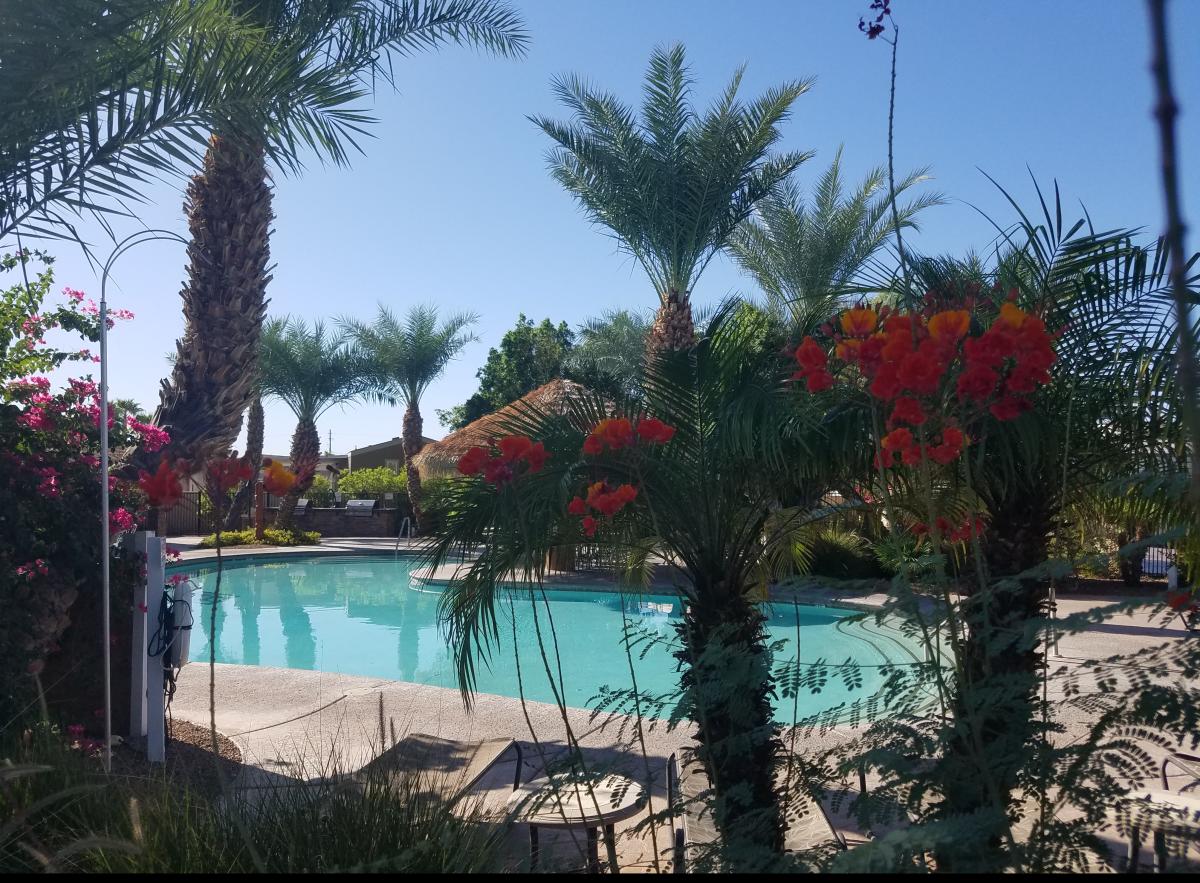 Palm River Resort in Needles, California
This five-star River Resort, three miles from the town of Needles, is a luxury manufactured home and RV community.  Amenities abound in this community, including an onsite store, clubhouse and gym, plus parks and swimming pools.
Boats and off-road vehicles can be leased and allow one to explore the Colorado River and off-road trails. Golfing is also available nearby.
Needles Marina Resort
This recently refurbished, 33-acre park offers RV sites right on the Colorado River. Shade trees and BBQ pits keep campers comfortable. Heated swimming pools, tile restrooms, laundromats, and recreational rooms are just some of the amenities awaiting campers.
Don't have an RV? Consider renting one of the small cabins. Bring your boat and use one of the three- wide vehicle boat ramps. Rather go golfing? Enjoy access to the adjacent Needles Golf Course.
Sightseeing in Needles
El Garces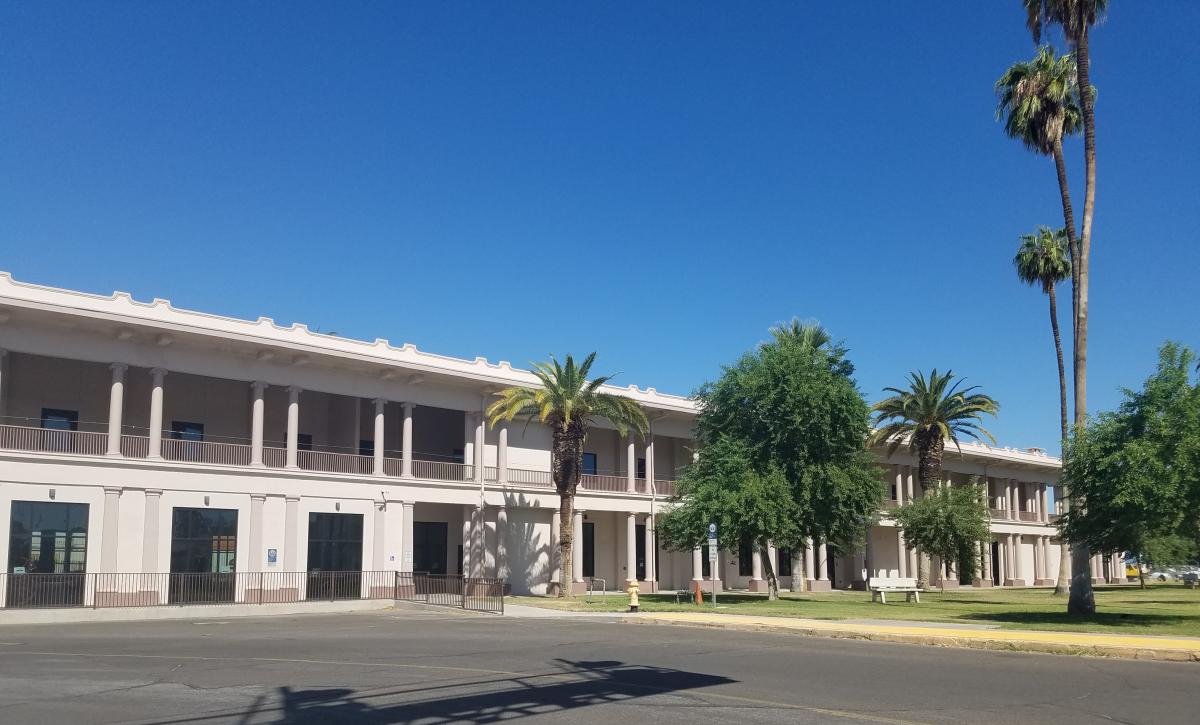 The train depot in Needles, California
El Garces is a historic train station in Needles. Originally built in 1908, this depot was designed by American architect Francis W. Wilson and was one of the first depots constructed of concrete. More recently, it has gone through a $10 million restoration. The façade has brought the building back to its original grandeur.
It now serves as both an Amtrak and bus stop in Needles. Visitors can see the original tile floors and take in historic photographs on the walls, which capture some of the historic scenes of Needles.
Needles Regional Museum
To get an overview of this region and the role it played in American history, be sure to stop by the Needles Regional Museum.
This museum honors its railroad history through many different exhibits. You can see pristine uniforms, maintenance tools and numerous historic photos of Needles. Route 66 scholars will also want to make this stop to discover this museum's nod to Route 66 and its historical significance.
Particularly interesting is a replica of the inside of a railroad caboose. This exhibit allows visitors to take a peek at the living conditions of the engineers living and working on the red car. Another exhibit to explore is the Indian basket collection, which includes dolls and clay figures.
Few people know that Charles Schultz, the famed creator of Snoopy, lived in Needles during some of his grade school years. There is an exhibit devoted to this little-known fact. Spike, Snoopy's comic cousin, was the name of Schultz's dog when he was living in Needles.
The Green House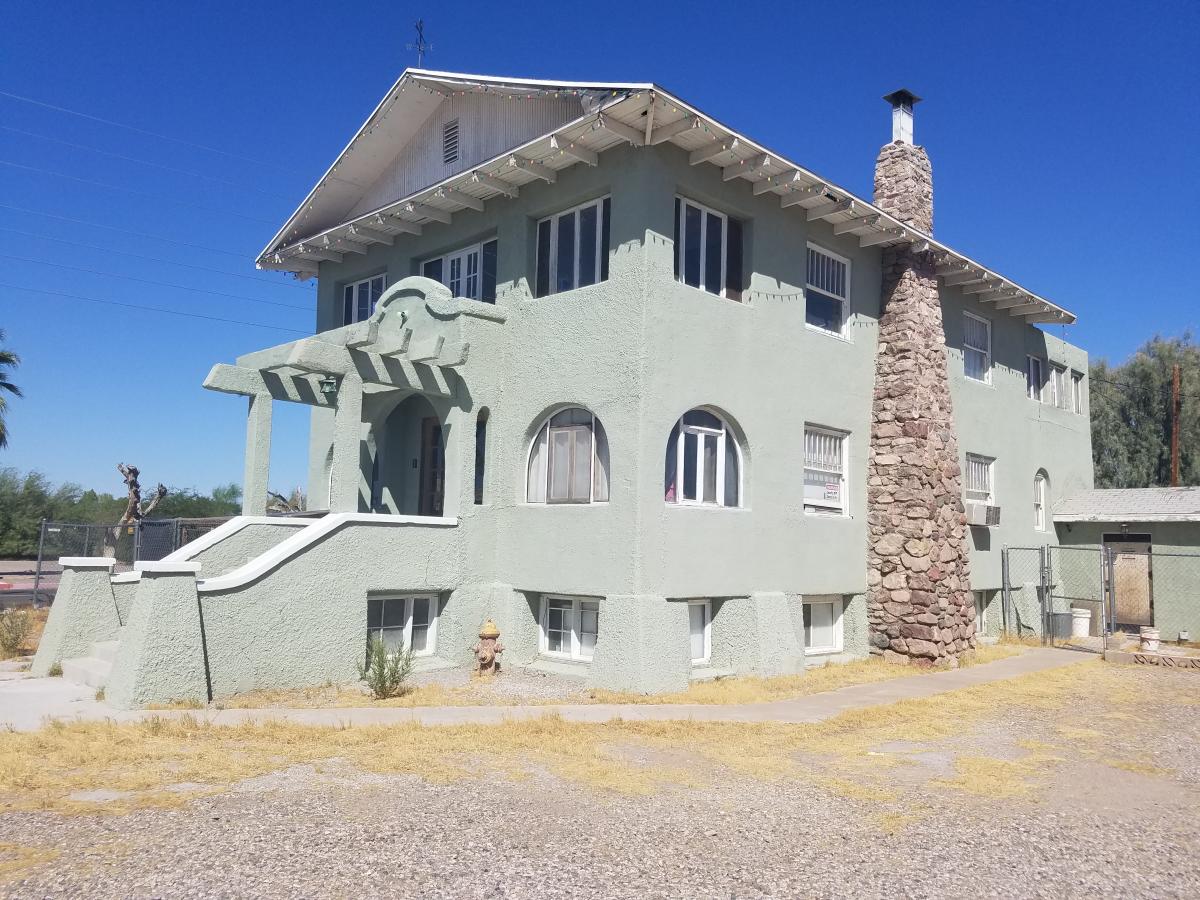 The Green House in Needles, California
Not a believer in ghosts? Perhaps a visit to see this house will change your mind. This 22-room house built in 1909 is on North K Street. It went through various owners until the Tryon Family bought it in 1914 and kept it until 1947.
Community gossip spread the word it was a brothel, had a gambling room, and a speakeasy during Prohibition through 1947. The property changed hands at least five times up until 1968 when it was purchased by the Simon Family for rentals. It was closed down for two years and a half until a new owner restored the house for rentals in 1981.
Stories about strange happenings within the house were prevalent. Did ghosts inhabit the property? Could it be true? Because of the haunting rumors, the Route 66 Paranormal Investigators visited the home in this video.
Learn more about Needles, California and the history of Route 66 here.