Greater Palm Springs has so many opportunities to test out or perfect your rock climbing skills. Whether you like highlining, or bouldering, or free climbing is your thing, you can find over thousands of climbing routes and bouldering options, and hundreds of natural cracks and crevices to test your mettle in. If you need help or a guide, training, a partner, or want to head out with a group, there's also a plethora of guides and outfitters that can get you the equipment and know-how you may need.
From Joshua Tree National Park to Idyllwild's Tahquitz Rock, or even a climate-controlled indoor option, you can find just the right venue to match your skills in the Greater Palm Springs area.       
No matter where you choose to climb, please remember to respect the environment. Twenty or thirty years ago the impact of climbers on the rocks they seek to summit was minimal, but with the sport's growing popularity and so many more visitors, using the 'leave no trace' principal is key.
Where to Rock Climb in Greater Palm Springs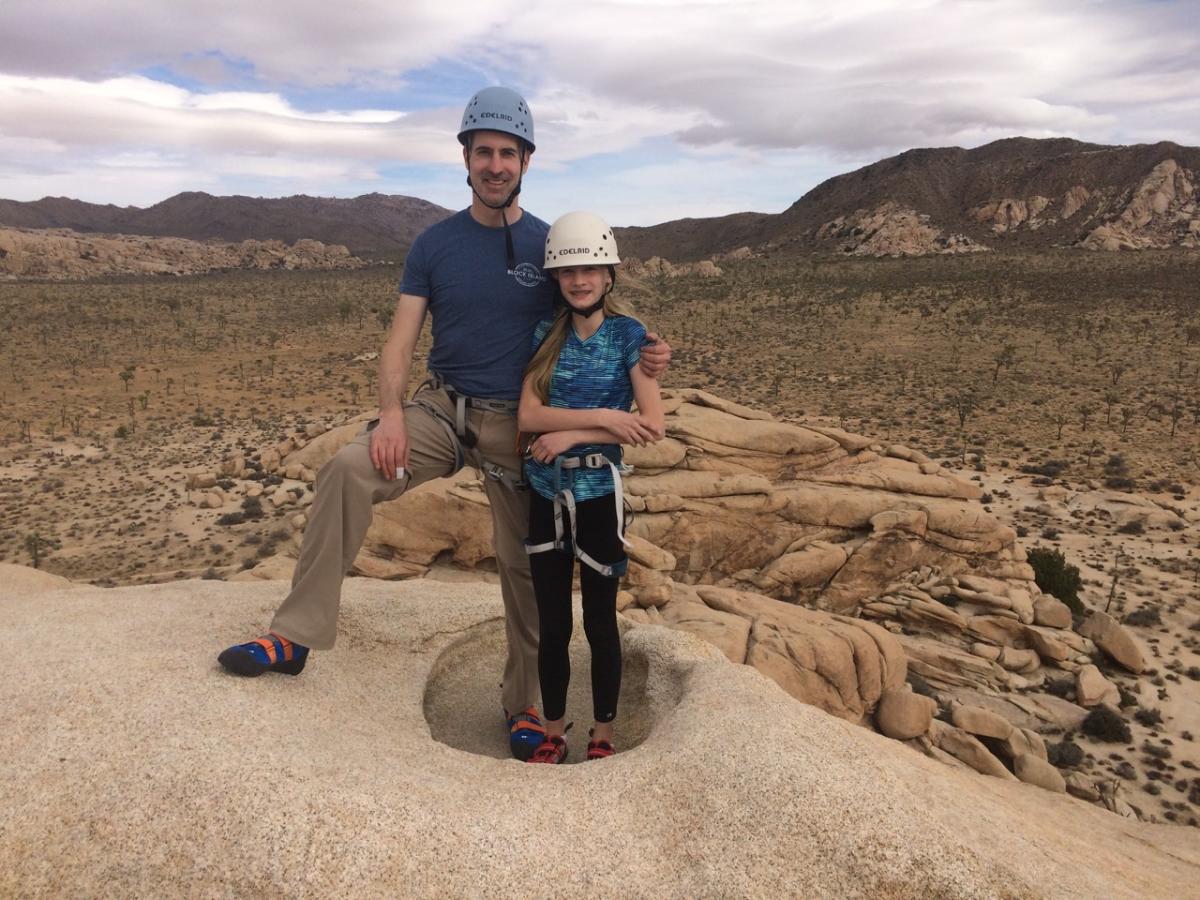 Outdoors: Joshua Tree National Park
Joshua Tree National Park gets climbers from across the globe. The park's high desert monzogranite, or volcanic granite rock, has created a virtual climbing Mecca that's become famous over the years for its traditional-style crack, slab, and steep face climbing.
With options for every ability from among the park's 8,000 climbing routes, 2,000 bouldering problems, it's a climber's paradise. You can climb on your own or hire a guide in Joshua Tree. When choosing a climbing guide, make sure that they have the necessary permit to work in the National Park. Permitted guides have the highest levels of rock guiding certifications through the PCGI, AMGA, or similar organizations. They are also certified in Wilderness First Aid and CPR, and they must have proper insurance.
Outdoors: Idyllwild
Idyllwild's famous Tahquitz Rock is a 1,000-foot high rock formation up in the mountains from Greater Palm Springs. Just a short drive away, this is an easy day trip for the climber looking to try out some different terrain and a different environment.
Tahquitz Rock is set in a cool pine forest above the town in the San Jacinto Mountains. It's Southern California's tallest rock formation, and it's said to be one of the best rocks in the country for traditional, multi-pitch rock climbing. At an elevation of 7000 feet, Tahquitz Rock is an especially great choice of climbing venue in the scorching summer months.
Climbing Equipment, Guides and Resources
Joshua Tree Rock Climbing School & Guides | Joshua Tree, CA 
This guiding operation and school have been around since 1988. With an emphasis on safe, fun rock climbing or guided hiking experiences you'll find all kinds of ways to enjoy one of Greater Palm Springs' most popular rock climbing meccas.
Cliffhanger Guides | Joshua Tree, CA
This small, independent, owner-operated rock climbing guiding service is dedicated to providing personalized, safe and fun rock climbing adventures in Joshua Tree Park. Cliffhanger Guides (photo above) offers everything from first time beginner climbs, to outings for the experienced rock climber, and builds rock climbing trips to suit everyone's climbing and adventure needs.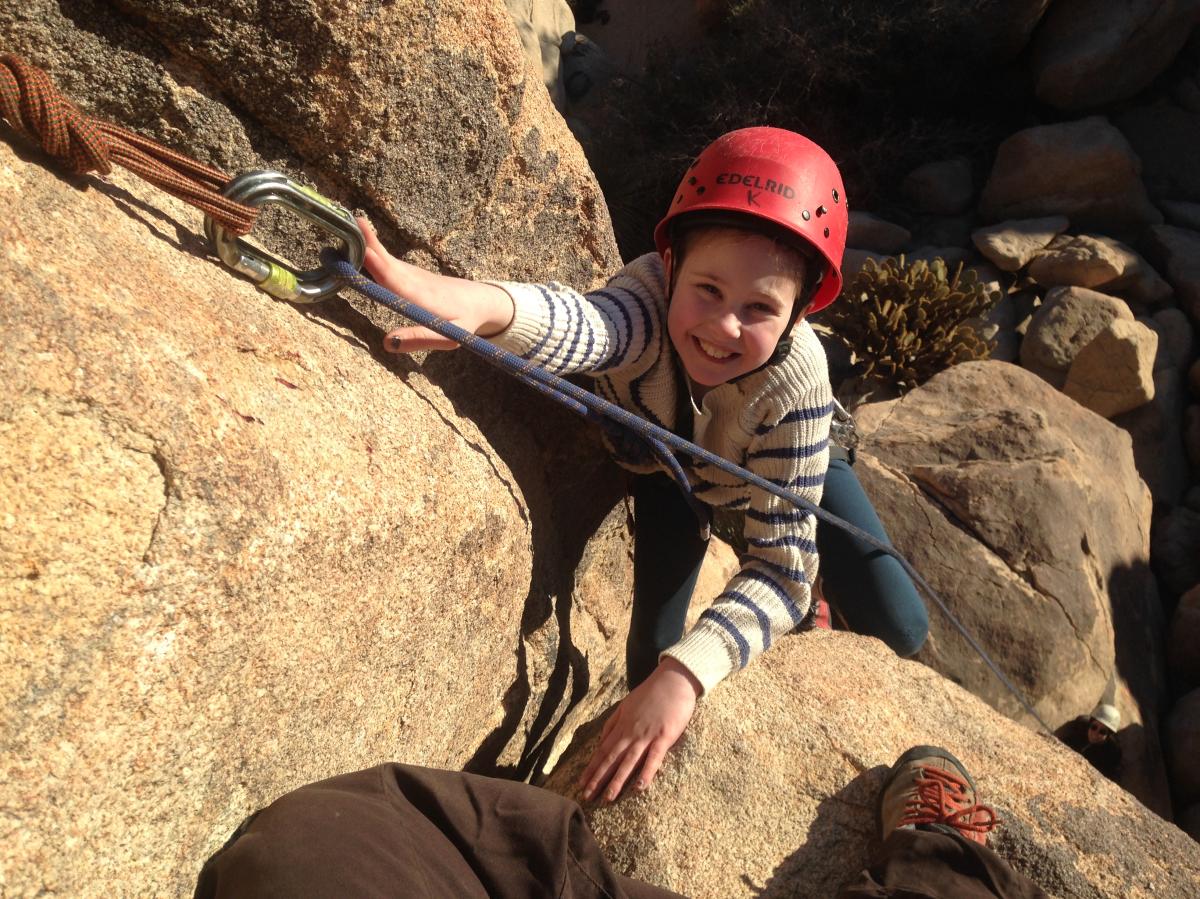 Mojave Guides | Joshua Tree, CA 
Mojave Guides has been providing customized rock climbing experiences in Joshua Tree National Park since 2015. The company was founded by a Joshua Tree resident and AMGA Certified Rock Instructor. Mojave Guides offers private, guided rock climbing experiences that can be switched up to suit your needs and the company promises, "awe-inspiring scenery!"
With multiple locations across southern California, Rock Climb Every Day can take you where you want to go, from Joshua Tree to Riverside County and more.
As their website puts it; "defy physics, walking up-and-down vertical walls on a rappel adventure."
Vertical Adventures | Idyllwild, CA 
Another longstanding guiding company in the area, Vertical Adventures rock climbing school has been around since 1983 and has been ranked as the #1 rock climbing school in America by Outside Magazine.
During the summer season, Vertical Adventures' Idyllwild Rock Climbing School offers rock climbing classes at Suicide Rock, and guided climbs of Idyllwild's Tahquitz Rock.
Stone Adventures | Joshua Tree, CA 
Stone Adventures is a local, family-owned and operated rock climbing guide service serving Joshua Tree National Park. The rock climbing guides at Stone Adventures are passionate about helping guests reach their goals, and creating memorable outdoor experiences. With over fifteen years of guiding experience, they aim to create the perfect climb for everyone. 
If you're hoping to take up rock climbing, or you want to perfect your skills on your next visit to the Greater Palm Springs area, know you have plenty of choices when it comes to location, resources and education.
Rock on! Discover other activities on Outdoor Adventures in Greater Palm Springs.