Looking for the perfect venue for one of the most important and romantic days of your life? Indian Wells in the heart of Greater Palm Springs has got you covered. Set against the stunning background of the Santa Rosa Mountains, the centrally located city offers a wide array of locations that will fit any budget or size. This round-up includes all the details to help you decide which best suits your style. The good news is, you really can't go wrong as all of these options will provide everything you need to bring your big daydreams to life.
Hyatt Regency Indian Wells Resort & Spa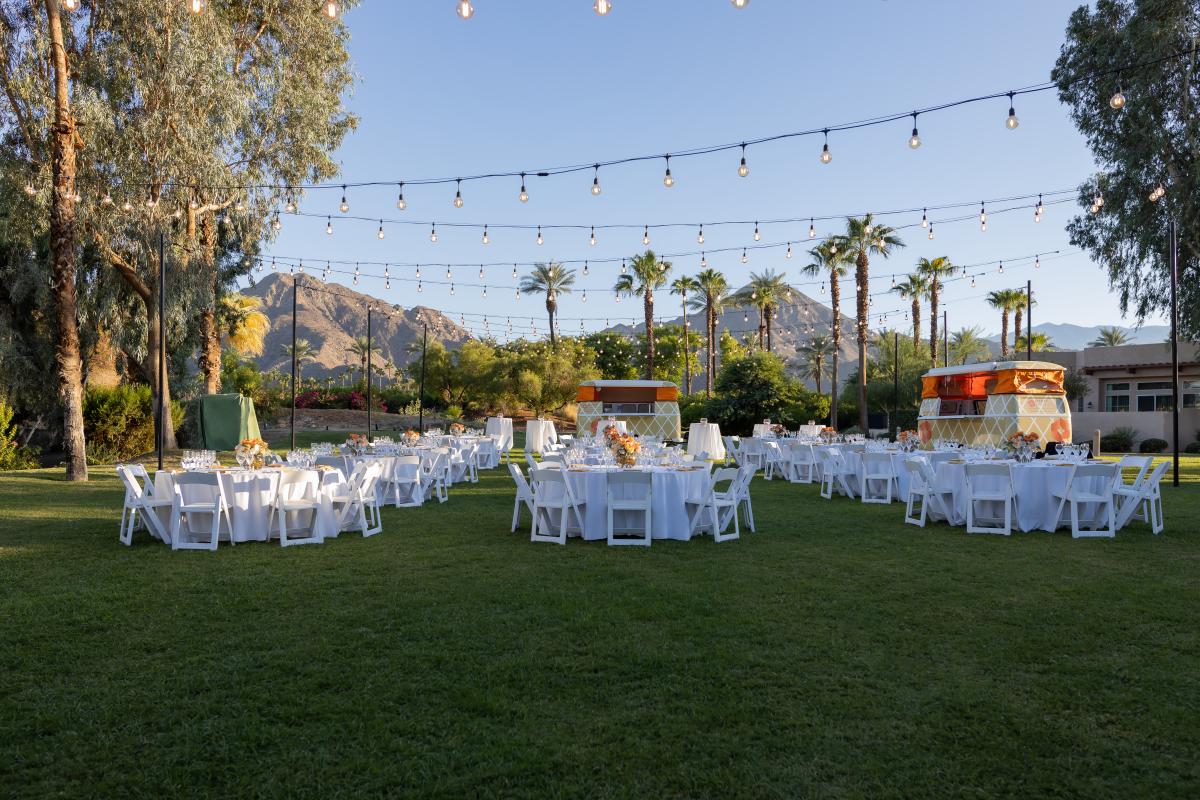 With an impressive 26 ceremony and reception options throughout the picturesque grounds, Hyatt Regency Indian Wells can accommodate everything from intimate gatherings or lavish bashes for any number of guests. If an outdoor celebration is more your speed, your options are practically endless with several terraces or lawns to choose from.
A variety of wedding packages will make all the details easy and you can even take advantage of the team's planning expertise for pre- and post-wedding events. A bridal shower, rehearsal dinner and day-after wedding brunch all in one place means you'll have a lot more time to relax poolside with your wedding party.
Sands Hotel & Spa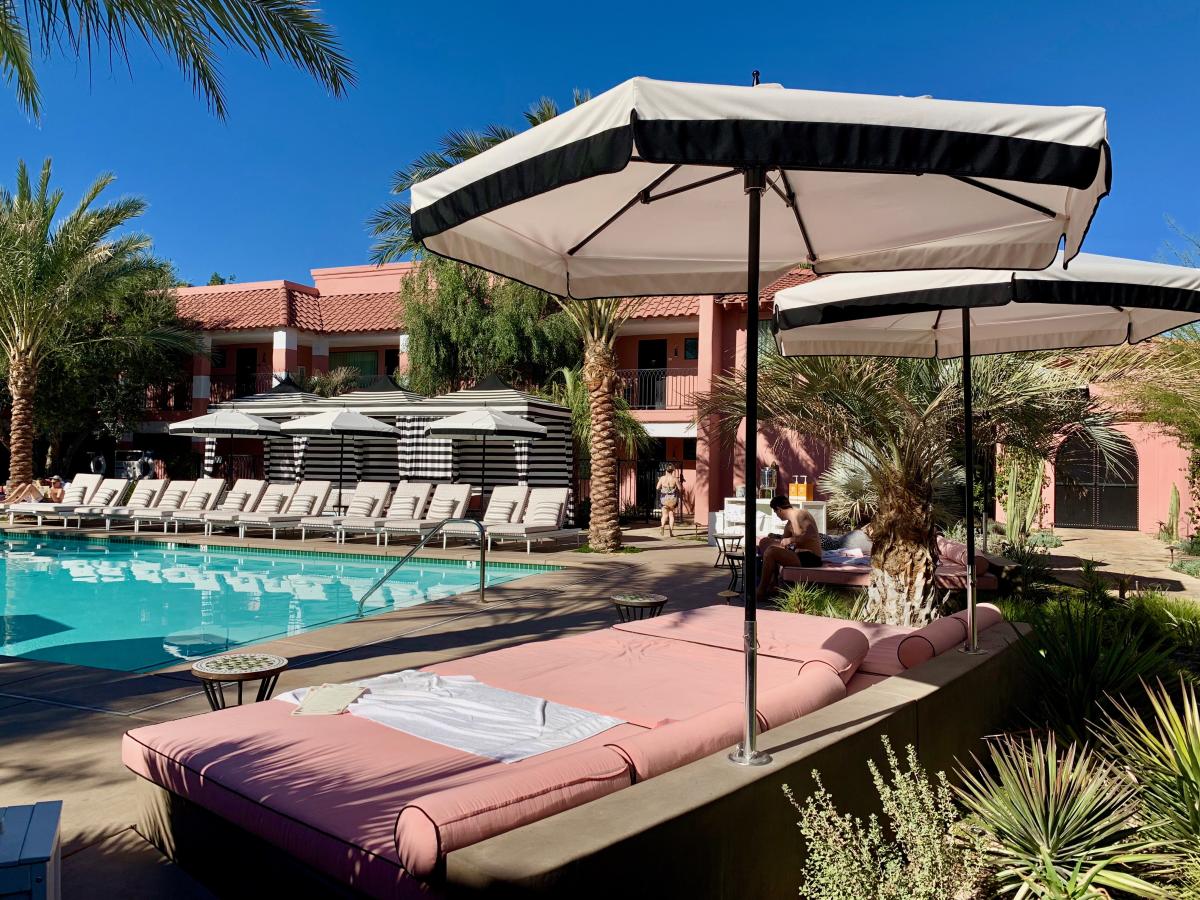 If you're looking for a touch of mid-century modern glam, look no further than Sands Hotel & Spa. You'll know you're in the right place when you see the hotel's dusty rose facade and striking arched doorway. It's so stunning in fact, it can serve as a ceremony venue and is sure to lend itself to some truly unique and colorful photos. A memorable reception dinner can be held poolside where the chic black and white striped cabanas and Moroccan-inspired daybeds create a dreamy setting.
To really pay homage to that quintessential 50s desert vibe, host your cocktail reception at the famed Pink Cabana restaurant. Its interiors—modeled after the era's popular racquet and tennis clubs—are rivaled only by its enchanting patios, complete with firepits and desert landscaping.
Renaissance Esmeralda Resort & Spa

Booking a wedding at Renaissance Esmeralda ensures access to all the amenities found throughout the resort's sprawling grounds. A real sand beach pool, tranquil spa, tennis courts and more will keep all your out-of-town guests entertained while you finish those last-minute details. Select your perfect setting from more than 100,000 square feet of outdoor event space that can accommodate more intimate gatherings of fewer guests or more grand affairs. Options include the Spa Terrace overlooking their beautiful blue lake, the charming Rose Lawn, or the Esmeralda Ballroom with nearly 20,000 square feet of versatile space complete with floor-to-ceiling windows facing the dramatic Santa Rosa Mountains.
If you're looking to sneak away for a stress-free wedding where all the details are taken care of, the resort's "I Do" wedding package is just for you. Available for up to 20 couples on November 11, it includes everything you need for the perfect, socially distanced wedding day. Hair and make-up, photos, florals, dancing, food and even champagne will be provided, along with a two-night stay in a newly renovated mid-century modern guestroom. Couples may choose to marry on the pool deck or from the privacy of individual guestroom balconies. And bonus! The package also includes a complimentary night to return and celebrate your one-year anniversary on November 11, 2021.
Indian Wells Golf Resort

The famed Indian Wells Golf Resort is known for its two championship courses totaling 36 beautifully designed holes, which means endless greenery and stunning vistas for your big day.
Two event lawns allow you to take advantage of the desert's perennial sunshine, while the climate-controlled Pavilion features floor-to-ceiling windows on three walls. Neutral furnishings mean you can work with the expert onsite staff to easily bring your wedding fantasies to life, from traditional to modern, boho to eclectic, or anything in between.
Miramonte Indian Wells Resort & Spa, A Curio Collection by Hilton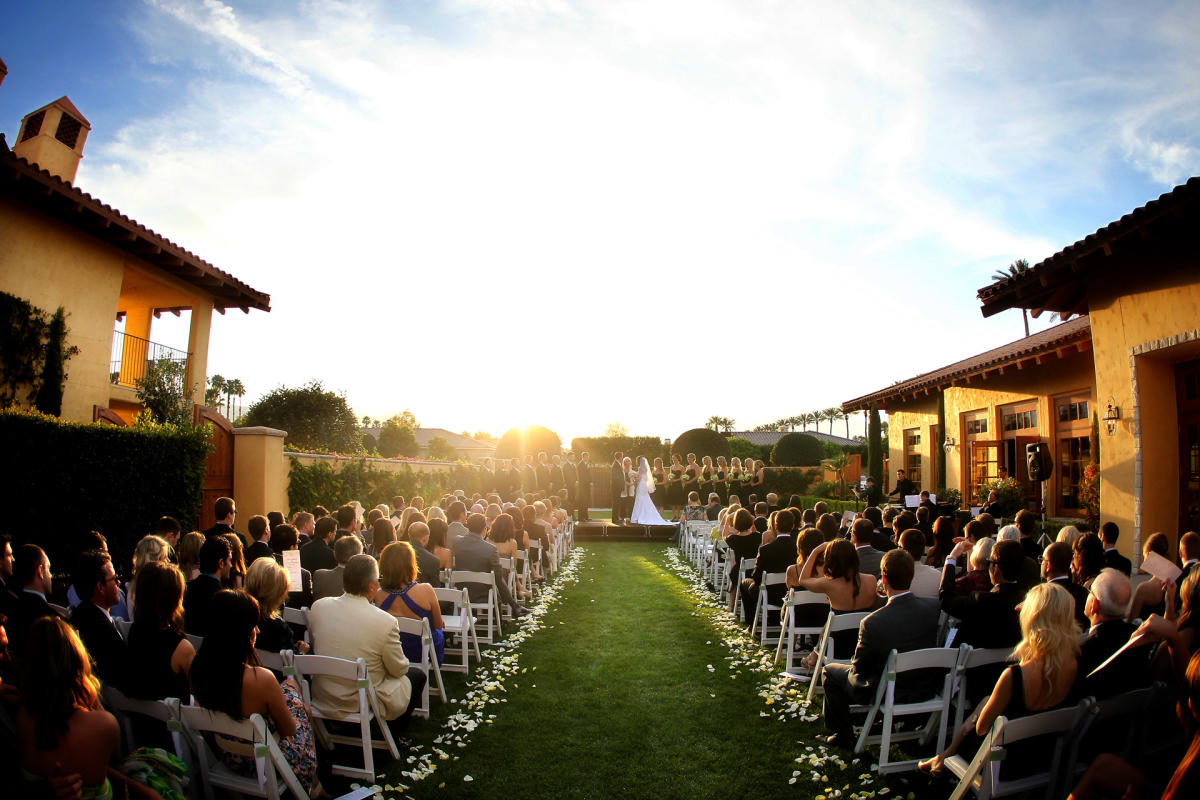 The Mediterranean-style grounds of Miramonte will make you feel as if you've booked an international destination wedding without ever having to open your passport. Choose from a variety of outdoor ceremony and reception venues for weddings of all sizes. Opt for the stunning views on The Miramonte Terrace, the outdoor elegance of the Mesquite Lawn or the inviting glow of the chandelier-adorned Mesquite Ballroom.
You can even say "I do" under the canopy of an olive tree, which symbolizes new blessings, abundance and peace, at the resort's scenic Olive Lawn. An on-site catering manager will ensure every detail of your day-of dining will be taken care of so you can take a moment to relax in the resort's famed Well Spa.