If you are looking to add some midcentury modern flair to an event, meeting, or wedding you are hosting, Greater Palm Springs is an idyllic place for you. There are many venues to choose from for your meeting, retreat, wedding or office getaway, but a great option for off-site venues can be renting a unique vacation property which also gives the ability for guests/attendees to stay overnight. Being historically known for the architecture that has been praised and still inspires, Greater Palm Springs offers an array of event venues and private event spaces for every type of occasion. 
 
Villa De Vanmar features a captivating open floor plan that provides a delightful blend of indoor and outdoor living. Upon entering through the gated, private entry, you'll be greeted by an awe-inspiring great room boasting high ceilings, expansive pocket doors, and breathtaking mountain vistas. The well-appointed gourmet kitchen showcases top-notch appliances. Prepare to be amazed by the backyard, which boasts a large and luxurious pool, two inviting spas, and a grand outdoor kitchen and pool house. Villa De Vanmar is an ideal venue for corporate events.
Location: 40525 Yucca Ln, Bermuda Dunes, CA 92203 | Book through Vanmar Vacations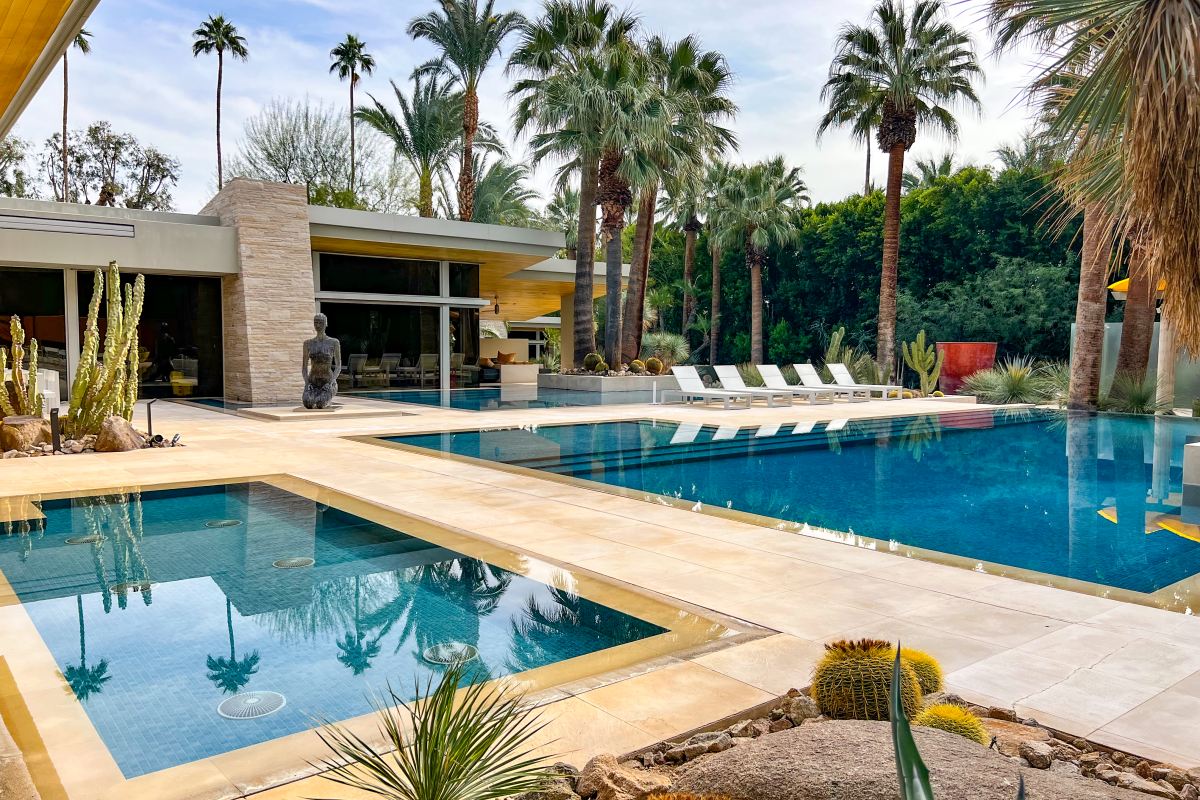 The Ware Estate in Palm Springs, designed by Don Boss, a former associate of modernist architect A. Quincy Jones, is a remarkable residence with a distinctive elemental aesthetic. The house features walls of floor-to-ceiling glass that seamlessly integrate the surrounding native landscapes, palm trees, and gardens by renowned landscape architect Steve Martino. The design creates a unique connection between the indoor and outdoor spaces.
One of the notable features of the estate is the presence of seven negative-edge swimming pools, strategically placed around the property. This arrangement gives the illusion that the house is floating on water, adding a sense of tranquility and harmony to the overall ambiance.
Inside the estate, you'll find a formal entryway, spacious living and dining areas, family rooms, as well as a chef's kitchen and a catering kitchen. Additionally, there is a den where you can relax and unwind. The open-plan space spans an impressive 8,060 square feet, providing ample room for comfortable living and entertaining. The Ware Estate in Palm Springs offers a breathtaking architectural design that embraces its natural surroundings, seamlessly blending indoor and outdoor spaces while providing a luxurious and inviting off-site venue.
Location: 816 N. Patencio Road, Palm Springs, CA, 92262 | Book through thewareestate.com
Centered in one of the most sought-after neighborhoods in Palm Springs, this former home of the golden-era singer, actress and television personality, Dinah Shore, showcases architect and design of the well-known Donald Wexler. This estate sits on a secluded 1.3-acre compound, surrounded with floor-to-ceiling windows to invite the beautiful views of palm trees and San Jacinto mountains inside, creating an open environment. Featuring 6 bedrooms, 7-and-a-half baths, a large pool, it's own tennis court and a casita, this estate is the perfect option to host an exceptional celebration or important meeting. 
Location: 432 Hermosa Place, Palm Springs, CA 92262 | Inquire through The Dinah Shore Palm Springs Estate
 
You can't get any more quintessentially Palm Springs than renting out the home of Ol' Blue Eyes. Frank Sinatra's iconic house known as Twin Palms (above) was built in 1947 when he commissioned legendary Palm Springs architect, E. Stewart Williams, to build him a desert abode. This home is now a full-service venue and can be rented for days at a time to host events like weddings, meetings, tours, and outdoor gatherings.
The site has the space to host bigger events with larger groups, but the overnight accommodations are limited to eight guests in the four bedrooms. The pool is wrapped in a walled and grassy yard, making it an intimate space for gathering and enjoying the desert weather. Look into booking this venue for your next event, and you are surely going to wow the crowd.
Location: 1145 E Vía Colusa, Palm Springs, CA 92262 | Book through Natural Retreats
Are you looking for a place near Coachella Valley Music and Arts Festival? You might want to suss out a stay at Polo Villas. Geared at high-end luxury, there are options such as homes with 12 bedrooms and 9 bathrooms, sleeping up to 24 people. There are many different home configurations and villas offering their own unique space, making this a great escape for a large group. Close to the Empire Polo Fields, these homes offer the perfect place to stay during festivals, while still providing style, luxury, and accommodations. The Polo Villas are beautiful and meant to be comfortable with plenty of centralized outdoor space, including expansive pool and spa areas. There are also plenty of outdoor gathering areas and spaces to relax in, helping to provide the feeling of an 'away from it all' retreat. The property sizes are perfect for hosting a small cocktail party, intimate wedding, or a fun and focused office retreat.
Location: Evangeline Way, La Quinta, CA 92253 | Book through Avantstay
 
If you are looking for a place to host up to 1,000 guests, want to create unique design concepts, and have rooms for up to 26 overnight guests, you can find it all at the Moroccan-inspired Merv Griffin Estate. Located in La Quinta, this estate spans across 8-acres offering guests the privacy wanted on a special day, such as a wedding or an important corporate event. This property creates a relaxing environment surrounded with mountain views, palm trees, and green grass offering a beautiful pool that overlooks the private lake, what more could you imagine? Consider this property the next time you are looking to plan an event that you won't want guests to forget! 
Location: 81345 Avenue 54, La Quinta, CA 92253 | Inquire at Experience MGE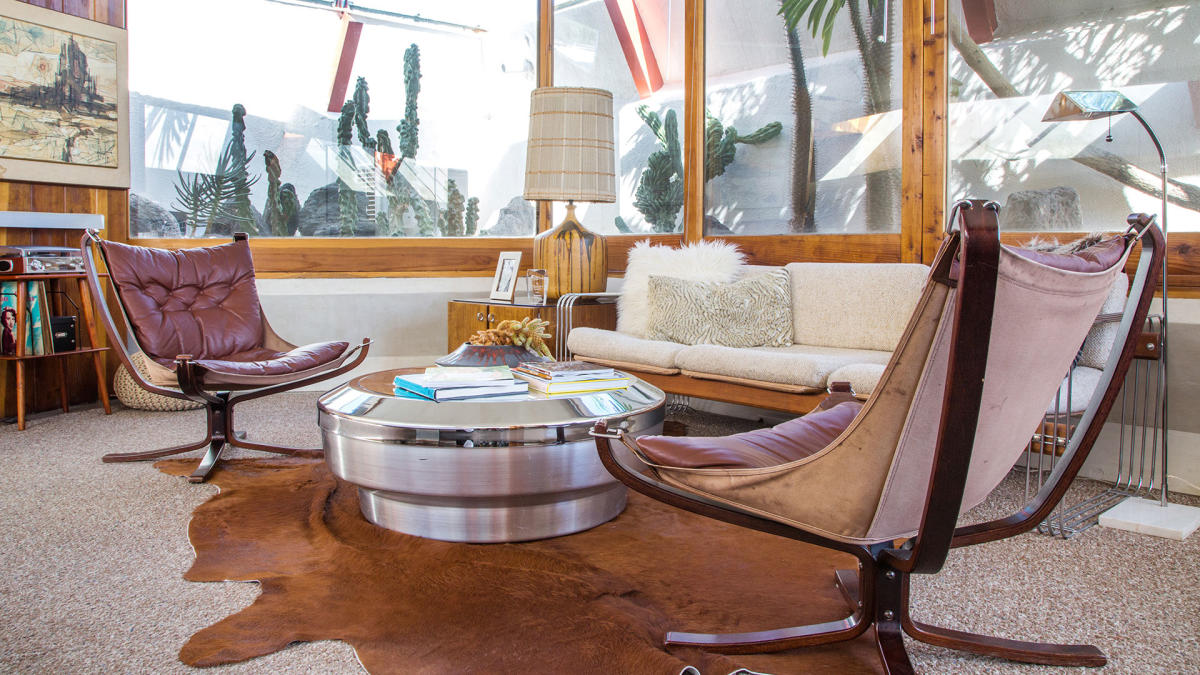 Located in the sprawling desert near charming and edgy Desert Hot Springs, the Lautner Compound (above) is a one-of-a-kind multipurpose mid-century modern oasis. 'The Lautner,' as it's known, has been described as a hybrid between a boutique hotel & upscale vacation rental property.
With ranch house flair and a modern, vintage style, the property serves as both an outdoor special event venue (catering to groups as small as 12 and as large as 650+) and can host overnight guests in one of four "living units," as mid-century architect John Lautner called them in his renderings. Each unit comes with a fully equipped kitchenette where guests can prepare their own meals, plus each one has its own private patio landscaped with cactus gardens. The outdoor event area is known as The Park and is located between The Lautner and adjacent property, The Ranch House. A 12-foot-long custom built-in bar and built-in upholstered bench, seating, lounge chairs, tables, stools, and fire pits make an unforgettable common area that is ideally suited to a meeting, workplace event or wedding.
Location: 67710 San Antonio Street, Desert Hot Springs, CA 92240 | Book through The Lautner Compound