When visitors make a list of their top "must-sees" on a trip to a big city, it almost always involves surveying the metropolis from the highest building, whether it's the Eiffel Tower or the Empire State Building. Why? We all possess that intrinsic desire to see the world displayed below us, in front of us and under our feet--all at the same time. And, there is not a more magical, mystical place to satisfy that need than in California's scenic deserts where city lights are replaced by star-filled skies and some of nature's most majestic and sculptured beauty. Here are the top 5 vistas to put on your desert adventuring list.
Zabriskie Point | Death Valley National Park
This popular scenic vista point in Death Valley National Park offers such striking vistas that a 1970 movie of the same name was largely filmed here. The vista was built by the Pacific Coast Borax Company in the 1920s and was named after the company's vice president and general manager, Christian Zabriskie. The site was originally intended as a way stop for visitors in automobiles on the way to see Manly Beacon, a prominent landmark in Death Valley's "badlands," but the amazing vistas overlooking these badlands, gulches and canyons have made it a reason in itself to visit.  A favorite spot for photographers, the lookout provides some of the most remarkable colors and landforms in the entire southwest desert—not to mention one of the most impressive sunrise spots in the world.  Just in time for springtime visitors, Death Valley National Park announced that access to Zabriskie Point and surrounding areas are now open. Major rehabilitation work at the site that took place during the winter has been completed with improved safety conditions and new concrete benches.
Find it: Zabriskie Point is located a short distance from the Furnace Creek Campground on Highway 190. The viewpoint is a short walk from the parking lot.
Dante's View | Death Valley National Park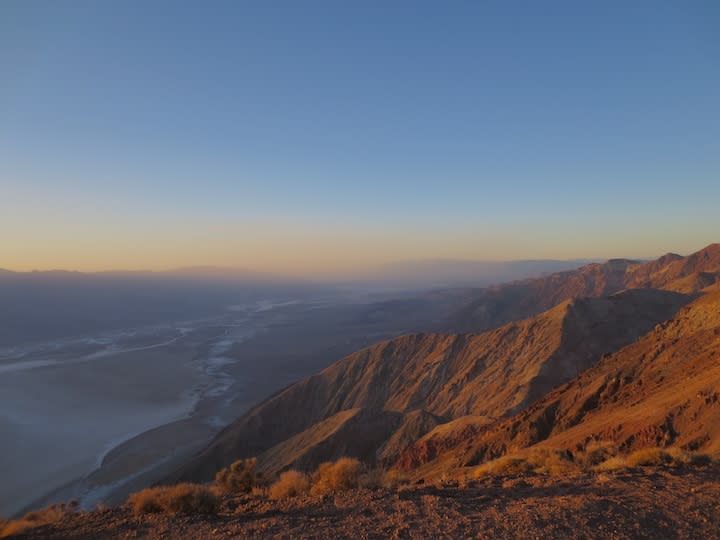 If you want to view the lowest and highest points in the United States at one time, Dante's View in Death Valley National Park is a must. Some of the most impressive panoramic views of Death Valley can be found atop the Black Mountains, at nearly 5,500 feet. On a particularly clear day, you can not only see both the lowest and highest points—14,496-foot Mt. Whitney and Badwater at 282 feet below sea level, but also sweeping views of the picturesque Panamint Mountains and the tallest peak there, 11.049-foot Telescope Peak. Dante's View, named after writer Dante Alighieri, was officially adopted in 1926 by businessmen of the Pacific Coast Borax Company seeking the most impressive vista of the entire Death Valley to lure desert-goers—and it still does today.
Find it: Take Furnace Creek Wash Road to Dante's View Road. Note that the last mile, although paved, is windy and steep. No trailers or long vehicles are allowed.
Father Crowley Vista | Death Valley National Park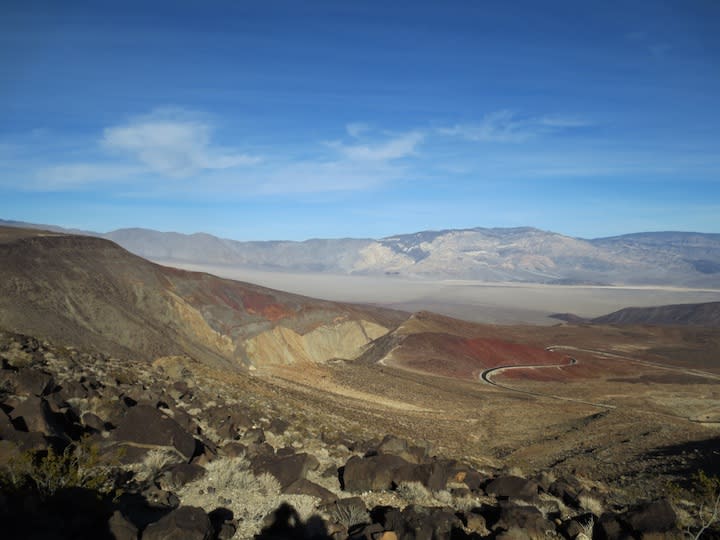 Death Valley offers another top vista spot at Father Crowley Vista, but this one is not nearly as well known. In fact, you may just find you have this serene viewing point all to yourself. Located near the top of the switchback between Owens Valley and Death Valley, you'll first note a historical marker commemorating the vista's namesake, the Catholic pioneer priest John Crowley. The views from Crowley Vista stretch out over Rainbow Canyon with its 1,000-foot walls striped in red and yellow volcanic rock, as well as over the vast horizons of northern Panamint Valley.
Find it: Located on Highway 190 between Lone Pine and Death Valley Visitors Center. A 1.2-mile easy hiking trail takes you to the summit.
Keys View | Joshua Tree National Park
Just a short loop trail takes you to one of the most inspirational lookouts in Joshua Tree National Park.  Key's View, perched on the crest of the Little San Bernardino Mountains, offers sweeping vistas of the Coachella Valley, the Salton Sea, the Santa Rosa Mountains and 10,800-foot San Jacinto Peak. The southwest side of the vista point grants a rare view of the San Andreas Fault and possibly Mexico's Signal Mountain on a very clear day. The namesake of this vista was Bill Keys, who built a 160-acre homestead here and operated the Desert Queen Mine. An infamous character in the park's history, Keys had originally been involved with Walter "Death Valley" Scotty and later convicted of manslaughter in the death of L.A. sheriff Worth Bagley, a conviction that was eventually overturned.
Find it:  There is a fully paved, 500-foot loop trail that takes you to Keys View in the park.
Fonts Point | Anza-Borrego State Park
Regaled as one of the most spectacular viewpoints in Anza-Borrego State Park, Fonts Point overlooks the multi-hued canyons and hilly terrains that make up the badlands of the state park. The overlook is named after Pedro Font, a Spanish padre who took part in the 1775 Anza expedition that brought the first colonists to California. Not surprisingly, the Borrego Badlands are particularly incredible to view at sunset and sunrise when shadows and light play cross the ridges and golden hills. Nicknamed California's Grand Canyon, Fonts Point is a popular spot for photographers and starwatchers alike.
Find it: Follow Highway S-22 to Font's Point Wash and turn right; a left turn on a one-way loop road leads to a parking area. There is a half-mile walk.