Here in Greater Palm Springs, LGBTQ+ weddings abound, and finding the right venue to make that special day feel, well, special, always takes top priority. But here's the thing: there's no reason not to have fun with the process. Getting to "I do" is an achievement in and of itself, and that's where we come in. Dive into this roundup of some of the finest venues for the ultimate LGBTQ+ wedding.
INDIAN WELLS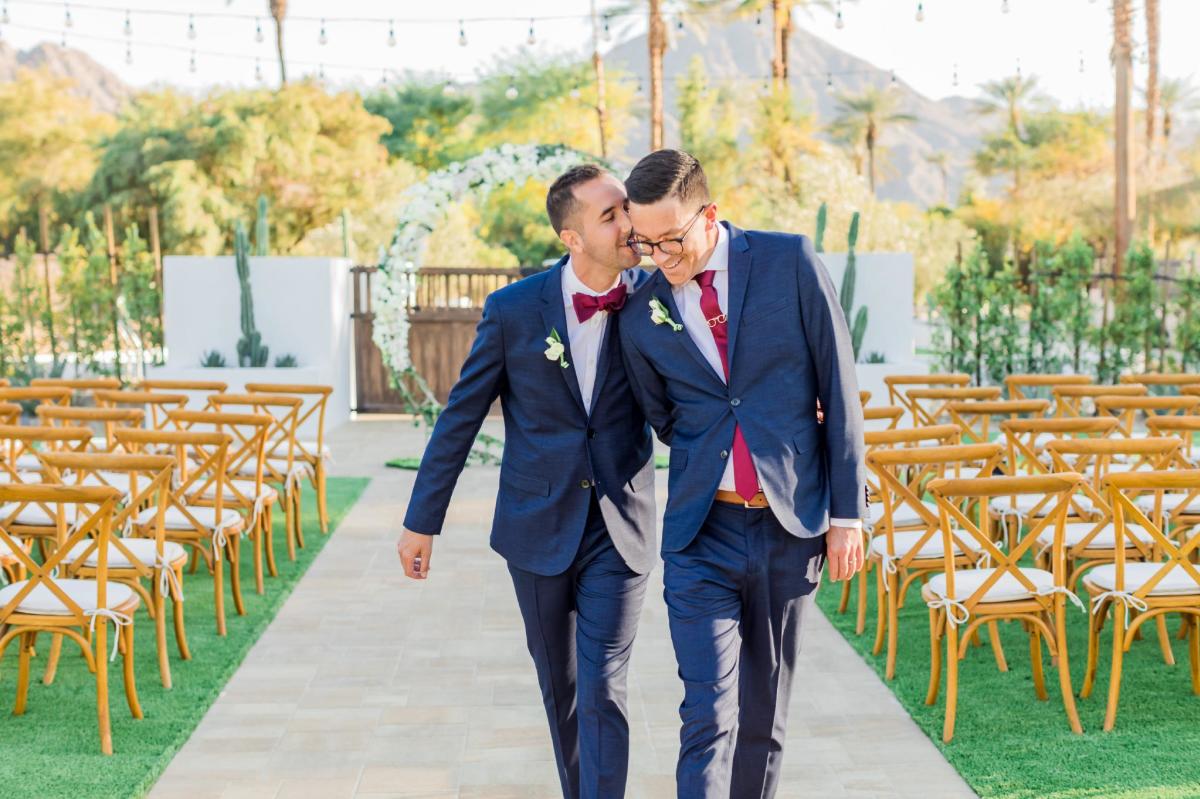 As lavish as you can get. But why not? It's your special day. Hyatt Regency Indian Wells Resort & Spa provides delivers that quintessential desert wedding in exclusive Indian Wells scenary. The resort's unmatched hospitality stands out. This is, perhaps, one of the more sublime outdoor settings for a romantic occasion. The outdoor gardens and terraces with mountain views are exceptional for the ceremony and/or reception, but don't rule out the ballrooms for a more elegant occasion. You can dance your booty off as long as want in either locale. All around, this place is the epitome of class.
Info: 44-600 Indian Wells Lane, Indian Wells, 760-776-1234.
PALM SPRINGS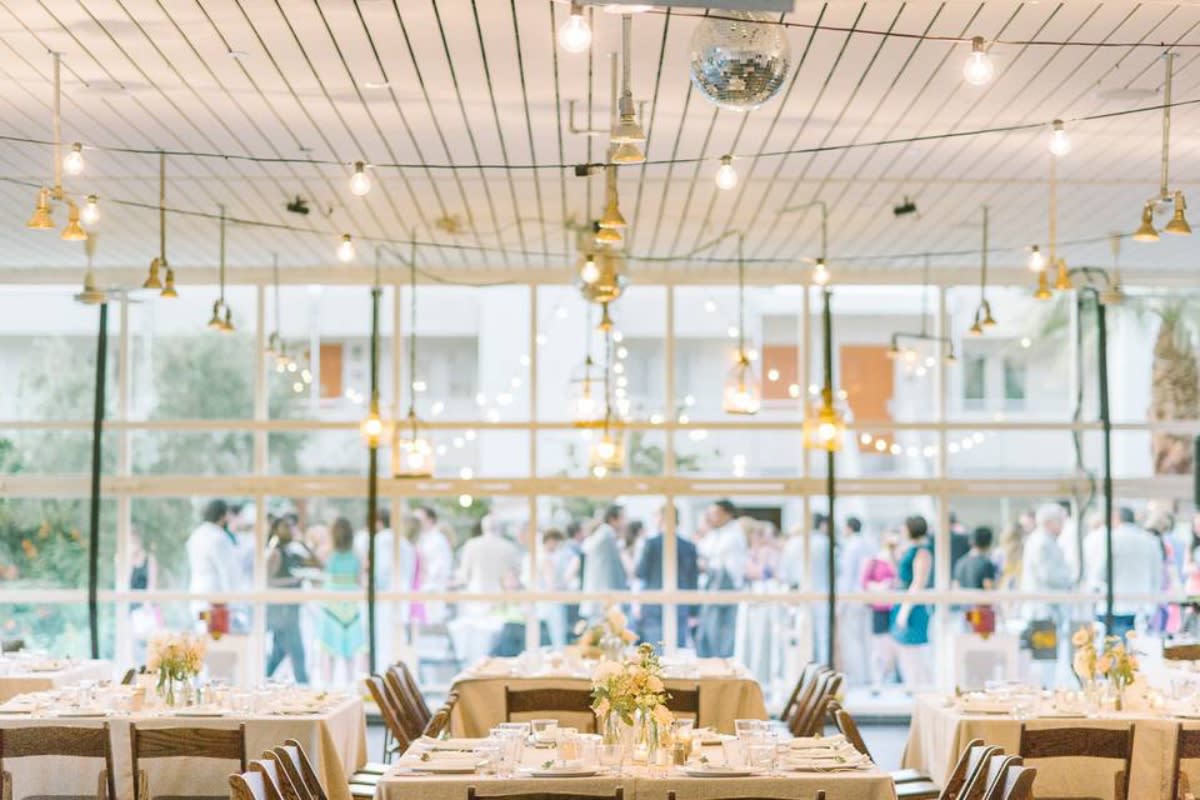 The venue has long been a go-to for locals and visitors who appreciate the wonderfully Greater Palm Springs feel here: chill yet classy and filled with plenty of eye candy — poolside dreaminess, mid-century modern design, and the like. What's great about Ace Hotel & Swim Club is that you can choose the wedding space—the destination boasts up to 4,000 square feet of modular, creative space for the big day and is flexible with the nuptials' desires, whether it begins indoors or ends outdoors, or vice versa. Consider adding unique touches to the occasion. Who doesn't appreciate a posse of B-boy dancers? Perhaps a vibrant array of stringed lanterns? King's Highway, the restaurant on site, can cater the outing so… perhaps a "tropical" feel with delicious craft cocktails, in addition to the champagne. Other big perks: pre-function rooms and spa treatments (perhaps before and the day after the ceremony). 
Info: 701 East Palm Canyon Drive, Palm Springs, 760-325-9900.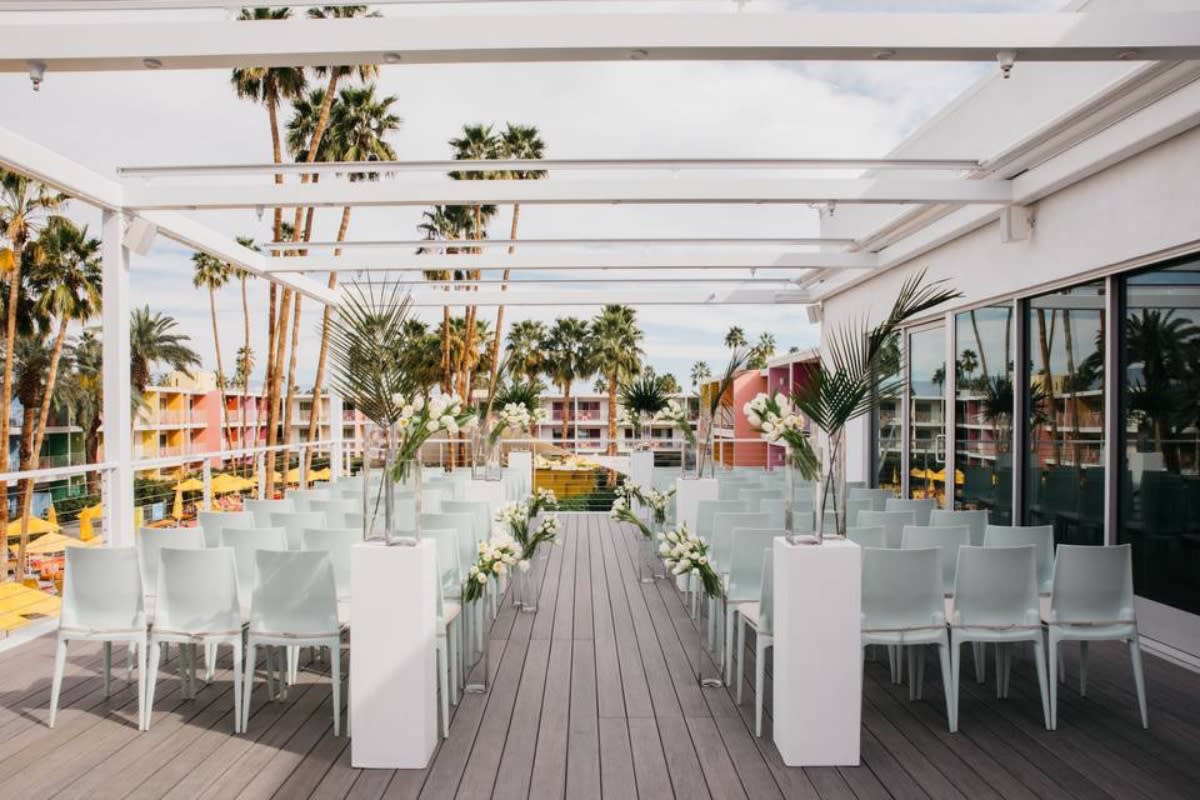 Located at the popular Saguaro Palm Springs, there's much to savor here. At the top of the list is the new 1,175 square-foot private open-air terrace with stunning views of the San Jacinto Mountains, retractable canopy shade, and integrated outdoor lighting and speaker system. Prefer an indoor celebration? The modern feel of Sago Ballroom can accommodate up 300 guests, and the venue's Refreshed Agave Ballroom holds up to 250 guests. The hotel is perfectly situated, too, within five minutes of the airport and Downtown Palm Springs. Beyond that, work with the wedding planners here for the best in catering and nabbing that ideal DJ to get the partiers on that dance floor. We appreciate the complimentary transportation offered to take guests around Greater Palm Springs, too, in the event of last-minute wedding shopping needs. Mostly though, the scenic local with that striking desert skyline at dusk makes for a truly romantic occasion. And… this place is pet-friendly. Have Fido walk down the aisle with you.
Info: The Saguaro Palm Springs, 800 East Palm Canyon Drive, Palm Springs, 760-323-1711.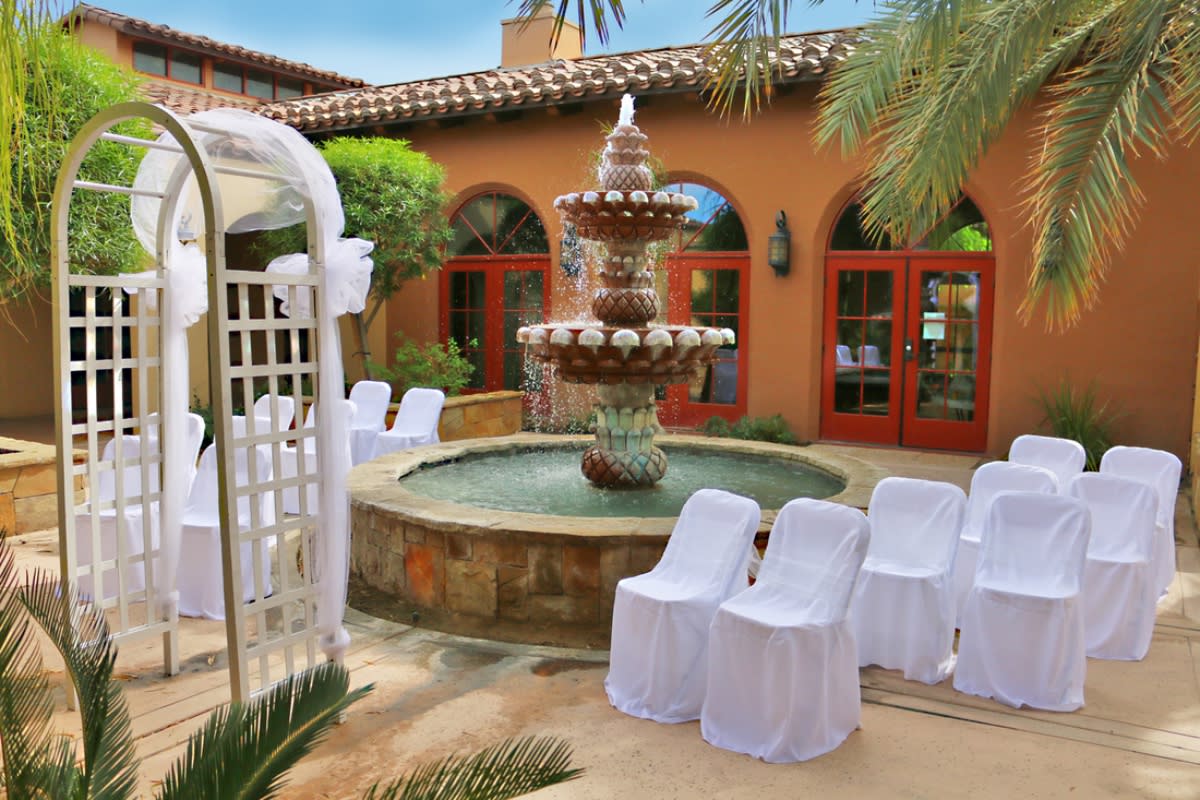 It's the only full-service wedding chapel around and rightly so. From the many wedding packages it offers to its wonderful downtown locale, you can also nab a legal marriage license here. Not bad. While some other venues, go big, here, things are a bit more intimate. The small downtown chapel is perfect for that but if you choose to upgrade to the stunning Adobe House, you're offered more space. Overall, settings for up to 80 guests here range from a courtyard area to a quaint old California-style chapel or even a romantic garden with a vibrant fountain. Fun. Just as fun can be how you can mix it up here with "themed" weddings. One couple got married by an Elvis officiant, so… RuPaul, anyone?
Info: 610 South Belardo Road Palm Springs, 760-895-1436.
CATHEDRAL CITY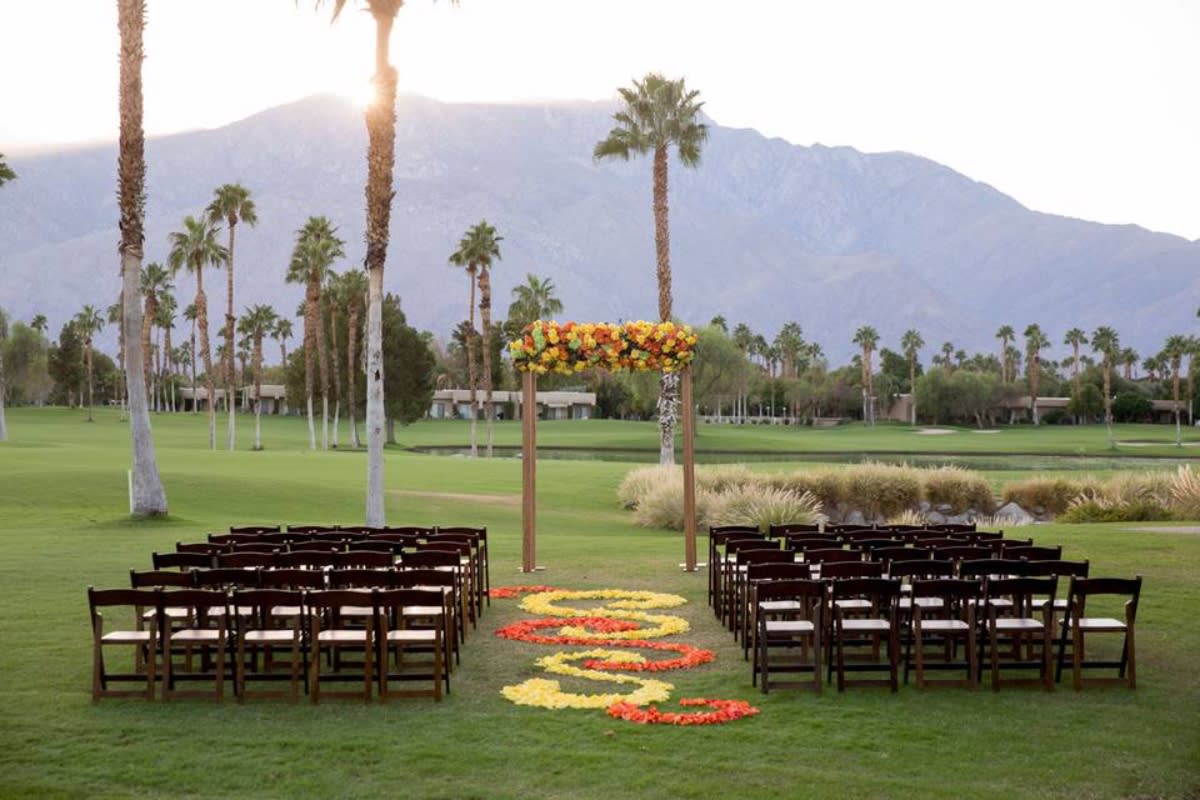 Ready to say "I do" in front of a glorious panoramic golf course overlooking the San Jacinto Mountains? This is your place. The DoubleTree by Hilton Hotel Golf Resort pulls out all the stops in this locale, and weddings are typically memorable occasions here. Big plus: the expert event planners and catering staff the resort offers. These folks are best in the biz and can orchestrate both large and small occasions. Know too, that this venue is ideal for those among you who prefer complete onsite event services—from wedding dinner options to any audiovisual needs. You'll appreciate the options here—have the ceremony indoors, or outdoors. Either way, you can't beat the views. Another standout here is what the venue calls "Micro Weddings & Memorable Moments." These are specifically catered to your needs and the venue works with you to find an ideal spot for the wedding on its mammoth and pristine property. We loved that there's a post-wedding brunch option featured here. Cheers.
Info: 67967 Vista Chino, Cathedral City, 760-322-7000.
PALM DESERT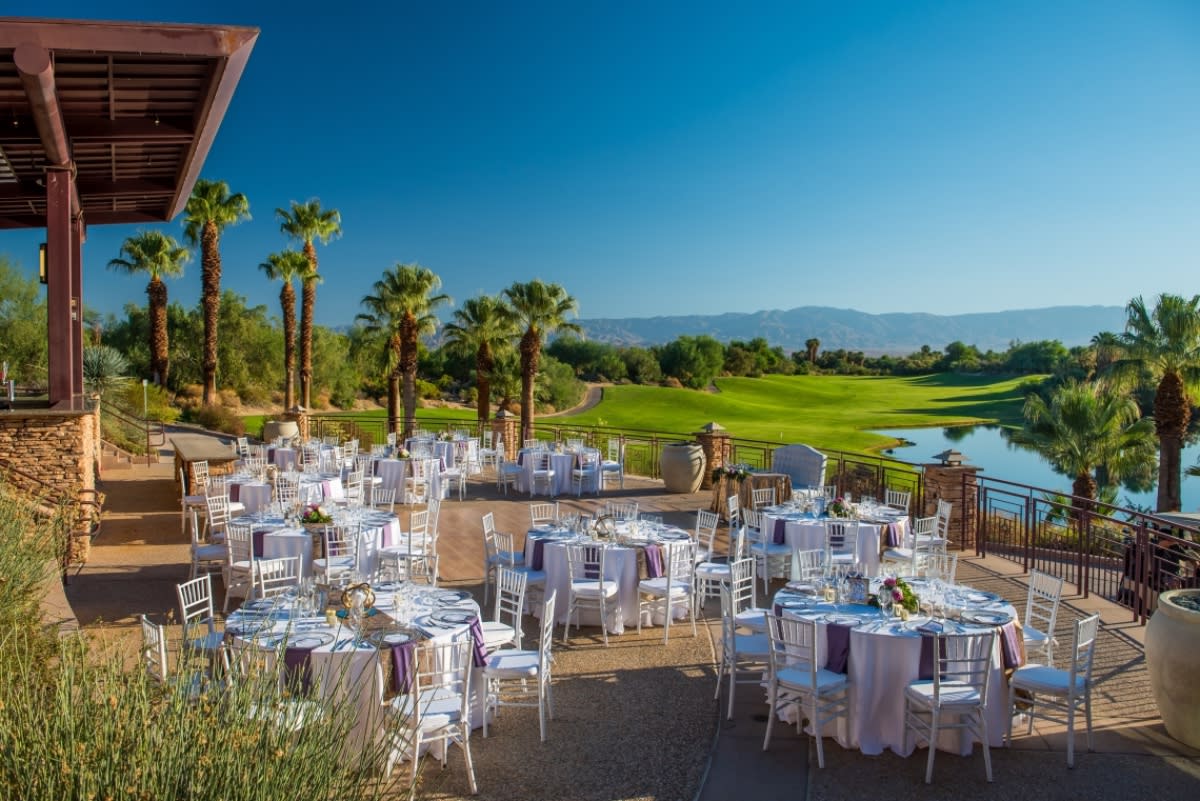 Plan big—more than 200 guests. Or go intimate—20 or less. Either way, this sunny locale has become a premier LGBTQ+ wedding destination over the decades, thanks to its lavish setting overlooking the greens and phenomenal mountainscapes, which make for a stellar backdrop on that special day. There's a nice affordability factor here, too, in terms of how much "per plate" each guest may "cost" during that special dinner. And the staff's culinary team has an impressive array of wedding packages to choose from, so whether it's more casual or truly gourmet, they got you covered there. We're impressed with the views here, and you will be too, so once you begin working with event staff to coordinate the music, take in the fact of the spaciousness. Truly memorable for a sunset wedding. 
Info: 38995 Desert Willow Drive, Palm Desert, 760-346-7060.
Rancho Mirage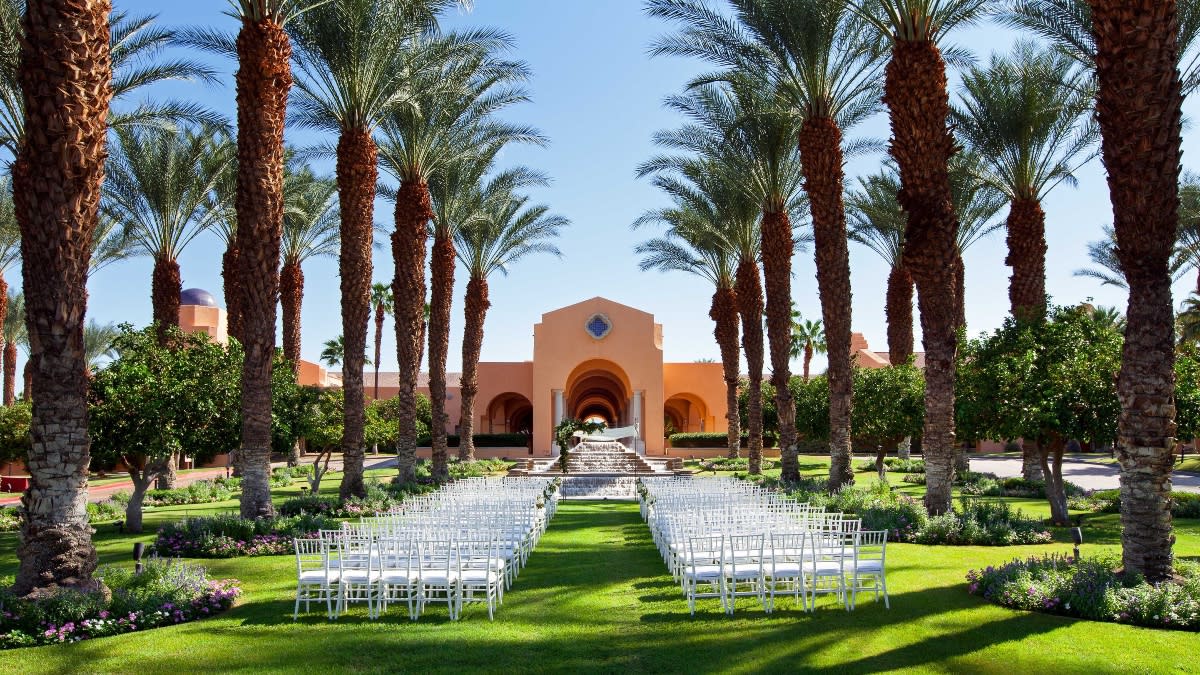 From its tropical courtyards to the chandelier-adorned ballrooms, you're pretty much basking in luxury here. And sublime views of Greater Palm Springs evoke a sense of wonder and romance all around. But you'll never go wrong at the Westin. It's a city unto itself, so for those among you who want to bring the clan to your ultimate wedding, this is the place. Notable offerings include working with expert planners who help you create a "dream wedding package." In fact, Marriott-certified wedding planners complete a course to become qualified to coordinate weddings of all type. And James Beard-honored executive chef Joel Delmond and his staff are exceptional with the cuisine presented. The venue is for those who truly want to make that day stand out in one of the most romantic and scenic havens the Valley has to offer—complete with several stand-out restaurants, spa services for the nuptials (and guests), and some of the finest poolside experiences you can imagine. 
Info: 71333 Dinah Shore Drive Rancho Mirage, (760) 328-5955
Planning on saying "I Do" in Greater Palm Springs? Find more wedding inspiration here.