Whether you're looking for a casual and savory lunchtime pick-me-up, a purist and ideal distribution of inner to outer ingredients or a decadently gourmet meal of stacked artisanal bread, cheese and meats, you'll find a bounty of exquisite sandwiches in the Greater Palm Springs area. You just need to know where to look. We have done the research for you and have chosen the "top ten sandwiches" sure to please any palate.
For 20 years, TKB Bakery has been churning out amazing baked goods for the local community. Today, the storefront frequented by Indio locals and myriad visitors features the fan favorite "The Trump," piled high with turkey, salami, bacon, avocado, and chipotle sauce on awesome homemade focaccia bread. They even stuff potato chips between the layers for an extra dose of salt and crunch.
This authentic Italian deli boasts the magnificent "Torinese" loaded with roast beef, gorgonzola spread, lettuce and tomatoes alongside hard to find specialty Italian goods such as Divella Pasta, San Pellegrino, Costadoro Coffee, DiStefano Cheese, Pasta Mia Filled Pastas and countless more quality products.
This tiny spot in downtown Palm Springs is notorious for its crowds striving to get a seat on weekday mornings, and it's for a good reason: the food is phenomenal. Although the menu changes often, the BLT is a mainstay. Their craftsman version features toasted bread, their famous thick jalapeño bacon and a ripe hunk of heirloom tomato. Dynamite.
The Sandwich Spot, tucked away off Palm Canyon downtown, is known by employees of local businesses as a no-nonsense and affordable place to get quality sandwiches during the workday. "The Djokovic" features warm turkey, bacon, cheddar cheese and avocado. Their secret sauce is an addictively subtle herbaceous oil with garlic similar to the type you'd dip escargot into at a fancy restaurant. On the deli's famous Dutch crunch bread, this sandwich hits the spot.
Sherman's kosher style Jewish deli is a local institution with two locations on either end of the valley. Known for its sky-high piles of meat, super soft rye and an indulgent option to switch out your two slices of bread for two densely fried potato latkes to hold together your sandwich, their classic pastrami is a diehard signature favorite.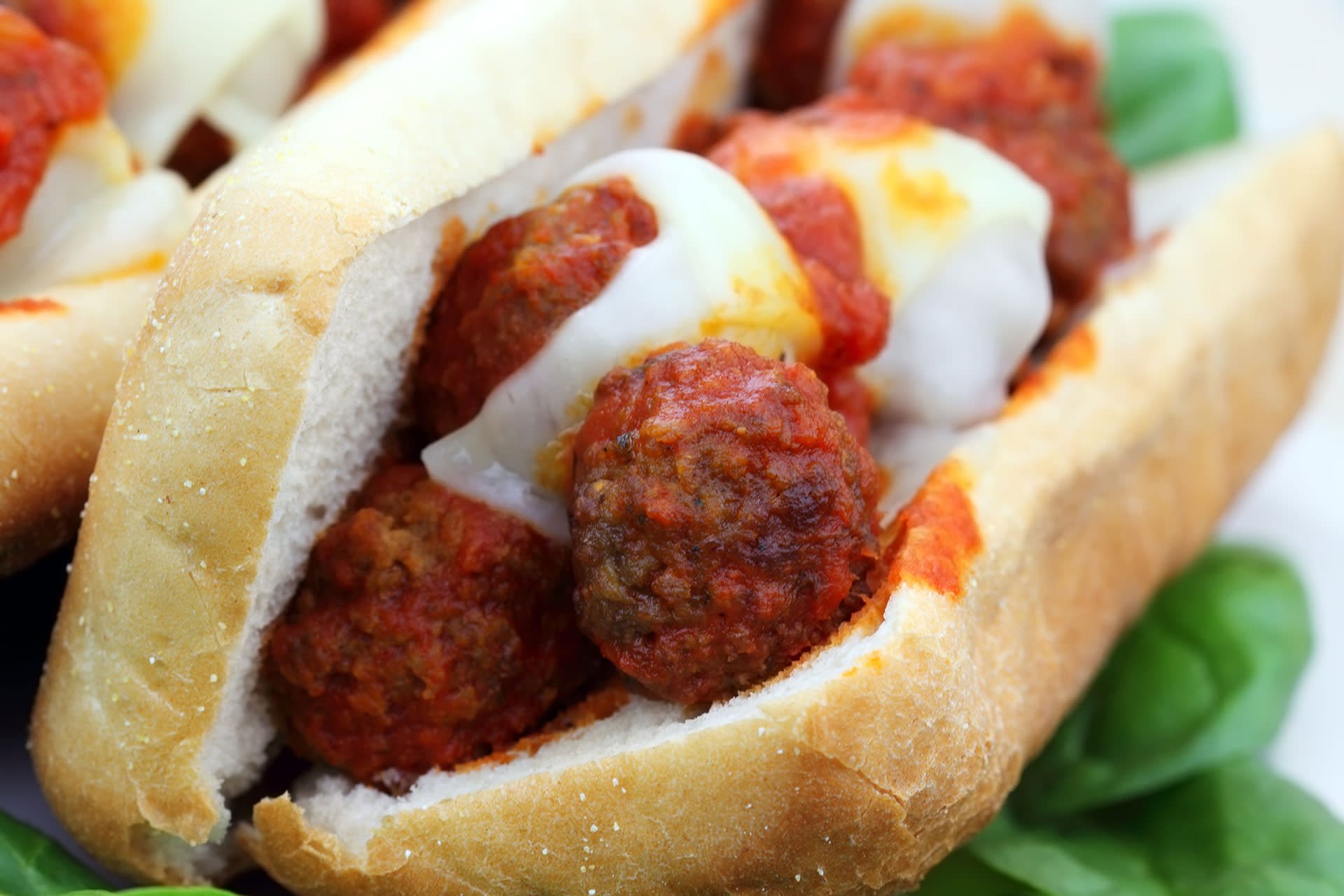 An Italian family full of vivacious, charming women and their clan runs Spaghetteria in the old red-checkered tablecloth style of no-frills good eating. The meatballs in red sauce are consistently called the greatest ever by regular and new patrons so it's no surprise that their meatball sandwich would be high up on our list of the best.
With locations in Palm Desert, Palm Springs and La Quinta, Fisherman's is a valley institution known for casual fresh fish dishes and a lively ambiance. On a warm afternoon, there's nothing better than a glass of Chardonnay and their "Crab Cake Sandwich" served simply on a fresh herb bun with lettuce, tomato and tartar sauce.
At Jake's Palm Springs, you'll find a chic deli counter abounding with creative, seasonal entrees and house made salads to enjoy while people watching downtown. The "Chicken Milanese Sandwich" is an unctuous, unconventional favorite of breaded and lightly sautéed chicken breast with melted Swiss cheese, organic greens and tarragon dijonnaise on ciabatta bread.
9. Bouchee Café and Deli's "Bouchee Special"
The gourmet Bouchee Café and Deli features European style signature sandwiches on choices of savory breads that include 9-grain, sourdough, Rustique Italian or rye. The "Bouchee Special" includes Herbes de Provence grilled chicken spread with herb marinated goat cheese and sprinkled with South African peppadew peppers.