"There is no place, just like this place, anywhere near this place, so this must be the place." -–A sign that greets visitors at Cabot's Pueblo Museum.
Wander your way through Desert Hot Springs and you might be surprised to stumble upon a distinctively Hopi pueblo in the land of the Cahuilla. Venture closer to this historic, entirely hand-built landmark, and you'll soon discover that Cabot's Pueblo Museum holds some of the greatest tales the oasis has to tell.
Best of all, tours of this storied museum are open to the public.
A Historic House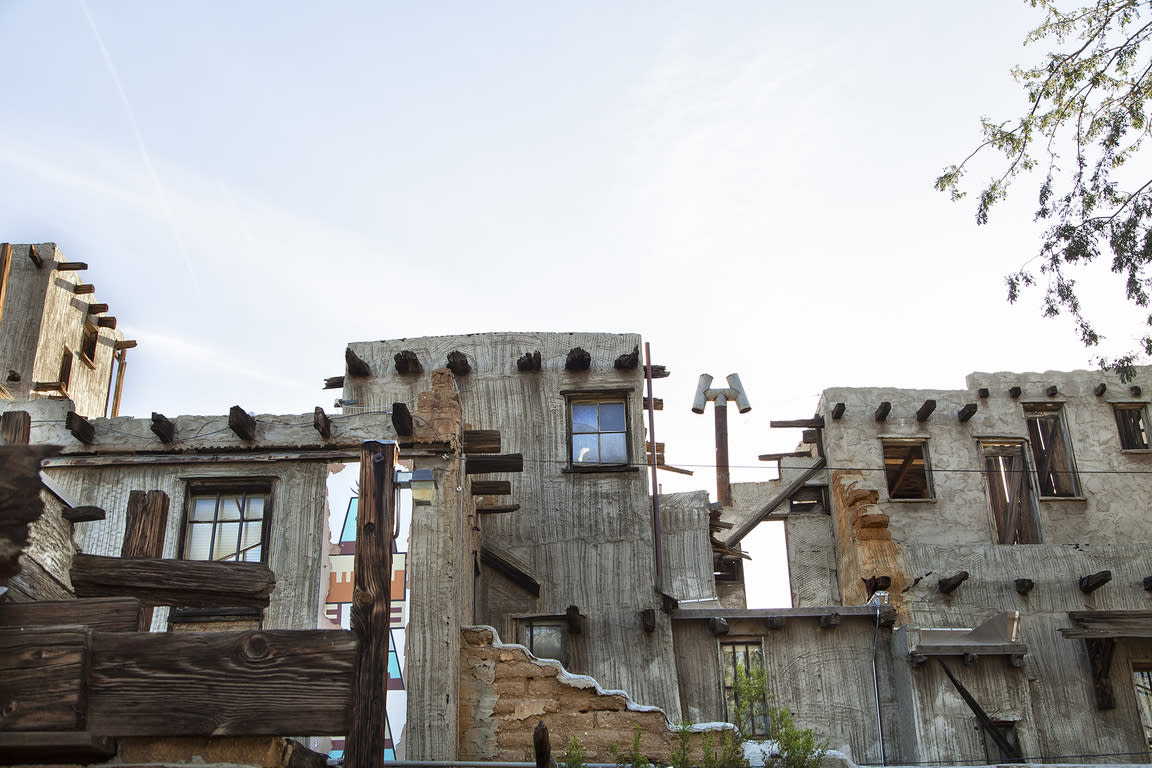 The house itself is a menagerie, illustrating the many adventures of homesteader Cabot Yerxa, one of the original founding fathers of Desert Hot Springs. The entire 35-room structure is made of reclaimed and salvaged materials, filled with photos, artifacts and historic items that take visitors on a wild journey through Yerxa's storied life.
In the Water Gallery, photos of a teenage Yerxa smiling with Alaskan Inupiats greet visitors, along with a translated list of Inupiat words. Yerxa's trip to Nome during the Alaskan Gold Rush was his earliest adventure and one that led to the young entrepreneur selling the first recorded translation of the Inupiat language – a page of which is on display – to the Smithsonian in 1901.
In 1913, Yerxa answered the country's call for homesteaders, and he landed in Desert Hot Springs with his first wife and a burro, known as Merry Christmas. It was during this four year stay that Yerxa dug his infamous wells and discovered both hot- and cold-water aquifers running beneath the town.
It wasn't until 1941 – after a stint in the U.S. army, time spent abroad studying art and travels throughout Central America – that Yerxa returned to his beloved Desert Hot Springs. This time, he was intent on investing in the now-growing town by building a roadside attraction that would bring a constant stream of tourists.
Over the next two decades, Yerxa worked at creating what would eventually become Cabot's Pueblo Museum.
Stories Within the Stories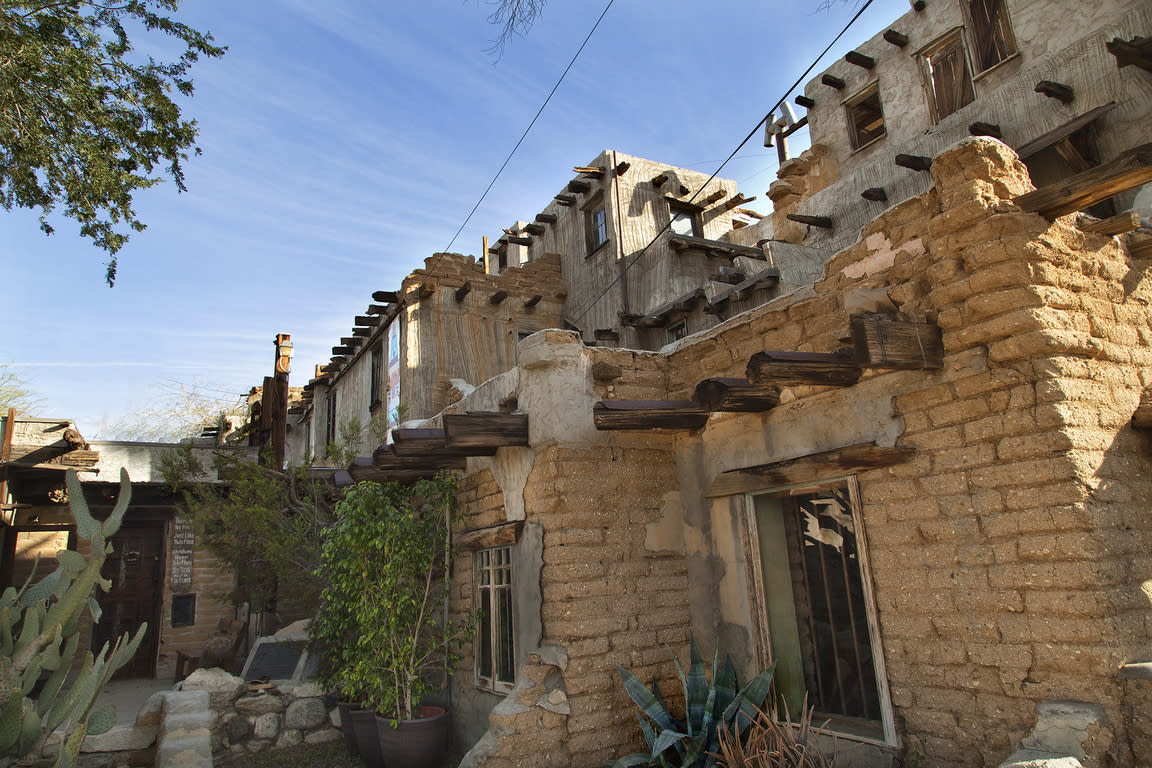 His deep and lifelong respect for Native American culture influenced much of his pueblo, from the Hopi architecture to the structure's harmony with nature. Even the windows are positioned to create naturally flowing breezes that keep the home cool.
Yerxa searched far and wide for materials from which to build his pueblo. Old telephone poles can be seen piercing the walls, while salvaged glass ensures no two of the pueblo's 150 windows look alike. Even the walls have stories to tell, as Yerxa used discarded daily newspaper presses from the Los Angeles Times to insulate his home. A sample on display announces the recent marriage of entertainer Groucho Marx.
Every piece of material used to create the pueblo reveals another piece of Yerxa's story, as do the artifacts within. Presidential letters, vintage photographs, and even Cabot's own paintings from his art school experience in France adorn this quirky museum.
Upstairs, visitors catch a glimpse into the world of Yerxa's second wife, Portia. Here, Yerxa built an entire apartment so his wife could escape the pueblo's constant stream of visitors, complete with its own kitchenette and balcony. A snapshot of midcentury life, Portia's former apartment is outfitted with home goods of the times such as a vintage sewing machine, vacuum and library.
It seems there is always more to explore at Cabot's Pueblo Museum, which is probably just the way this lifelong explorer would have wanted it. Outside, nature trails take you to several more of Yerxa's structures, as well as a meditation garden and the towering Waokiye carving.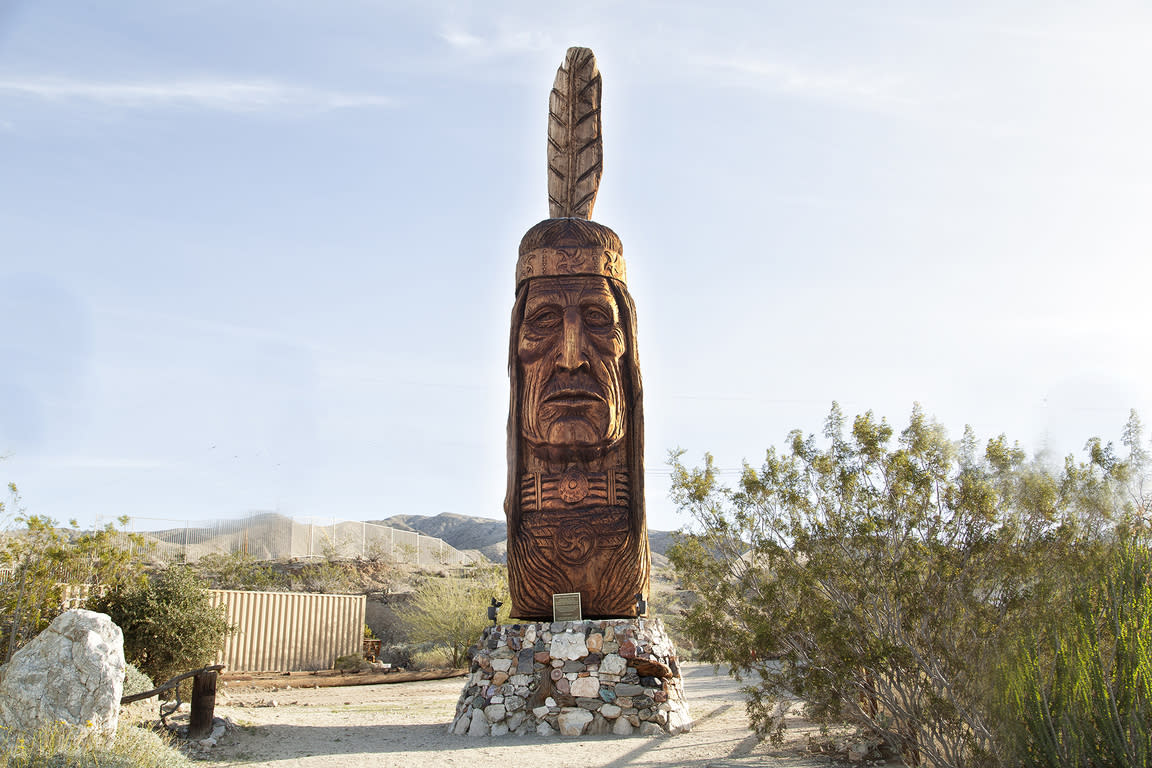 Always Something New to Discover
No matter how much you explore the museum, it seems there is always another story to discover, too. Even the home's survival to modern day is a story in and of itself. Upon Yerxa's death in 1965, his widow Portia left immediately and the abandoned home soon attracted squatters, leading the city to declare it a hazard. It was set to be demolished when Cole Eyraud, a former acquaintance of Yerxa, made it his mission to save the pueblo, even standing off with bulldozers in front of the museum. After purchasing the pueblo from Portia's estate, Eyraud and his family moved in.
After Eyraud's passing, the pueblo was donated to the city of Desert Hot Springs, and the story of Cabot Yerxa and his pueblo lives on. Today, it remains one of the city's most intriguing attractions, even earning a spot on the National Register of Historic Places.
While the museum grounds and the Water gallery are free to explore, the only way to experience the pueblo – and discover its many stories for yourself – is on a one-hour guided tour. Tours are held Tuesday through Saturday, every other half hour, from 9:00 a.m. to 1:00 p.m., October through May. Tour groups are limited to 8 people and general admission is $13.
After experiencing a tour of Cabot's Pueblo Museum, you'll understand that "there really is no place, just like this place, anywhere near this place, so this must be the place."