From comforting classics to exciting new tastes, Greater Palm Springs has a way of bringing out the best foodie in you—even the globetrotting kind. Ready to take a culinary trip around the world without ever leaving our sparkling pools and endless blue skies? Dig into this roundup of Greater Palm Springs restaurants serving inspiring cuisine and flavors from afar.   
American Cuisine
Copley's on Palm Canyon
American cuisine is essentially a blend of culinary ingredients from around the globe. If you're in Palm Springs, swing by the award-winning Copley's on Palm Canyon for upscale American fare infused with European and tropical flavors. Treat yourself to the Miso Glazed Scottish Salmon or Slow-Roasted Duck Breast. Pair your meal with one of their specialty cocktails or a glass of California wine (though they have plenty of pours from other countries, as well). And savor it all on the outdoor patio, whose stunning mountain views are as magical as the food. 
Babe's Bar-B-Que & Brewhouse​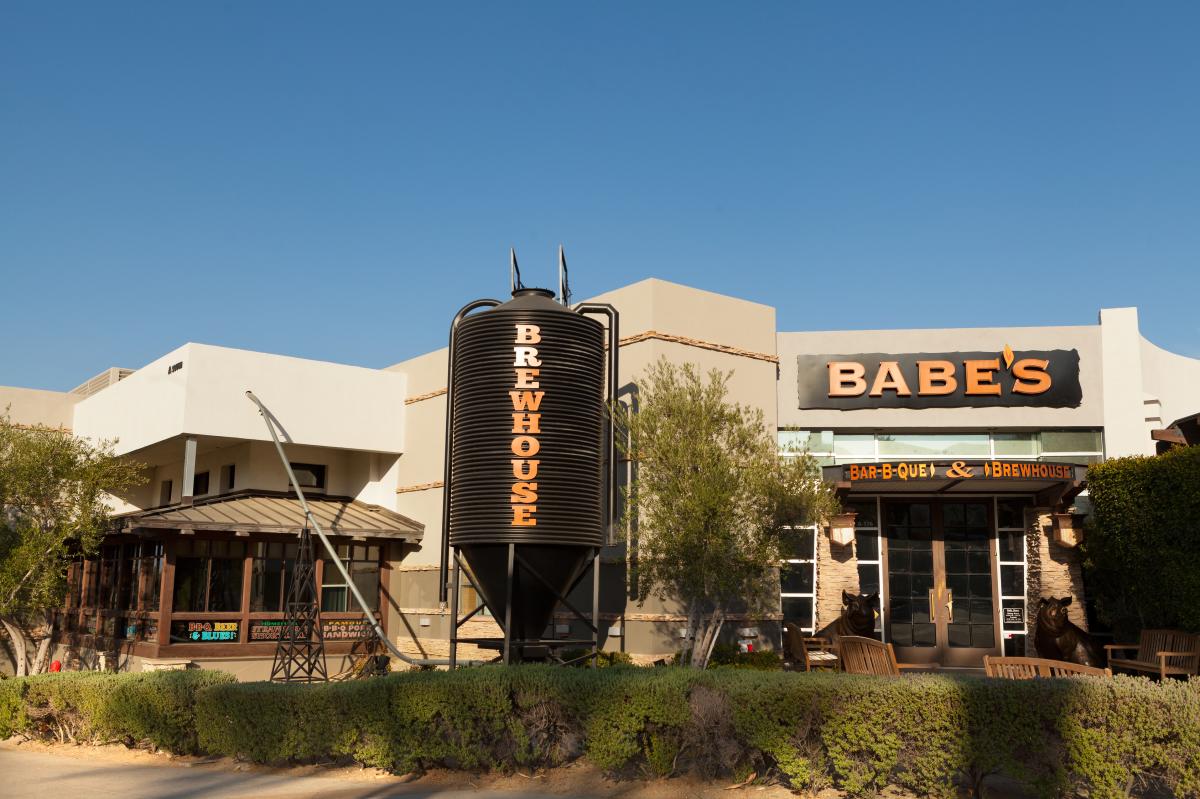 Enjoy delicious, shareable food for the soul at Babe's Bar-B-Que & Brewhouse​ in Rancho Mirage. From salads and skillet cornbread to smokehouse sandwiches, ribs and tri-tips, their menu is jam-packed with authentic barbecue flavors that are sure to delight your taste buds. Pro tip: Never skip dessert when visiting. Their Don Callender's Legacy Pies are made from scratch daily and served with a side scoop of vanilla ice cream.    

Cork Tree
When dining at Cork Tree in Palm Desert, you can expect a warm, relaxing and friendly ambiance. Their California-style menu offers everything you can imagine—including some of the best seafood meals around. Try the San Francisco Style Cioppino with salmon, sea bass, shrimp, scallop, lobster, mussels, clams, crab and hearty fish stock.  

Lavender Bistro
Lavender Bistro is as sweet as the name itself. The restaurant's spacious patio, illuminated with hundreds of twinkling lights and overflowing with purple flowers and relaxing music, is the perfect setting for any special occasion or romantic dinner. Indulge in the finest and freshest ingredients (the Pistachio-Crusted Rack of Lamb, Herb & Honey Brine Porkchop and Sesame Crusted Seared Rare Ahi Tuna are popular picks) before trying one of their garden-inspired cocktails, like the Lavender Botanical Lemon Drop made with lavender botanical vodka, creme Yvette, lavender simple syrup, fresh lime juice and a sugar rim.
For more eateries in Greater Palm Springs offering American cuisine, see our full list here.  
Peruvian Cuisine
Inka Grill Peruvian Cuisine
One bite at this Palm Springs restaurant is like traveling to Peru. With all its nuances, Inka Grill Peruvian Cuisine serves up food that is authentic, fun and packed with flavor. Looking for something light? The appetizer menu offers various ceviches made with fresh seafood steeped in lime and onion (though we highly recommend checking out the rest of the menu featuring traditional Peruvian delicacies, grilled chicken and fusion fare). See more on their website here. 

BaBaLoo Lounge
This gastropub specializes in Peruvian and Cuban cuisine made from family recipes. Indulge in large portions for a reasonable price on their spacious patio. And be sure to order the lechon asado and ahi sando with yucca fries!
For more eateries in Greater Palm Springs offering Peruvian cuisine, see our full list here. 
Indian Cuisine
India Oven
India Oven brings all the flavors and spices of India to every dish. Located in Cathedral City, this spot is perfect for anyone looking to enjoy authentic home-cooked Indian cuisine with the occasional modern twist (think samosa, chutney, curry and naan). Speaking of—don't leave without ordering a side of the garlic naan bread.

It's Taste of India
What makes this Desert Hot Springs eatery special is the customization of authentic traditional flavors. Not in the mood for anything too spicy? No problem—each meal is freshly made to your request.
For more eateries in Greater Palm Springs offering Indian cuisine, see our full list here. 
Mexican Cuisine 
Pueblo Viejo Grill 
Ever had sweet corn tamales? Stop by Pueblo Viejo Grill in Palm Desert or Indio for a mouth-watering Mexican dining experience. Offering daily specials, Pueblo Viejo Grill takes a creative approach to classic Mexican cuisine. Every dish is colorful and every bite is bold!

Rincon Norteno Restaurant
Join the fiesta at Rincon Norteno Restaurant in Indio, where the Flores family has been serving the same menu of traditional dishes for over 50 years! Whether you go for the chilaquiles or chiles rellenos, your taste buds will thank you for it.
For more eateries in Greater Palm Springs offering Mexican cuisine, see our full list here. 
Italian Cuisine 
Castelli's
Get ready to mangia bene at Castelli's, a cozy yet upsacle spot known for their pasta, veal, seafood, beef and chicken specialties. Some have even described their house-made Fettuccine Alfredo as "heaven on a plate." Pair it with a glass of Tuscan wine and you'll really feel as if you were dining in Italy.

Johnny Costa's Ristorante
This family-owned restaurant, established in 1976, offers a perfect combination of fine-dining and time-honored family recipes. Enjoy a romantic dinner for two at one of the candlelit tables. Be transported by the Italian music and nostalgic atmosphere. And don't forget about dessert: tiramisu, crème brûlée, cannoli and more.
For more eateries in Greater Palm Springs offering Italian cuisine, see our full list here. 
Thai Cuisine
Thai Smile of Palm Springs
Explore fresh, flavorful Thai dishes at Thai Smile of Palm Springs, where they're dedicated to using only the finest ingredients. Located in the heart of downtown, this local favorite offers takeout and a spacious patio (the outdoor ambiance is wonderful for a night spent dining beneath the palms).  

Peppers Thai Cuisine
Lemon grass. Fresh limes. Red chili. Enjoy a tour of hot, sour and sweet flavors with the savory dishes at Peppers Thai Cuisine in downtown Palm Springs. Their lunch specials (which come with soup or salad) are a perfect light bite in between shopping and sightseeing.
For more eateries in Greater Palm Springs offering Thai cuisine, see our full list here. 
Chinese Cuisine
Cie Sichuan Cuisine
Enjoy excellent service, friendly staff and modern Chinese cuisine at Cie Sichuan Cuisine in Indio. The extensive menu features all your veggie, chicken, pork, rice and noodle favorites. 
For more eateries in Greater Palm Springs offering Chinese cuisine, see our full list here.
French Cuisine
French Rotisserie Café
Serving up artisanal French bistro cuisine in Palm Desert, this adorable restaurant will transport you to Paris with its menu of roasted chicken, beef stew, pomme frites and sweets. And the best part? Everything is made from scratch!

Le Vallauris
You don't have to travel abroad to find delicious French fare. Head to Le Vallauris (a legendary establishment and romantic date spot) in Palm Springs, where the outdoor patio is as enticing as any item on the fine-dining menu.
For more eateries in Greater Palm Springs offering French cuisine, see our full list here.