Take a literary journey through Greater Palm Springs––Looking for your newest book venture? You've come to the right place. There's nothing quite like cracking a new book open and getting lost within its pages.
Whether you prefer a new or used novel or comic book these locally-owned book stores might just have exactly what you're looking for. Stop by and make your visit to the oasis one for the books! 
The Book Rack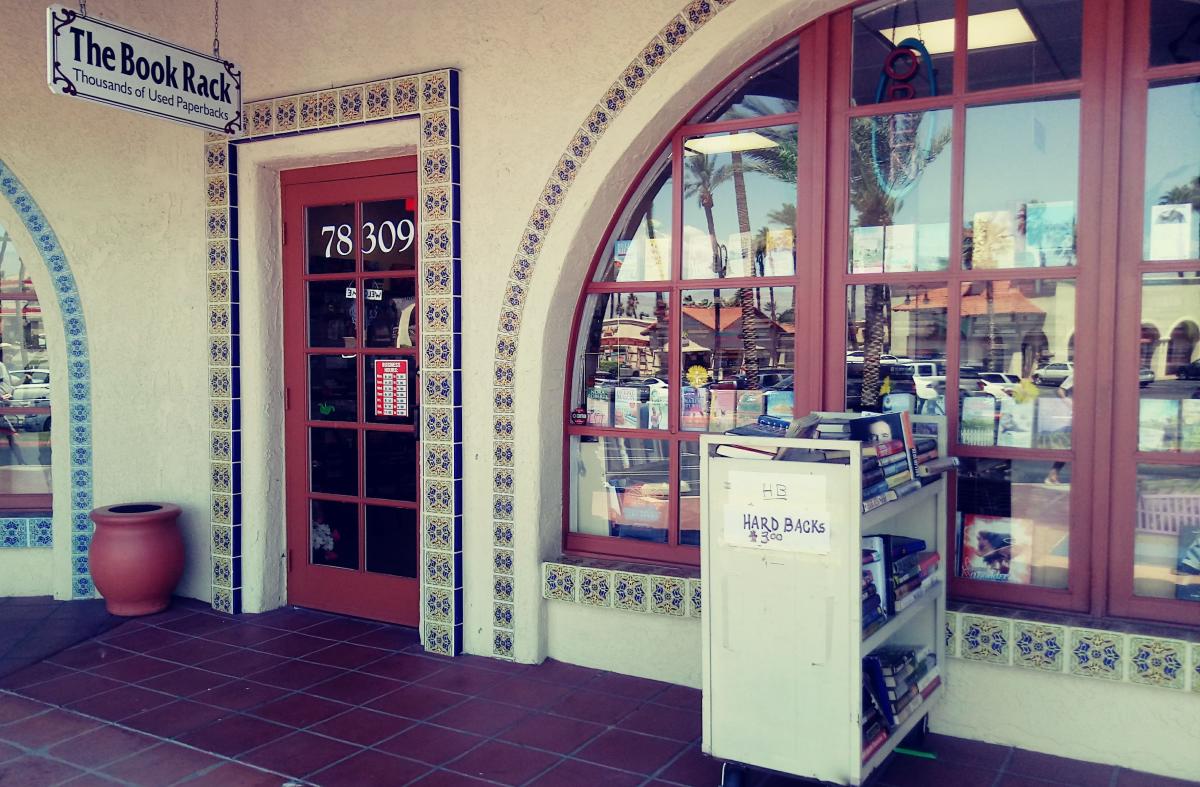 Photo courtesy of The Book Rack
Find a great read, for an even better price at The Book Rack in La Quinta. Owner Holly Escobedo first opened The Book Rack 22 years ago, after ending her career in the commercial printing field. The store has a wide selection of used books for as low as $3. They also have a great trade-in policy, which allows you to bring back finished books and use half of the credit for your new purchases.
Be sure you check out staff recommendations during your visit and browse the store for new genres and authors. The Book Rack is all about community, stop by and get matched with a new (to you) book, you won't be disappointed.
Interstellar Comic Books & Collectibles


Photo courtesy of Interstellar Comic Books & Collectibles
Get ready to geek out- Interstellar Comic Book & Collectibles is the place to unleash your inner nerd. This comic book heaven is located in Downtown Palm Springs and was opened by comic book and superhero connoisseur Adrian Cuevas in 2015. Their inventory contains classic comics, new graphic novels, character figurines, local art pieces and more. Get more bang for your buck with their  'Buy 2, Get 1 Free' deal on graphic novels. 
Interstellar also hosts a variety of events including art shows, musical performances by local artists, and DJ nights. Not sure what you want to read? Be sure you ask the knowledgeable staff for recommendations and get ready to take on your next reading venture. 
Just Fabulous
This bright and vibrant shop screams Greater Palms Springs, and might just be your one-stop-shop for everything fab. Just Fabulous owner Stephen Monkrarsh has loved Palm Springs since he was just 5 years old, and after visiting for years he decided to open up his own store in 2007. When browsing you'll find books on everything from architecture and interior design to humor and pop culture.
Aside from being a bookstore Just Fabulous also has a variety of home decor, novelty gifts and art in their inventory. They have also hosted several celebrity book signings including David Sedaris, Lily Tomlin, Barbara Eden and more. Visit this fun location and get ready to make your bookshelf a lot more fabulous!
Comic Asylum
Comic Asylum has been the place for comic book superfans since it first opened its doors in 2016. Located in Palm Desert, husband and wife dynamic duo Javel Halay-Ay and Chicks Halay-Ay created the perfect den for both new comic book fans and seasoned aficionados alike. They have focused on not only creating a business but also a community. They often host Instagram Live sessions on Wednesdays, where visitors can tune in to hear them discuss the newest comic book releases.
In addition, they provide a 'Pull List' service, allowing their regulars to reserve new comic books as they're being released. Their members get first pick and additional perks such as private movie screenings. Whether you're starting or growing your collection, be sure you stop by Comic Asylum during your time in the oasis.
High Desert
Space Cowboy Books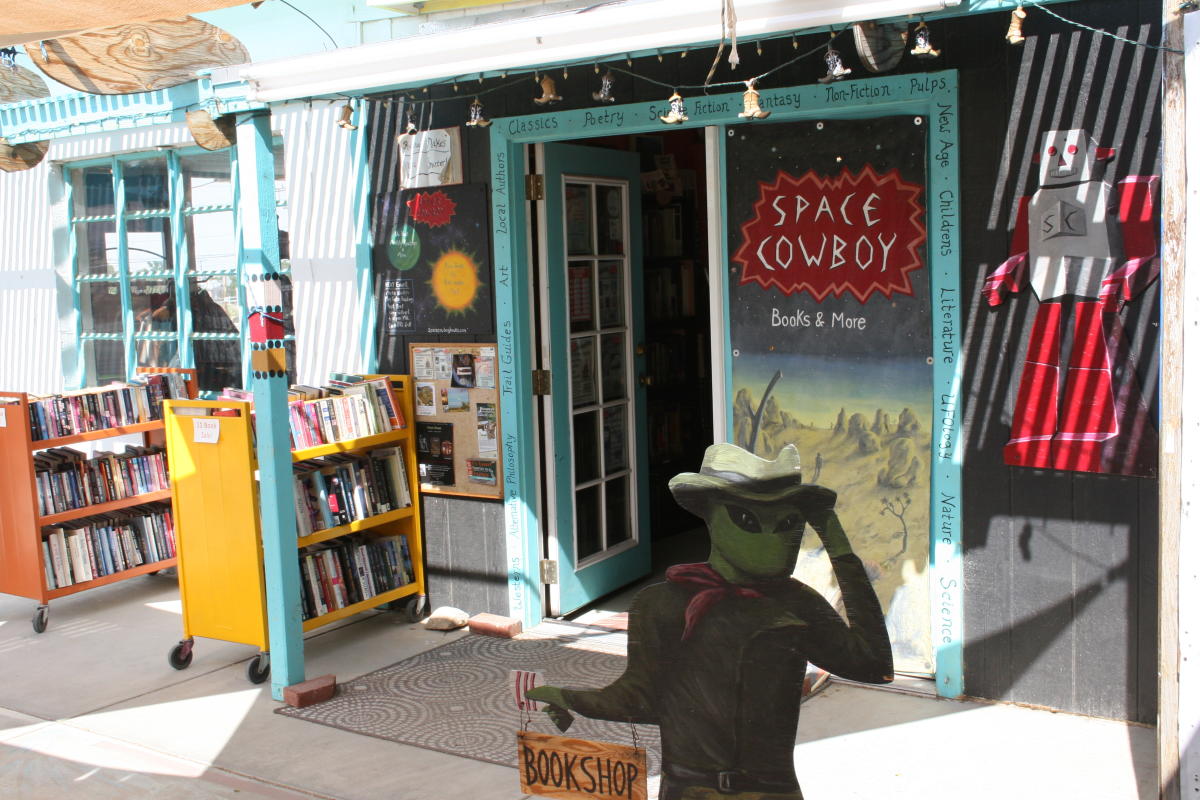 Photo courtesy of Space Cowboy Books
Giddy up book lovers, this is the 'space' for you. Located in Joshua Tree, Space Cowboy Books was established in 2016 by author Jean-Paul Garnier and artist Zara Kand. Aside from having new and used books in their inventory, Space Cowboy Books also publishes books by local authors and science fiction anthologies.
They host an array of events including book launches, plays, movie screenings, and more. On the third Sunday of every month, they host an Open Mic Poetry Reading in partnership with Cholla Needles Magazine.
Be sure to take advantage of their deals which include free books for kids under 14, buy five books get one free and a military discount. Visit Space Cowboy Books and get transported to a literary galaxy not so far away.
Hoodoo
This uniquely named pop culture boutique in Joshua Tree is owned by husband and wife Scott and Lisa Wexton. The two have created a haven of all things quirky, and the ideal spot for comic book lovers. Hoodoo has a wide selection of comics, which they were able to expand when moving to their current location in 2012.
Aside from their comic book selection, they also stock a range of vinyl records, memorabilia, tiki masks and figurines, and T-shirts. This shop is so great even comedian Patton Oswalt stopped by to browse around. Swing by, you won't be disappointed, and you definitely won't leave empty-handed. 
Keep your shopping day going. Stop by any of these Greater Palm Springs stores and splurge in the oasis!