In Partnership with Hyatt Regency Indian Wells Resort & Spa
Greater Palm Springs is known for many things, particularly sublime views, unforgettable experiences unique to the desert, and unforgettable rejuvenation. Hyatt Regency Indian Wells Resort & Spa captures all of that—and more—in its tranquil paradise, offering remarkable accommodations, complete with outdoor recreation, luxury wellness services, and inspired culinary wonders. The destination is truly an immersive experience and most people don't leave the resort because there's simply so much to do—and not "do"—here and its truly exceptional poolside experiences—bring the kids? Here are seven reasons why you need to plan a trip to the Hyatt Regency Indian Wells Resort & Spa.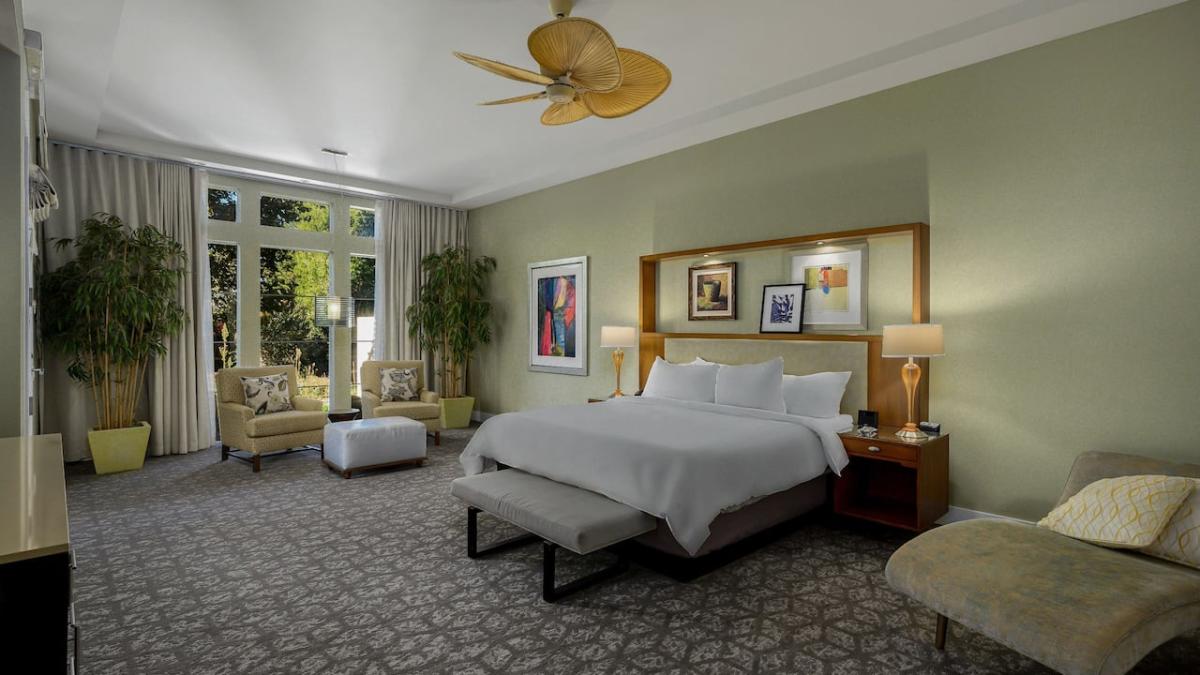 To be sure, modern-day travelers crave exceptional accommodations. Hyatt Regency Indian Wells Resort & Spa delivers on that front in many ways. You'll appreciate fine touches, such as plush robes you can simply live in all day while enjoying extraordinary desert views, particularly sunsets when the desert sky is filled with deep blue, powder orange, and violet hues. Most rooms here, however, go the extra mile with unique spa-inspired marble baths, Pharmacopia bath toiletries, and plush bed pillows and linens. Overall, the rooms themselves are spacious and if you're traveling with family, there's nothing like nabbing a suite for extra space. Another nice touch is room balconies, which overlook the lush grounds and stunning mountainscapes.
If you're looking for a stay with a touch of iconic midcentury decor, book the Palm Springs Terrace Suite. The room offers vibrant and modern Greater Palm Springs furnishings with panoramic views of the lazy river and lagoon. Rooms also come with 65-inch flat-screen TVs, a spacious minifridge, and even an in-room laptop-size safe. It's your luxury home away from your home.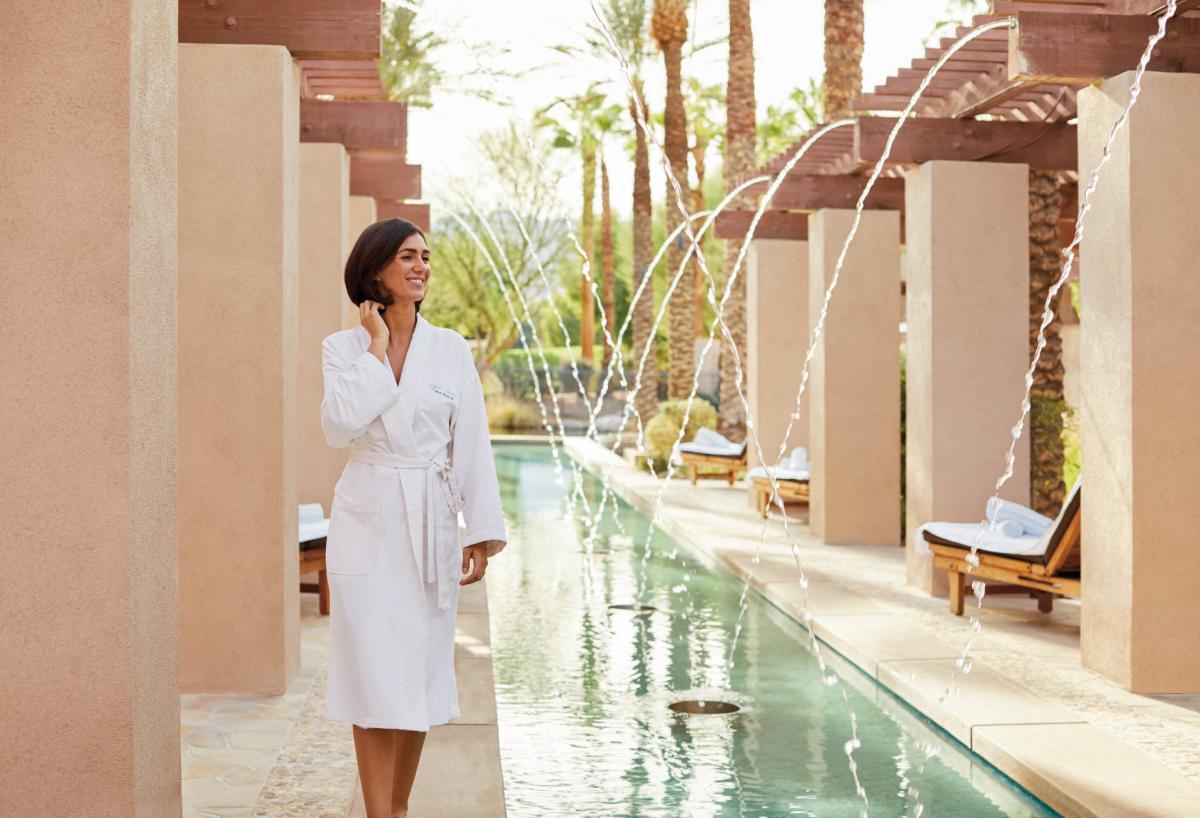 Greater Palm Springs has many resorts, and many spas, for that matter. All of them boast noteworthy services and surely Agua Serena Spa rises toward the top of the list. You're stepping into ultimate wellness here, so it's your time to rejuvenate. The spa offers a large variety of services for both individuals and couples.
Several that piqued our interest include the Desert Hot Stone Massage (50 or 80 minutes), which is a unique relaxation massage with hot stones designed to melt away muscle tension. Stone placement on specific parts of the body can ease and alleviate stress.
The CBD Massage is therapeutic. Whether you're an athlete or not, this massage will have your muscles feeling relaxed. Note: There's zero THC in this massage.
The Mother-to-be Massage and Couples Massage also stand out, as do the myriad service enhancements you can add to treatments, such as aromatherapy and hand and foot salt exfoliation, among others. 
If you get the Couples Connection Package—an 80-minute experience of pure bliss—you'll find yourself in a 30-minute Agua Serena Soak for two followed by a 50-minute Couples massage. Sublime. Note: The Agua Serena Spa with an outdoor patio and reflection pool is top-notch. And the Agua Serena Spa and Fitness Center features private movement and wellness sessions. Unforgettable.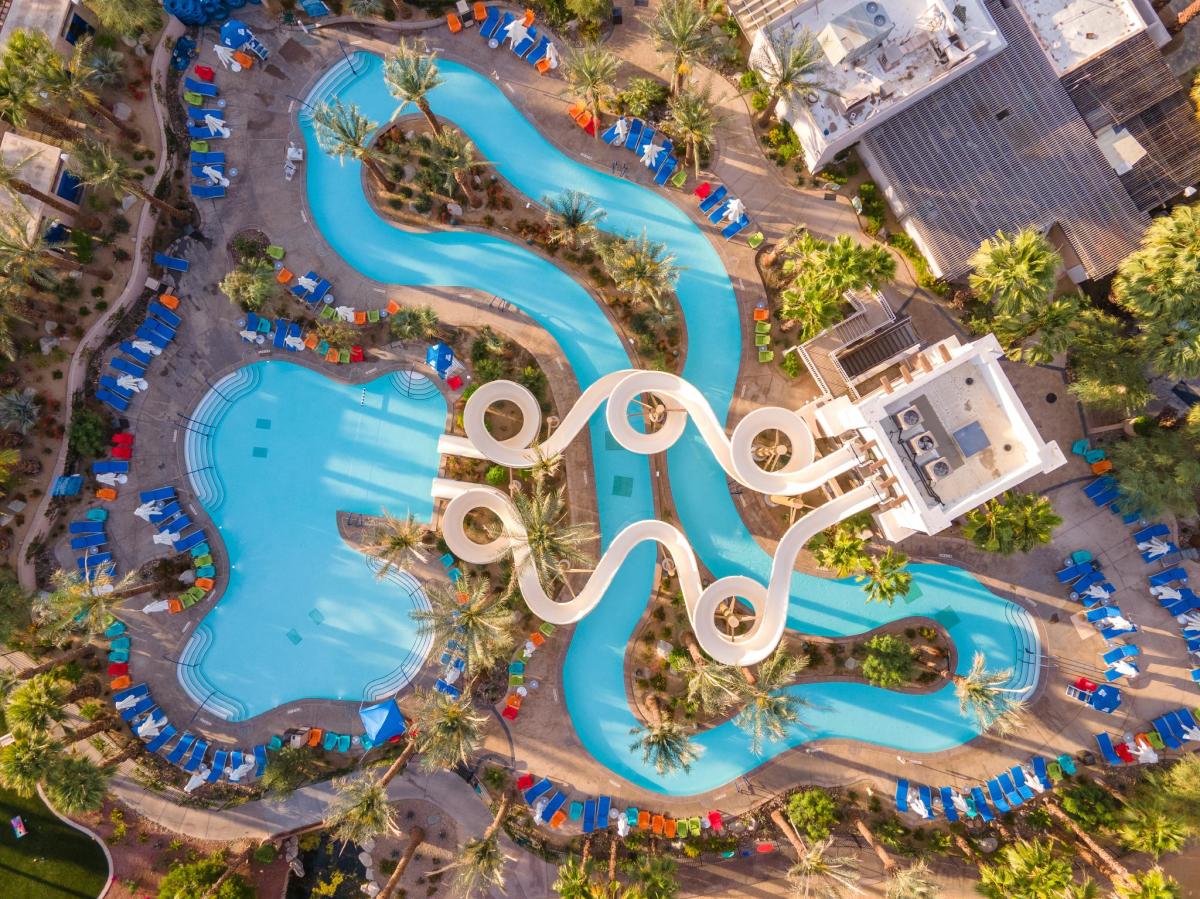 Water options abound on the property. In fact, you'd be hard-pressed to find other resorts that offer as much as Hyatt Regency Indian Wells Resort & Spa does. There are nine temperature-controlled pools, including one for adults only. And surely the kids—and even adults—will appreciate the site's relatively new water park with its inventive splash pad, lazy river, and dueling water slides. That's right—two slides. Kudos to the resort for offering something for everybody here—from "Hey, let's just chill" to "how about a real water adventure." Inspired planning any way you spin it.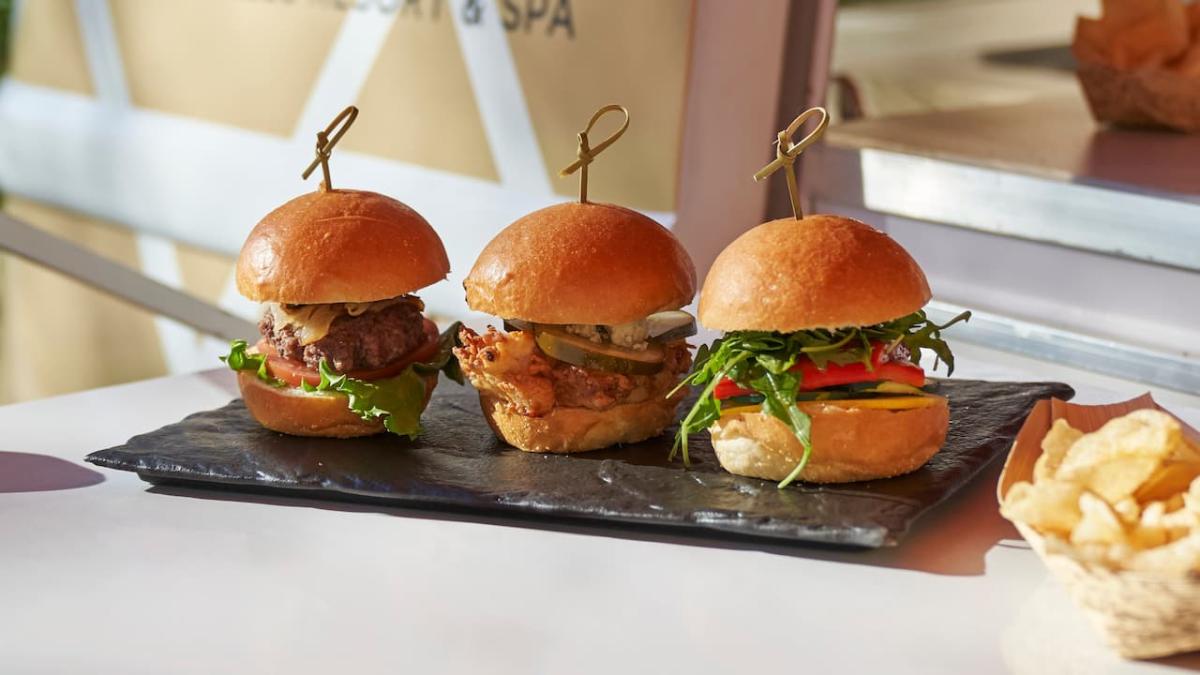 There are plenty of culinary options to choose from Hyatt Regency Indian Wells Resort & Spa and all of them feature remarkably inspired and expertly prepared food. Roadrunner Café is ideal for lunchtime needs, and the café is perfectly adjacent to the main swimming pool—talk about convenient. Try the roasted pineapple skewers or Roadrunner Nachos. Sandwiches, flatbreads, and unique salads round out the menu.
Then there's Agave Sunset, ideal for midday breaks. The bar and lounge offer lighter fare, such as sandwiches, personal pizzas, and more. But head here for happy hour, where desert-inspired cocktails, craft beers, and the resort's private-label Agave Sunset tequila, created by Herradura, especially for Hyatt Regency Indian Wells Resort & Spa, is downright unforgettable. Weekly live entertainment is also featured here, and this is a big dining hotspot for sunsets.
Meanwhile, The Citrus Marketplace and Café is located right off the lobby and its deli items and gift shop items are for really guests on the go. There's a coffee bar here, too. Overall, variety stands out with the resort's dining options.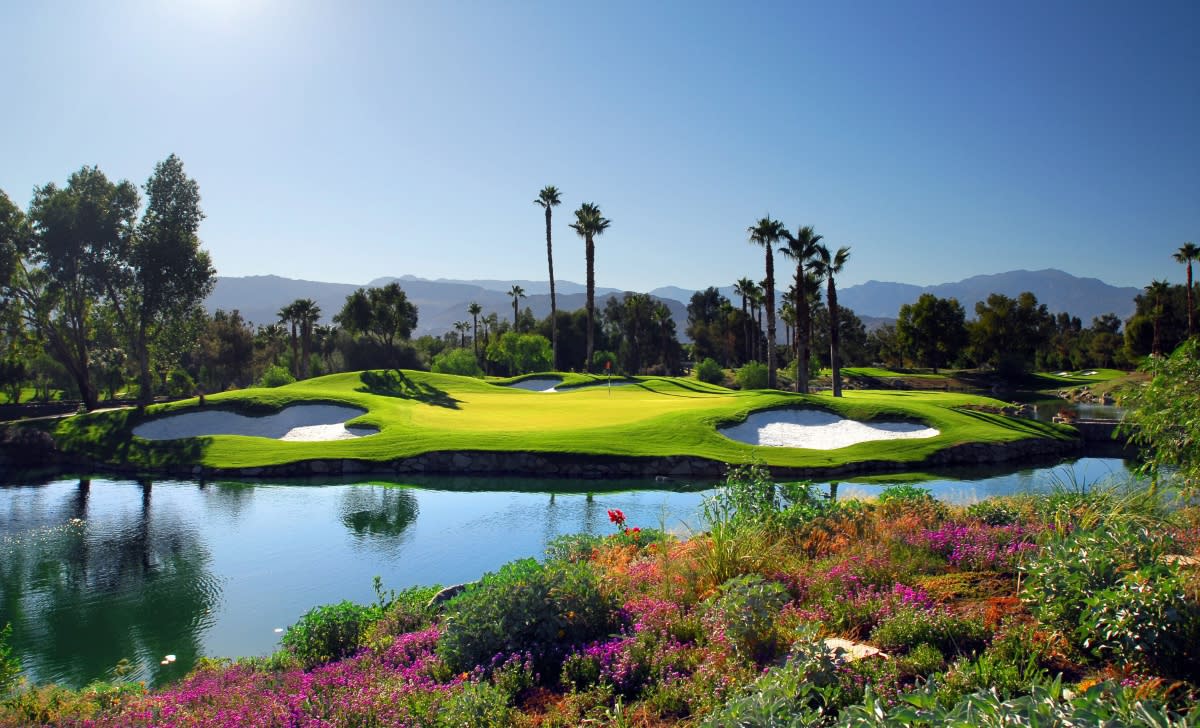 You can't go wrong with access to the stellar 36-hole course featured under the umbrella of Indian Wells Golf Resort—the course allows access from guests at three other resorts within walking distance of the greens. Golf here is some of the finest in Greater Palm Springs, with the Clive Clark's Celebrity course standing out—it served as the site of the LG Skins Game in 2007-'08. There's also the John Fought's Player course with its incredible bunkering. The day will be full all around. Note: There's a Shots in the Night perk which allows after-dark fun with a groovy laser-fueled Putting Experience powered by Nextlinks and the Glow Golf Range.
Tennis, anyone? Between adult and junior clinics, and personal instruction—and much more—you can swing for free in any of the three tennis courts.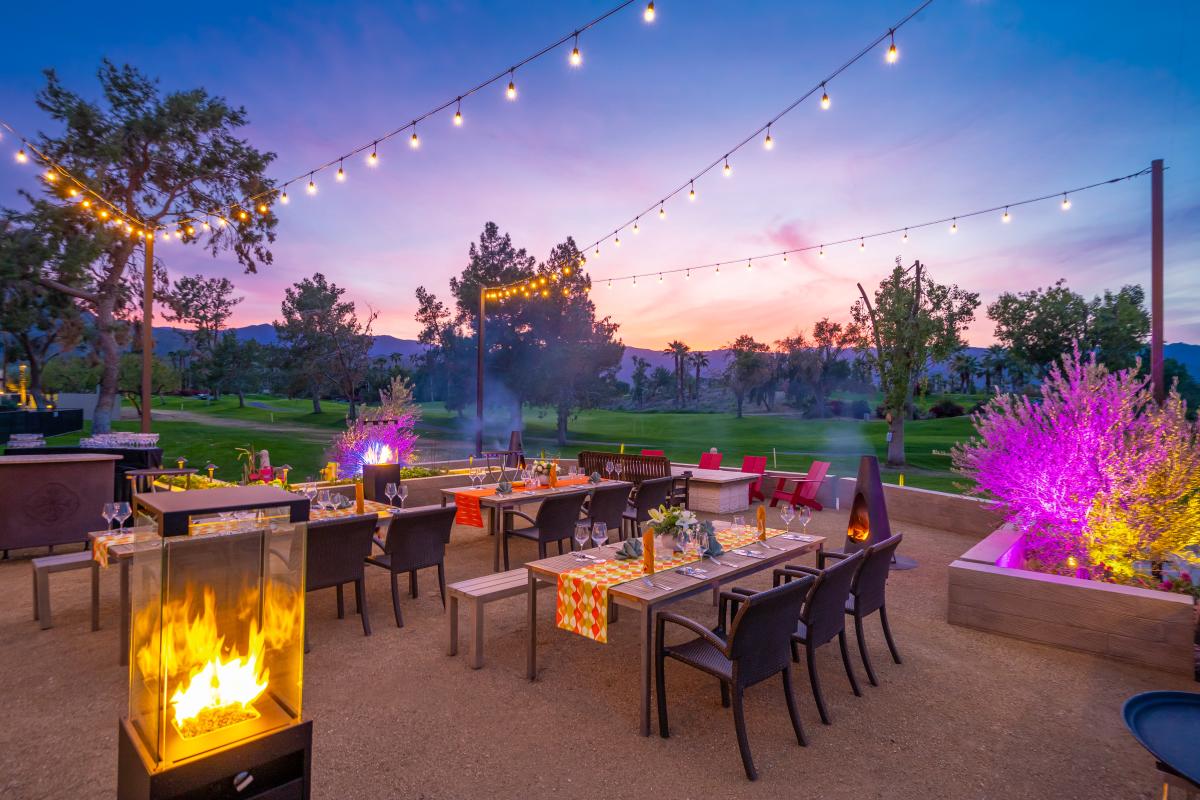 The newly completed Fireside Garden is the perfect location for your next meeting, event, or wedding reception. Surrounded by breathtaking views of the mountains and lawns, the Fireside Garden offers expansive private space with family-style dining tables, lounge seating, a fire pit, and an outdoor chef's oven perfect for any event. The Fireside Garden is ideal for anyone looking to plan an outdoor event with serene views and with nearly 350 days of sunshine, this venue will elevate your dining experience for rehearsal dinners, welcome receptions, and day-after meeting brunches. 
Dreaming of your next vacation to paradise? Start planning your getaway to the Hyatt Regency Indian Wells Resort & Spa.