Whether it's the quiet calm of trickling water or the low light and hushed voices, spas make you feel relaxed the moment you walk in the door. A quality spa treatment isn't just a way to help de-stress: it's good for your overall well-being and may have health benefits, too.
Greater Palm Springs has no shortage of beautiful spas, and this spa oasis environment is perfect to wind down and relax in.
You could have a basic massage or a mani-pedi, but if you're visiting Greater Palm Springs, why not indulge in some of the unique spa treatments available only here?
Desert Hot Springs Spas
Two Bunch Palms
Treatment to Try: Mud Bath, Angel Reading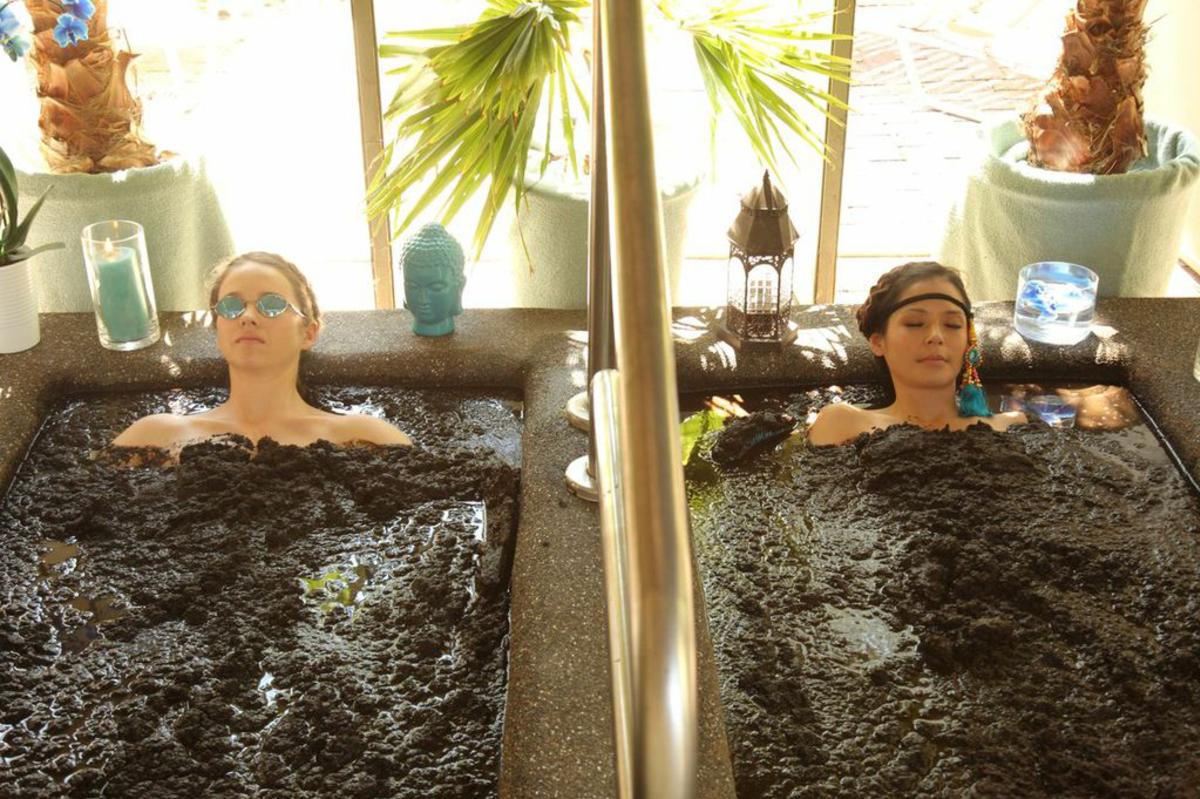 Two Bunch Palms offers one of the most renowned spas in the Palm Springs area. The upscale spa features numerous traditional treatments, including water therapy and massage. The spa also does hypnotherapy, spiritual counseling, and Angel Readings, where you can get spiritual guidance and interpretation from your personal guardian.
The Mud Baths here are iconic. You'll spend 20 minutes soaking in clay and peat moss, which promises deep relaxation and moistened skin. Follow it up with an Ayurvedic massage in which two therapists work on you simultaneously.
The Spring Resort and Day Spa
Treatment to Try: Clay & Sandalwood Wrap, Immune Boosting Buff
The Spring Resort and Day Spa offers typical spa treatments like facials, manicures and pedicures, a sauna and massages. For something a little more interesting, request the 90-minute Clay and Sandalwood Wrap. The wrap treatment uses warm clay and sandalwood to make your body feel like it's in a "warm cocoon," allowing it to relax and release harmful toxins. Another treatment called the Immune Boosting Buff uses exfoliation and a lymphatic massage with a relaxing rosemary body glaze.
Sea Mountain Nude Resort and Spa
Treatment to Try: Nude Therapy, Tandem Massage
The Sea Mountain Nude Resort and Spa is a unique spa for "open-minded adult women and couples."
As the name suggests, most people in many areas of the spa and resort will be nude, so plan accordingly.
"Nude therapy" began in the 1930s and has continued to gain followers since. Practitioners feel that being naked is the ultimate in comfort and greatly increases relaxation. Plus, you can get more Vitamin D at the resort, and many claim that nudity can improve sleep and skin health.
The Swedish massages and mineral water showers are two of the most popular services offered at the Sea Mountain Nude Resort and Spa, but another signature treatment is the Tandem Massage. Two therapists massage away your cares and those of your companion so you can enjoy the ultimate in relaxation together (laws require the massage therapists to be clothed and proper draping to be used).
Indian Wells Spas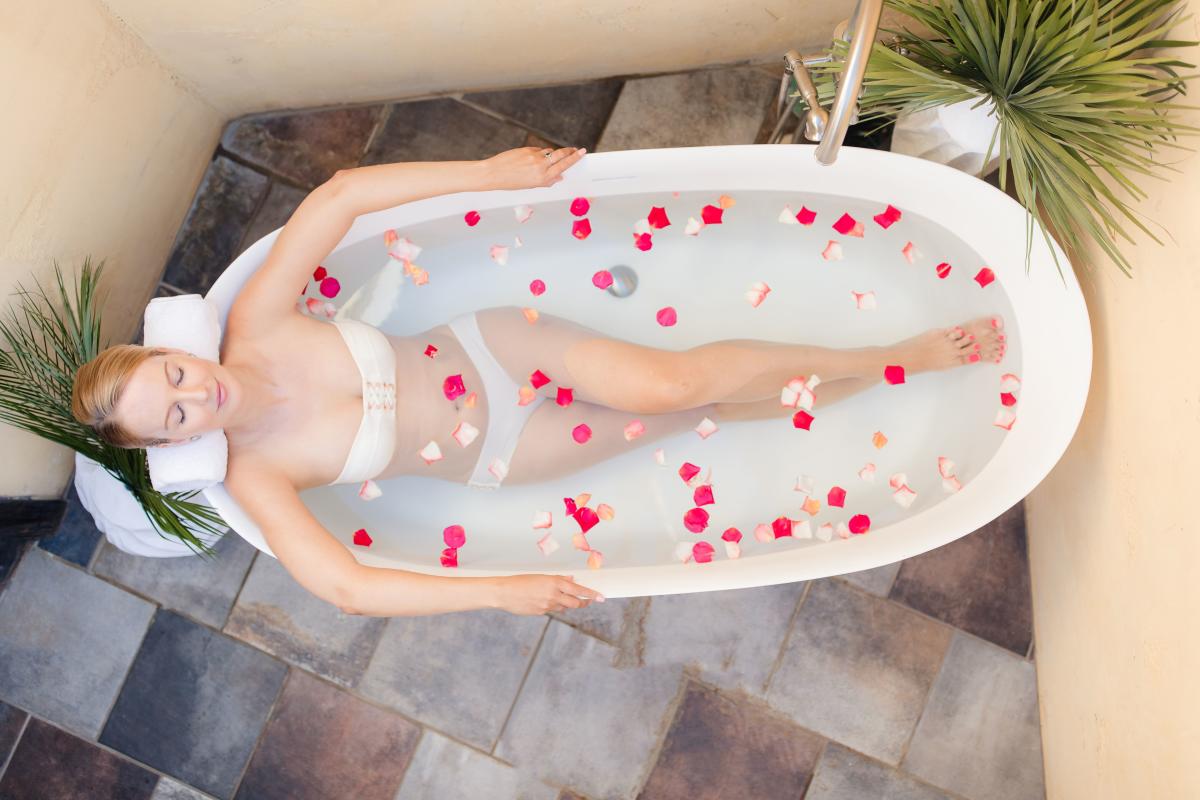 Image provided by Miramonte Resort & Spa.
Well Spa at Miramonte Resort & Spa
Treatment to Try: Rise and Shine Scrub
Inspired by lemon trees at The Well Spa at Miramonte this signature treatment will uplift your spirits while restoring the luster of dull skin. A citrus blend, shea butter and sugar granules gently buff away dead skin cells leaving your body perfectly polished and hydrated.
La Quinta Spas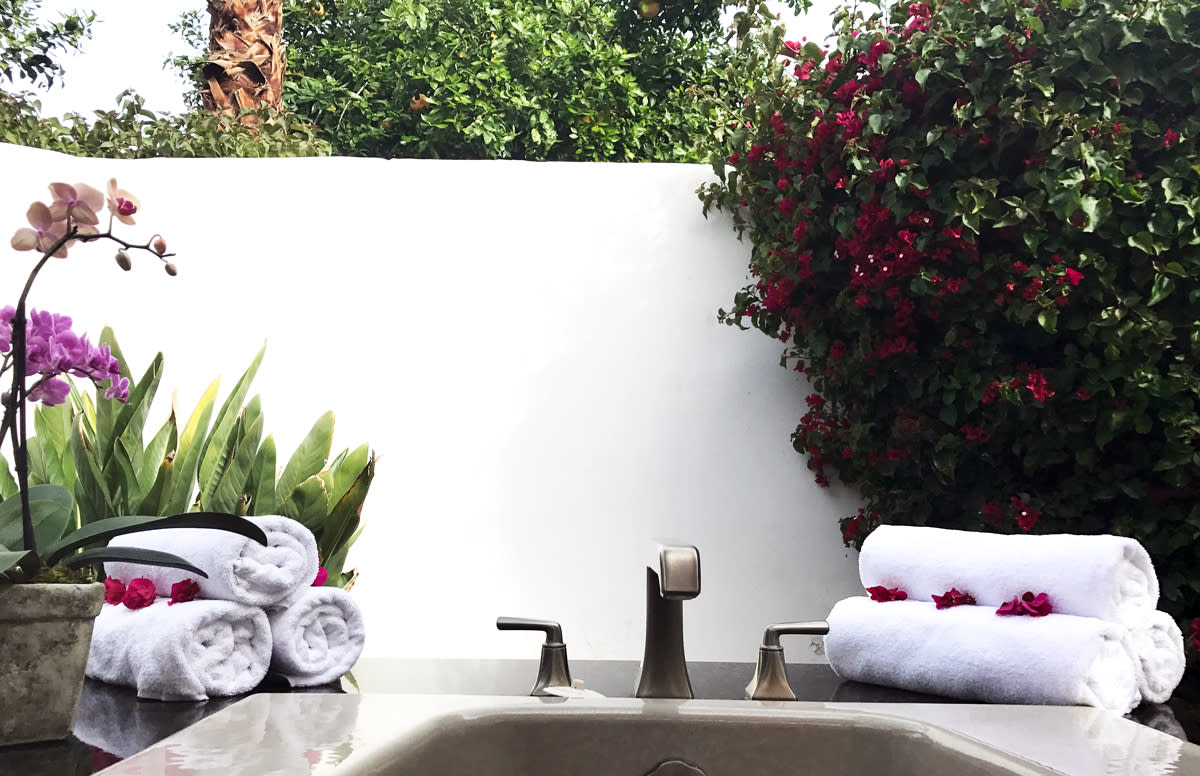 Spa La Quinta at La Quinta Resort & Spa
Treatment to Try: Dog Massage
Do you travel with your furry best friend? Enjoy the ultimate in relaxation together at Spa La Quinta, where you can schedule a massage with your dog. Indeed, you can book yourself an in-room massage and get one for your dog, too. After all, why shouldn't your pooch get pampered while you do? 
The resort is very dog friendly and offers numerous services and extras for pet lovers like food and water bowls and plush pet beds. It's a great choice if you like to travel with a canine companion.
Palm Desert Spas
Spa Desert Springs at JW Marriott Desert Springs Resort & Spa
Treatment to Try: Moor Mud Ritual, Date Scrub
The Spa Desert Springs at JW Marriott Desert Springs Resort & Spa offers several different treatments for rejuvenation and relaxation. This luxurious spa has an top notch full-service salon as well as a yoga studio. There's also a VIP area for visitors who demand privacy.
The spa offers herb treatments and something called the Moor Mud Ritual. This treatment is based on the European belief that mud can pull impurities and toxins from the body, and spas in California typically use local volcanic ash and other minerals in their mud baths.
Another treatment to try uses locally harvested dates and citrus in its body scrubs. Scrubs exfoliate the skin and draw out impurities and the Marriott's signature body therapy, the Desert Journey, is another local treatment inspired by the "scents of the desert in bloom."
Venus- The Healing Arts Center
Treatment to Try: Salt Table treatments, Salt Cave therapy
At Venus- The Healing Arts Center, you can experience halotherapy, also referred to as salt therapy. The spa offers a couple of different treatments where salt forms the basis for relaxation and healing.
Salt therapy fans report that sessions relieve pain, improve breathing, reduce depression and anxiety and treat skin conditions. Treatments are likened to enjoying fresh sea air.
Venus- The Healing Arts Center offers the healing touch therapy of Reiki, as well as reflexology and scalp treatments, all on a bed filled with salt.
You can also try their salt cave. This involves lounging in a comfortable space that has been infused with tiny particles of medical-grade salt. The spa says visitors have experienced relief from skin conditions like dermatitis, acne, eczema, and psoriasis, and have felt a reduction in symptoms from allergies, asthma, and other respiratory issues; even snoring has been abated, visitors say.
Rancho Mirage Spas
Ritz-Carlton Rancho Mirage
Treatment to Try: Cooling Body Therapy, Indigenous Desert Clay Wrap
The Ritz-Carlton in Rancho Mirage offers several unique spa experiences. To beat warm weather, try their Cooling Body Therapy, where your therapist will wrap you in a chill aloe vera wrap or "cocoon" that soothes, moisturizes and repairs your skin. This is a perfect choice if you've gotten a sunburn during your visit. It finishes off with a foot massage for the ultimate in relaxation.
If you'd like to enjoy a truly desert experience, the Indigenous Desert Clay Wrap uses healing desert clay to detoxify your skin and reduce inflammation. The treatment starts with a body brushing, then moves on to the clay wrap. With facial acupressure and a scalp massage, you'll be renewed and relaxed.
The Spa at Westin Mission Hills
Treatment to Try: Honey Massage, Honey Hydration Body Wrap
The Spa at Westin Mission Hills has its very own apiary and raises bees that provide the resort with fresh, local honey. The honey and beeswax are used in treatments at the spa, including a Honey Massage that uses a mask of warm beeswax to re-balance the body's energies. A soothing, restorative massage follows.
The Spa at Westin Mission Hills uses that same local and sustainable honey to make a body polish that it uses in its Honey Hydration Body Wrap and in its Body Scrubs.  Honey has hydrating properties but the light, luscious scent is also sure to relax your senses.
Looking for more ways to unwind in Greater Palm Springs? Check out more health and wellness in Greater Palm Springs here.
Featured image by Miramonte Resort & Spa.