It may be the music that drives fans to the Coachella Valley Music and Arts Festival, but the food and drink line-up deserves top billing as well. After all, the provisions roster is carefully curated so festival-goers of all types can find the perfect fare and refreshments to compliment their musical experience. 
Are you the type that runs between bands and needs something quick and easy before your next artist stop? Spicy Pie it is. Or, do you prefer to relax and fully enjoy a meal? Then a sit down wine dinner sounds like more your speed. In addition, kiosks, food booths and pop-up restaurants are scattered throughout the festival grounds to provide sustenance.
Plus, do not forget about the Speakeasy with tasty craft cocktails which changes location each year. Half the fun is figuring out where it is. 
Here is your ultimate foodie guide to great eats and drinks during Coachella and how to make the most of your music festival experience.
 
Indio Central Market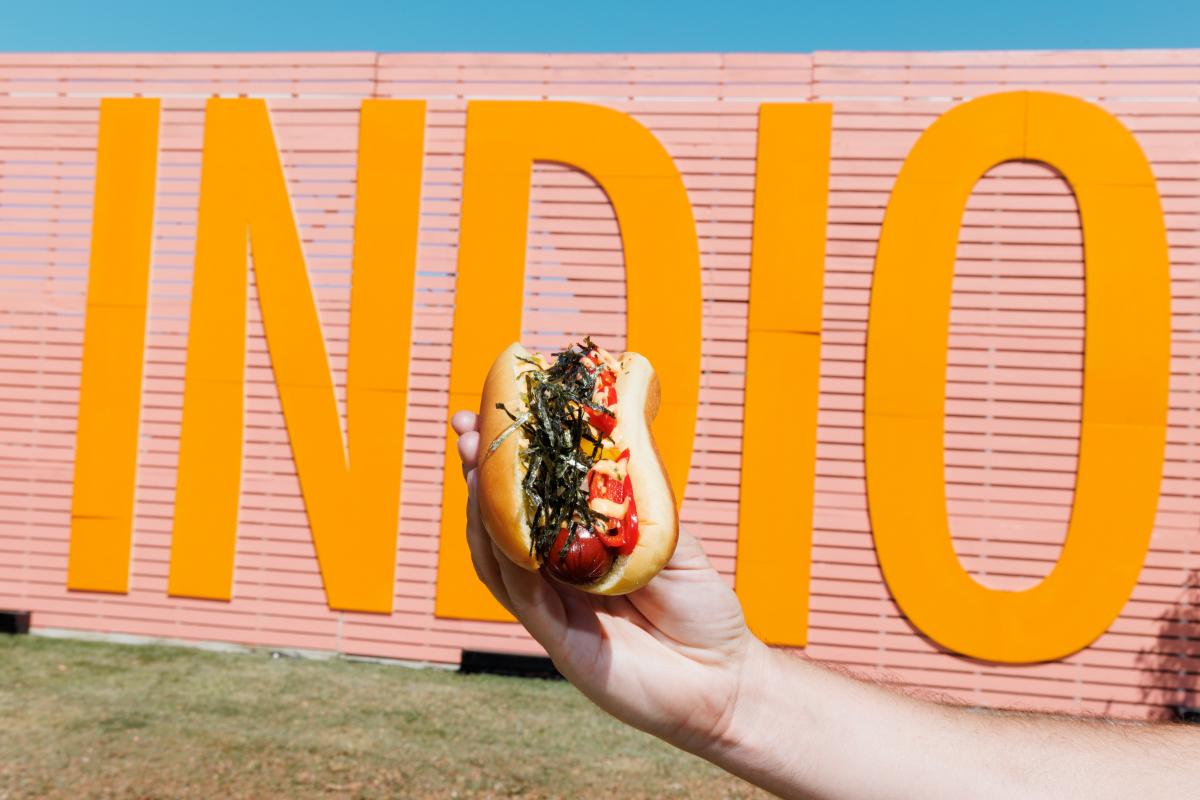 The great thing about Indio Central Market, is it is open to all, so you do not need a VIP wristband to get in and the variety of food is phenomenal. 
Indio Central Market is located under a huge tent, so it's also a great place to chill and enjoy tasty treats from savory to salty. 
Indio Central Market food options include: 
Bun B's Trill Burgers: The burgers here are smashed and delicious, earning a "Best Burger in America" title in 2022 by Good Morning America. 
Ramen Hood: This vegan Ramen place has hot and cold options, plus spicy togorashi Tater tots.
Kogi: It's known for its Korean short rib taco, will serve up its Korean BBQ fries. 
McConnell's Fine Ice Creams: Everyone at Coachella will be screaming for scoops of their creamy, made-from-scratch ice cream with vegan and gluten-free options. 
Cena Vegan: Your staple Mexican street food options made with plant-based meat. 
Indio Central Market drink options include: 
The New Bar: A non-alcoholic bar featuring cocktails, wines and beers, except without the alcohol and perfect for mocktail lovers. 
 
VIP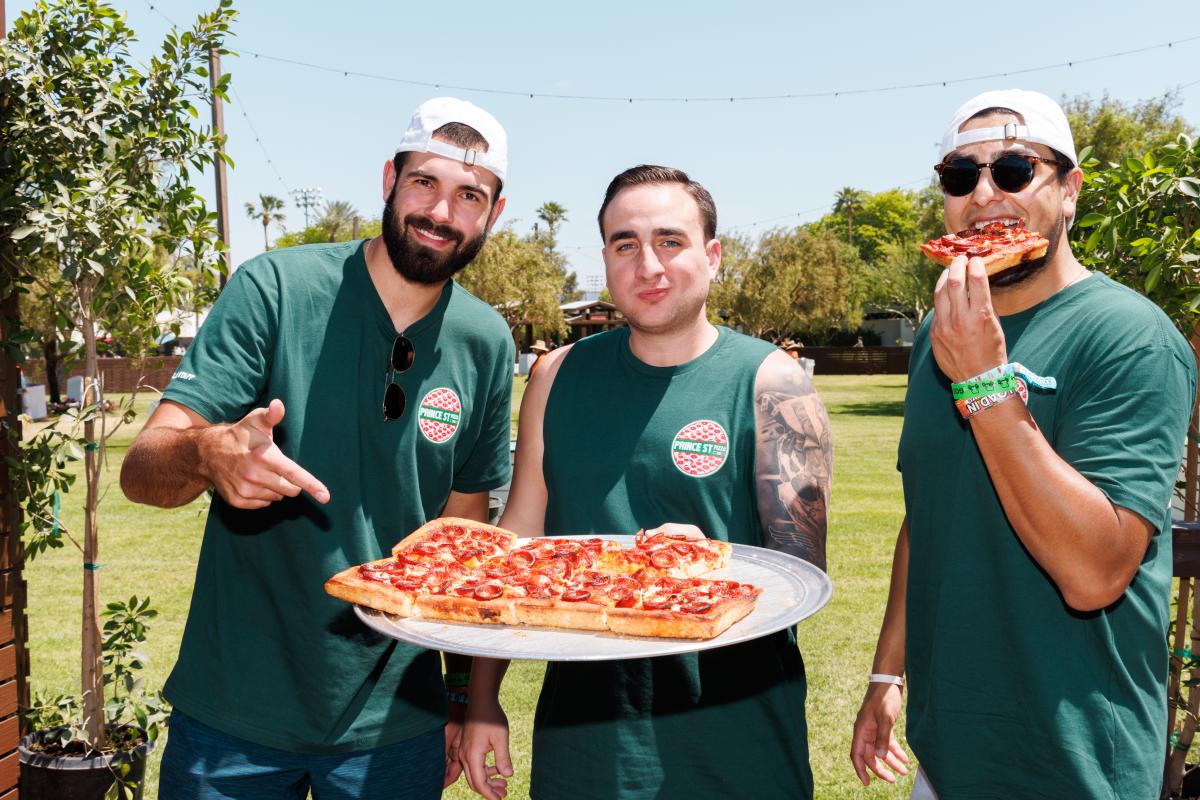 It costs more to have access to the VIP sections, but the amenities, including an impressive array of vendors helps make the price tag worth it. 
VIP food options include: 
Prince Street Pizza: Forget the pie shape. This place serves up New York and Sicilian style pizza in square slices.
Slab: Just as you would guess, it is all about slabs of barbecue served Texas style. 
Sweetfin: Poke bowls and burritos perfect for those who prefer vegan and vegetarian options.  
Mirate: Ingredient-driven Mexican food that melds tradition with a modern flair.  
Alfalfa: A healthy menu of options from salads and breakfast burritos to even doughnuts. 
Post + Beam: California cuisine offering items like pizza, fried chicken and grits.  
My Lai: Modern Vietnamese cuisine known for their BYO (build your own) bowls full of delicious goodness.  
VIP drink options include: 
Bar Flores: Known for their tequila and mezcal margaritas and other fresh and fancy cocktails. 
Delilah: Sit back and relax on lounge-style seating with bottle service. 
Menotti's: Indulge your caffeine fix here with coffee standards, cold brew, nitro and espresso.
 
Craft Beer Barn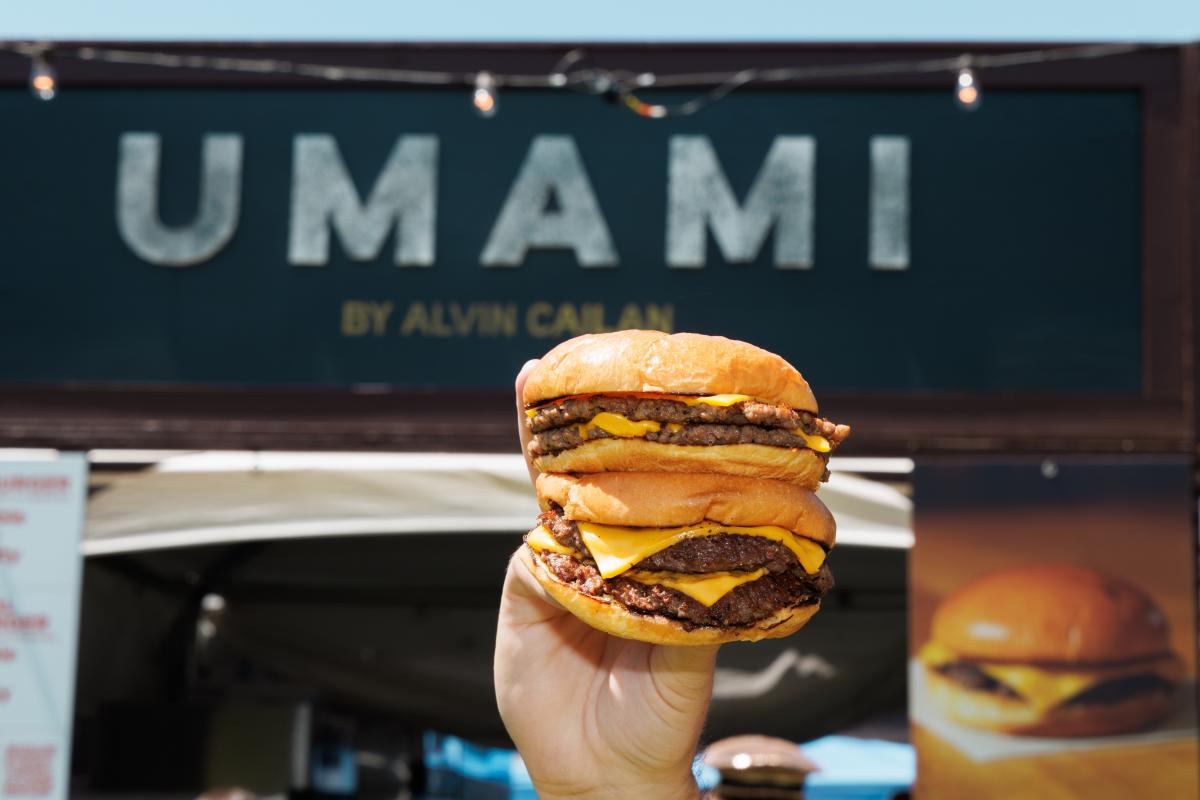 The Craft Beer Barn is a great home base if your group needs a centralized location to meet after heading out in different directions. 
There are tables and places to charge up for your phone. So you can relax, get your phone back to 100 percent and grab some grub while you map out your next move. 
Beer Barn drink options include: 
Beer:  The list is impressive. There is everything from IPA's to satisfy the light drinkers to stouts for the beer connoisseur who likes a little heft in their stein.
Pro tip: Do not feel the need to stop at the first line you see. Walk through to the back of the barn, those lines tend to be shorter. 
Best Friend by Roi Choi: If it is anything like his Las Vegas joint, then it's liquor, beer, wine and items from his Kogi food truck.
Beer Barn food options: 
Sumo Dog: Japanese inspired hot dogs with an array of toppings that look so eye catching, you do not want to bite into them.  It is a good dilemma. 
Ggiata: An Italian-style deli that serves up a mean-looking Chicken Parm sandwich. 
Around the Grounds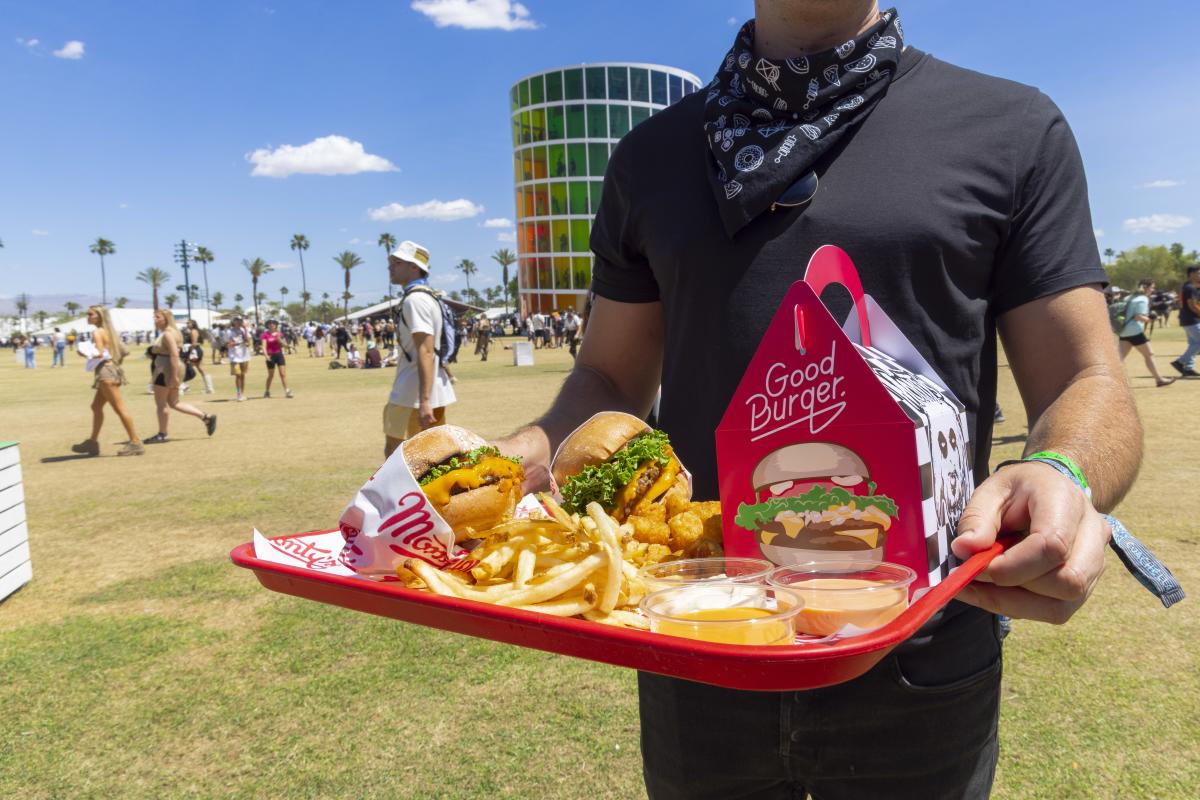 Scattered throughout the festival grounds are numerous food booths and pop-up restaurants, so you are never too far from loading up on carbs or grabbing a healthy treat. 
What is food without that perfect drink to wash it all down? That is why there are carefully curated places all over to sip while eating, or sip while dancing and enjoying the festival experience.  
General food options include: 
Sushi by Scratch: This Sushi Speakeasy by Chef Philip Frankland Lee delivers a 16 course sushi dinner paired with saki. If you want to eat here you need to make reservations and look for the hidden red door.  
Monty's Good Burger: A plant never looked so juicy and good. This place serves up 100 percent plant-based cheeseburgers and more. 
Hattie B's: Like your chicken with some heat? This place serves up Nashville "hot chicken" at varying levels of heat - from mild to Shut the Cluck Up.  
Hawkins House of Burgers: Touted as "The Best Burger in Los Angeles." You will just have to try and see for yourself.  
General drink options include: 
Wine Down Oasis by Kim Crawford: Grab a crisp glass of Sauvy B (Sauvignan Blanc) and take fun photos in the "Dance in the Bubbles" and "Glow in the Breeze" photo experience. 
Kreation: An organic juice bar that serves cold pressed juices and smoothies. 
PDT (Please Don't Tell): Known for its creative and unpretentious cocktails that are just as tasty as they are pretty. 
Sonny's By Attaboy: Serving slushy cocktails from a "Miami Vice" inspired bar located in a secret location inside shipping containers. Check it out if you can find it. 
The Cabin: Inside the mini mountain cabin you can find top-shelf craft cocktails on tap.
Absolut.Land: Absolut cocktails and music combine to create a party within a party.  
Outstanding in the Field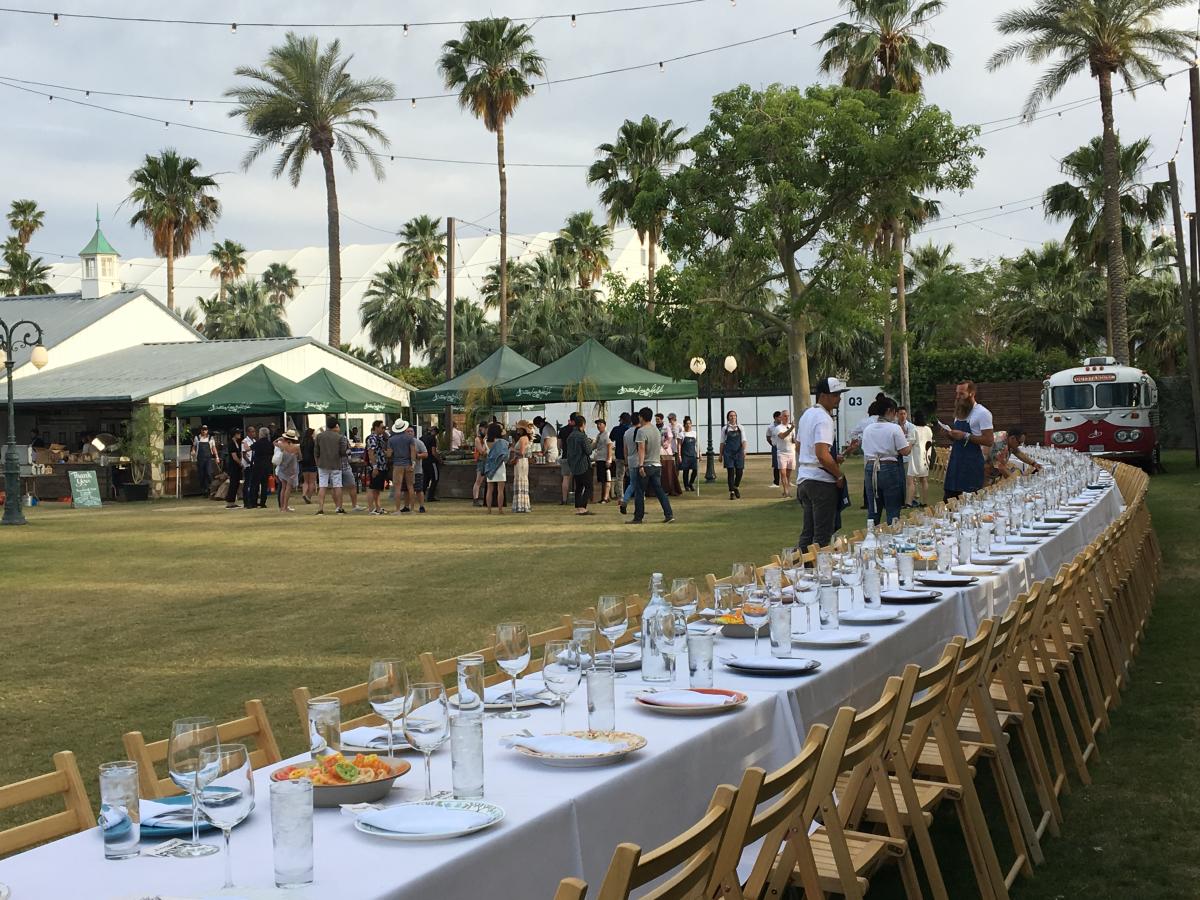 This upscale and chic four-course wine and beer dinner is a must if you are a fan of world-class dining, unlimited beer and wine, and meeting new people.
There is only one seating per night, starting at 6 p.m. As soon as you enter you're handed a welcome cocktail before you make it to your seat at the 200-person table that weaves through the rose garden like a snake. 
The menu each night is prepared by a different chef renowned in the culinary world. The Outstanding in the Field line-up for 2023 includes: 
Before you decide on which day to attend, be sure to check out the Coachella music schedule, so you're sure not to miss your favorite act that might be on stage at dinner time. The family-style meal is an experience in itself and long after it's over will likely provide lots of great stories to share with your friends who weren't able tot make it.  The ticket price also gets you access to the Rose Garden VIP the day of the dinner so be sure to take advantage of the VIP perks. 
Photo Credit: All images in this blog are provided by Coachella Valley Music & Arts Festival and Goldenvoice.