From sand dunes to salt flats, Death Valley National Park is home to all kinds of breathtaking desert landscapes. The best time to visit is between October and April, as temperatures soar above 110 degrees from June to August. At 3,422,024 million acres, Death Valley is the largest national park in the lower 48 states. No matter what your point of entry (or your budget), there are plenty of fabulous lodging and dining options in and around the park.
Furnace Creek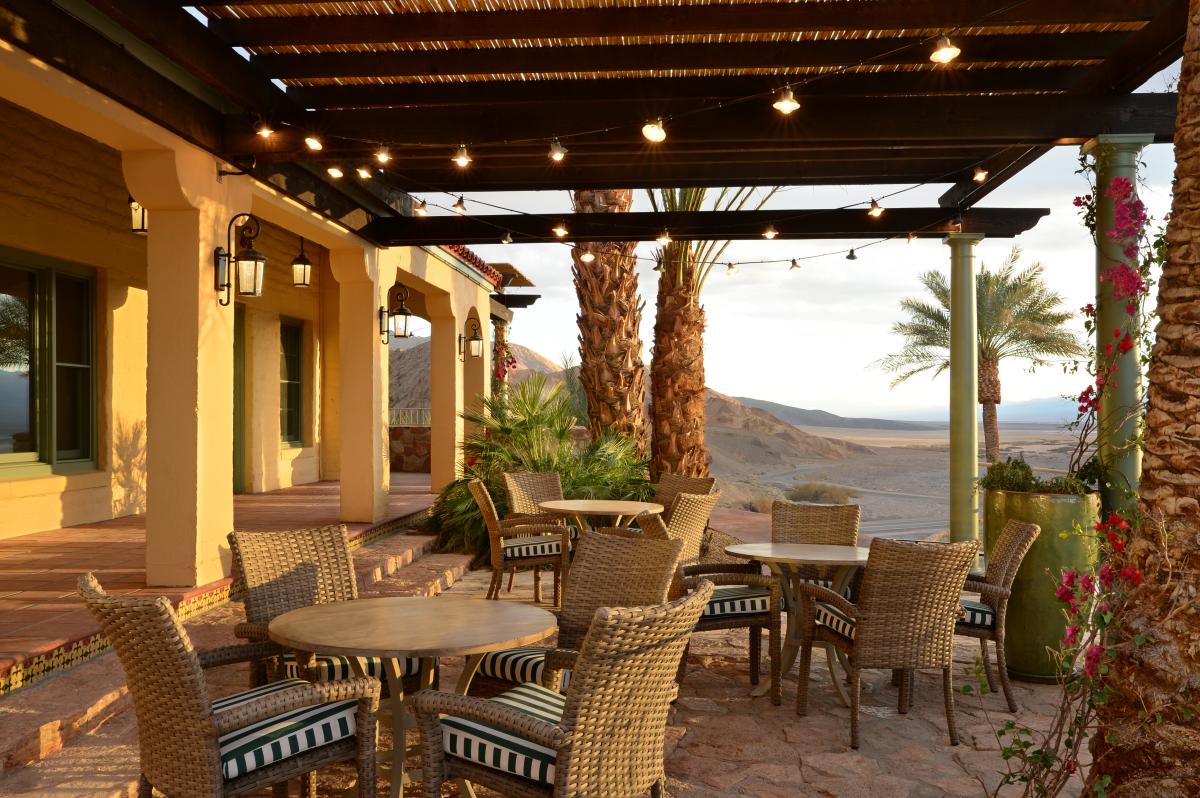 Images courtesy of Xanterra Travel Collection
Located in the heart of the park at Furnace Creek, the Oasis at Death Valley is home to two different lodging options; the Inn and the Ranch. The AAA-rated four-diamond Inn at Death Valley (pictured above) has 66 hotel rooms and 22 casitas, and from fine dining to a spa, the historic property offers unparalleled luxury. The spring-fed pool is a balmy 87 degrees year-round, and with date palm gardens and stone patios, there are plenty of outdoor spaces to enjoy. The recently renovated Ranch at Death Valley has 224 rooms, and guests can expect a more casual, family-friendly atmosphere here. In addition to easy access to the pool, sports courts and playground, The Ranch offers horseback and carriage rides, plus Jeep rentals.
The 1849 Restaurant is open for breakfast, lunch and dinner, with a rotating array of buffet options, including breakfast entrees, baked goods, fruit, a salad bar, hot entrees and desserts. The Dining Room is open for breakfast and dinner, the latter of which is a more upscale dining experience. Looking for craft cocktails, like a prickly pear margarita? The Last Kind Words Saloon has all kinds of beverages, plus pub food like wings and sliders. For folks craving a late morning latte, an ice cream sundae or a burger and fries, the retro-inspired Ice Cream Parlor is just the spot. The General Store also has plenty of snacks, and if you're in a pinch and need gas, there is a fuel station here as well.
Stovepipe Wells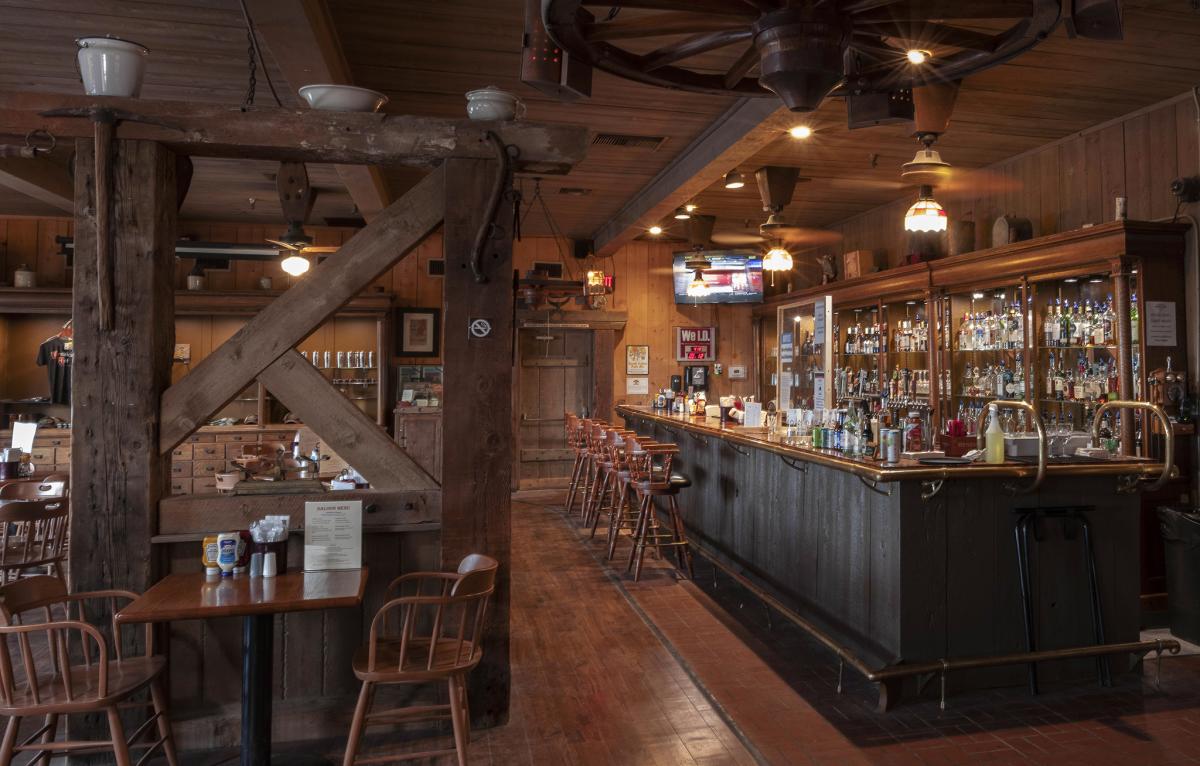 Stovepipe Wells Village sits in the center of the park along State Route 190, and it offers lodging, dining, a general store and a gas station. The hotel and eateries are across the street from the Stovepipe Wells ranger station and campground, and the village is just two miles from the stunning Mesquite Flat Sand Dunes. The Stovepipe Wells Village Hotel has 83 rooms, several of which offer views of the dunes and mountains, while others open into the historic courtyard. During the warmer months, the outdoor pool is a popular spot, as are the rocking chairs on the general store deck. The Stovepipe Wells Campground features 190 sites that run $14 each, with an electronic payment kiosk conveniently located at the entry.
The Toll Road Restaurant has fare like salmon, pork chops, mushroom pasta and even a black bean burger as a vegetarian option. The adjacent Badwater Saloon (pictured above) has a more casual atmosphere and a small selection of pub food, but the quality is exceptional. The Frenchie, an Angus beef patty with brie, arugula, caramelized onions and garlic aioli sauce, is not only the best burger in Death Valley, but one of the best in all of Southern California.
Panamint Springs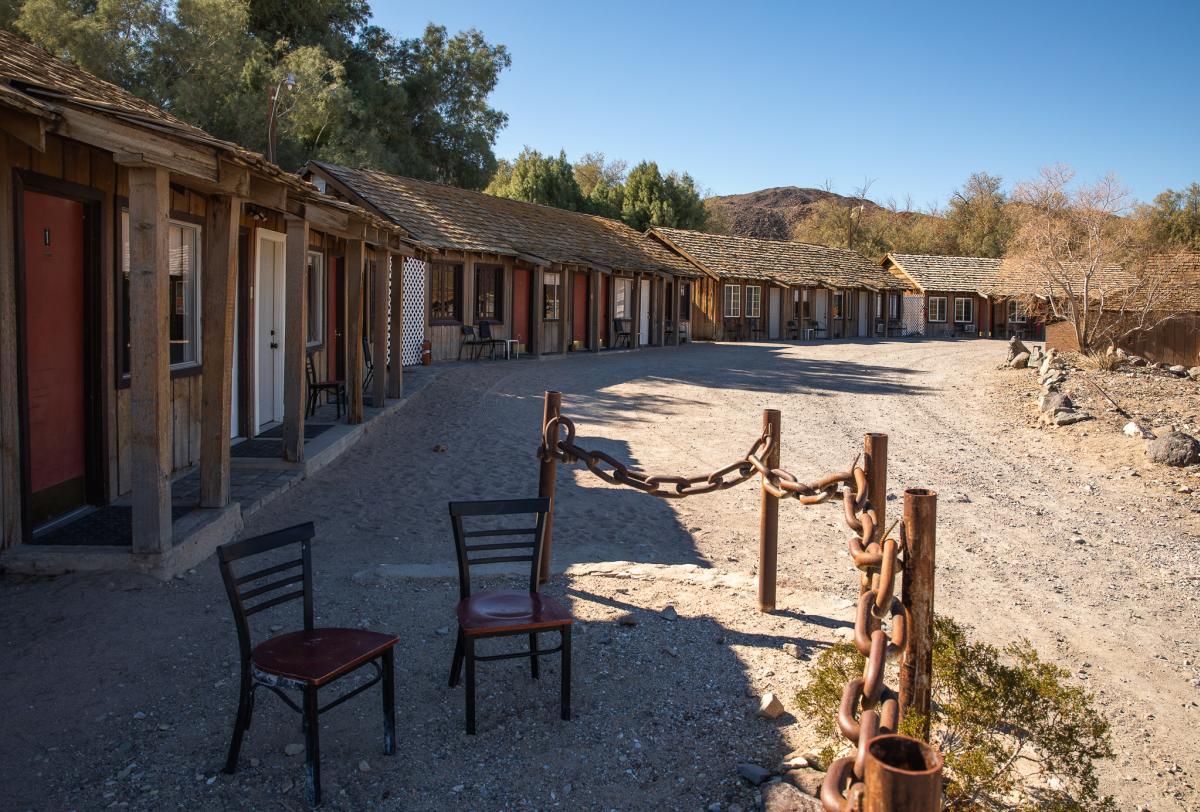 Located inside the western edge of the park along State Route 190, Panamint Springs Resort is a rustic property offering lodging, camping, a restaurant and a general store. In addition to motel rooms, cabins, a cottage, tent cabins and tent camping sites, the resort has six sites with full RV hookups and over two dozen dry RV sites with no hookups. Showers are included for those staying in the campground or tent cabins, and all campsites have fire pits. The on-site restaurant has a lengthy menu that includes salads, chili, burgers and pizza, with indoor and outdoor dining areas. The eatery is currently open Monday through Thursday for lunch from 12 p.m. to 2:30 p.m., and for dinner from 6 pm to 8:30 pm Friday through Sunday they are open from 7:30 am to 8:30 pm.
Lone Pine

Lone Pine is a one-hour drive from the park's west entrance, and this charming mountain town is the gateway to Mount Whitney, the tallest peak in the contiguous United States. The Whitney Portal Hotel & Hostel is one of the top-rated hotels in town, and it offers a handful of traditional rooms, plus dorm-style accommodations for groups seeking a more budget stay. The property also has a gift shop with souvenirs, snacks and last-minute supplies for local visitors, along with public shower access.
If you're looking for a hearty breakfast in Lone Pine, swing by the Alabama Hills Cafe and Bakery, which has all kinds of scrambles and omelettes, plus breakfast burritos, French toast and pancakes. The cafe, which is open seven days a week, also has an extensive lunch menu, and be sure to order one of their homemade deep-dish pies. For a quick bite, Lone Star Bistro has breakfast sandwiches, daily fresh doughnuts and delicious lattes, and their sandwiches are some of the best in town. There are a handful of dinner options, but Seasons is a favorite among locals and visitors alike, with fare like French onion soup, tomato basil pasta, steaks and a mouth-watering dessert menu. Seasons is open from Tuesday through Saturday from 5 p.m. to 9 p.m., and reservations are recommended.
Tecopa
Thirty minutes south of Death Valley Junction is Tecopa, which is known for its hot springs. Delight's Hot Springs Resort offers nearly two dozen unique lodging spaces, including cottages and upgraded trailers, and the 40-acre property also has an RV park with electrical, sewer and water hookups. Of course, the main attraction is the four hot mineral soaking pools on-site (pictured above), which are regulated to temperatures between 102 and 104 degrees. Nearby Tecopa Hot Springs Resort is home to a 12-room motel, four primitive cabins and a campground with full RV hookups. Guests have access to the property's three private hot spring tub rooms, which are available on a first-come, first-served basis. Cabin and campground guests have access to two of the pools, which are open 21 hours a day, but closed every afternoon for cleaning.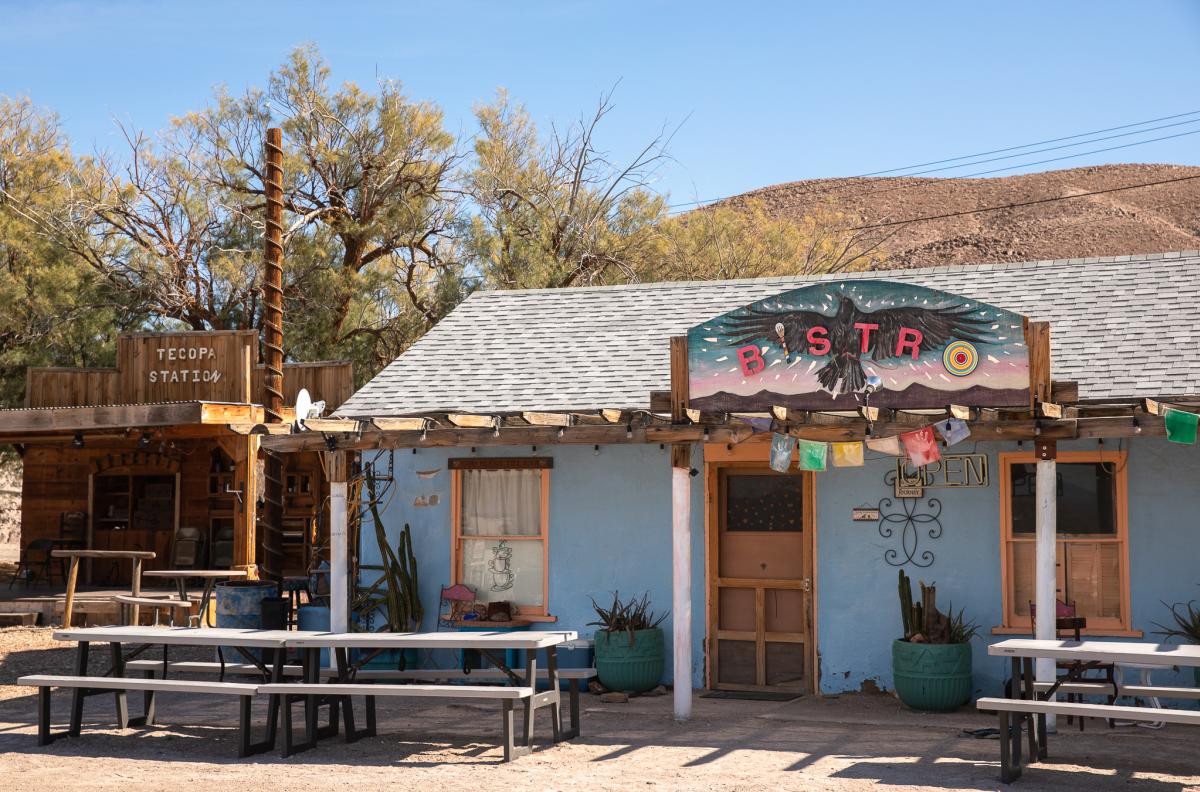 The Tecopa Bistro is another excellent option, with breakfast choices like scrambles, pancakes and breakfast burritos, and a dinner menu that includes burgers and tacos. Breakfast is served at the Bistro Sunday, Monday and Thursday through Saturday between 8 a.m. and 11 a.m., and dinner is served Thursdays between 6 p.m. and 8 p.m., and Friday and Saturday between 6 p.m. and 9 p.m. Delight's is also home to the Tecopa Brewing Company, and while the menu is small, it's mighty. In addition to beers brewed on-site, the fare is a mix of western-inspired cuisine like pulled pork sandwiches, ribs, chili and fresh-baked cornbread. Hours are Monday from 12 pm to 8 pm, Thursday from 3 pm to 9 pm, and Friday through Sunday from 12 pm to 9 pm.
Shoshone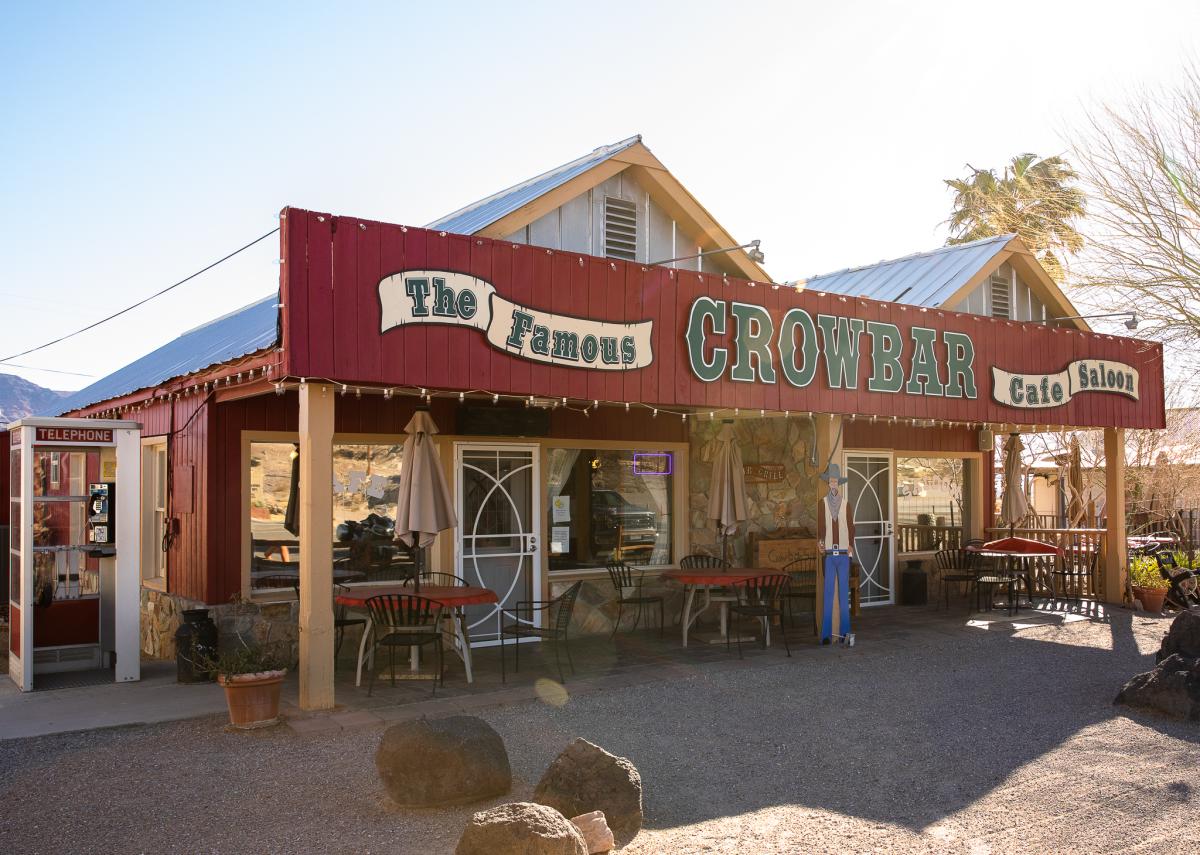 Ten minutes north of Tecopa on State Route 127 is the Shoshone Inn, which features a hotel, a campground and a warm mineral pool. The Shoshone Inn has 17 rooms, five of which have kitchenettes for extended stays. The campground, which is adjacent to the pool and a block down the street from the hotel, has 25 full hook-up sites for RVs, plus a laundromat and showers. The Crowbar Cafe & Saloon, which is right across the street from the hotel, offers classic diner breakfast options, plus sandwiches, salads and tacos for lunch. From 4 p.m. to closing time, the menu includes items like Santa Fe chicken and grilled vegetables served with their famous cactus salsa. The Crowbar Cafe & Saloon is open Wednesday through Monday from 8 am to 9:30 pm, and closed on Tuesdays.
For more suggestions for things to do in Death Valley National Park, check out the Visit California website.