Greater Palm Springs has long been a haven for relaxation and rejuvenation—and the destination's accessibility, combined with breathtaking natural beauty, makes it the perfect place for remote workers in search of an escape from the everyday.
Many local hotels, resorts and vacation rentals offer unique and inspiring work spaces where you can get business done while also enhancing your well-being—preferably poolside.
"I've lived in big cities—like New York City and London—and Palm Springs has a slower pace while still being vibrant and offering a lot of social events," says Aimee DuFresne, an experienced speaker, clutter-clearing coach, and the author of Keep Going: From Grief to Growth.
DuFresne visited Greater Palm Springs and worked remotely for a time. Then she fell in love with the area and decided to move here. "The scenery and desert wildlife make remote working here unique," she adds. "The mountains provide a safe and calming backdrop, hummingbirds visit me while I write on the balcony and roadrunners and lizards roam around the neighborhood. All good elements."
Remote work was on the rise before the pandemic but after 2020, things shifted dramatically. According to the U.S. Census Bureau, nearly six in 10 (58 percent) working adults in America work remotely at least part of the time. By 2025, an estimated 22 percent of the American workforce (36.2 million people) will work remotely. That's an 87 percent spike from 2019 and earlier.
Whether you're looking for a change of scenery or hoping to get some work done on a family getaway, these Greater Palm Springs spots make remote work feel like play.
Hotels/Resorts
La Quinta Resort & Club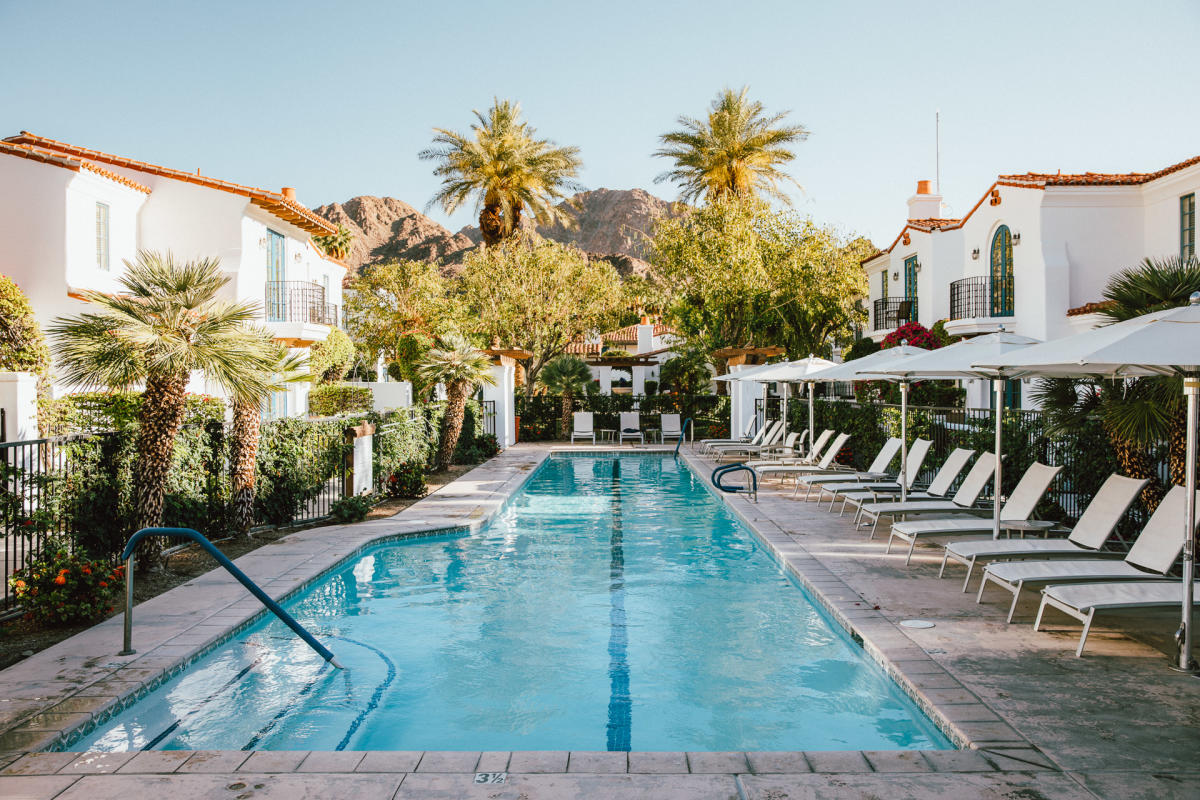 If you're going to dabble in spreadsheets and dive into Zoom calls during the day, why not do it in style? The revered resort's recent "Work Hard, Play Harder" campaign appeals to ambitious remote workers who are just as motivated when it comes to enjoying their downtime. With 41 pools on 45 lush acres nestled at the base of the Santa Rosa Mountains, this secluded oasis is a worthy option. Beyond its spacious rooms and private patio enclaves—perfect for propping up a laptop—the resort features a spa and a stellar fitness center (yoga break, anyone?) as well as several on-site restaurants. Golf lovers will appreciate five different courses to choose from, including the popular Jack Nicklaus Private Course at PGA West. Kids activities are offered during the day, so you can bring the whole family, too.
Information: 49499 Eisenhower Drive, La Quinta, 760-564-4111
Hyatt Regency Indian Wells Resort & Spa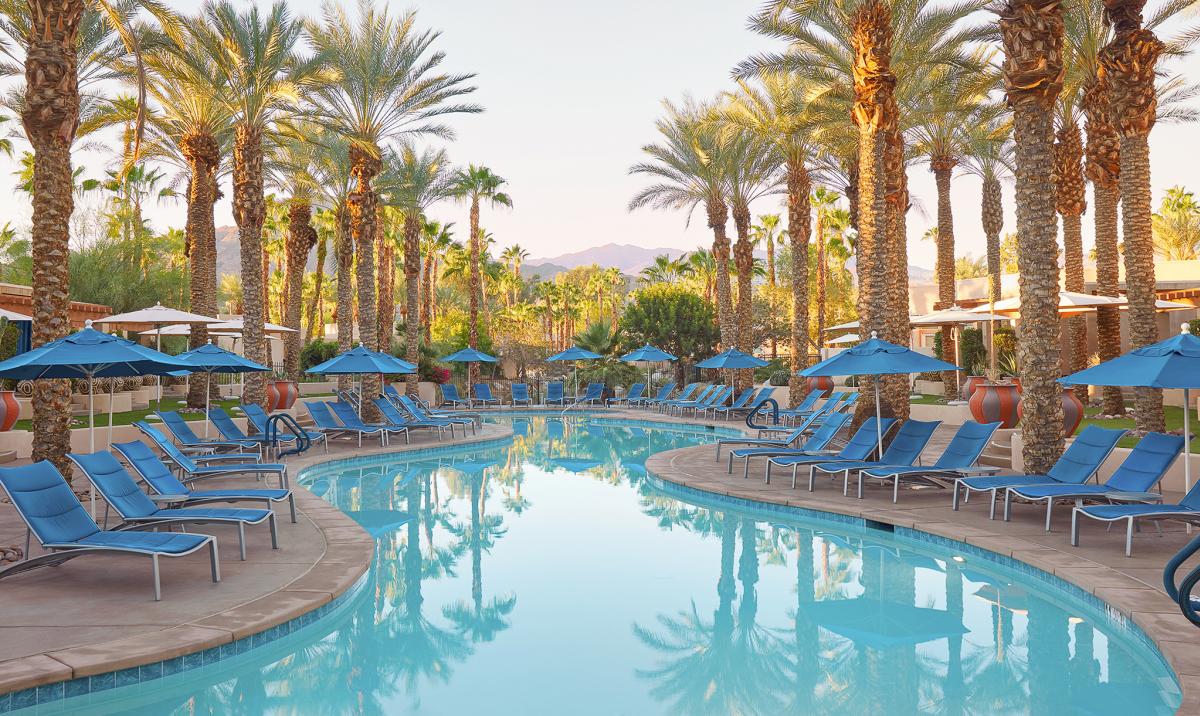 Transform your routine work day with the "Work from Hyatt" getaway package. The new lazy river, waterslides, outdoor spaces and suites will allow you to bring the family to work and soak up the downtime. Private work areas and high-speed internet allow you to feel focused and refreshed logging into work. Almost as refreshed, as the lazy river will have you feeling as you float under sun-kissed skies at the end of your Zoom calls. Book and stay between now and September 12, 2021.
Information: 44600 Indian Wells Ln, Indian Wells
Ace Hotel Palm Springs
Take a break from the kitchen table and Zoom backgrounds, and consider a change of scenery for your work day. Ace Hotel offers "Office Space" — a WiFi-equipped room stocked with water. coffee and perhaps a few vouchers for cocktails to end your busy work day. Utilize the room 8-to-5 for $125, or reserve half a day from 8 a.m. to 1 p.m., and spend the afternoon poolside in Palm Springs. Book with code STAPLER.
Information: 701 E Palm Canyon Dr, Palm Springs, CA 92264
Les Cactus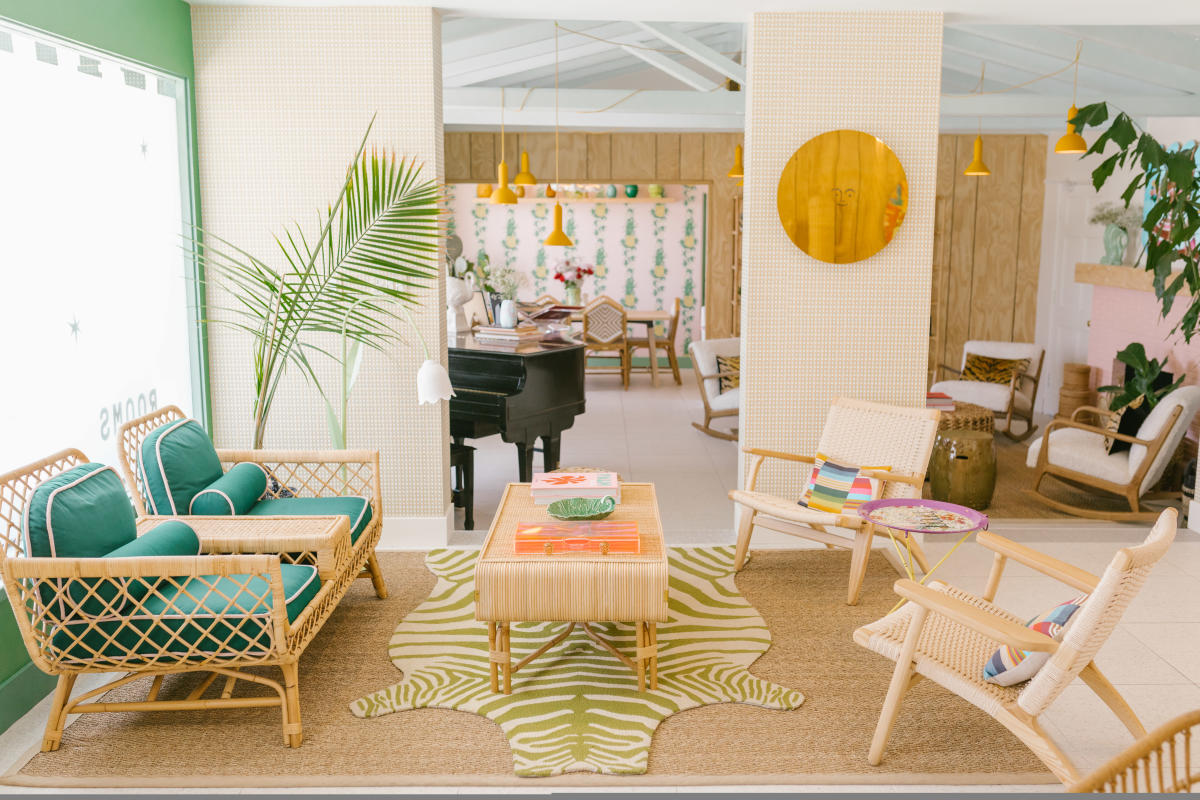 With a tagline that reads "Your Dreamy Desert Getaway," what's not to like? This imaginative 27-room, non-smoking hotel was named after the 1960s French rock song by Jacques Dutronc. The relatively new outpost, located in Palm Springs, was designed with furnishings that make guests feel, according to the owners, "as if they were staying at a good friend's home versus an unfamiliar or sterile place." Sleek, colorful and modern, it offers a communal kitchen and a sublime patio and pool area—perfect for early morning and late afternoon email blasts and work check-ins. Click on the Special Rates tab on the website and you'll discover a variety of room sizes to choose from—a good thing, especially for remote workers intending to stay three or more days. 
Information: 555 S. Warm Sands Dr., Palm Springs, 1-760-422-5500
Sands Hotel & Spa, Indian Wells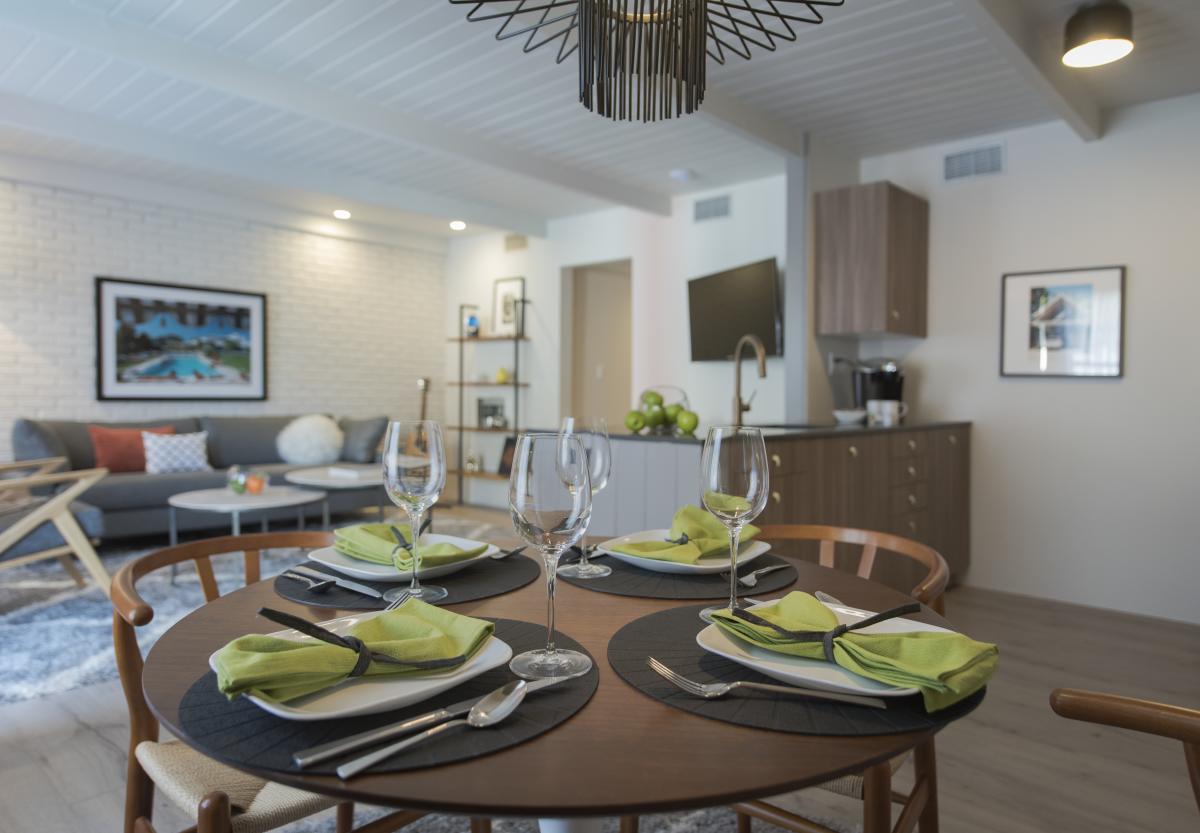 This recent Condé Nast "Hot List" destination wins points for its personality. Bold color combinations, tailored furniture and custom designs are lovely eye-candy here and inspiring for remote workers who would otherwise be staring at a drab cubicle wall. Cabanas adorn portions of the distinctive pool area, and the rooms themselves are both spacious and comfortable. One of the big perks here is the Martyn Lawrence Bullard–designed Moroccan spa, which offers a variety of signature massages, facials and body treatment, including couple's treatment rooms and a plush lounge for pre- and post-treatment. The Pink Cabana, an "ingredient-driven" Moroccan-influenced restaurant from celebrated Chef Jason Niederkorn, is also on-site. All these elements blend together to create a memorable place where you can work efficiently and then reboot with sheer joy. 
Information: 44985 Province Way, Indian Wells, 760-321-3771
The Weekend Palm Springs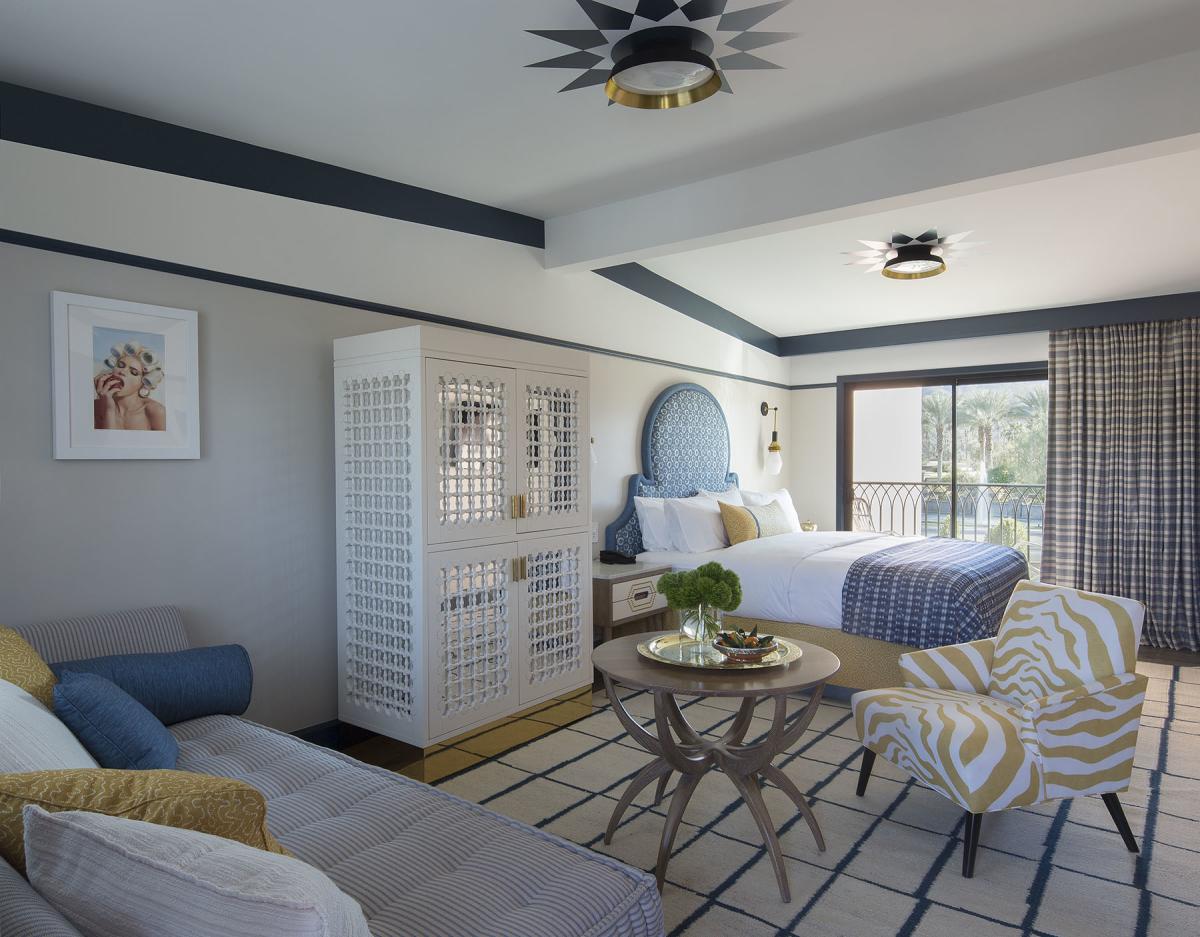 The stunning, midcentury modern boutique hotel wins points for its proximity to downtown Palm Springs, where a remarkable variety of shops and restaurants await after "work." Nestled in the historic Old Las Palmas neighborhood, this property features individual off-room patios with hanging chairs and loungers. The rooms and suites—several of which come with kitchenettes—offer plenty of space. Best of all, the poolside views are particularly hypnotic, evoking a sense of dropping by a neighbor's house for an impromptu "happy hour" right after shooting off that last work email. Divine!
Information: 111 S. Via Las Palmas, Palm Springs, 760-673-7092.
Vacation Rentals
Remote workers seeking larger spaces and, perhaps, longer stays can always consider renting a private vacation home. Palm Springs Preferred Small Hotels offers several options. Arrived is another unique portal where you can book stays specifically catered to your needs. Ultimately, the great thing about remote work is the flexibility—simply pack up your laptop, hit the road and enjoy the scenery.