The origins of the Bloody Mary cocktail date back to the 1920s, but the exact details surrounding its creation are up for debate. Some say that a French bartender named Fernand Petiot invented the concoction while working at the Harry's New York Bar in Paris, which was one of Ernest Hemingway's favorite haunts. The early recipe there was very simple, consisting of just tomato juice and vodka. Two other versions of the story attribute the drink to New York's 21 Club, with one claim crediting bartender Harry Zbikiewicz, while another said that comedian George Jessel, a frequent patron at the 21 Club, dreamt up the tomato juice and vodka combo.
The name may be a reference to Queen Mary I of England or some say it's named after the girlfriend of a Harry's New York Bar patron (the girlfriend's name was Mary), who worked at a cabaret called the Bucket of Blood, yet others say that it's derived from a mispronunciation of the name "Vladimir" (for Vladimir Smirnov of the Smirnoff vodka family, who was also a frequent guest at Harry's New York Bar). 
Regardless of its exact lineage, there's no question that the Bloody Mary is now cemented as a cocktail staple, with many riffs on the original basic formula. Greater Palm Springs has no shortage of spots serving excellent renditions. Here's a guide to help you find your favorites!
Holiday House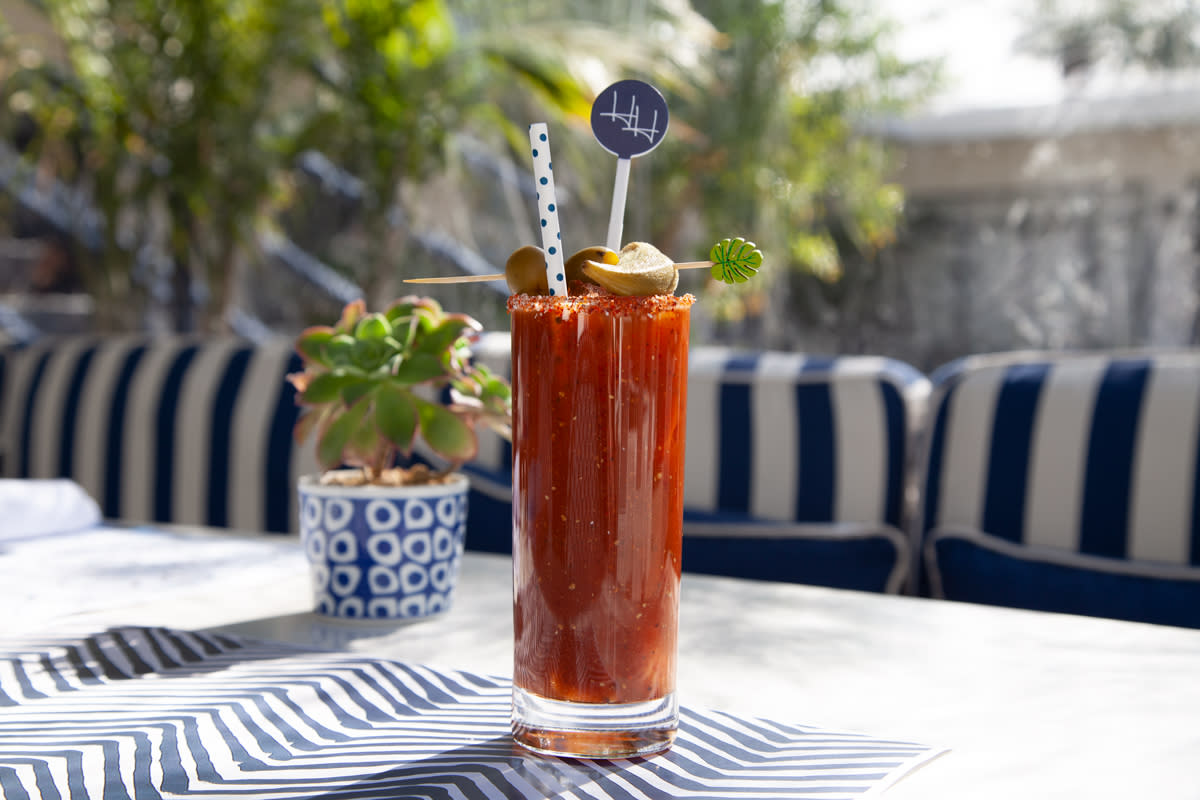 Holiday House Palm Springs
Take in the vibe of the patio at Holiday House Palm Springs — it's a perfect spot to enjoy one of their delicious Bloody Marys made with an excellent house-made mix, topped with olives and pickles.
Wilma & Freida
Wilma & Frieda, with locations in both Palm Springs and Palm Desert, also makes a great classic Bloody Mary using the owner's proprietary mix recipe, topped with lemon and lime wedges, a cucumber ribbon, green olive, cocktail onion, and a thick slice of bacon.
Sloan's Restaurant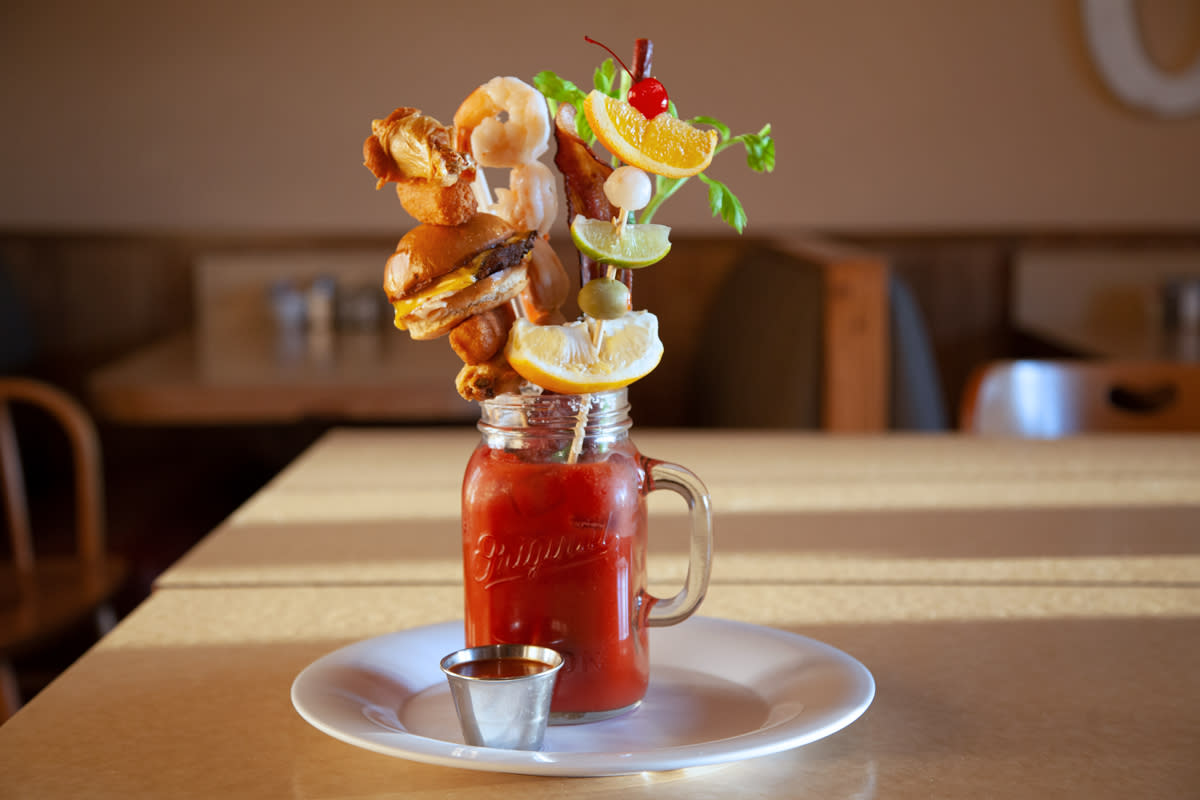 The Frankenmary at Sloan's Restaurant
The "Frankenmary" from Sloan's Restaurant in Indio is essentially a meal in a glass! The 32-ounce drink is served in a large mason jar mug, is topped with a cheeseburger slider, two fried mozzarella sticks, two chicken wings, grilled shrimp, asparagus, celery and other veggies, lemon, lime, orange, bacon and a Slim Jim. 
TRIO Restaurant
At TRIO in Palm Springs, you can choose from five varieties of specialty Bloody Marys, including the original TRIO Bloody, the Veggie Bloody, the Meaty Bloody, the Spicy Bloody, and a local favorite, the Shrimpy Bloody (Stoli gluten-free Vodka, Zing Zang, lime juice, Tabasco, A-1, horseradish, topped with two jumbo shrimp).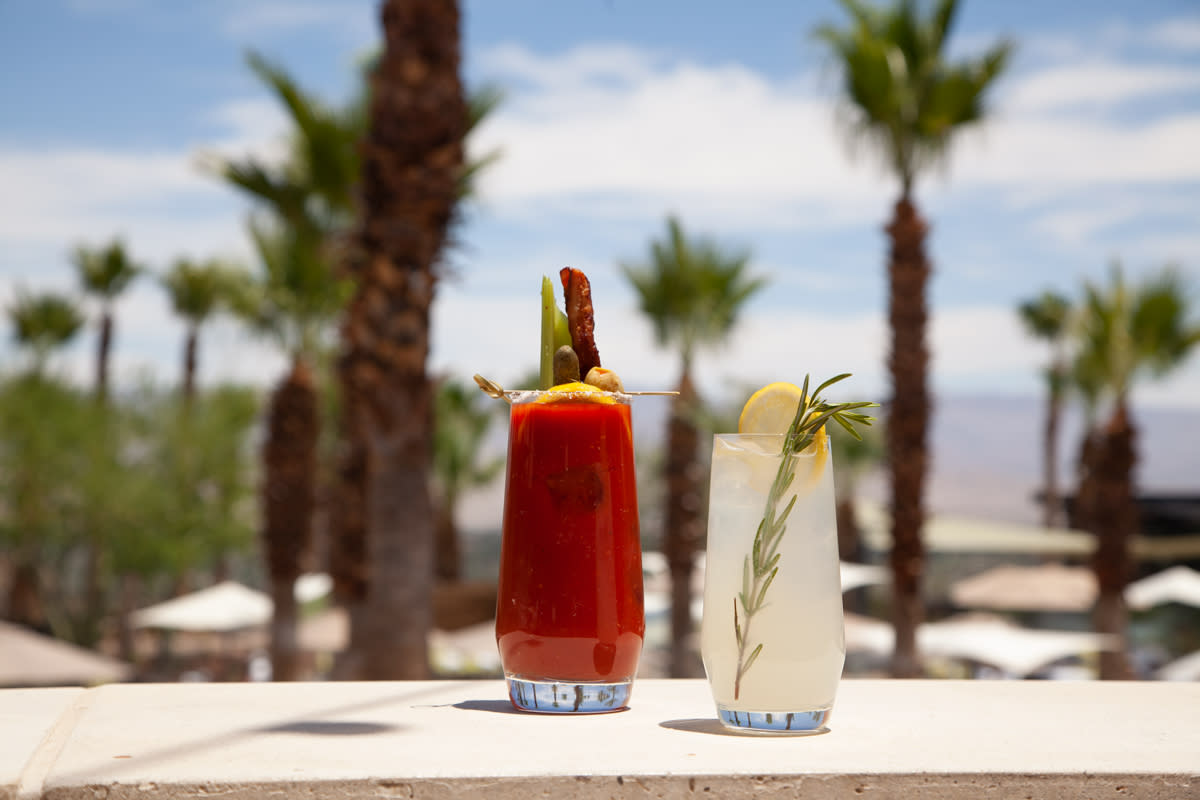 State Fare at the Ritz-Carlton, Rancho Mirage (SFB Bloody Mary shown with a Wolfskill & Pine cocktail)
The Ritz-Carlton, Rancho Mirage is a great place to enjoy your Bloody Mary with a killer view of the valley below! The resort's State Fare Bar + Kitchen serves the SFB Bloody Mary, which is made with bacon-infused vodka. 
FARM
FARM in Palm Springs is a great brunch spot, and if you are looking for a little extra kick, you can try their Bloody Mary including jalapeno-infused vodka!
Cheeky's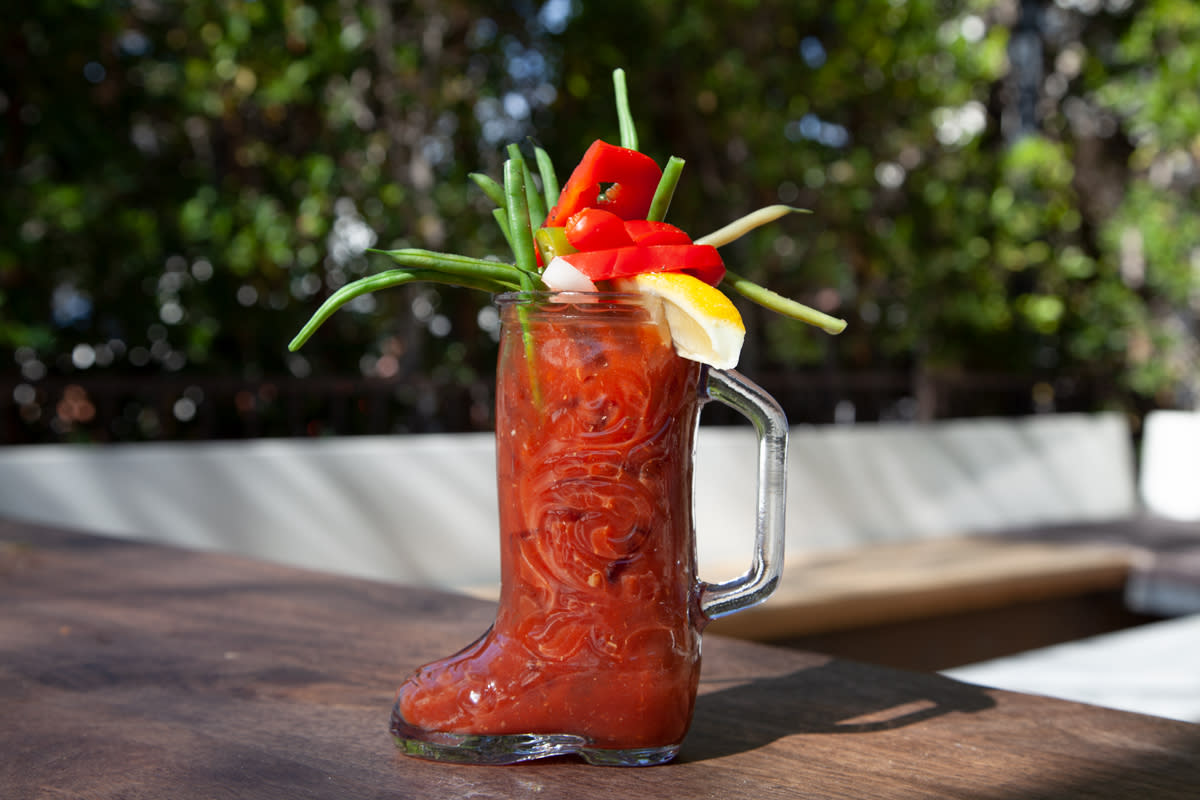 Cheeky's
If you're looking for an Instagram-worthy photo op that also tastes delicious, the Bloody Mary at Cheeky's will fit the bill. It's the perfect amount of spicy goodness, served in a cowboy boot-shaped mug and topped with tons of veggies. 
Eight4Nine Restaurant & Lounge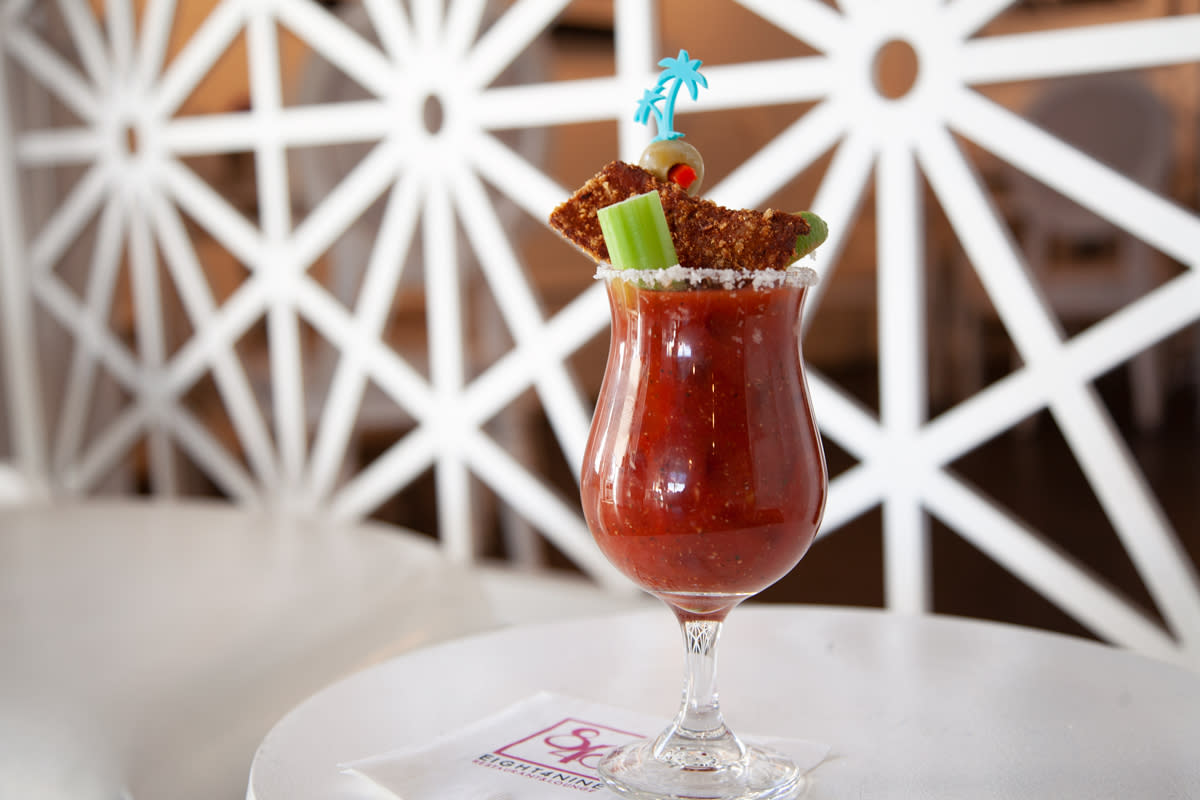 Deep Fried Bacon Bloody Mary at Eight4Nine
If you like bacon in your Bloody Mary, then you'll love Eight4Nine's take on the cocktail, which includes a generous strip of deep-fried bacon, along with vodka, tomato juice, tobacco, horseradish, jalapeño olives, celery, garnished with lemon, lime and a salted rim.
Workshop Kitchen + Bar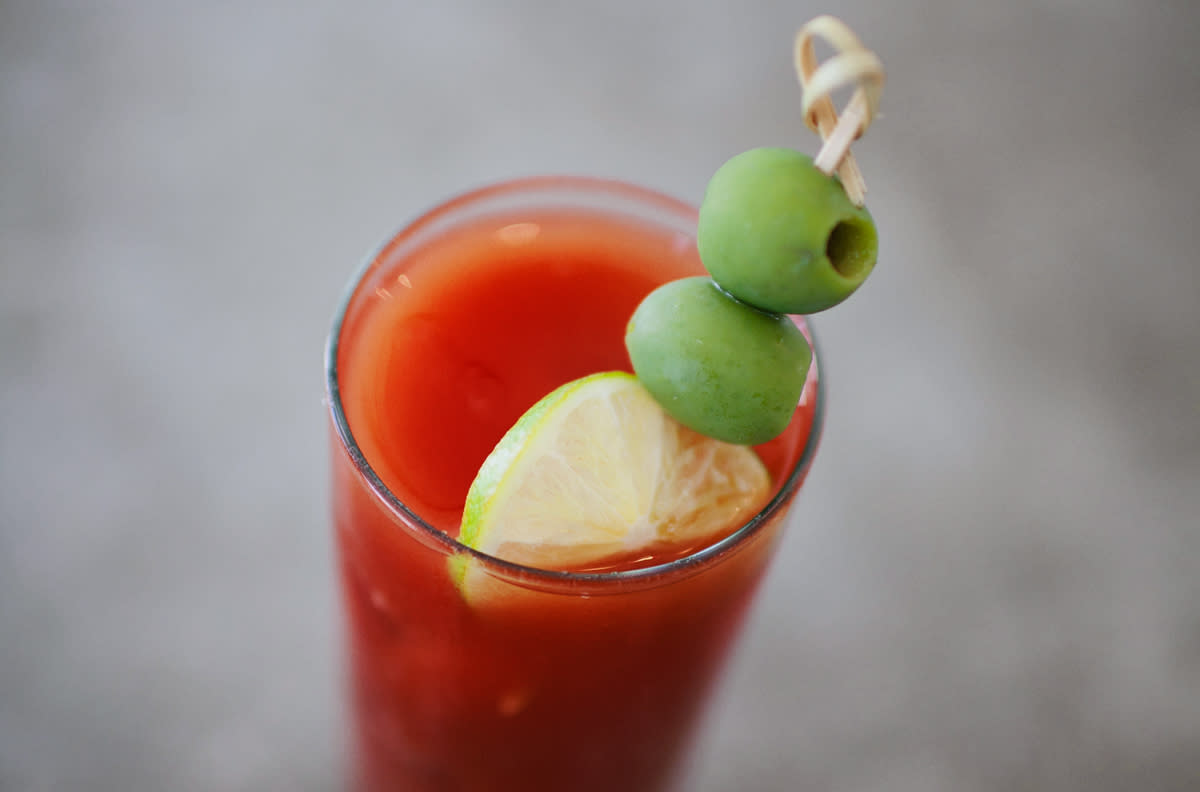 Workshop Kitchen + Bar
The Sunday brunch at Workshop Kitchen + Bar in Palm Springs is a don't-miss, with Bloody options that feature their house-made mix of San Marzano tomato juice, spices and fresh citrus, served on the rocks with lemon, castelvetrano olives and a salt rim, and you can choose from a Bloody Mary (made with vodka), a Red Snapper (made with gin) or a Bloody Maria (made with tequila).
More favorite spots include: Grand Central Palm Springs, Norma's at the Parker Palm Springs, Tropicale, Acqua California Bistro at the River, King's Highway at Ace Hotel & Swim Club, The Grill on Main in Old Town La Quinta, Twenty6 at La Quinta Resort & Club and Jake's. 
Ready for brunch now? Grab your friends and check out this round up of Hot Brunch Spots in Greater Palm Springs. Cheers!