From stunning sculptures to breathtaking murals, the City of La Quinta offers desert dwellers and tourists alike the opportunity to enjoy some truly one-of-a-kind artwork.
Chromaplex, Kas Infinite
Saturated in vivid color and bursting in rays of orange and blue, "Chromaplex" is a visual feast for the eyes. This mural beckons the attention of any passerby and its kaleidoscopic pattern feels right at home against its desert backdrop. Located at The La Quinta Public Library, this mural was created by local artist Kas Infinite, Chris Sanchez.
Sun and Moonbeam, Louis De Martino
This abstract sculpture stands tall and creates dramatic shadows as the sun sets. Symbolizing the sun and the moon, this bronze sculpture also has  local touch. Residents were invited to design some of the pattern tiles that make up the bottom half of the sculpture. "Sun and Moonbeam", created by Louis De Martino is located on the La Quinta Civic Center Campus.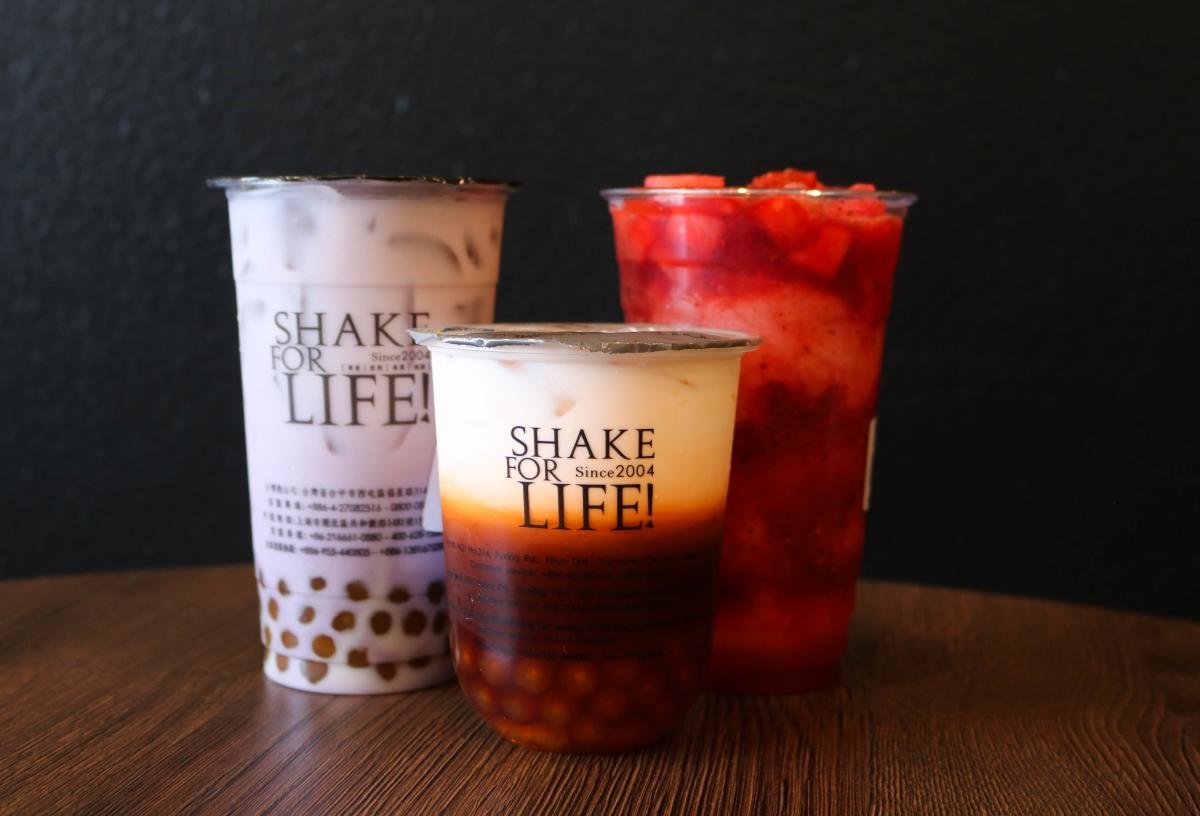 Beverage Break:
Take a break in between artworks and grab a drink at Ding Tea La Quinta. Specializing in boba milk teas, Ding Tea is the perfect cool me down after a long day. Try the Jasmine Green Milk Tea with Golden Boba - delicious and guaranteed to quench your thirst.
The local craft beer at La Quinta Brewing Co. draws in people from far and wide to Greater Palm Springs! Relax and take a sip of Koffi Porter, the gold winner at the 2018 Los Angeles International Beer Competition. Plus, enjoy a local edge - it's created with roasted beans from the nearby coffee shop Koffi!

Roadrunner, Goldenvoice
Massive and regal, "Roadrunner" is sure to turn heads. With feathers made of giant reflective metal, this sculpture carries so much personality and charisma in its beak! Catch a glimpse of "Roadrunner" at the traffic circle on Jefferson St. & Avenue 52 in La Quinta.
Arches, Aedwyn Darroll
Seven bright-colored arches, birds, and palm trees; this artwork looks straight out of a cartoon! Picture perfect, this sculpture holds a uniquely La Quinta quality in each and every arch. "Arches" is on display for all to enjoy at Fritz Burns Park.
Hydra, John Cuevas
This massive mural features a long and winding technicolor graphic snake sliding through a wall. Geometric shapes and pastel gradients decorate and emphasize the space around the snake. Every single space of this piece offers something new and exciting to look at. Find "Hydra" at the intersection of Avenida La Fonda and Main St., La Quinta.
Volta, John Cuevas
Another John Cuevas creation, "Volta" is a mural that explodes with psychedelic color! The rainbow, brain-like branches of a tree give way to paintings of local cacti and the names of popular authors such as Octavia Butler and artists like Yayoi Kusama. "Volta" can be seen at The La Quinta Public Library.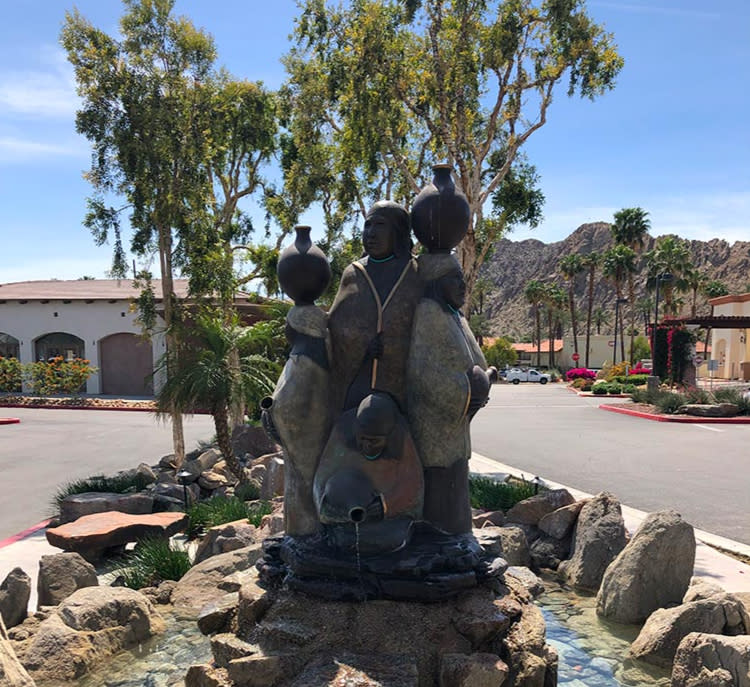 Cahuilla Family, Felicia
"Cahuilla Family" honors the indigenous history of La Quinta with a life-size bronze sculpture of five Cahuilla women. Relaxing and reflective, this fountain sculpture is a great piece to enjoy and honor the Native American roots of Greater Palm Springs. "Cahuilla Family" can be found at Washington Street and Highway 111 in La Quinta.
Historical Mural, Andre Blanche
Framed with beautiful wildflowers, each detail in this mural holds a nugget of history into the City of La Quinta. Telling the tale of La Quinta's past, present and future, "Historical Mural" pays homage to everything and everyone that has played a part in the creation of the city. Marvel at the wonder of this intricate piece at the La Quinta Museum.
9/11 Memorial, Robert Radi
Robert Radi's dedication to the memory of those lost on September 11th, this sculpture features an actual piece of steel from the World Trade Center at the center of the artwork. Tall, white curves nestle the World Trade Center piece, evoking a sense of meditation, thought, and breathtaking contemplation to anyone visiting it. Visitors can find this sculpture by going to the La Quinta Civic Center Campus.
Explore more of the City of La Quinta, from outdoor hiking trails to their delicious dining options here.