Greater Palm Springs, California (Sept. 29, 2020) - Starting Oct. 1, Greater Palm Springs is set to welcome travelers from six new markets, including Boise, ID; Reno, NV; San Jose, CA; Eugene, OR; Fort Lauderdale, FL; and Philadelphia, PA, as Palm Springs International Airport (PSP) has locked in new and increased air service.
YEAR-ROUND ADDITIONS*
Los Angeles, CA (1x/daily) - Starting Oct. 1 - Boutique Air
Phoenix, AZ (1x/daily) - Starting Oct. 1 - Boutique Air
Los Angeles (1x/daily) - Starting Nov. 8 - Delta Air Lines
San Jose, CA (2x/daily) - Starting Dec. 17 - Alaska Airlines
SEASONAL ADDITIONS*
Boise, ID (2x/wk) - Nov. 19-April 29 - Allegiant Air
Eugene, OR (2x/wk) - Nov. 20-April 29 - Allegiant Air
Boise, ID (1x/daily) - Dec. 17-April 12 - Alaska Airlines
Reno, NV (5x/wk)- Dec. 17-April 12 - Alaska Airlines
Fort Lauderdale (2x/wk) - Dec. 18-March 28 - JetBlue Airways
Philadelphia, PA (1x/wk) - Dec. 19-April 5 - American Airlines
*All flights are nonstop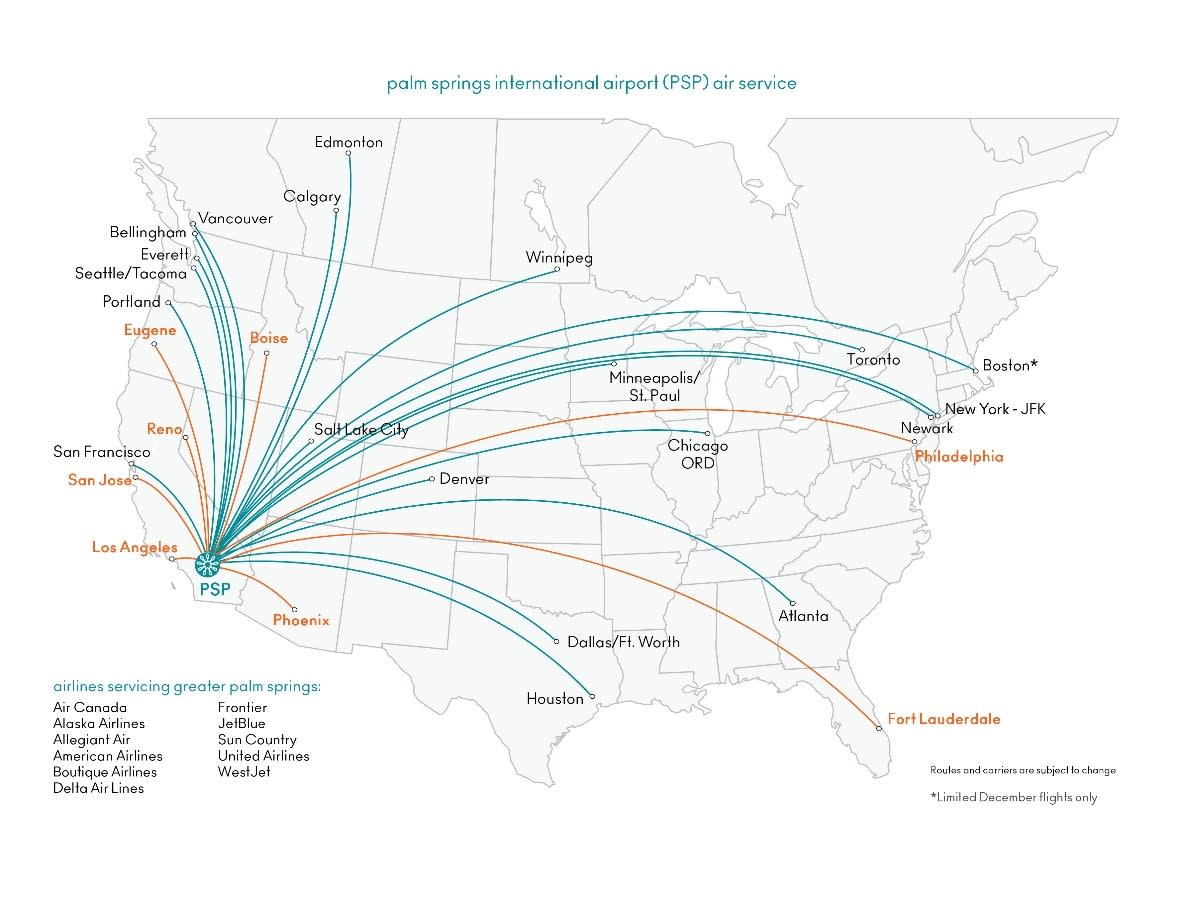 Southwest Airlines has also announced its commitment to adding Palm Springs to its schedule by year end. One of just three new destinations for the airline, this marks the carrier's first entry into the Palm Springs market. Route details are still to be announced.
"We are very excited to add Southwest Airlines to our destination. Their iconic brand aligns perfectly with our resort oasis, and the timing couldn't be better," said Scott White, president and CEO of the Greater Palm Springs Convention & Visitors Bureau."
Boutique Air, which is new to PSP, will service the route using one of its Pilatus PC-12, an eight luxury seats plane offering a unique, cost-effective way to travel to Greater Palm Springs from Phoenix and Los Angeles year-round. 
"Visitation to Greater Palm Springs has been growing over the last few years and we've continued to increase air service accordingly," said White. "Given the recent pandemic, travelers desire wide-open spaces where natural social distancing can be enjoyed, which perfectly aligns with the abundant offerings of the nine cities that comprise the Greater Palm Springs region. We welcome visitors from returning and new markets alike to come experience our beautiful desert region."
Information about Greater Palm Springs can be found at visitgreaterpalmsprings.com.
###
About Greater Palm Springs, California
Greater Palm Springs is Southern California's premier resort, special event and golf destination. Discover a place of many experiences and surprises in nine distinctive cities: Palm Springs, Desert Hot Springs, Cathedral City, Rancho Mirage, Palm Desert, Indian Wells, La Quinta, Indio and Coachella. As a respite for mind, body and spirit, Greater Palm Springs is ready to provide you with an unparalleled sense of escape, adventure, recreation, relaxation and your own unique way to play--anytime of the year. For more information on Greater Palm Springs, visit www.visitgreaterpalmsprings.com. 
Follow Greater Palm Springs CVB on Facebook, Instagram and Twitter. Meeting planners can also follow Greater Palm Springs meetings on LinkedIn.
MEDIA CONTACT:
Sara Gorgon
MMGY NJF
702.686.1585
Joyce Kiehl
Greater Palm Springs CVB