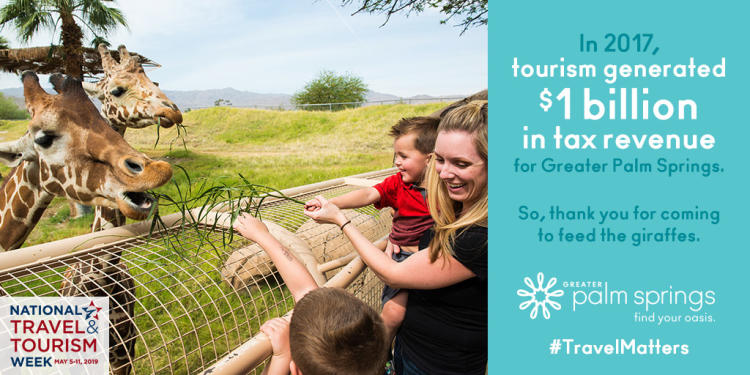 Rancho Mirage, Calif. -- (May 7, 2019) – Greater Palm Springs continued to thrive from visitor spending in 2018. Visit California's latest economic impact report demonstrates visitor spending reached over $7.86 billion and supported 82,460 jobs in Riverside County, a 6.47% increase from last year. According Visa Vue reports Greater Palm Springs experienced a 6.7% increase in visitor spend.  The economic impact in 2017 was reported at over $7 billion.  This growth highlights the ongoing importance of tourism to the region and California's economy.

"Travel supports one in nine American jobs and one in four in Greater Palm Springs," said Scott White President & CEO, Greater Palm Springs CVB. "We are celebrating travel's powerful impact on our community, in our state and our country. We're calling on everyone—from elected officials to all of our local friends and neighbors—to join us in saluting this important industry, and to support pro-travel legislation at the local, state and national level."

Last week Greater Palm Springs CVB kicked off an integrated marketing campaign Summer Chill to boost both summer and midweek travel to the destination.  The campaign's 8th year launches with existing and new creative targeting the key drive markets of Los Angeles, San Francisco, San Diego, Las Vegas and Phoenix through a mix of TV, print, digital, audio, out of home and social media.

Statewide, visitor spending increased to $140.6 billion, and the tourism industry provided nearly 1.2 million jobs in 2018. Visit California's economic impact report's findings signal the steady influence tourism has on California's economy.

"With nine consecutive years of record visitation spending, tourism is a foundational part of this state's economy benefitting all Californians," said Visit California President & CEO Caroline Beteta. "In cities and counties across the state, tourism employs thousands of Californians and pumps millions of tax dollars into local government coffers to pay police officers and firefighters, fix roads and operate other important community programs."

To ensure the tourism industry remains positioned for success, Visit California actively collaborates with local partners to inspire travelers to visit the Golden State. As international competition continues to grow, Visit California's innovative marketing efforts fortify California's charm to domestic and international travelers. The industry continues to invest in 13 international markets to attract travelers, who typically spend more and stay longer than their domestic counterparts. Once visitors decide to travel to California, Greater Palm Springs' marketing efforts encourage them to choose Greater Palm Springs as their vacation destination.

The release of the 2018 Travel Impact Report coincides with California Travel and Tourism Month, which occurs every May following a resolution enacted by the Legislature in 2016. This week, California also celebrates National Travel and Tourism Week, when destinations in the Golden State will join communities across the nation to host events that highlight and celebrate the importance of sustaining the travel industry.

# # #
About Greater Palm Springs CVB
The Greater Palm Springs Convention & Visitors Bureau (CVB) is the official tourism marketing agency for the entire Coachella Valley, providing sales, marketing and promotional efforts targeted to potential leisure and convention group markets. The CVB serves more than 2,000 business partners throughout Riverside County's nine-city region of Palm Springs, Desert Hot Springs, Cathedral City, Rancho Mirage, Palm Desert, Indian Wells, La Quinta, Indio and Coachella. www.visitgreaterpalmsprings.com

About Visit California
 Visit California is a nonprofit organization with a mission to develop marketing programs – in partnership with the state's travel industry – that inspire travel to California. Travelers spent $140.6 billion in 2018 in California, providing 1.2 million California jobs and $11.8 billion in state and local tax revenue. For more information about Visit California and for a free California Official State Visitor's Guide, go to visitcalifornia.com. For story ideas, media information, downloadable images, video and more, go to media.visitcalifornia.com.

National Travel and Tourism Week
Celebrate Why Travel Matters May 5 – 11, 2019. National Travel and Tourism Week is an annual tradition for the U.S. travel community. It's a time when travel and tourism professionals across the country unite to celebrate the value travel holds for our economy, businesses and personal well-being.
Media Contact:
Joyce Kiehl
Director of Communications
760.969.1338
jkiehl@gpscvb.com