Looking for art and cultural?  Short on time?  There are plenty of art and cultural destinations in the Greater Palm Springs. Two such destinations are the Cathedral City Town Square Park Area and the Agnes Pelton Murals Path.   In the Town Square Park, you will find modern and figurative sculptures. On the mural path, you will find painted and ceramic murals. Enjoy what Great Palm Springs has to offer with these two wonderful tours!
Town Square Park is dripping in public art from sculpture to murals there is plenty to see. Located at 36700 Pickfair Street, this area offers dining and entertainment options as well as open space to let the kids run around. While we wait for the opening of the Coachella Valley Repertory Theater at their new home in this cultural center here are a few art installations worth checking out: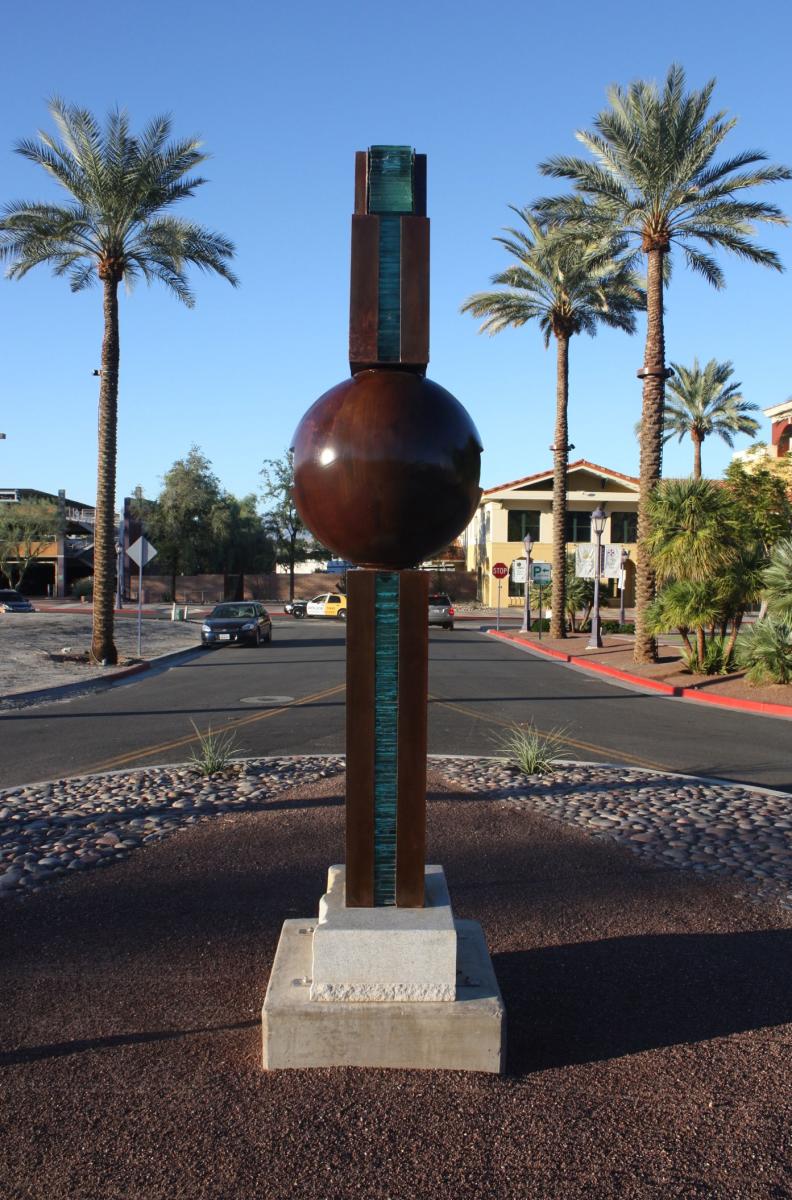 ​
At the entrance to the park area is a steel and glass sculpture titled The New Beginning by David Flaossi Studios. This piece was a gift from Virginia and Caley Rhodes, Sr.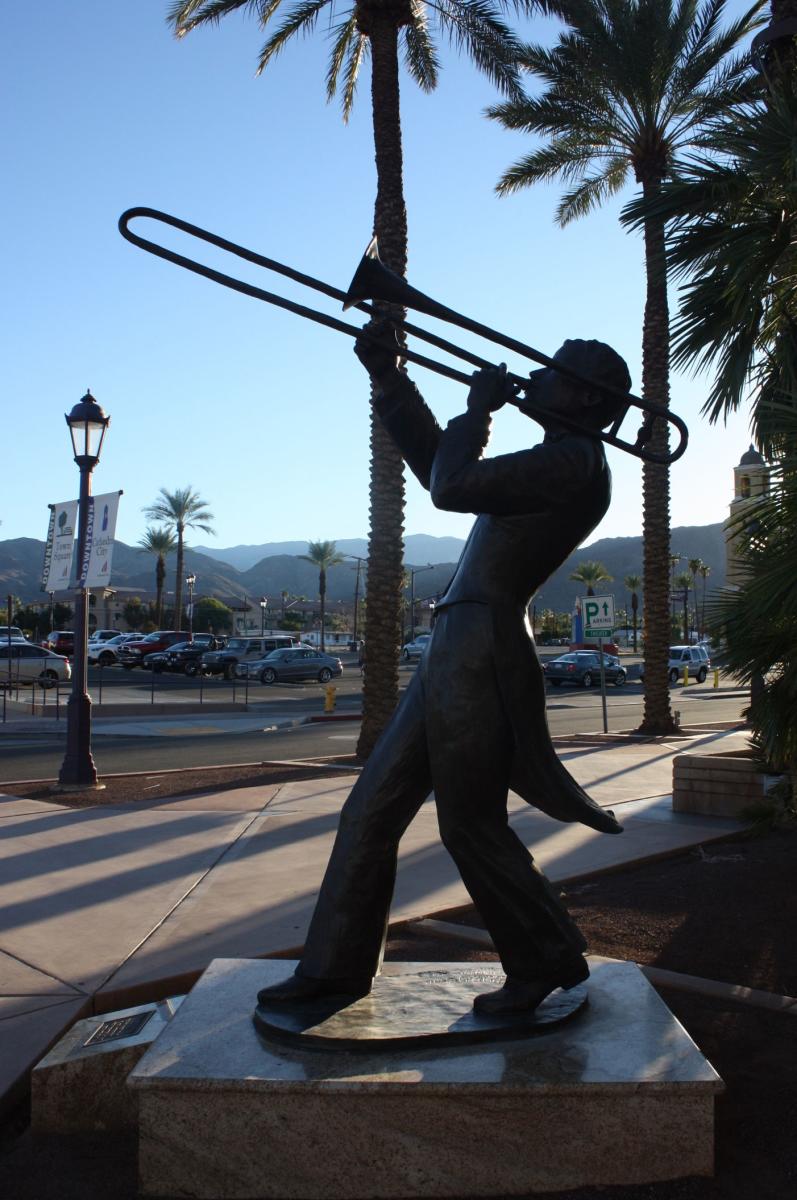 The life-size bronze sculptures, Buddy Rogers and Hollywood Heroes, are a great spot to catch a photo with legends. Both of these sculptures were created and donated by artist George Montgomery.
Also located at Town Square Park is Pickford Lizards fountain which is made of stone and mosaic tiles. Nearby check out the Fountain of Life. This is a great place to let the kids cool off. This fun fountain made of mosaic tiles and stone was designed by Jennifer Johnson and Reull Young. Both of these fountains were made possible by a partnership with the Redevelopment Agency.
The Agnes Pelton Murals Path is a grassroots Public Art installation of murals and mosaics by artists commissioned by the Agnes Pelton Society. Mosaics and painted murals are visible to the public on Chuparrsoa Lane and F Street in the Cathedral City Cove. A great starting place is 68680 F Street. The murals are on walls of private homes starting just outside the Historic Agnes Pelton House on the corner of F Street and Chuparosa Lane and continue with a left turn on San Jacinto Rd.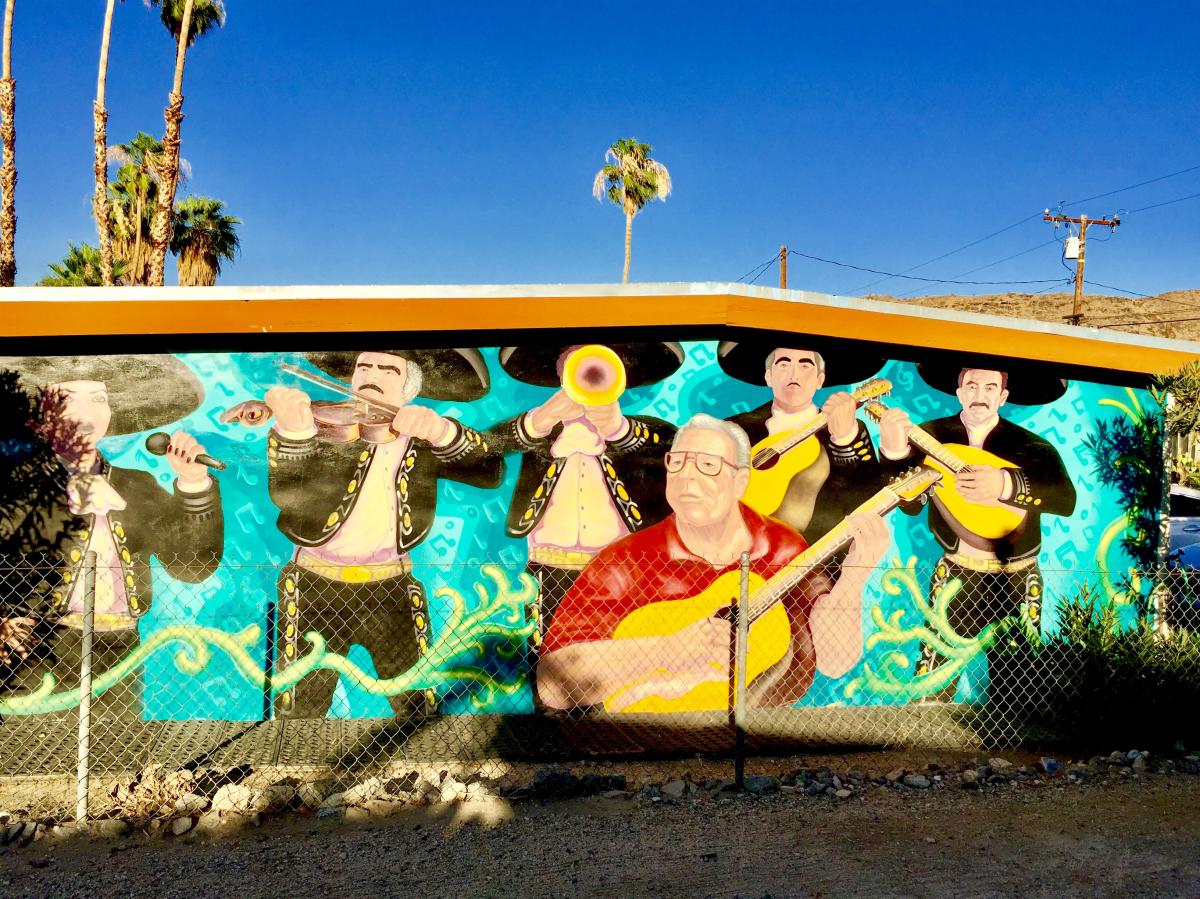 Lalo and Five Mariachis is a painted portrait mural by Luiz Castro.  It is a tribute to former Cathedral Cove resident Lalo Guerrero who is widely known as the Father of Chicano Music.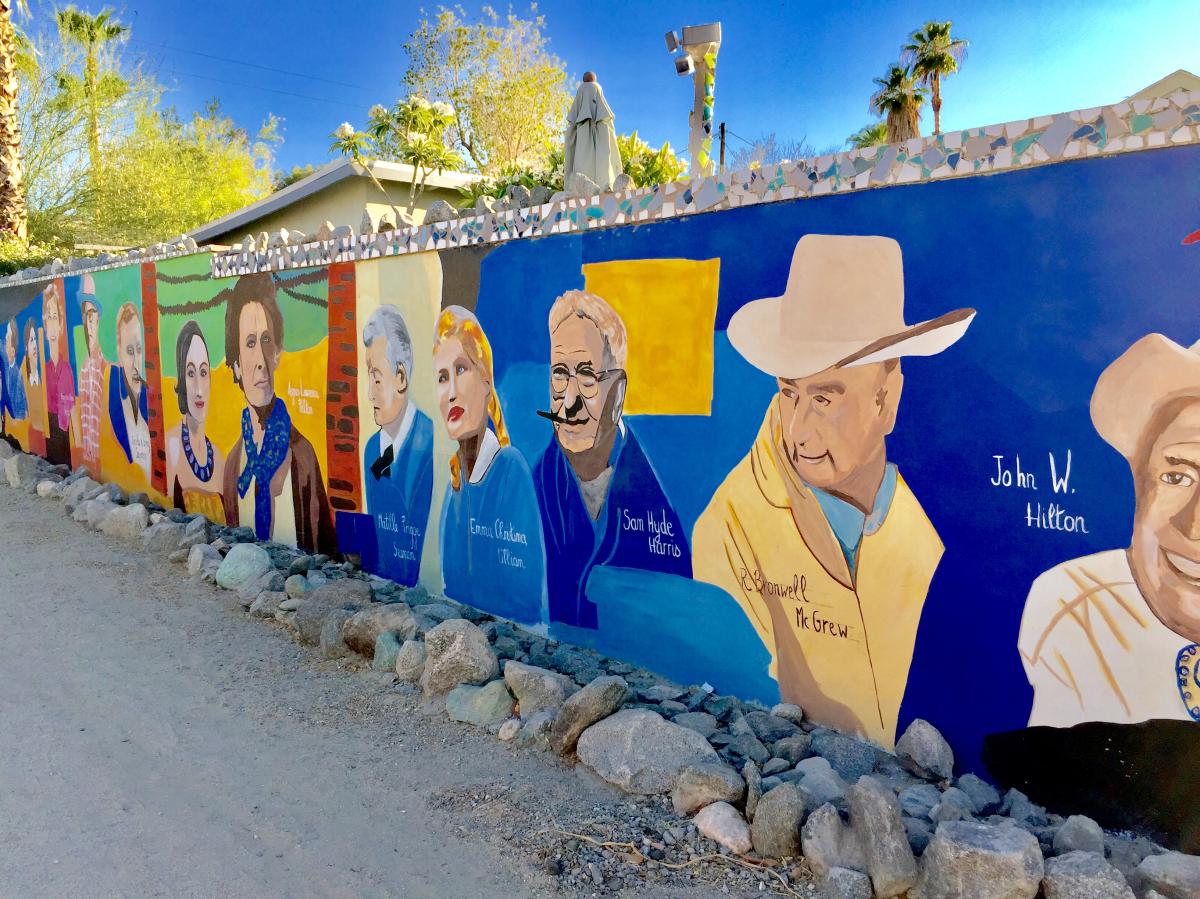 Agnes and Friends, a painted mural depicting the artists who made up the colony of accomplished artists ( circa 1932-1961.)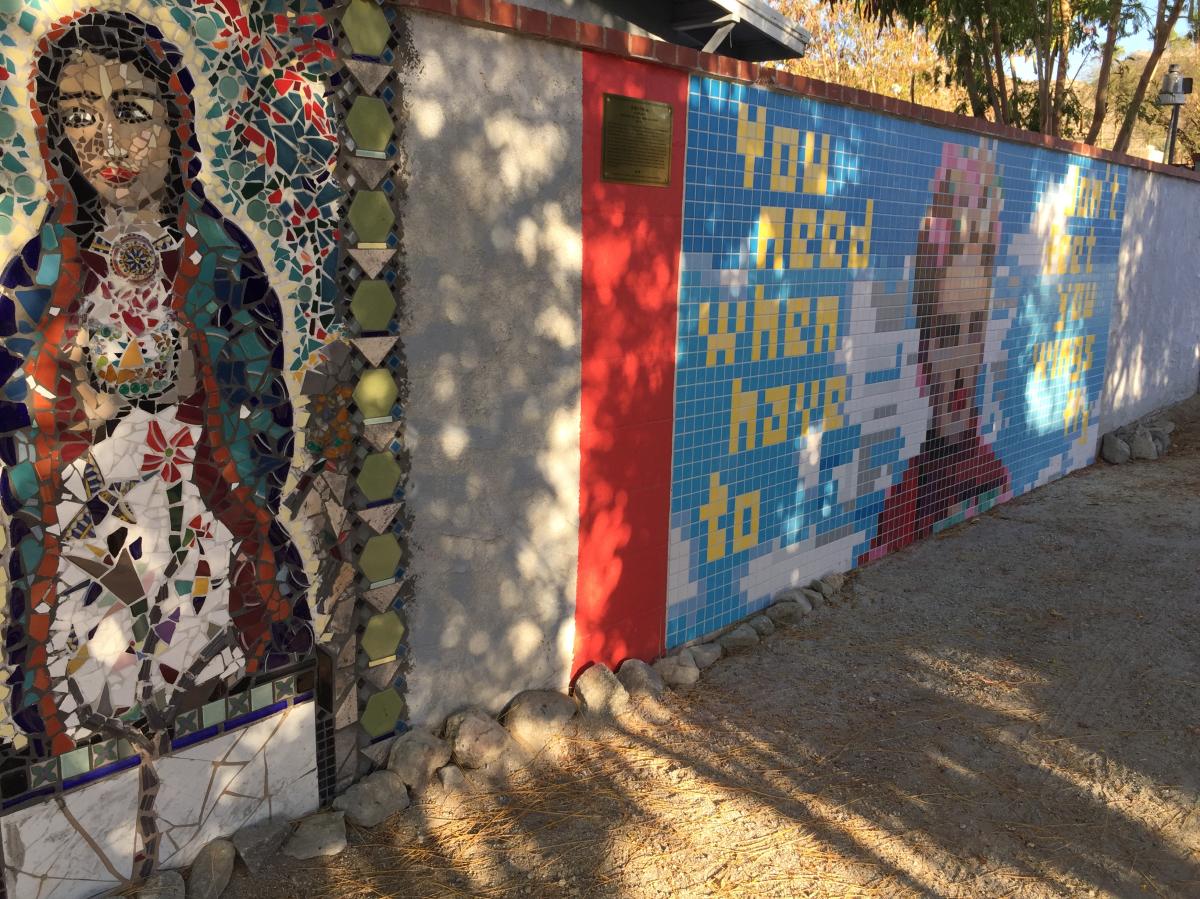 Our Lady of Chuparrosa, a  mosaic composed of broken pottery by Peter Palladino. Lady of Chuparrosa is fictitious saint referencing the popular  Lady of Guadalupe. Nevertheless, locals often leave lit candles and flowers at her feet.  8-Bit Frida, painted ceramic tile mosaic by Marnie Navarro is a tribute to the Surrealist painter and political activist Frida Kahlo.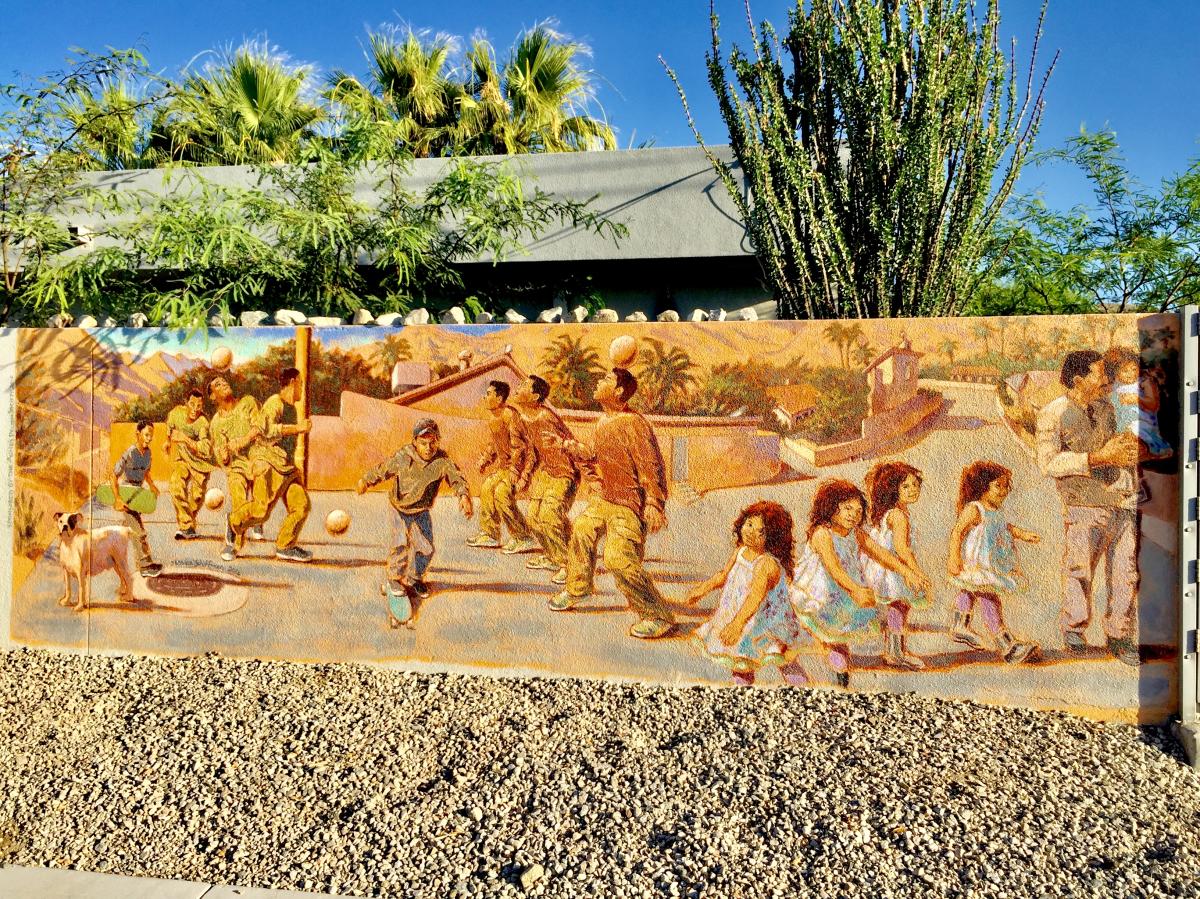 Cove Neighborhood Children, painting by Cathedral Cove artist Jessica Shiffman.
Landau Elementary School
The Palm Springs Unified School District (PSUSD) has commissioned local artists to create over 100 unique murals to brighten school campuses for the last eleven years. In Cathedral City it is worth seeing the pair of murals created by local artist Victor Pacilio (otherwise known as Breath) on the handball walls at Landau Elementary school. Landau Elementary school is located at 30310 Landau Blvd, Cathedral City, CA 92234. It is important to note the public is not allowed on the school campus so viewings must be done from Landau Blvd.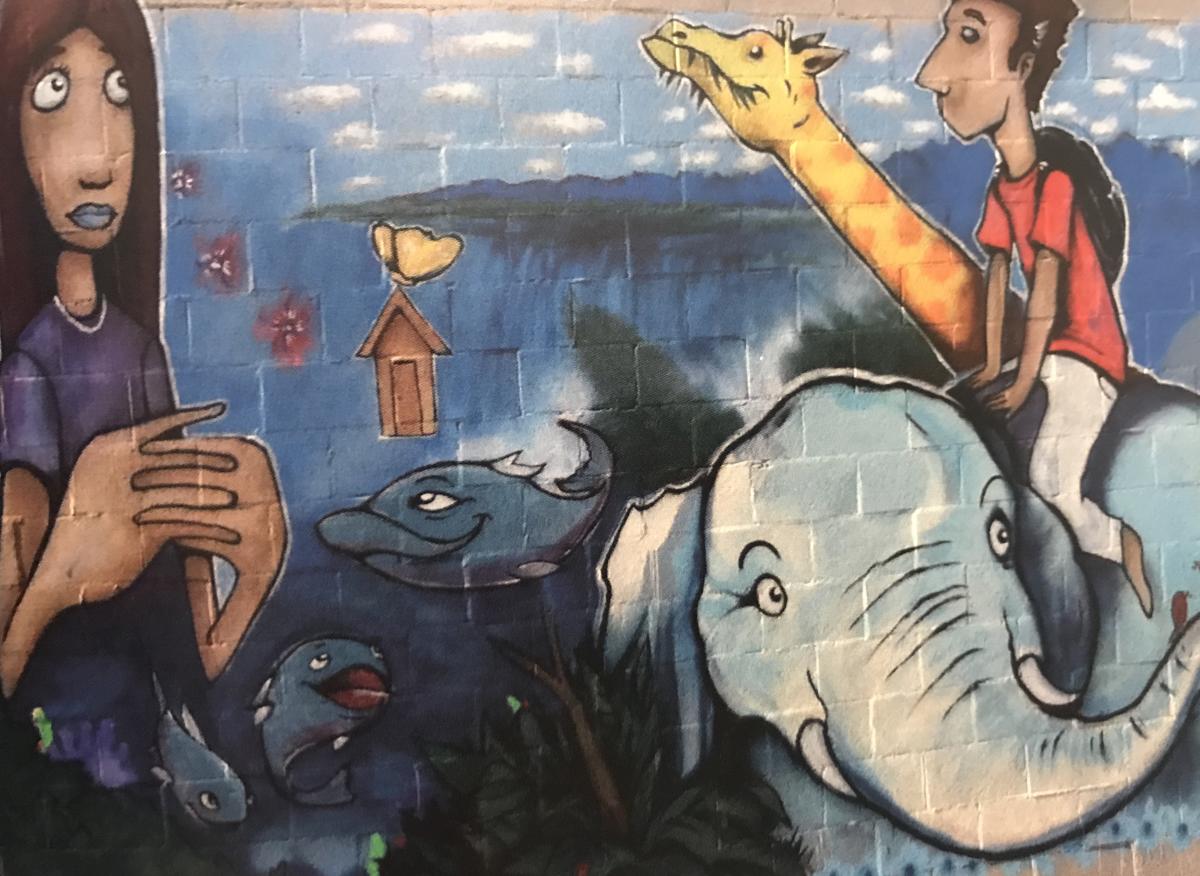 The Executive Director of S.C.R.A.P. Gallery, Karen Riley, describes the gallery as a unique environmental art museum that delivers art and environmental education to children by using donated discarded materials. Students of all ages can learn about conservation, reuse, and other environmental issues through hands-on exploration. S.C.R.A.P. Gallery is located at 31855 Date Palm Dr.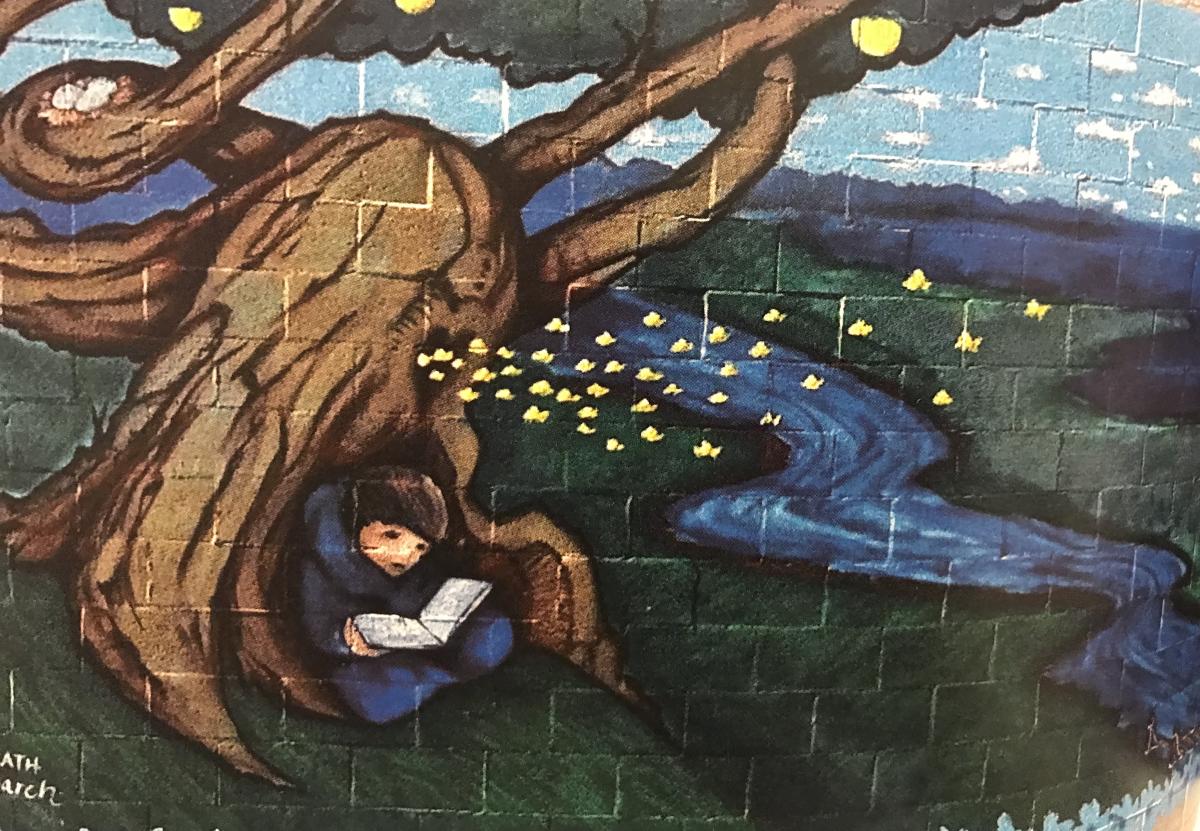 Looking to continue your art journey on the road? Our artsGPS app makes public art, exhibitions and art-related events in Greater Palm Springs easy to find. Learn more about the artsGPS app here.