In Greater Palm Springs, it's important to always leave room for dessert, especially when there are a number of after-hour sweet treat locations to choose from in the oasis. So, whether you like to indulge in cake confections, ice cream deliciousness, or tart baked freshness, dessert options are endless here in the region.
Satisfy your sweet tooth tonight by checking out these late-night dessert spots–trust us, you won't regret it!
Ice Cream & Shoppe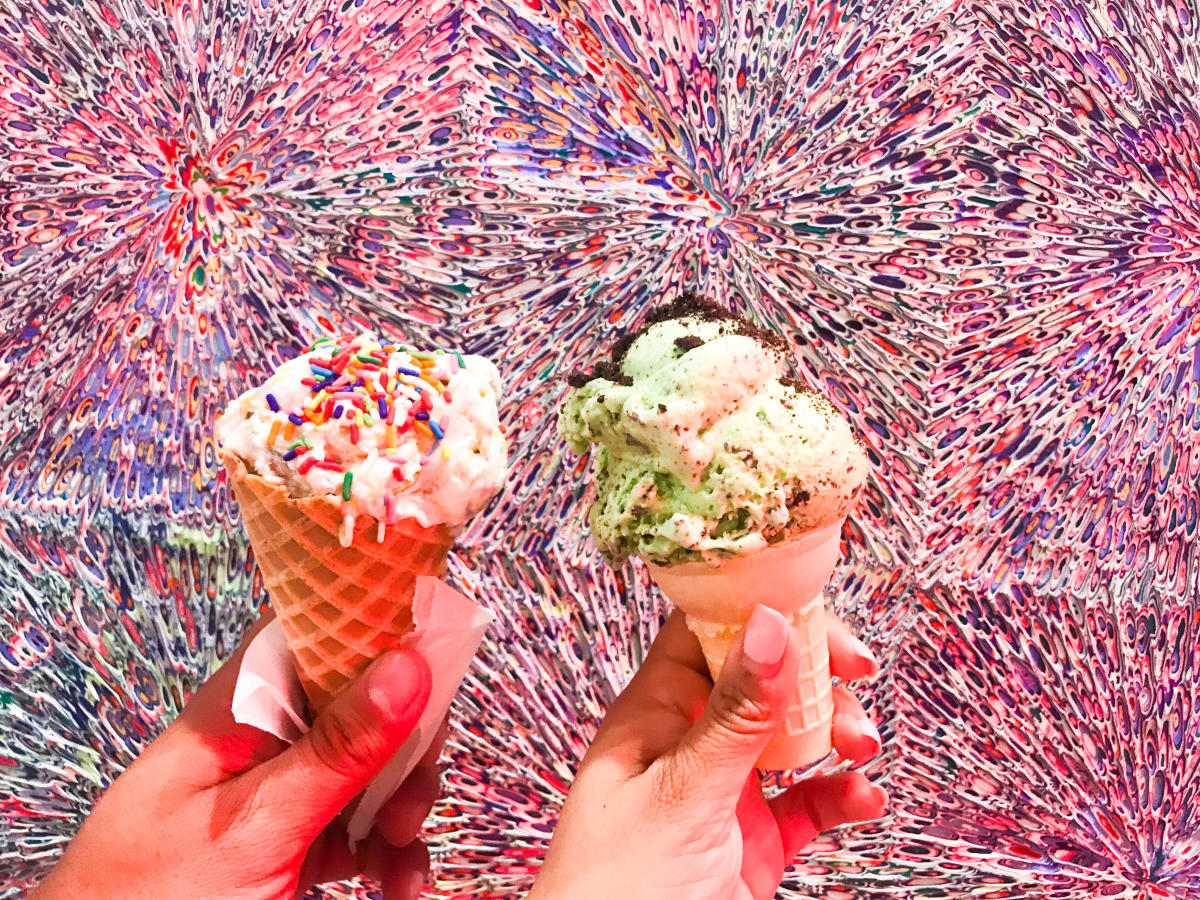 A top location in the oasis, Ice Cream & Shoppe at Arrive Hotel in Palm Springs provides customers with the best of both worlds–a lot of ice cream excitement mixed in with plenty of shopping enjoyment. The parlor boasts an impressive menu, along with refreshing milkshake options, free toppings and vegan treats. Their rotating flavor list can be found at the shop, as well as online through the shop's website, which features a current round-up of ice cream offerings. Unique flavors to try include Mexican Chocolate, Rose Water, Birthday Cake and Honey. Make a date night out of it and visit the ice cream parlor and gift shop to see why cold treats and cute souvenir buys have never been better in Greater Palm Springs!
Ice Cream & Shoppe is located at 551 N Palm Canyon Dr., Palm Springs//Restaurant Hours
Great Shakes
Find a board full of one-of-a-kind milkshake options and a counter full of vintage candy delights when you walk into Great Shakes in downtown Palms Springs! Choose from gourmet malts like Peanut Butter Banana with Oreo, Caramel Coffee Crème or Strawberry Butterscotch–just to name a few off their awesome featured flavors menu. In addition to this, the location offers customers the opportunity to treat themselves to milkshake bliss by offering shakes that are customizable to fit customers' specific dietary preferences and flavor combination desires. And if that were not enough, each order is served with a straw that is adorned with a house-made mini-doughnut, which is truly a treat by itself! Also available for purchase now are homemade cookies, made exclusively by the shop's owner.
Great Shakes is located at 160 S Palm Canyon Dr., Palm Springs//Restaurant Hours
Lique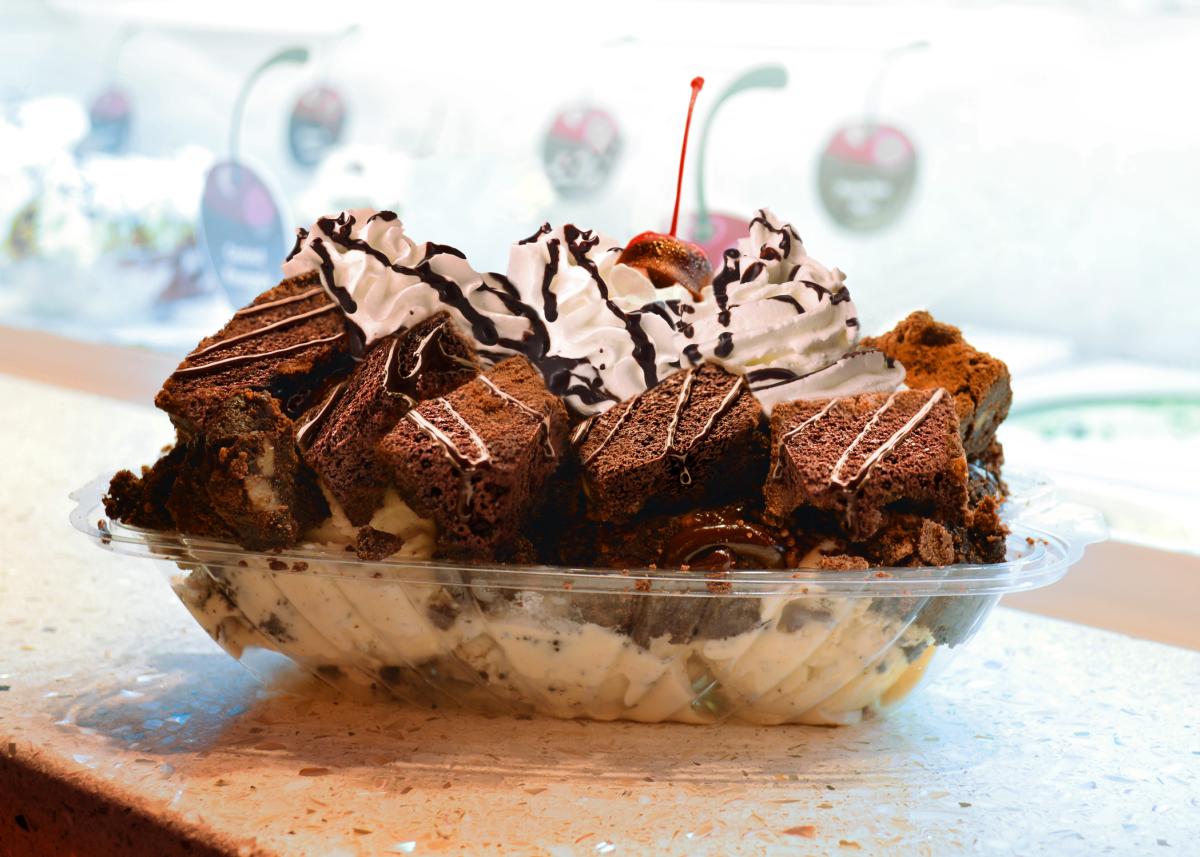 Ice cream lovers, this place is for you! Found within Fantasy Springs Resort Casino, Lique is the ultimate sweets playground for dessert aficionados because of its notable lineup of frozen treats and ice cream selections. Take your pick from menu items like traditional soft serve ice cream, soft serve low-fat frozen yogurt, traditional ice cream scoops, ice cream cookie sandwiches and ice cream floats. If ice cream sundaes are more your thing, then try the Lique-ity Split (vanilla, chocolate and strawberry ice cream, banana, hot fudge, mixed nuts, crushed pineapple and strawberry topping) or the Brownie Bear Sundae (vanilla ice cream, cookies n' cream ice cream, brownie chunks, hot fudge and nuts) during your next nighttime visit to the casino property.
Lique is located at 8425 Indio Springs Pkwy, Indio//Restaurant Hours
Tonga Hut Palm Springs
The Tonga Hut Palm Springs is a staple in the region for its neo-retro Tiki bar and Polynesian/Cantonese restaurant called The Hideaway. While the festive bar destination focuses on pouring hot-powered cocktails and traditional island drinks, as well as serving authentic Pacific cuisine, the Tonga Hut also offers a tempting Hot Lava Cake for dessert that is not to be missed. Fridays and Saturdays bring a late-night menu that is available from 10:00 p.m. to 1:00 a.m., so visitors can definitely keep the partying going in Greater Palm Springs and enjoy all that the Tonga Hut has to offer, even after-hours. Stop by to experience Polynesian-inspired excitement by trying drinks from their extensive cocktail menu and have a bite from the restaurant's appetizing Tiki-style dishes.
The Tonga Hut is located at 254 N Palm Canyon Dr., Palm Springs//Restaurant Hours
Truss & Twine
Celebrated for its classic cocktail concoctions and desert-inspired menu, Truss & Twine is everything chic, modern and delicious in the Uptown Design District of Palm Springs. The sleek bar destination offers a drink menu that travels through time, featuring libations from eras like the Golden Age and the Dark Ages, as well as new-age dessert specialties that you need to come in to try. Perfect for after-dinner gatherings or after-hour reunions, Truss & Twine offers dessert options that include Hazelnut Chocolate Truffles, Panna Cotta (with blackberry-sage compote) and seasonal sorbet (composed of fruit preparation). A top evening hot spot in the region, Truss & Twine is the creation of Workshop Kitchen + Bar owner and Executive Chef, Michael Beckman, who is well-known for serving up unique dining experiences in Greater Palm Springs.
Truss & Twine is located at 800 N Palm Canyon Dr., Palm Springs//Restaurant Hours
Eureka!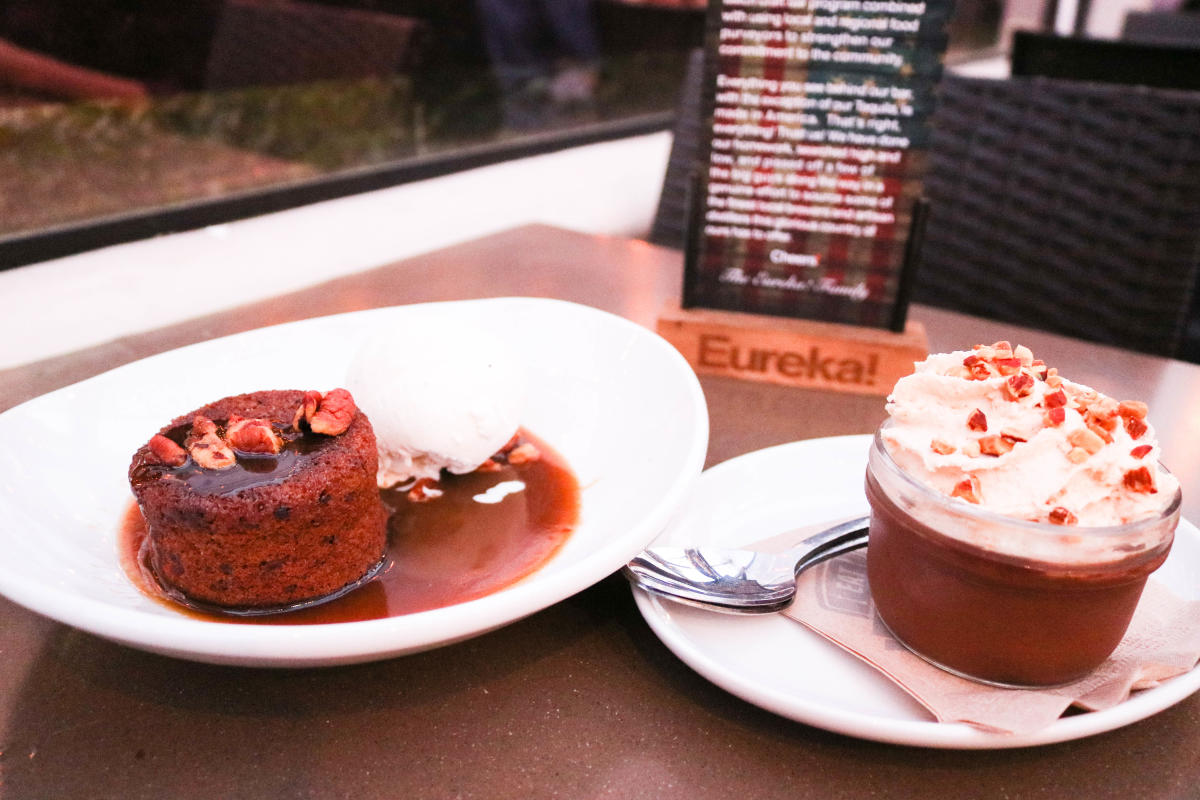 From daily happy hour and delicious weekend brunch to signature meals and classic cocktails, Eureka knows how to delight guests through great food, handcrafted drinks and lively atmosphere settings. A standout feature of the restaurant is its culinary innovation when it comes to serving up all American classics and premium crafted beer and whiskey selections. The trendy establishment also has two flavorful desserts to choose from, which are enticing guests in very sweet ways. The first is the super moist and extremely tasty Bourbon Barrel Cake (candy pecans, caramel and vanilla bean ice cream). This dessert is a must-try at the eatery, especially because it's drizzled with their special house bourbon caramel sauce that is out-of-this-world good! The second is their American Chocolate Budino (salted caramel, peanut butter whip and almonds), which is otherwise known as the restaurant's popular chocolate pudding. Both items are pictured above and are just as delicious as they look and sound.
Eureka is located at 74985 HWY 111, Indian Wells//Restaurant Hours
Dringk
In need of a midnight treat? Dringk in Rancho Mirage has just the thing to satisfy your cravings. The eatery and bar is known for bringing the fun and excitement through their stand-out food offerings, exceptionally-priced drinks, upbeat night-time entertainment and table games. Swing by and live it up as you have a taste of their Cookies & Cream plate (hot, fresh-baked chocolate chip cookie with ice cream), Sticky Toffee Pudding dish (Coachella Valley date cake with caramel and ice cream) or simply savor their ice cream options. Whatever it is you choose to delight in, there is no going wrong at Dringk!
Dringk is located at 71800 CA-111, STE 101, Rancho Mirage//Restaurant Hours
Want even more tasty finds in the region? See New Restaurants to Visit in Greater Palm Springs.