There seems to be something new to discover in Greater Palm Springs during just about every season, and this upcoming fall is no exception in the oasis. From chic and upscale to relaxed and casual dining, new restaurants have been popping up all over town, introducing new styles and flavors to desert dwellers and visitors.
Read on to see what Greater Palm Springs is cooking up this season by discovering recently opened dining destinations and soon-to-open hot spots.
The Pink Cabana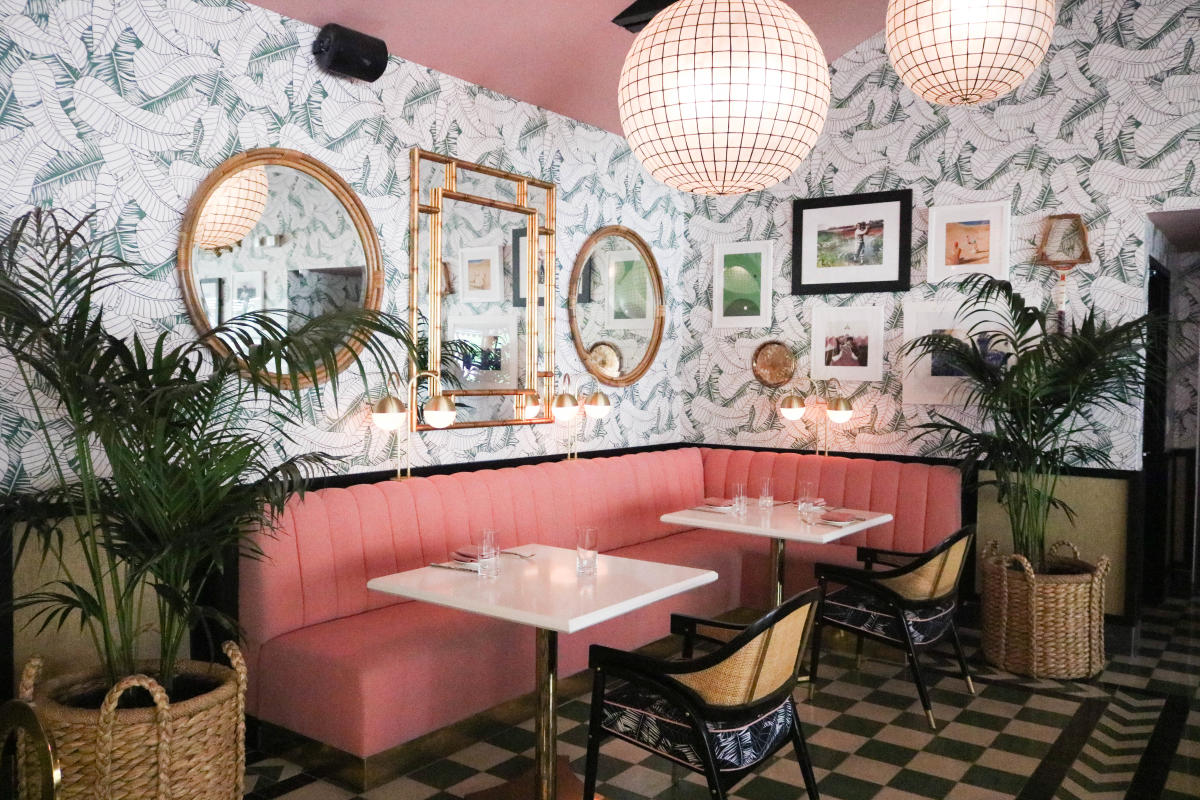 Tropical pink vibes fill the space at The Pink Cabana within the Sands Hotel & Spa in Indian Wells. Influenced by Moroccan style and Mediterranean cuisine, renowned Executive Chef Jason Niederkorn brings exceptional dishes to the forefront, making the trendy restaurant and bar a must-visit when in the oasis. Open daily for lunch and dinner, the restaurant provides fresh and seasonal ingredients as well as the finest in available dayboat seafood and meats. To begin, indulge in shareable bites like the Cabana Meze (which includes citrus scented olives, hummus, zaalouk and grilled yogurt naan), or the Fritto Misto (which comes with calamari, artichoke, olives and a grilled lemon aioli). For lunch, have a cocktail from the restaurant's elevated bar menu and pair it with their impressive Alaskan Halibut or Beet Salad. If having dinner there, we recommend the Flat Iron Steak Frites simply because of the plate's special-ingredient Sands steak sauce and its side of delicious herbed French fries.
The Pink Cabana is located at 44-985 Province Way, Indian Wells.
Grand Central Palm Springs
A location unlike any other in the oasis, Grand Central Palm Springs is an all-in-one new coffee shop, restaurant, bar and event space within the historic 1930s built La Plaza Center of downtown Palm Springs. Currently serving breakfast and lunch, with dinner offerings set to make a debut soon, Grand Central provides fun twists on health-conscious meals and traditional foods. Popular menu items include the Grilled Cheese (rosemary caramelized onions, white cheddar and gruyere on a toasted brioche, paired with a house pomodoro sauce and house cut fries), and their one-of-a-kind Avocado Toast, topped with a poached egg (smashed avocado, arugula, blood orange balsamic and red peppers, served on a grilled brioche). Come in to experience classic Palm Springs, while dining under Grand Central's iconic clock–a symbol that signifies a unifying meeting space where one can simply sit back and enjoy great company in Greater Palm Springs.
Grand Central Palm Springs is located at 160 La Plaza, Palm Springs.
Cups Cafe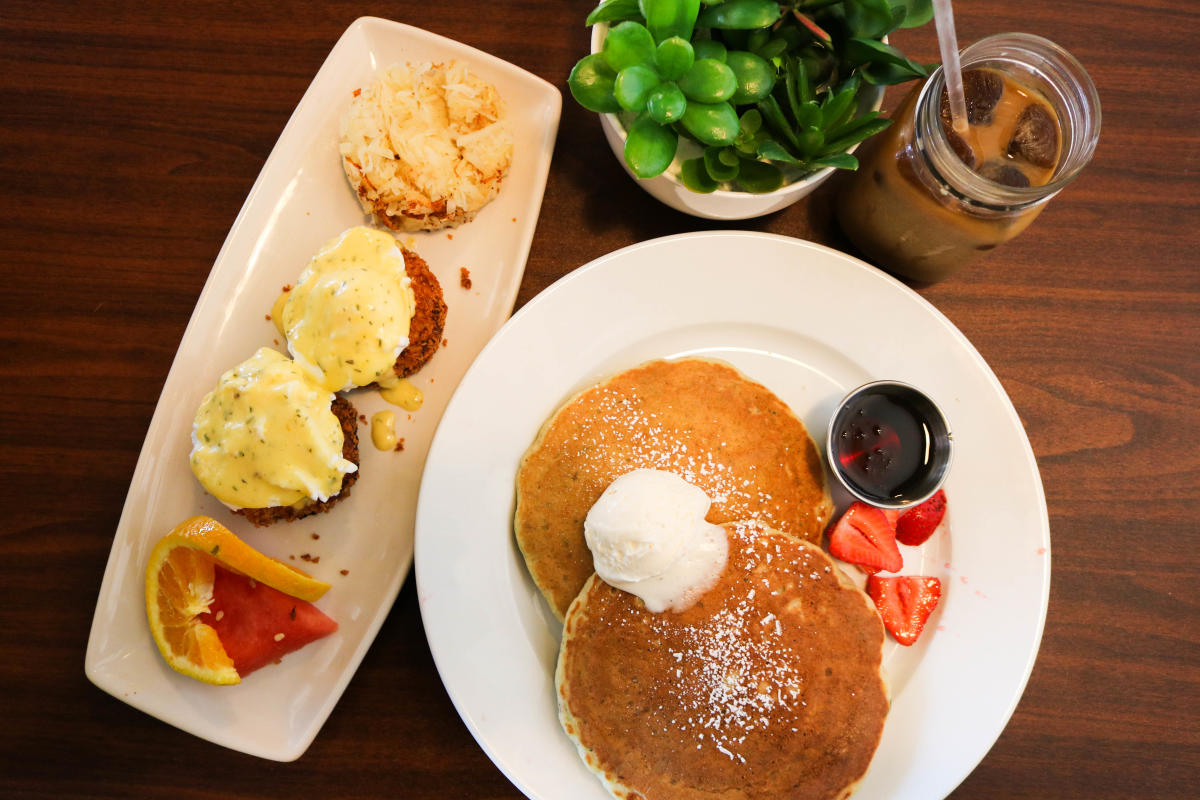 The cutest new café has officially arrived in Greater Palm Springs with the opening of Cups Café in Palm Desert. Cooking up breakfast and lunch daily, the restaurant is family-owned and operated, complete with farmhouse chic appeal and flair. Shown above are their famous Wheat Zucchini Pancakes and the Cups Benedict (served over crab cakes, finished with béarnaise sauce and a side of hash brown). These menu items satisfy bellies and keep the crowds coming in, making them top dishes at the restaurant. Try these meals during your upcoming visit and pair it freshly-brewed hibiscus iced tea or cold brew iced coffee, complete with coffee ice cubes and all!
Cups Café is located at 77912 Country Club Drive, Palm Desert.
Revel Public House
Known as a neighborhood gathering place in Palm Springs, Revel Public House is open for brunch, lunch and dinner, offering savory menu finds that include burgers, skewers, pizzas and pasta varieties, as well as a number of gluten-free and vegetarian options. The recently-opened pub also offers a full bar supply, impressive bourbon and wine lists, all-day happy hour bar specials and delicious craft beer selections from the restaurant's own Palm Springs Brewing Co. Previously known as the popular tapas-themed restaurant named Alicante, Revel Public House continues to keep things fresh in the oasis by providing the best local ingredients in their foods and by making everything they serve in-house. Stop by and revel in the fun this season by soaking up the upbeat sports bar atmosphere and trying fan favorites like The Beast, otherwise known as the Big Ben! The dish, which just might be every burger lover's dream come true, is a serious triple threat. The Beast combines two bacon and chorizo patties with one beef patty between pepper jack and cheddar cheese, raw onion, pickles, lettuce and chipotle mayo on a delicious bun. Pair this with the restaurant's tater tots, sweet potato fries or a half order of their Killer Mac & Cheese for a palate-pleasing time.
Revel Public House is located at 140 S Palm Canyon Dr., Palm Springs.
Sapporo Ramen & Grill
Located in Palm Desert, Sapporo Ramen & Grill is a dedicated ramen house that is the newest restaurant finding on the notable Highway 111 strip. Authentic ramen dishes make up the restaurant's extensive menu, offering a wide variety of tasty selections to choose from. Also available on the menu are a number of popular Japanese soups, bento box meals and shaved ice treats–all at extremely reasonable prices. A couple of standout dishes that have quickly become customer favorites at the restaurant are the Sapporo Bar Wong Pork Belly Ramen and the Spicy Miso Ramen. Stop by for lunch or dinner to taste and see what everyone is talking about at Sapporo!
Sapporo Ramen & Grill is located at 73759 HWY 111, Palm Desert.
Wilma & Frieda, Palm Springs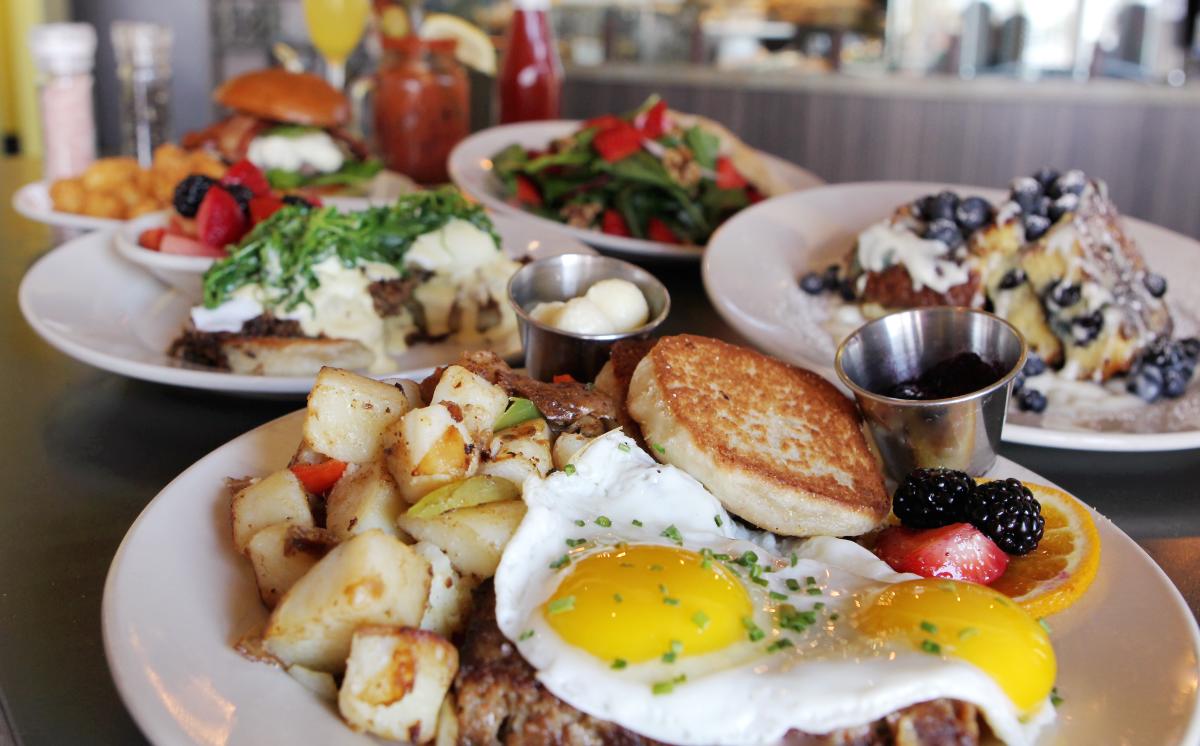 Not much can beat the tempting home-style cooking and comfort classic foods being served up at Wilma & Frieda in Palm Desert, and now, in downtown Palm Springs too! The cafes are named after restaurant owner Kelly McFall's maternal and paternal grandmothers who influenced McFall in the art of cooking and in the creation of her menus. Beloved restaurant favorites found at the Palm Desert diner is also featured on the Palm Springs menu, along with a few new delectable offerings as well.
Wilma & Frieda, Palm Springs is located at 155 S. Palm Canyon Drive, Palm Springs.
For more mouth-watering inspiration on where to dine in the oasis, check out dining in Greater Palm Springs.