What could be better than dining with a breathtaking view? Or the sweeping vista of a lush golf course and majestic mountains at sunset? How about from a bird's eye perch overlooking a bustling, festive street? Discover the many options for dining with a spectacular view in Greater Palm Springs. Here are a few favorites:
 
Atop the Gardens on El Paseo, Tommy Bahama Restaurant & Bar's wrap-around balcony overlooks Palm Desert's upscale boulevard, El Paseo, with palm trees silhouetting against a turquoise sky. The Little San Bernardino mountains in the distance turn purple as the sun sets. Enjoy island-inspired American cuisine such as their world-famous coconut shrimp with mango chutney or macadamia-crusted goat cheese appetizer. Sip handcrafted cocktails like the frozen Mai Tai, classic margarita or Pineapple Paradisio martini. Open 11 a.m. to 9 p.m. daily; happy hour 3 p.m. to 5 p.m. in the bar.
Where: 73595 El Paseo Suite B1212, Palm Desert, CA 92260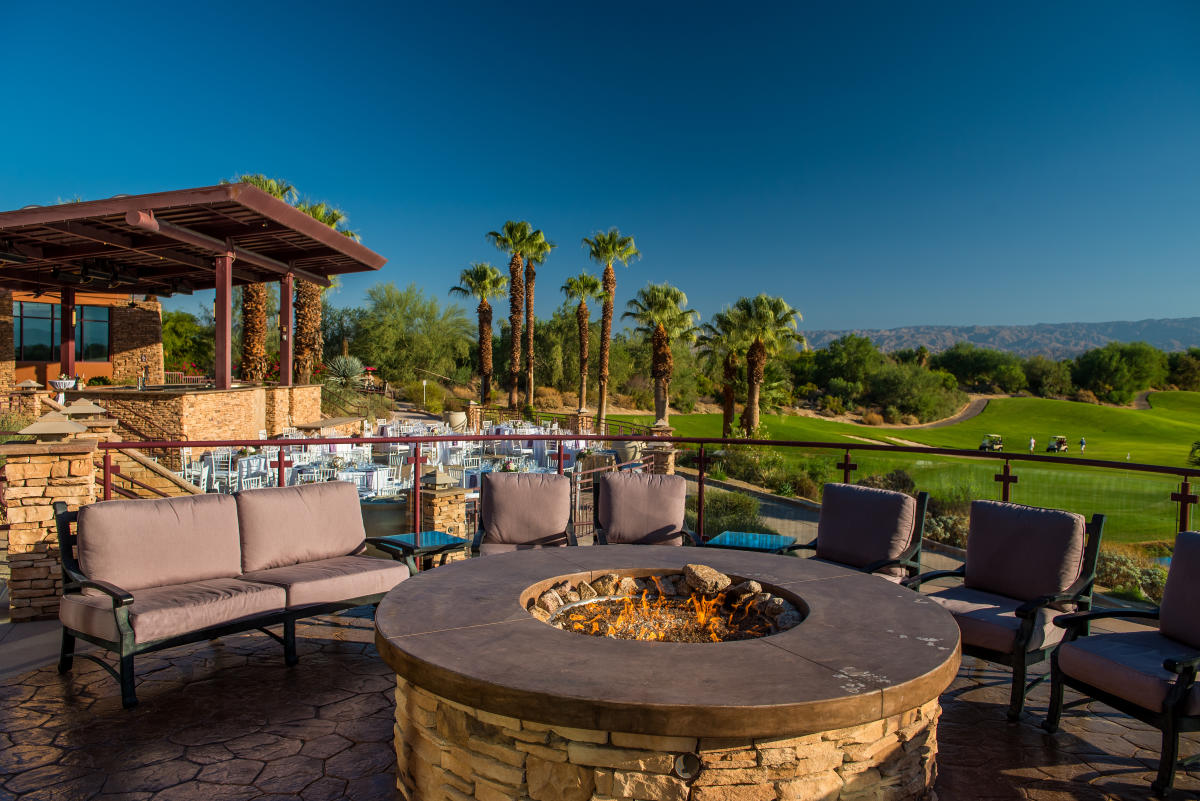 Experience an elevated view of Desert Willow Golf Resort's Firecliff Course from the beautiful glass and stone Terrace Restaurant while enjoying lunch, brunch or cocktails. From the grill comes the Firecliff burger with jalapeno bacon or the grilled chicken guacamole sandwich. From the sea, Asian Salmon Salad or fish tacos. The club sandwich, classic Monte Cristo and southwestern chicken wrap are lunchtime specialties. Enjoy quality wines, beers and craft cocktails from the Vista and Lobby Bar. Open 7 a.m. to 11 a.m. for breakfast; 11 a.m. to 5:30 p.m. for lunch.
Where: 38-995 Desert Willow Dr., Palm Desert, CA 92260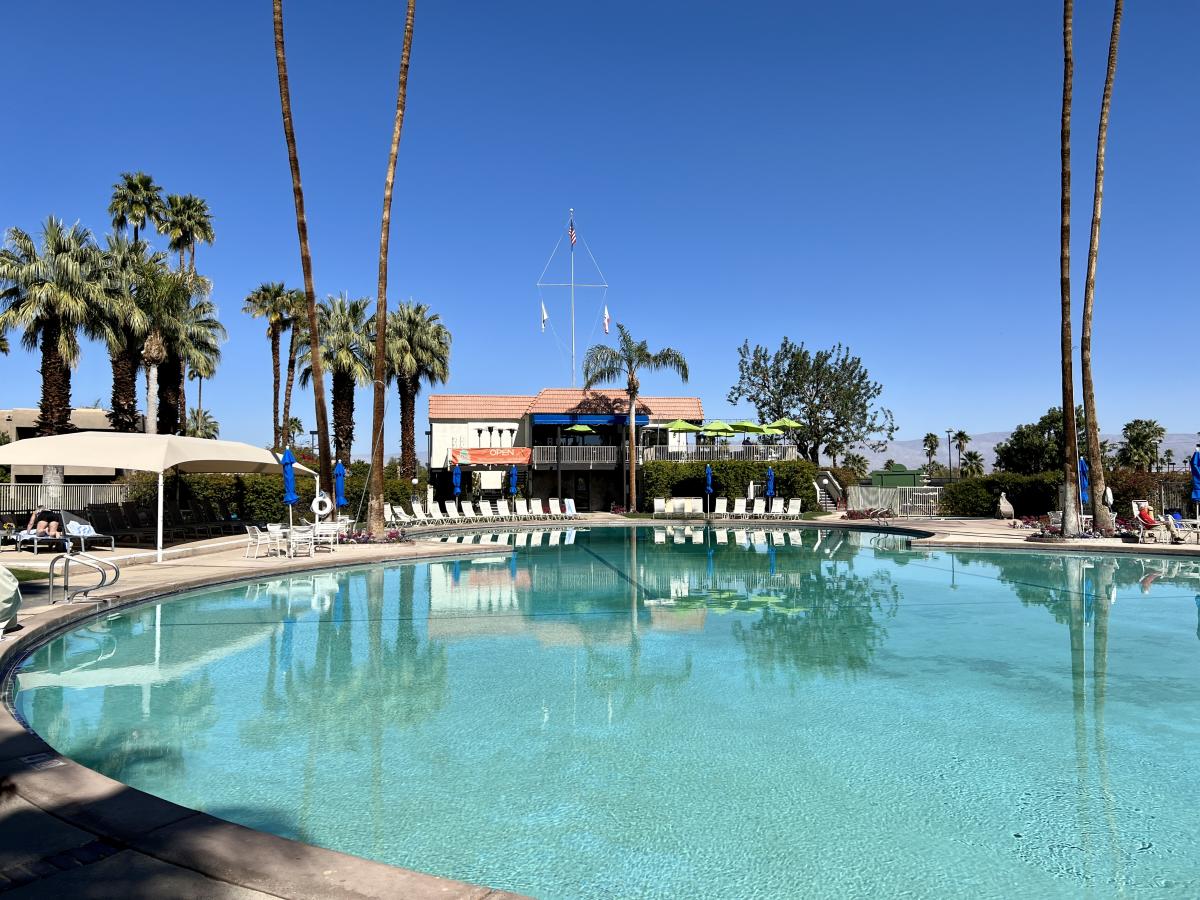 Hearken back to the mid-century era with a modern update at this small but charming breakfast-brunch-lunch spot. Delish is inside the Shadow Mountain Golf Club yet it's open to the public (you'll get special instructions on how to get in when you reserve) and the restaurant is perched on a second floor deck above the golf club's sea-sized figure-eight pool. The menu is small and simple, but it's all home cooked, and the beer is ice cold. Look down to enjoy watching the lazy pool culture, or eyes up to drink in the mountains ringing the neighborhood.
Where: 45750 San Luis Rey Avenue, Palm Desert, CA 92260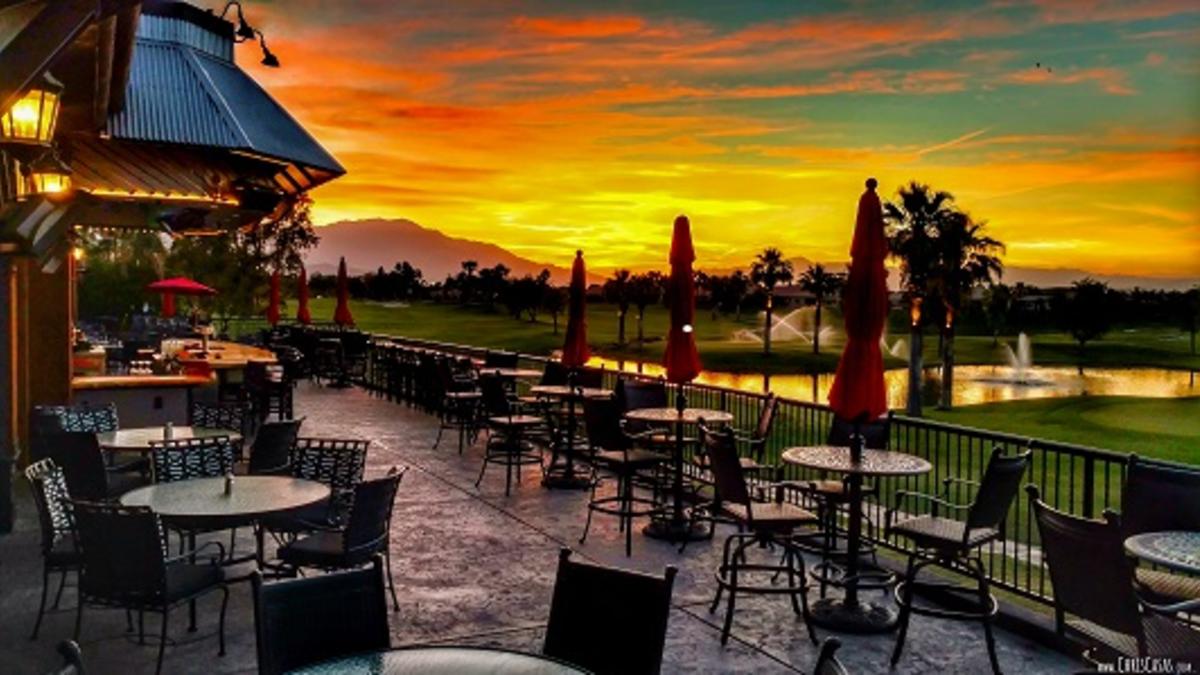 What could be more spectacular than watching a fiery sunset from Big Rock Pub's huge balcony overlooking the 18th hole at Indian Springs Golf Resort? It's the perfect vantage point to see the sun melt between the San Jacinto and Mt. Baldy mountains. Enjoy pub fare like garlic parmesan or grilled BBQ wings, the pub burger, meatball sub, plus pizzas, sandwiches, tacos, quesadillas and salads while sipping a cold one from the Beer Garden. Big Rock Pub is best known for its live entertainment with top bands every weekend. Open 11 a.m. to 9 p.m. Monday – Thursday; 11 a.m. to 10 p.m. Friday – Saturday; 10 a.m. to 7:30 p.m. Sunday, Happy Hour daily, 4 p.m. to 6 p.m.
Where: 79940 Westward Ho Dr., Indio, CA 92201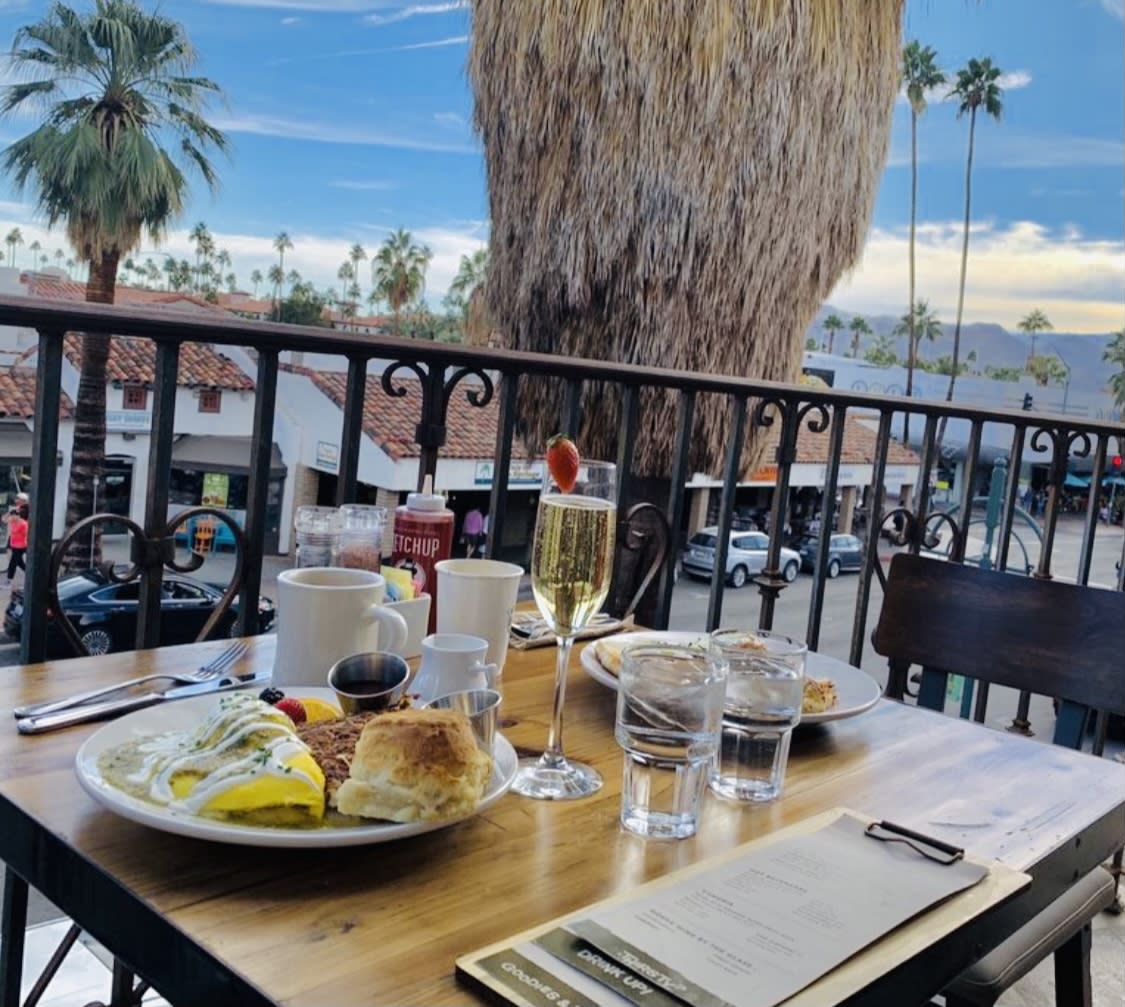 From a tiny balcony perch to a large outdoor terrace, watch all the action on the famed Palm Canyon Drive while enjoying Wilma and Frieda's craveable comfort food with a twist. Located in the Mercado center, a bronze Sonny Bono statue provides a great photo-op for visitors. Brunch favorites are blackberry custard French toast, Kim's banana caramel French toast, and the signature grilled meatloaf and eggs. Try the "I'll have what she's having" Caprese sandwich, tarragon roasted chicken salad or BLT & avocado. What's for Dinner (at the Palm Springs location only)? signature meatloaf, baby back ribs, Frieda's down-home chicken and waffles. Palm Springs location is open Thursday – Monday with varied times for lunch and brunch; for dinner Thursday – Saturday, 5- 9 p.m. Palm Desert is open daily, 8 a.m. to 2 p.m.
Where: 155 S Palm Canyon Dr., Palm Springs, CA 92262 | 73575 El Paseo #2310, Palm Desert, CA 92260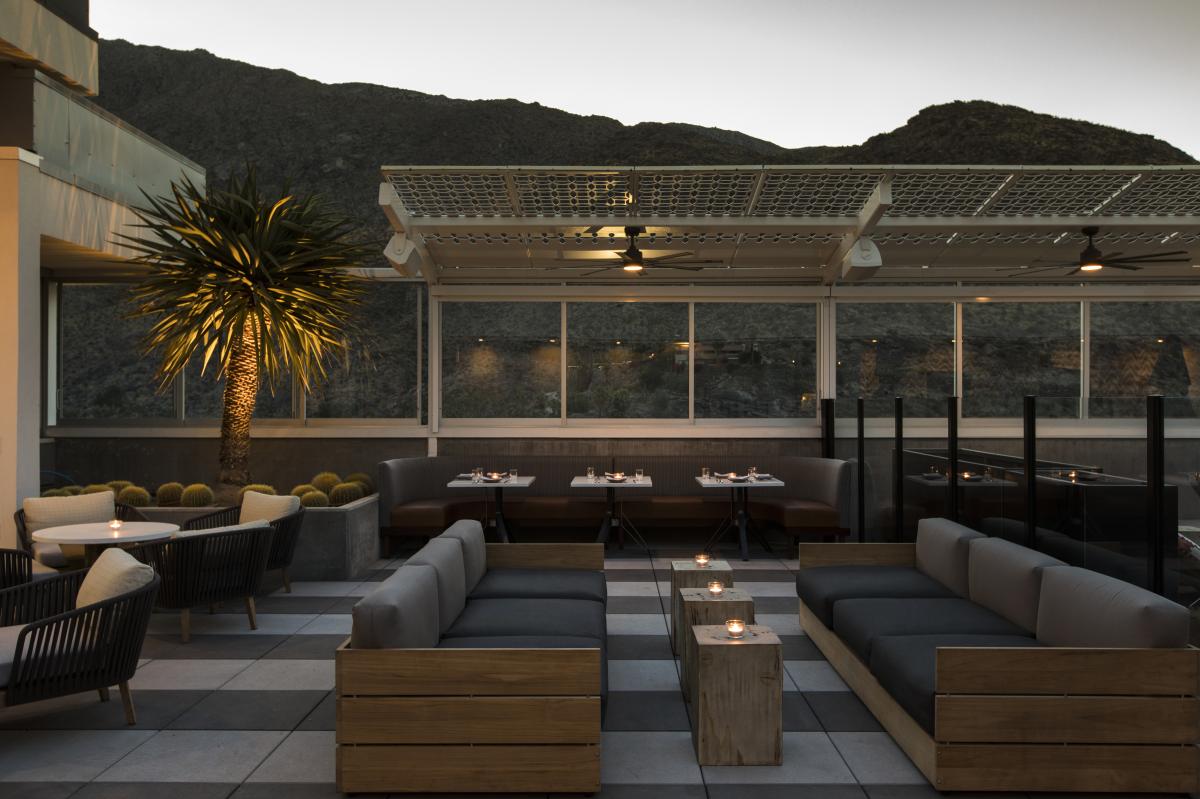 Elevated dining matches the views at 4 Saints, seven stories above Palm Springs at the Kimpton Rowan Palm Springs. New American fare is inspired by California's farms, vineyards and coastal bounty. 4 Saints' small and large plates showcase seafood, local heirloom vegetables, and prime meats along with California wines and craft and classic cocktails. A 270-degree view spans from downtown to sweeping desert and mountain vistas beyond. Dinner is served Wednesday – Sunday, from 5 p.m. to 10 p.m.
Where: 100 W Tahquitz Canyon Way, Palm Springs, CA 92262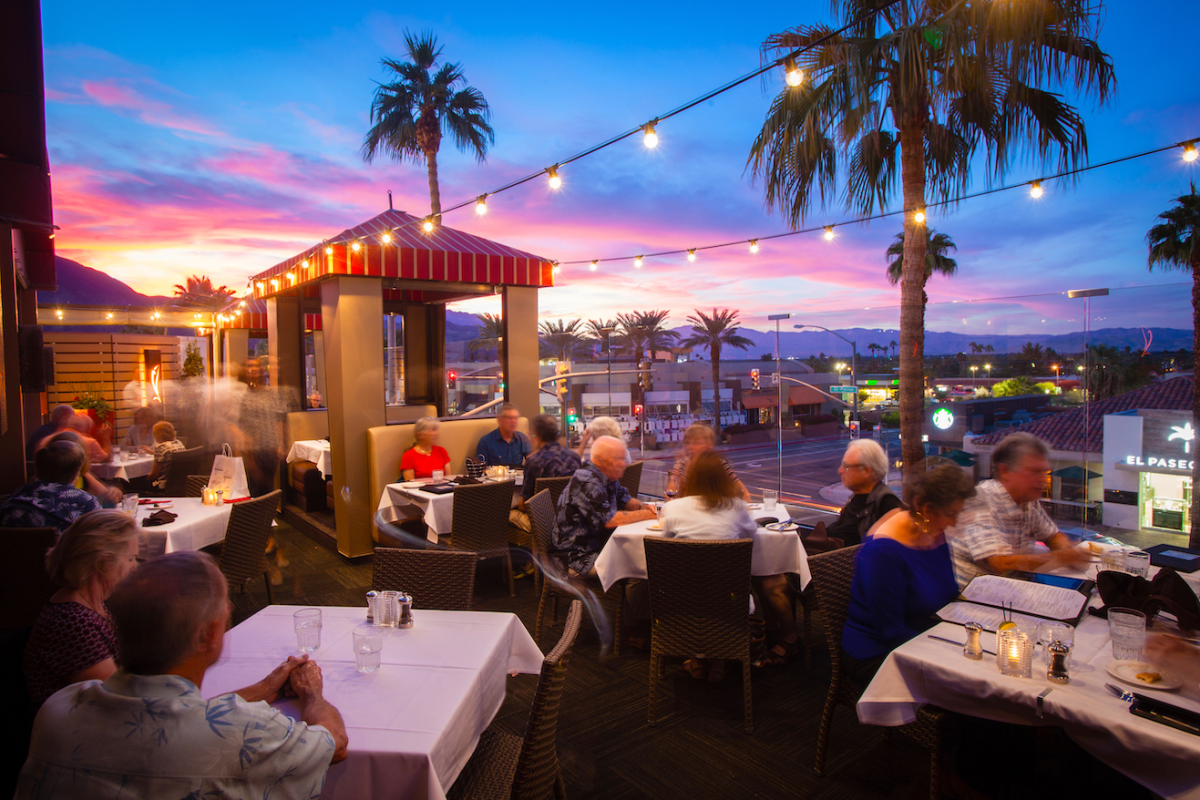 For more than 15 years, Pacifica Seafood Restaurant has been a popular destination to enjoy the city lights, desert and mountain views from its outdoor patio overlooking El Paseo. Its innovative menu highlights fresh daily seafood such as ahi tuna tartare, steamed mussels, baked scallops on the half shell, swordfish, and salmon as well as short ribs, steaks and pasta dishes. Enjoy a special sunset dinner from 3:30 p.m. to 5 p.m. and happy hour at the bar, from 3:30 p.m. to 6:30 p.m. serving premium vodkas, wines, and craft cocktails. Open for alfresco dining, Tuesday – Sunday from 3:30 p.m.
Where: 73505 El Paseo, Palm Desert, CA 92260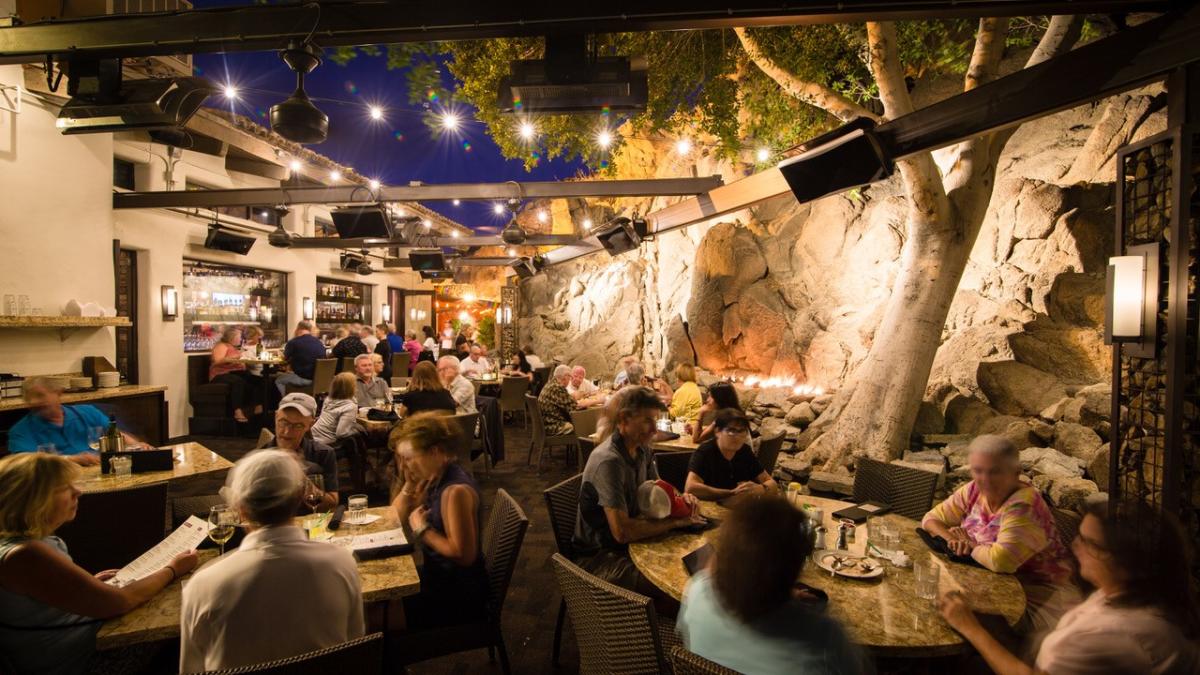 Carved into the Point Happy cliff, La Quinta Cliffhouse Grill & Bar offers unique dining options – al fresco on its patio hewn from the rocks where a waterfall spills down, a gorgeous desert view from the inviting dining room or unwind in the comfortable lounge centered by a large bar. Serving an upscale casual American fare, pan-roasted Chilean seabass, bone-in pork chop, vegetarian penne pasta and roasted chicken are some of the offerings. Weekly food and drink specials, wines by the glass, cocktails and beers are also available. Happy hour daily from 3:30 p.m. to 5:30 p.m., dining from 3:30 p.m. Tuesday – Sunday.
Where: 78250 CA-111, La Quinta, CA 92253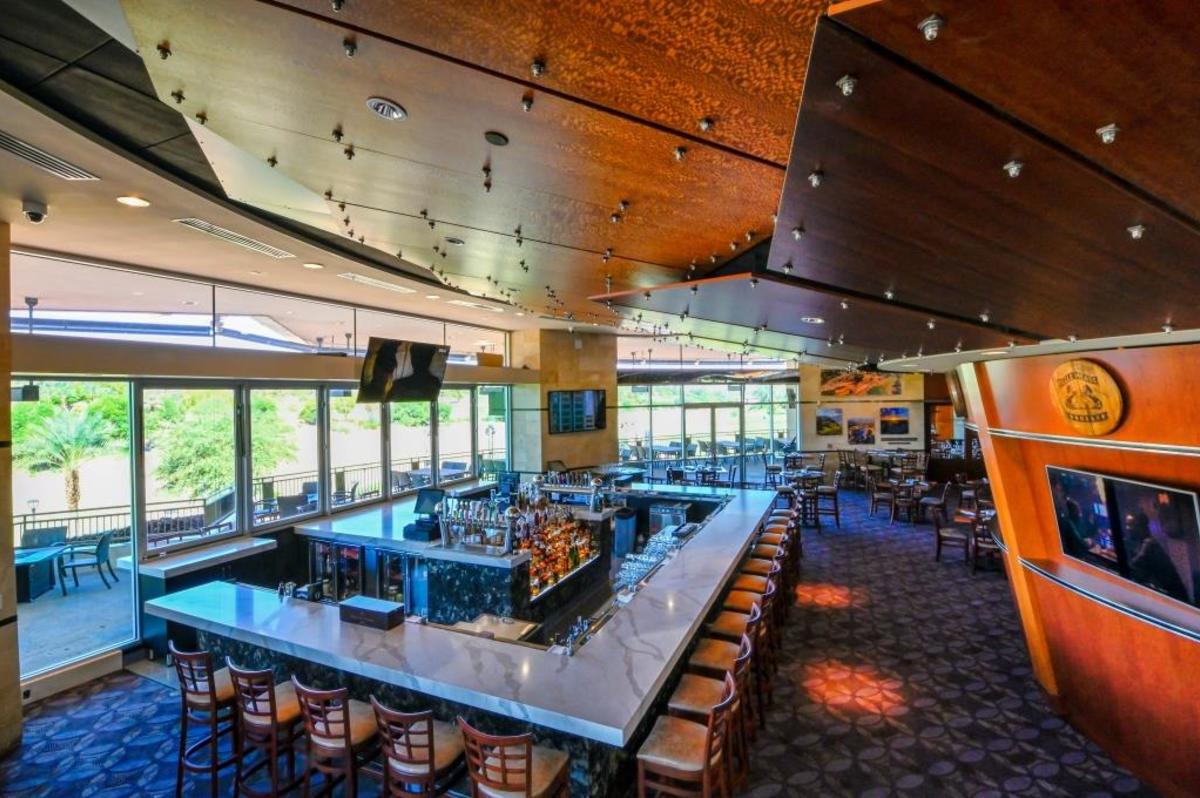 In the heart of Indian Well's golf and hospitality sits the Vue Grille & Bar offering spectacular views of the lush golf course on the north and the jagged Eisenhower Peak that flanks Indian Well's tony country clubs on the south. Within walking distance of four major hotels, the Vue's contemporary American cuisine holds its own among the competition. Favorites at lunch are wagyu burger with truffle white cheddar, the Vue cobb salad and blackened mahi mahi tacos. Beef tenderloin, rack of lamb and scallops & prawns are choice favorites for dinner. Open Tuesday – Saturday, 11 a.m. to 3 p.m. for lunch; 5 p.m. to 8 p.m. Tuesday – Thursday, and 5 p.m. to 9 p.m. Friday & Saturday for dinner.
Where: 44500 Indian Wells Ln, Indian Wells, CA 92210
The views here are less about the mountains or the palm trees and more about the fur. Boozehounds, you see, is one of the few restaurants that caters to both humans and their pets, and at this establishment, it's not an afterthought to let you bring your pup. With a crafty cocktail program, artisan fare and a special menu so your dog can dine al fresco with you, this is the ultimate see-and-be-petted scene in Greater Palm Springs. When you're not admiring bejeweled collars and excellence in doggy restraint, take a look at the fabulous interior design by Raven and the Willow.
Where: 2080 N Palm Canyon Dr, Palm Springs, CA 92262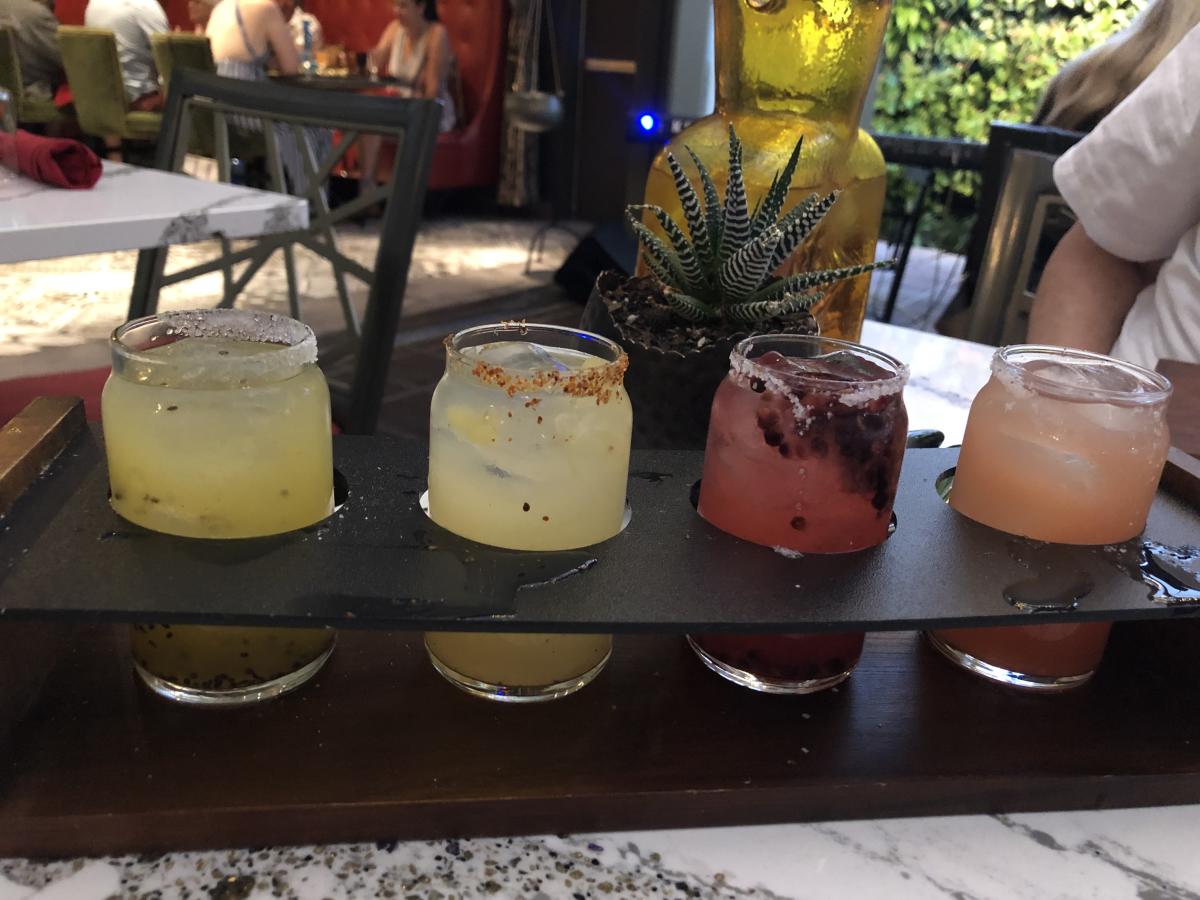 This modern Mexican joint's raison d'etre is fine ingredients, high-quality dishes and good people. Run by the same family that also owns FARM, Tac/Quila has an expansive patio that spills onto busy Palm Canyon Road, meaning the views aren't just of this busy pedestrian-friendly thoroughfare and all the action, but you're part of the scene too. Be sure to sample some of the street tacos or dig into the short rib enchiladas.
Where: 415 N Palm Canyon Dr, Palm Springs, CA 92262
You might miss Sparrows Lodge if you weren't looking for it. This legit hideaway has long been a local favorite thanks to its subtle vibe. Accordingly, the views here are about the cozy property the small boutique hotel sits on; think intimate conversation areas, lots of trees providing a speckled canopy overhead, and conversation areas you wish you could overhear into better. In the evening, gather around the fire pit for star gazing and s'mores.
Barn Kitchen's cuisine brings small local farms and the unique elements of the desert to classic Californian food. It's open daily to the public for lunch from 11 a.m. – 4 p.m. and dinner from 5 – 9 p.m. The bar remains open until 11 pm every day, serving a selection of microbrews, wine, and spirits.
Where: 1330 E Palm Canyon Dr, Palm Springs, CA 92264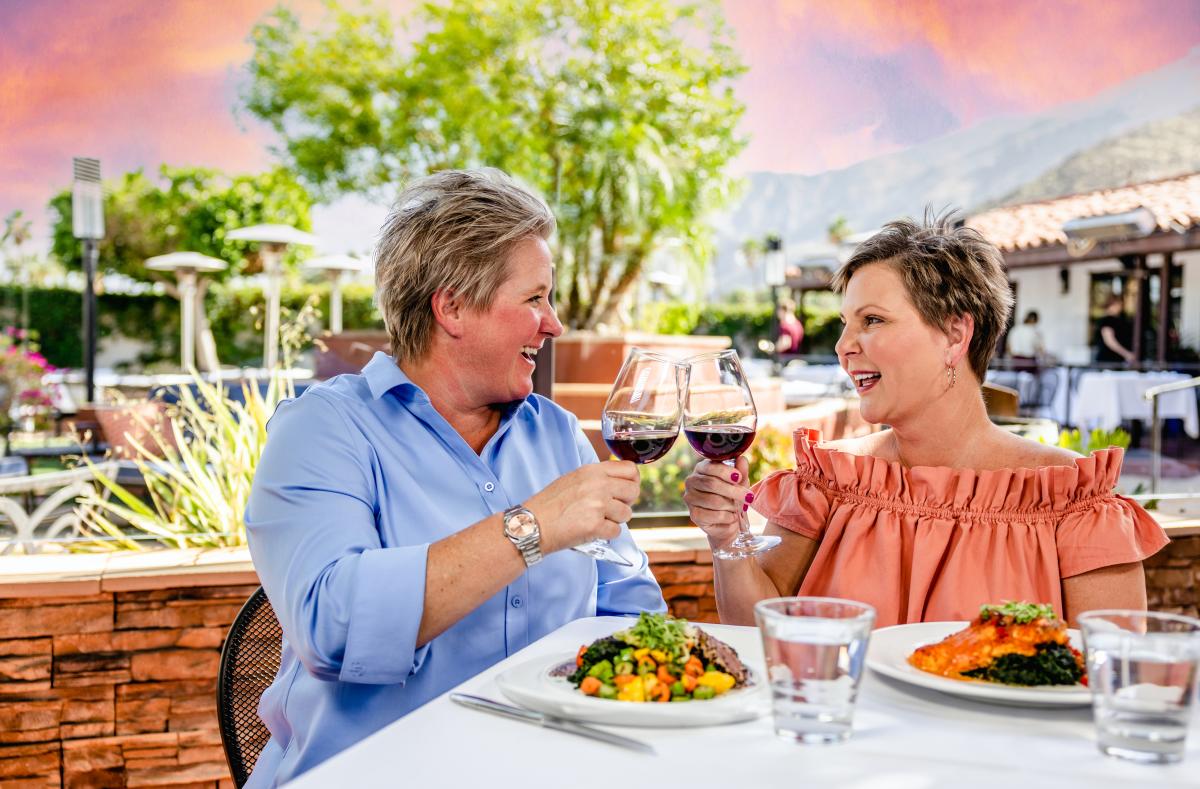 One of the finest patios in Greater Palm Springs served alongside some of the most well-known cuisines, Copley's is a desert dining staple. The sprawling patio can be extremely bustling, but Copley's has zoned it quite effectively so there's an array of little outdoor 'rooms'. It's not uncommon to have a Gian wedding event on one side, and dozens of small celebrations speckled around the rest of the area.
It's spectacular at sunset as string lights sparkle on, firepits spark up and guests tip back another glass of bub. On a warm evening, there's no better view than the people-watching here.
Where: 621 N Palm Canyon Dr, Palm Springs, CA 92262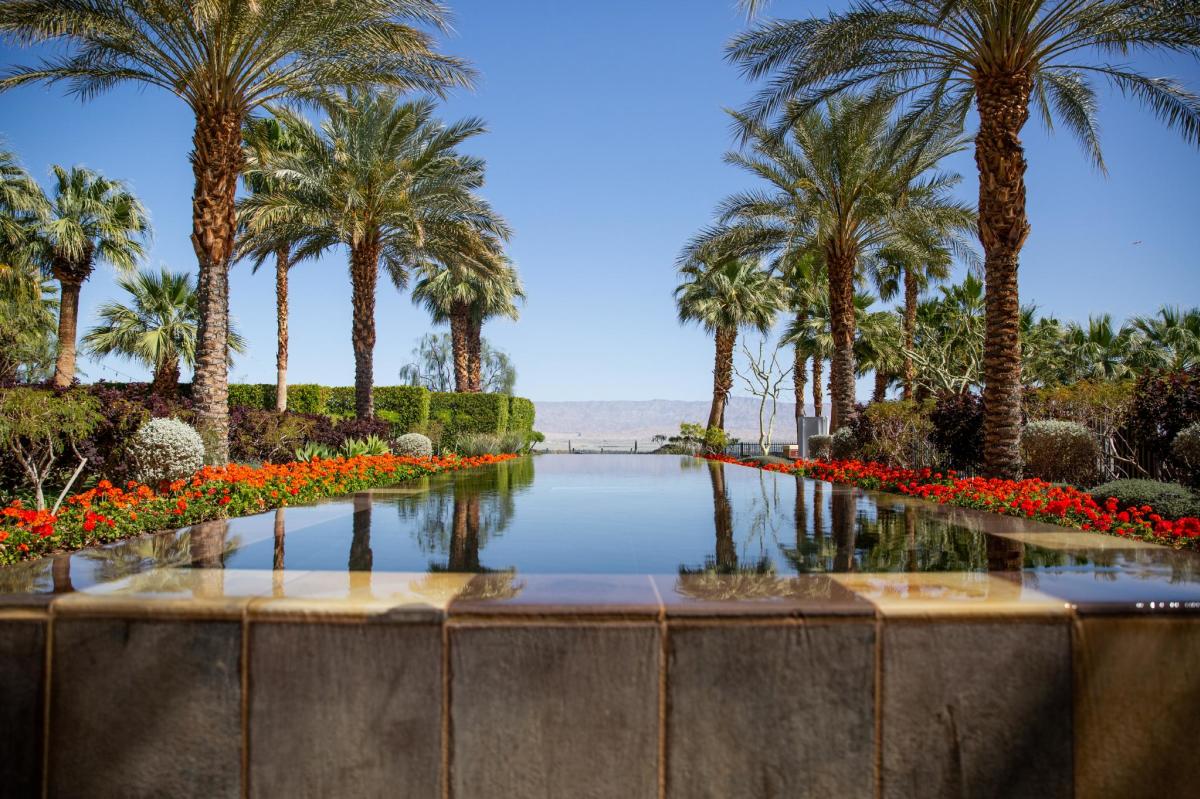 If it's true valley views, served up with a side of twinkling lights that you're after, there's no better place than State Fare at the Ritz Carlton Rancho Mirage. Reclined on the side of a mountain in south Rancho, the property spills over the edge like an infinity pool, allowing guests to lean against the glass railings and take in 180-degree views across Greater Palm Springs. Sit at the top of the property and enjoy the view from the hotel building and its patio, or ask for your drink to go and walk the lavish grounds, then find one of many places to perch.
Where: 68900 Frank Sinatra Dr, Rancho Mirage, CA 92270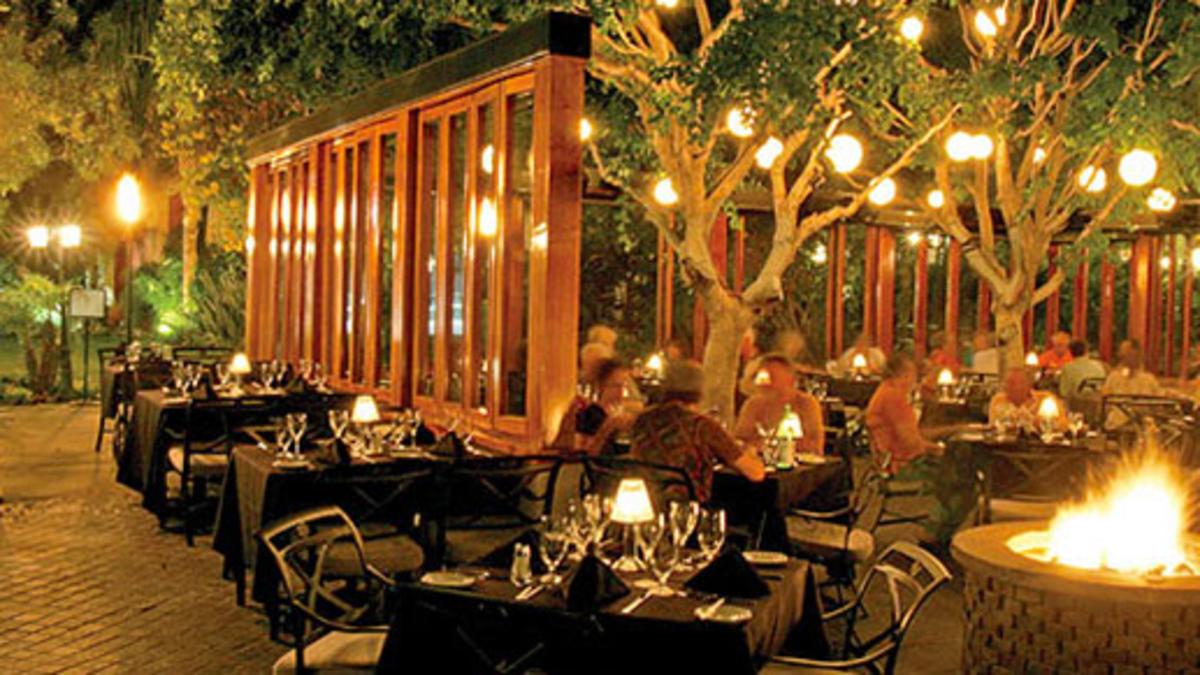 Tired of merely looking at the mountains? Why not sit right next to one over lunch? Spencers at the Palm Springs Tennis Club is snuggled about as close as you can get to one of the big desert hills, so lots of visitors find it a novelty to come here. On Spencer's patio, however, it's anything but dusty; dozens of large trees with sweeping canopies provide so much greenery and shade its like dining in the forest. Reels of twinkly lights make it particularly magical at night. The menu leans mid-century golf resort (think Waldorf salad and lobster club) but it's tasty and the service is impeccable.
Where: 701 W Baristo Rd, Palm Springs, CA 92262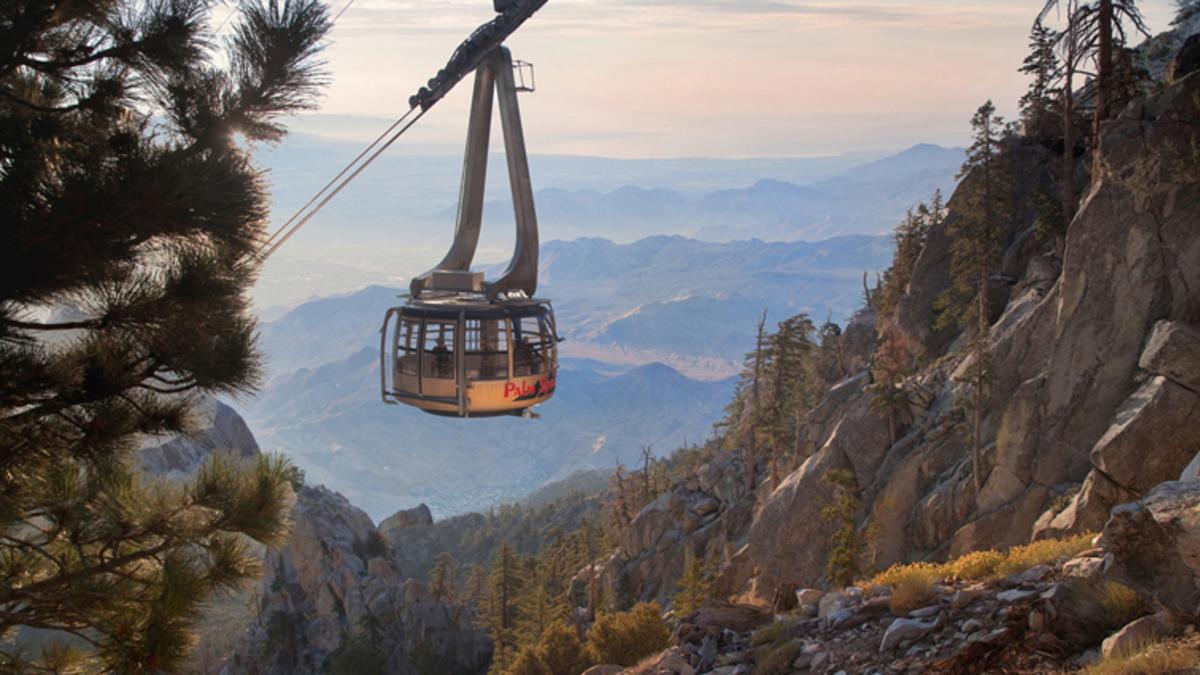 Can't decide between fine dining or a more casual meal; either way, to get to this top-of-the-valley spot, you must ride the iconic Palm Springs Aerial Tramway, which is an event all unto itself.
Consider this some pretty great bang for your buck, since you get the stunning tram experience in the world's largest rotating tram car, then you can drink in views from the tallest place in Greater Palm Springs. The views can't be beaten from this midcentury-era building perched atop the mountain, and the food is pretty evenly matched.
Where: 1 Tram Way, Palm Springs, CA 92262
Explore more dining options in Greater Palm Springs. Visit any of these restaurants and dig into the flavors of this foodie oasis!