What could be better than dining with a breathtaking view? Or the sweeping vista of a lush golf course and majestic mountains at sunset? How about from a bird's eye perch overlooking a bustling, festive street? Discover the many options for dining with a spectacular view in Greater Palm Springs. Here are a few favorites:
Atop the Gardens on El Paseo, Tommy Bahama Restaurant & Bar's wrap-around balcony overlooks Palm Desert's upscale boulevard, El Paseo, with palm trees silhouetting against a turquoise sky. The Little San Bernardino mountains in the distance turn purple as the sun sets. Enjoy island-inspired American cuisine such as their world-famous coconut shrimp with mango chutney or macadamia crusted goat cheese appetizer. Sip handcrafted cocktails like the frozen Mai Tai, classic margarita or Pineapple Paradisio martini. Open 11 a.m. to 9 p.m. daily; happy hour 3 p.m. to 5 p.m. in the bar.
Where: 73595 El Paseo Suite B1212, Palm Desert, CA 92260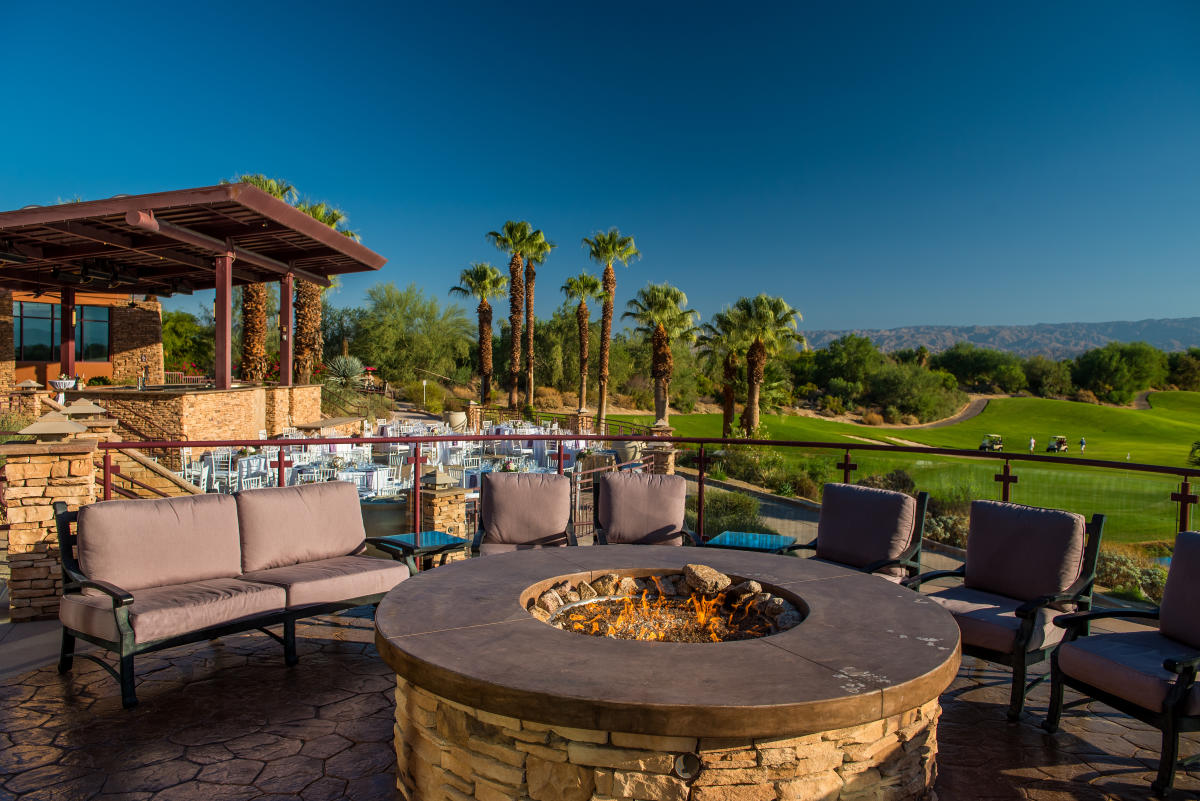 Experience an elevated view of Desert Willow Golf Resort's Firecliff Course from the beautiful glass and stone Terrace Restaurant while enjoying lunch, brunch or cocktails. From the grill comes the Firecliff burger with jalapeno bacon or the slow cooked short ribs. From the sea, try pan-seared scampi or Scottish salmon risotto. The club sandwich, classic Monte Cristo and southwestern chicken wrap are lunchtime specialties. Enjoy quality wines, beers and craft cocktails from the Vista and Lobby Bar. Open 7 a.m. to 11 a.m. for breakfast; 11 a.m. to 5:30 p.m. for lunch; closing at 3:30 p.m. on Mondays and Tuesdays.
Where: 38-995 Desert Willow Dr., Palm Desert, CA 92260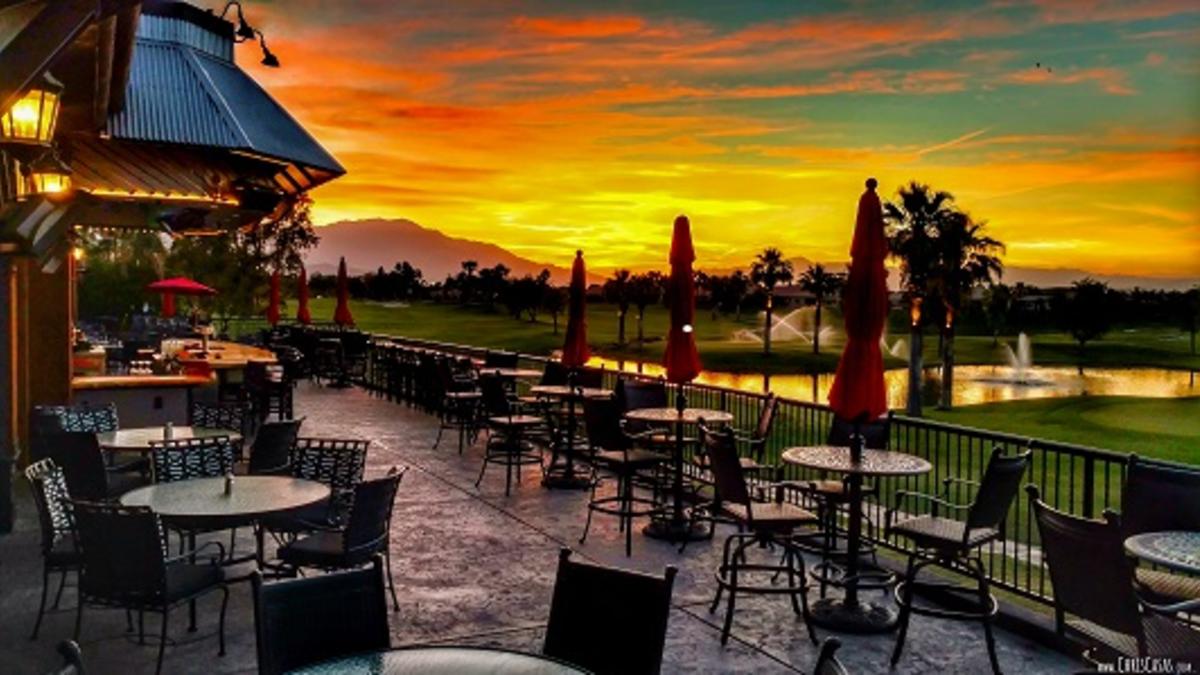 What could be more spectacular than watching a fiery sunset from Big Rock Pub's huge balcony overlooking the 18th hole at Indian Springs Golf Resort? It's the perfect vantage point to see the sun melt between the San Jacinto and Mt. Baldy mountains. Enjoy pub fare like garlic parmesan or grilled BBQ wings, the pub burger, meatball sub, plus pizzas, sandwiches, tacos, quesadillas and salads while sipping a cold one from the Beer Garden. Big Rock Pub is best known for its live entertainment with top bands every weekend. Open 11 a.m. to 9 p.m. Monday – Thursday; 11 a.m. to 10 p.m. Friday – Saturday; 10 a.m. to 7:30 p.m. Sunday, Happy Hour daily, 4 p.m. to 6 p.m.
Where: 79940 Westward Ho Dr., Indio, CA 92201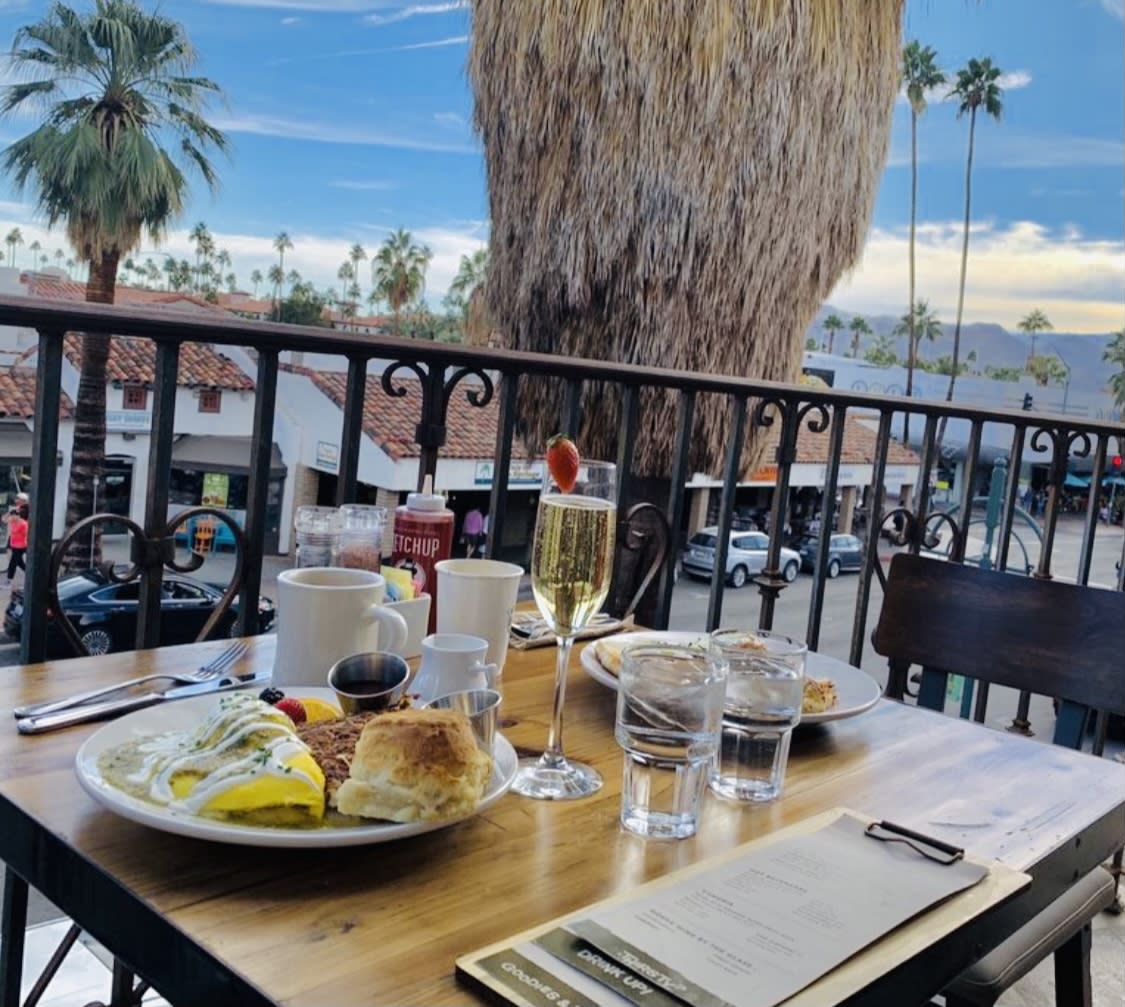 From a tiny balcony perches to a large outdoor terrace, watch all the action on famed Palm Canyon Drive while enjoying Wilma and Frieda's craveable comfort food with a twist. Located in the Mercado center, a bronze Sonny Bono statue provides a great photo-op for visitors. Brunch favorites are blackberry custard French toast, Kim's banana caramel French toast and the signature grilled meatloaf and eggs. Try the "I'll have what she's having" Caprese sandwich, tarragon roasted chicken salad or BLT & avocado. What's for Dinner (at the Palm Springs location only)? signature meatloaf, baby back ribs, Frieda's downhome chicken and waffles. Palm Springs location is open Thursday – Monday with varied times for lunch and brunch; for dinner Thursday – Saturday, 5- 9 p.m. Palm Desert is open daily, 8 a.m. to 2 p.m.
Where: 155 S Palm Canyon Dr., Palm Springs, CA 92262 | 73575 El Paseo #2310, Palm Desert, CA 92260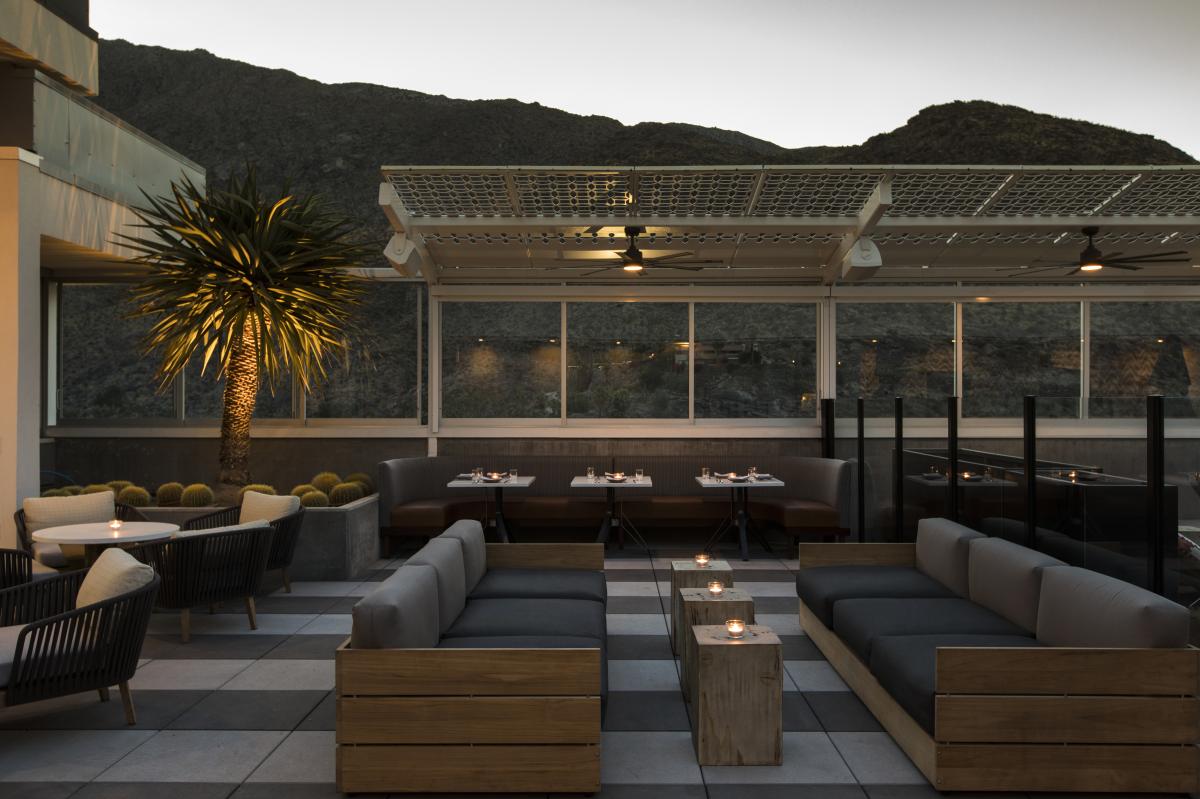 Elevated dining matches the views at 4 Saints, seven stories above Palm Springs at the Kimpton Rowan Palm Springs. New American fare is inspired by California's farms, vineyards and coastal bounty. 4 Saints' small and large plates showcase seafood, local heirloom vegetables and prime meats along with California wines and craft and classic cocktails. A 270-degree view spans from downtown to sweeping desert and mountain vistas beyond. Dinner is served Wednesday – Sunday, 5 p.m. to 10 p.m.
Where: 100 W Tahquitz Canyon Way, Palm Springs, CA 92262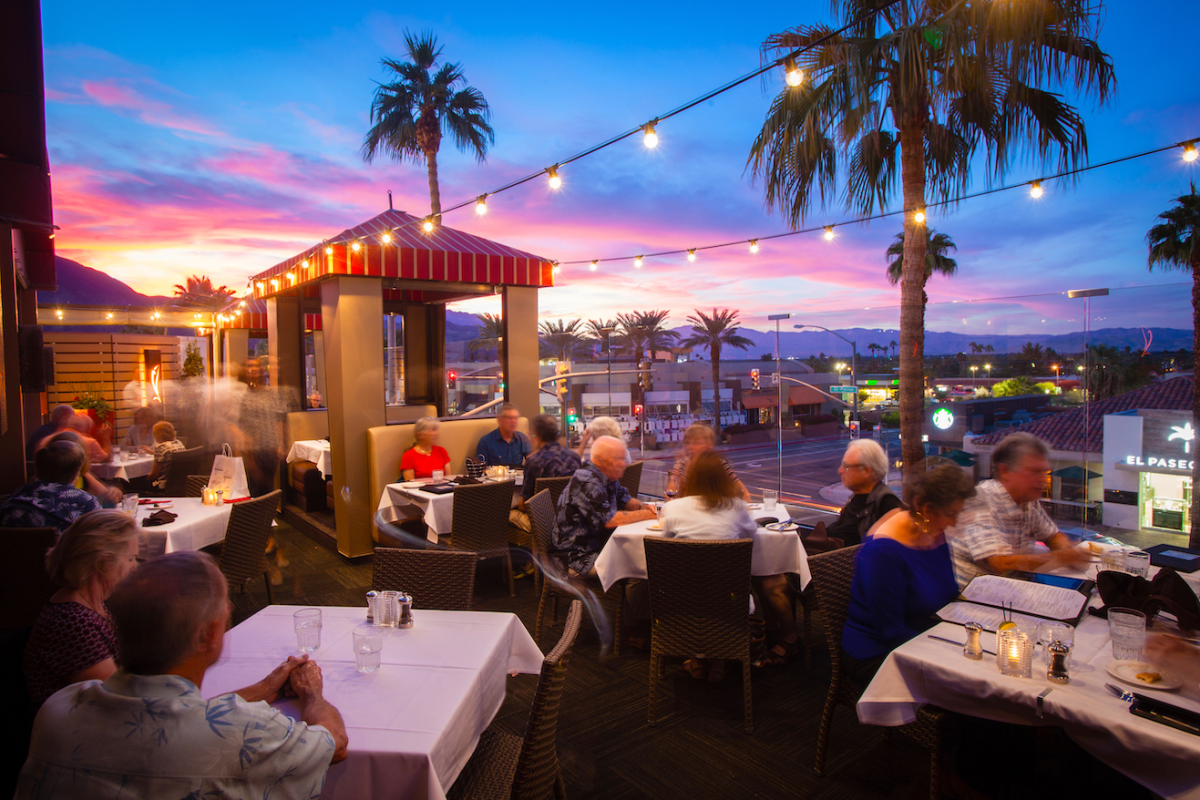 For more than 15 years, Pacifica Seafood Restaurant has been a popular destination to enjoy the city lights, desert and mountain views from its outdoor patio overlooking El Paseo. Its innovative menu highlights fresh daily seafood such as ahi tuna tartare, steamed mussels, baked scallops on the half shell, swordfish and salmon as well as short ribs, steaks and pasta dishes. Enjoy a special sunset dinner from 3:30 p.m. to 5 p.m. and happy hour at the bar, 3:30 p.m. to 6:30 p.m. serving premium vodkas, wines and craft cocktails. Open for alfresco dining, Tuesday – Sunday from 3:30 p.m.
Where: 73505 El Paseo, Palm Desert, CA 92260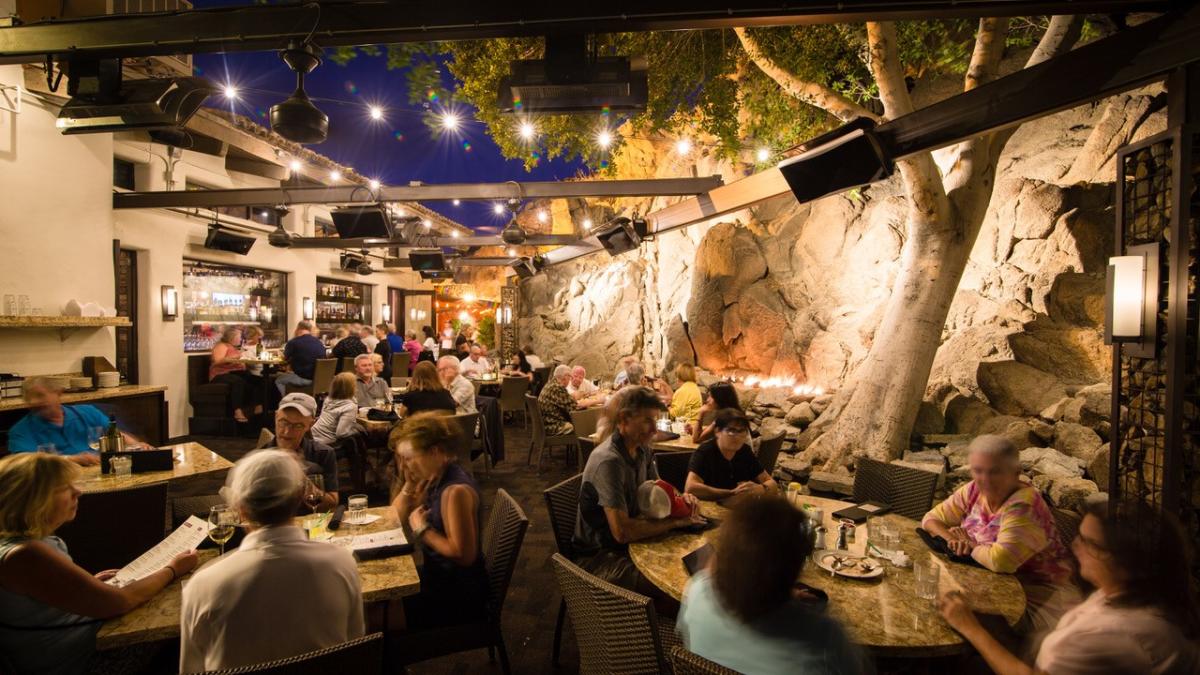 Carved into the Point Happy cliff, La Quinta Cliffhouse Grill & Bar offers unique dining options – al fresco on its patio hewn from the rocks where a waterfall spills down, a gorgeous desert view from the inviting dining room or unwind in the comfortable lounge centered by a large bar. Serving upscale casual American fare, pan-roasted Chilean seabass, bone-in pork chop, vegetarian penne pasta and roasted chicken are some of the offerings. Weekly food and drink specials, wines by the glass, cocktails and beers are also available. Happy hour daily from 3:30 p.m. to 5:30 p.m., dining from 3:30 p.m. Tuesday – Sunday.
Where: 78250 CA-111, La Quinta, CA 92253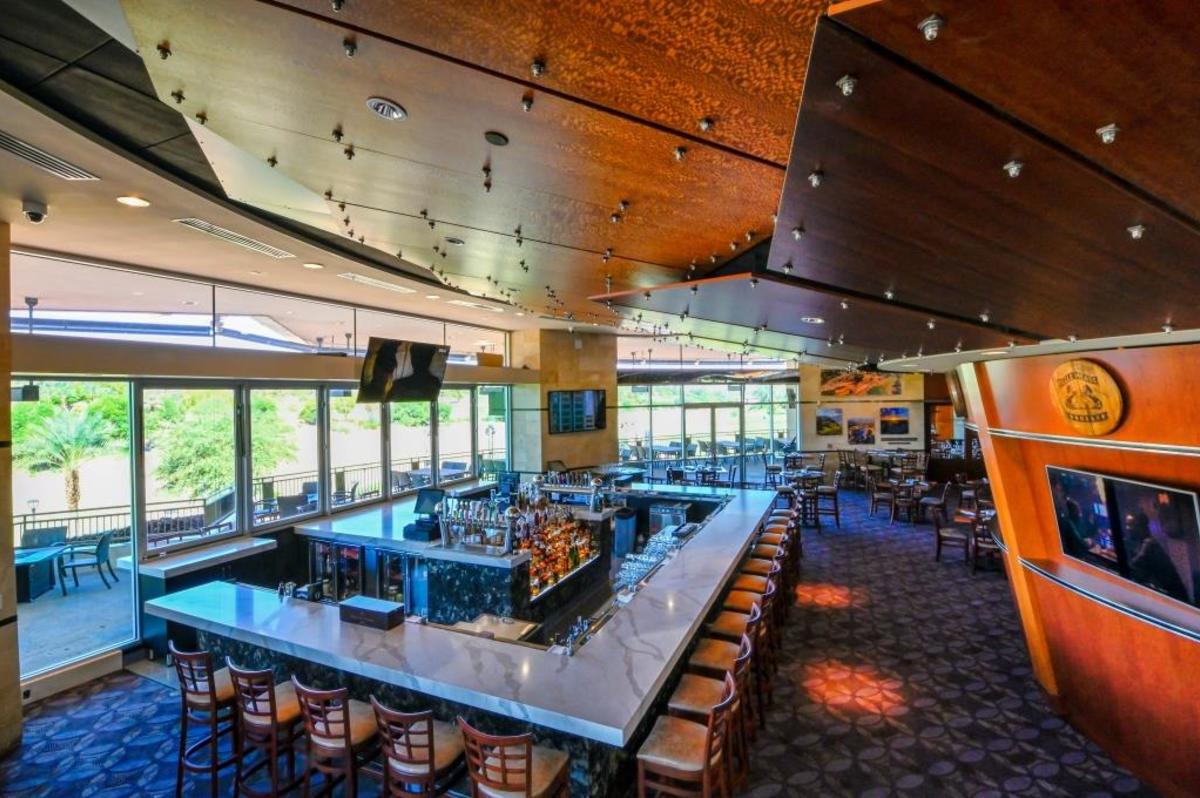 In the heart of Indian Well's golf and hospitality sits the Vue Grille & Bar offering spectacular views of the lush golf course on the north and the jagged Eisenhower Peak that flanks Indian Well's tony country clubs on the south. Within walking distance of four major hotels, the Vue's contemporary American cuisine holds its own among the competition. Favorites at lunch are wagyu burger with truffle white cheddar, the Vue cobb salad and blackened mahi mahi tacos. Beef tenderloin, rack of lamb and scallops & prawns are choice favorites for dinner. Open Tuesday – Saturday, 11 a.m. to 3 p.m. for lunch; 5 p.m. to 8 p.m. Tuesday – Thursday, and 5 p.m. to 9 p.m. Friday & Saturday for dinner.