Indulge your tastebuds while chilling poolside or on a shaded patio with luscious, icy "zero-proof" mocktails. No need to deprive yourself of an extravagant libation with these exceptional creations from mixologists throughout Greater Palm Springs.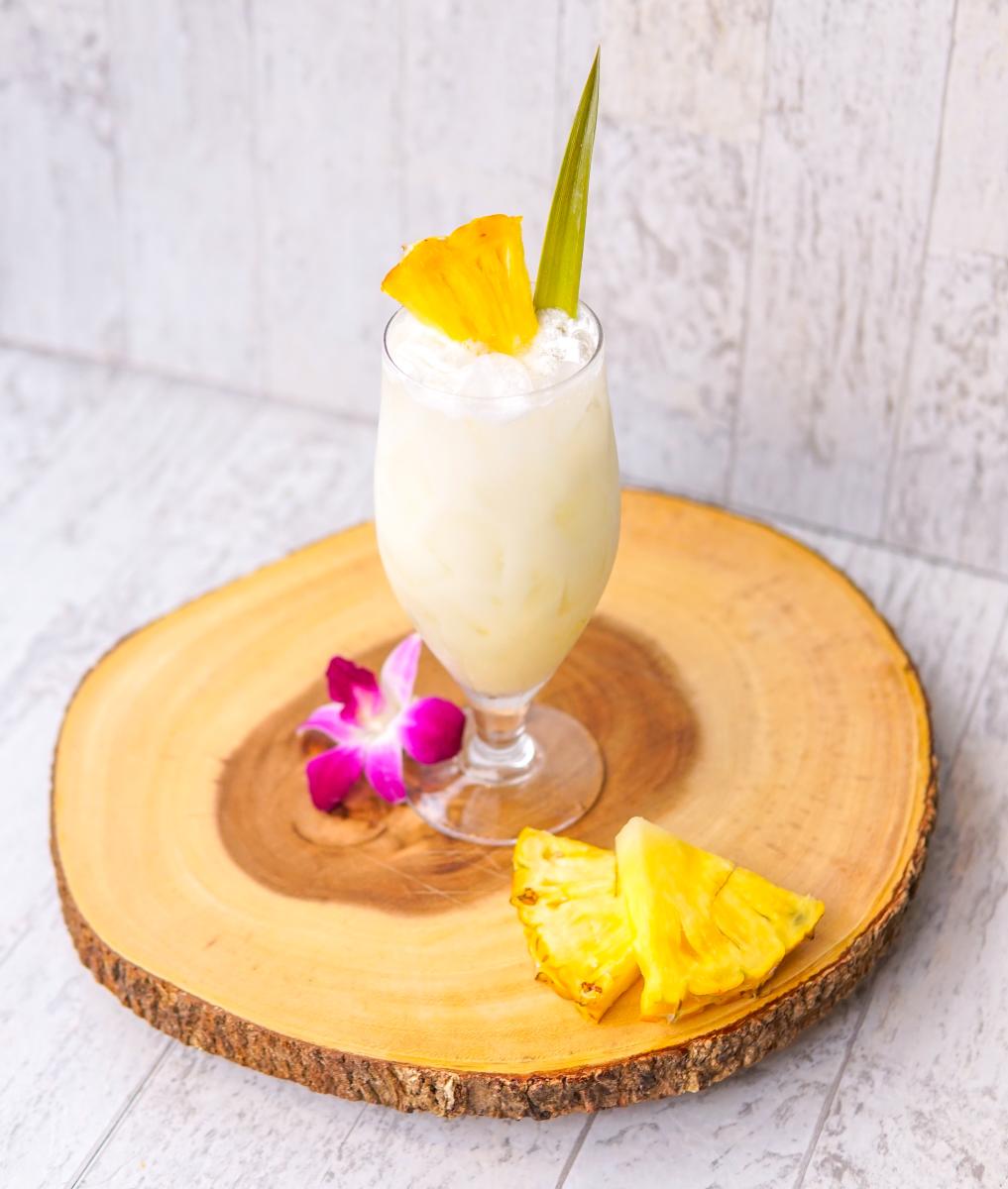 Tommy Bahama Restaurant | Palm Desert - The Marlin Bar | Palm Springs
Slip easily into "island time" with Tommy Bahama's Faux-jito or Hawaiian Fizz. Enjoy at either location, atop the Gardens on El Paseo in Palm Desert or at The Marlin Bar, an outdoor venue in downtown Palm Springs. For the Faux-jito, muddle lime juice, lime wedges and fresh mint, add ice, shake and pour into a pilsner glass. Top with chilled lemon-lime soda and garnish with another lime wedge. The Hawaiian Fizz combines pineapple juice, Coco Lopez, fresh lime juice and simple syrup in a cocktail shaker with ice. Shake well and pour into a pilsner glass, add soda water and garnish with a pineapple leaf. These and other recipes are available in their latest book The Marlin Bar: Cocktails with Tommy Bahama. With more than 90 food and cocktail recipes, colorful photos and a list of tool, tips and techniques, ante up your own cocktail party Tommy Bahama style.
Where: 73595 El Paseo, Palm Desert | (760) 836-0188 ;111 N. Palm Canyon, Palm Springs | (760) 778-0012 
The Tropicale & Coral Seas Lounge | Palm Springs
The Strawberry Pineapple Chi Chi is a nod to Palm Springs' famous Chi Chi Club, a midcentury nightclub hotspot, just as The Tropicale is a lively hotspot today. While The Tropicale's original version has tons of rum in it, made virgin, the flavors of fresh strawberries, crushed pineapple, and lime, muddled together with creme de coconut and pineapple juice, carries though. Make it with crushed ice or whirled in a blender, it's perfect for Palm Springs summers at the pool. Use pineapple rum for those who want booze.
Where: 330 Amado, Palm Springs | (760) 866-1952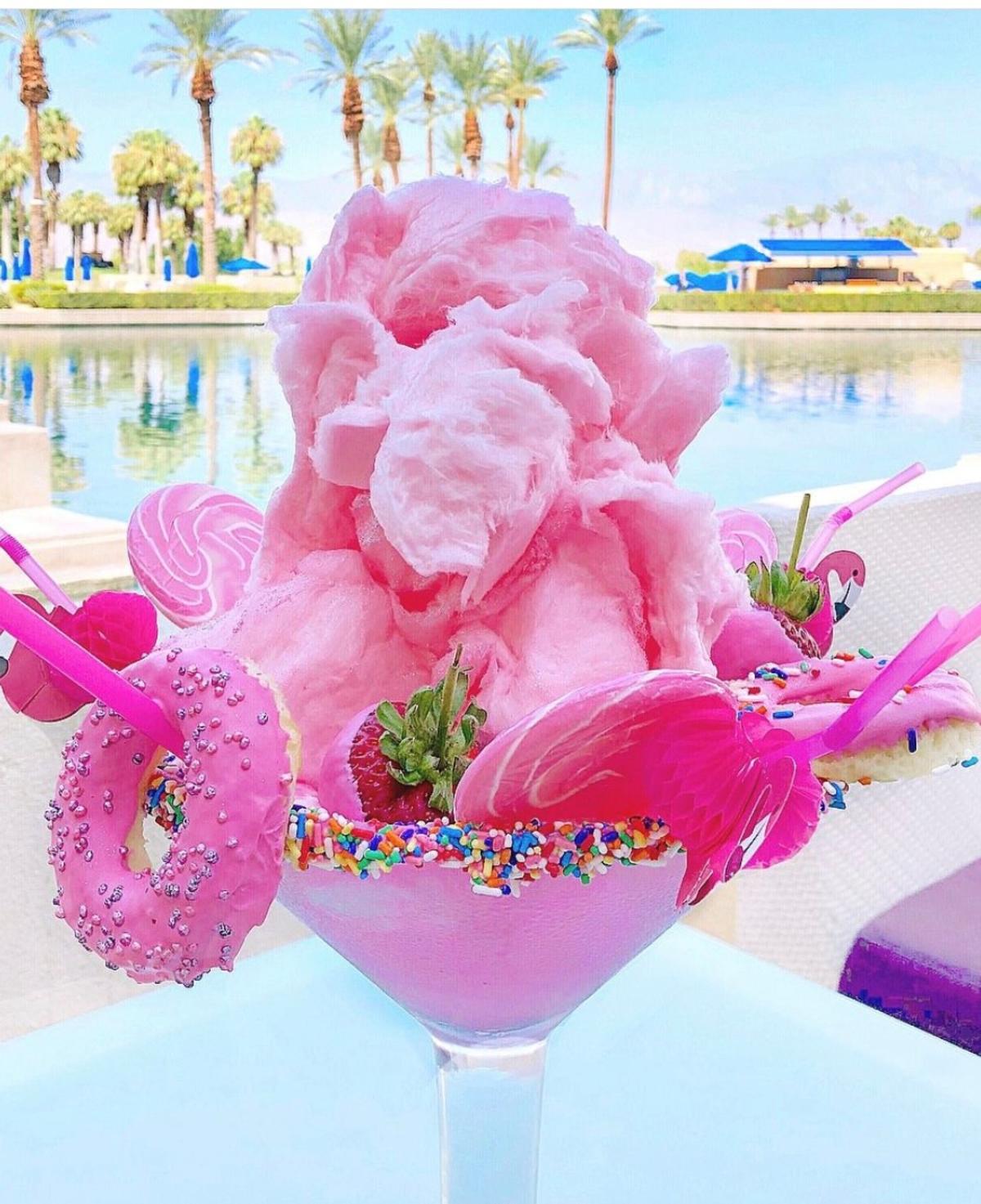 JW Marriott Desert Springs Resort & Spa | Palm Desert
One of the largest resorts and spas in Greater Palm Springs, JW Marriott offers recently refreshed décor, redesigned venues and family friendly amenities to travelers. There is a variety of dining and beverage options at the resort, but poolside, lakeside, overlooking the lagoon from the atrium lobby are among the favorite spots for relaxing and enjoying a signature beverage like the Pink Flamingo Milkshake. This elaborate concoction includes chocolate and sprinkle rim, strawberry ice cream, rainbow sprinkles, whipped cream, half and half, cotton candy, lollipops, French macarons, pink glazed doughnuts, pink chocolate dipped strawberries and edible glitter. And it is served with a pink flamingo straw. The drink can be made as a true cocktail with strawberry vodka, available in the Blue Star Lounge. Word of caution: Don't feed this to the live pink flamingoes who live on property!
Where: 74855 Country Club Drive | (760) 341-2211
Kimpton Rowan Hotel | Palm Springs
With a spectacular view from the Rooftop Pool and Bar at downtown Palm Springs' Kimpton Rowan Hotel, enjoy a Palm Springs Sunset -- in a frosty glass! The hotels' first signature mocktail is named for the colorful desert sunsets that often leave a glowing red and amber aftermath behind purple mountains. This Palm Springs Sunset combines blackberry cordial, lemon juice with black iced tea over ice.
Where: 100 W. Tahquitz Canyon, Palm Springs | (760) 904-5015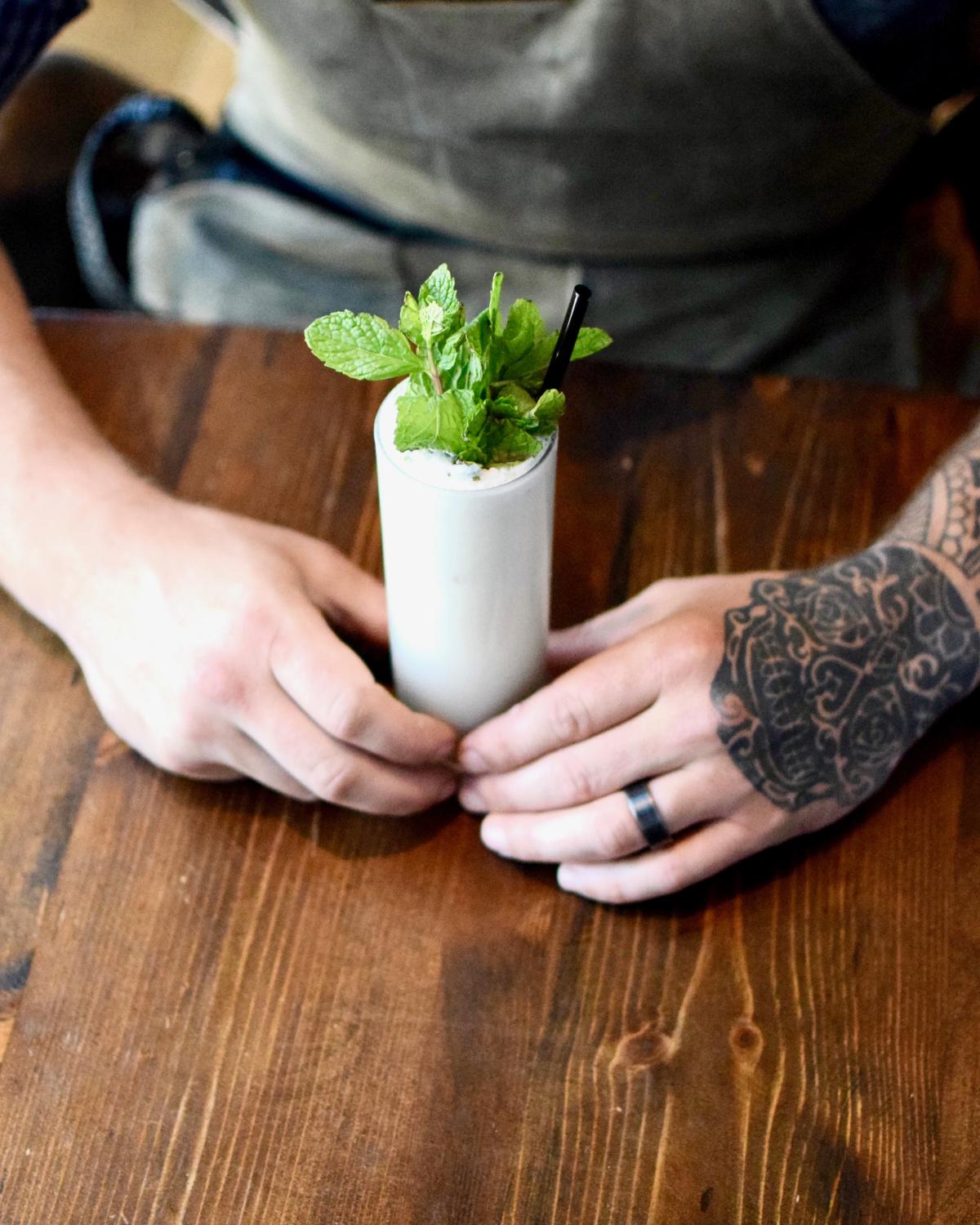 El Jefe at The Saguaro | Palm Springs
The non-alcoholic Coconut Mojito is a guest favorite served from the lively poolside bar at the always popular Saguaro hotel and its El Jefe taco cantina in Palm Springs. This refreshing summer cocktail mixes coconut creme and club soda and is garnished with sprigs of fresh mint and a lime wedge. It's an insider's secret; ask James to make one for you!
Where: 1800 East Palm Canyon Drive, Palm Springs | (760) 323-1711
Tack Room Tavern at the Empire Polo Club | Indio
The Tack Room Tavern's signature Polo Club Fizz and Spicy Paloma are also delicious mocktail style. The Tavern was looking for a fun, refreshing summer cocktail when the Palm Springs Fizz was a signature drink around town a few years ago. Tavern mixologists concocted a pomegranate and cucumber base, added fizz and named it for the unique polo club location: Polo Club Fizz. Muddle sliced cucumbers with Monin pomegranate syrup and a splash of lime juice in a shaker. Add ice, shake well and pour into a pint glass. Top off with club soda and cucumber garnish. The Spicy Paloma is riff off the classic Paloma, but sweet and spicy. Pink grapefruit juice, sliced jalapeno, and agave nectar are muddled in a shaker. Add ice, shake well and pour into a bucket glass rimmed with Tajin. Garnish with a lime and jalapeno slice.
Where: 81800 Avenue 51, Indio | (760) 347-9985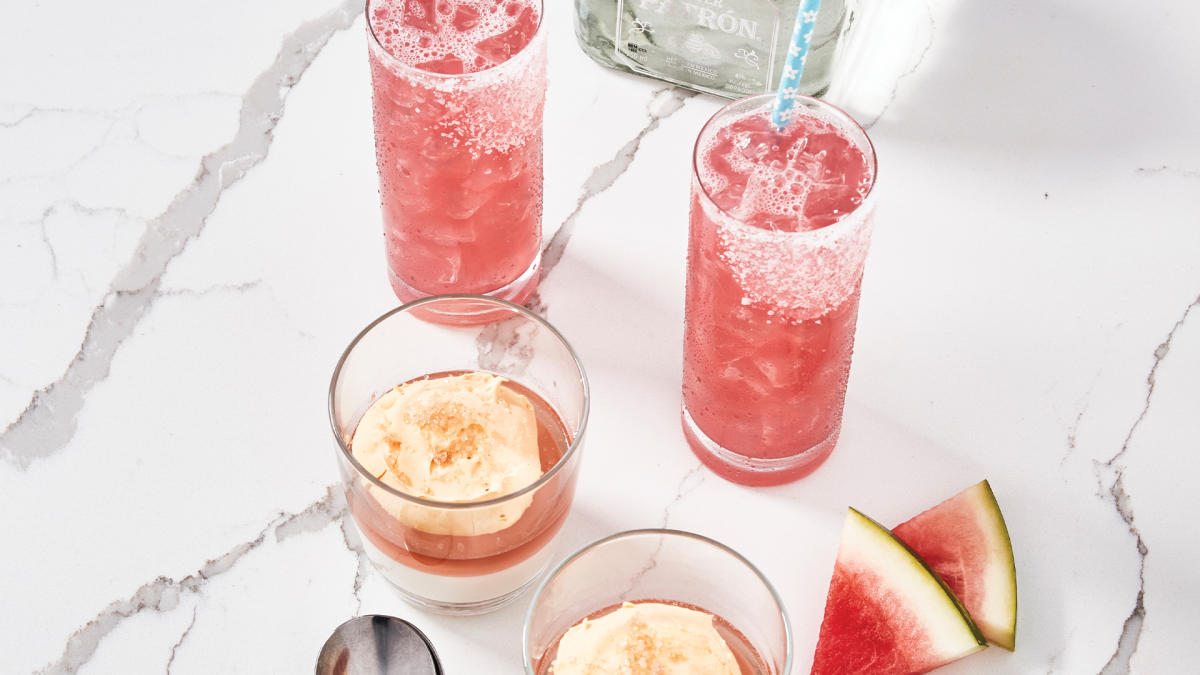 Omni Rancho Las Palmas Resort & Spa | Rancho Mirage
Celebrate summer with a "Splash of Spritz" as the resort brings back its Omni Originals culinary series with spritzy cocktails served only at Azure Pool and Spa Las Palmas. Two flavorful choices from the non-alcoholic menu are Blood Orange-Guava Spritzer and the Honey Lavender Spritz. The first is made with Barmalade blood orange-guava with a spritz of club soda, garnished with an orange slice. The Honey Lavender Spritz combines honey, Monin Lavender topped with S. Pellegrino Essenza Lemon and lemon zest. You can also order any of the drinks on the cocktail menu without alcohol – such as the Salted Watermelon, the Lemon Lavender or the frozen French Berry Frose.
Where: 41000 Bob Hope Drive, Rancho Mirage | (760) 568-2727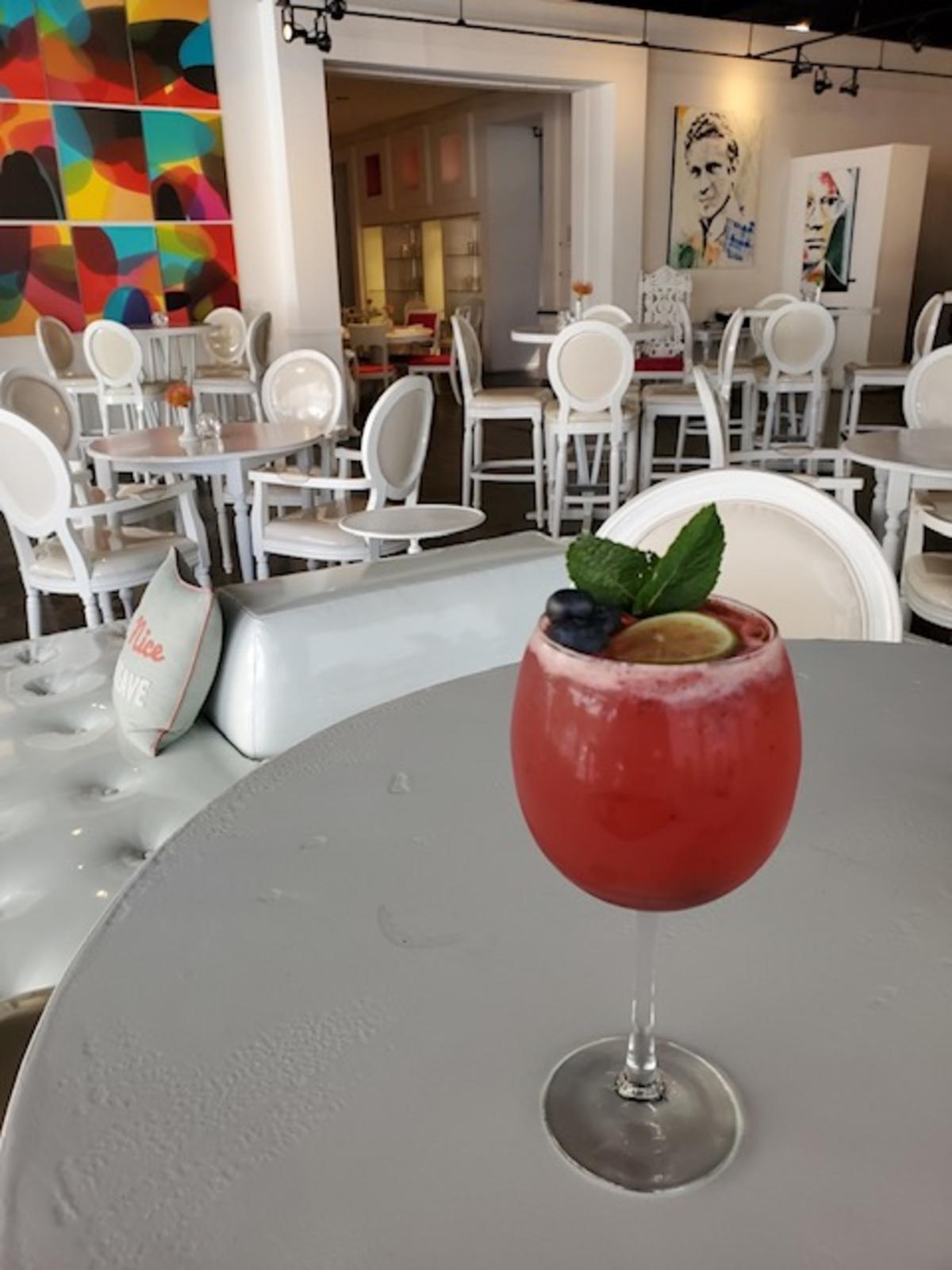 Eight4Nine Restaurant & Lounge | Palm Springs
Located in the fashionable Uptown Design District, Eight4Nine is a trend-setter for its sleek white interior with splashes of color, black-and-white celebrity photos and refined New American cuisine. The restaurant features several private dining areas indoors and out as well as its large main dining room and glass-wall lounge overlooking North Palm Canyon. A colorful array of cocktails just adds to the fun, including the Blueberry Mockjito made with fresh mint, blueberries, and house made blackberry puree. They add a splash of fresh lime juice and sparkling water: Ice cold, crisp and refreshing.
Where: 849 N. Palm Canyon Drive, Palm Springs | (760) 325-8490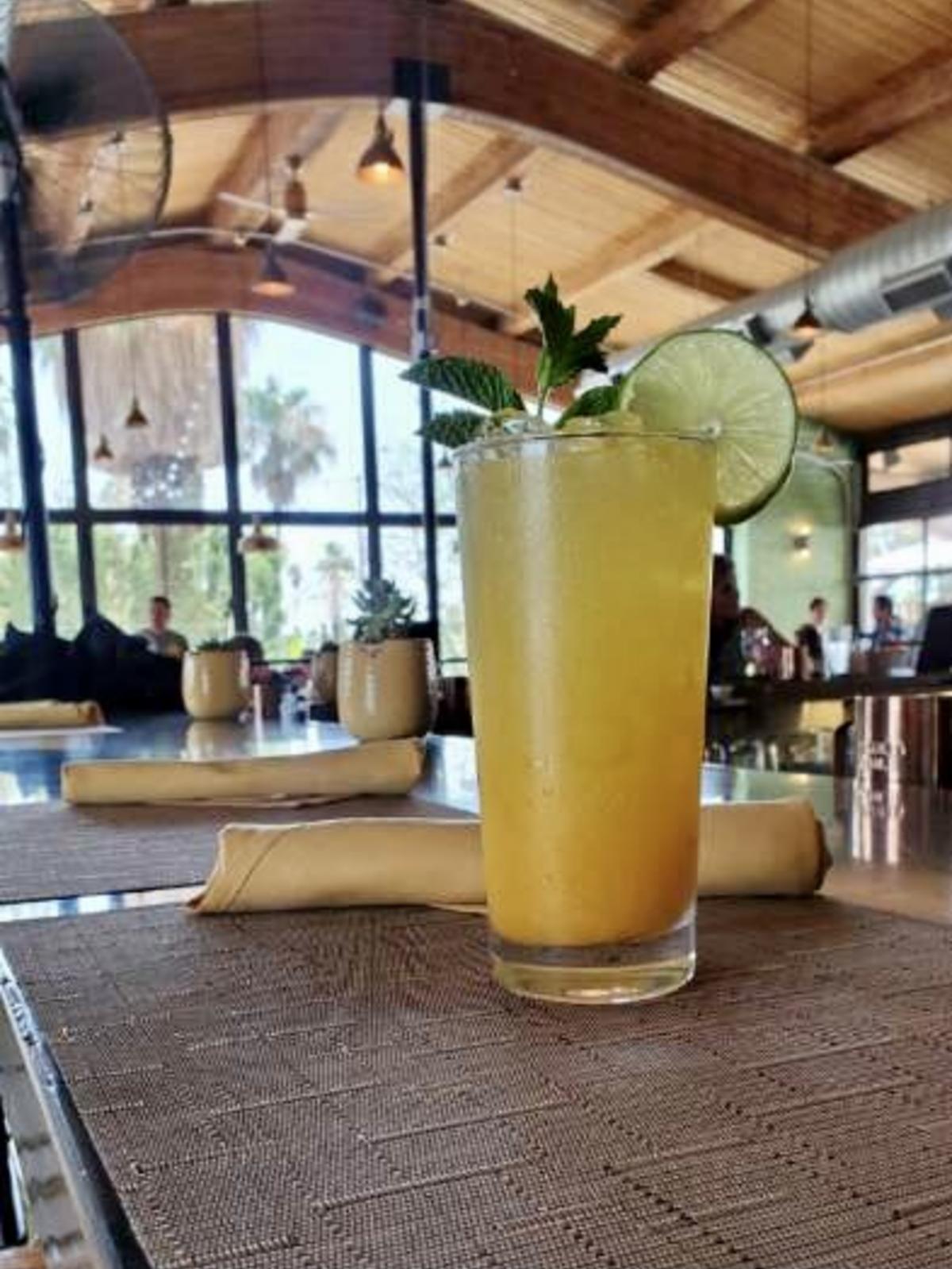 1501 Uptown Gastropub | Palm Springs
1501 Gastropub occupies the rustic, vaulted ceiling tavern designed by acclaimed Palm Springs architect Chris Pardo. Owned and created by two successful Palm Springs restaurateurs, Willie Rhine of Eight4Nine and Chad Gardner of 533 Viet Fusion and Roly Fusion, 1501 Gastropub features seasonal American pub fare along with a comprehensive selection of beers, wines and creative libations, some named for iconic Palm Springs places and people. This Chino Canyon Mule Mocktail is a blend of mango puree, lime juice and ginger beer. Other notables on their Sober Stuff drink menu are the Cucumber Mint Lemonade, Virgin Mohito, Strawberry Mint Spritz, and Midnight Madras.
Where: 1501 N. Palm Canyon, Palm Springs | (760) 320-1501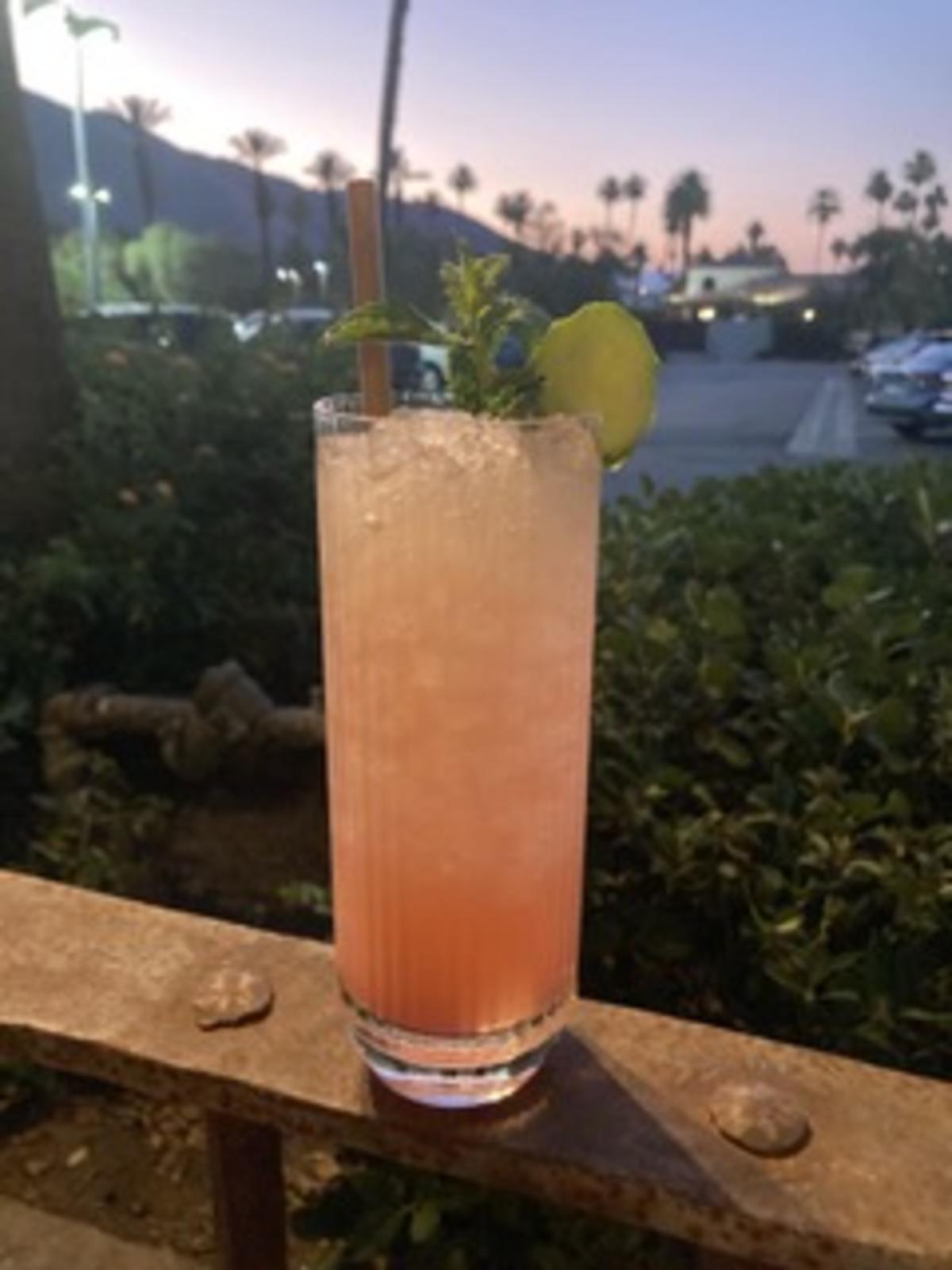 Bar Cecil | Palm Springs
Bar Cecil is an eclectic food and drink establishment that pays homage to artist/Renaissance man/bon vivant Cecil Beaton. Reflecting Beaton's carefully curated vision of life and art, Bar Cecil aims to create memories through food, drink and hospitality. Under the direction of its lead barman Avery Underhill, Bar Cecil introduces three non-alcoholic cocktails to their menu just in time for summer's heatwaves: Watermelon & Cucumber Mojito (pictured), Raspberry Ginger Mule, Passionfruit & Pineapple Spritz. The Watermelon & Cucumber Mojito blends muddled cucumber, fresh lime juice, and watermelon syrup, shaken with ice and poured into a Collis glass. Top with club soda and garnish with fresh mint and cucumber.
Where: 1555 S. Palm Canyon, H-104, Palm Springs Plaza | (760) 442-332-3800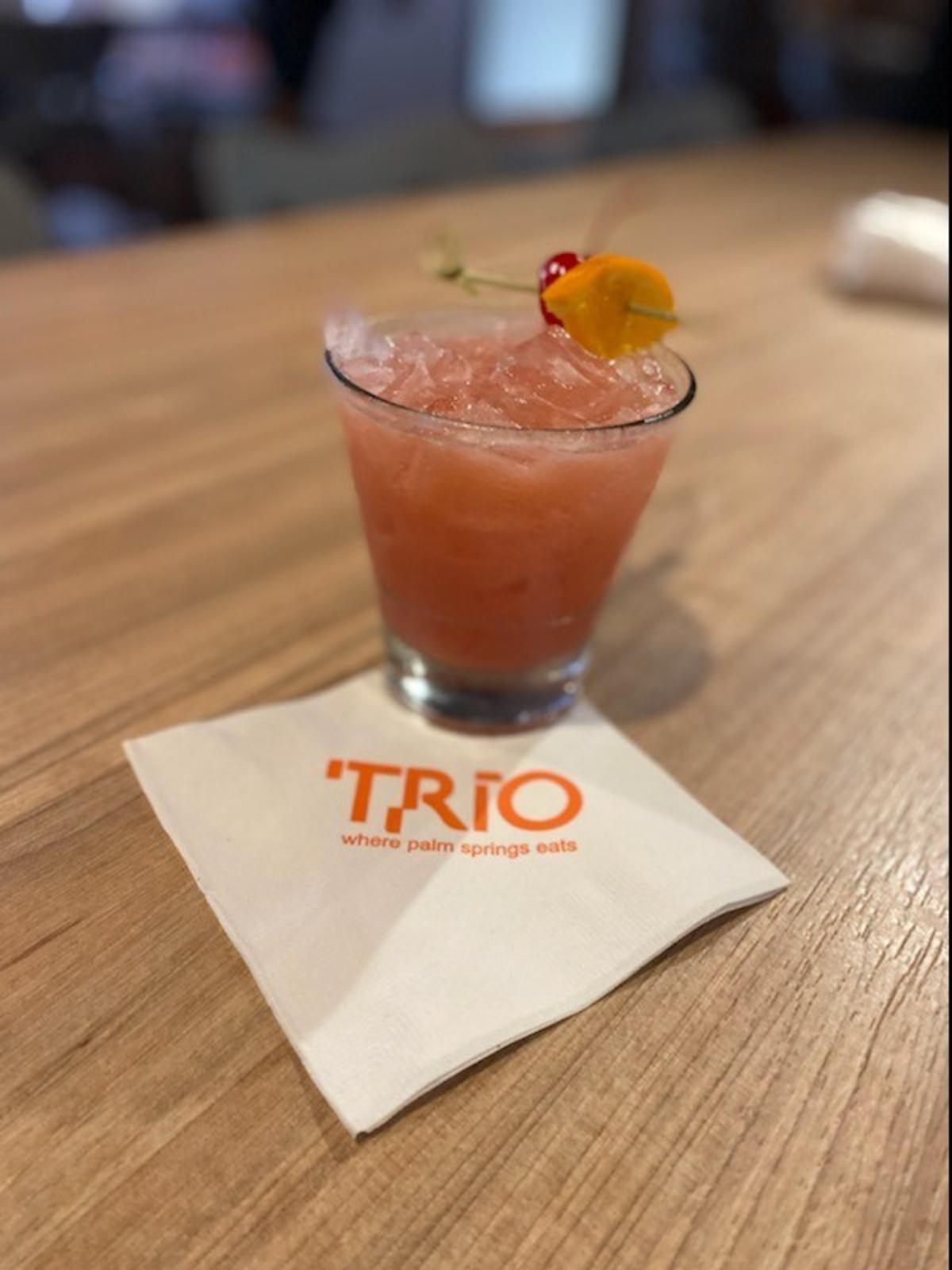 Trio Restaurant | Palm Springs
A local favorite since opening in 2009, Trio occupies a former midcentury bank building in Palm Springs' Uptown District. With its signature orange accents and fun midcentury décor, Trio is "where Palm Springs eats" – and drinks! A lively bar scene welcomes both neighborhood regulars and out-of-towners. One "zero proof" signature favorite is Island Vibez created with blood orange, passion fruit, pomegranate, lime juice, coconut water, and salted coconut syrup.
Where: 707 N. Palm Canyon Drive, Palm Springs | (760) 864-8746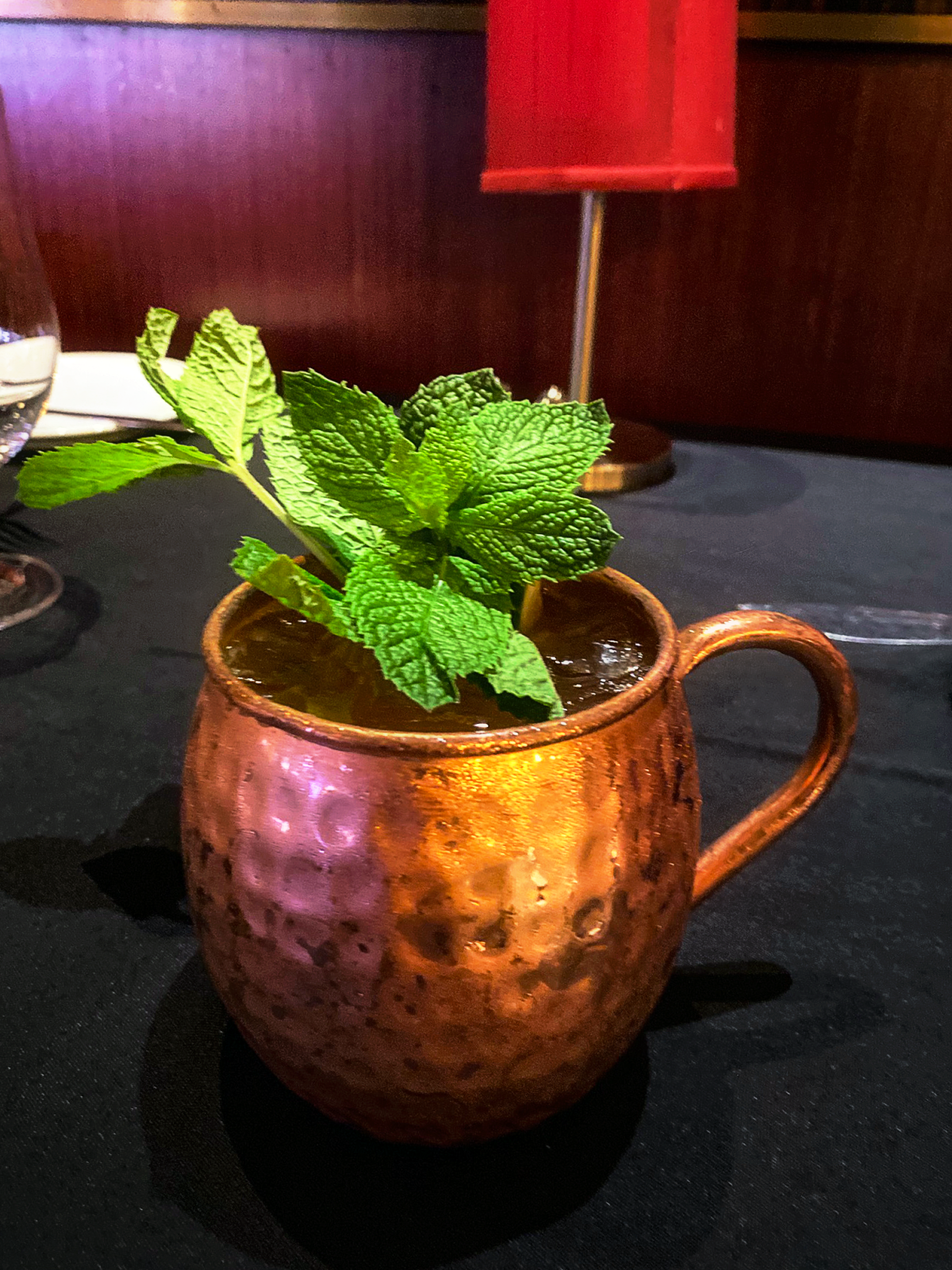 Agua Caliente Casinos | Palm Springs | Rancho Mirage | Cathedral City
All three Agua Caliente Casinos offer outstanding dining and beverage service at their Forbes Four-Star and Wine Spectator award winning Steakhouse, the popular 360 Sports Bar, Waters Café with its edgy bar scene, WetBar, Agave Caliente Tequila Bar, Café One Eleven and The District food court. Two of Agua Caliente Casinos' most requested Mocktails – the Very Berry Fauxjito and Mango Mule Mocktail – are made with their signature fresh ingredients. The Very Berry Fauxjito combines raspberries, blackberries, blueberries, fresh mint, "Fever Tree" Soda, house-made simple syrup, and fresh lime juice. The Mango Mule Mocktail incorporates fresh cucumber, agave syrup, mango puree, fresh lime juice and "Fever Tree" ginger beer.
Where: 401 East Amado, Palm Springs; 32250 Bob Hope Drive, Rancho Mirage; 68960 East Palm Canyon Drive, Cathedral City | (888) 999-1995
Looking for more places to enjoy in this culinary oasis? See all restaurants in Greater Palm Springs.