Change up your foodie scene by experiencing something different– This SoCal oasis has some extraordinary dining experiences that locals and visitors alike can enjoy.  From dining on rooftop, open-spaces enjoying modern cuisine to ordering an exquisite foodie spread as your next family meal to-go, there is something for every appetite in Greater Palm Springs.
Here's a list of some of the most incredible dining experiences (indoors and outdoors) that everyone should try. 
Dinner Under the Stars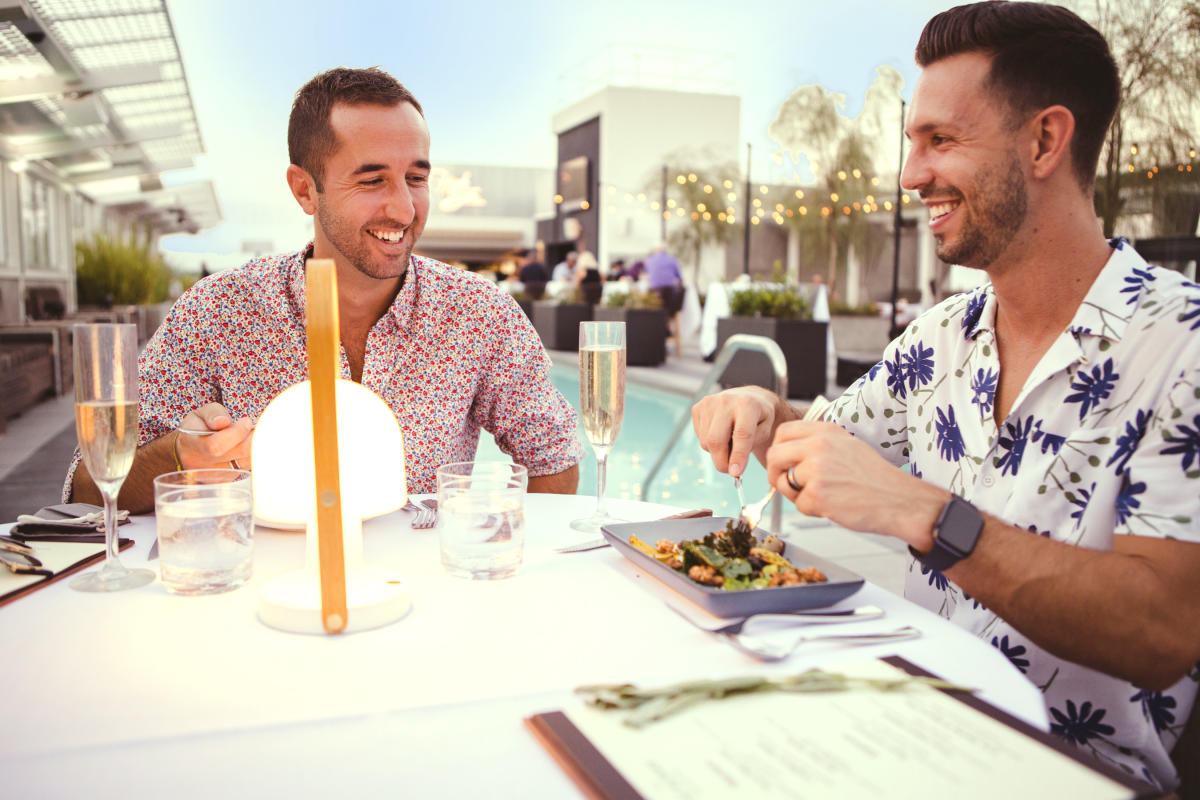 Set the scene of delicious cuisine, picturesque mountain views, and patio seating under the stars. Elevate your dining experience by enjoying a beautiful ambiance at this rooftop dining experience in Greater Palm Springs. This open-space layout at the Kimpton Rowan Palm Springs Hotel occurs every Wednesday. For only $48, a prix fixe three-course meal is offered and the best part is the menu changes every week. Not only are you experiencing something new, but the three-course menu also has options to choose from for every course. At this hot spot, the sky's the limit!
If you go: "Dinner Under the Stars", 6 p.m. Wednesdays through the end of the year at Kimpton Rowan Palm Springs, 100 WS. Tahquitz Canyon Way, Palm Springs. To make a reservation, visit opentable.com and search for 4Saints.

Dine by the Pool
Can life get any better than this? Fresh Dim Sum and poolside views are a thing in Greater Palm Springs thanks to Roly China Fusion. Bask in the SoCal sun and enjoy delectable Chinese cuisine on an open-patio space while taking in the crystal blue water. With this unique dining experience, you will feel like you are in a foodie paradise.
If you go: Poolside dining, pick up or delivery can be ordered online at www.rolychinafusion.com or by calling (760) 548-0041 from 5:00 p.m. to 9:00 p.m. Tuesdays through Saturdays. The Twist PS is located at 140 W Vía Lola, Palm Springs, CA 92262.
Tiki Takeout 
Sip on happiness! Whether you choose to indulge in a Vic's Mai Tai or Pod Thai, your favorite rum drink can now be enjoyed in the comfort of your own home, vacation rental, or hotel room. Bootlegger Tiki is offering yummy cocktail kits to-go and even better, all orders come with tacos. Choose from over five different drink options.. Easily place your order online at www.bootleggertiki.com and say aloha to tiki fun in the sun! 
If you order: Head to the official website at www.bootleggertiki.com and select curbside pick-up. Bootlegger Tiki is located at 1101 N Palm Canyon Dr, Palm Springs, CA 92262. Open Friday from 5 p.m. to 9 p.m.; Saturdays 11 a.m. to 1 p.m. and 5 p.m. to 9 p.m; and Sundays 10 a.m. to 2 p.m.

Friday Family Meal
Food tastes better when you're enjoying it with the people you love. Executive Chef and Owner of La Quinta's Cork & Fork, Heirloom Craft Kitchen in Indio, and Tu Madres Cantina & Grill in Indio, Andie Hubka has beautifully created the Friday Family Meals which is a meal order-to-go. Every week on Cork & Fork's Facebook page, they post the weekly feature of what they will be offering as the entre for Friday Family Meals. The menu changes weekly which is a fun surprise for customers. Some of the past Friday meals included house mesquite-smoked ribs, Spanish Tapas, and a Cuban-themed meal. Skip the hassle of figuring out what's for dinner and order your next meal to go. Your taste buds will thank you for this delicious spread. 
If you order: Cork & Fork is located at 47875 Caleo Bay Drive, La Quinta, CA 92253 and is open daily, 4 p.m. to 8 p.m. Follow Cork & Fork and sign up weekly for the Friday Family Meals. 

See New Heights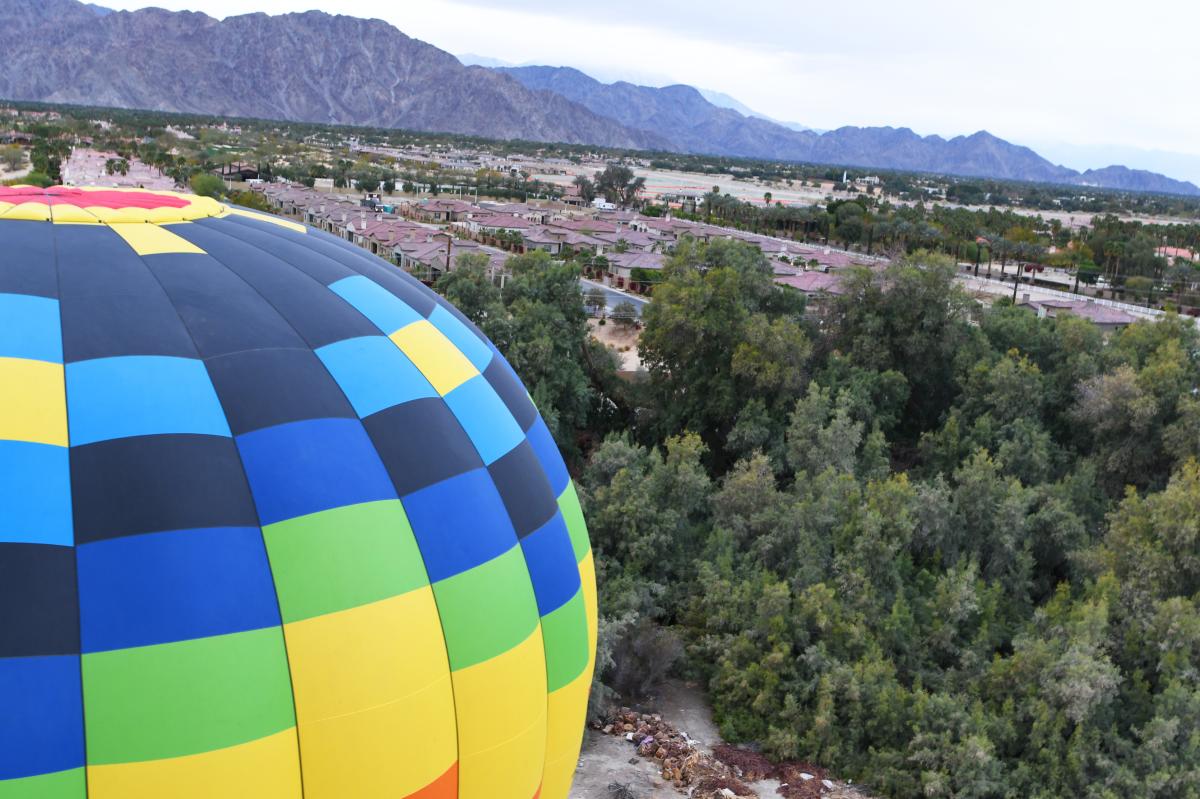 From land to air, this foodie experience is one-of-a-kind. Fantasy Balloon Flights offers tours on their colorful hot air balloons to take in the majestic beauty of this SoCal oasis. Catch a sunrise or sunset in Greater Palm Springs with a significant other or a group of less than 10. Not only do you get an unforgettable experience, but also, your flight includes a toast for the adventure with Champagne or sparkling cider, delicious pastries and your pilot will present you with flight awards. Be amazed by this memorable foodie adventure!
If you book: For reservations, book online at www.fantasyballoonflight.com or call 760-568-0997. 
Are you looking for more foodie inspiration? Check out dineGPS.com for good eats in this SoCal oasis.