Brunching is a Greater Palm Springs ritual, with a number of excellent spots where you can enjoy a lazy (and boozy if you so desire!) brunch experience. Below are some favorite places!
CHI CHI AT THE AVALON HOTEL

Chi Chi has created a brunch menu offered on Saturdays and Sundays at the Avalon Hotel and Bungalows. Moffitt, a Palm Springs native and graduate of Le Cordon Bleu, cites his hometown as a major inspiration while developing an eclectic menu of healthy California creations using desert-inspired ingredients. Among brunch options are lemongrass-ginger & cauliflower chilled soup (cilantro, serrano, chia seeds, smoked paprika, broccolini florets), the Avalon club (hot Capicollo, Manchego, grilled pineapple, arugula, balsamic molasses, fries) and the classic buttermilk pancakes (lemon & poppy seed buttermilk pancakes served with mixed berries and powdered sugar). 
Brunch served on Saturdays and Sundays from 11:00 a.m. – 4:00 p.m. (regular breakfast menu offered daily)
FARM
Tucked back in the historic La Plaza center in downtown Palm Springs, FARM is a rustic-chic spot inspired by the south of France. Locally sourced produce, eggs and artisanal meats are incorporated into dishes like the Poulet a la crème crepes (chicken, mushroom, crème fraiche, herbs, white wine); bacon, chicken and waffles (grilled chicken, sausage, bacon, waffles, French gravy); and the croissant breakfast sandwich (over easy eggs, gruyere, heirloom tomato, avocado, bacon, butter croissant). Coffee is served French-pressed and teas are loose-leaf, and their Bloody Mary has earned a reputation as one of the best in town.
Breakfast served daily from 8:00 a.m. – 2:00 p.m.
NORMA'S AT THE PARKER PALM SPRINGS
Norma's at the Parker Palm Springs serves outstanding breakfast/brunch options, including savory egg dishes like the seared Maine lobster and asparagus omelette and Normalita's Huevos Rancheros, as well as rich treats like the chocolate decadence French toast (covered in strawberries, pistachios and Valrhona chocolate sauce). Pair your brunch with a refreshing mojito or Bellini or choose from one of their freshly made smoothies. 
Breakfast served daily from 7:00 a.m. – 3:00 p.m.
BOOZEHOUNDS 
The expansive restaurant and lounge at Boozehounds creates a friendly and welcoming environment for all humans and their canines. There are three areas to choose from when reserving your place, featuring the main indoor dining room, equipped with booths, tables, couches and chairs, to the open-air lounge and patio bar. Executive Chef Corey Baker and mixologist Justine Gordon create individually curated plates and cocktails infusing local and global flavors. Their brunch menu includes lemon ricotta pancakes (GF pancakes, citrus whipped cream, maple syrup, lemon zest), softshell crab omelette sando (toasted sourdough, spicy remoulade, avocado, springs greens and kimchi) and the Boozehounds hash (braised short rib, poached eggs, cajun potatoes, bell peppers, avocado, agave pickled onions, thyme hollandaise). 
Brunch served Saturday & Sunday from 10:00 a.m. – 2:00 p.m.
JW MARRIOTT DESERT SPRINGS RESORT & SPA
You may be surprised to find at JW Marriott's Rockwood Grill your brunch will start with a gondola ride across a lake! The eatery serves breakfast daily, with tons of options to choose from their specialty breakfast sandwich (fried egg, rosemary ham, aged cheddar, iceberg lettuce, tomato, grilled ciabatta, breakfast potatoes), wet breakfast burrito (scrambled eggs, refried beans, queso fresco, breakfast potatoes, crema fresca, avocado, pork sausage) and resort made granola and yogurt parfait or Belgian waffles (maple syrup, strawberries, whipped butter). 
Breakfast daily from 7:00 a.m. – 11:30 a.m.
JAKE'S
Located in Uptown Palm Springs, Jake's offers upscale casual dining in their courtyard or inside, with their daily lunch menu featuring select brunch items like Jake's Egg Sandwich (three scrambled eggs, cheddar cheese, bacon, heirloom tomato, avocado on a brioche bun) and monte Cubano sandwich (fresh roasted turkey, black forest ham, swiss cheese, pickles, dijonaise on egg dipped brioche bread). On the weekends they offer an extended brunch menu, with highlights like the Crabcake Benedict (jumbo lump crab cakes, two sunny side eggs, hollandaise, breakfast potatoes), French Toast (with fresh strawberries, blueberries, blackberries and warm Vermont maple syrup) and croque benedict (egg dipped grilled ham and cheese on sourdough topped with two sunny side eggs and hollandaise served with potatoes).
Lunch served Tuesday to Friday from 11:00 a.m. – 2:45 p.m.; Brunch served Saturday and Sunday from 10:00 a.m. – 2:45 p.m.
THE PINK CABANA
Located at Sands Hotel & Spa, The Pink Cabana is the ultimate brunch spot featuring a Moroccan-inspired ambiance serving Mediterranean cuisine, which has been recognized by LA Times, Forbes and others. To start off your morning, from their coffee and tea selections or sip on a cocktail, like the matcha lemondrop of the pool thyme mimosa. Their menu is diet friendly with options such as an acai bowl (berries, chia seeds, almond milk, turmeric granola), Sands breakfast (two eggs, Applewood smoked bacon, yukon golds, country bread) or Sands benedict (Niman Ranch beef, iceberg, turmeric pickles, tomato, soft farmers' cheese, harissa aioli). 
Brunch served Saturday and Sunday from 8:00 a.m. – 2:20 p.m.
CHEEKY'S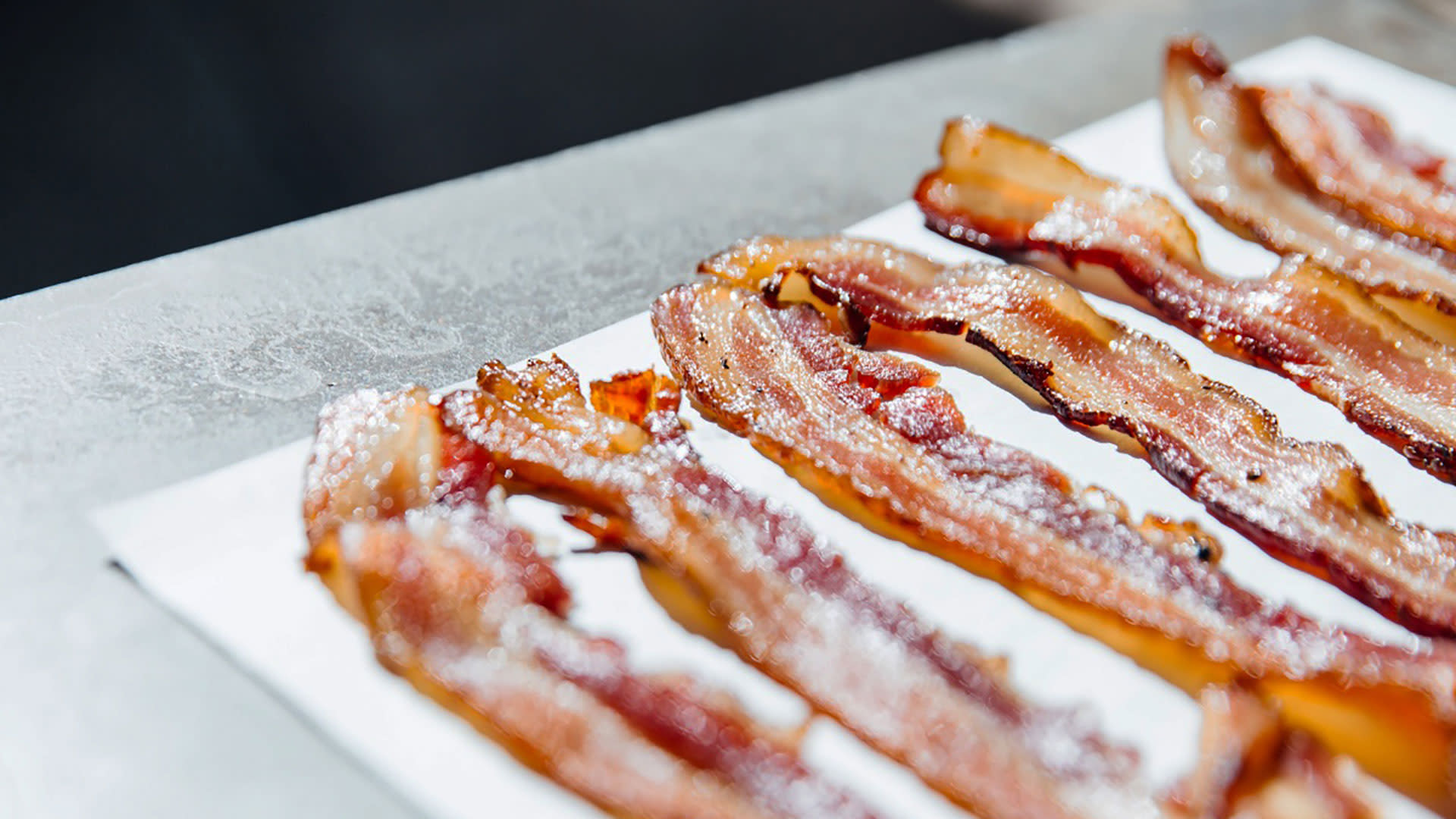 You can't go wrong with Cheeky's, where breakfast is served all day and features highlights like a bacon flight (with a variety of flavors like jalapeno and maple), eggs benedict (with bacon and arugula on a cheddar scone), Chilaquiles (chorizo, tomatillo, queso fresco, cilantro, onion), brioche French toast (with salted caramel, banana and pecan butter) and a number of gluten free items.  Prepare for long lines on the weekend (they don't take reservations), but it's worth the wait!
Open Thursday through Monday, 8:00 a.m. – 2:00 p.m.
LAS CASUELAS NUEVAS
Popular Rancho Mirage Mexican restaurant Las Casuelas Nuevas  offers a fun Champagne Menu every Sunday, featuring an array of brunch staples such as made to order omelettes and waffles, fresh fruit, salad and vegetables, as well as traditional Mexican specialties including enchiladas, chiles rellenos and fajitas, plus an extensive dessert selection. 
Brunch offered on Sundays only, 10:30 a.m. – 2:00 p.m.
SI BON
Si Bon in Rancho Mirage has the vibe of a quaint European bistro, serving Belgian-inspired fare. They offer breakfast daily featuring an expanded menu of crepes, omelettes, eggs benedict, quiche, Belgian waffles and more. 
Breakfast daily from 8:00 a.m. – 11:30 a.m., Saturday and Sunday brunch from 8:00 a.m. – 3:00 p.m.
EL JEFE AT THE SAGUARO HOTEL & POOL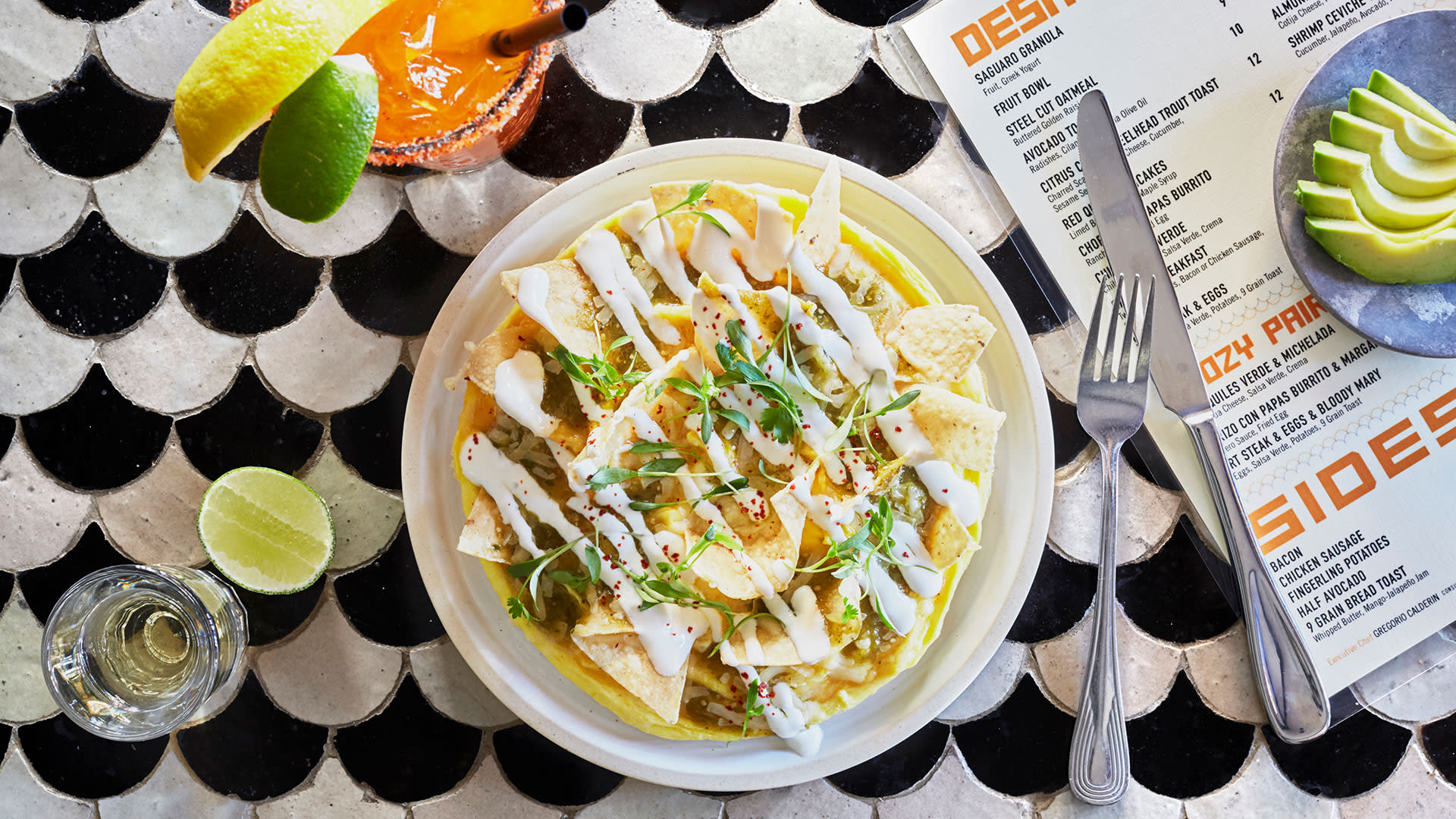 Brunch at El Jefe at The Saguaro Hotel & Pool features Mexican influences, with dishes including Chilaquiles (fried eggs, salsa roja, queso fresco, crema), avocado toast (radishes, cilantro, California olive oil) and Saguaro breakfast (soft scramble, potatoes, bacon or sausage, homemade tortillas). Pair your brunch with a boozy drink, like their The Comeback or the special Mimosa Madness!
Brunch daily from 7:00 a.m. – 12:00 p.m.
LA QUINTA BAKING COMPANY
La Quinta Baking Company is a casual café serving French-inspired cuisine and fresh baked goods. Try their Beignets, which are made fresh to order just like in New Orleans, or one of their eggs benedict or frittata varieties. You can also create your own omelette from a variety of ingredients, and sweets fans will love their Belgian waffle topped with berries and whipped cream.
Breakfast served daily from 8:00 a.m. – 3:00 p.m. 
ELMER'S
Old school favorite Elmer's, located in south Palm Springs, serves up tasty breakfast fare in large portions, with their traditional German Pancakes garnering rave reviews. They offer a large selection of three-egg omelettes, egg combos and egg skillets, as well as many sweet items like pancakes, French toast and crepes.
Breakfast served all day from 6:00 a.m. – 9:00 p.m.
WILMA & FRIEDA
Wilma & Frieda's, named after the owner's two grandmothers, serves delicious comfort food with a contemporary twist. With two locations, one in downtown Palm Springs and the other located on El Paseo in Palm Desert, this is a perfect breakfast spot for jump-starting a day of shopping. Their signature griddled meatloaf & eggs features a thick cut of homestyle meatloaf topped with two eggs any style, or for a sweet treat try the blackberry custard French toast (bread pudding-like French toast topped with house made blackberry sauce and fresh blackberries). You will also love their fresh baked goods (including homemade pop tarts!), which can be enjoyed at a table or picked up to go. 
Palm Desert: Brunch served daily from 8:00 a.m. – 2:00 p.m. 
Palm Springs: Brunch served Thursday & Friday from 9:30 a.m. – 2:00 p.m., Saturday & Sunday from 8:00 – 2:00 p.m. & Monday from 9:30 a.m. – 2:00 p.m.
THE COLONY CLUB 
The Colony Club restaurant at The Colony Palms Hotel and Bungalows serves up incredible options for breakfast. Dine al fresco on the patio next to the pool, where you can enjoy dishes like the black pearl caviar (crème Fraiche, fresh shallots, egg whites and chives), Portuguese sausage hash (smoked linguica, bell pepper, pepperoncini, cheddar and fried eggs) and huevos rancheros (with black beans, crispy tortilla, pork belly, guacamole).
Brunch served daily from 8:00 a.m. – 11:00 a.m. 
KING'S HIGHWAY AT ACE HOTEL & SWIM CLUB
Breakfast is served daily in a vintage diner setting at King's Highway at Ace Hotel & Swim Club. Choose from their delectable pastries, eat a light breakfast when you choose their chia seed pudding (almond milk, toasted coconut and raspberries) or indulge in their breakfast bagel (organic egg, bacon, white cheddar, red onion cornichon, fries) after conquering your morning hike or before hitting the town.
Breakfast served daily from 8:00 a.m. – 2:00 p.m.
BLUEMBER AT OMNI RANCHO LAS PALMAS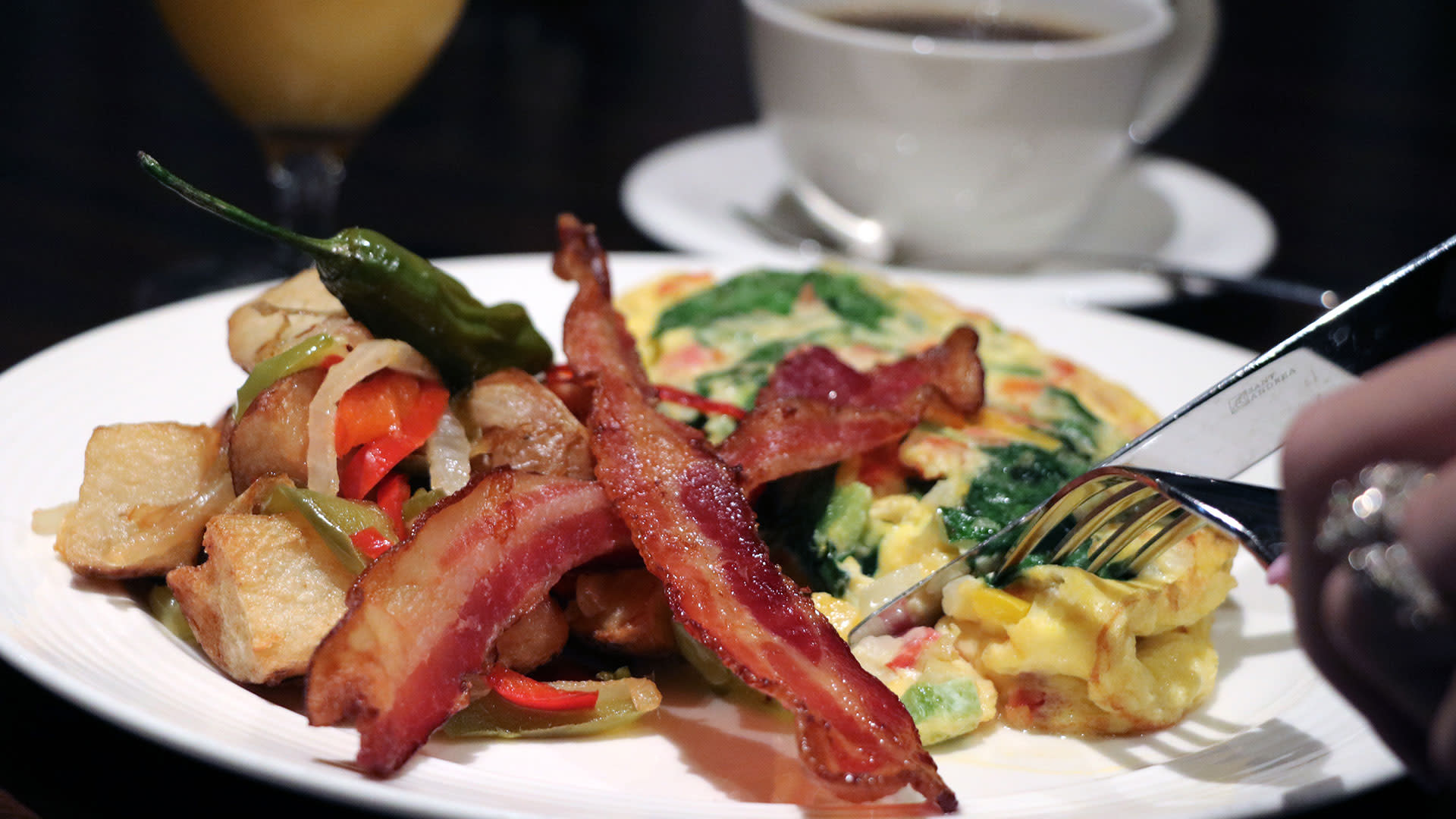 Start your day off with breakfast at bluEmber at Omni Rancho Las Palmas Resort and Spa in Rancho Mirage, where you can choose between seating options indoors and on the spacious patio overlooking the pool and golf course. Signature menu items include smoked salmon (cream cheese, tomato, capers, red onion on a toasted bagel), Rancho wrap (scrambled eggs, potato, peppers, onions, pork carnitas, chili verde, refried beans, avocado on a fresh tortilla) and brioche French toast (with fresh berries and maple syrup).
Breakfast is served daily from 7:00 a.m. – 11:00 am, weekends to 3 p.m.
LA QUINTA RESORT & CLUB
The sprawling and luxurious La Quinta Resort & Club offers many different breakfast and brunch options across their property, such as American comfort food daily in their Twenty6 restaurant, featuring a number of eggs benedict varieties, hotcakes, waffles, steak & eggs and much more.
Breakfast is served daily from 7:00 a.m. – 11:00 a.m.
SPENCER'S RESTAURANT
For a classic Palm Springs experience, try breakfast or brunch at Spencer's. The ambiance is great and so is the food, with breakfast service as well as a special Sunday brunch. Sunday brunch can be enjoyed via the standard menu or as part of a three-course prix fixe menu. Try one of their many varieties of eggs benedict, which are also all available gluten free, or one of the house specialties like the grilled salmon salad or the spinach and wild mushroom frittata. 
Breakfast served Thursday to Monday from 8:00 a.m. – 11:00 a.m., Sunday Brunch from 8:00 a.m. – 2:30 p.m.
CITRUS & PALM AT MIRAMONTE RESORT & SPA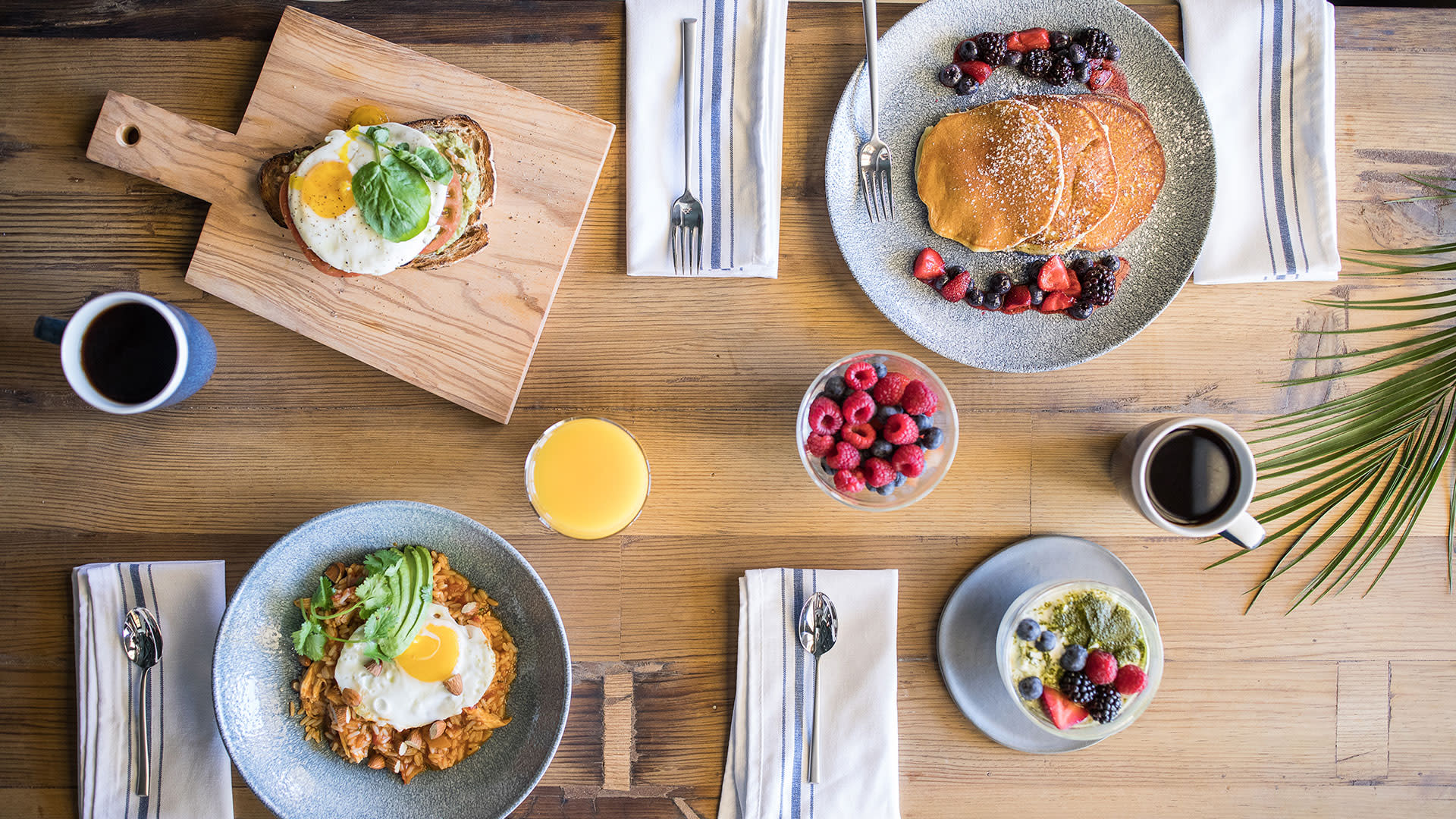 Miramonte Indian Wells Resort & Spa has recently undergone a chic redesign, which includes the addition of the new Citrus & Palm restaurant. Brunch is served daily, with a menu that is updated seasonally and features local, farm-fresh ingredients. Menu highlights include Pumpkin Seed Crusted French Toast (made with Bosch Bakery date bread, strawberries and served with maple syrup), avocado toast (on 9-grain bread, salsa verde, avocado and cherry tomatoes) and Nova benedict (salsa verde, slow poached eggs, English muffins, hollandaise). 
Brunch is served daily from 7:00 a.m. – 3:00 p.m. 
Bon appétit!
These are just a few of our delicious options in Greater Palm Springs. If you are looking for more mouthwatering finds, visit www.dineGPS.com.