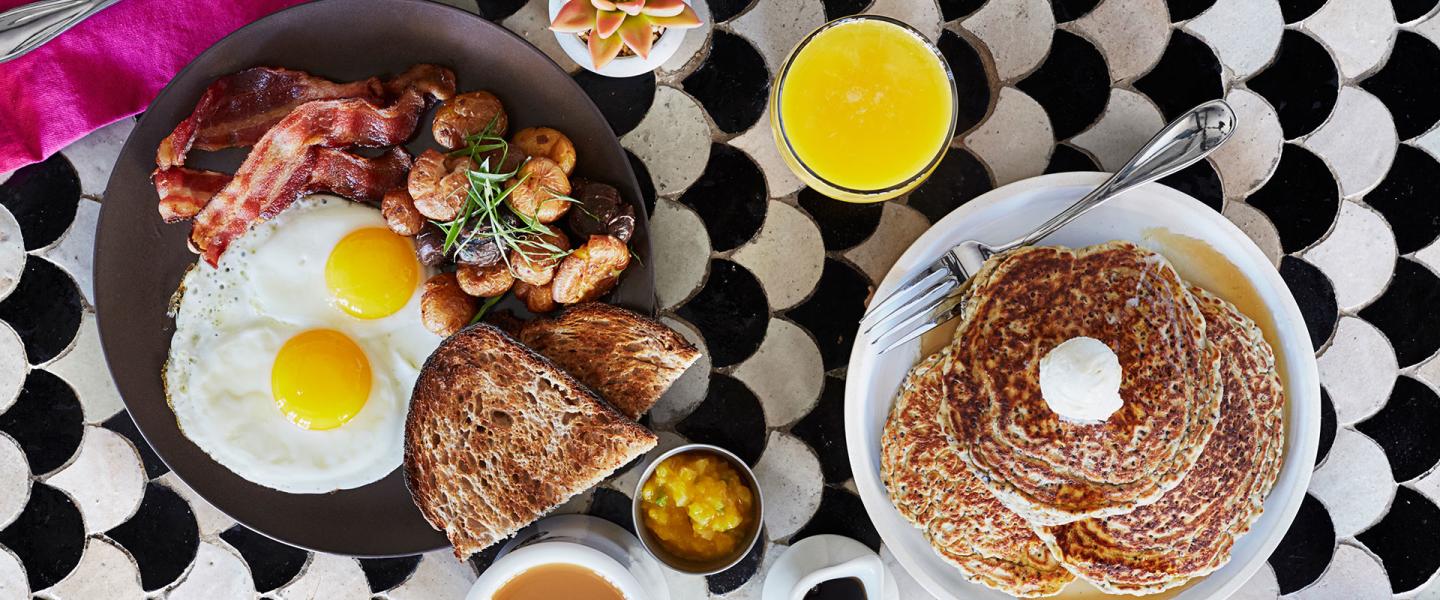 Brunching is a Greater Palm Springs ritual, with a number of excellent spots where you can enjoy a lazy (and boozy if you so desire!) brunch experience. We've rounded up some favorites below!
CHI CHI AT THE AVALON HOTEL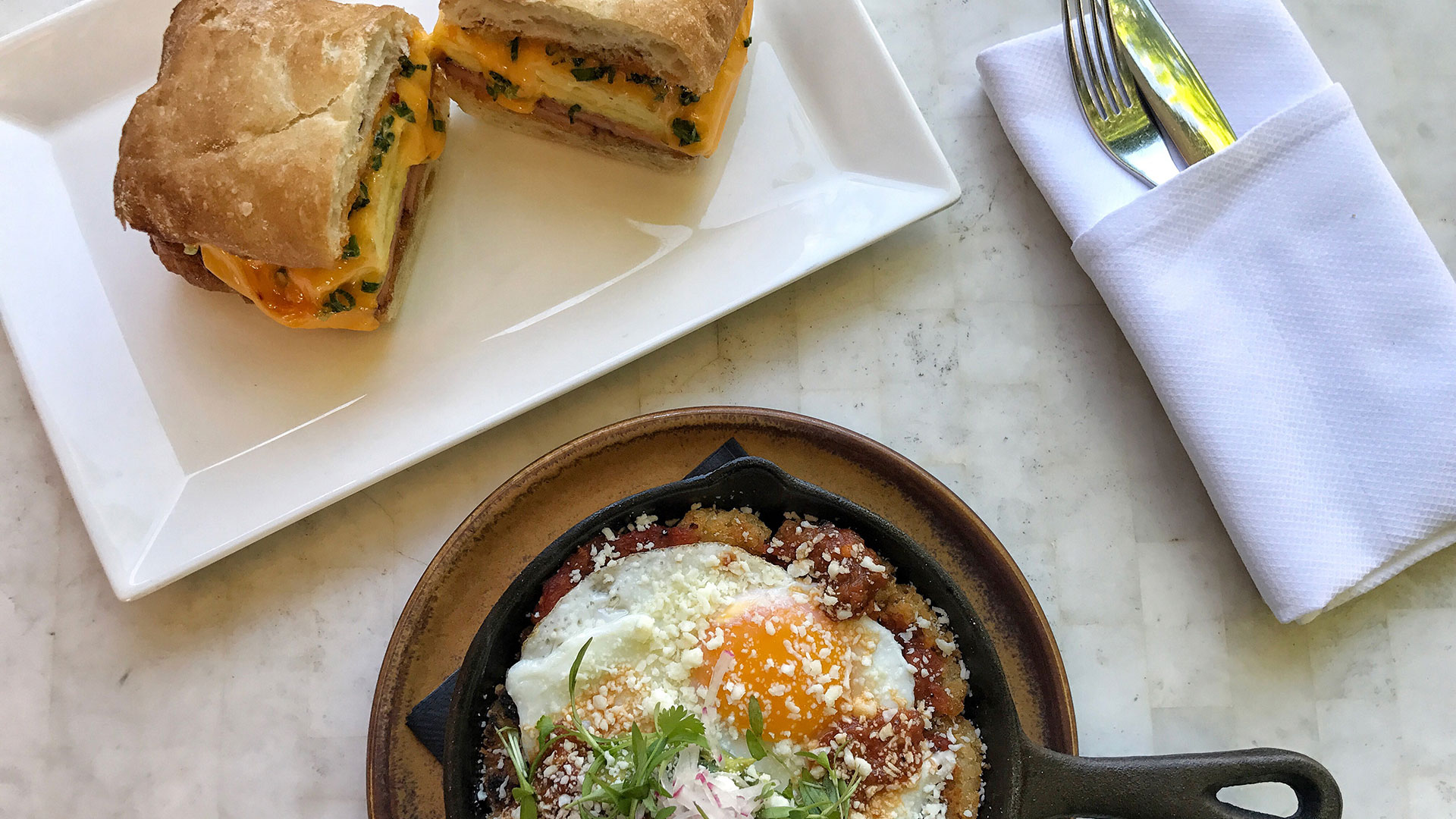 Chi Chi's new Executive Chef, Jason Moffitt, has created a brunch menu offered on Saturdays and Sundays at the Avalon Hotel. Moffitt, a Palm Springs native and graduate of Le Cordon Bleu, cites his hometown as a major inspiration while developing an eclectic menu of healthy California creations using desert-inspired ingredients. Among the new brunch options are Greek Yogurt (with organic strawberries, kiwi, local honey, puffed brown rice, basil and poppy seeds); the Breakfast Sandwich (Canadian bacon, fried egg, American cheese, sriracha aioli and scallions on ciabatta bread); and the Chi Chi Quiles (pan-fried potatoes, salsa rojo, tomatillo, avocado, radish, cotija, crema and fried egg).
Brunch served on Saturdays and Sundays from 7:00 a.m. – 3:00 p.m. (regular breakfast menu offered daily)
FARM
Tucked back in the historic La Plaza center in downtown Palm Springs, FARM is a rustic-chic spot inspired by the south of France. Locally sourced produce, eggs and artisanal meats are incorporated into dishes like the Poulet a la Crème crepes (chicken, mushroom, crème fraiche, herbs, white wine); Bacon, Chicken and Waffles (grilled chicken, sausage, bacon, waffles, French gravy); and the Croissant Breakfast Sandwich (over easy eggs, gruyere, heirloom tomato, avocado, bacon, butter croissant). Coffee is served French-pressed and teas are loose-leaf, and their Bloody Mary has earned a reputation as one of the best in town.
Breakfast served daily, 9:00 a.m. – 2:00 p.m. weekdays, 8:00 a.m – 2:00 p.m. weekends
NORMA'S AT THE PARKER PALM SPRINGS
Norma's at the Parker Palm Springs serves outstanding breakfast/brunch options, including savory egg dishes like the Seared Rock Lobster and Asparagus Omelette and Normalita's Huevos Rancheros, as well as rich treats like the Chocolate Decadence French Toast (covered in strawberries, pistachios and Valrhona chocolate sauce). They start your meal off with a complimentary smoothie shot in the flavor of the day, and they're so delicious that you may find yourself ordering a full-size version because you need a little more!
Breakfast served daily from 7:00 a.m. – 3:00 p.m. and some breakfast menu items are available in the evening from 5:00 p.m. – 10:00 p.m.
WORKSHOP KITCHEN + BAR
For one day a week, Workshop Kitchen + Bar opens their doors at 10 a.m. (just dinner service is available every other day), serving up a Sunday Brunch menu full of don't miss dishes that rotate seasonally. Current favorites include the "Pasture Bird" Chicken + Waffles (with house gravy and New England maple syrup); the Maine Lobster Breakfast Burrito (with breakfast potatoes, eggs, prosciutto, cannellini beans, smoky fresh salsa); and the Blue Crab Eggs Benedict (with sautéed local escarole, grilled blood orange, hollandaise sauce). Bring some friends and order a selection of sides as well, like the homemade breakfast pork sausage; half avocado baked with local goat cheese, drizzled with honey and topped with chopped almonds; and the mesquite-grilled levain bread with carrot butter.
Brunch is served from 10:00 a.m. – 2:00 p.m. on Sundays only
AZUCAR AT LA SERENA VILLAS
The beautiful new Azucar restaurant at La Serena Villas hotel is now serving breakfast on Saturdays and Sundays, with dishes like Avocado Toast (on ciabatta with roasted tomato, poached egg and watercress); Eggs "Benny" (English muffin, Canadian bacon, poached egg, jalapeno hollandaise) and the Croissant Sandwich (fried egg, Oaxaca cheese, arugula with choice of applewood smoked bacon, maple sausage or soyrizo), each served with your choice of breakfast potatoes, side salad or seasonal fresh fruit.
Breakfast is served on Saturday and Sunday from 7:30 a.m. – 11:00 a.m.
JW MARRIOTT DESERT SPRINGS RESORT & SPA
It may be the desert, but at JW Marriott's Rockwood Grill, your brunch will start with a gondola ride across a lake! The eatery serves breakfast daily with regular menu items as well as a buffet, but their Sunday Champagne Brunch Buffet is where they really shine, with tons of options to choose from – made to order omelettes, waffle and pancake stations, chilled fresh seafood (with tons of crab legs!), meat carving stations, salad bar, desserts and even sushi. They also feature an extensive Bloody Mary bar so you can customize your morning cocktail.
Breakfast daily from 6:30 a.m. – 11:30 a.m., Sunday brunch from 10:00 a.m. – 2:00 p.m.
JAKE'S
Located in Uptown Palm Springs, Jake's offers upscale casual dining in their courtyard or inside, with their daily lunch menu featuring select brunch items like Jake's Egg Sandwich (three scrambled eggs, goat cheese, apple smoke bacon, heirloom tomato, basil pesto, topped with arugula, shaved parmesan and balsamic drizzle) and the Chef's Choice Omelette of the Day. On the weekends they offer an extended brunch menu, with highlights like the Crabcake Benedict (jumbo lump crab cakes, two sunny side eggs, hollandaise, breakfast potatoes) and French Toast (with fresh strawberries, blueberries, blackberries and warm Vermont maple syrup).
Lunch served Tuesday through Friday from 11:00 a.m. – 2:45 p.m., brunch served on Saturday and Sunday from 10:00 a.m. – 2:45 p.m.
RESERVOIR AT ARRIVE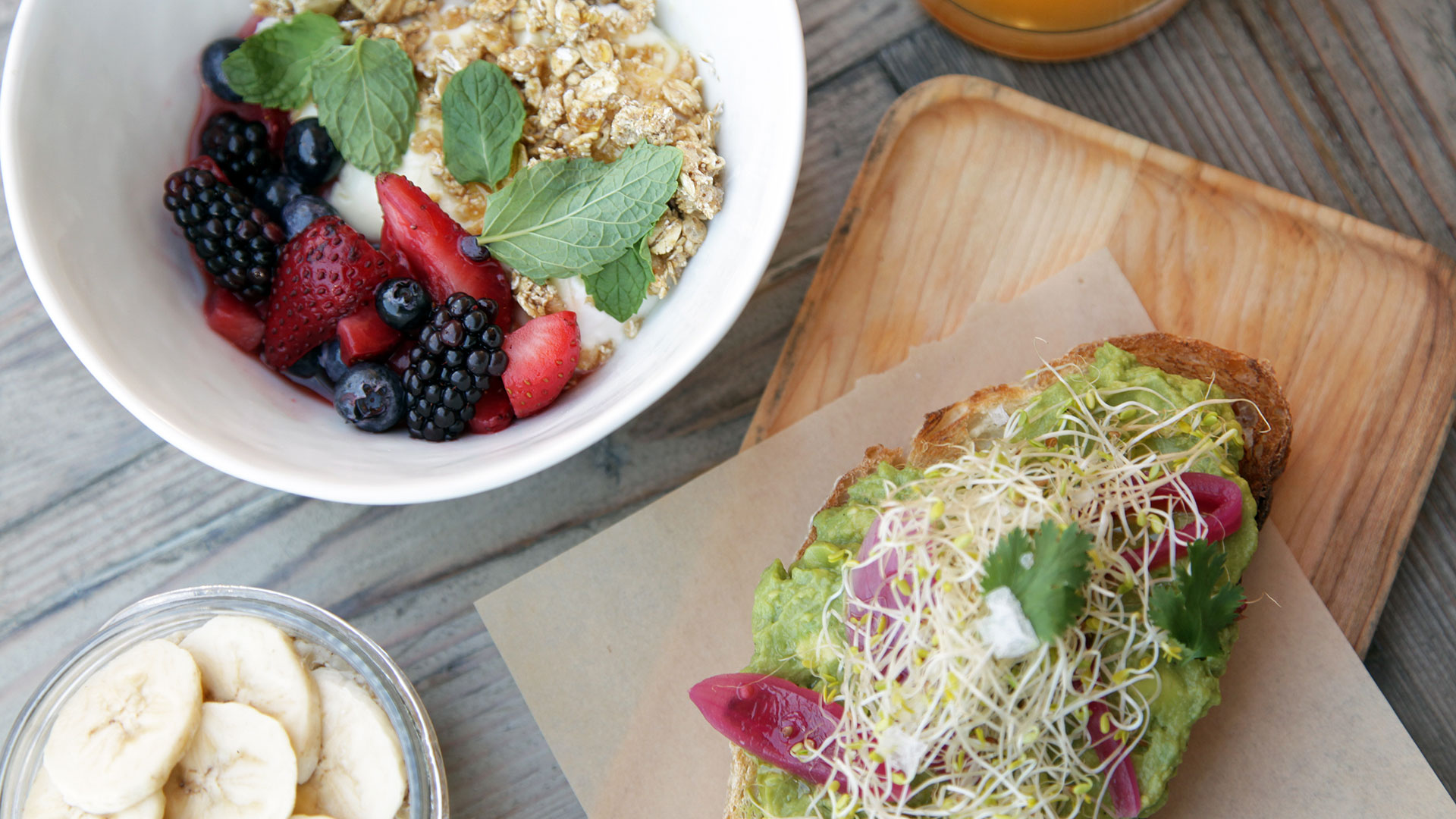 Reservoir has just rolled out a new menu featuring tasty breakfast and brunch items, including a selection of Instagram-worthy toasts – Avocado Toast (on sourdough with sprouts, pickled red onion, olive oil), House-Cured Lox (on toasted rye with "everything bagel" lebneh, capers, dill) and Date Toast (on walnut bread with almond butter, mascarpone, pecans). Also try the Shakshuka, which is a savory egg dish that can be ordered for one person or for the table to share, with baked eggs, spicy tomato sauce, harissa and grilled bread.
Breakfast is served from 8:00 a.m. – 11:30 a.m., Sunday through Thursday; brunch is served from 8:00 a.m. – 5:00 p.m. on Friday and Saturday
LE VALLAURIS
Sunday brunch at Le Vallauris is a culinary experience you do not want to miss! After more than 40 years in business, Le Vallauris is still holding steady as one of the top fine dining locations in the desert. With a gorgeous tree-canopied patio for outdoor seating and an ever-changing menu of French cuisine presented to you tableside on an easel, you'll love dining al fresco on their three-course prix fixe brunch, which includes your choice of champagne or wine.
Sunday Brunch only, 11:30 a.m. – 2:00 p.m.
THE BROKEN YOLK CAFE
For a casual breakfast/brunch spot with hearty servings, the Broken Yolk is a great option. They now have two locations in the desert – one in La Quinta and one in downtown Palm Springs – each serving an extensive menu of omelettes and savory egg dishes, as well as a number of varieties of pancakes and French toast. Sample a variety of mimosas with their Mimosa Flight, including flavors like hibiscus and pomegranate.
Open Monday through Friday from 7:00 a.m. – 2:00 p.m., Saturday and Sunday from 7:00 a.m. – 3:00 p.m.
DRAUGHTSMAN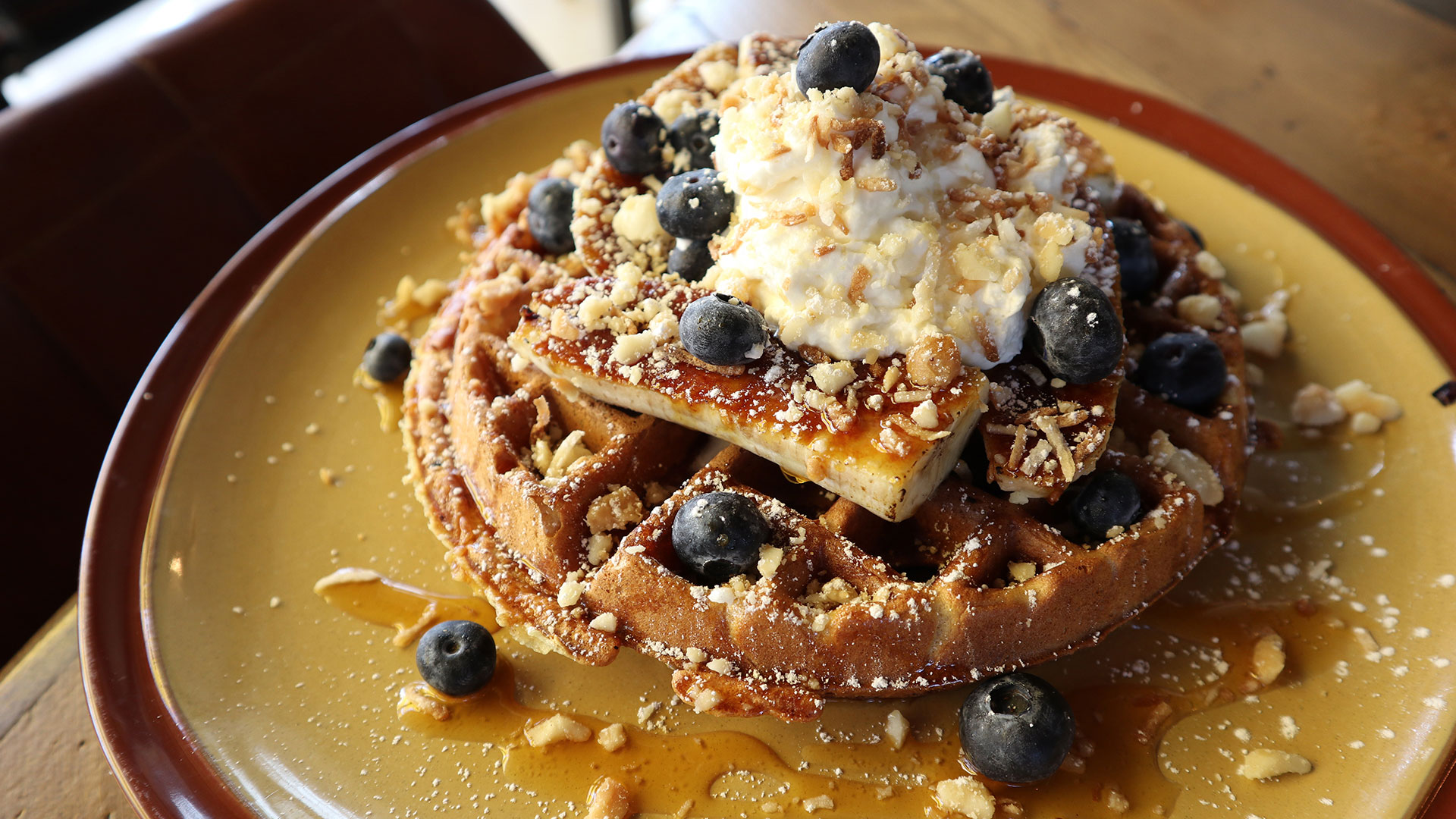 Start with Draughtsman's Build Your Own Bloody Mary bar, where you can pick from vodka or tequila, then choose your rim seasoning (salt, Tajin or none), your mix (verde or classic) and any hot sauces, and then garnish away (fresh herbs, seasonal fresh veggies, shrimp, bacon and much more!). Brunch items include options like the Guinness Braised Short Rib Hash (with poached eggs, Fresno peppers, grilled bread); Chicken Biscuits and Country Gravy; the Draughtsman Scramble (bacon, chicken sausage, grilled onions, pepper jack cheese topped with a spicy red sauce); and the Asparagus Mushroom Scramble with truffled goat cheese. Craving something sweet? Try the Babe's Vanilla Beer Waffle with caramelized banana, blueberries, rum caramel sauce and whipped cream.
Saturdays and Sundays from 9:30 a.m. – 3:00 p.m.
LANTANA AT HYATT REGENCY INDIAN WELLS
Lantana at the Hyatt Regency Indian Wells Resort & Spa serves breakfast daily, along with a Sunday Breakfast Buffet that includes an option to add on access to the Build-Your-Own Bloody Mary or Bellini Bar. Go crazy at the buffet, or if you want to stay on-menu, try the Huevos Rancheros Divorciados (corn tortillas, refried black beans, cage free eggs, salsa verde, ranchero sauce, queso fresco, diced avocado) or the Cinnamon Date French Toast. Can't decide between savory and sweet? You're in luck because they also serve a Pancake Sandwich, made with pancakes, scrambled eggs and your choice of bacon or sausage.
Breakfast served daily from 6:30 a.m. – 11:30 a.m., Sunday Breakfast Buffet starts at 8:00 a.m.
HOLIDAY HOUSE
Chic midcentury Palm Springs hotel Holiday House offers a delicious Sunday brunch on their patio, featuring dishes using seasonal, local ingredients, like buttermilk waffles with blueberry mascarpone cream and chilaquiles. Space is limited so reservations are strongly suggested!
Brunch served on Sundays only, from 11:00 a.m. – 4:00 p.m.
CHEEKY'S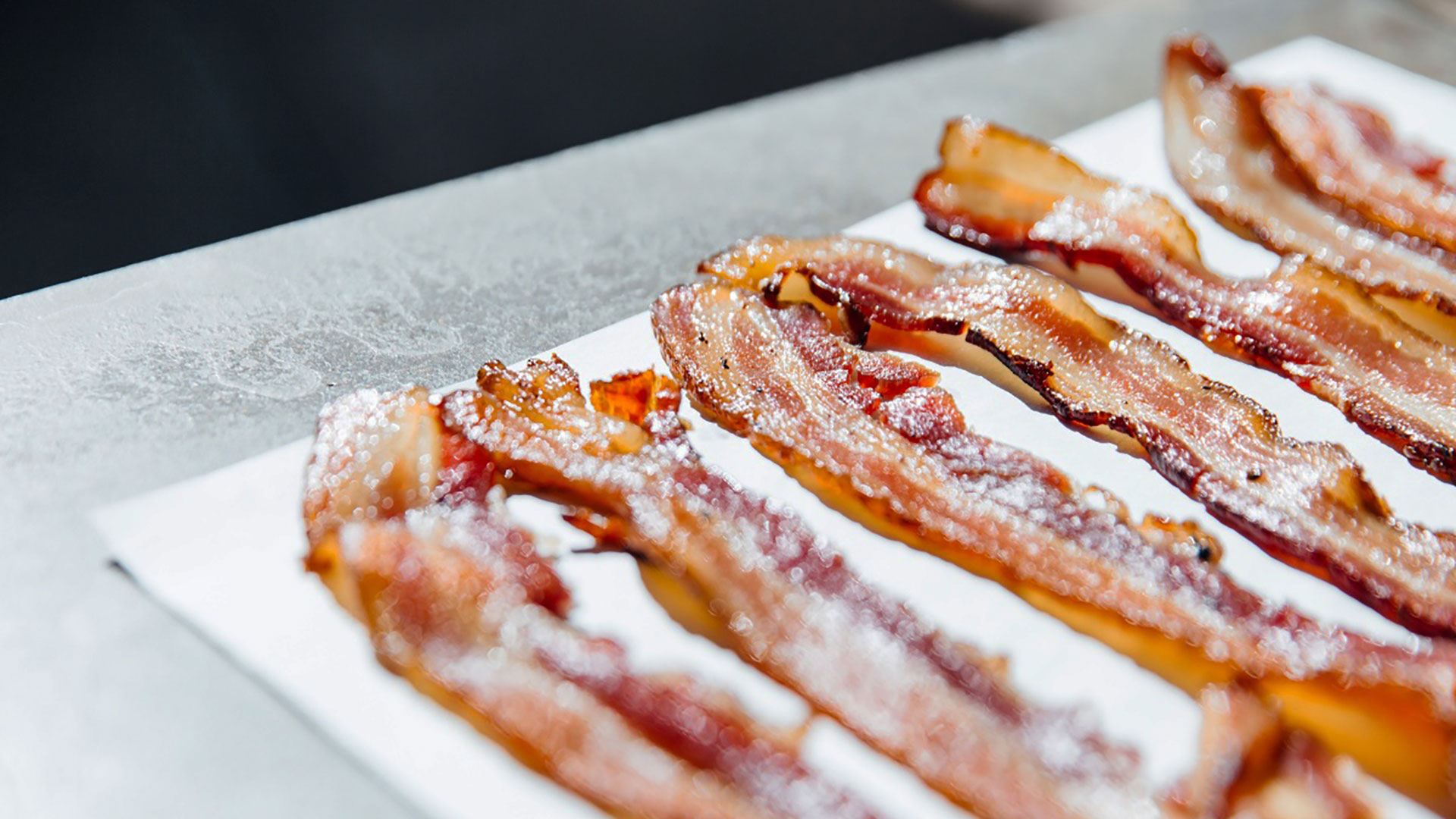 You can't go wrong with Cheeky's, where breakfast is served all day and features highlights like a Bacon Flight (with a variety of flavors like jalapeno and maple), Eggs Benedict (with bacon and arugula on a cheddar scone), Chilaquiles (chorizo, tomatillo, queso fresco, cilantro, onion), Brioche French Toast (with salted caramel, banana and pecan butter) and a number of gluten free items. A portion of the menu changes weekly, so there's also always something new to try. Prepare for long lines on the weekend (they don't take reservations), but it's worth the wait!
Cheeky's
Open Thursday through Monday, 8:00 a.m. – 2:00 p.m.
LAS CASUELAS NUEVAS
Popular Rancho Mirage Mexican restaurant Las Casuelas Nuevas offers a fun Champagne Brunch Buffet every Sunday, featuring a strolling mariachi band as you choose from an array of brunch staples such as made to order omelettes and waffles, fresh fruit, salad and vegetables, as well as traditional Mexican specialties including enchiladas, chiles rellenos and fajitas, plus an extensive dessert selection.
Brunch offered on Sundays only, 10:00 a.m. – 2:00 p.m.
SI BON
Si Bon in Rancho Mirage has the vibe of a quaint European bistro, serving Belgian-inspired fare. They offer breakfast daily, as well as a special Sunday brunch featuring an expanded menu of crepes, omelettes, eggs benedict, quiche, Belgian waffles and more. For a decadent treat, try the Brioche Croque-Madame, with ham, gruyère and fried egg.
Breakfast daily from 8:00 a.m. – 12:00 p.m., Sunday brunch from 8:00 a.m. – 4:00 p.m.
THE SAGUARO PALM SPRINGS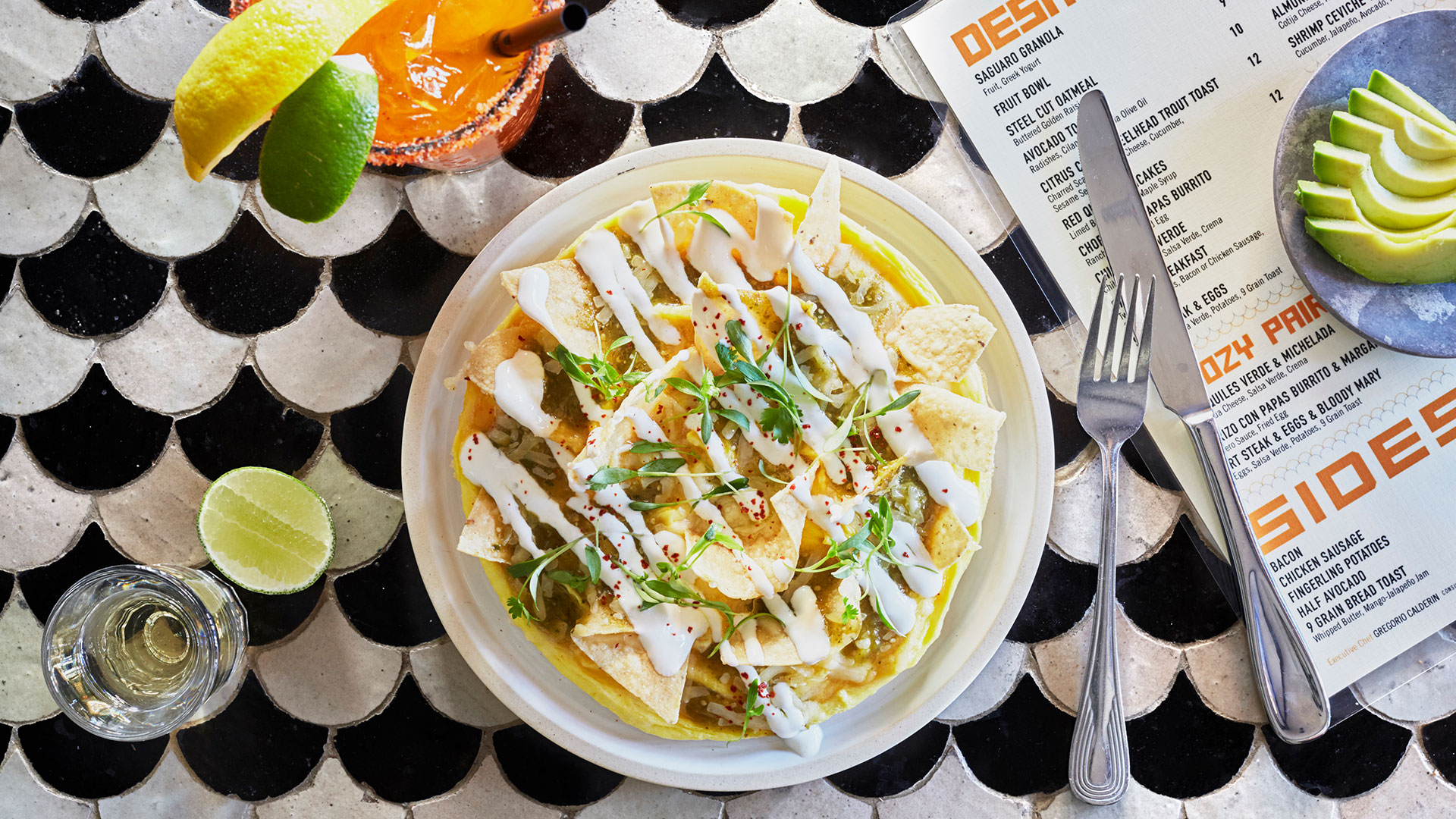 Brunch at The Saguaro features Mexican influences, with dishes including Chilaquiles Verde (with Chihuahua cheese, salsa verde, crema), Avocado Toast (radishes, cilantro, California olive oil) and Red Quinoa Pancakes (with limed butter and maple syrup). They also offer "Boozy Pairings," combining a brunch dish with a drink, like the Chorizo con Papas Burrito + Margarita pairing and the Chilaquiles + Michelada pairing.
Brunch daily from 7:00 a.m.
LA QUINTA BAKING COMPANY
La Quinta Baking Company is a casual café serving French-inspired cuisine and fresh baked goods. Try their Beignets, which are made fresh to order just like in New Orleans, or one of their eggs benedict or frittata varieties. You can also create your own omelette from a variety of ingredients, and sweets fans will love their Belgian waffle topped with berries and whipped cream.
Breakfast served daily from 7:00 a.m. – 3:00 p.m. (some breakfast items available only until 11:00 a.m.)
ELMER'S
Old school favorite Elmer's, located in south Palm Springs, serves up tasty breakfast fare in large portions, with their traditional German Pancakes garnering rave reviews. They offer a large selection of three-egg omelettes, egg combos and egg skillets, as well as many sweet items like pancakes, French toast and crepes.
Breakfast served all day from 6:00 a.m. – 9:00 p.m.
WILMA & FRIEDA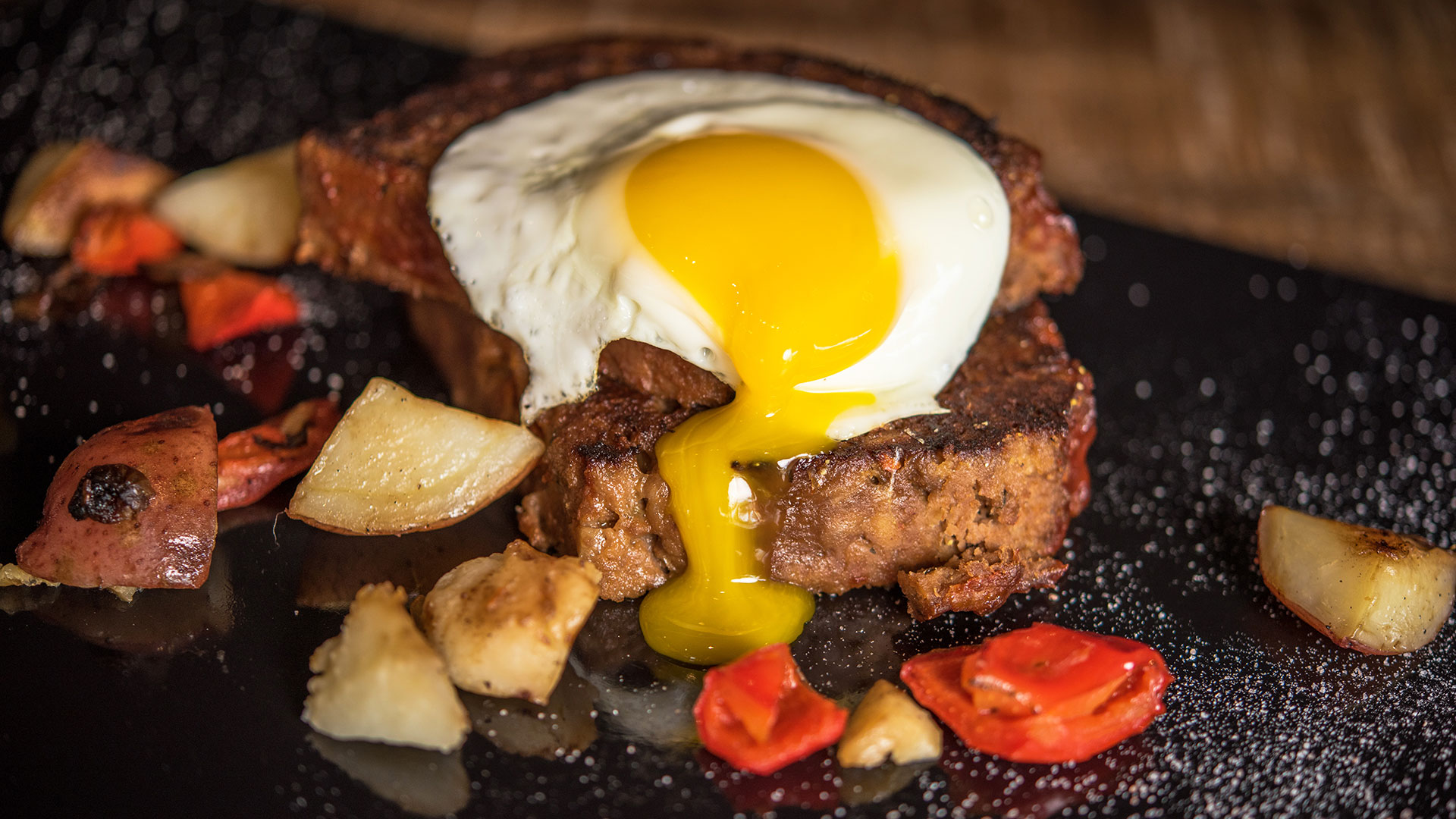 Wilma & Frieda's, named after the owner's two grandmothers, serves delicious comfort food with a contemporary twist. Located on El Paseo in Palm Desert next to Saks Fifth Avenue, this is a perfect breakfast spot for jump-starting a day of shopping. Their signature Griddled Meatloaf & Eggs features a thick cut of homestyle meatloaf topped with two eggs any style, or for a sweet treat try the Blackberry Custard French Toast (bread pudding-like French toast topped with house made blackberry sauce and fresh blackberries). We also love their fresh baked goods (including homemade pop tarts!), which can be enjoyed at a table or picked up to go. Stay tuned for details on their upcoming Palm Springs location!
Weekday breakfast menu from 8:00 a.m. – 11:00 a.m. and weekday brunch menu from 11:00 a.m. – 2:00 p.m., weekend brunch menu from 8:00 a.m. – 3:00 p.m.
PURPLE PALM AT THE COLONY PALMS HOTEL
The Purple Palm restaurant at the Colony Palms Hotel serves breakfast daily, as well as a special weekend brunch on Saturdays and Sundays. Dine al fresco on the patio next to the pool, where you can enjoy dishes like the Smoked Salmon & Avocado Benedict (with poached eggs, hollandaise and breakfast potatoes), Huevos Rancheros (with black beans, chili de arbol, cotija cheese, avocado, crema) and Brioche French Toast (with pecans, lemon curd, berries, crème anglaise, ricotta).
Breakfast daily from 8:00 a.m. – 11:00 a.m., Saturday & Sunday Brunch from 8:00 a.m. – 3:00 p.m.
KING'S HIGHWAY AT ACE HOTEL & SWIM CLUB
Breakfast is served daily in a vintage diner setting at King's Highway at Ace Hotel & Swim Club. Try a Date Shake (made with local Hadley's dates, whole milk and vanilla bean gelato) or the Buttermilk Pancakes if you're craving something sweet, or pick from savory breakfast fare like the Soft Egg & Grilled Corn Cazuela (huitlacoche, Chihuahua cheese, salsa morita, caramelized onions, scallions, country-style bolillo) and Chilaquiles (two eggs any style, chile cascabel, Chihuahua cheese, tortilla chips, cilantro, scallions).
Breakfast served daily from 7:00 a.m. – 2:00 p.m.
BLUEMBER AT OMNI RANCHO LAS PALMAS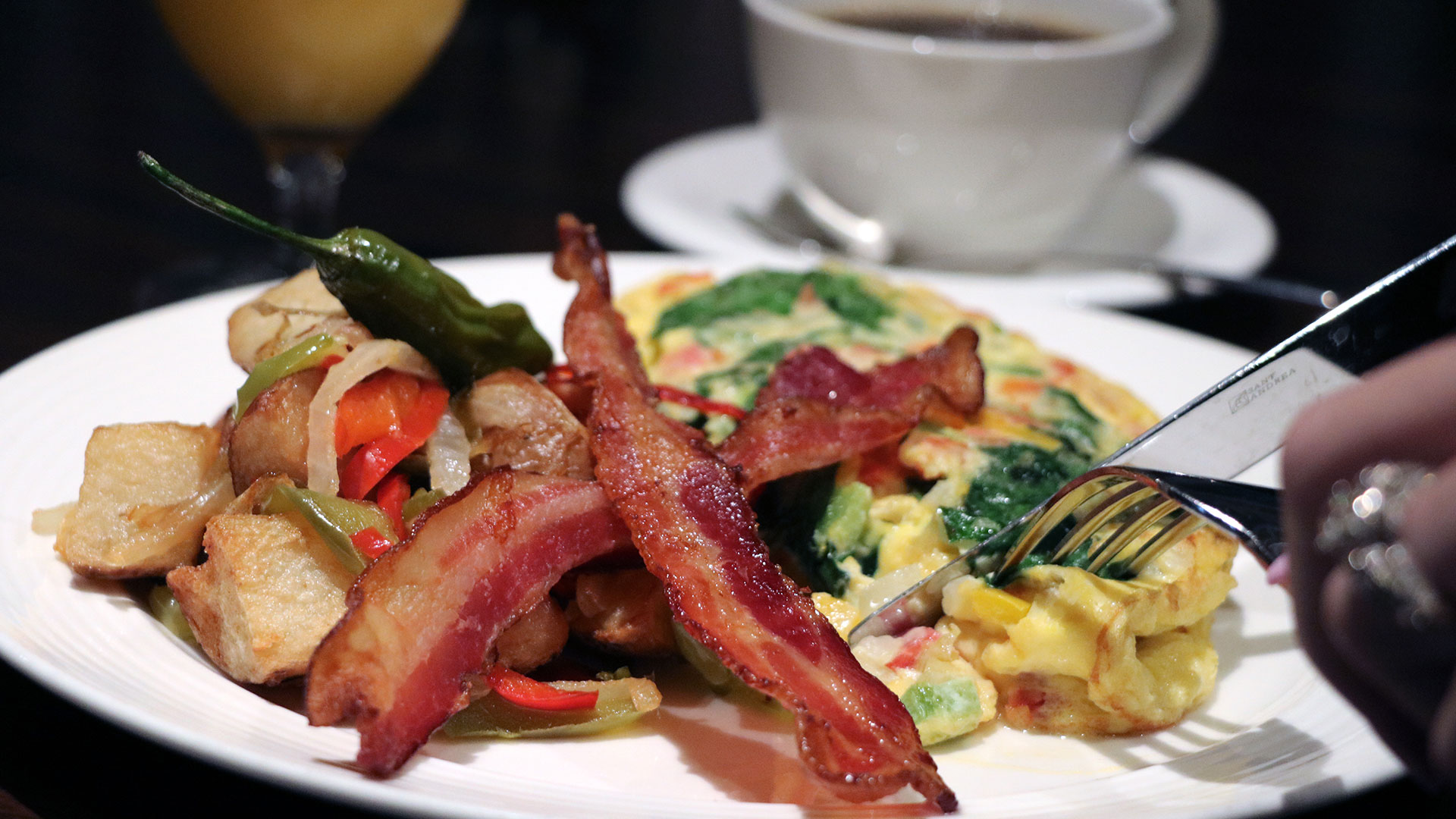 Breakfast is served daily at bluEmber at the Omni Rancho Las Palmas resort in Rancho Mirage, where you can dine on individual menu items or their "Art of Breakfast" buffet, with seating both indoors and on the spacious patio overlooking the pool and golf course. Signature menu items include the Smoked Salmon Benedict (with spinach and hollandaise), Crab Cake Benedict (with grilled tomato and béarnaise) and Brioche French Toast (with marcona almonds and local dates), and you can also build your own omelette or select the breakfast buffet option.
Breakfast is served daily from 7:00 a.m. – 11:00 am
LA QUINTA RESORT & CLUB
The sprawling and luxurious La Quinta Resort & Club offers many different breakfast and brunch options across their property, such as American comfort food daily in their Twenty6 restaurant (featuring a number of eggs benedict varieties, hotcakes, waffles, steak & eggs and much more) and Mexican-inspired brunch fare on the weekend in the resort's Adobe Grill (like Sopes Benedictos (corn cake, poached egg, chorizo, beans, tomatoes, organic greens, ranchero hollandaise) and Chilaquiles Nortenos (cage free eggs, tortilla chips, guajillo salsa, bacon, avocado, sour cream, pico de gallo, frijoles)).
Hours vary; please visit their website for each restaurant's details
ACQUA CALIFORNIA BISTRO
Acqua California Bistro, sister restaurant to Palm Springs eatery Lulu California Bistro, recently opened at The River in Rancho Mirage, serving modern California cuisine in a bright space overlooking the shopping district's water feature. They offer an extensive daily breakfast menu, as well as a special Sunday three-course prix fixe brunch menu with options like a Smoked Salmon Omelette (three-egg fluffy omelette with smoked salmon, caviar and onions) and the Seafood Benedict (two poached eggs with lobster, crabmeat and bay shrimp atop an English muffin, finished with Hollandaise sauce).
Breakfast served daily starting at 8:00 a.m.; brunch served on Sundays from 11:00 a.m. – 3:00 p.m.
SPENCER'S RESTAURANT
For a classic Palm Springs experience, try breakfast or brunch at Spencer's. The ambiance is great and so is the food, with daily breakfast service as well as a special Sunday brunch. Sunday brunch can be enjoyed via the standard menu or as part of a three-course prix fixe menu. Try one of their many varieties of eggs benedict, which are also all available gluten free, or one of the house specialties like the Maine Lobster Omelette or Banana Stuffed French Toast.
Breakfast served daily, 8:00 a.m. – 11:00 a.m., Sunday brunch from 8:00 a.m. – 2:00 p.m.
CITRUS & PALM AT MIRAMONTE RESORT & SPA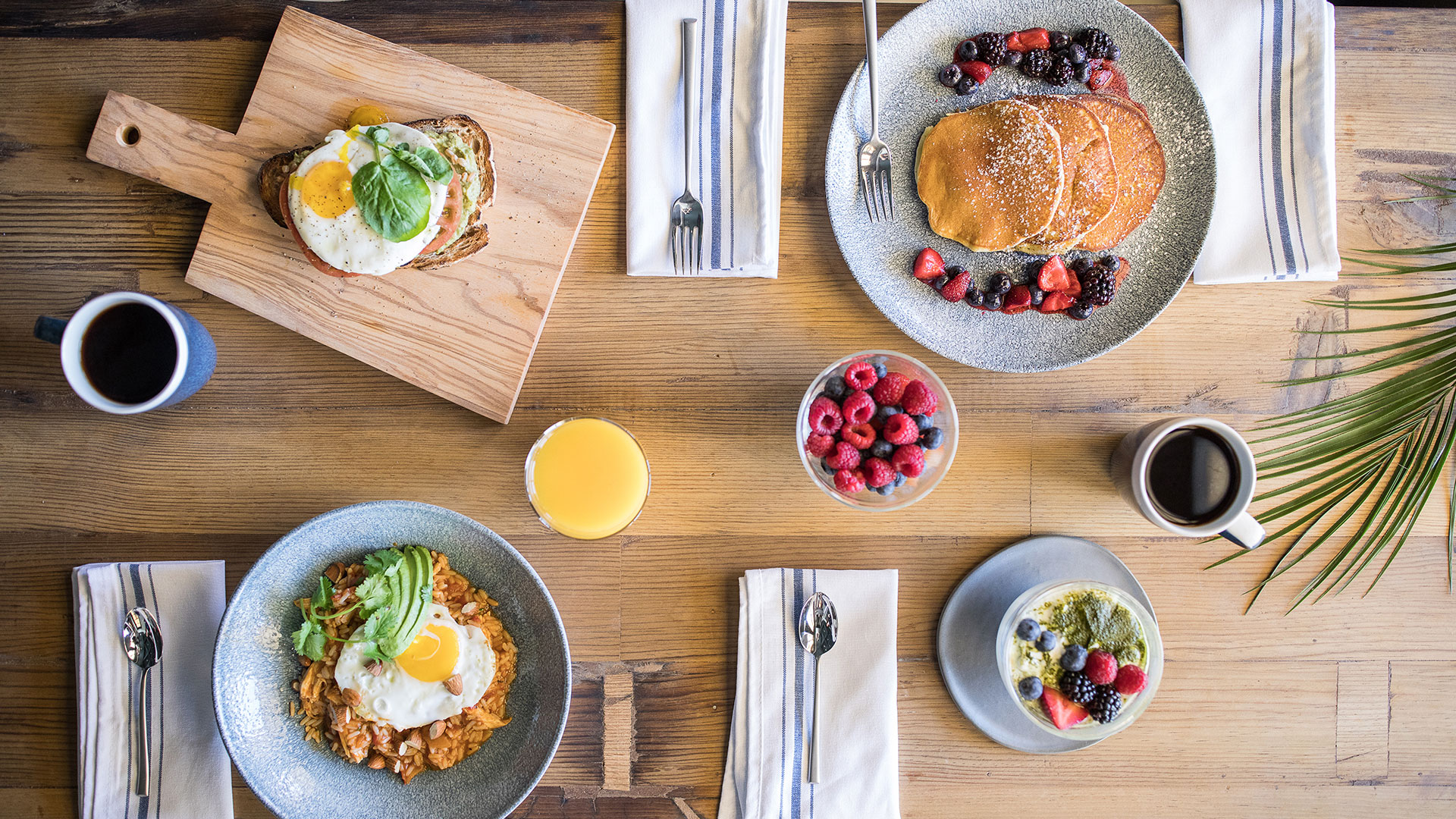 The Miramonte Resort in Indian Wells has recently undergone a chic redesign, which includes the addition of the new Citrus & Palm restaurant. Breakfast is served daily, with a menu that is updated seasonally and features local, farm-fresh ingredients. Current menu highlights include Pumpkin Seed Crusted French Toast (made with Bosch Bakery date bread, strawberries and served with maple syrup), Avocado Toast (farro, organic sunny-side up egg, heirloom tomato, watercress) and Chicken Sofrito (with organic sunny-side up eggs, tomato and pepper stew, almonds, avocado), or you can also create your own omelette from a variety of ingredients.
Breakfast is served daily from 6:00 a.m. – 11:30 a.m. 
Bon appétit!