There's a lot to be thankful for in Greater Palm Springs this time of year: warm weather, sun-kissed skies, beautiful mountain views. And did we mention all the delicious, holiday-inspired food? This Thanksgiving, several local restaurants are offering special holiday meals in-person and to-go—which means less time in the kitchen and more time by the pool. From prix fixe fine dining to family-size takeout dinners ready to eat, make your Thanksgiving in Greater Palm Springs a flavorful (and grateful) one.
Desert Hot Springs
Miracle Springs Resort & Spa 
Serving traditional favorites such as turkey, ham, mashed potatoes, candied yams and much more, Miracle Springs Resort & Spa has you covered this Thanksgiving. For more information regarding reservations and menu items, check here. 
Indian Wells
The Vue Grill at Indian Wells Golf Resort
Spend your holiday nestled near the San Jacinto Mountains at The Vue Grill inside the Indian Wells Golf Resort. Choose between organic turkey, venison chops, mushroom, ravioli, and cedar plank salmon for the main dish of your three course prix-fixe meal. For more information click here. 
La Quinta
Arnold Palmer's Restaurant
Offering up a delicious three course meal with many options to choose from, Arnold Palmer's Restaurant might be the choice for you. You can view their full menu here. 
La Quinta Cliffhouse
Head to La Quinta Cliffhouse for a holiday dinner with a view. Choose between starters like roasted butternut squash soup or a mixed greens salad and entrees, such as the bourbon butter basted turkey and sugar-spiced salmon. End on a sweet note with warm apple strudel or pumpkin pie. Be sure to make your early reservations here.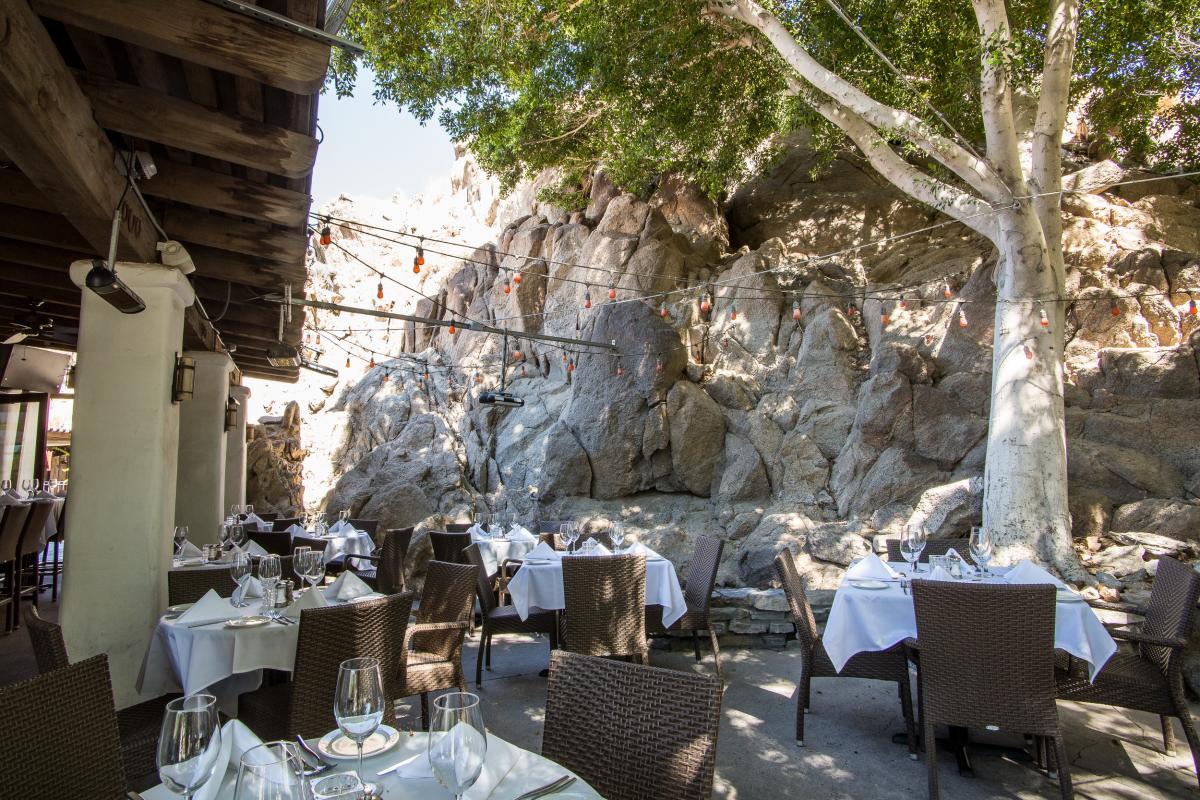 Lavender Bistro 
Escape the pressure of cooking the perfect meal and spend your holiday outdoors soaking in the sun. Lavender Bistro makes Thanksgiving easier than ever with their delectable take home three-course dinner. Place your order online before November 23 and your meal will be ready on Thanksgiving Day at the pickup time of your choosing. More details can be found here.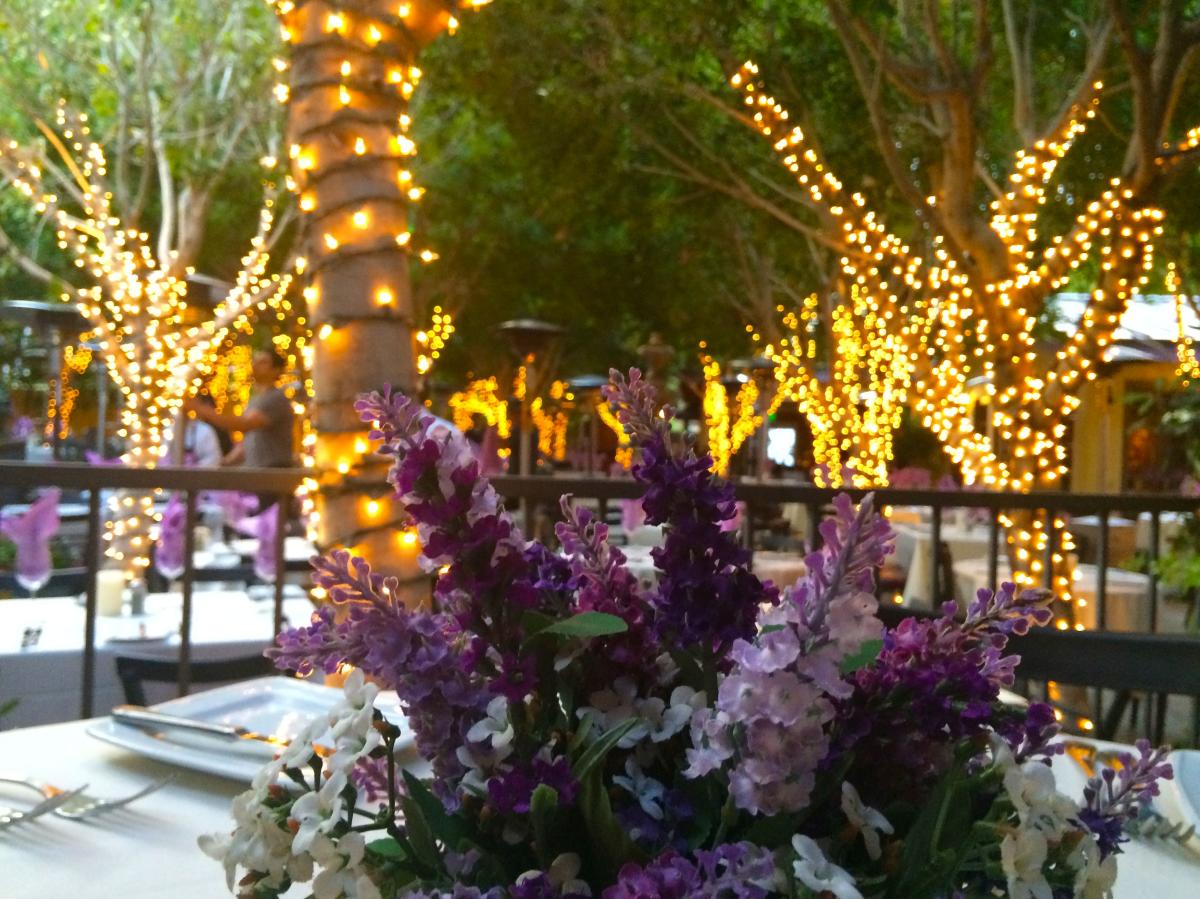 Palm Desert
Cuistot 
This Thanksgiving, delight in a dine-in option at Cuistot or a pre-ordered meal to-go. To make your reservation, visit their site here, or place your order to-go by calling 760-340-1000.
Eddie V's 
This year, Eddie V's is hosting you for an exquisite holiday dinner. Choose between slow-roasted sliced turkey plus all the classic Thanksgiving sides and desserts or go a different route by ordering off their regular menu. To reserve your table, visit here. 
Jillian's 
Get an early start on holiday shopping over at The Shops On El Paseo before heading in for your Turkey Day feast at Jillian's. This three course, fine dining experience offers guests their choice of entrée, soup and dessert. For more information on their full menu and reservations, visit here.
Morton's The Steakhouse 
Dine lavishly at Morton's The Steakhouse this Thanksgiving. Gather your friends, family and loved ones around the table for a new tradition everyone will love. Reserve your table in advance here. 
Pacifica Seafood Restaurant
Eat, drink and be thankful for these options at Pacifica Seafood Restaurant. Enjoy a traditional holiday dinner featuring holiday classics, like roasted butternut squash soup and bourbon butter basted diestel turkey, as well as Pacifica Seafood classics, like honey-soy glazed sea bass. End with pumpkin pie or apple strudel. Learn more from their restaurant here. 
Ruth's Chris Steak House 
Bring the whole family to Ruth's Chris Steak House in Palm Desert for a holiday-worthy spread or spend your time together at home and let Ruth's handle the cooking with their take home options. Reserve your table in advance or schedule your pickup here. 
Sullivan's Steakhouse 
Enjoy fine dining at Sullivan's Steakhouse this Thanksgiving. Try their hand-carved roasted turkey with sweet onion apple sausage stuffing, gravy, cranberry relish and more. Make your reservation or pre-order your takeout here. 
Palm Springs 
Agua Caliente Casino Palm Springs 
Skip the cooking at home and order a gourmet Thanksgiving Meal To-Go from Agua Caliente Casino Palm Springs. Treat your loved ones to a whole roasted tom turkey with nine sides: butternut squash bisque, baby spinach salad with caramelized onions, mushrooms and warm bacon dressing, chestnut sage stuffing, whipped potatoes, turkey giblet gravy, roasted garnet yams with honey butter, steamed green beans and herbs, house-made orange cinnamon cranberry relish and assorted rolls. And of course, you'll need to leave room for the desserts! Reserve your order here. 
Avalon Palm Springs 
Dine at the Chi Chi  at the Avalon this Thanksgiving. Make your reservations on their website here. 
Azucar at Las Serena Villas 
Turkey Day roof-top dining underneath a beautiful blue sky, while surrounded by swaying palm trees seems like something out of a daydream. Luckily, in Greater Palm Springs it is in fact a reality. This Thanksgiving, choose Azucar at Las Serena Villas and enjoy their four-course holiday meal. Featuring delicious options for appetizers, starters and deserts, guests will also have their choice of Beef tenderloin, Chilean Sea Bass and Citrus Roasted Turkey Breast for their entree. Reserve your table here.
Colony Palms Hotel
Enjoy this modern twist of Art Deco as you enjoy your holiday dining. Feel the beautiful breeze at you lavish in the mountain and pool views that The Colony Club has to offer. For more information, check here. 
Copley's on Palm Canyon 
Take home a delicious three-course Thanksgiving meal from Copley's on Palm Canyon. Enjoy delicious appetizers and for the entree, enjoy a turkey breast with sides. Orders must be placed by Sunday, November 22 and can be done so here.  
Eight4Nine Restaurant & Lounge
Spend Turkey Day treating yourself to a four-course meal at Eight4Nine Restaurant & Lounge. For the main course, choose from traditional roast turkey, grape seed duck breast, grilled Scottish steelhead, beef tenderloin, black cod, moroccan stew and maple and sage roasted root vegetable. Call at 760-325-8490 to make a reservation and see more menu items here.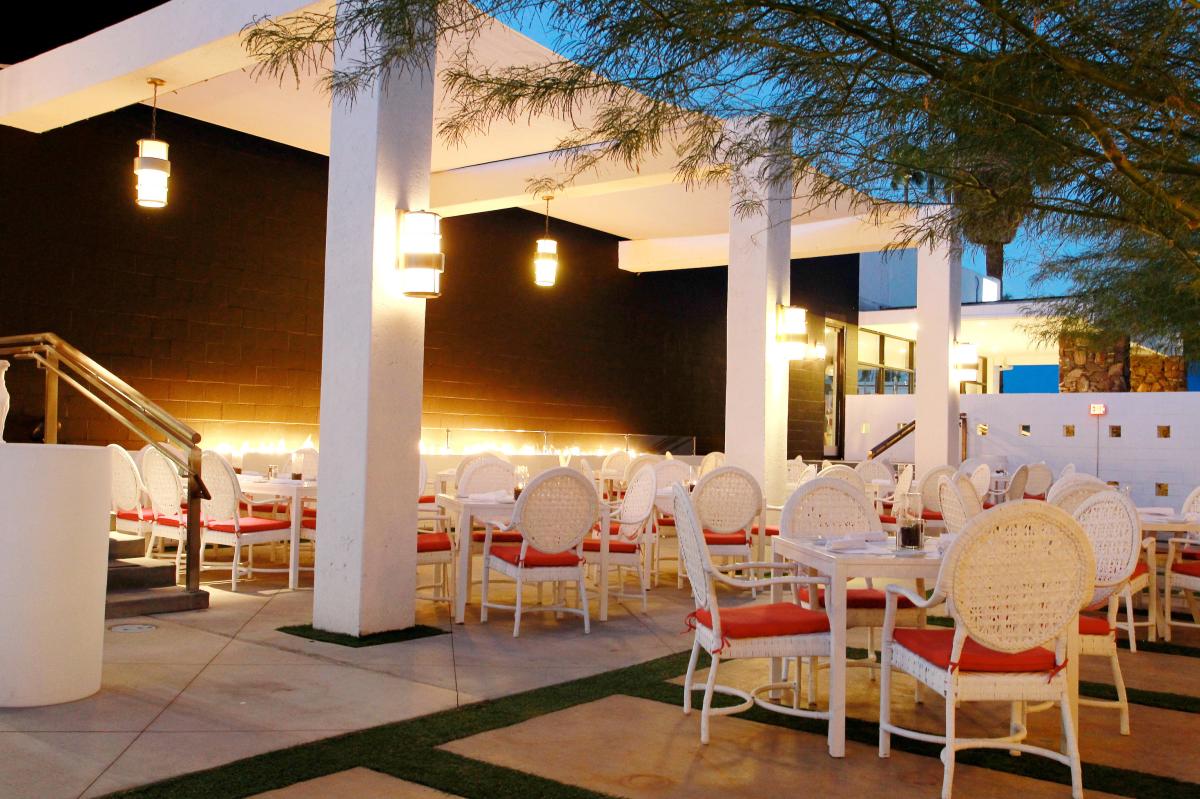 Grand Central Palm Springs 
Delight in a five-course Thanksgiving dinner at Grand Central Palm Springs . Celebrate the holiday in the heart of Downtown Palm Springs and dig into delicious food with your loved ones. Try pumpkin ravioli, citrus beurre blanc salmon, steak au poivre, traditional herb roasted turkey and more of their seasonal favorites. 
King's Highway at Ace Hotel & Swim Club 
King's Highway at Ace Hotel & Swim Club is serving everything from Thanksgiving classics such as Turkey Roulade to plant-based options like their Vegan Roasted Pumpkin Steak, there is something everyone can enjoy. All to-go orders have to be placed by November 18, available through email. For details regarding menu listings, check here.
Lulu California Bistro
Stop by Lulu California Bistro in downtown Palm Springs for a delectable four-course feast of pumpkin soup, turkey pot pie, filet mignon, bread pudding and more. Reservations are strongly suggested; call 760-327-5858 or visit their website here.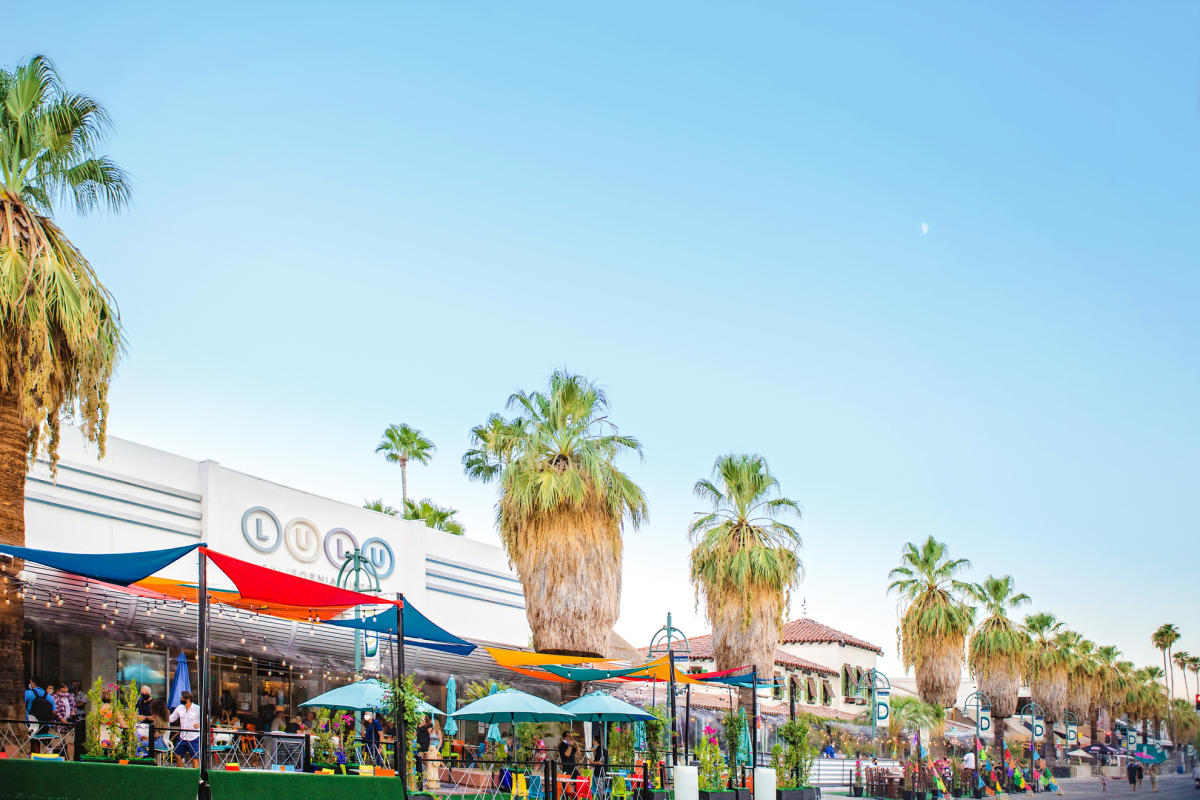 Melvyn's Restaurant at Ingleside Inn 
Savor an exquisite Thanksgiving three-course menu at the iconic Melvyn's Restaurant at Ingleside Inn . Skip cooking this year and delight in this delicious holiday dinner. Make your reservations here. 
Trio Restaurant 
Find all your favorites on the prix fixe three-course meal at Trio Restaurant in Palm Springs. Have your order set for pickup or delivery and be the talk of the table. Place your orders here.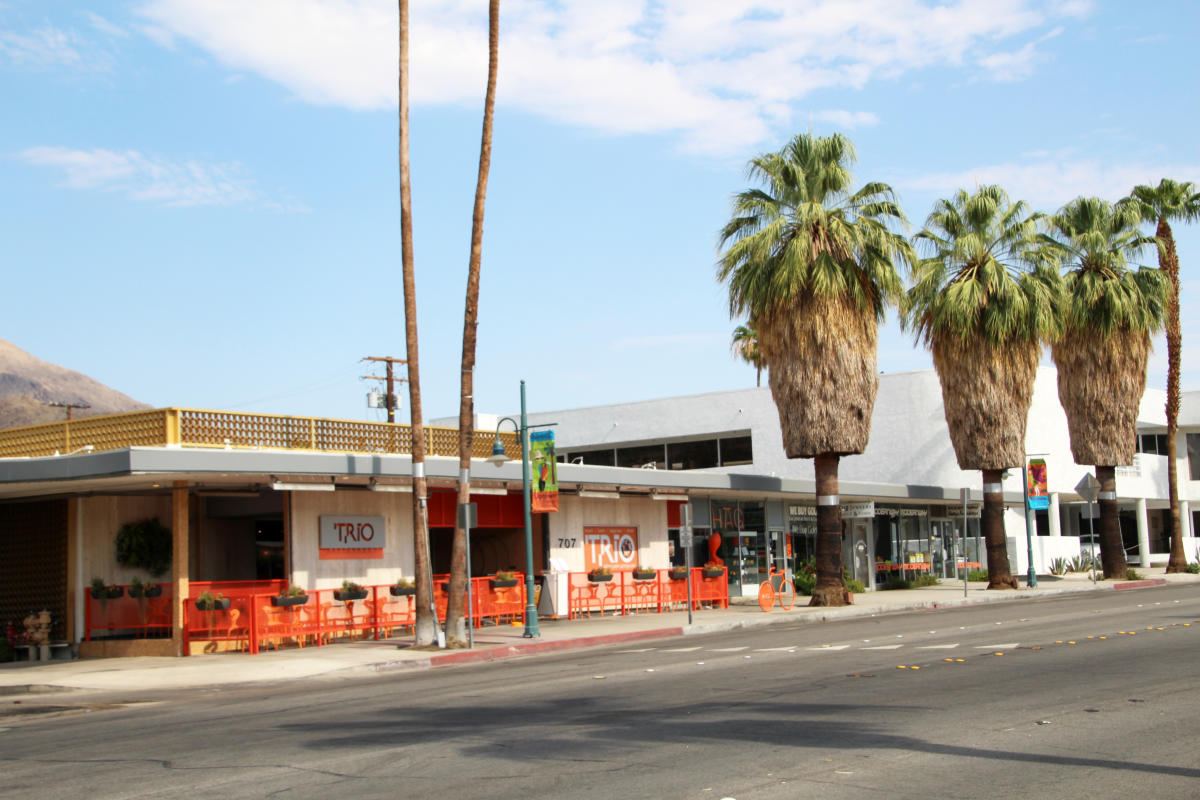 Michael Holmes' Purple Room 
Thanksgiving dinner and live jazz is the combo you didn't know you needed; come to Michael Holmes' Purple Room to enjoy them both. This is sure to be one of the hottest tickets this holiday, so reserve your table in advance here.
Workshop Kitchen + Bar
Take a step back in time to the 1920's this Thanksgiving at Workshop Kitchen + Bar. Surrounded by 1920's era architecture, guests will be treated to a fine dining experience. Choose from their vast selections of plates, sides and cocktails or keep it traditional and order their classic House-Brined + Duck Fat Fried Organic Diestel Farms Turkey. For more information or to reserve your table, check here. 
Rancho Mirage
Acqua California Bistro
Start your holiday season off right by bringing your family and friends to Acqua California Bistro for a delicious Thanksgiving feast. Enjoy this four-course meal; choose between three salads, three soups, six desserts and ten different entrée options.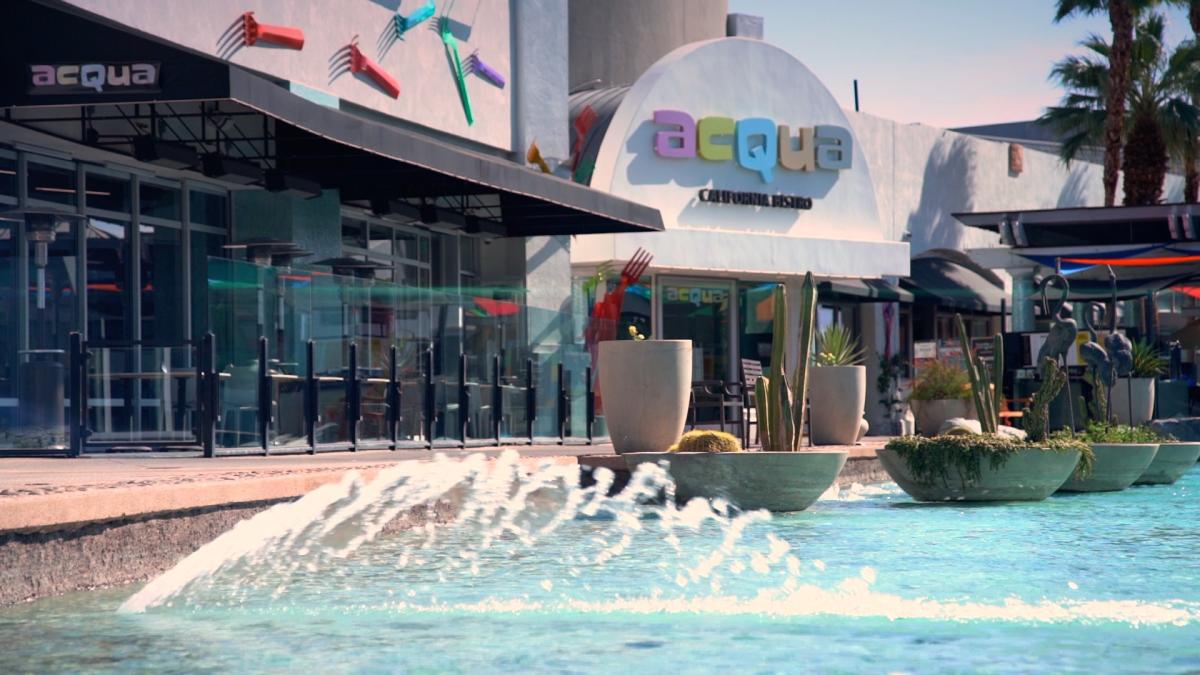 Agua Caliente Resort Casino Spa Rancho Mirage 
Enjoy your Thanksgiving feast from Agua Caliente Resort Casino Spa Rancho Mirage this year. Celebrate at home with their Thanksgiving To-Go, an entire gourmet dinner featuring a premium whole roasted sage tom turkey and classic Thanksgiving sides, such as whipped potatoes, turkey gravy and more. Orders must be placed by November 22, click here. 
Si Bon
Experience a Belgian-inspired Thanksgiving at Si Bon Belgian Bistro. Dine al fresco and enjoy Thanksgiving specials. Make your reservations for turkey day here. 
Wally's Desert Turtle
Wally's Desert Turtle has a few offerings to indulge in this holiday. Skip the cooking and make your reservation for a delicious meal to enjoy at Wally's Desert Turtle on Thanksgiving Day. Place your reservations here. 
Planning to spend the holidays in our merry oasis? Take a look at current getaway deals offered in Greater Palm Springs.