Many of us are looking for a great way to de-stress and truly relax. What's a better way to unwind than poolside under sun-kissed skies? Take a trip to our SoCal oasis where you can have the most relaxing poolside experience ever. Catch some rays, enjoy attentive service, sip on fruity cocktails and slip into total relaxation. Continue reading to discover how to enjoy the cabana life in Greater Palm Springs. 
Kimpton Rowan Hotel

The Kimpton Rowan Palm Springs is one of the most popular places to stay thanks to an epic rooftop pool on the 7th floor—the only accessible rooftop in the entire SoCal oasis, according to the hotel's Director of Sales and Marketing, Christine Delgado, who adds that the hotel rents cabanas for both day and evening use.
Tucked behind rows of lounge chairs around the expansive pool is a row of cabanas, which are incredibly comfortable. Of course, there is also the High Bar rooftop bar so you don't have to go far to get a fancy cocktail and great service. Guests should definitely make sure to be on the rooftop in the evening for an unforgettable sunset— one of the best views in the entire region.
Pricing and inclusions can be found on the Kimpton Hotel's website.
Villa Royale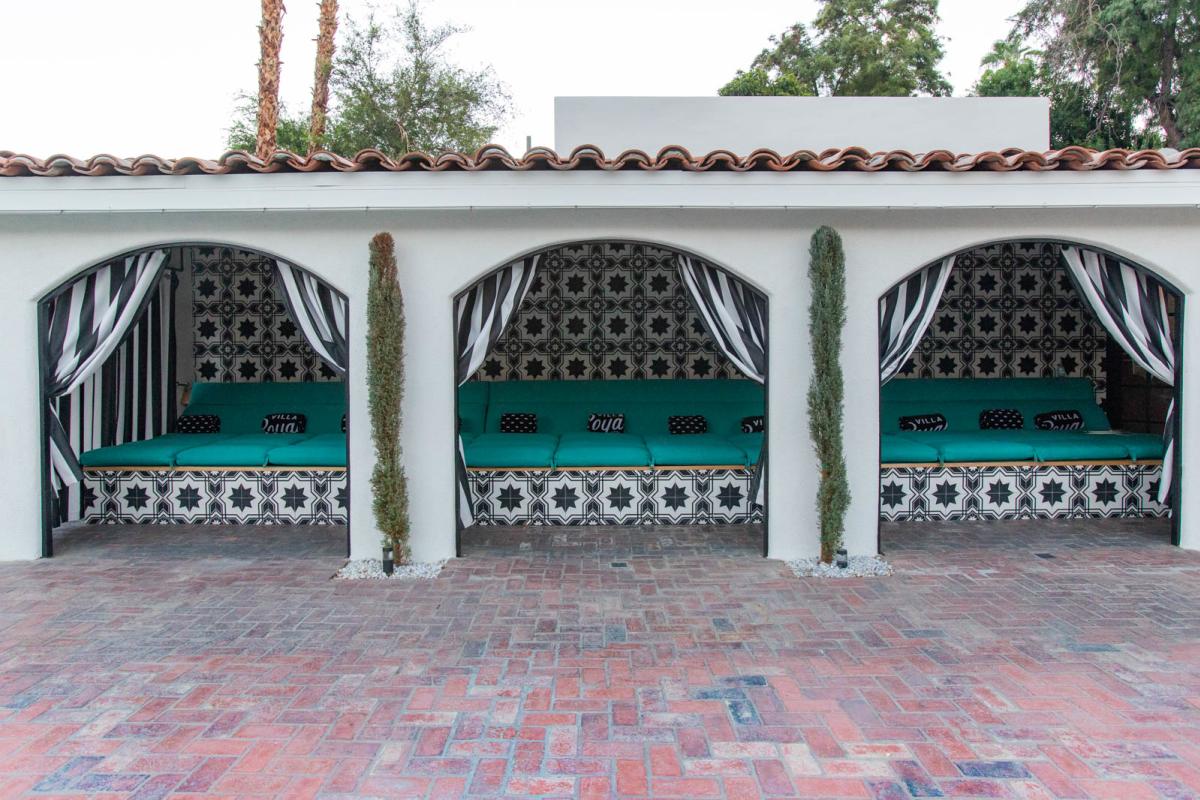 There's no better way to enjoy Palm Springs than poolside with views of the San Jacinto mountains. The cabanas at Villa Royale are located directly beside the pool bar, so a cocktail in hand is a must, according to the hotel's Philip Conner.  The cabanas are first come first serve at Villa Royale and only reservable with a booking of the 'Rose All Day' package.
Villa Royale Palm Springs features three beautiful pools for all guests to enjoy and all are part of the hotel's adults-only experience meaning no one under 21 is allowed (so no competing for pool floaties with the 6-year-olds).
The main pool is shaped like a large rectangle and has the option to sit on retro-green sofa-like seats in shaded cabanas along one side of it. Each of the pools is surrounded by either chairs or chaise lounges, and are open until 12:00 AM, so you have plenty of time to rest poolside after a long day of fun in the desert. If you have a dog, this hotel is pet-friendly.
Colony Palms Hotel & Bungalows
The Colony Palms Hotel & Bungalows, better known as just The Colony Palms, has a fantastic large, rectangular pool that is both great to swim in and to sit by.  The centrally-located pool is lit and it is open 24/7 so you can even go for a midnight dip.
The north and south ends of the pool feature comfortable divans to sit on, or you can decide to lay back on the outdoor chaise lounges on the east side of the pool. The opposite side features cabanas that offer some shade, and you can dine onsite at The Colony Club restaurant, which offers elegant breakfast, lunch, and dinner.
Hyatt Regency Indian Wells Resort & Spa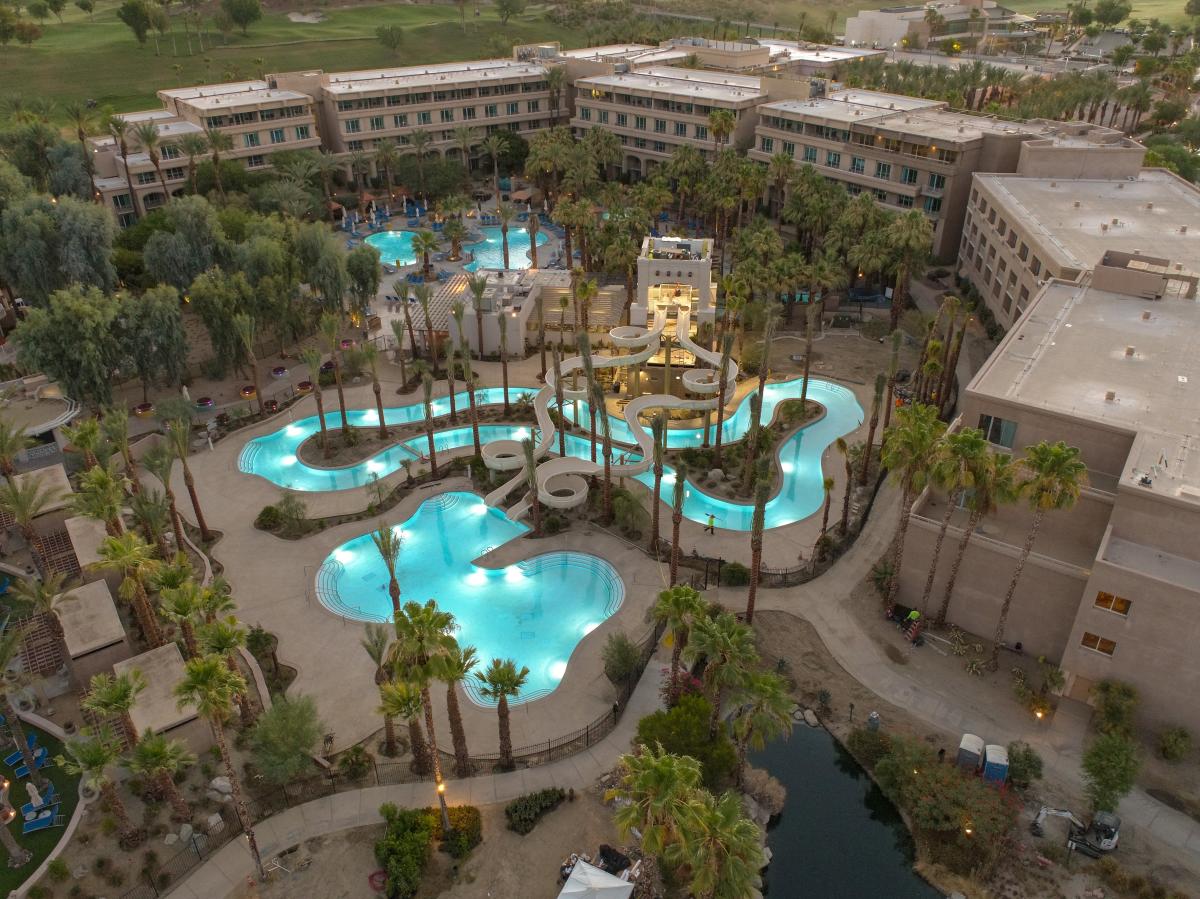 If you thought three pools were awesome, imagine even more! The Hyatt Regency Indian Wells Resort & Spa has five different pools including one that is adults-only, one that is more of a children's pool, and three that anyone can use. Decorated with a tropic-festive theme, there are plenty of retro orange umbrellas and standalone, private cabanas with orange tops. Most of the chairs are a royal blue shade, giving the hotel a great pop of color for your Instagram feed while lounging in the desert environment.
You'll find two 30-foot dueling water slides. There is now also a lazy river and dedicated water play area for young children.
The resort also has poolside activities which include food and beverage service, putt-putt golf, ladder ball, foosball, basketball, and more.
La Quinta Resort & Club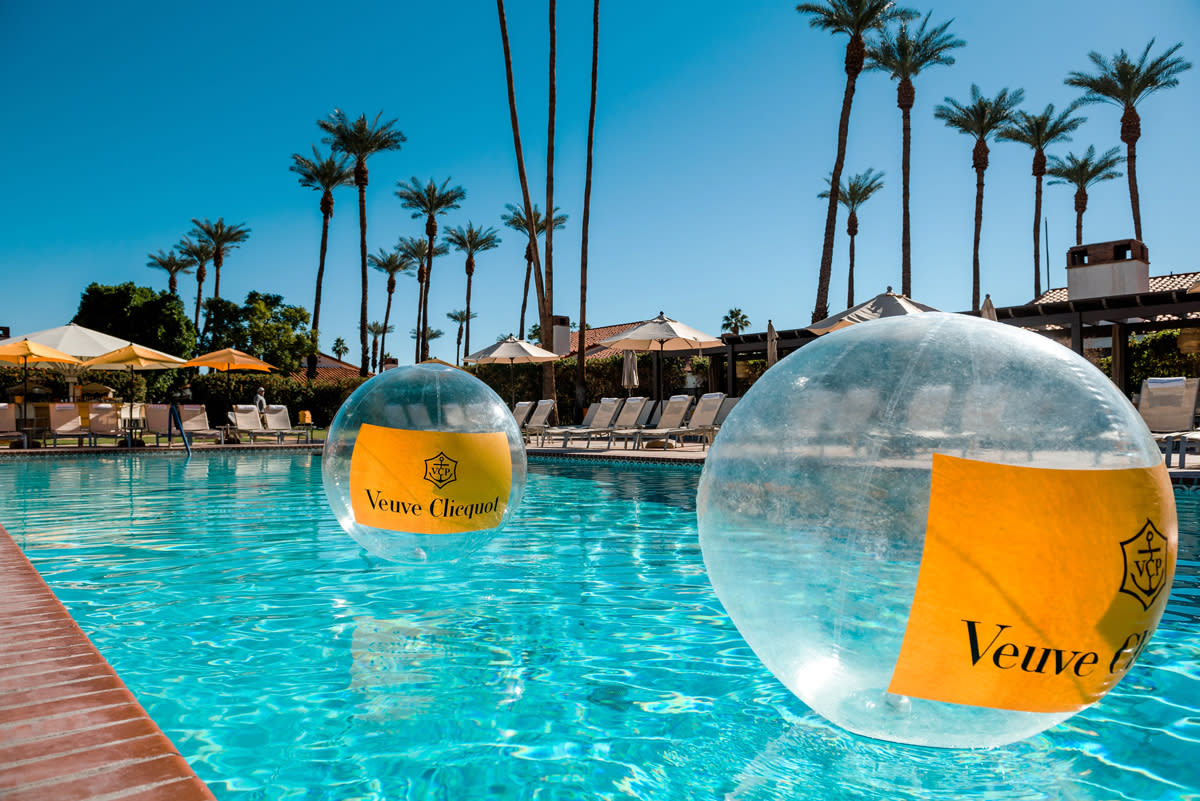 Pool fanatics are always amazed at the impressive forty-one (that's right, 41!) climate-controlled swimming pools scattered throughout The La Quinta Resort & Club.
Built in 1926, this historic resort is another great hotel choice if a pool (or 41 of them) is one of your top amenities. The main pool is surrounded by lounge chairs and cabanas, and if you are looking for a private cabana, you can rent one at the "Plunge" 21+ pool.
You can also have the ultimate private Hollywood-style experience and rent your own private casita with its own pool, where your pool features a backdrop of white-washed Spanish casitas. Guests can also reserve a luxury suite that has its own secluded pool in a private courtyard. The resort also has quieter, longer pools surrounded by palm trees where guests can swim laps.
The Ritz-Carlton Rancho Mirage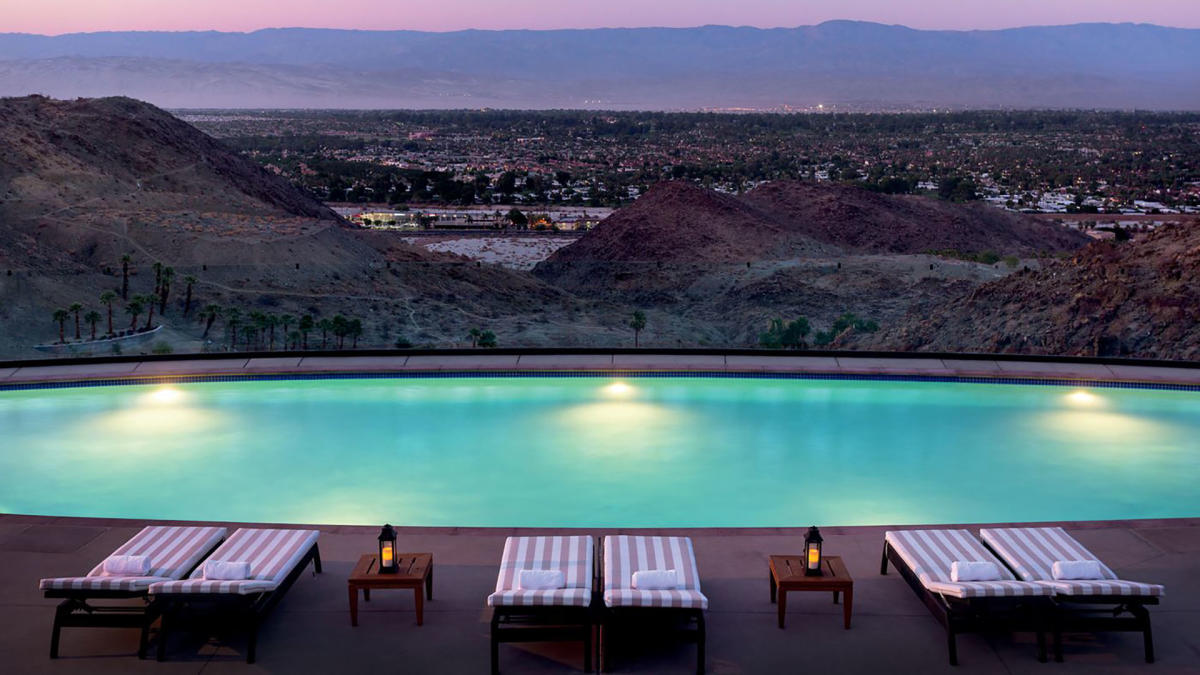 As you might expect, The Ritz-Carlton Rancho Mirage is another great pick if you're looking for a resort with great swimming opportunities. There are two pools, including the square-shaped "Main Pool" and the U-shaped "Vista Pool." The Main Pool is open to all ages, and the Vista Pool is for adults 18 and older. Plenty of chaise lounge chairs surround the pools, however there are a limited number of private cabanas available, so it is recommended to reserve one in advance.
Both pools are open from 6:00 AM to 10:00 PM and pool staff not only serve guests food and drinks, but they will also provide suntan lotion, towels, and water bottles. You won't want to miss the whirlpool, either, as it is located in the corner of the resort with a breathtaking view of the vast desert and mountains.
Dive Palm Springs
Dive Palm Springs is a quaint, boutique 11-room hotel with a designer pool.
The Libott-designed pool area has been restored to its original tile style, layout, and view, and the poolside area has been redone in the past few years and now features several new striped lounge chairs and shading umbrellas.
The hotel plays soft music poolside, making the environment even more serene, and the pool normally features a large floating unicorn.
Fancy a lazy start to your day? You can have complimentary breakfast — including croissants, fruit, granola, eggs, and yogurt— served to you poolside in a private cabana. While you can easily hideaway in the gardens on-site, this place also promotes interaction with other guests, as the hotel is very small and friendly. Prepare to make some friends in the hot tub, which accommodates twelve people.
Hotel Paseo

With touches of mid-century modern oranges, yellows, and blues, the swimming pool at Hotel Paseo is surrounded by both lounge chairs with umbrellas and private cabanas where guests can enjoy drinks and more private relaxation. Hotel Paseo takes it a step farther and offers poolside games such as cornhole and shuffleboard, so there is fun for everyone in a group. If you stay at the hotel at the right time, you may get to catch a poolside movie (they're seasonal).
The O Spa & Resort
The O Spa & Resort in Desert Hot Springs is another cannot-miss place to stay. The crystal blue outdoor pool is surrounded by several lounge chairs as well as a few private cabanas with comfortable sofa-like seats that are private, yet still allow a great view of the skies and the San Jacinto Mountains.
Even if you are not staying at the hotel, cabanas can be rented with a 6-hour day pass for you and your group, which allows access to the pool, the lounge and kitchen, gardens and barbecues. There is also a smaller, warmer indoor pool that is less populated and several hot tubs for guests to enjoy.
Wherever you choose to chill, you've got a number of can't-miss cabana options and amazing poolside experiences in Greater Palm Springs. If you're looking for deals on stay, see our amazing Getaway Offers.