In the mood for an eccentric, artistic and funky getaway? Then Joshua Tree is the perfect place for a day trip from Greater Palm Springs. Located in the high desert, Joshua Tree is home to one of the most awe-inspiring National Parks. 
In addition to rock climbing and hiking, there is a plethora of places to discover in the high desert, from offbeat cafes and mouthwatering restaurants to metaphysical offerings and saloons.   
On your drive there - from the lower Sonoran desert to the higher Mojave desert - you pass all the iconic windmills and weave through hilly terrain.  You know you're close when you begin to breeze past the twisty silhouettes of the Joshua Tree. The high desert area can also be 10-20 degrees cooler though - so layering is important. 
First Stop: Frontier Café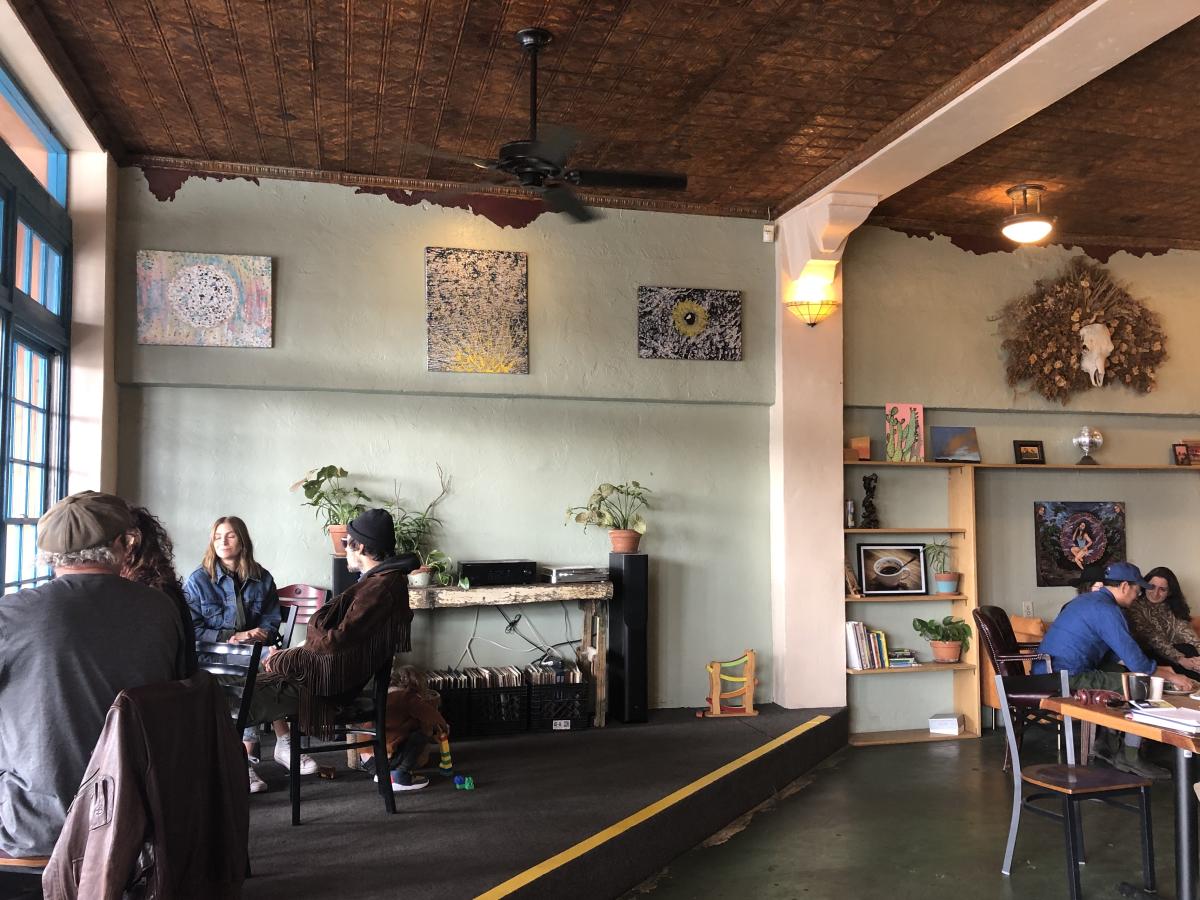 Start your day with coffee and breakfast at  Frontier Cafe in Yucca Valley - a small community on the way to Joshua Tree.  This eatery has a small but hearty menu. It serves up lunch and breakfast and pours coffee, tea, beer and wine in a relaxed and laid back atmosphere. Warning -  it is quite busy on the weekends. But, it's definitely worth the wait. The breakfast sandwiches are huge, the avocado tartine is deceptively filling and the matcha muffin melts in your mouth. 
If you go: 55844 Twentynine Palms Highway, Yucca Valley
Second Stop: The Integratron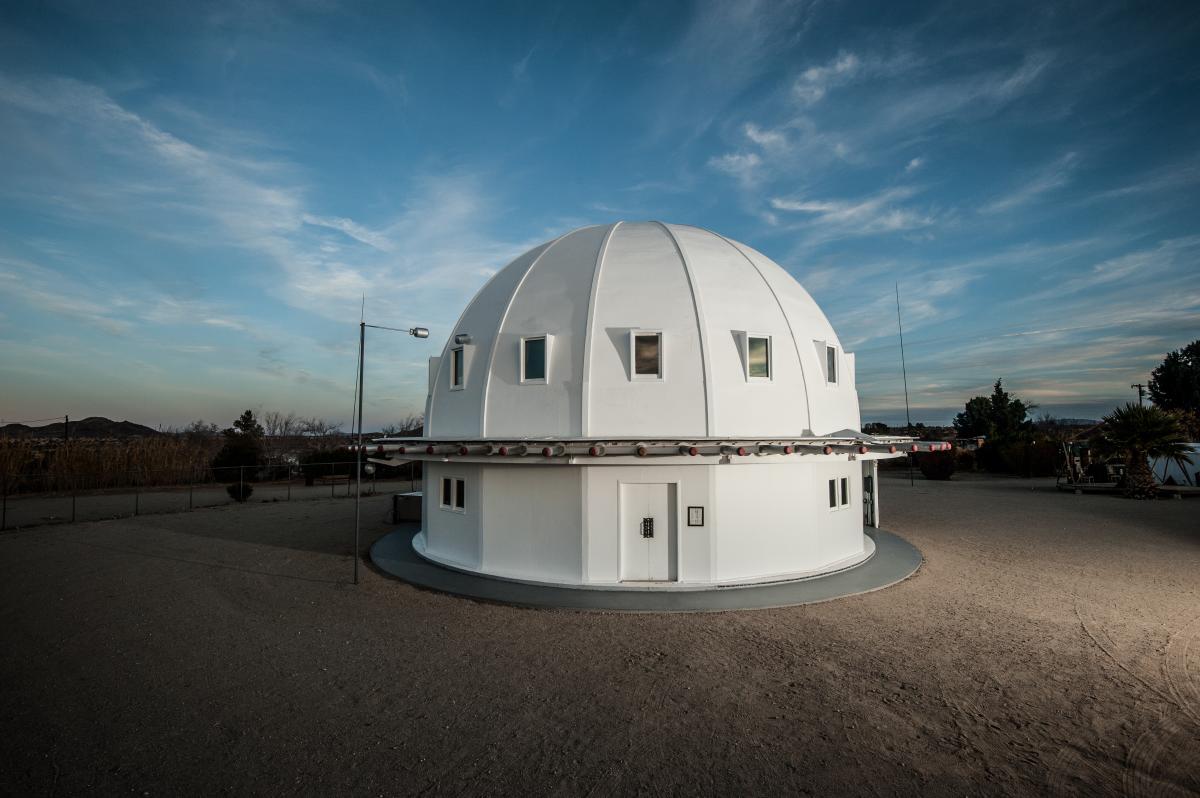 After a satisfying breakfast, your next stop should be the Integratron for a sound bath that is sure to get you prepped for a day of adventure. The dome-shaped Integratron located in Landers is just 15 miles north of Yucca Valley on a geomagnetic vortex, which is key to its acoustical function.  
Guests lie on mats on the floor inside a multi-wave sound chamber where they are bathed in live and ambient music. The result is peacefulness and complete relaxation. 
Sound baths are done by appointment only though, so be sure to call first. 
If you go:  2477 Belfield Blvd, Landers
Third Stop: Joshua Tree National Park


With your chakras aligned you are ready for taking in the natural beauty of Joshua Tree National Park. 
The park is a great place to climb rock formations and traverse hiking trails, but you don't have to be a hardcore outdoor enthusiast to enjoy the national park. It can also be enjoyable via a car tour. The park spans two deserts, the upper Mojave desert and the lower Sonoran desert. If touring by car, be sure to make frequent stops to check out the fascinating flora and fauna the two desert ecosystems have to offer.  A must stop is the Cholla Cactus Garden which looks like something from another planet. 
If you go: 6554 Park Blvd, Joshua Tree.
Fourth Stop: Joshua Tree Saloon or Pie for the People 
It's time to fuel up again. There are various fun and casual eateries in the high desert -  from rustic saloons with down-home barbecue to pizza places that may seem familiar. 
Joshua Tree Saloon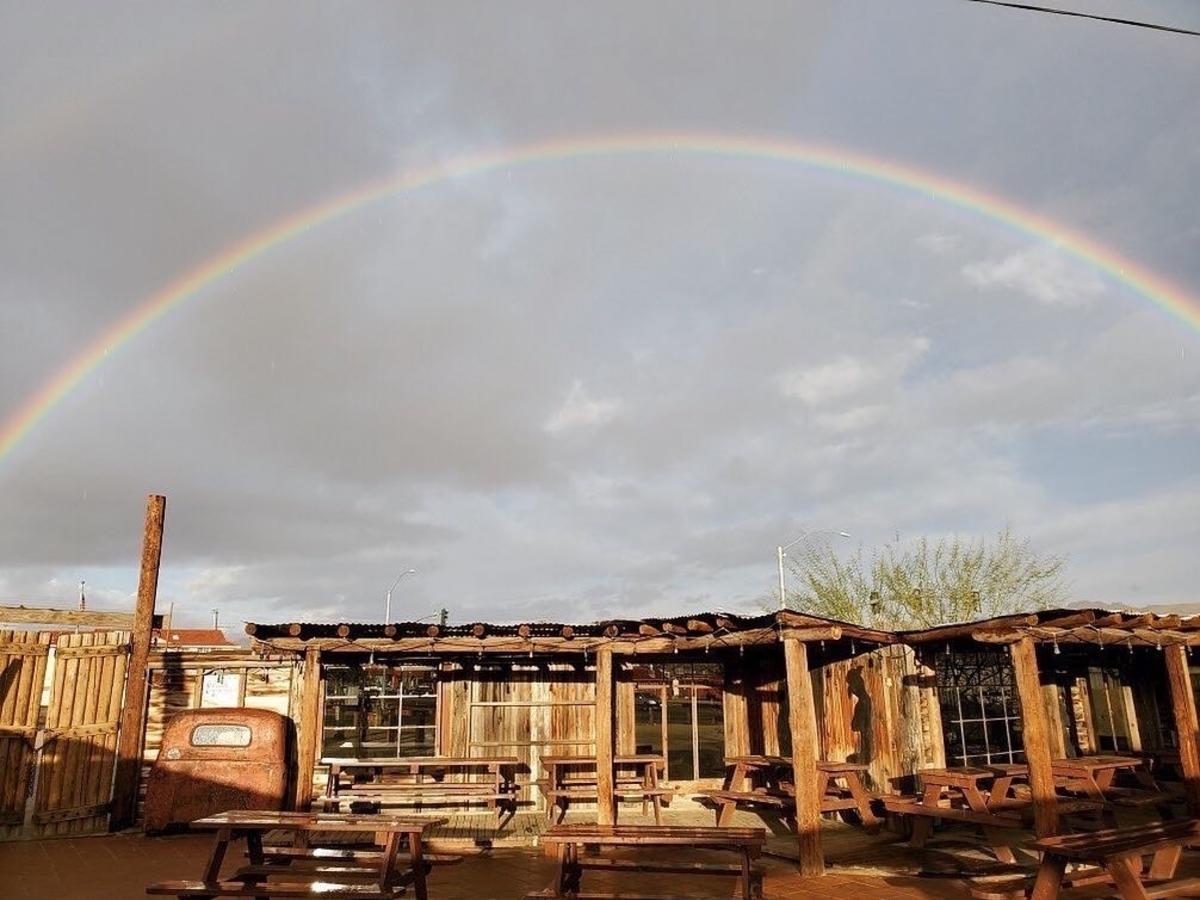 Established in 1983, Joshua Tree Saloon has a fun western feel that makes you want to wear cowboy boots - if you don't already have them on. They host weekend yard parties in their "yard" with live music, barbecue and cocktails. Kids and dogs are welcome and they are open for breakfast, lunch and dinner. 
If you go: 61835 Twentynine Palms Highway, Joshua Tree.
Pie for the People
A Joshua Tree institution since 2009, Pie for The People started out as a festival staple slinging pies at music festivals across the country. Their shop serves up pies with names like David Bowie, Dean Martin and Barry White. They also serve vegan pizza and calzones. 
If you go: 58960 Twentynine Palms Highway, Yucca Valley
Fifth Stop: Joshua Tree Coffee Co. ​
You've enjoyed a hearty lunch and may be feeling sluggish. It sounds like time for a coffee boost from Joshua Tree Coffee Company. 
This locally roasted and organic coffee bar is small. There's only space for waiting in line to order a beverage.  But, there is a vast outdoor seating area that is perfect for relaxing with your cup of Joe.  The nitro cold brew is perfect for a mid-day perk. And don't forget to buy a bag of beans to take home. 
If you go: 61738 29 Palms Highway, Joshua Tree
Sixth Stop: Ricochet Vintage Wears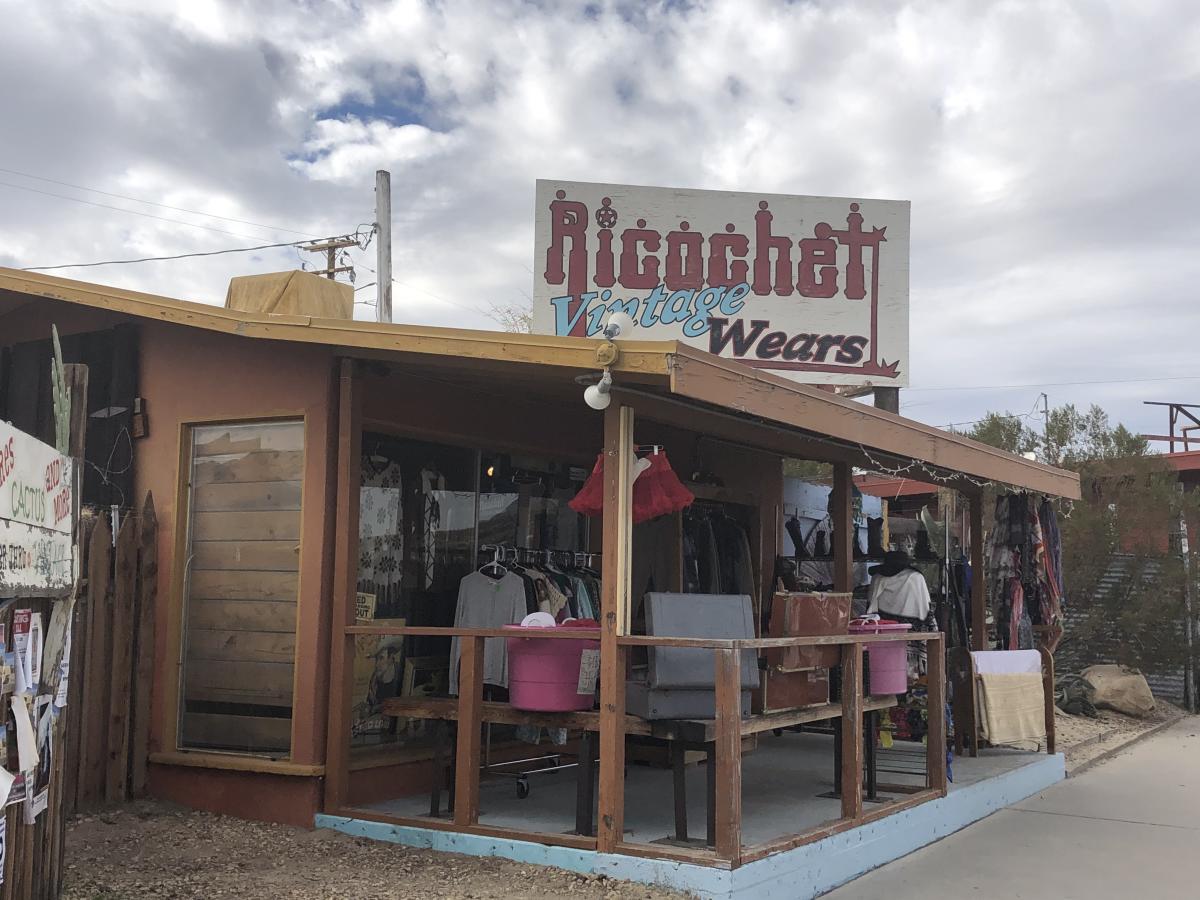 Any visit to the high desert wouldn't be complete without a stop at a vintage resale shop. 
Ricochet is a great place to do a bit of shopping for everything from cowboy gear to dresses, hats, shoes, purses, jewelry and household goods. Once you've perused the porch and the store's intimate interior, you can continue to the backyard where there is a treasure trove of vintage household goods.  Don't forget to check out the trailer which is also well-stocked.  
If you go: 61731 Twentynine Palms Highway, Joshua Tree. 
Seventh Stop: The Oasis of Murals in Twentynine Palms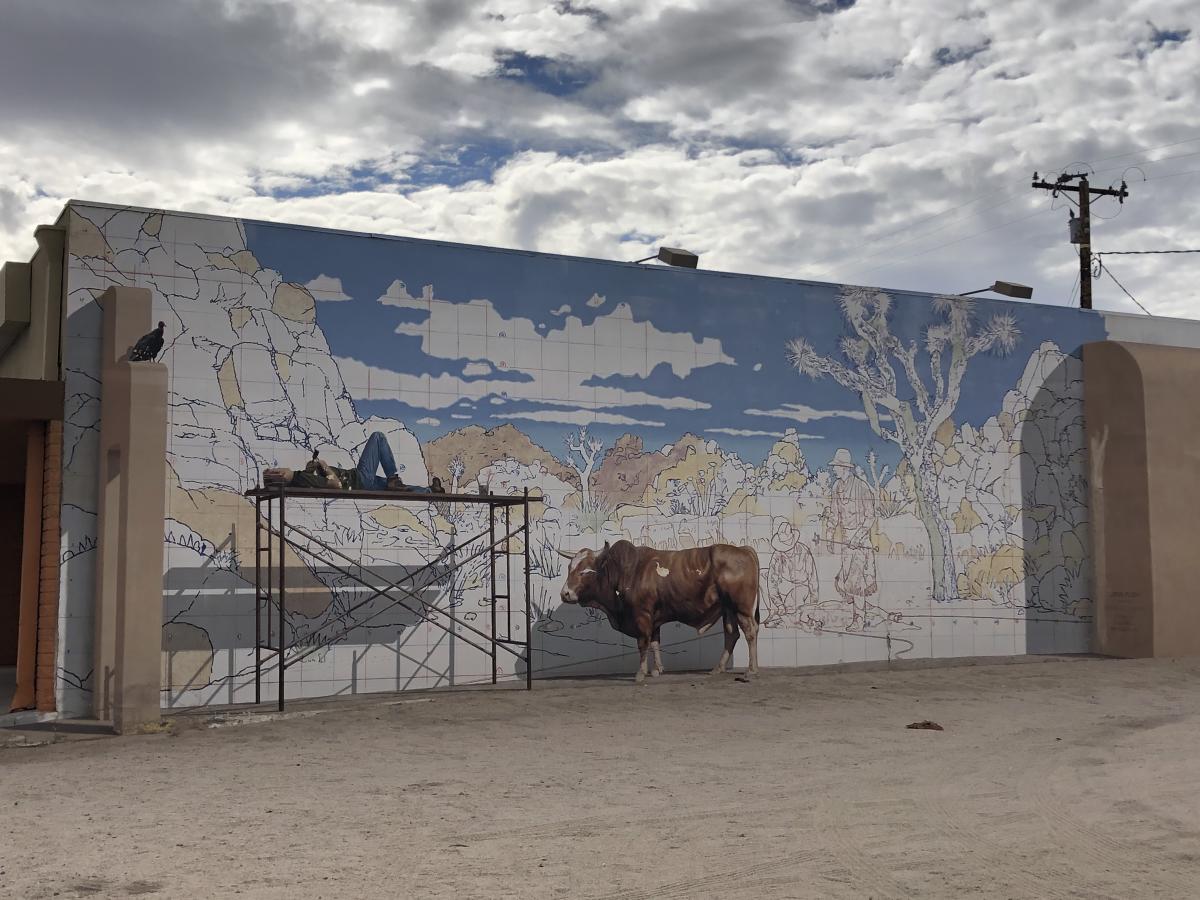 The high desert is known as an artist community, so you definitely need to check out the art - much of it out in the open. 
The Oasis of Murals in Twentynine Palms is located all over the city. You can't walk or drive through town without seeing them. There are more than 22 and all reflect the community's heritage and history. Most of them are located along Twentynine Palms Highway and Adobe Road. One of the more impressive murals is by John Pugh of Los Gatos titled Valentine's Day. The meta 3D mural features a man who fell asleep on scaffolding while painting a mural, with a cow nearby. 
If you go: Most are located along Twentynine Palm Highway and Adobe Road in Twentynine Palms. 
Eighth Stop: Noah Purifoy's Outdoor Museum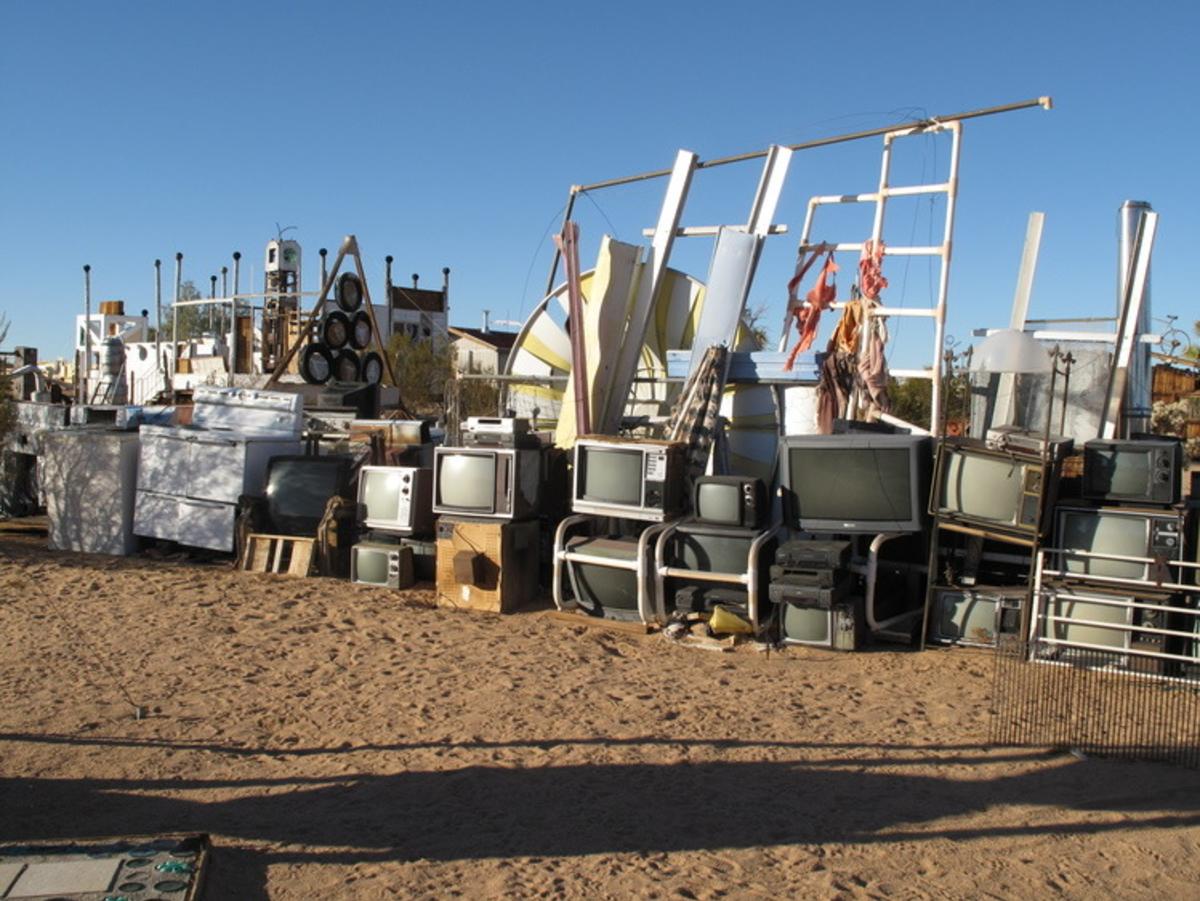 One person's junk is another person's treasure. That is the case at the Noah Purifoy Desert Art Museum of Assemblage Art. Created by Noah Purify who passed in 2004, the weird and wacky collection of art consists of large-scale sculptures created entirely from discarded junk. 
The sculptures are spread across 10 acres of desert, so wear walking shoes.   It is open to the public every day of the year during daylight hours. 
If you go: 63030 Blair Lane, Joshua Tree,
Ninth Stop: Pappy & Harriet's in Pioneertown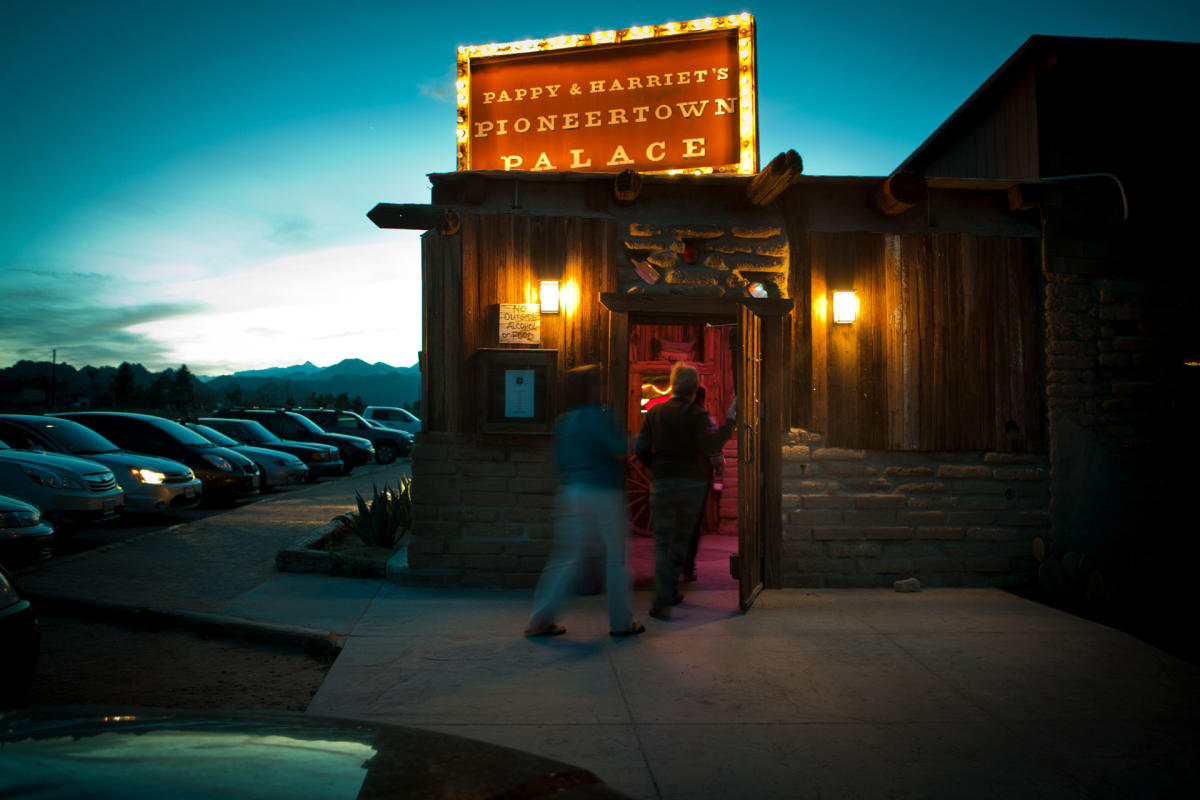 And last but not least, is a stop at Pappy & Harriet's Pioneertown Palace where you can have dinner and then stay for the live music. The western-themed saloon hosts a steady stream of local and widely popular indie acts.  
They have an outdoor stage for larger concerts and an indoor stage that allows folks to keep eating dinner while being entertained. Vampire Weekend, Arctic Monkeys, Queens of the Stone Age, Billy Corgan and legends like Paul McCartney have all performed there. 
If you're stopping by for a meal, you must try their chili.  They also serve burgers, steaks, pulled pork sandwiches and Nachos Von Rabbit - a creation named after high desert musician Jesika Von Rabbit. 
If you go: 53688 Pioneertown Road, Pioneertown.
The fun doesn't stop here— Keep the excitement going by exploring these Top Music Venues in Greater Palm Springs. Jam out in the oasis!