Treat your taste buds to the ultimate culinary experience in Greater Palm Springs by attending the 10th annual Palm Desert Food & Wine festival! The event takes place from Friday, March 25 through Sunday, March 27, 2022, at The Gardens in El Paseo and is serving up gastronomic pleasures that can't be found anywhere else. Set to feature renowned top chefs, vintners, and brewmasters, as well as a variety of fine-dining restaurants and food tasting booths, this delicious three-day dining and drink celebration is exactly what foodie dreams are made of. Hungry yet?
Here's what's on the menu for Palm Desert Food & Wine 2022:

What
Palm Desert Food & Wine is a locally recognized festival that celebrates the best of the best in food, wine and craft beer in the region and beyond. Presented by Agua Caliente Casinos and produced by Palm Springs Life magazine, the event showcases an incredible lineup of celebrity chef demonstrations, book signings, gourmet food samplings, and more.
Those who are 21 and over are invited to participate in the weekend-long food frenzy (which includes plenty of opportunities for day drinking).

When
Things start cooking Friday, March 25 and wrap up Sunday, March 27, 2022. See the schedule of events under the Palm Desert Food & Wine Experience page to get the details on event times and day-of programming.

Where
Most events take place at the Food & Wine Tents at The Gardens on El Paseo on the west side upper-level parking deck (73-545 El Paseo, Palm Desert, CA 92260). However, some festivities will be hosted at different locales throughout the region. Be sure to double check each event's location information on the festival website.

New This Year
New this year are a series of virtual experiences ranging from the art of cheese and wine pairing to summer grilling. Though these demonstrations originally aired in the summer of 2021 (as an "appetizer" to all the in-person Palm Desert Food & Wine events to come), cooking enthusiasts can still view the specials at home.
Featured Chefs
Palm Desert Food & Wine will also bring a delightful blend of local chefs, new talent, and returning culinary artists from all over California and across the country. Among those featured this year are local Executive Chefs Alain Redelsperger (Toscana Country Club in Indian Wells) and Andrew Copley (Copley's on Palm Canyon in Palm Springs). Other standout talent includes Curtis Stone, Carla Hall, and Jamie Gwen.
"We are always looking to spice up our lineup," shares Paulina Larson, Marketing Director at Palm Springs Life magazine.
Overall, attendees will be able to enjoy cuisine offerings and styles from over 30 local restaurants plus celebrity chefs, who will be cooking up some of the finest dishes you've ever had in the Greater Palm Springs.

Culinary Events
Thursday, March 24
This year, pre-festival programs start off with For the Love of Cheese ... and Wine! on Thursday, March 24 at 6 p.m. You'll learn all about the art of cheese making and cheese/wine pairings from Afrim Pristine, Canada's premier cheese expert and owner of Cheese Boutique. The event takes place at local shop On The Mark in downtown Palm Springs (a one-of-a-kind gourmet food market and deli). 
They say variety is the spice of life, so if you're looking for new ways to use the ever-popular "Everything But the Bagel" seasoning that's probably in your pantry, don't miss Cooking With Spices With Chef Gale Gand. The two-time James Beard Award-winning pastry chef will share new ways to use the "everything seed mix" created by baker David Gussin around 1980: smoked salmon, hummus, popcorn ... the options are endless!
Friday, March 25
The first official day of Palm Desert Food & Wine begins with the James Beard Gourmet Four-Course Luncheon, from 11:30 a.m. to 2 p.m. This year's event emcees are Carla Hall (former cohost of ABC's The Chew) and Zac Young (finalist on Bravo's Just Desserts). The day's program will feature menu courses created by four different award-winning celebrity chefs: Jamie Gwen, Afrim Pristine, Claudia Sandoval, and Curtis Stone. Don't miss a book signing with Carla Hall and Curtis Stone following the event! You can even meet and mingle with some of the chefs during a celebrity chef reception later that evening (tickets are limited).
Saturday, March 26
You'll come hungry and leave satisfied during the Saturday Grand Tastings. This event begins at noon and offers an opportunity to expand your palate by sampling delicious bites from more than 40 participating local restaurants and sipping on a number of specialty drinks from talented winemakers, distillers and craft brewers (who will even be on hand to discuss their offerings). Special chef demonstrations and other events will be taking place throughout the day, as well, including a Biscuit Bakeoff with Carla Hall and Zac Young.
If you're more interested in where your food comes from, don't miss the Date Camp Sponsored By The California Date Commission. Mark Tadros, date farmer and co-founder of the Date Harvest Festival, will describe the date farming process and then cook up a few specialties with celebrity chef Aarti Sequeira.

Sunday, March 27
Sunday's Grand Tastings offer a second round of appetizing bites from noon to 3 p.m., featuring food created by renowned chefs from across Greater Palm Springs and the rest of California. Chef demonstrations will also take place this day.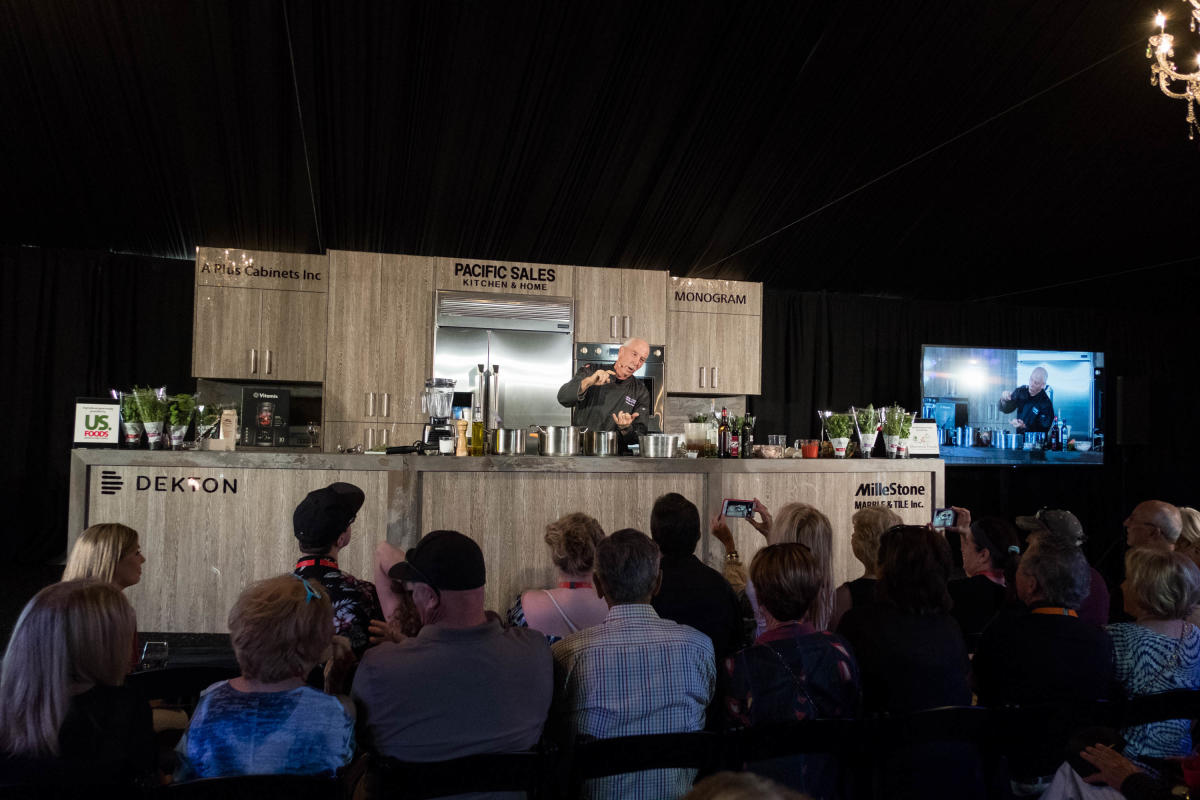 Event Tips
Regarded as one of the most popular culinary events in Greater Palm Springs, Palm Desert Food & Wine is well-attended annually by many hungry patrons and libation enthusiasts. You'll want to arrive early to scheduled events and to have your tickets in hand. Chef demonstrations, in particular, are first come, first serve, so it's best to plan ahead if you'd like to get a good seat!

Dining for a Cause
Attending Palm Desert Food & Wine 2022 has plenty of delightful benefits, including the opportunity to give back to the local community. The event benefits both the James Beard Foundation and Coachella Valley FIND Food Bank, a stand-out nonprofit organization providing food assistance and basic essentials to those in need in Greater Palm Springs. As a proud supporter of FIND Food Bank, Palm Desert Food & Wine will donate 35 meals to the organization for every festival ticket purchased.

Ticket Information     
Reserve your spot for Palm Desert Food & Wine by purchasing tickets online now or at the event ticket booth at The Gardens on El Paseo (beginning Friday, March 25, 2022). Both reserved and general admission passes are available for attendees to choose from, and each ticket covers all food and drinks consumed at the event. For those who would like to attend more than one foodie function during the festival, ticket packages are still up for grabs online.

For more excitement this spring in Greater Palm Springs, check out Fashion Week El Paseo 2022!