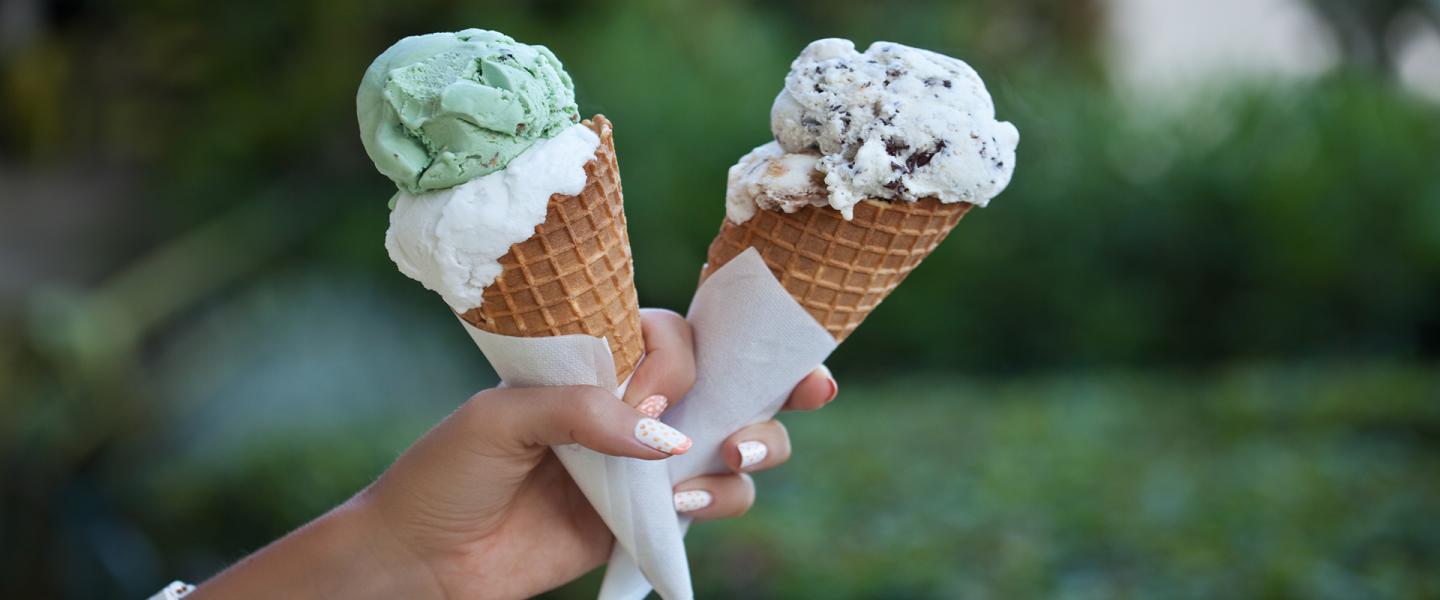 July is National Ice Cream Month, and we've got the scoop on tasty, cool sweets in Greater Palm Springs.
Whether it's fresh fruit gelato, nitro-blast popsicles, a Baja style coconut smoothie, oversized custom-made ice cream sandwiches or waffle cones stuffed with Mediterranean Sea salted caramel ice cream, you can stay chill all month long with these tempting treats.
Ice Cream in La Quinta
Nitro-Blast Popsicles at Nitroinfusions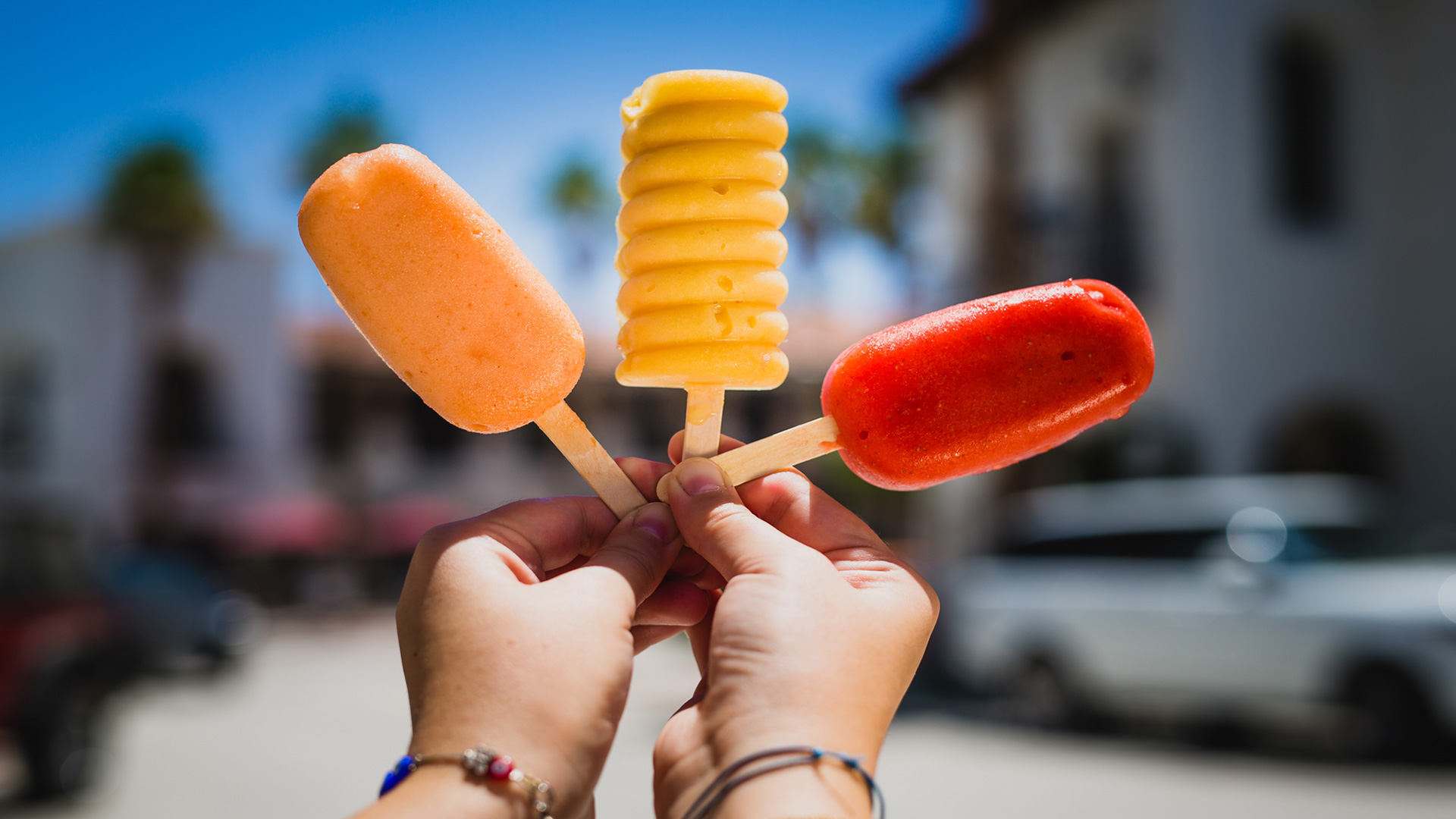 Nitroinfusions, a cool Old Town La Quinta spot, renovated last year to make room for its newest product: nitro-blast popsicles.
Liquid nitrogen-blasted fresh organic cream or fruit gelato flavors are scooped into swirled or rectangle shaped popsicle molds and frozen, sold from a ready-to-go case. Flavors such as mango, strawberry, cherry, key lime pie, banana lavender and biscotto can be dipped, drizzled or topped with your choice of chocolate, candy, caramel, nuts or sprinkles.
But you won't want to miss the smoky drama when you special order. Watch as the server pours minus 371-degree liquid nitrogen to create clouds of steam as it immediately freezes cream or gelato in big metal mixing bowls. This intriguing chemical process eliminates ice crystals creating a smoother, creamier ice cream.
Some favorites are Mediterranean Sea salted caramel, mint chip, roasted pistachio with olive oil and chocolate espresso. Plus, a flavor of the month always changes up the options.
Ice Cream in Palm Springs
Scream for Ice Kreem
Looking for a natural and vegan friendly ice cream? Try the recently opened Kreem in Palm Springs. The ice creams are all hand-made and are based with organic ingredients containing no preservatives or additives. They offer a variety of coconut based ice creams and natural sorbets and even make their own almond milk!
Cool off at Vinny's
The coolest thing to hit Palm Springs since air conditioning, Vinny's Italian Ice & Frozen Custard brings all the goodness of Wisconsin's dairy to the desert. Made of the finest cream, sugar and eggs, you'll enjoy a smoother consistency as this indulgence melts slower than traditional ice cream.
Serving up the classic custard flavors, chocolate and vanilla in either a cup or a cone, Vinny's invites you to create your own concoction with "mix-ins" such as cookies and candies.
If you're looking for a lighter, more refreshing treat, cool off with their Italian ice. Fruity flavors vary from cherry to mango, lemon to even a dreamy orange cream.
Colorful Innovations at Ice Cream Shop(pe)
Opened last year, Ice Cream Shop(pe) at ARRIVE Hotel fills the niche for a fun, colorful and delicious place to chill in Uptown Palm Springs. Its clean mid-century modern lines are in perfect harmony with its refreshing, innovative ice cream and sorbet products.
Created by a private label company exclusively for Ice Cream Shop(pe), the newest flavors include coachella valley date, cappuccino crunch, mexican chocolate, lavender, rosewater that looks and tastes like the essence of rose petals; and pomegranate with dark chocolate chips.
These are part of a roster of 16 rotating flavors that may be scooped into cake, sugar, waffle or salted pretzel cones, into cups or blended into shakes. Toppings are help-yourself complimentary.
Lap It Up at Lappert's
A longtime favorite Hawaiian-style ice cream shop, Lappert's brings tropical tastes to Downtown Palm Springs with hand-scooped ice creams, shakes, smoothies, shaved ices, floats and sundaes.
Woven grass mat and bamboo paneling against turquoise, mango and yellow walls festooned with tropical flowers make you swear you're suddenly in Honolulu. 
Find chocolate-dipped frozen bananas and ice cream bars, date shakes and smoothies, including the aloha peach, wild berry blast, straw-nana, coco-mango, orange breeze, pina-mango, pineapple or raspberry. Three of the most popular scooped ice creams are Kauai pie, Hawaiian sea salt caramel and date Casablanca.
Just Chillin' at Jus Chillin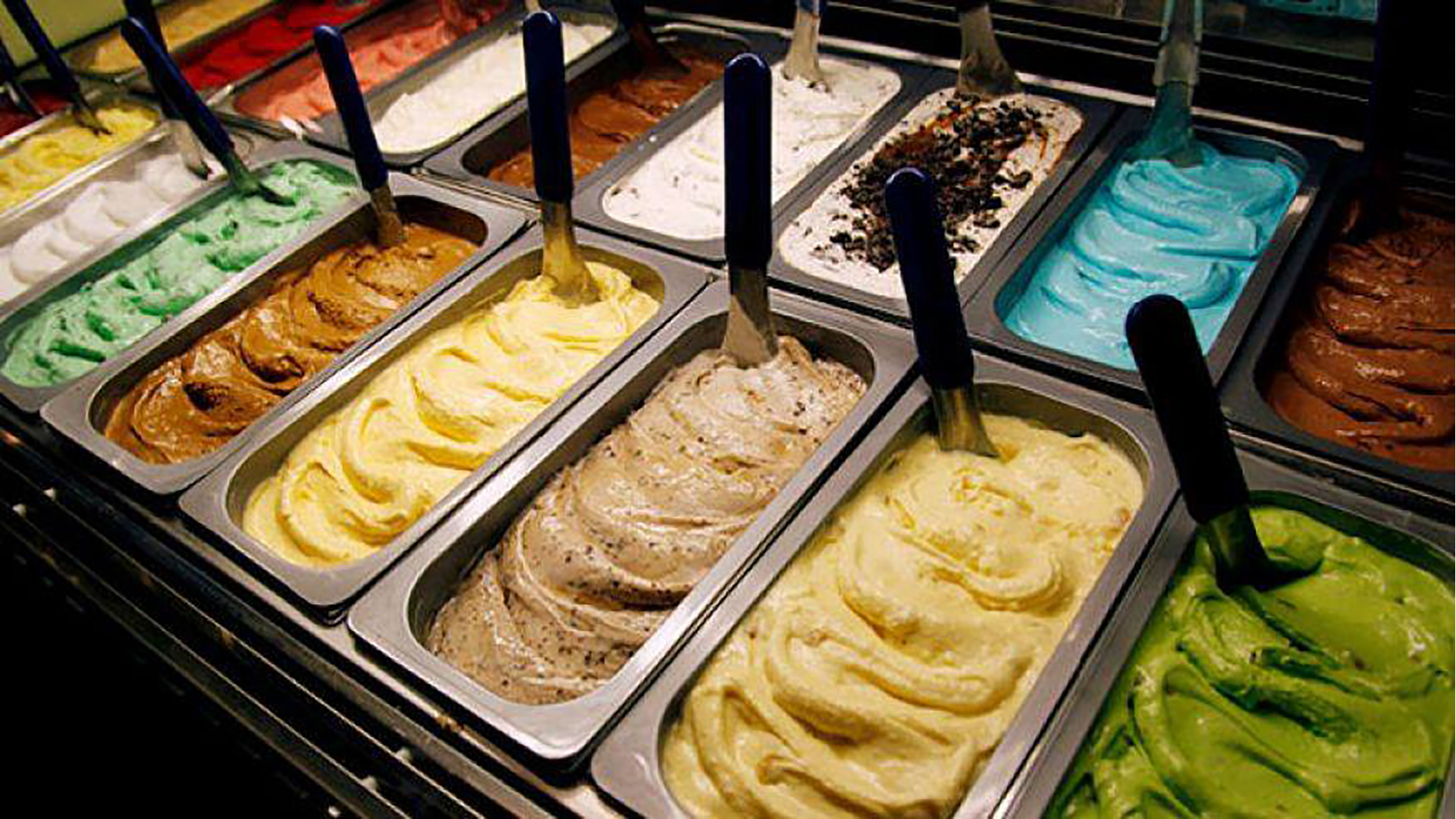 On the corner of Tahquitz Way and Indian Canyon, Jus Chillin' is a purple-hued invitation to step into its cool vibe where you dispense your own frozen yogurt or have the server scoop from a dozen tasty, colorful gelatos.
Yogurt flavors range from Alpine vanilla and chocolate to classic Columbian Supreme coffee, very strawberry, dulce de leche and even two vegan options: almond milk and water-based chocolate fudge. Raspberry, strawberry, chocolate, pistachio and crème brulee are some of the gelato favorites.
Top these with fresh strawberries, pineapple chunks, raspberries, chocolate bits, gummy worms, crushed candies, and nuts.
Ice Cream Socials at Lulu
The shareable ice cream concoctions at Lulu California Bistro are perfect for an ice cream social.
Take, for example, the Gelato Fantasia: a selection of six scoops of Italian ice creams topped with whipped cream. Selections might include Amarena cherry "Amarena;" hazelnut "Nocciola;" pistachio "Pistacchio;" or chocolate chip "Stracciatella."
You might feel like climbing the Alps after indulging in the massive Swiss Chocolate Hot Fudge Sundae or set out on a 10K run after the Hot Fudge Banana Split.
There's always a party with ice cream at this cool downtown Palm Springs restaurant.
Shake Things up at Great Shakes
Family owned and operated, Great Shakes makes gourmet shakes, malts and floats using only premium ice cream and the finest fresh ingredients. Free of antibiotics and added hormones, the ice cream is their own proprietary recipe, so you can't get it anywhere else! They even offer dairy-free and no-sugar-added ice cream.
Some of their "splurge worthy" shakes include brownie almond crunch, banana fudge malt, key lime pie and date walnut.
Ice Cream in Rancho Mirage
Chill at The River with Ben & Jerry's Ice Cream
Famed for their rich ice creams and fun-named blends—like the Cherry Garcia with cherry and fudge flakes and Caramel Almond Brittle with salted caramel swirls and pieces of almond brittle—Ben & Jerry's has long been a delicious draw in its corner location at The River.
The ice cream counter is punctuated by bright red walls and a scene of black and white cows at its far end.
New flavors rotate every three months, with many trademark items always available like Chunky Monkey (banana ice cream with fudge and walnuts) and the Berry Berry Extraordinary Sorbet with swirls of blue berry and raspberry.
Ice Cream in Palm Desert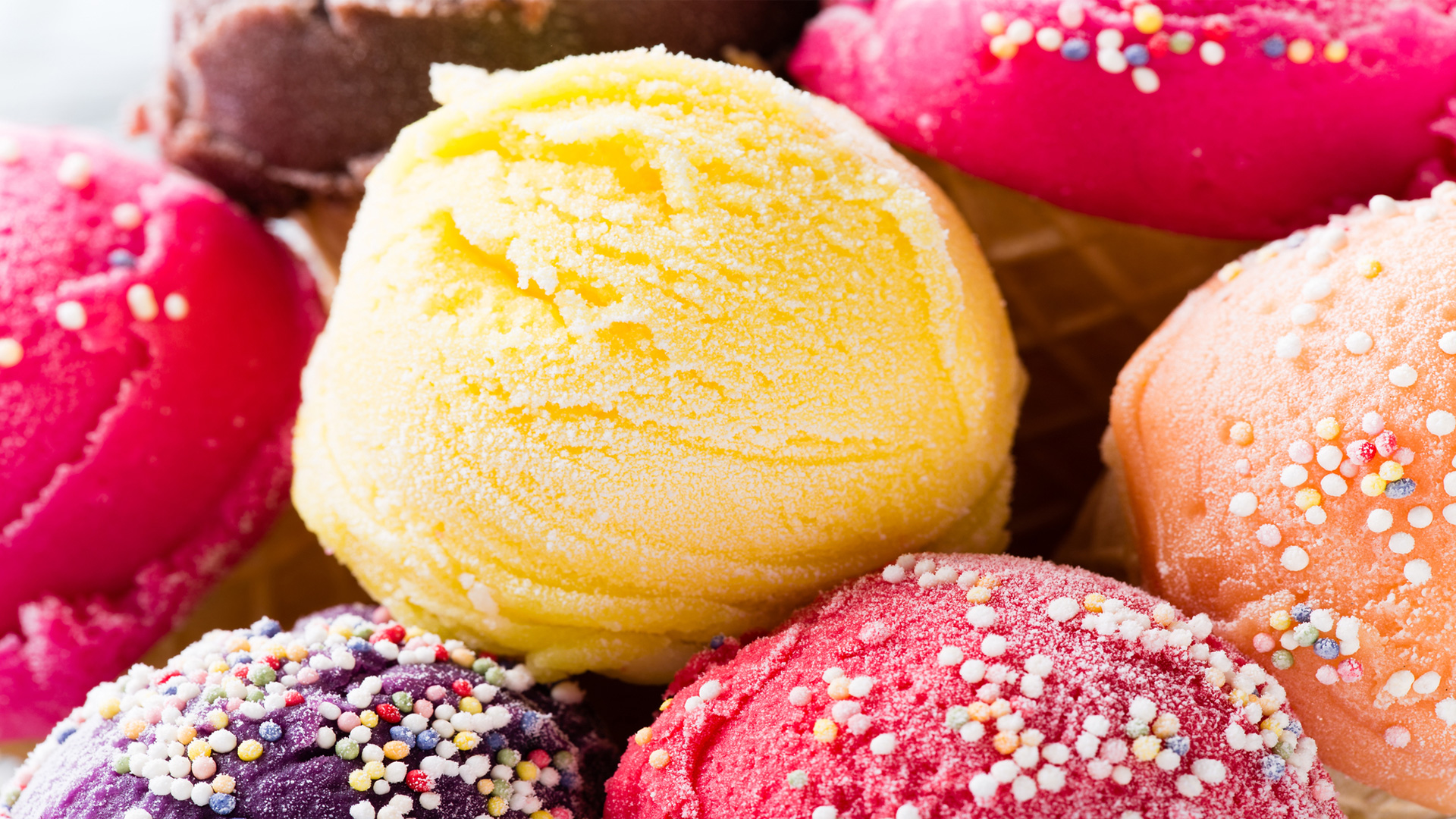 Surf's Up at The Beach House
Bring your surfboard: You'll hear the sound of The Beach Boys and see waves gently splashing on the TV as you dive into a cool cup of frozen yogurt or sorbet at The Beach House at Desert Crossing.
First, grab a small or medium cup and dispense as much or as little non-fat or premium yogurt or sorbet as you wish of flavors like pomegranate raspberry, coconut sorbet, Reese's peanut butter, cake batter, lemon velvet, Georgia peach and many more.
Next, top your cup with fresh berries, sliced fruits, candy crushes, chocolate chunks, hot or room temperature syrups, and splurge with a flourish of whipped cream.
As this is self-service, your chubby tub is weighed, then paid.
Summertime sorbet flavors include pink lemonade, outrageous orange and Hawaiian pineapple.
Even Fido can celebrate National Ice Cream Month, thanks to Yopup, pre-packaged cups of peanut butter banana yogurt.
Delicious Chemistry at Creamistry
It's food science in action at Creamistry: when sub-zero liquid nitrogen hits liquid cream or sorbet base, the chemical reaction instantly freezes liquids into solids, sending up clouds of icy steam.
All the while, "creamologists," as they are called here, keep the ice cream churning while it freezes to blend the flavors and smooth the texture, instantly quicker than old fashioned churning.
Start by choosing a base of premium milk, organic milk, coconut or water-based sorbet and add in flavors like classic sea salted caramel, chocolate, Madagascar vanilla bean, or cereals like Cap'n Crunch or Cocoa Puffs.
Indulge in a waffle, brownie or chocolate bowl, and then select toppings from bite-sized candies, crushed nuts, fresh fruit, yummy cereals and sauces like marshmallow, Nutella, honey, and caramel to customize your creation.
Luscious gourmet sorbets are created with mango, pink grapefruit, coconut, blood orange, green apple, and Dole pineapple.
New this summer: pints of ready-made flavors like chocolate, mango, pineapple and vanilla are now available to go from a freezer case in the lobby.
Ice Cream in Indio
A Baja Vibe at Coco Freeze
In a tiny strip mall in Indio is a fun, whimsical, Baja-inspired ice cream and snack shop called Coco Freeze.
Bicycles, surf boards, model airplanes hanging from the ceiling. Fake palm trees, antique toys and cash registers, plus funny signs, gumball machines, a comfy couch and a corrugated metal bar create a wacky, cheerful place to hang out and enjoy a raspado (shaved ice) or barras (smoothie.)
The Padella family brings a south-of-the border beach vibe to this non-alcoholic "tiki bar," where locals of all ages drop by after school, work or anytime for a refreshing break.
Fruit-flavored shaved ices include mango, coconut, lemon, tamarind, watermelon, bubble gum, pina, and other exotic tastes.
Creativity is in the Mexican-inspired ice cream and smoothie concoctions: horchata caramel mocha, barras de coco (a coconut smoothie), the Russa with fresh limes and oranges, the strawberry or vanilla Mazapan; the Abuelita vanilla and chocolate smoothie; the waffle cheesecake smoothie; and the Oreo cookie smoothie among them.
Get Your Licks in at Lique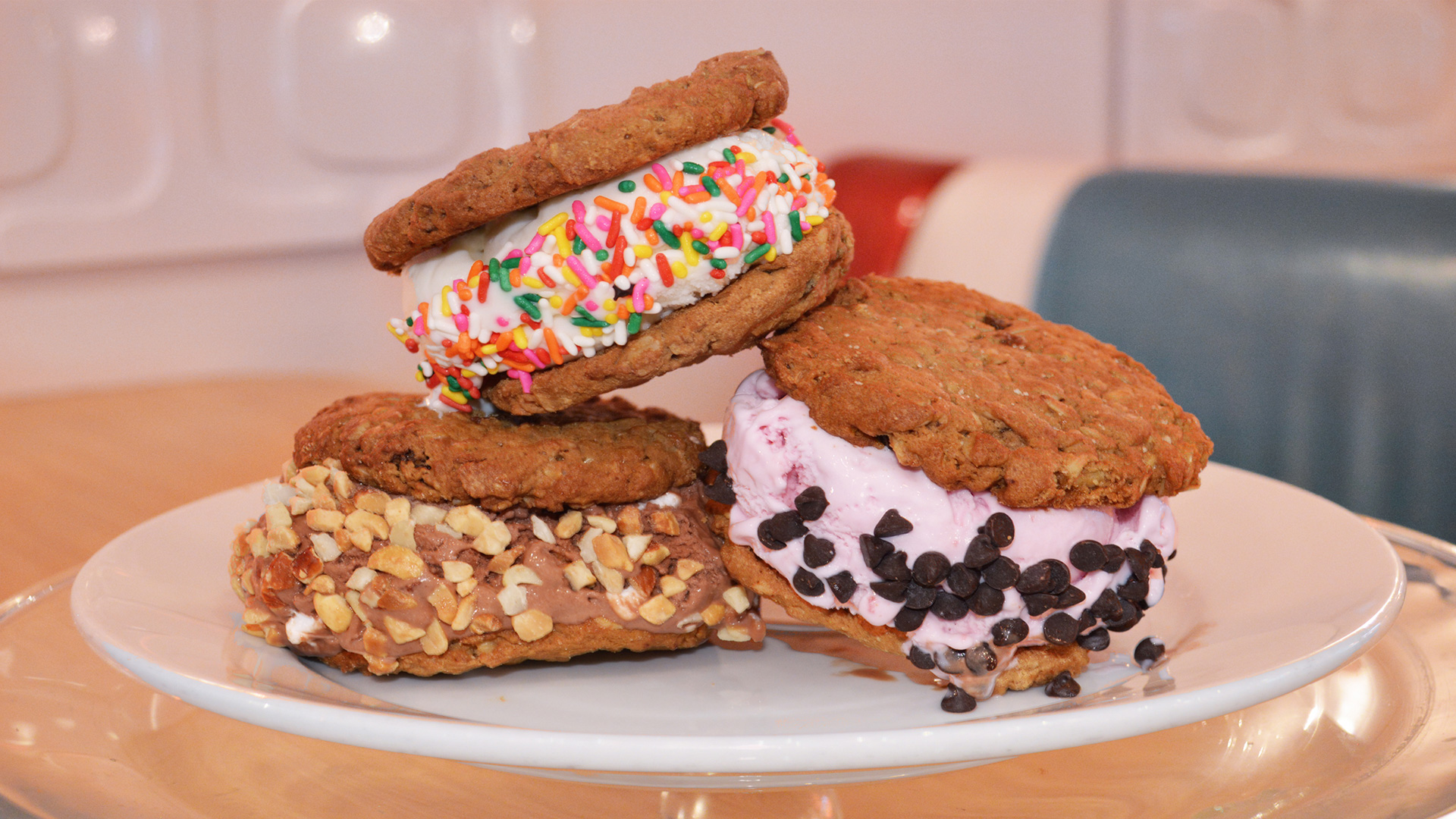 Lique, the hip and sexy ice cream parlor at Fantasy Springs Resort Casino, offers the chance to be an ice cream master and create the perfect gourmet Ice Cream Cookie Sandwich.
Choose from a variety of freshly baked soft cookies, add your favorite scoop of rich, decadent ice cream in the middle and finish it off with a crunchy or chocolatey topping along the sides.