Put on your running shoes, and mark your calendars. Enjoy perfect weather and participate in any of these runs and walks in Greater Palm Springs. Work on your fitness goals, run to benefit a great cause or plan to take in all the beautiful views this Southern California oasis has to offer.
Participate for a Cause 
DESI STRONG RUN WALK 4 KIDS | NOVEMBER 6, 2021
Walk in participation to fight against childhood cancer while raising awareness and funds to help those who are battling this. Admission for this 5k will be free, but it is highly encouraged that people donate as all funds go the Desi Strong Foundation, helping children and their family through their hard time.
PALM SPRINGS PRIDE 5K RUN & WALK | NOVEMBER 6, 2021
This year, you can participate in-person or virtually, so anyone can take part in this 5k! Hosted by Palm Springs Front Runners & Walkers, an informal network of LGBTQ+ running groups that form around the world, this walk/run will take you through the historic neighborhood of Las Palmas in Palm Springs, consisting of mostly flat, paved streets. Proceeds will benefit the LGBTQ+ Community Center of the Desert ('The Center') and the Transgender Health and Wellness Center. Come out, show your support and have some fun!
RUN WITH LOS MUERTOS 5K  | NOVEMBER 6, 2021
Celebrate Dia de Los Muertos by attending the ultimate block party, combining music, art, culture and wellness in Old Town Coachella . Wear your best sugar skull makeup, and run to support funding for Raices Cultura, a local organization striving to provide community arts, education, and health programming throughout Greater Palm Springs. Honor your past loved ones by participating in this unique event for a worthy cause.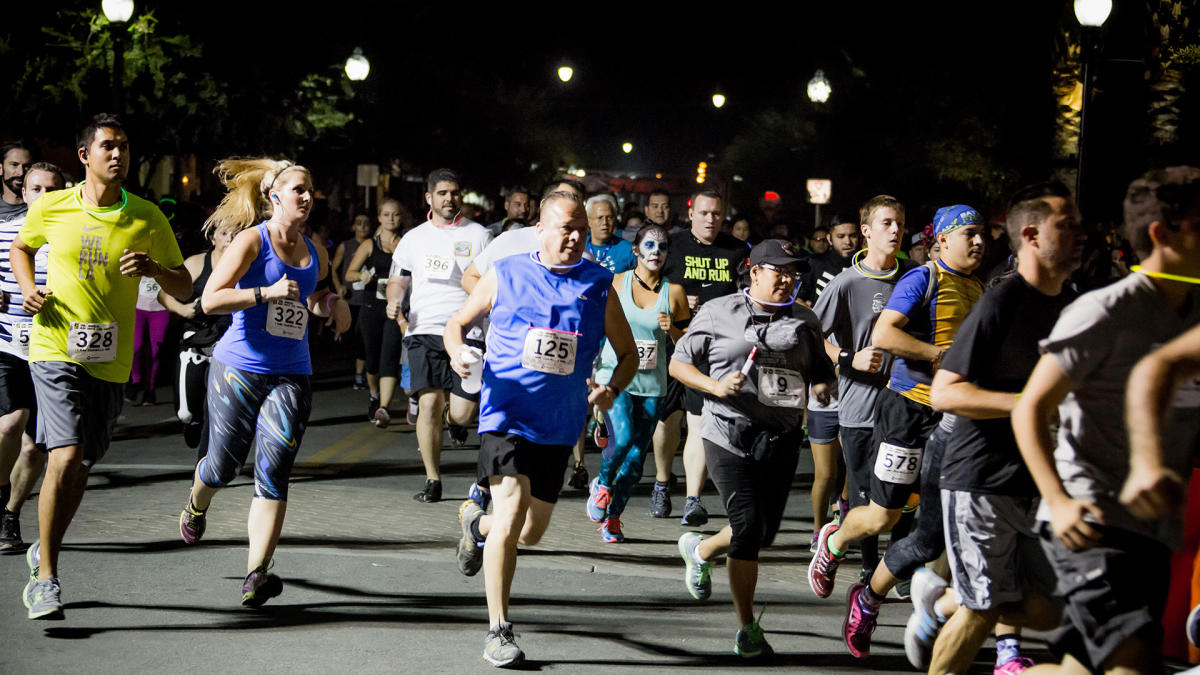 Join in for the 10th anniversary of the Run for Ike 5k, honoring the memory of K-9 Officer Ike who was killed in the line of duty in 2011. All proceeds will go to the Palm Springs Police Department K-9 Fund. Come out to run or walk through the beautiful Palm Springs course, plus bring the family to enjoy events like a pancake breakfast, K-9 demos and much more.
2021 COACHELLA VALLEY HEART WALK  | NOVEMBER 20, 2021
The Coachella Valley Heart & Stroke Walk, presented by the American Heart Association, is ready to reinvigorate your healthy lifestyle by uniting the community for better heart health, fun times and an opportunity to help save lives. All proceeds raised by teams and participants will help fund the American Heart Association. Bring out family and friends and get to stepping!
BECKY BAKER MEMORIAL 5K | DECEMBER 11, 2021
In memory of a beloved teacher, coach and friend, Becky Baker, the community of Indio has joined together to raise funds for Indio High School's cross country running and track teams to continue to improve their training facilities and equipment. Runners of all ages are welcome to participate.
PALM SPRINGS HEALTH RUN & SPORTS EXPO | JANUARY 29, 2022
Presented by Desert Care Network, the Palm Springs Health Run & Fitness Expo will help participants start out the year on a healthy note, encouraging everyone to get their body moving and grooving under the sun. This event is to promote health and wellness in the community, and they will do just that by offering all kinds of activities, resources and giveaways. Bring the family for a fun and fitness filled day!
Run for the Holidays 
FORTEM FINANCIAL THANKSGIVING DAY 5K   | NOVEMBER 25, 2021
Take a trot before diving into that big holiday dinner. The Fortem Financial Thanksgiving Day 5K is ready to raise funds and take action against food insecurity and homelessness in the Coachella Valley, with funds directly benefitting Martha's Village & Kitchen. This year, you can participate in-person or virtually, so get out and get moving for a great cause!
PALM SPRINGS' WILD TURKEY TROT 5K | NOVEMBER 25, 2021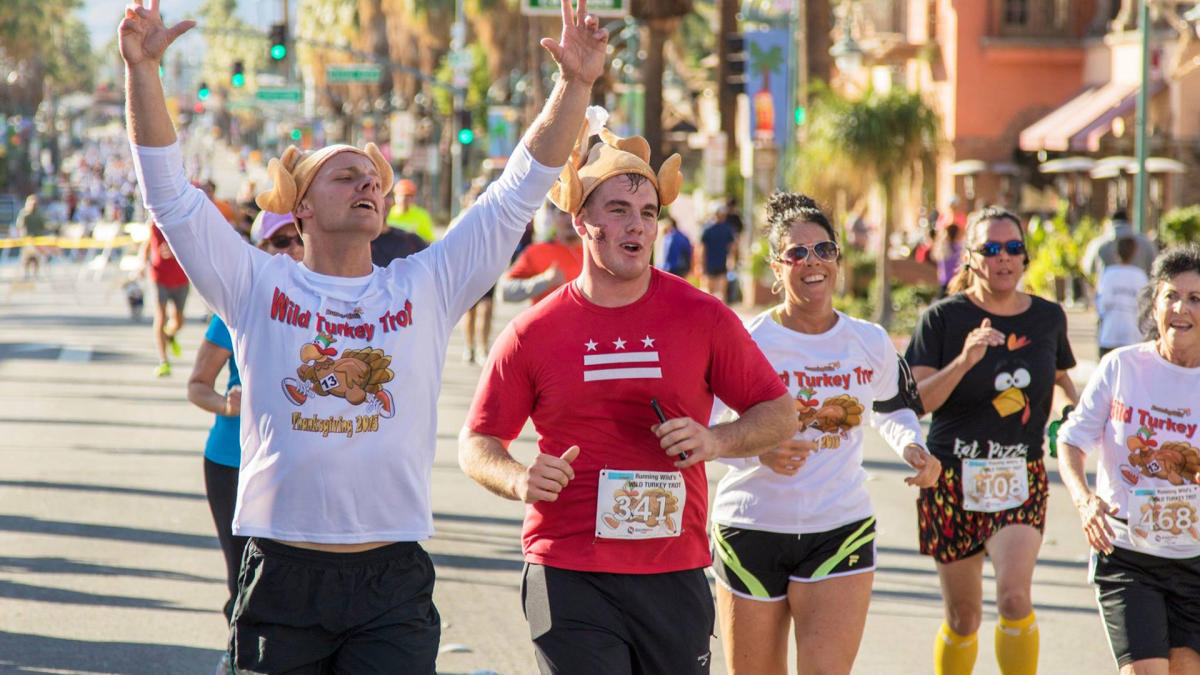 Get a work out before digging into Thanksgiving dinner at this year's Wild Turkey Trot in Downtown Palm Springs. Take in the scenic views, and run through charming neighborhoods on a course perfect for the whole family, even your four-legged friends. Take it a step further and show your holiday spirit by wearing a festive costume. 
A portion of the entry proceeds will benefit Mizell Senior Center 's Meals on Wheels program, which provides food delivery to seniors. Celebrate this holiday by giving thanks, participating in a fun activity and contributing to an important cause. 
SANTA PAWS 5K & LIL' ELF DASH| DECEMBER 18, 2021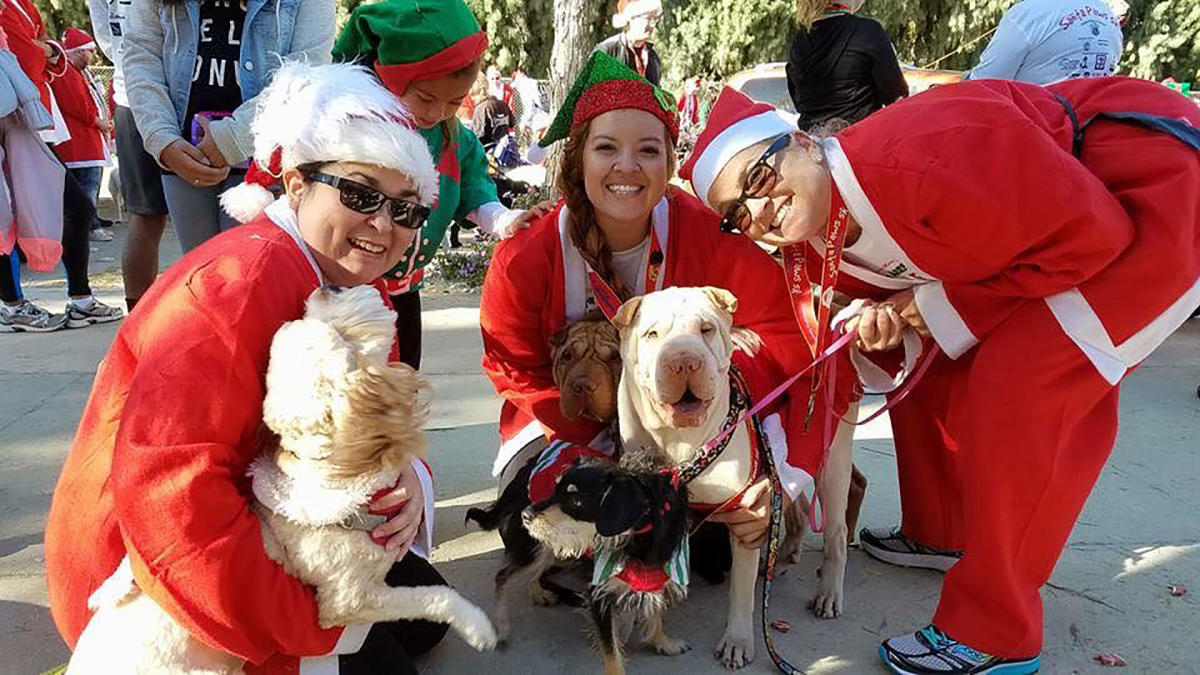 Dog-lovers, this is the 5K for you. Join in on this fun run benefiting Guide Dogs of the Desert . Participants of this 5K get a 5-piece Santa costume to wear during the run to spread holiday cheer. Bring the whole family and let the little ones participate in the 200 meter Elf Dash, where the admission cost includes an elf hat and a gift certificate to Ben & Jerry's . 
Not feeling up for the challenge? Sign up as a 'Scrooge' to show your support for this wonderful cause. Get in the Christmas spirit this holiday season by attending this feel-good 5K!
Challenge Yourself in a Triathlon 
ALPHA WIN TRIATHLON  | OCTOBER 23, 2021
Participate in one of the four races that Alpha Win Triathlon Palm Springs has to offer, from the less intense Alpha Sprint to the 'grand-daddy of them all,' the Alpha 140.6. Come out to the beautiful La Quinta, where you get to take in the beautiful swaying palms and sunshine while you participate in the race or support those who are. There will also be a Fitness Expo taking place Saturday evening, where spectators, athletes and sponsors can gather, shop and enjoy the lively atmosphere of fitness lovers. Attending the expo is also a great way to test new products and services.
Explore the cities of Indian Wells  and La Quinta  by participating in one of the biggest triathlons in Greater Palm Springs. Put your physical abilities to the test as you complete a swimming challenge at Lake Cahuilla, a bike challenge through palm tree farms, and a two-loop run through a course traversing the iconic Indian Wells Tennis Garden  and Indian Wells Golf Resort . Take in the breathtaking views of this Southern California oasis, while taking on this greatly rewarding athletic challenge! 
Take on a Half Marathon 
JOSHUA TREE HALF MARATHON  | NOVEMBER 6, 2021
This run offers a different experience than most because participants will begin the run in the evening and continue to run under the star-filled night sky in a destination well-known for its clear night skies. The Joshua Tree Half Marathon has partnered with the Wander Project, with their mission being to engage athletes and endurance racing events to support local communities through inspiring fundraising and service. This race is free for all participants.
PALM DESERT HALF MARATHON & 5K | FEBRUARY 13, 2022
Join Greater Palm Springs' longest running half marathon. Start the race at the beautiful Palm Desert Civic Center Park and run or walk-through scenic surroundings. Participants can register as individuals or as part of a two or three-person relay team. Receive a race t-shirt with registration, as well as other goodies and a complimentary beer at the beer garden. The little ones, ages 4 to 13, can participate in a flat 1K fun run. The event will conclude with an awards ceremony where the top three runners in each division will be awarded a prize.
Bike Race through Greater Palm Springs 
TOUR DE PALM SPRINGS | FEBRUARY 12, 2022
A successful nonprofit events in Greater Palm Springs is the Tour de Palm Springs, having raised over $4 million throughout its duration since 1999. This bike race takes place throughout Palm Springs. More information to come about specific routes for the race in 2022. All proceeds and donations will support various charities throughout Coachella Valley, ranging from local high schools to safe houses and cancer awareness foundations.
Looking to explore more fitness opportunities in this Southern California oasis? Check out these Greater Palm Springs fitness activities guaranteed to help you stay active and living your wellest.