Put on your running shoes, it's 5K season-- Enjoy perfect weather and participate in any of these 5K runs and walks in Greater Palm Springs. Work on your fitness goals, run to benefit a great cause and take in all the beautiful views the oasis has to offer.
Y Be Fit Palm Desert Challenge | October 6, 2019
Test your physical abilities by participating in this 'Reverse Triathlon 'at Palm Desert Civic Center Park. This challenge is open to everyone and consists of a 5K run, 10-mile bike ride, and a 300-meter swim. Improve your wellbeing a contribute to a great cause, as this event benefits the Family YMCA of the Desert. Bring the whole family, and get fit for a great cause! 
Paint El Paseo Pink | October 12, 2019
Stroll down The Gardens on El Paseo for breast cancer awareness with the Desert Cancer Foundation at the 13th annual Paint El Paseo Pink 5K walk. Support breast cancer screening and diagnostic and treatment services for local Greater Palm Springs residents while enjoying a sunny day in beautiful Palm Desert. Participants receive a pink t-shirt upon registration and have the opportunity to register as individuals or as a team. 
Participants can enjoy live music, DJs, merchant shops and other fun activities along their walk.
Desert AIDS Walk | October 19, 2019
Be one of the many walkers participating to support one of the many organizations promoting health and wellness in Greater Palm Springs. The Desert AIDS Project is hosting its 32nd Annual Desert AIDS Walk in efforts to raise funds and continue to provide health care services to the local community. 
Walk in support of medical, dental, housing and transportation programs for those in need.
34th Annual Tram Road Challenge | Oct 26, 2019
Participate in this world-famous challenge—This year the Palm Springs Aerial Tramway will be hosting the 34th Annual Tram Road Challenge. The 6K run starts at an elevation of 400 and climbs up to 2,600, making it an ambitious yet attainable feat. With over 1,500 participants in previous years, this run is open for everyone of all age ranges. Enjoy refreshments, vendors, and prizes when you reach the top. Plus, an amazing view of the oasis.
7th Annual Run with Los Muertos and Block Party | November 2, 2019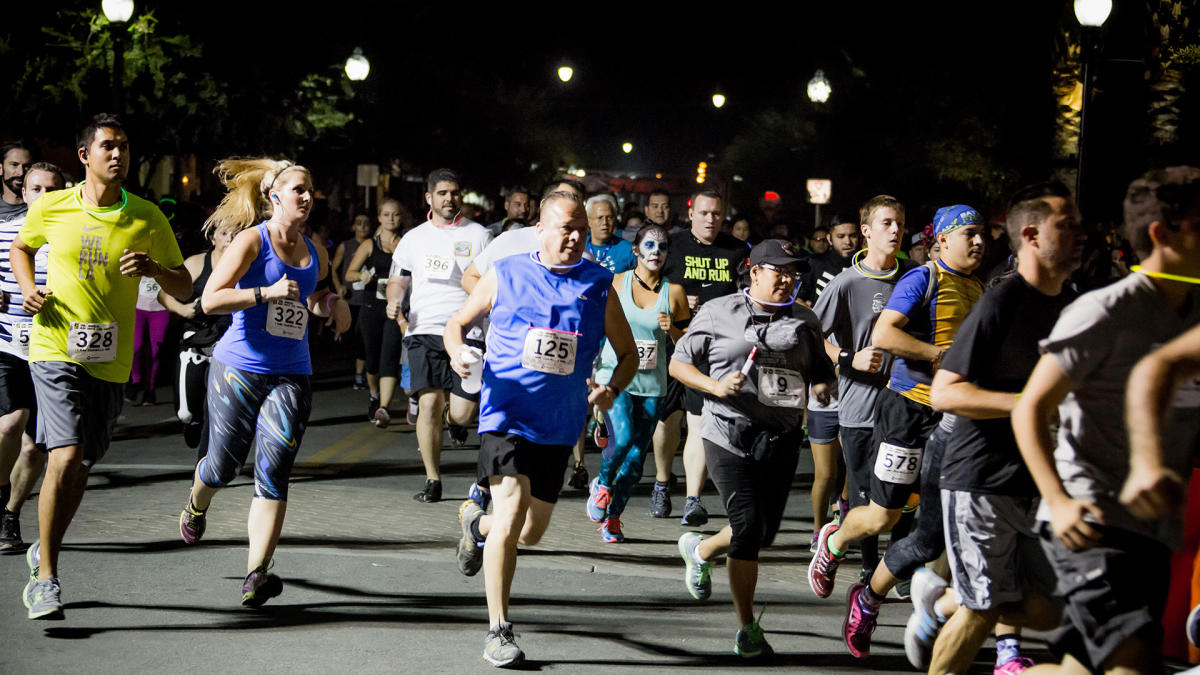 Celebrate Dia de Los Muertos by attending the ultimate block party, combining music, art, culture and wellness in Old Town Coachella. Wear your best sugar skull makeup, and run to support funding for Raices Cultura, a local organization striving to provide community arts, education, and health programming throughout Greater Palm Springs. Honor your passed loved ones by participating in this unique event for a worthy cause. 
Joshua Tree Half Marathon | November 2, 2019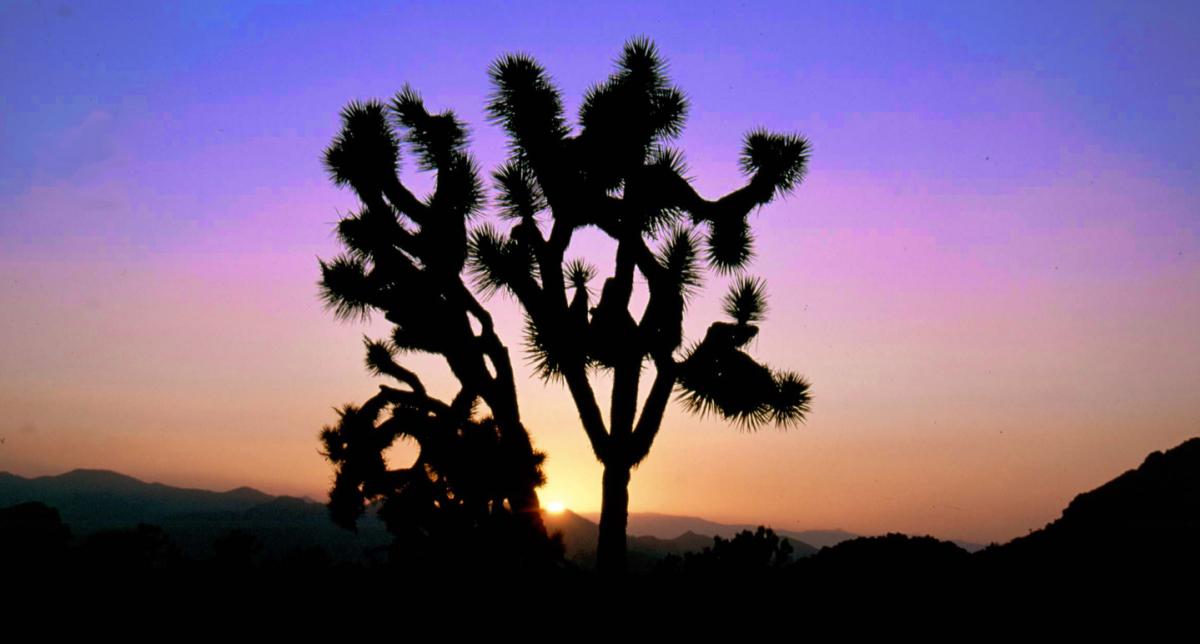 Enjoy the Joshua Tree desert landscape as you run and complete this half-marathon. Starting about 20 minutes away from Joshua Tree National Park, participants of this evening race will get to experience the sunset behind beautiful mountains and surrounding nature. 
Patriot 5K | November 10, 2019
Photo courtesy of Palm Springs Marathon Runners
Honor veterans this Fall by participating in the annual Patriot 5K run benefitting organizations that serve active-duty soldiers and veterans. All proceeds will support Team Red, White and Blue, SOS Rides, American Legion Palm Springs and the Armed Services YMCA. 
The run begins and finishes at Ruth Hardy Park in Palm Springs and is runner, walker, stroller and doggy friendly. Enjoy special gifts, awards, and more at this patriotic 5K. 
Coachella Valley Heart Walk 5k | November 16, 2019
Become a 'Heart Walk Hero' by participating in this 5K benefiting the American Heart Association. Meet with other walkers at Palm Desert Civic Center Park, and show up to support this any of those who have suffered from heart disease and stroke. 
In order to register participants are encouraged to make a donation to help reach the American Heart Association's goal of raising $160,000 for lifesaving science, which can help educate and promote a healthy lifestyle and heart disease prevention.
Wild Turkey Trot 5K | November 28, 2019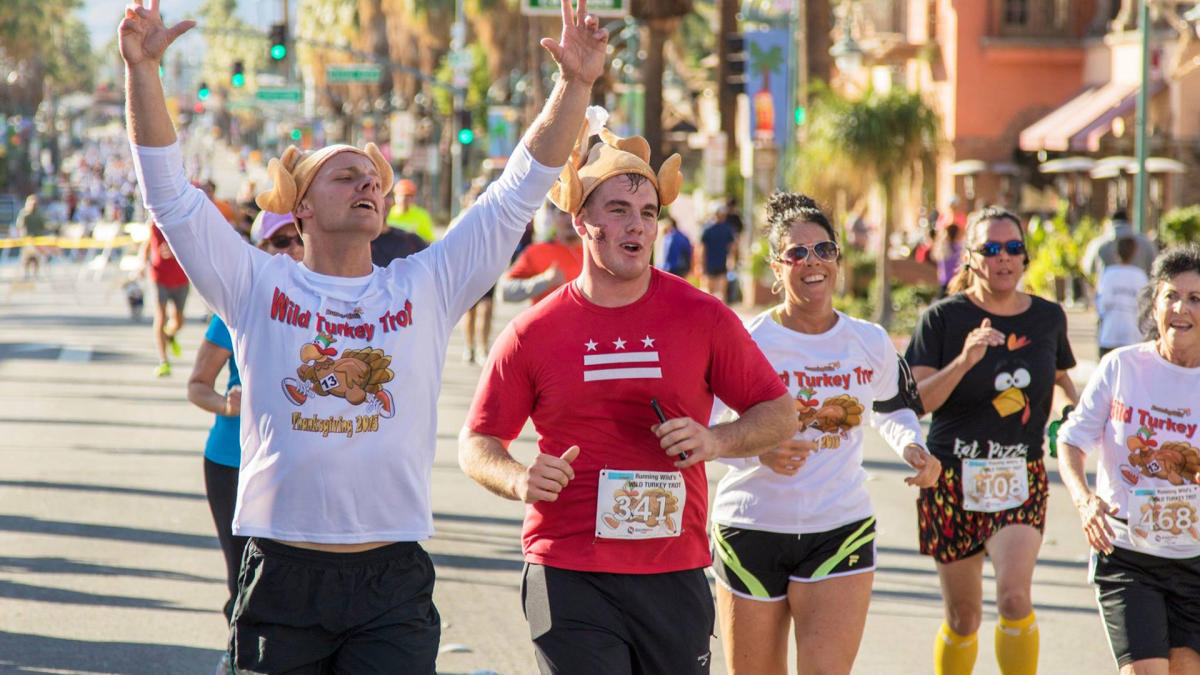 Get a work out before digging into Thanksgiving dinner at this year's Wild Turkey Trot in Downtown Palm Springs. Take in the scenic views, and run through charming neighborhoods on a course perfect for the whole family, even your four-legged friends. Take it a step further and show your holiday spirit by wearing a festive costume. 
A portion of the entry proceeds will benefit Mizell Senior Center's Meals on Wheels program, which provides food delivery to seniors. Celebrate this holiday by giving thanks, participating in a fun activity and contributing to an important cause. 
The 13th Annual Martha's Village & Kitchen Thanksgiving Day 5K | November 28, 2019
Help feed the less fortunate, and make some more room for Thanksgiving turkey by participating in this 5K run benefitting Martha's Village in Kitchen. The race starts at 8 a.m. and takes place in the city of Palm Desert on El Paseo and San Pablo Avenue. 
Registered participants will receive complimentary gifts, as well as a bib number. The celebration will include a Kids Zone complete with face painting, arts & crafts and more. Runners 21-years-old and over can enjoy a Beer Garden with one free beer, while supplies last. Make your Thanksgiving Day a memorable one by participating with the whole family!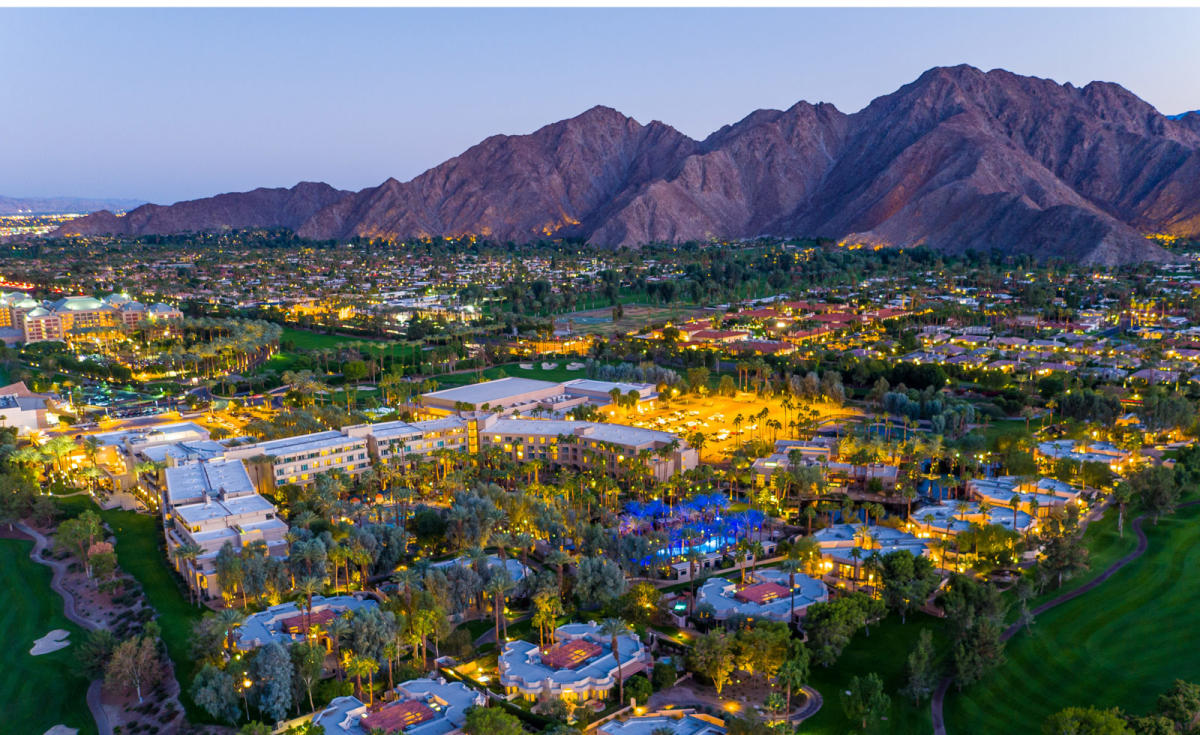 Explore the cities of Indian Wells and La Quinta by participating in one of the biggest triathlons in Greater Palm Springs. Put your physical abilities to the test as you complete a swimming challenge at Lake Cahuilla, a bike challenge through palm tree farms, and a two-loop run through a course traversing the iconic Indian Wells Tennis Garden and Indian Wells Golf Resort. 
Take in the breathtaking views of the oasis, while taking on this greatly rewarding athletic challenge! 
Santa Paws 5K | December 21, 2019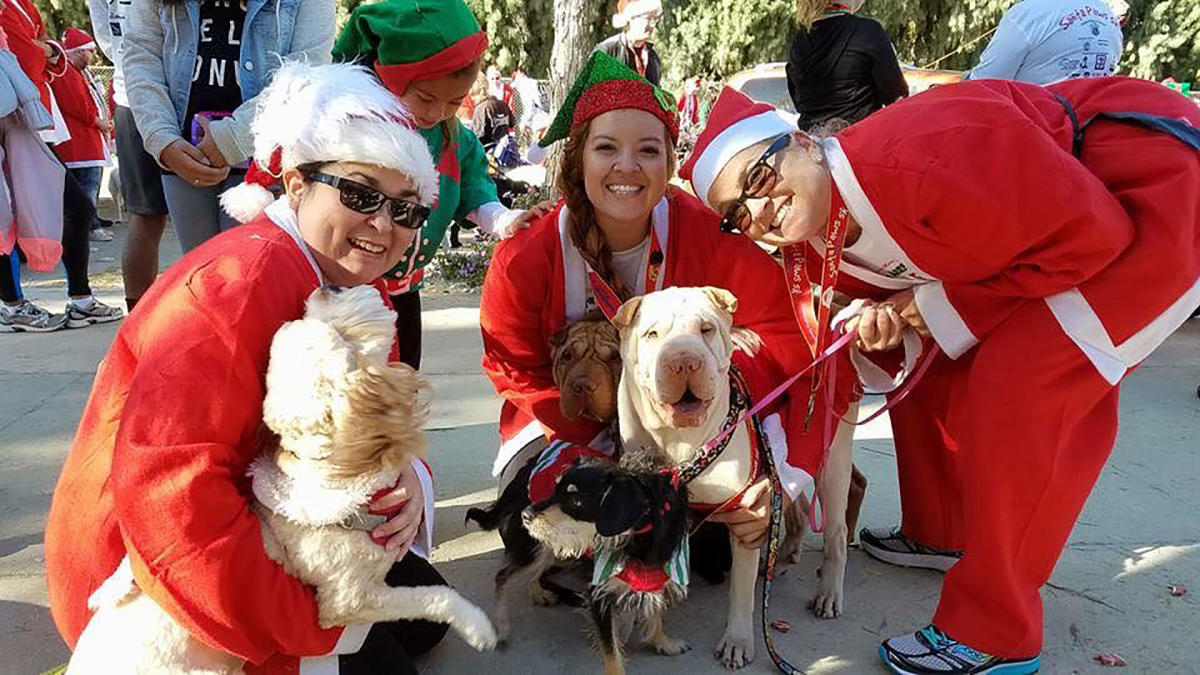 Dog-lovers, this is the 5K for you-- Join in on this fun run benefiting Guide Dogs of the Desert. Participants of this 5K get a 5 piece Santa costume to wear during the run to spread holiday cheer. Bring the whole family and let the little ones participate in the 200 meter Elf Dash, where the admission cost includes an elf hat and a gift certificate to Ben & Jerry's. 
Not feeling up for the challenge? Sign up as a 'Scrooge' to show your support for this wonderful cause. Get in the Christmas spirit this holiday season by attending this feel-good 5K!
PSIFF 2020 Red Carpet Run 5K & 10K | January 11, 2020
Prepare yourself for the star-studded Palm Springs International Film Festival by participating in this movie-themed 5K run. Pass by legendary homes owned by iconic celebrities, be photographed by the paparazzi, and sign autographs as you run or walk through this race's route. 
Participants are encouraged to wear their best red carpet attire (old prom dresses, or suits) during the run. Don't have anything to wear? Don't worry, the registration fee includes a tutu and tiara, guaranteed to make you look fabulous while crossing the finish line. 
New Balance Palm Desert Half Marathon & 5K | February 9, 2020
Join Greater Palm Springs' longest running half marathon. Start the race at the beautiful Palm Desert Civic Center Park and run or walk through scenic surroundings. Participants can register as individuals or as part of a two or three-person relay team. Receive a race t-shirt with registration, as well as other goodies and a complimentary beer at the beer garden. The little ones, ages 4 to 13, can participate in a flat 1K fun run. The event will conclude with an awards ceremony where the top three runners in each division will be awarded a prize.
Looking to explore more fitness opportunities in the oasis? Check out these Greater Palm Springs fitness activities guaranteed to help you stay active and living your wellest.